this is random. i offer no transitions…just the justification that i am somewhat creatively a.d.d. and with that comes some major stream-of-consciousness. normally, i try to piece these thoughts together like those newscasters who can somehow find a segway between an arson story and today's weather (ex: "…and speaking of burning houses, how 'bout that hot weather today, huh, phil?). …but not tonight.
enter random:
i had a strange moment of deja vu today while i was cutting through a chunk of synthetic wig hair, i.e. transforming a sacagawea long-braided native american wig, the only thing left from party city's picked over halloween accessories, into the dorothy wig i needed it to be. i could have sworn i had cut through that wig once before in my life, but, that's a weird enough once-in-a-lifetime moment, right?…i'm pretty sure i can chalk it up to deja vu. anyway, 3 inches of black braided hair cut off and some red ribbon later, we had ourself a darn good replica of judy's hair.
i decided last minute, while waiting with the other 50+ people in line at party city (note to self: never ever wait til halloween to venture into party city again), that i too was going to dress up tonight. there was a cat accessory kit for $5 within arm's reach that i could grab without losing my valuable place in line, so i threw it in with the sacagawea wig. only to arrive home and realize the furry bow-tie, tail and cat-earred headband was, i'm sure, geared toward some freaky adult-themed party and would not be suitable for the wholesome little moms and dads escorting their kids around the neighborhood tonight. perhaps it was the girl modeling it on the back …seeing as she looked like a feline-ish tonya harding…without clothes. however, not wanting $5 to go to waste in these dire economic times, i decided if i don't wear them with fish-net pantyhose and 6-inch heels…and maybe go sans tail, i might get away with it…like the nice little kitty from tom & jerry as opposed to one meowing its way through the playboy mansion.
…and whadya know, my dad pulled up in our driveway tonight, saw my outfit and said, "what? is this the playboy bunny reunion?" it's a cat!!! ..a wholesome cat!




oh, and dorothy? even i couldn't get enough of her. i extended her trick-or-treating, i'm sure, past the one-and-a-half-year-old quota just so i could hear the "oh my God"'s one more time. how many times i was asked if it was okay to take her picture…i can't even count.
what random thought am i on now? #3….okay, and counting…we have hoards of family in town right now, and it's heaven…brett's dad & stepmom (which i hate that word because she's anything but "step" to me…) plus his wonderful mom and my dad all arrived this week, so we are soaking in the love. poppa helped brandyn get ready…
and then grandma colleen went trick-or-treating with us tonight while poppa passed out candy…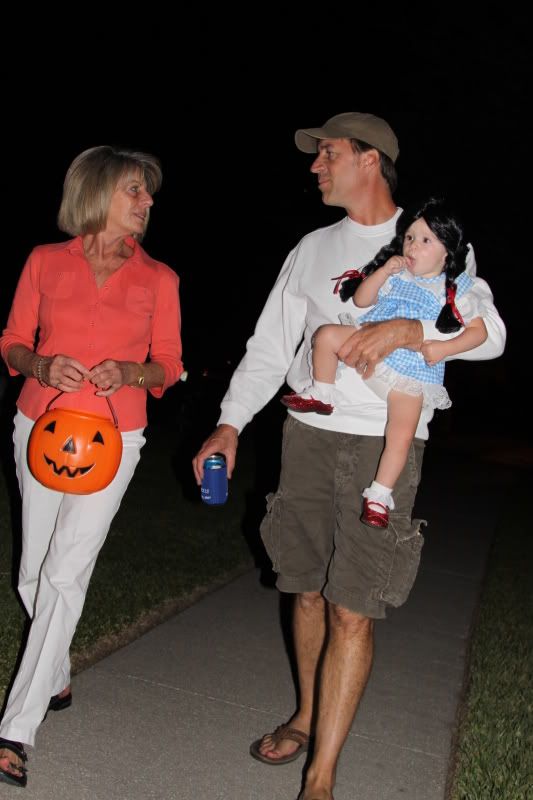 dorothy had to stop for a bottle break before picking it back up…
…and we arrived home to find poppa watching poltergeist from the couch…

… austyn & brandyn's momma came…who i just love…and brought cookies…

and then our neighbors came over and our friends chad & anna ruth stopped by, and suddenly, here we all were, sittin' in lawn chairs in the driveway, kids drawin' pictures with sidewalk chalk in the dark, trick-or-treaters meandering in for candy, music playing, jack-o-lantern lights flickering…and it was one of those moments…where the world stops and you look around and drink it all in. our family…our neighborhood…our kids…traditions…holidays…the blessed weather…everything. oh kiss, kiss, kiss to the universe. mwahh. mwahh. mwahh.
so, despite the randomness, there really is a common theme here even if my head-in-the-happy-clouds can't quite eloquently type it. happiness. that's what i love about these holidays, even if they're the a-little-more-insignificant ones. they, with tradition and a little loving effort, seem to make those happy feelings boil and bubble to the top.
the candy has been dumped, scattered, picked through and pilferred.
…and what remains is love. that and a drink called a "warm & fuzzy" the neighbor just brought me. oh dear. …and yes, i just said "oh dear." oh wait…meow. i forgot…i'm a cat. a wholesome one.
…enjoying the halloween things. ~k '
(okay, and now i'm just laughing rereading this post because, looking at the pics and knowing that's supposed to be a sacagawea wig, i see dorothy, skipping down the yellow brick road to meet chief running deer…and she is singing a lovely indian medley of somewhere-over-the-rainbow and colors-of-the-wind.) thank you, warm & fuzzy.

p.s. keeping with the random thing…is it wrong that i, in the spirit of halloween, feel the urge to go watch the thriller music video right this second and memorize all the choreography? i think i wanna add that to my list of things i'm able to do. wouldn't it be ultra cool to bust those moves out at a party someday? okay… going to bed.