disclaimer: once and awhile, i will appoint myself an expert on something. i will then pretend to be the obi wan of said subject, throw caution to the wind and let passion override as i wax on…and on…and on. 'tis one of those once-and-awhiles. it began as a trip to the library yesterday and ended in a dissertation on children's literature. forgive me. i didn't realize these emotions existed so strongly until i started writing.

a dissertation on children's literature.
i have a confession.
i went into teaching mostly because i wanted to read books aloud to kids everyday.
it paid more than the story lady at barnes & noble, and i ignorantly didn't realize until i got my first job that there's other stuff you kind of have to do in your classroom besides read aloud to your kids all day. like prepping them for fcat. and math. uuugh.
which is not to say i didn't stretch my after-lunch read-aloud session as long as i could…always pretending to hesitate when the kids begged me to read another chapter after i finished one…even going to the extreme of taking off my glasses, nestling a bookmark where we left off and closing the crinkly pages…almost completely…until i'd smile, reopen…and continue reading.
"chapter fourteen…"
…and the students would all breathe a sigh of relief, lying their sweaty back-from-recess heads again to their desks for another relaxing entrancing chapter…as if they'd won the battle when really i was fully intending to continue reading the entire time. because i loved it.
i fell in love with children's books long ago…from the first time the boxcar children was read to me…no, take that back…it was little bear and huddling in a corner in a tawas, michigan cabin on vacation, studying it over and over, all by myself, until i realized–i could read every word on my own. and i've always been driven to the children's section over the adults, although sometimes embarrassed to admit it. teaching research, i told myself.
i fell in love all over again when i took children's lit in college and found myself drooling in my uncomfortable desk chair in the little classroom in the basement of the whiteman-gibbs science center, completely bewitched listening to mr. esterline, a very dapper gray-haired retired teacher who wore argyle vests and crisp khakis, charismatically yet calmly bring to life the words of dr. suess' hooray for diffendendoofer day. he had a bit of a spitty lisp, but it totally worked to his advantage as the p's and the d's and the k's came out so succinct…so tart.
i too can read like mr. esterline, i thought. i too can spit my k's and p's.
then came my obsession with the books themselves. some read aloud better than others, you know. and not just for the choice and arrangement of words. there's lots to consider. the kind of paper the pages are made out of. how well they lift and turn when you lick your finger and grab the corner. how old they are. how heavy the covers are (paper? pshaw. must be hardback). and the epitome of a good read-aloud: a library hammy-down. for it, the holy grail, the golden chalice of a meant-to-be-read-aloud piece of literature not only has an old plastic overlay that crinkles just so, but the pages are soaked with the essence of library. the perfume of all the years it spent nestled between other books, gathering scents of old leather, worn paper, printed ink. and the stories these books hold from the houses they went home to…i wonder, how many children did these books entertain on a cold snow-day home from school? how many moms' potroast scents did their bindings pick up while their pages were being turned on an idle sunday afternoon? how many children learned the lesson of guilt and responsibility when they finally gained the courage to face the librarian with their long-overdue book and handful of late-fee change from keeping it too long?
and then the words. oh, the words. some lending their stoires to be read with great character voices; others dripping with captivating onomatopoeia and smooth alliteration. the title alone of beatrix potter's the tale of the pie and the patty-pan. seriously…it's witchcraft. and while i'm on the beatrix potter path, let me just say her imaginative names for characters and the way their sounds roll off your tongue make me wish i could have shared a waffle or two over coffee with her…apply dapply, mr. pricklepin, diggory delvet, mrs. tiggy-winkle, cecily parsley, jemima puddle-duck. it's no wonder with an imagination like that, she was a literary genius.
i find myself getting frustrated sometimes when lainey's shortened attention span wants to turn pages prematurely and point to frogs and yellow things when i'm trying to do a good mole impersonation from wind and the willows or teach her a love of adjectives from the way i annunciate the description of the flowering meadow. oh, how i yearn for the day she will let me read, without interruption, the words of wind and the willows from the gold-rimmed indian paper pages of the hard bound little book i bought when she was just a newborn with this very dream in mind:
(copyright material from kenneth grahame's the wind and the willows)
hither and thither through the meadows he rambled busily, along hedgerows, across the copses, finding everwhere birds building, flowers budding, leaves thrusting–everything happy, and progressive, and occupied…he thought his happiness was complete when, as he meandered aimlessly along, suddenly he stood by the edge of a full-fed river. never in his life had he seen a river before–this sleek, sinuous, full-bodied animal, chasing and chuckling, gripping things with a gurgle and leaving them with a laugh, to fling itself on fresh playmates that shook themselves free, and were caught and held again. all was a-shake and a-shiver–glints and gleams and sparkles, rustle and swirl, chatter and bubble.
now if all children's books were written like that, perhaps we would have a whole broad of writers on hand for our next generation. i so want lainey to learn and use words like aimlessly and sinuous and meandered and to be challenged by the old writers as well as be entertained by the new.
illustrations, of course, are a bonus, but i am highly critical. i remember both my mom and dad getting excited about illustrators when we were young and, to this day, my mom searches goodwills for vintage copies of out-of-print illustrated favorites–eloise wilkin taking the grand prize with her simple representation of cherubic cheeks, pink pinafores, mary janes and bobby socks…
…and the japanese illustrator, komako sakai, whose book emily's balloon holds lainey's attention before nap for the entire story with no premature page turning, thank you. that is, of course, because the balloon is yellow, yellow is her favorite color, and there is a picture of emily going to sleep with her yellow balloon adorned in a nightcap snuggled next to her which lainey thinks is very funny indeed.


and, not that you asked…but while i'm on it, my favorite illustrators…
mike wimmer…the illustrator of my favorite children's book of all time, all the places to love. if you don't have it, you must, must get it if not just for the very first illustration of a new mama under a detailed quilt in an old farmhouse holding her babe…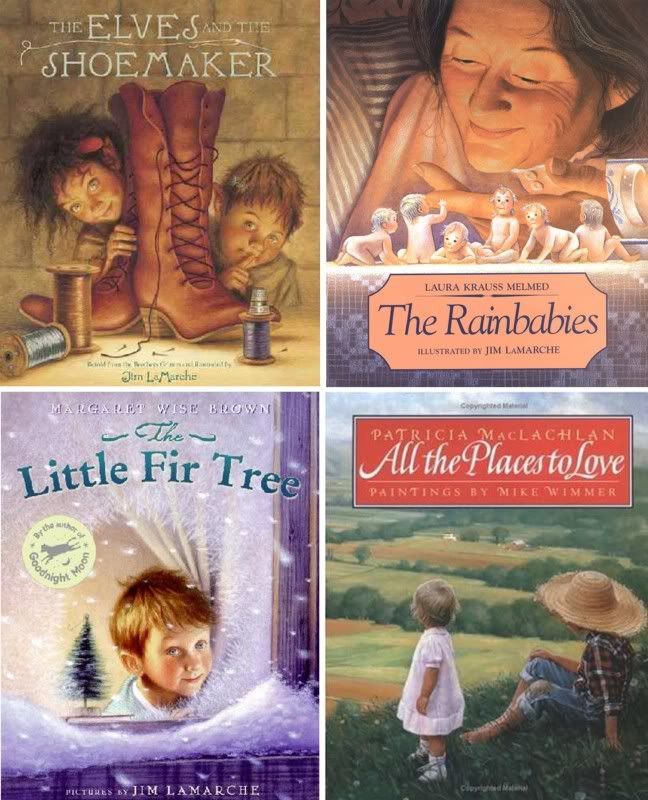 and jim lamarche…the way he creates light and the illustrator of the rainbabies, another favorite…completely imaginative and so well-illustrated. lainey loves the tiny babies in it and reaches her hands out to hold them every time.
and finally…any brambly hedge book which, after reading…i promise, you will want to be a mouse and live in a tree. (may i suggest the secret staircase or winter story). not to mention, these books are available in hardback mini size…and mini is always good.
(oh, and can't leave out cynthia rylant's let's go home: the wonderful things about a house.)
with all that said, we went to the library yesterday, and while we love to frequent it, our trips are a little more spaced out than i like. then again…it makes them very special when we go. our library, although beautiful, is very new and very nicely built, nothing like the true character of a real library…the old ones. my most favorite library was one my mom used to take us to every couple weeks when we were homeschooled. taymouth township library it was called, just over the railroad tracks in the little town of burt, michigan. the same railroad tracks i remember my sister getting stuck on when she was learning to drive a stick-shift. so stuck, she cried until my mom had to switch seats with her and get us over the track-covered hump lest we died in a fiery crash.
the taymouth township library was an old house turned into a garden of books where the floor creaked under the worn carpet. there were hidden nooks and cubbies, beanbags on the floor, lamps in corners, and lots of places to get lost in the quiet of a good book. i imagine it's still there today and i'm sure they still use the old card catalogue and hand stamp due dates onto index cards that slide into little paper gloves. yes, that was a real library (much like a real bookstore…say the fictional the shop around the corner from you've got mail, a far cry from the monopolized borders and such).
so yesterday we read. we meandered down aisles of colored-binded treasures and pulled out random ones that we read in big rocking chairs and little cushioned benches.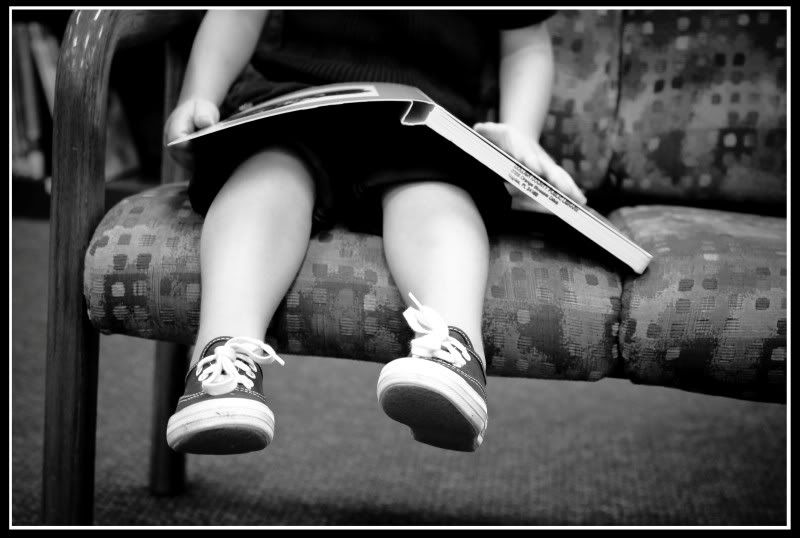 and i smiled as she ran her little painted fingers along the old pages of books that were far too old for her.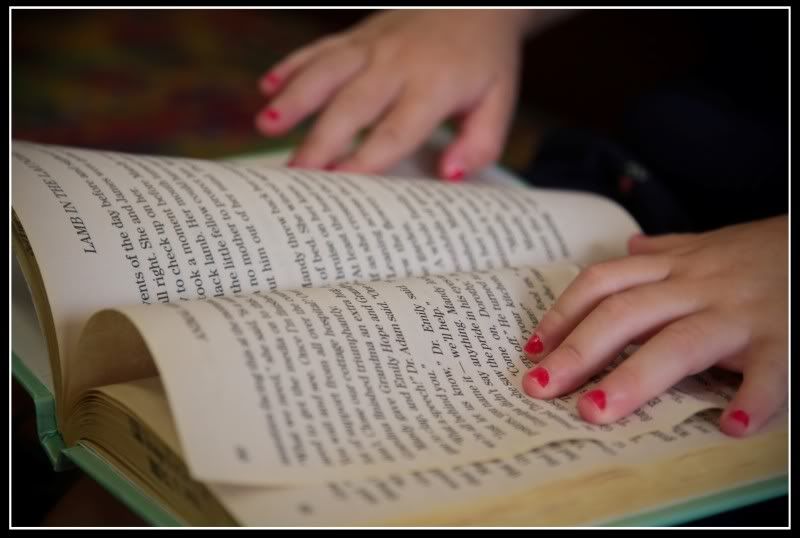 someday i will read these to her in a dark lamp-lit room while she's snuggled under quilts falling asleep to the words of anne of green gables or betsy-tacey and tib. i hope it lasts far through middle school.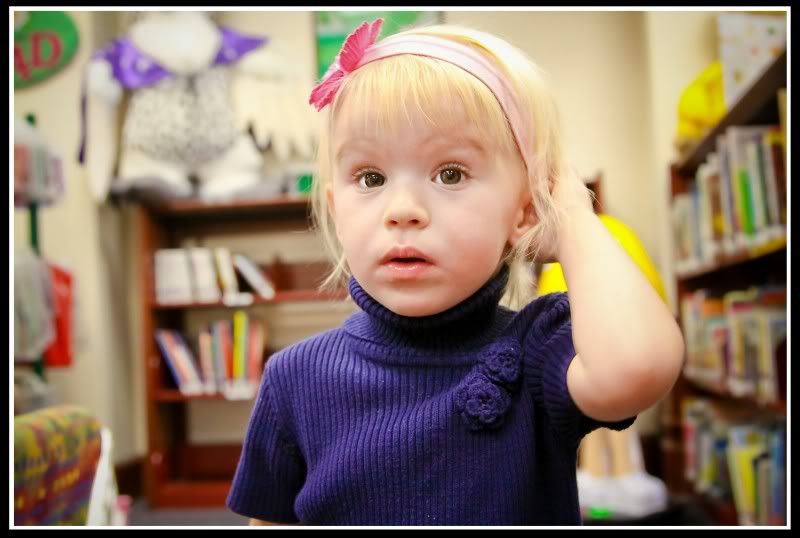 for now, we have our growing collection of hardback treasures…
while she has her own accessible shelves stocked with board books and tough picture books, sturdy enough to weather her wear and tear, this high shelf of valued hard-backs is for special times…books chosen to be read on mom or dad's lap…and she already knows they're special and brings them to me to put back if they ever get left out. i inscribe as many as i can…"to my children," i write…and i share why i love the book and where and when we got it…some of them written in far before brett & i even met.
so there. a dissertation on children's literature. from the simplicity of dr. suess to the complexity of wind and the willows…it's all beautiful.