What does one do a half hour before live international interview?
One gets kiss from hubby.
One makes baby chug milk fast to induce milk coma.
One hopes baby doesn't cry during interview.
The interview went great. I heard the show feed live right before my portion and, I have to admit, wasn't prepared to hear that strange third person account. Made me cry, and then first question out was what it was like to see my daughter for the first time. I literally saw the words in my head on a sign. They were big, they were red, and they said: STOP. CRYING.
And the rest…went fine. I haven't seen it yet, but it will be up soon on Connect the World's site.
And, I'm pretty sure I did that subconscious rock-the-baby motion the entire interview because, if you gave me a million dollars for me to hold a baby and not rock back and forth, you'd be keepin' your money.
Thank you again for reading, for supporting, for sharing the story. It hit me today holding Nella. Just this total "Wow" moment and this explosion of gratitude for her little life. It's taught me so much and it's just the beginning. Her little name is global. And she has no idea.
And Nella is just one of many special children. Extra chromosomed or not. We are so proud to represent these amazing blessings and to advocate for them. To show the world…every child is beautiful. Parenthood is beautiful. Life is beautiful.
Even when your older child chucks a book across the room and it hits the baby in the head. Because that happened today and, I kid you not, while consoling a crying baby, I leaned down to pick up the book and had to laugh. The title: Gifts: Mothers Reflect on How Children with Down Syndrome Enrich Their Lives. My kid knocked her sister in the head with a book on Down Syndrome. Nice.
Real life rocks.
And so does the love of my sister girls. Lainey redeemed herself from the book incident when she so sweetly helped bathe her Nellabean. Just precious to watch.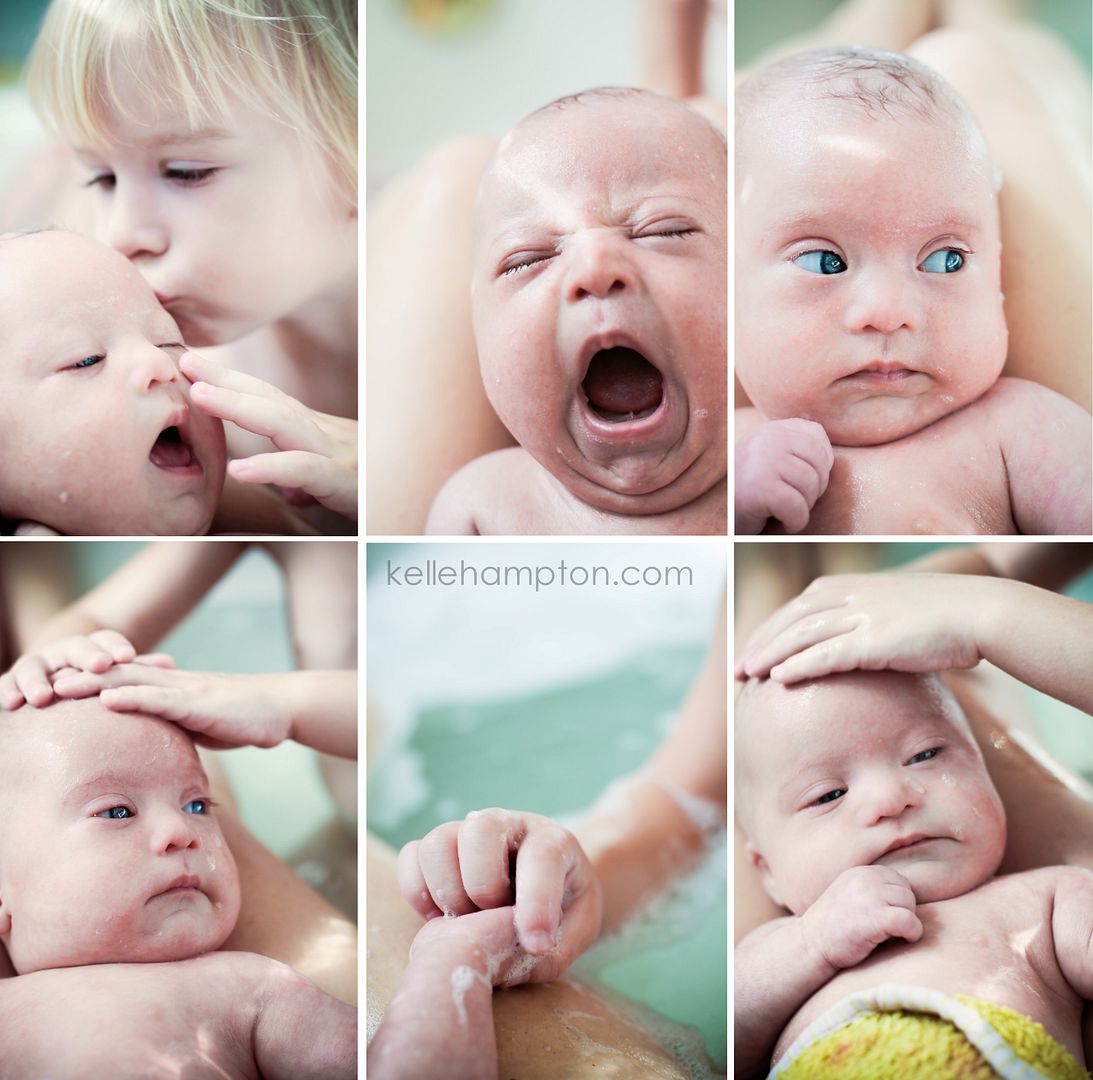 And, by the end of tub time, she was so relaxed, her pruny little body just conked out.
Which is where we are headed now. Long day and the jammied littles are calling.
(and ha…lots of comments about the family bed. It works for us. Not sure for how long, but for now…beautiful. I get so excited this time of night because the highlight of my day is snuggling into cold sheets with one, two, three, four bodies just sandwiched together and this harmonious chorus of breathing fills the room. Heaven, I tell you.)
Also, our four part birth series is in the local paper here.