Our house looks like a bomb hit it. Like if someone rang our doorbell right now, I'd shout for everyone to freeze and lay down and pretend we're not home.
But here I am, amidst wrapping paper and boxes and quilts from abandoned forts strewn on the floor, cupping my favorite gift–a hand-painted pottery mug from my girl–and I am so entirely fulfilled.
The winds have shifted, drawing the northern chill down to our warm town, and I am looking forward to the coming days of home and family and possibly cleaning up the mess.
But, in this place right now, after staying up 'til 2:30 Christmas Eve to braid the bread that ended up rising out of control while we slept…
…after finishing a wrapping ceremony that began with perfectly cut paper, satin ribbon bows and caligraphy tags and ended with jagged edges, half-ass taping and some crappy labels with "To" and "From" sloppily scribbled across the top…
…after all the work and far-fetched imagination that goes into this thing, it is so entirely worth it.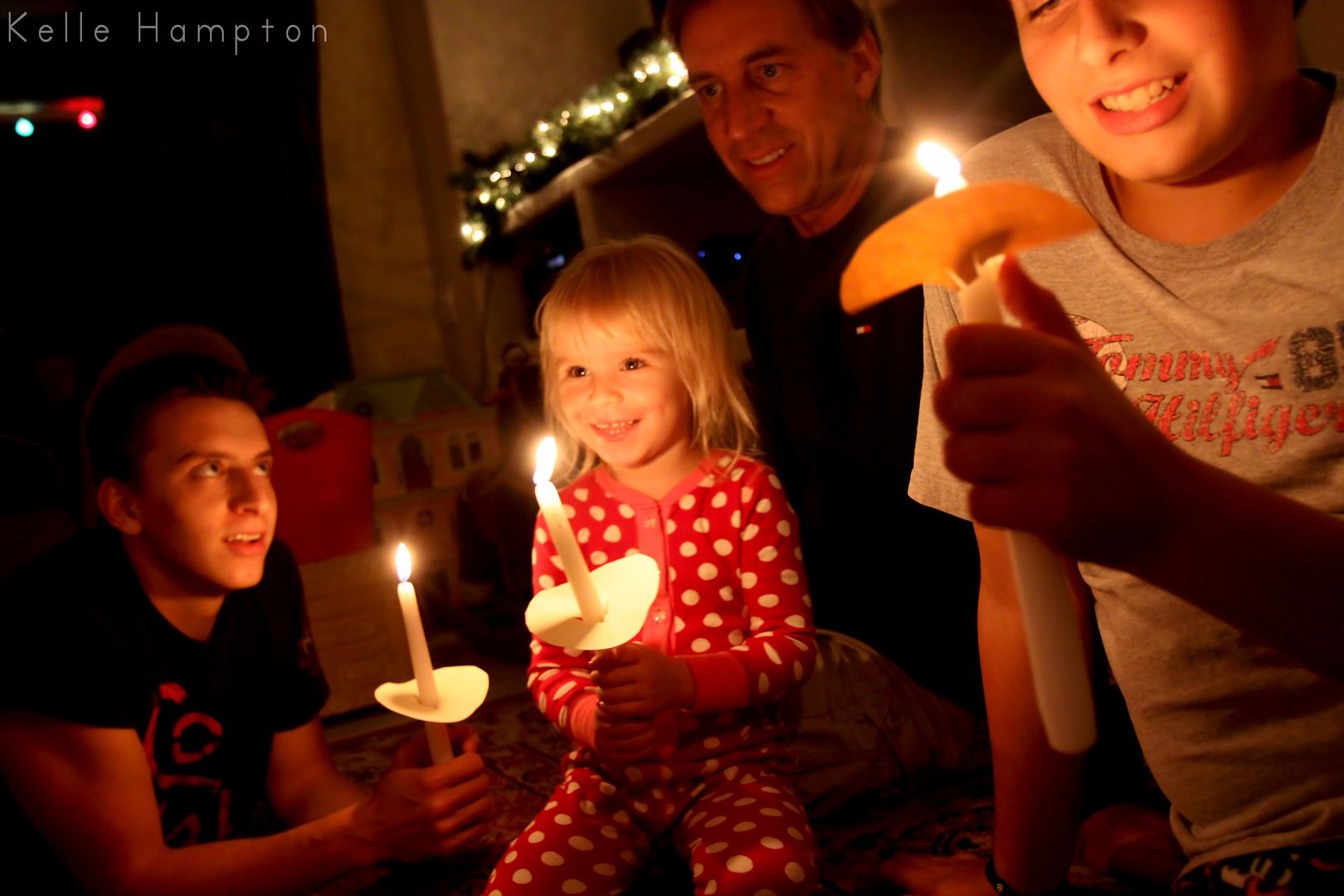 We celebrate birthdays for everyone in our home. We make big deals over each year in their lives and blow out candles, eat cake and make them feel like superstars for evolving into more fabulousness each year. And I guess Christmas for us is kind of a birthday for our family. Not to take the Christ out of Christmas–Believe me, I know what it's about and have enough "Oh, Holy Night"s and manger reenactments from over the years to prove it.
But it seems fitting for all the effort of making moments on this day that we celebrate this last year together and feel like superstars for evolving into more fabulousness. We've come a long way, Baby.

Left: Christmas Eve night, 2009; Right: Christmas Eve night, 2010.
Our family celebration this year seemed to take all those feelings I have about this past year and did them right.
A nice chunk of our village showed up the night before Christmas Eve for our fourth annual Hot Cocoa Wagon Walk. What's a Hot Cocoa Wagon Walk, you ask? You decorate a wagon, you make cocoa, you hoist a boombox blaring Burl Ives on your shoulder, and you walk through the neighborhood, knocking on doors passing out the goodness of hot drinks and off-key renditions of songs no one knows the words to.
Oh, and you dance. In the streets.

That's Nana Kate, skippin' a little jig.
For lacking family this year, we totally made up for it in loving the village of good souls on our street. I hate calling them "neighbors" because that's trite and anything but what they are. They are our friends and our family, and you wouldn't have known the difference Christmas Eve when the girls blended inconspicuously with Nana Kate's grandkids.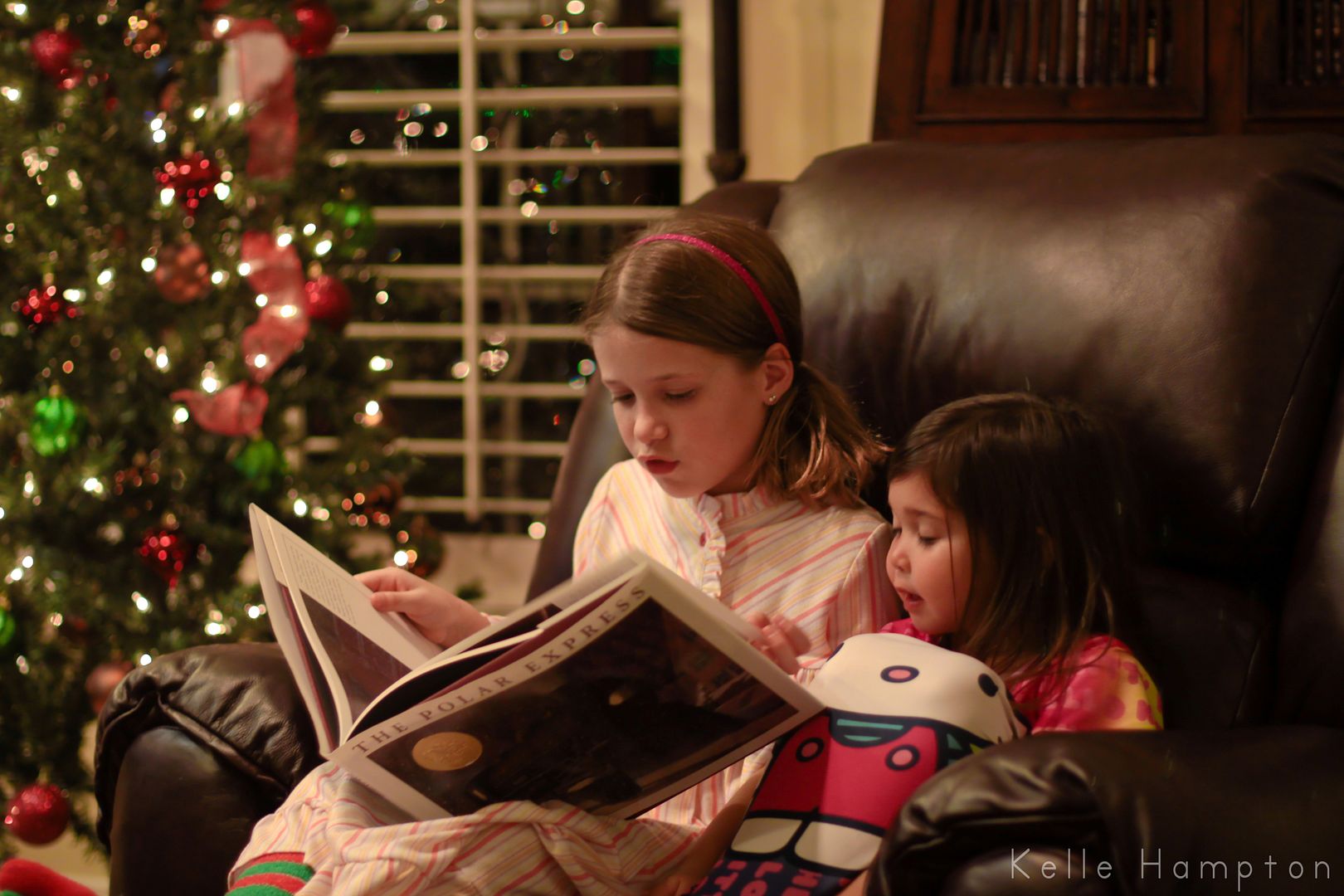 We've always gone to the candlelight service at a church a few miles away for Christmas Eve but found out a few hours before we were going to head out, there was no service this year. So, we made one up. And it was even better. Lainey made up songs and forced us to sing them and yelled at us when we got the words wrong. My favorite went something like "Happy Christmas everyone loves Santa merry jingle bells my family I love you."
Brett made a runway this year for the reindeer. A nice twinkly light guide for their hooves (hooves…that sounds funny. Hooves? Hoofs? Who makes these words up anyway?), and Lainey filled it in with carrots and pre-made reindeer food.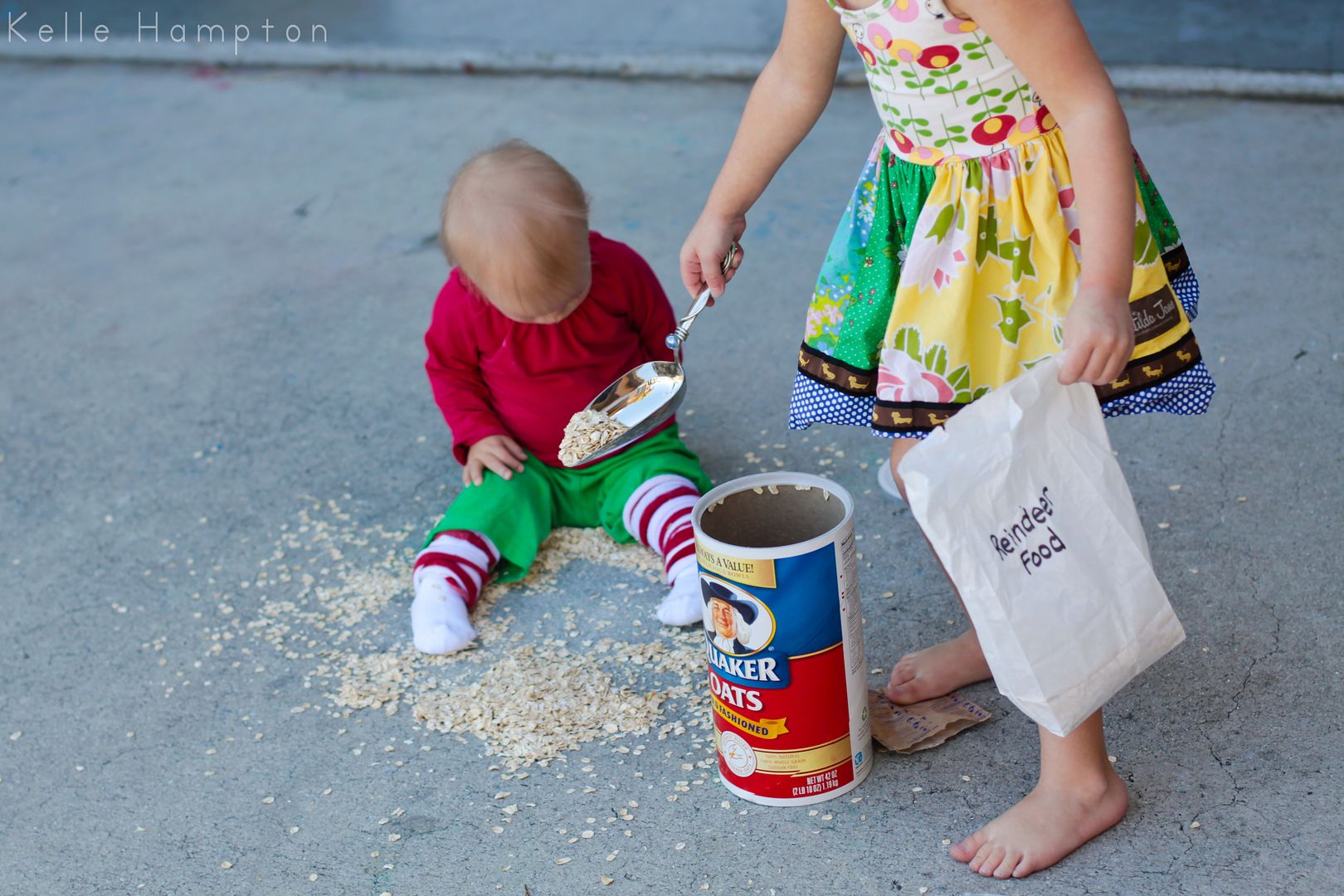 I gained new smile wrinkles that night. And had another insane moment where these memory receptors are firing like crazy in my brain, and I'm very well aware that I will forever remember this exact moment. The way their polka dot jammies hug their bodies, the intent look on Lainey's face as she lines up the carrots just right, the way Brett is nonchalantly talking with the neighbor but by the way he's nodding and smiling I can tell he's only half-listening because he's more consumed with keeping Nella's hat on her ears and making sure she's cradled properly in his arms.
And after putting kids to sleep and several more hours of preparations, I woke up the next morning to hums and coos and rolled over to see two soulful eyes in the dark and a little "Hi, Mom" face. It was an appropriate greeting for my first "Merry Christmas" of the day.
The rest followed suit.

Checking out the reindeer proof and snowy hoof prints.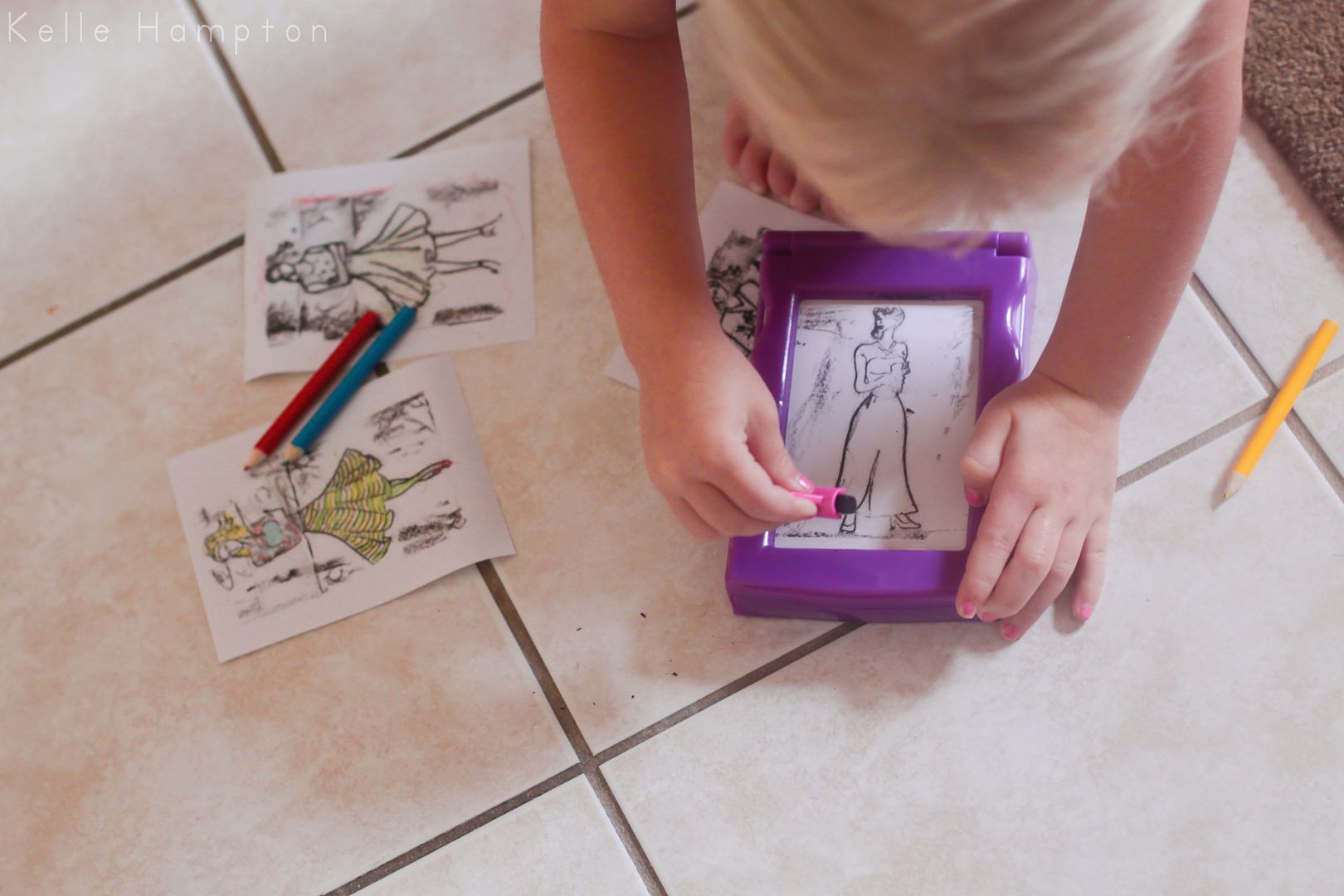 Remember this fashion plate toy? I had one as a kid and didn't know they still made them. Lainey loves it.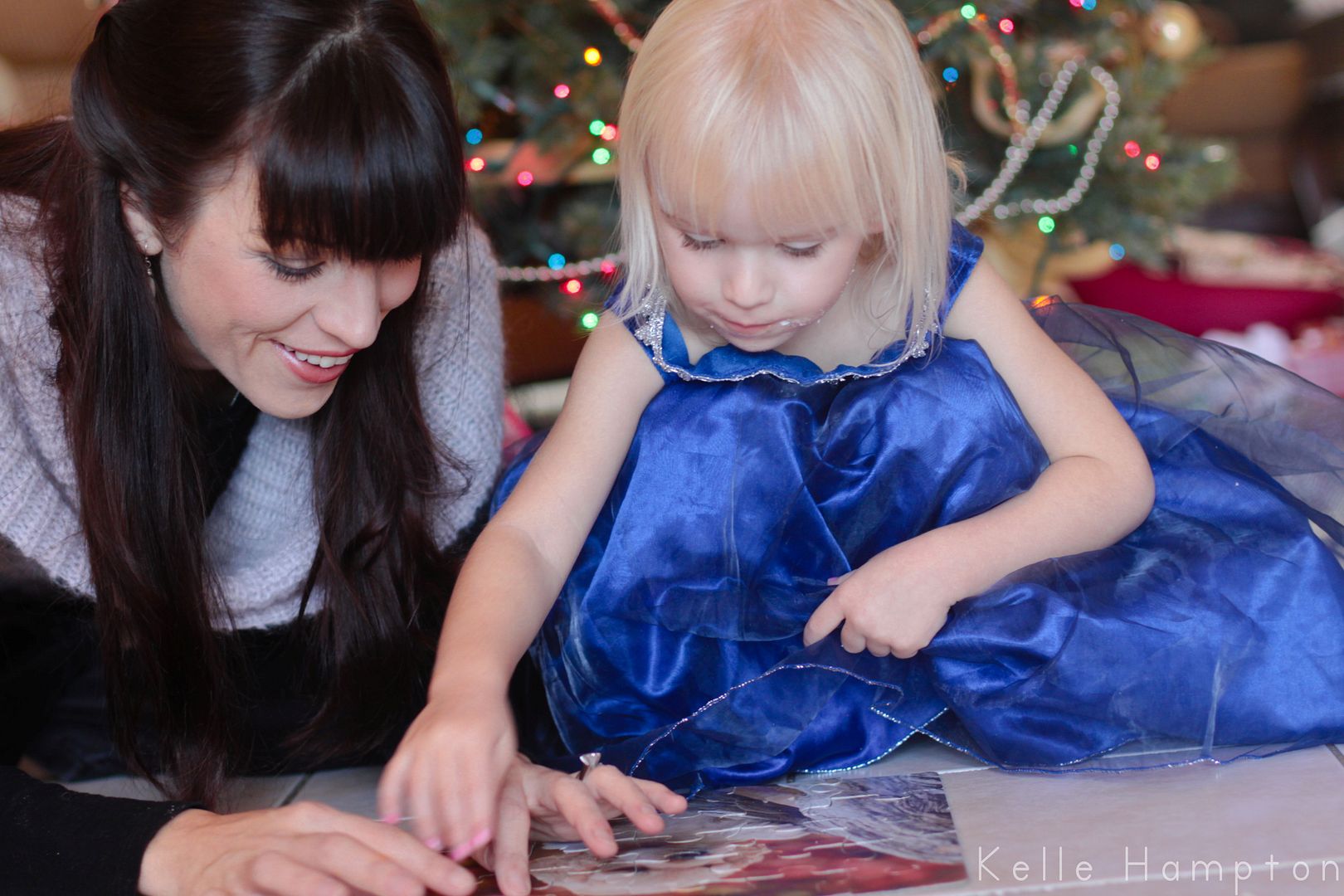 And Lainey's gift from Santa was a hit.
…and not just for Lainey either.
If you haven't noticed, I'm a sentimentalist. I know not everyone likes Christmas, and it can be a painful time for those who have experienced hurt and have difficulty defining the distinction between reality and idealism and all the blur in between. But the pain of life always makes the good stand out even more…like water rising above the oil.
We've cried this year. We've complained and cursed and cleaned up messes, just like everyone else. There are scuffs on our walls and bruises on our heart. But, in the end, there is good. And we know when to celebrate, and celebrate we do.
So, last night as neighbors gathered for a fireworks show (thank you, Brekke) and I watched the interactions of every one of my blessed family members, I stopped the inner dialogue of defining that fine line of reality and idealism, and I settled into the moment. Because what was happening in our driveway was very real indeed. And it was good.
This was my very favorite Christmas yet. Not because it was perfect, but because it was real and good and comfortable.
And all the efforts we put into this grand celebration…it was worth it. Every bit of it. Merry Day-after Christmas.
Celebrating our new sponsor, MeYou Health. I've talked about them HERE with their daily challenge, and it's a perfect time with New Year's resolutions to join. Basically, it's a fun, easy way to be more mindful of a healthy lifestyle, and you can sign up through Facebook. Costs you nothing.
Hoping everyone had a meaningful holiday, and wishing you more happy moments this week.