His Father's Day wish did not surprise me. While I am often investigating opportunities for the next big adventure–scouring local event calendars, scouting out secret beaches–Brett is most happy at home, where routine and the presence of every family member accounted for, is his greatest thrill.
So, we repeated last year's Father's Day performance with a family swim, this year highlighted by the brilliant idea to incorporate a bar of soap which was used to slick down a long sheet of plastic leading into the pool. The boys dangerously slipped across our amateur pool slide on their bellies, like streamlined penguins, landing into the pool a few times and crashing into walls, screens and windows many times. Did I say brilliant idea? Sorry, overstatement.
Minus a few scrapes and bruises, Brett was happy. And later, we savored pork carnitas and some special time with Brett's dad and little sister while Lainey performed a swim show for us. She instructed when and how we were supposed to clap.
*****
After Nella's therapy session with our ITDS (Infant Toddler Development Specialist) this morning, Lainey was a bit reclusive and temperamental, probably nothing to do with sibling attention and everything to do with being four. There was dramatic stomping involved…and some forced line of "it's not fair"–which is just funny because we never talk about anything being fair in our home, I don't know where she gets it, and regardless, it's a moot point because nothing in life is fair. Cowboy up. However, there is an easy fix for these blips–tried and true solutions that both boost my girl's feelings and assuage my own unrest for unequal attention. It's a date. Just the two of us. To anywhere. Today, it was Mel's Diner where we sat side by side, dangling our saddle shoes from red bar stools and tapping our spoons together in miniature toasts. *Tink!* To Mama! *Tink!* To Lainey! *Tink!* To Macaroni & Cheese!
I taught her how to play Tic-Tac-Toe and how to construct the perfect cootie catcher. Very important things to know in life, of course.
My bottom line in parenting–in special needs, in friendship, in anything–is always this: Most of the time I don't know what the hell I'm doing, but I damn well know how to spend time with my kids–how to have fun. This combination of time and attention, love and vivacious energy makes me feel like I know what I'm doing, and that confidence–whether it's real or just a figment of my imagination– gradually grows until it cannot be denied; until I know with certainty that it's working, that I have good experiences to fall back on, to lead me through the intimidating parts of the journey. Somewhere along the line, "I don't know what I'm doing" becomes, "Damn. Look at us. We're doing it." I love that.
*****
There is a creative monster that dwells within me. If I do not feed him, I picture him clawing his way out of me in some bloody alien hatching scene. So, it is best to feed him. Okay, that was overboard. What I meant to say is that it is vital for my productivity and happiness to create things–to brainstorm ideas, take pictures, write, cook, craft or stare at a corner in my house wondering what color paint would look best or how I could rearrange the furniture to ignite some sort of creative revolution. This makes me happy.
It's important for me to pass this on to my kids as well. Not so much because I want them to be Picassos or Van Goghs but because I want them to be happy. I want them to have outlets to express themselves, to have arenas where they are accepted and welcomed, celebrated and loved, even if that arena is a canvas or a blank Word document.
Another tried and true way for Lainey to calm the heck down or feel validated is for her to have the opportunity to make something. She too has a creative alien begging to hatch (still gross the second time, sorry), and the other day it manifested itself in what she called "hot-oh-cod-oh" pretzel cookies. Also known as a bowl full of her mischievous concoction of water, milk, two strawberries, a handful of pistachio shells, some Bisquick, a wad of chewed-up gum and two shakes of baby powder. Little dickens, she can be.
Creativity comes in more convenient forms when I'm guiding her with instructions. This weekend we made photo frames, a perfect gift and only costs–wait for it….a dollar. What you need: $1 wooden frame from craft store, a bottle of Mod Podge, a stack of magazines.
Baby who ransacks magazines, optional.
Lainey put the fun of "hot-oh-cod-oh" pretzel cookies behind her because plundering through Vogues and Marie Claires for occasional pictures of kittens was far more fun.
My final product, sans kittens.
I repeat, a dollar. I was going to send it to my sister for her new place, but I kind of want to keep it now. Besides, I think she'd like the one Lainey made better. It's full of golden retriever heads from dog food ads on one side and pictures of strawberry pop tarts on the other. I have no picture because we still need to finish it.
Moving on.
*****
There is something happening with the relationship between these girls. Something spellbinding.
They've always loved each other, yes. There is idolization on Nella's part, fierce protection on Lainey's. I've posted pictures of their embraces, overused the word "love," and tried to transform an ethereal emotion into words a handful of times. But things are evolving and emotions rooting into a deeper relationship that is taking shape. It will take me a while to find the words and string them together to explain what exactly I mean, so I will wait.
But I will tell you that many of the invisible shards of pain–the unnoticed ones that remain past the healing–well, so many of them have dissolved as I've enjoyed electrifying moments of bonding with my girls. They get each other. They play with each other. They make each other laugh so hard, we come running to see just what's so funny.
And I want people to know that. When you see someone with Down syndrome, know that they have electrifying moments of laughter with their siblings. Picture them smiling so big, their eyes are squinting…and their head is tipped back, and their belly is quivering, and they are begging for their sister to do that funny thing one more time because the second time around, it's going to be even sillier and they're going to laugh all the harder. I think this tiny bit of imformation is powerful.
*****
I went to type this post earlier and had complete writer's block, so I went to Costco and threw edamame, double A batteries and size 3 diapers into my cart to give myself a break. Came back, sat down, and it suddenly felt more comfortable. Sometimes, you need to give yourself a break.
Oh, and p.s. That creative monster? I said it was a "him," but no. She's a her. Pretty sure of that.
Winner of the Polka Dot Posies hat and flower combo: Comment #2, FEAS613. And FEAS613 happens to be Beth, a frequent commenter who just moved to Naples. So Beth, it's time we meet. E-mail me, and I will personally deliver your hat and flower to you.
*****
Our new sponsor has me hook, line and sinker. My secret rule of house cleaning is that no matter how messy things are, you can trick anyone into thinking your house looks nice if it smells good.
My house just met the Muthaload with Jessica Clough's Scentsy shop. I received a huge box of goodies the other day in the mail and ten minutes later, I was on her site, entranced by the selection of products to make your home smell inviting. Brett came home an hour later and, spellbound by the scent and my explanation of the new sponsor, declared–and I quote–"Dude, that's awesome. Go order some stuff."
Loving this mini electrical plug-in scent pot.
…and my new Margot warmer. The scents come in bricks. You break blocks off like ice cubes. It's addicting.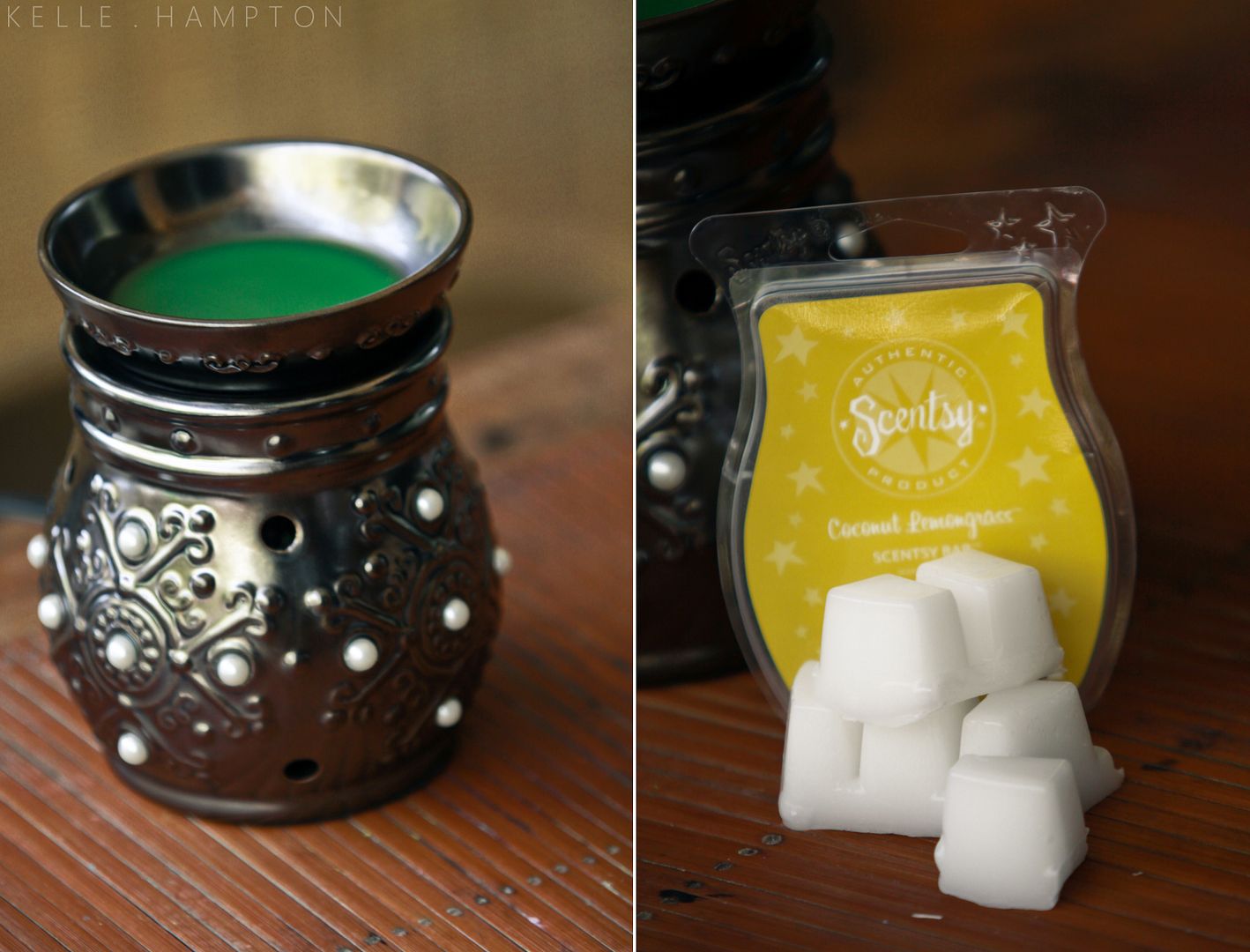 The scent currently burning in my pot is called "Sharp-dressed man" which is basically code for hot guy, and if anyone tells you they don't want the scent of a hot guy wafting through their home…they're lying.
I saved the best for last. This is Brett's favorite part. The Scentsy Buddy.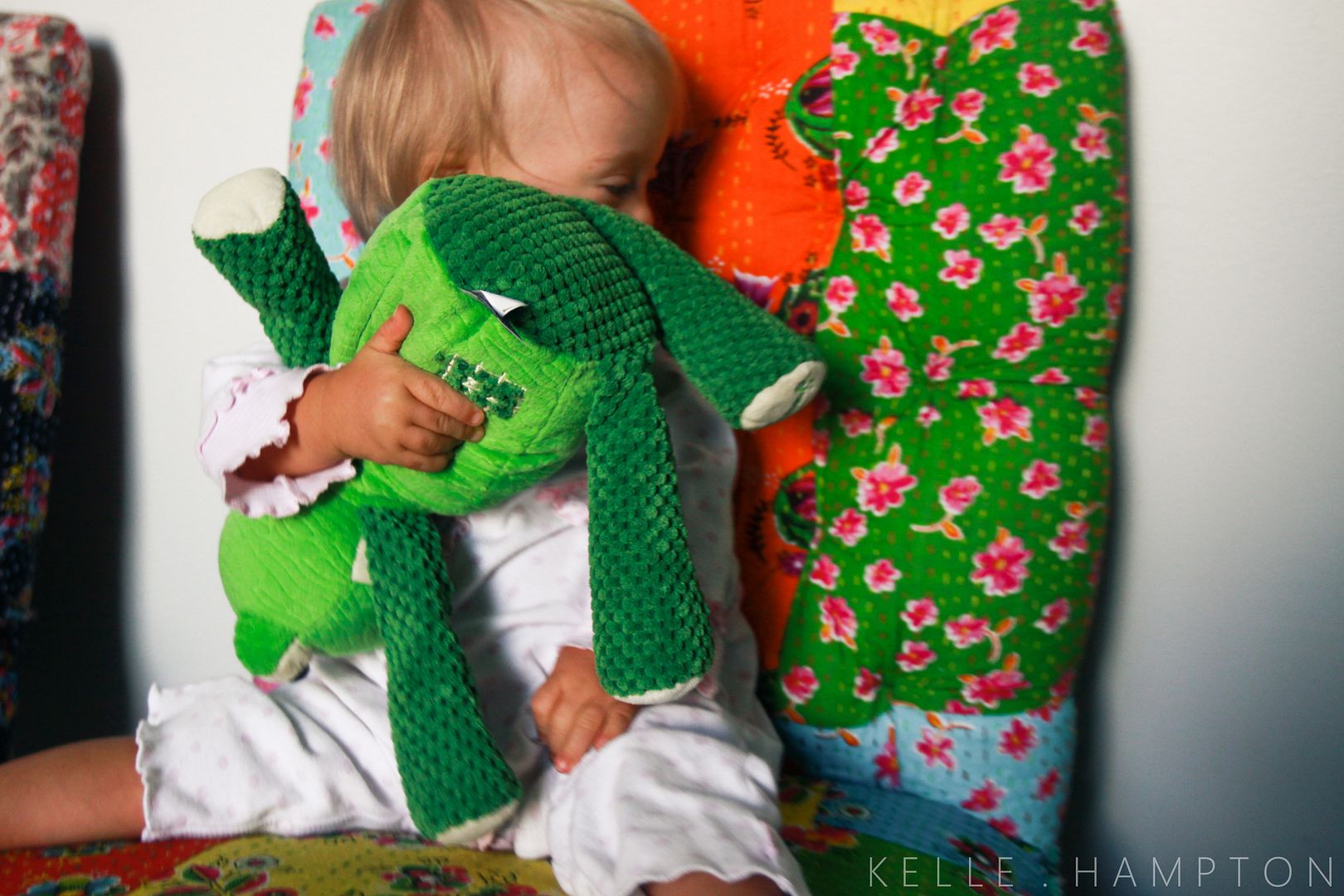 It's a stuffed animal with a little pouch. You zip a scent pak into his belly, and he smells amazing. My girls love him and he is currently tucked beneath Lainey's arm in bed. I think it makes an awesome shower gift. And there are some fabulous homey scents like cotton or lavender, vanilla and baked apple pie.
Check out the fantastic variety of scents and products HERE. A commenter on this post will win a free Margot warmer and Coconut Lemongrass scent brick, like mine. As always, if you can't think of anything to comment, just tell me what are enjoying right now. I love to hear others' inspirations and what makes you happy.
I'm off for a quick midnight run, post-rain.
Oh, and two repeated questions.
The light blue romper that Nella wears in this post? I've received over twenty e-mails on it. I'm sorry to say, it's one-of-a-kind, purchased from a vintage Etsy shop when I was pregnant. Secondly, thank you for your sweet comments on the Father's Day post. The story of how Brett and I met? It is written. Just hasn't been shared…yet. It will come.