I am deeply moved by music. In fact, it is not unusual during a gathering of friends for me to hear the distant tunes of some inspiring anthem in the background and then hush everyone for a moment of meditation.
Shhhh. Listen. Hear that?
I close my eyes, hypnotically smile, sway my body and wait for others to feel it too. Sometimes they do. Sometimes they laugh because my moment is weird and funny and untimely.
I get the whole lighter-in-the-air at a concert thing though. And I did the hands-toward-the-heavens thing in worship services when I was a teenager, even though it felt awkward. I have a hard enough time figuring out what to do with my hands when I'm talking to someone without a drink to hold (on your hips, folded behind you, criss-crossed in front? Seriously, where do they go?), stretching them in the air and holding them in the middle of a sanctuary of people just never felt comfortable to me.
Music is a key. There are gripping songs that speak to me, lyrics that unleash my voice, and harmonies and rhythms that mysteriously unlock something within me and awaken my senses, heal my insecurities, and motivate me from hesitation.
I've been listening to this song lately, dancing to it in the kitchen, turning up the speakers in my car until its beat reverberates from my seat and soul alike. And while there are many songs in my mental repertoire that remind me of the autumn we met, the year she was born, that one summer, that restful vacation, that fabulous time, that tearful moment, that really great night on the dance floor…this one is just mine. It all just sort of comes together when I listen to it. A hundred times.

Thank you, Jen, for the song.

*****
It was a weekend of many creatures.
I highly recommend this butterfly kit, a gift a friend gave Lainey for her birthday.
We watched first the slow movements of our caterpillars that creeped within the small space of their cup. Lainey hesitantly observed them, that half-inch of plastic barrier drawing her a little closer than she would otherwise attempt. A few days later, they zipped up muddy sheaths around them, magically velcroed to the thin paper and hanging from it like stalactites. Lainey says "chriff-o-liff."
Finally, this weekend, they emerged, more beautiful and colorful and far more appealing to Lainey than their wormlike state.
And our 'wow' shot. Wait for it….
….
….
Bam.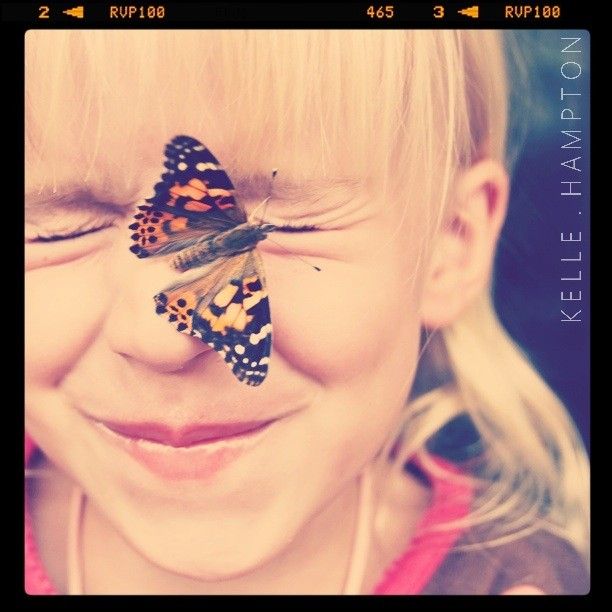 We're in the process of naming them, our five painted ladies that will soon be set free to explore the woods before their short life cycle is over.
*****
We attended to the weekend properly–sleeping in (yeah right), showering late, slipping back into sweats and stretchy t-shirts for the remainder of the day.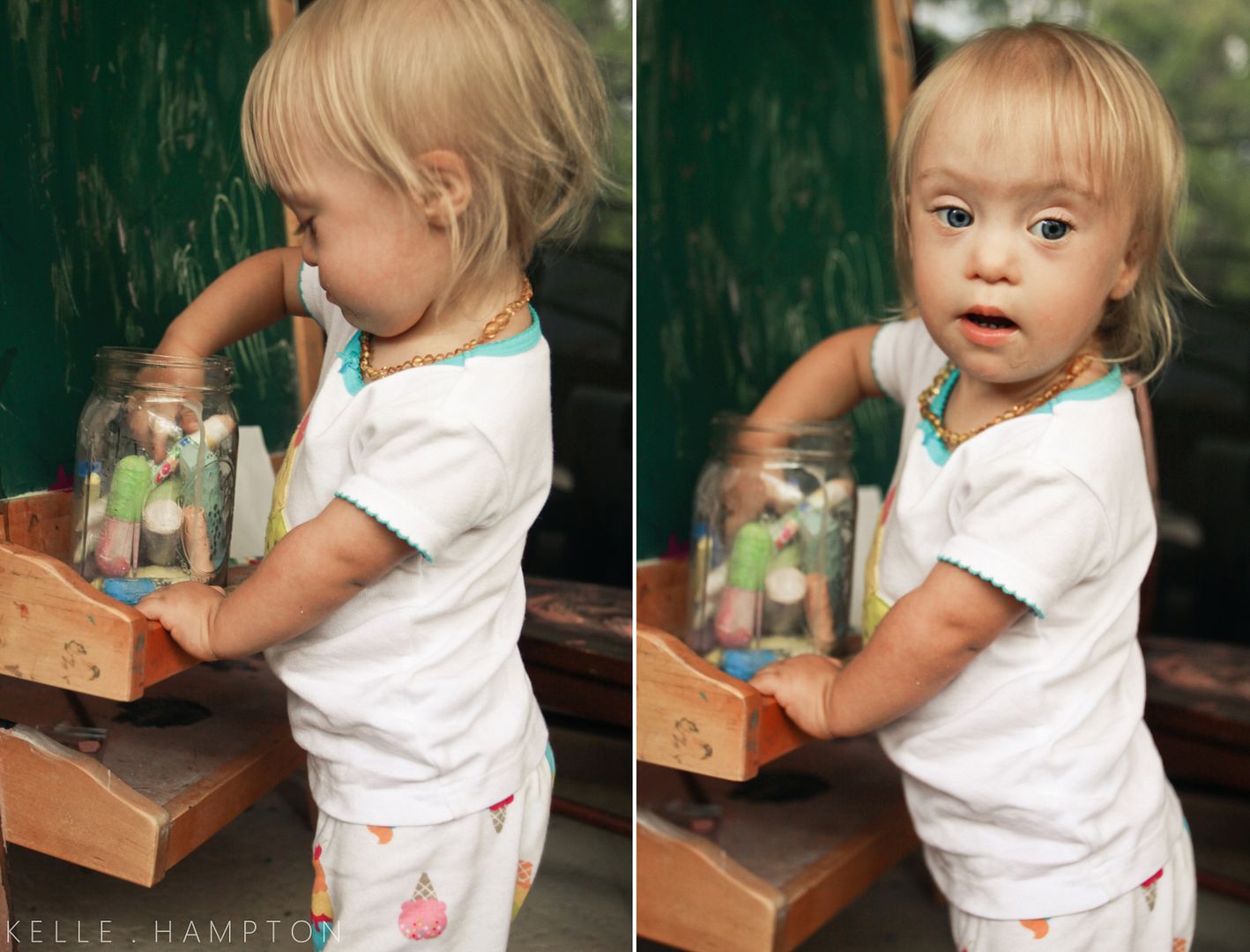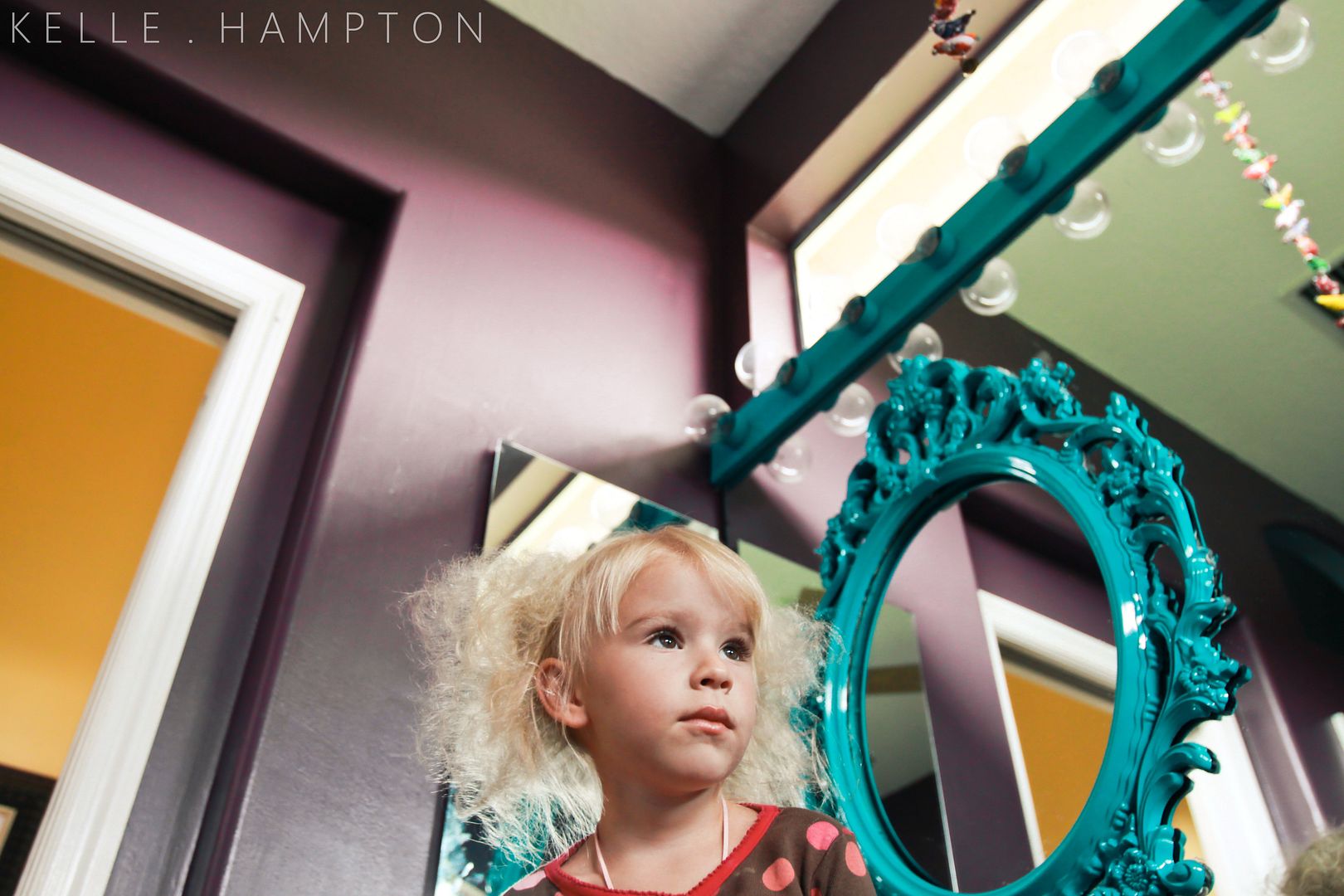 Morning after unwinding two tightly secured buns.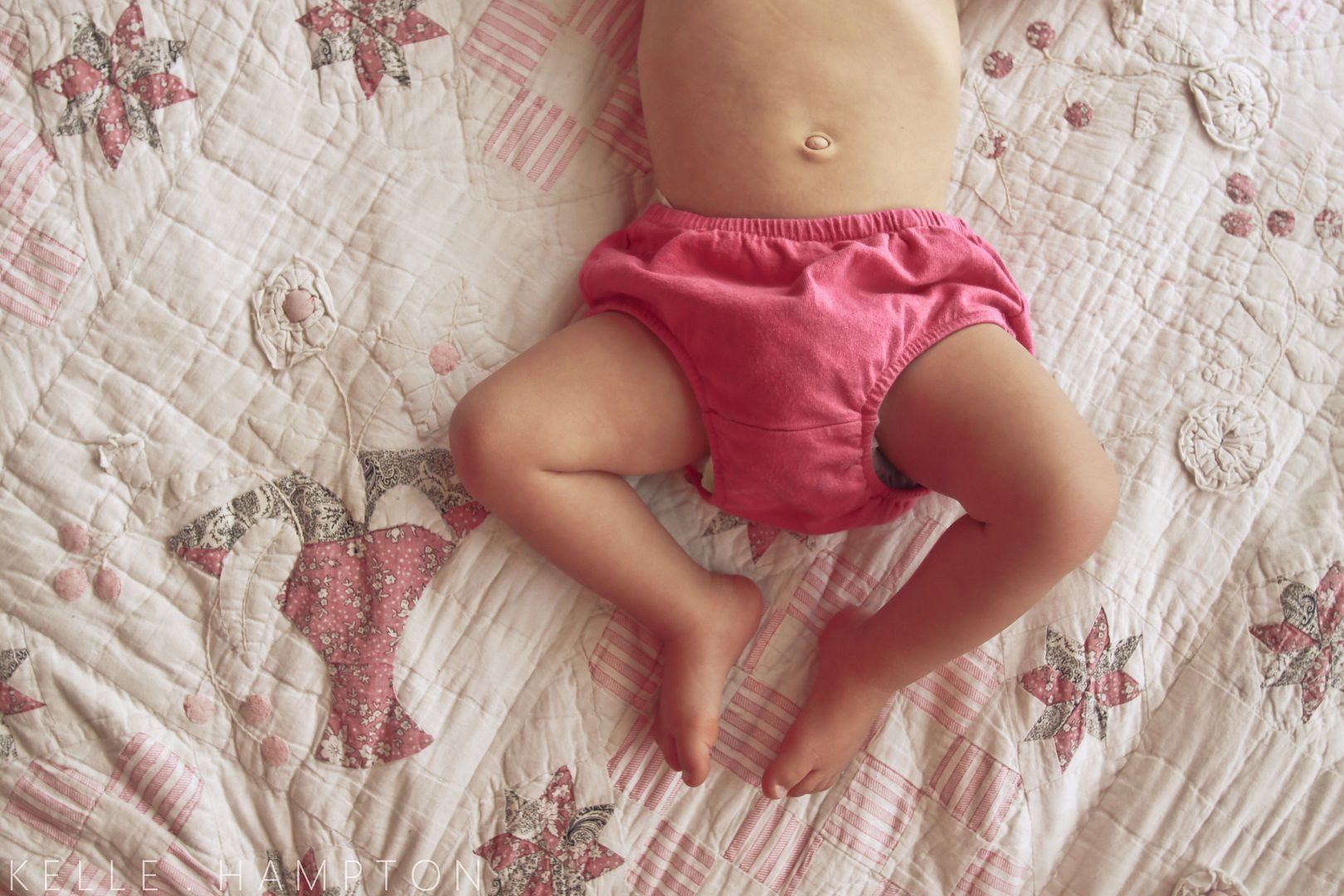 Lainey gets her hair washed in the kitchen sink.
Something's up with this one.
Her schedule's off, and she yearns to be secured to my hip and in sight of me at all times which makes for more trying days…and nights.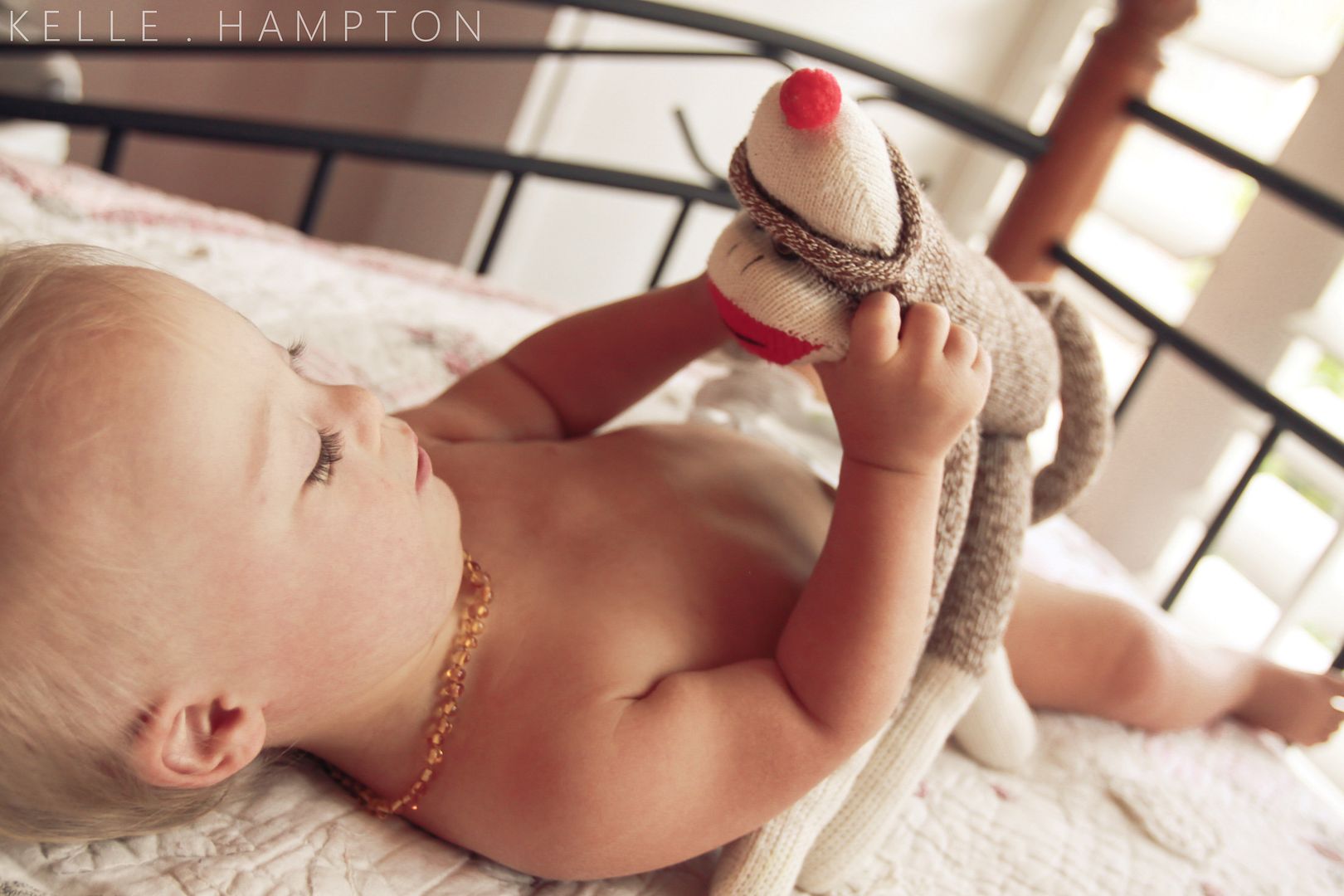 In a moment of sheer brilliance this weekend, I decided a bike ride–just me and the girls–would be the perfect distraction. Nevermind the fact it was ninety some degrees, Nella hates her bike helmet, my front tire is askew and our Craigslist kiddie cart is on its last leg. No, I was determined because "it'll be fun" rolls off my tongue instinctively and somehow, I believe it every time. How about it'll be fun-ny?
I strapped them both up, simultaneously calming Nella's crying and admonishing Lainey with a "Get your elbow out of your sister's face. I'm serious." I was convinced once we were rolling, once the stagnant torridity of a late dog day in June was relieved with the slight breeze my rapid pedaling would produce, they'd be fine. They'd be happy. They'd be smiling with an obvious "thanks Mom, you're the best."
So I pedaled. Hard and fast. Until I heard a clunk and a scream and realized, I was pedaling alone and the crappy kiddie bike cart with two hot, screaming kids was rolling solo and soon lying cock-eyed in the middle of the sidewalk while the distance between us grew. I stopped my bike, threw the kickstand out and ran to the girls, thankfully finding them unscathed, just pissed off. And, I'm sorry, but the sound of them screaming and the sight of that slanted cart, their bulky helmets, me running to help them, my own bike abandoned…well, it was funny and I was laughing so hard, I was of no help to the girls. The weight of my bike overpowered the kickstand within seconds, and it too fell with a metal-scraping crash. I scooped up Nella, calmed Lainey and literally sat on the cement because I was afraid I'd wet my pants if I didn't. Brandyn ran to help and managed to snap this picture of our shameful walk home. Oh yeah, there was a dog in the cart too.
My bike and I are currently not speaking to each other.
*****
Despite that comedic little bump this weekend, we enjoyed ourselves.

Dot came over, and Lainey asked her to sit still with her mouth open and this hat on her head so she could sketch her.
Dot made Lainey a new pillowcase dress in about 45 minutes. Lainey loves it and chose to accessorize its debut on a trip to Target with a pair of mismatched shoes. On our way out the door from Target, I looked down to see one shoe bit the dust somewhere along the way and apparently, she was cool with it because she never mentioned it. Thankfully, it was a cheap Dora flip-flop I was praying would get lost to begin with.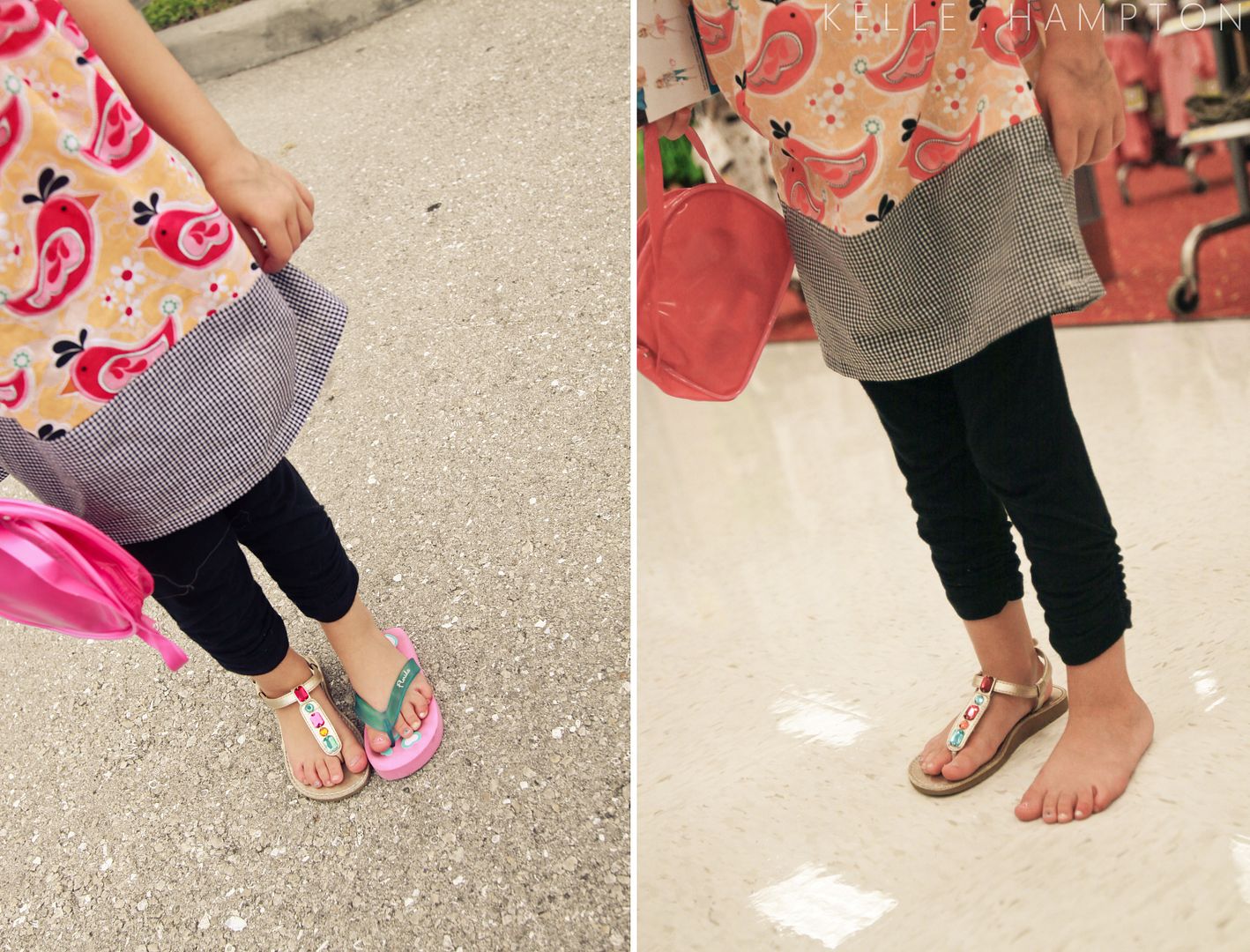 *****
In August, I will celebrate my eighth year in Florida. It took five years to beat the homesickness, two more to not cry over the absence of a cold, snowy Christmas and finally, this year, I'm comfortable with the heat. I forget to complain about it, instead remembering to wear ponytail holders as bracelets, keep bathing suits in the car and stock my purse with blotting papers.

The soundtrack of summer definitely includes the rattling chime of spoke beads.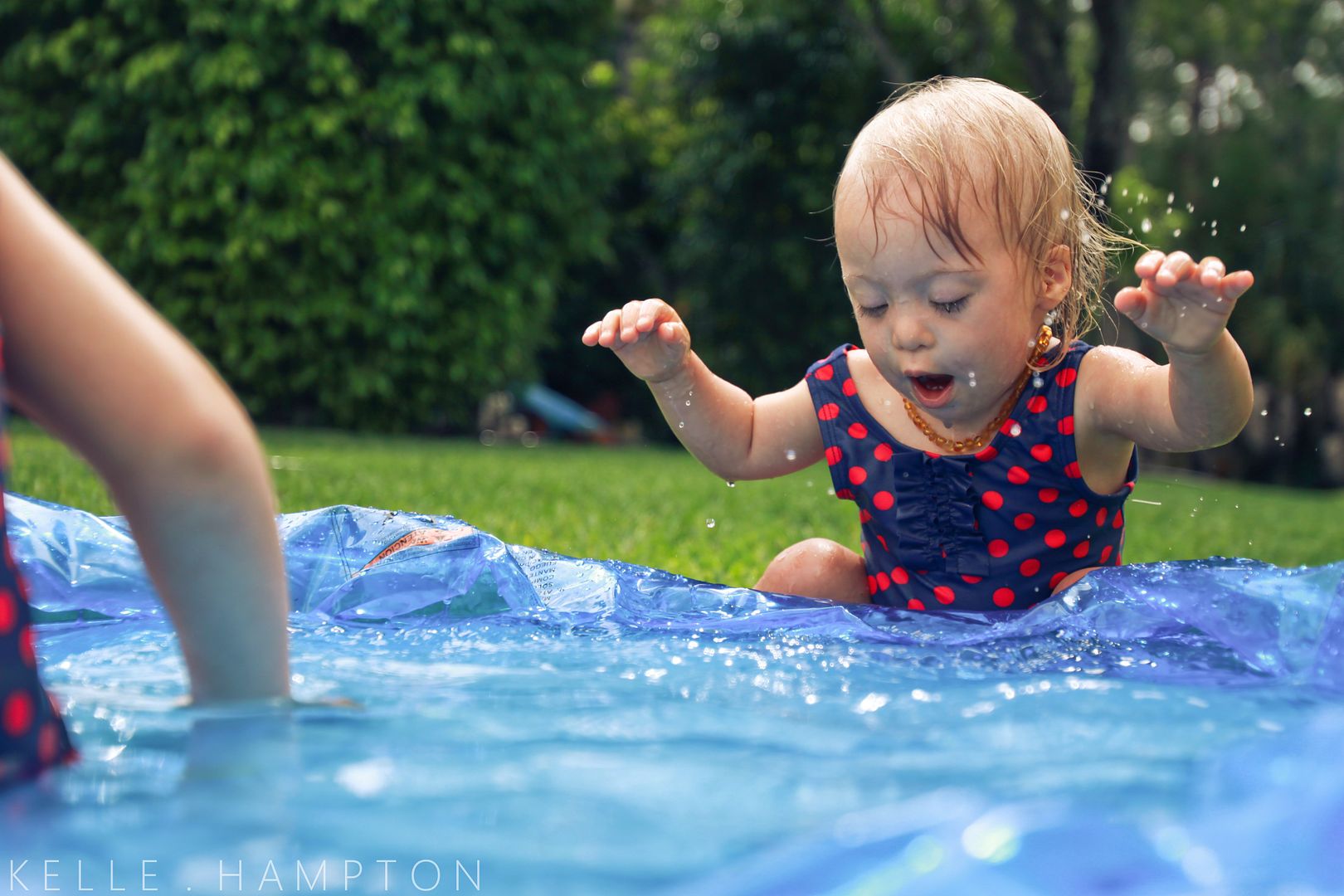 June challenge is almost over, and I'll dish later on how I failed a few times, picked it up a notch, but in the end succeeded.
Tune in this Thursday evening (June 30) at 7:30 p.m. to BYU's Fresh Take TV (checked our TV Guide, and we get the BYU channel.) Our Inspiring Story episode from this trip will be airing.
And that, my friends, is the end of a willy-nilly stream of consciousness post. When sleep schedules are amended, order will resume. Until then, have a happy week.