It happened again. Remember the first ballet class when I couldn't let go? The cut-the-cord incident of 2010 repeated itself with yet another performance on the soccer field Friday night.
Brett was out of town this weekend for some boys fun with Brandyn, so I pushed my way through single mom duties and managed to make it to soccer practice with two girls despite the fact Lainey didn't want to go without Brett. And when all her teammates followed the coach's coaxing and lined up on the field, Lainey clung to my hip. "Come with me, Mama."
I whispered I'd be watching, nudged her out, promised it would be fun, but no go.
And then, without even realizing it, my propellers came out. Inappropriately hovering.
"C'mon, get out there, let's go," I say as I inch myself closer into the field. Closer. Closer. Guiding Lainey's shoulders and standing two steps behind her with Nella on my hip while all the other parents sit in beach chairs behind the line. And while I'm shadowing my kid, I'm shrinking my shoulders and avoiding any eye contact with coaches–like toddlers who play hide-and-go seek and hide in conspicuous spots but with their eyes closed because surely, if they can't see you, you can't see them.
But they saw me. And what followed was something to the effect of "Parents, it's important you stay off the field. We've been doing this for a long time and we know what we're doing. It doesn't help us if you accompany your child out here." And I froze like a deer in the headlights. Didn't even step back or say sorry or anything. I couldn't move partly because I felt so stupid and partly because my kid was crying and running to me in the middle of the whole thing. And in case you wondered what makes one rule-breaking parent feel better when you ask them to leave, throw an "s" on the end of "Parent" to pluralize it so that maybe it sounds like you're not singling one person out even though everyone knows damn well you are.
Yes, this is funny, yes they're good coaches just doing their jobs, and yes we'll give it a few more shots and respect our girl no matter what she ends up choosing. I went home rethinking the whole thing though. Wishing I would have handled it differently, wondering why I didn't. And as silly as those moments of reflection are–especially over something as meaningless as a four-year-old's soccer practice–they are good, even if it's just for a laugh.
When these things happen, they initiate good conversation in home. Conversations on how we want to raise our kids, what's important to us, and the challenges of letting go that lie ahead. And sometimes, you realize the things you thought were priorities aren't very important. It is important to me that my kids learn tools to adapt to new situations and blaze their way through challenges, but it's also important to me that they aren't pushed too hard and that we let their own interests guide them.
While soccer didn't interest her this weekend, planting did.
Nana Kate is a master gardener, often found pulling weeds and pruning plants in her yard before the sun even rises. I love the way she enthusiastically teaches my kids about the outdoors–how she talks about leaves growing and roots stretching as if they are elements to a great action-adventure plot.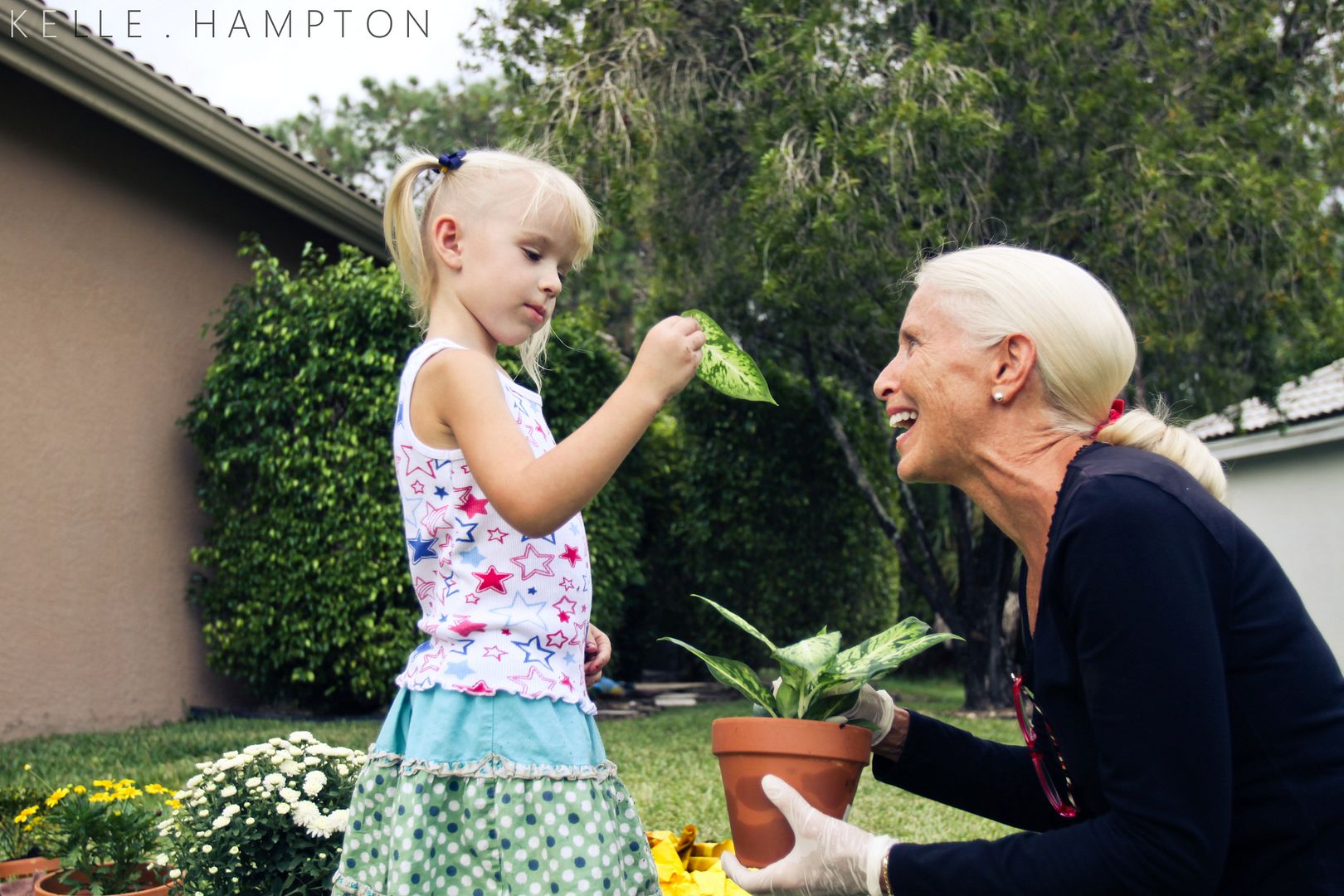 *****
Nella's sharpening her mothering skills these days, tending to babies and Elmos and plush animals who need her care. She feeds them bottles, covers them with blankets, and pulls them up to the crook of her neck where she gently pats and kisses them.
*****
And Lainey missed her daddy this weekend, evident from how she ran into his arms when he arrived back home last night. She lays her head on his shoulder and then pulls it back and looks at him–no words, just smiles.
Daddy's hopscotch moves are hot. If you like that leprechaun dance sort of thing.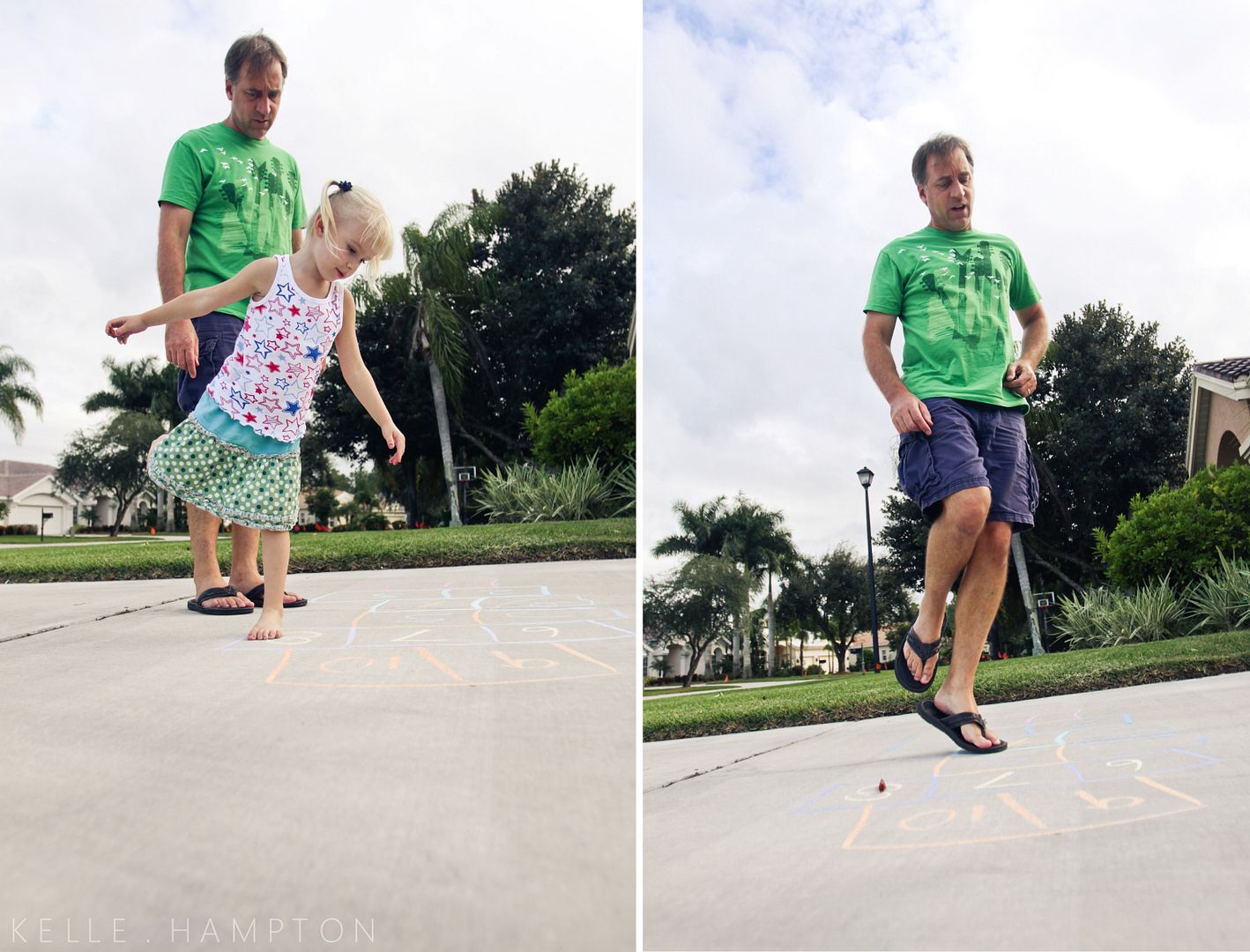 *****
In case you were wondering where the National Ibis Convention was this weekend, I'm pretty sure it was in the Target parking lot. This wasn't even all of them.
*****
Finally, we enjoyed a lazy morning this morning. Slippers and sticky buns and sun stripes from the open blinds all over my girl's pajamas. I'm craving more of these as October ripens.
I love lazy days.
*****
If you're still in need of some last-minute Halloween attire, don't forget to check out sponsor Happy Camper's adorable tie-dyed candy corn knits! There are a couple fun new things in her shop, perfect for the season.
*****
Happy Monday, Friends.