Stopping by.
It is worth mentioning that the photo on the left turned into the photo on the right in fifteen minutes.

This is because Brett called on his way home from Miami and said he'd be home soon. Never underestimate the magical powers of The Shakedown .
While I let my kitchen dishes rot today, we did other things. Crafty things. Christmas things.
20 minutes, a few pieces of 12 x 12 paper, a bottle of glue and some twine will give you paper lanterns.
Fold paper in half, cut slits on fold (but not all the way to the end).
Open paper.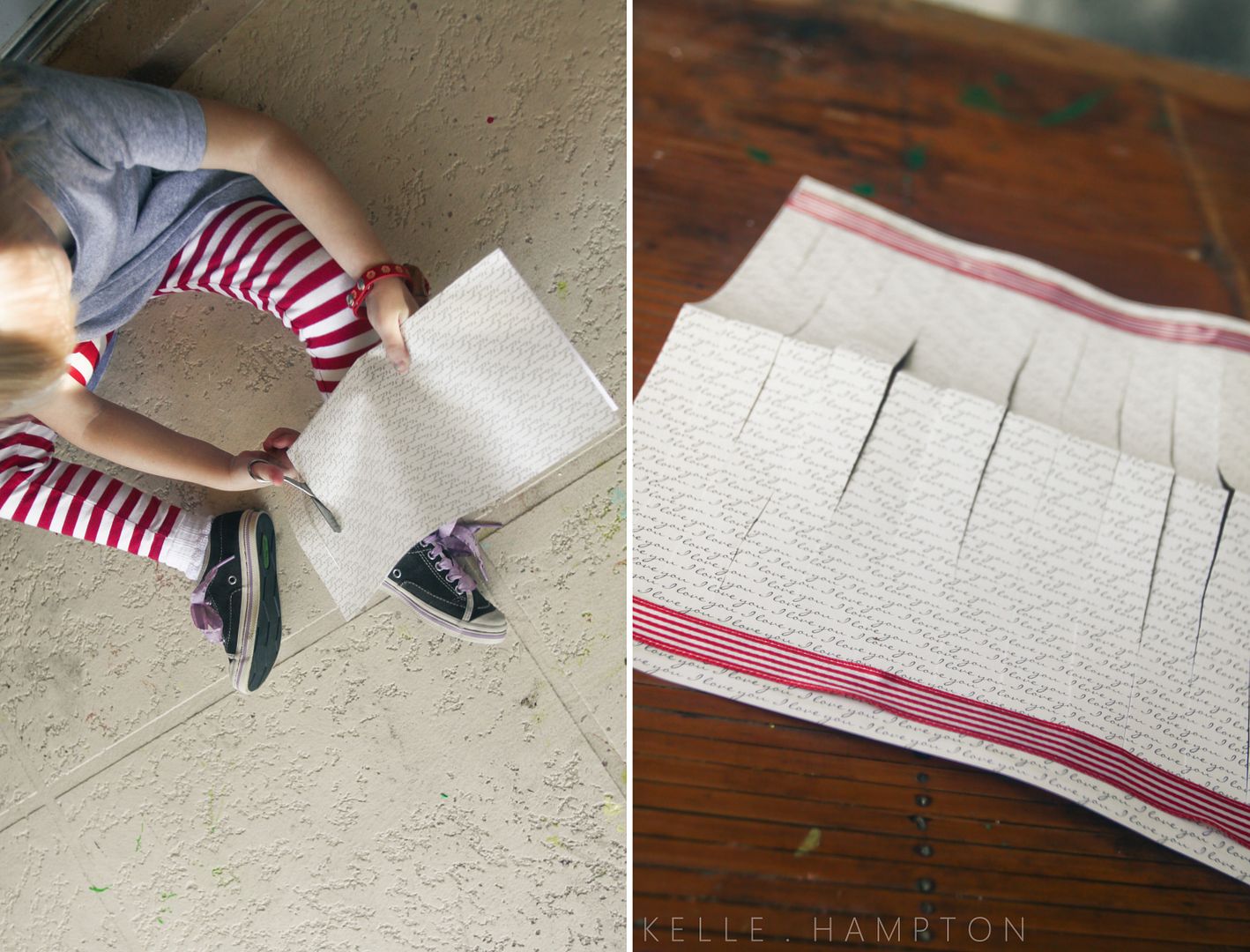 Glue one edge along lengthwise slits.
Curl into circle and secure. Add some ric rac, ribbon, whatever (easier if you do this before gluing into a circle). Hang lanterns with twine. Proclaim festive love, sing a carol, light a candle, Amen.
The house has been properly Christmastized. Of this, I am sure.

Don't worry, the bathroom mirror did not go unnoticed.
From behind the house, fa la la la la.
There you be. Tuesday holiday lovin'.
*****
Heal My Sole Giveaway winner :

Comment #205, I Live for a Little While: I love that you dive right in and let your kids make messes (Nella and the puddles!). I need to do that more often. Hugs!

Congratulations, please send your contact info to [email protected] with the subject HEAL MY SOLE GIVEAWAY.
*****
Two last things.
1.) I'm working on gathering some frequently asked questions for an F.A.Q. post next week. If you have a question, want to know more about something, whatever, throw it in a comment on this post, and I will do my best to collect and answer some of these. I'm working to connect more with readers, answer your questions and create more communication here, so this is a good place to start. Ask me anything (thank you, Amba!)
2.) Have a happy night.