I did a lot of writing this weekend. Enough that I want to step away from structure and focus and just fall into a heap on my favorite stream-of-consciousness pillow.
Which is exactly what I think I'll do.
There's this thing I discovered tonight that rocked my world. It's the "Ella Fitzgerald and Louis Armstrong" station on Pandora. Lawd, I done lost my jazz-lovin' mind. Five seconds into Dream a Little Dream of Me and suddenly my pajamas transformed into a slinky black dress, my bun into pin curls, and my lukewarm beer into an Old Fashioned. All of this is a fantasy of mine. I'm thinking theme party someday.
Changing subjects.
Since Friday, I've spent most of my time like this:
Nella got my flu bug Friday night, recovered by Saturday night, and then backslid even worse into Fluville again last night and slept/whimpered/clung to me all day today.
Then, out of nowhere, the veil lifted late tonight. She raised her head off my chest, smiled and said "Yeah!" And then she ate a bowl of popcorn, and we cheered "She's back!"
Which is fantastic. I missed her spirit.
While she was sick, Brett and I alternated single child care so that we both spent some rare quality time with just one. My just one time with Lainey last night had us heading to the beach, an excursion I've been craving since returning from its Michigan contrast.
I miss the snow but really, this isn't so bad.
An African drum group circled in the sand and beat out this enchanting rhythm that not only transformed the sunset into even more of a spirtual experience but called to all the bikini wearin' girls like the sirens so that, by the time the sun hit the horizon, there was all sorts of crazy going on. And by that, I mean gyrating bouncing breasts. I spared you the photo.
I begged Lainey to dance with me–maybe not the breast bouncing kind, but I at least wanted to give the African thing our best shot. When in Rome, you know? I barely put my hands in the air and threw a hip out there, and she yanked my arm and loudly whispered, "Please stop dancing." I feel this is only the beginning of mother-embarrasses-child moments.
Little Child has much to learn. Little Child must learn to dance. I will teach her.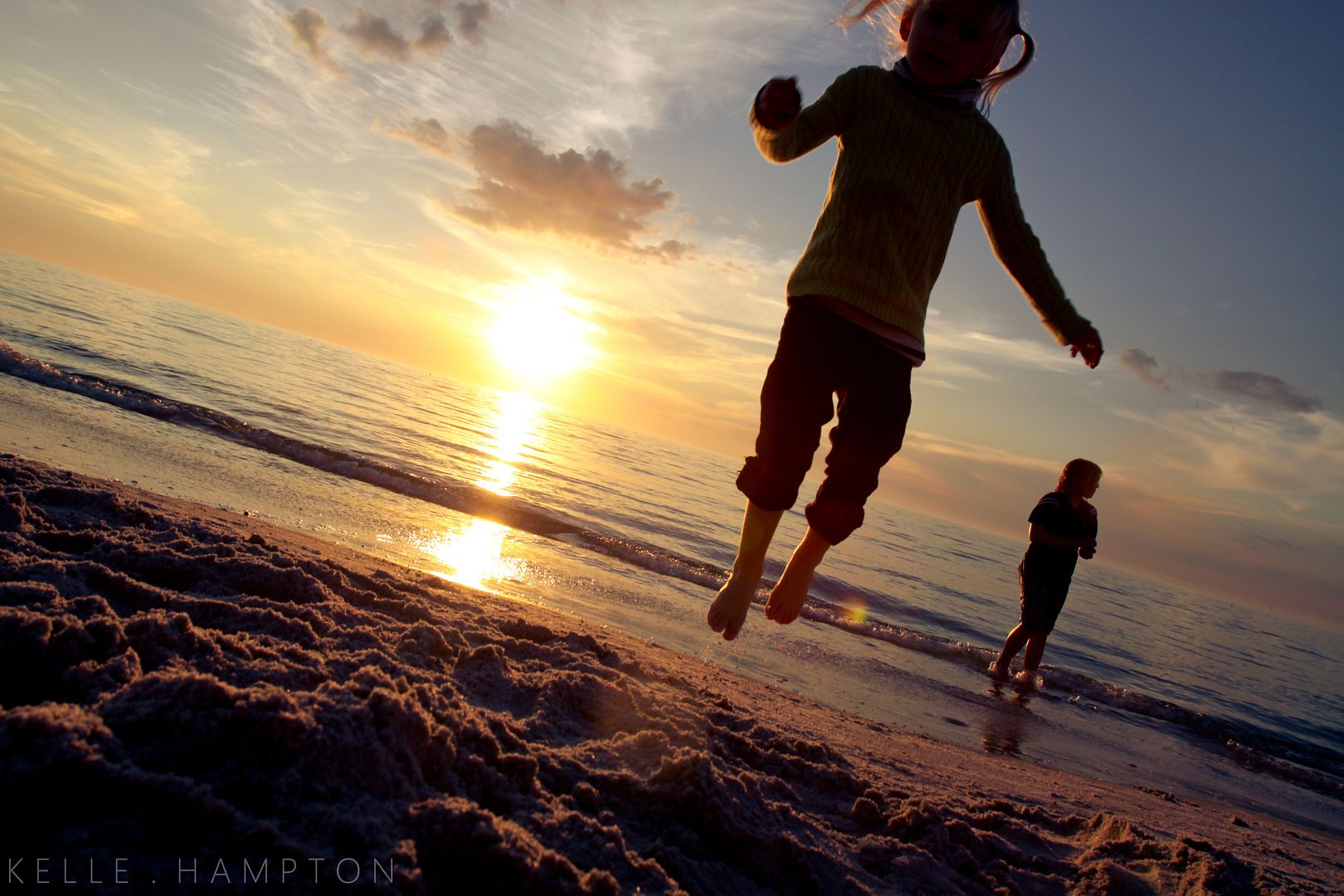 The full moon was obviously a'comin, because African drum dances weren't the only beach entertainment. There were sunset hula hoopers too.
We reigned it in with a rainbow sherbet/strawberry cone toast at the Beach Store post sunset.
And today? Well, it called for paper boat sailing.
We started fancy–me impressing my child with my boat-making skills and upping the ante with my brilliant idea to shove a bamboo skewer in the sail and add some flashy tape to jazz it up. For a moment, she forgave me for busting a move on the beach.
But my relationship with physics pretty much blows, and between the thin paper, the bamboo skewer, all that tape and the fact that I failed to plan this out–well, let's just say the boat never made it out. It tipped and sunk.
We're determined though. We talked it out and redrew our plans. We went for simple and streamlined with just a touch of added flair in Lainey's handcut orange sail. It worked.
The ugly ducks applauded.
The remainder of the weekend was spent enjoying periods when Nella felt good, when the sky was vivid and locals posted versions of "what a beautiful day" all over their Facebook walls.
'Tis true. It was lovely.
The last of our Christmas decorations have been packed up, and I am feeling invigorated to clean, upturn, throw away and rearrange. Finally, things feel back to normal, minus a half-unpacked suitcase.
*****
Welcoming the first of this year's sponsors, returning sponsor Dashing Bee. Dashing Bee is an online consignment store, offering inexpensive, gently used items from clothing and toys to baby gear and room decor. The store is well-stocked, continually updated, and navigating through their merchandise is a breeze. Before you spend top dollar for big items like bikes and strollers or smaller items like new shoes, dance wear or a dress for that upcoming birthday party, check out Dashing Bee.

All of the above items are currently for sale on the site.

Use Code DASHING5 for 5% off your order.
*****
Tomorrow, I will return with a special post in honor of a sweet girl's upcoming birthday.
Happy Monday, Y'all!