I walked across the driveway tonight, careful to keep my steps only as long as Lainey's legs could handle while she balanced on my feet and stretched her arms above her head. I clasped her wrists and guided her twiggy body–left, right, left, right–like a marionette puppet, and I stiffened my calves to support her weight through our synchronized dance.
She trusted me completely–giggling, letting go, giving in to my guidance. When her boot began to slip, I felt her body tense and take over. "Mama, don't let me fall," she said. I smiled and assured her, "I won't."
*****
Tuesday, we traded our yellow leotard to wear pink for ballet. It was Valentine's Day.
As I gathered clean tights and pulled a pink tutu from the dress-up bin, I asked Lainey to find her shoes and fetch me a brush. We were going for a high bun which calls for wet hair, soft bristles and about a hundred brush strokes to pull all the fly-aways from the nape of her neck and to smooth the tiny bumps in her fine hair. Somewhere between brush stroke ninety-eight and ninety-nine–right before I secured the result of my hard work with a tiny rubber pony tail holder–Lainey shook her head and broke free. "Call Aleena," she said. "Ask her mommy how she's wearing her hair." Running late and frustrated, I responded instinctively. "Lainey, you don't have to wear your hair like Aleena. How 'bout you do your own thing, babe?"
We compromised with a half-pony tail which, coincidentally, requires half the brush strokes, and she was fine with it.
The thing is, I've had this idea that I have to raise a leader. That following is weak. It's what we hear–Be a leader, not a follower. Blaze the trail. Set the trends. There is, no doubt, this assumption in our society that leaders are strong and successful and followers are somehow lesser. If "Do you consider yourself a leader or a follower?" was a question on a college entrance exam or a job application, I think most of us would be inclined to answer leader whether it was true or not because we think it's a right answer. And, without even consciously making efforts to push leadership, I definitely sense it's an underlying theme in my parenting.

Nella snuck into dance this week and followed along perfectly.

However, in my leadership cheerleading role, I came to a bit of an "Aha" last night when Brett's few (cough, cough) years of age and experience on me had a moment of shining glory.
We were talking to Brandyn about the company he keeps at school, choosing good friends, making wise decisions. Brett was on a roll, doing a great job with his advice when I made the mistake I sometimes do of butting in because I want them to know I care. I am learning that caring can come in the form of a smile and a nod and doesn't always have to be my two cents on a platter.
Last night, it was two cents.
"You have to be a leader, Brandyn!," I exclaimed all Richard Simmons enthusiastic, checking off my things-you're-supposed-to-say-to-your-kids list in my head. Brett flashed a look, and I knew exactly what it meant–thank you, but I've got this. So I smiled and nodded.
Later, when we were alone, Brett returned to the subject. "I don't want to tell the kids they have to be leaders," he said. "The world can't be full of just leaders, you know."
"So what, you want to tell them to be followers?" I asked, snarling at the preposterous suggestion.
"I want to tell the kids to be themselves," he confidently answered.
And for a second, everything about parenting made perfect sense.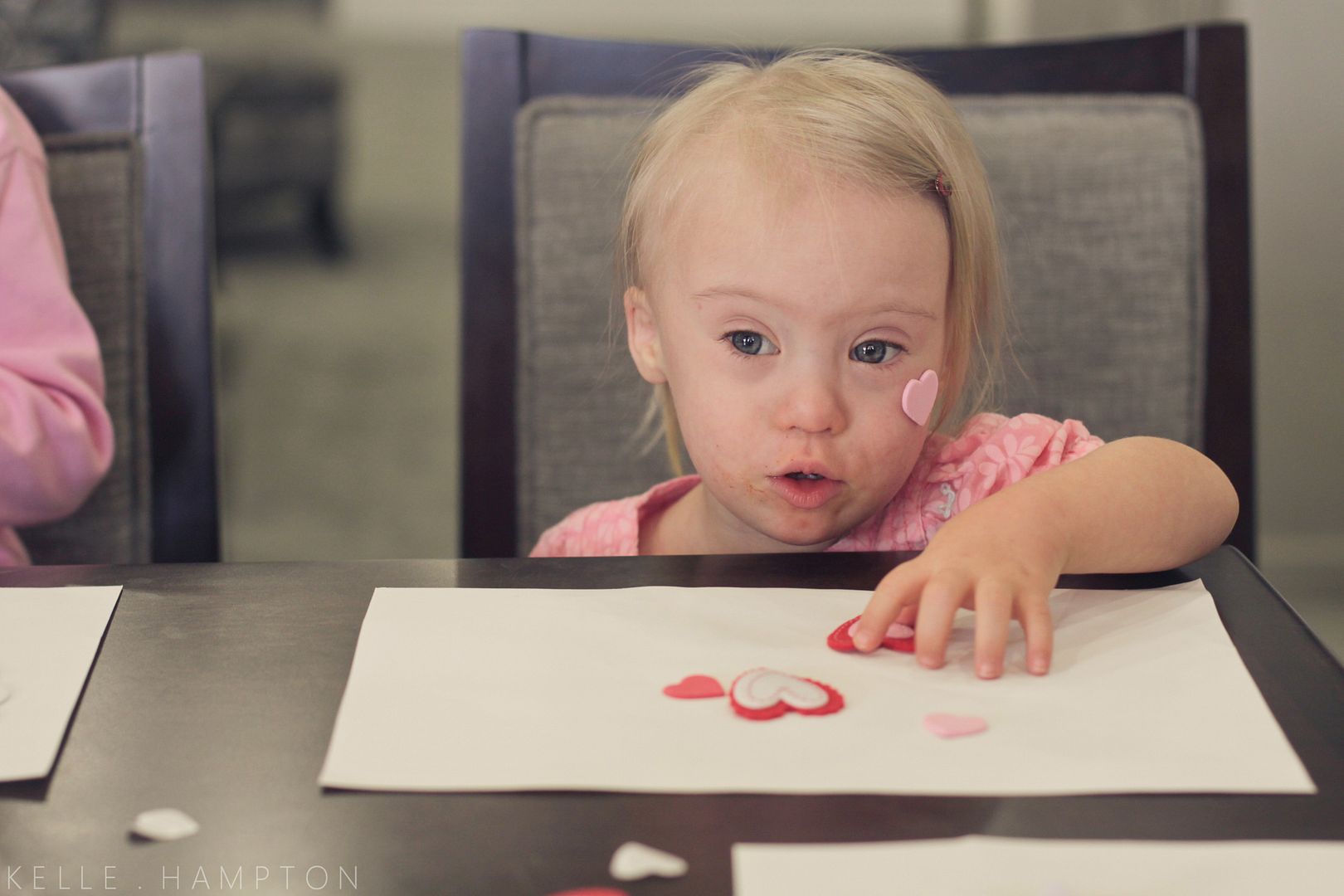 I've always hated Right/Wrong Parenting where things are black and white and parents make blanket statements about how things should be done. Parenting, like so many other things in life, is gray. There is no one right way to raise your child. And yet, I've had this black and white idea of leader vs. follower in my mind–Don't be a follower. Do be a leader. And teach your kids to do the same.
But I love the truth that falls perfectly into the gray middle–teach your kids to be themselves.
It's true. We can't all be leaders, all the time. But we can help our children be themselves and, by doing so, discover ways in which they can both lead and effectively follow.
Lainey doesn't need to hear me telling her "Be a leader." But she will certainly feel confident when I tell her I recognized the way she took responsibility to help her sister learn some letters.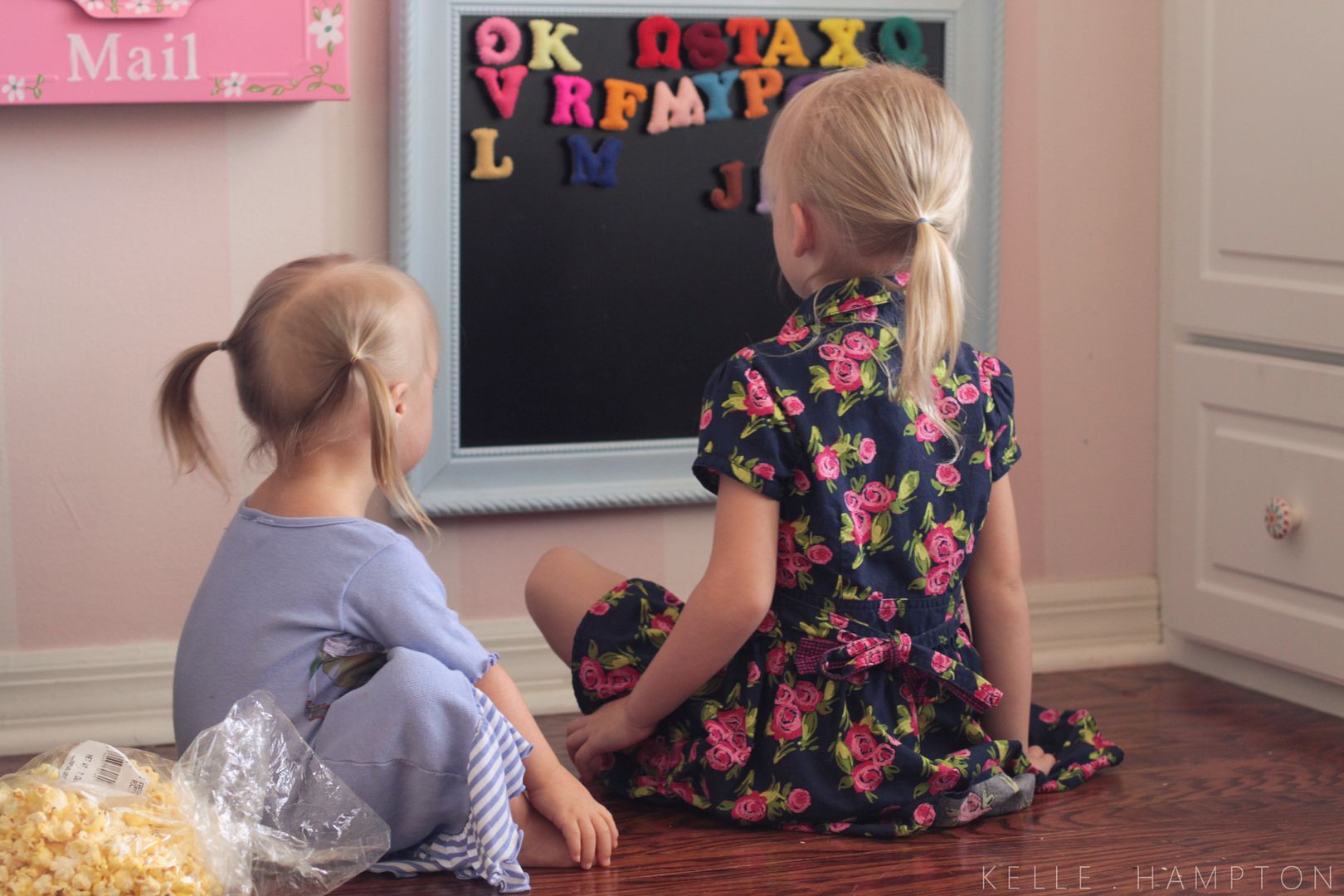 Or how proud I am to see her hold Nella's hand and lead the way on our afternoon walks.
How I love that she makes up songs, creates new games, puts together crazy clothing ensembles and sets her friends straight.
Sometimes–lots of times–Lainey is an amazing leader.
But following is important too, and we all have ways in which we both lead and follow. At four-going-on-five, Lainey takes good direction, quietly observes situations and wants to wear her hair like her best friend. And that's okay.
The older the girls get, I find I am continually reconstructing my parenting views–my own views–as I take on more responsibility of being a role model for my girls. I think about what I say more, how I act, what I teach my kids, and sometimes that involves changing my perspective.
I won't always have the answers, but I do love the simplistic truth that lies in that one statement–be yourself. Letting that principle guide my parenting makes it seem so much easier. Whether my children are leaders, followers, extroverts, introverts, artists, scholars, sensitive listeners or strong influencers–I don't need to worry so much about how to make them that way. I simply need to encourage my girls to be true to themselves. To never apologize for expressing how different or alike they are to someone else.
Same hairstyle as your best friend? Totally okay if you love it. Different hobbies than everyone else? Fantastic, you go, Girl.
There will be times in both my kids' lives when they will have opportunities to step up as leaders. And there will be necessary occassions when they will need to follow. Through all of it, I hope they will be themselves. Because we showed them how.
I will both encourage leaders and guide followers, but for now? They're still little. They walk on my feet and hold my hands. Baby steps for both of us.
*****
Our new sponsor is near to my heart for two reasons: I love the products and the name. Introducing Nella Designs, offering you custom designed silhouettes, prints, invitations and more. Designer Elizabeth started her company in 2008 and has been recognized by The Washington Post, Mary Engelbreit's Home Companion and more. I smiled so big last week when I unwrapped our mail package to discover our custom designed prints for the girls' rooms. She captured so much of my girls' personalities from just a single photo.
Check out the little silver barrettes, her nursery art prints, or the custom silhouette jewelry.
Use Code NELLA for 10% off your order, and happy shopping!
*****

Tomorrow, I'll be dancing with some awesome people. More to come.