When I say I peeled myself out of bed this morning, I mean I literally had to self-talk my way through every body part that braved its departure from the sheets. My head was slow to the game. Somehow I ended up at Target a few hours later, my side-kick walking next to me, miraculously oblivious to the Hello Kitty lipglosses we passed twice.
"Do you want lemons, Mom? 'Cuz they help you not be sick, right?" I smiled, willing myself not to gag. By the time we made it to the dairy aisle, I was worried. I've never thrown up in a public place, and I began scouting out my surroundings, searching for the perfect crime scene like solving the mystery in a game of Clue. I had it all figured out–the gardening aisle, in a rubber rain boot, with a straw hat thrown over my head for concealment.
Thankfully, we made it home and I didn't have to buy a pair of "used" galoshes after all.
Moral of the story? Dude, I so wish I had something more exciting to share but this is it right now. Complaining kind of bores me, and I will be happy when I'm more on top of my game. It will come, and I will wait patiently. My sickness with Lainey lasted 16 weeks, Nella' was 14 weeks, so statistically I should be wrapping this up pretty quick now. Inspired writing sessions follow, right?
In the meantime, our big to-do has been a car wash.
It has really nothing to do with getting the car clean and everything to do with two girls who love water and slopping sudsy sponges.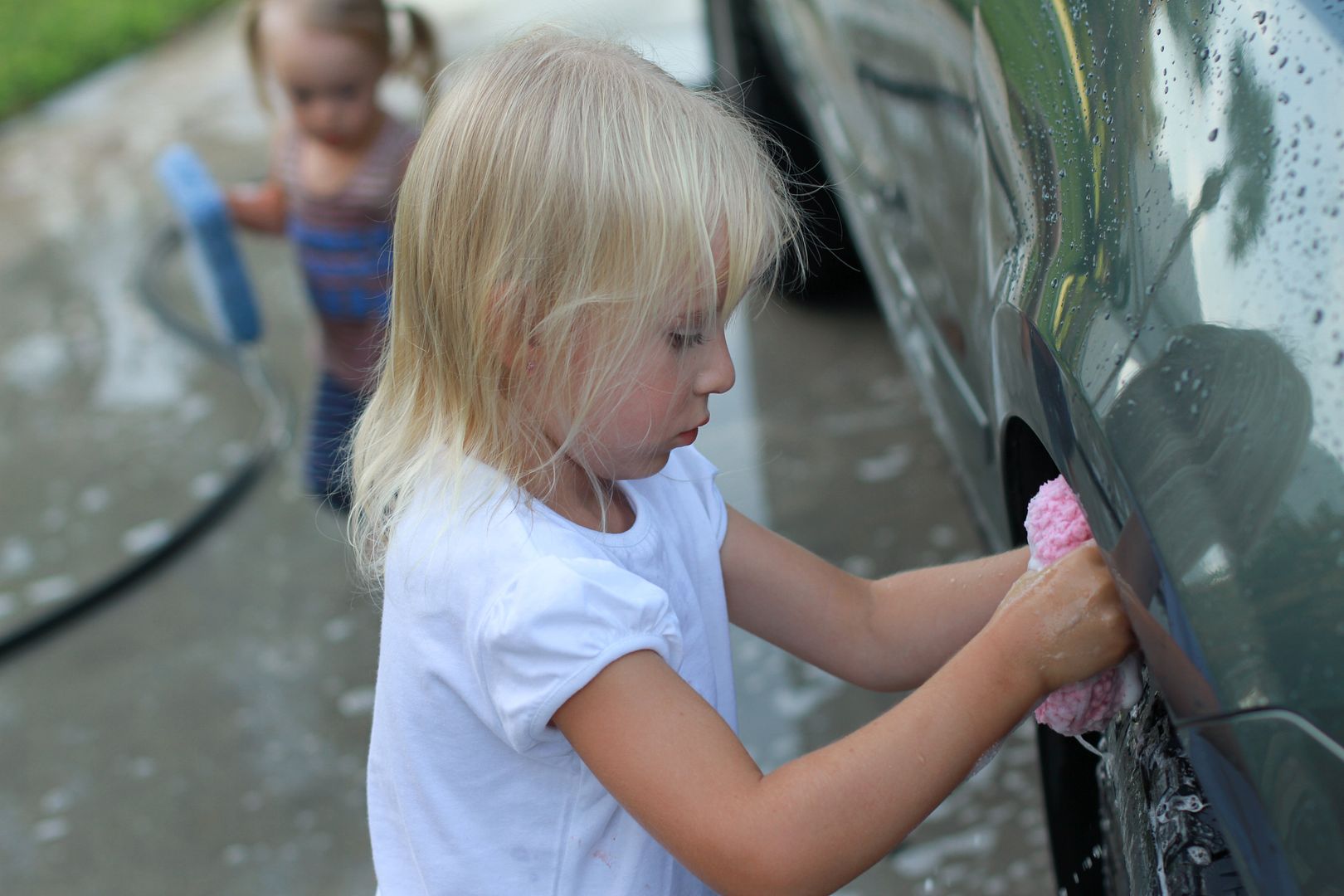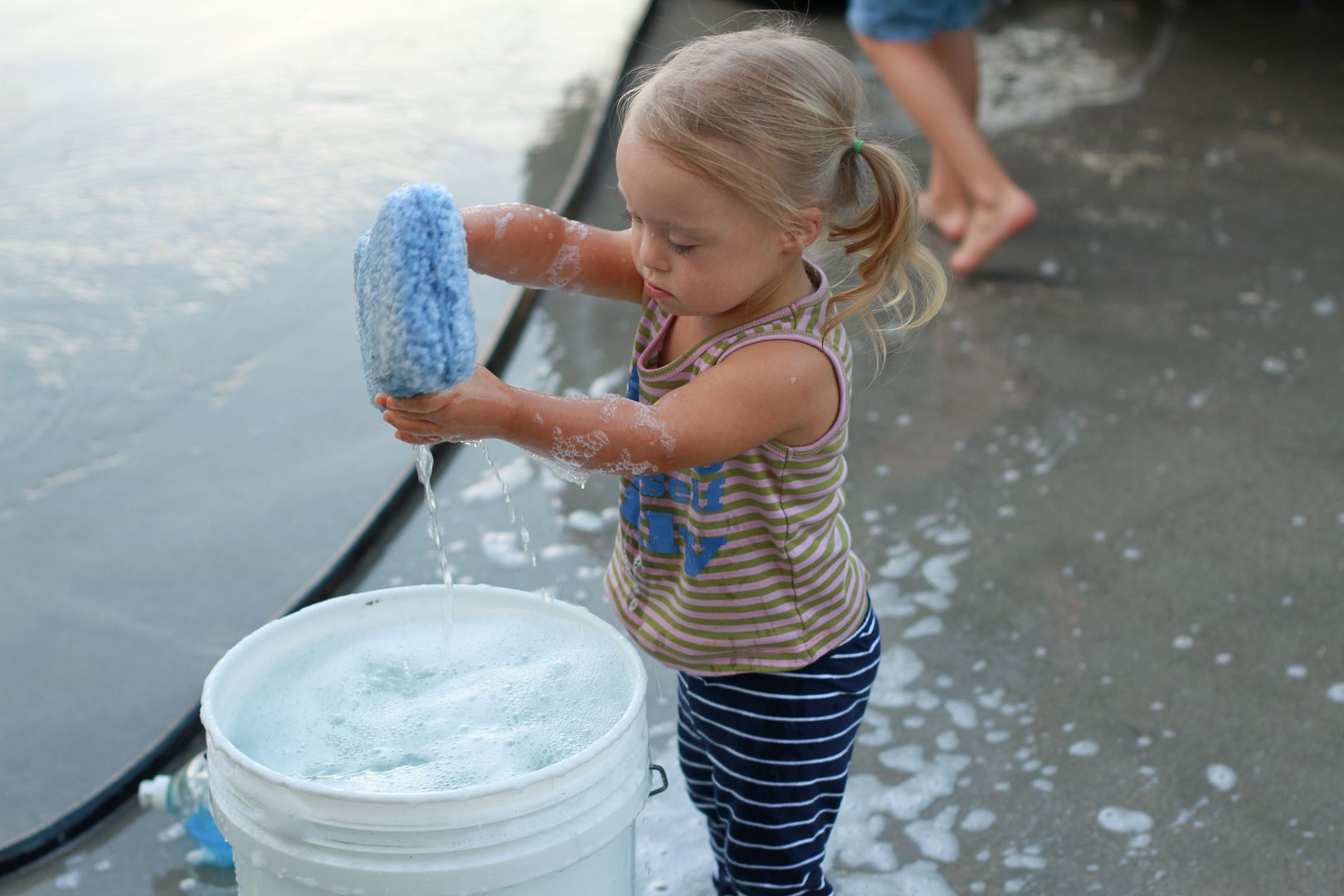 And other happenings…
Visiting our friend Jesse this week.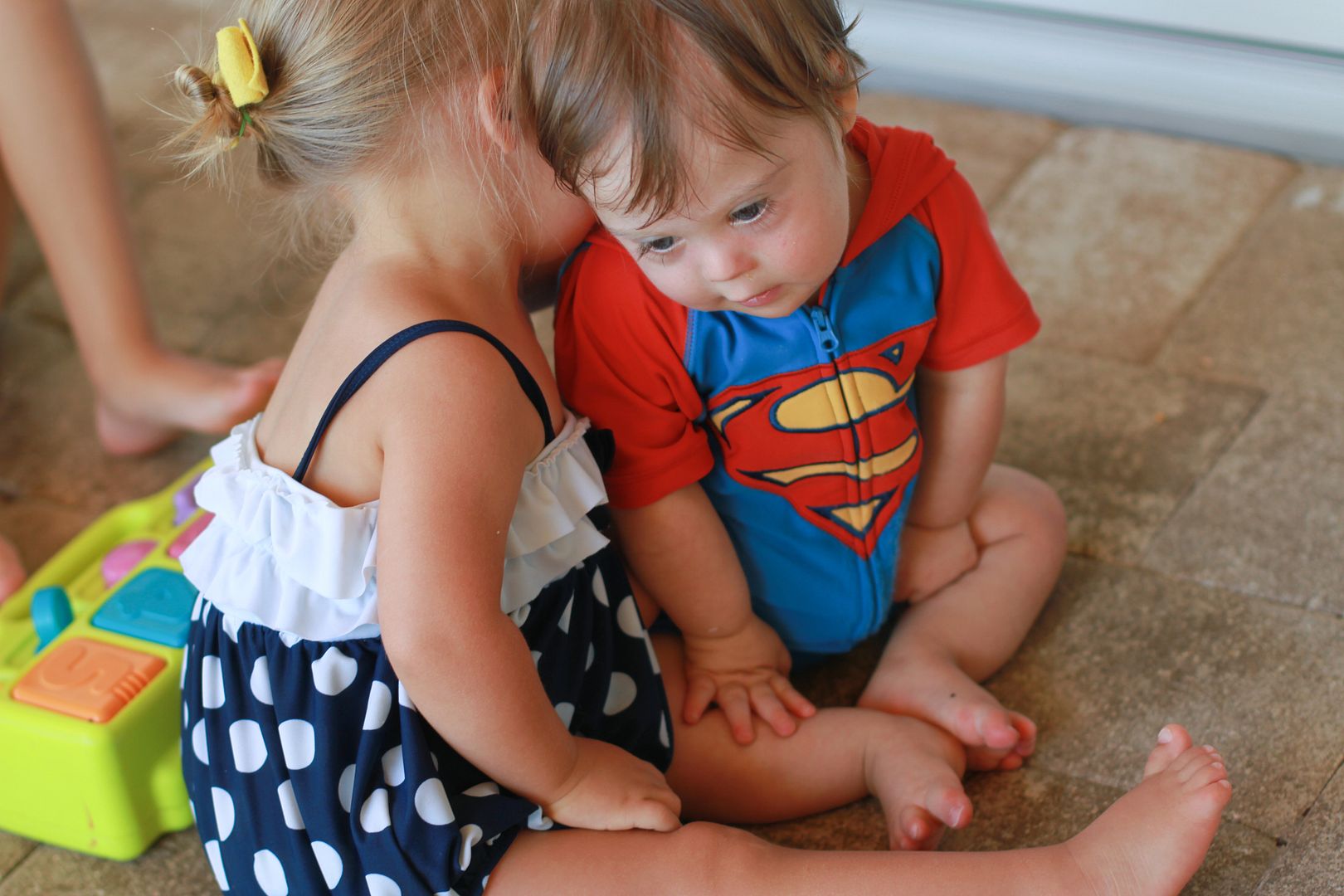 Nella's Book Obsession.
She says "book" now every morning when she wakes up and after every nap. She wants five books. And even though we have a stack of five books to read, she only wants the Elmo one read and reread five times.
And sometimes when we reach to pull her out of her crib, she says "No" and sits back down, asking for books in her bed.
She learns it from her sister.
*****
Congratulations to the Mark Poulin Mother/Child Necklace Set Winner, Comment #9, Nikki: Congratulations!! I don't know that I've ever been this excited for someone I don't actually know…but of course, I feel like I do know you! I can't wait to read about your upcoming adventures in pregnancy. I just hope you start feeling better soon! With both of my kids, I was nauseous 24/7 for about the, so I know the feeling! Thanks for sharing your news and your life with us all!

Nikki, please send your contact info to [email protected] with the subject line MARK POULIN GIVEAWAY WINNER, and your gift will soon be on its way.
*****
This week, new sponsor Rosedale Swing Company joins us. A family-operated business, Rosedale Swing Company provides handcrafted swings that are as beautiful as they are well-made. Committed to sustaining natural resources, Rosedale Swing Company uses renewable products, applies environmentally safe ingredients and supports reforestation of West Coast forests. Their red cedar swings will provide years of entertainment for your family. Have a tree in your front yard begging to be the source of childhood memories? A front porch with an open space? A child's bedroom calling for indoor adventure (indoor swings are the bomb!)?
Check out Rosedale Swing Company's collection of handcrafted excellence. Custom engraving available, perfect for a unique Christmas, birthday or anniversary present. Use Code "simplejoy10" for 10% off your swing order.
*****
I proclaim a wicked comeback tomorrow. I'm going to be on top of my game. It could happen.

Dancing to "Moves Like Jagger" at the froyo shop last night.