I wasn't a very observant person in my early twenties. I thought about what my hair looked like, if my skin was broken out or not and what people were thinking about me. And that last one? One of the most powerful realizations one can come to in life is accepting that people are not thinking about you. They're thinking about themselves. That sounds harsh, but it's true. If you only realized how much people don't recognize your hair or your skin or your jean size because they're worried about their own hair, skin and jean size–well, it takes a lot of pressure off. Thank God.
I've always thought about people in an "Are they hurting?" kind of way because I believe that's a special gift I was given. My parents say when I was very young, on more than one occasion, I asked to leave my family's table at a restaurant to sit with elderly who ate alone because it made me sad. My presence could have very well annoyed these poor grandmas who, for the love of God, just wanted a chance to be alone, but that gift of knowing when to butt out of people's lives and let them be hadn't yet been bestowed. I'm still waiting for that one.
So I thought a lot about myself. And I thought about people who were hurting–at least the ones in my direct line of vision. But that was about it. The rest of the world, the lessons hidden in my environment, the way light hits the trees late in the afternoon or how, if you look closely, snowflakes aren't just flakes but intricate symmetrical crystals–I didn't take the time to really notice.
It used to drive my dad crazy. We drove to work together during my college breaks, and he'd point out everything on our hour drives–flowers, houses with cool front doors, new coffee shops with eye-catching signs.
"Did you see those hostas back there? They were huge!," he'd exclaim. And I'd answer "What hostas?" because I was too busy thinking about how my thighs looked huge when I wore hospital scrubs or how poorly my dark hair took the latest blonde dye job.
He'd scold me. "You don't notice things." And I'd argue "Yes I do," quickly covering my lack of observance with the first hint of beauty I saw out the car window. "Those tulips–yes, I saw them." He'd laugh and remind me of just how oblivious I was to my environment, digging up the Proof of All Proof stories–that one time when I was pulling out of my friends' driveway, unaware of the three bags of garbage directly behind my car. The story goes, as my friends jumped up and down, waving and shouting, alerting me of the garbage, I waved back thinking it was just an enthusiastic goodbye. And I kept driving and waving, ripping garbage bags to shreds and dragging pop cans and milk jugs and moldy paper towels down the dirt road. Still waving. Still smiling. Because those sweet friends were giving me the enthusiastic goodbye of a lifetime. So, I guess I couldn't argue with that story. Yes, I was oblivious to a lot of things.
A lot happened in the ten years that followed. I became a mom which is huge. You suddenly notice everything–tiny toes, new teeth buds, the first red dot of a diaper rash. You write sonnets about your kid's eyelashes. You study the way their chest rises and falls when they sleep.
I think, for me though, observance of the world around me truly took a new meaning when I started writing and taking pictures.
I'm speaking in Dallas next month at a photography conference. I felt completely intimidated at first because I don't consider myself an expert in photography, and when it comes to complicated technical camera knowledge, I feel small compared to many of the great minds in the photography world who study and teach these things every day. I am confident behind my own camera though, and I have learned a lot from others–things I'm willing to share. The more I thought about it though, I realized I can share the story of why I take pictures–how photography changed me in a lot of ways and makes me more aware of everything the world has to offer. It plays an important role in my life, and my journey behind the camera mirrors my personal journey closely, especially the last few years. I am excited to share this journey, and the scattered notes and favorite photos (okay, embarrassing over-edited ones too) that are piling up as I prepare can attest to my excitement.
Similarly, writing has made me more aware of everything–not only the world around me, but my own feelings and judgments and opportunities for improvement as well. Writing almost every day naturally stimulates these "What am I going to write about?" receptors. And while I cannot go about life searching for things to write about–life needs to happen first–I do find that since writing, I think a little more deeply. I let myself become more vulnerable, I push myself to discover more, to read more, to fill up the wells within so that I have something to write about (which translates to "something to think about," "something to live by," "something to make me change" or fill-in-the-blank as you wish). It's a complicated, wonderful cycle of input and output, and these two principles depend upon each other.
So this morning as I went through my weekend photos and sat down to write, I couldn't help but notice how much easier it gets to put something on paper because I am learning to observe, to listen, and to be aware. Yes, there will always be writer's block and periods of quiet inspiration. But I wait–because there is always something to write about. There are always moments to capture. The things we choose are just a fraction of the things that await our attention.
*****
Little words and lots of photos from this weekend:
Our kids learn this whole input/output thing too. Lainey asked if she could take a picture with my camera because she saw a bird. I handed it to her, Sister clicked the button and then smiled when she saw her capture on the screen.
And Little Sister thinks walking Latte on a short leash is very funny. Especially when she stops walking and Latte doesn't and is thus startled when she has to stop short (sorry, old Sunday School days–I love a good "thus").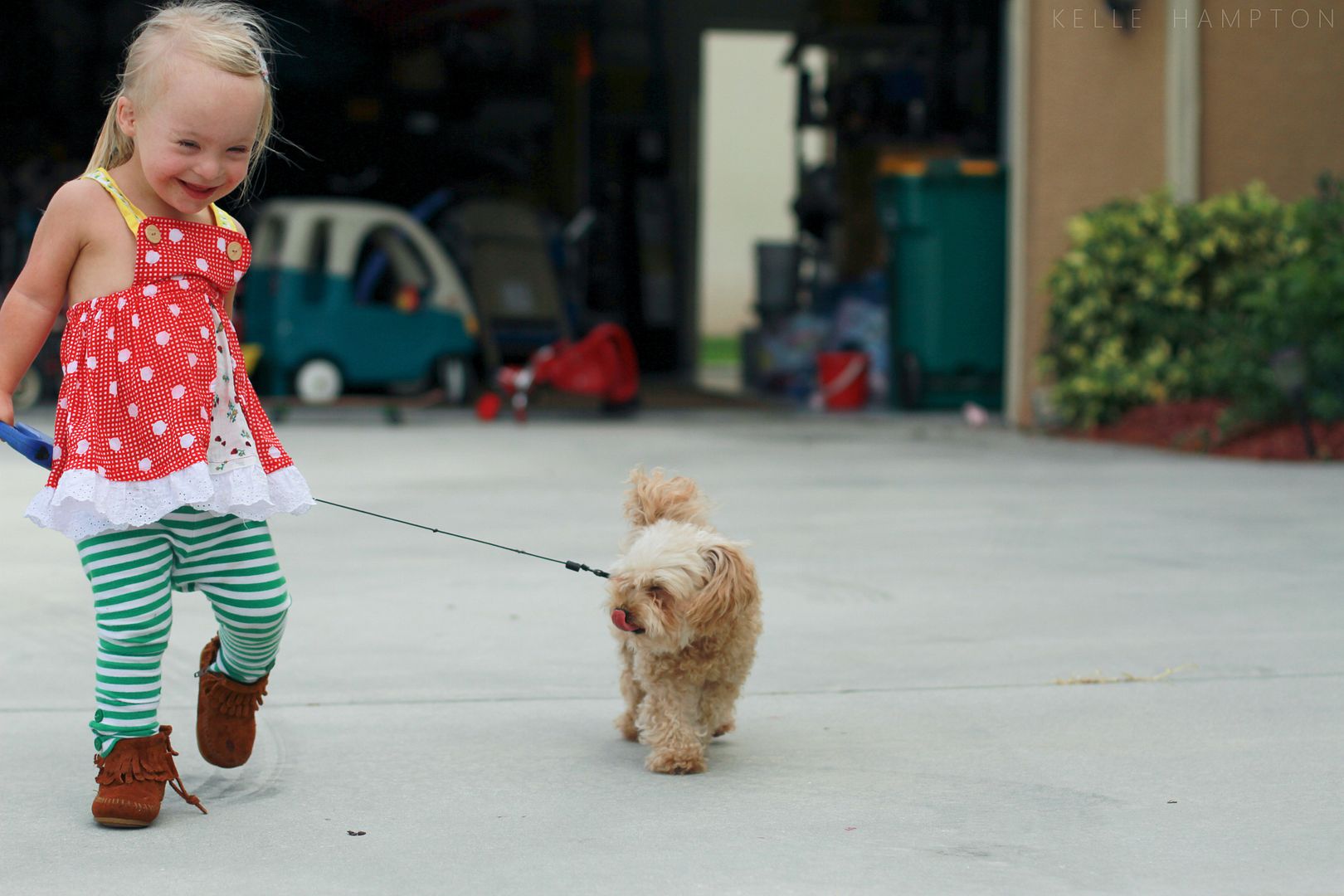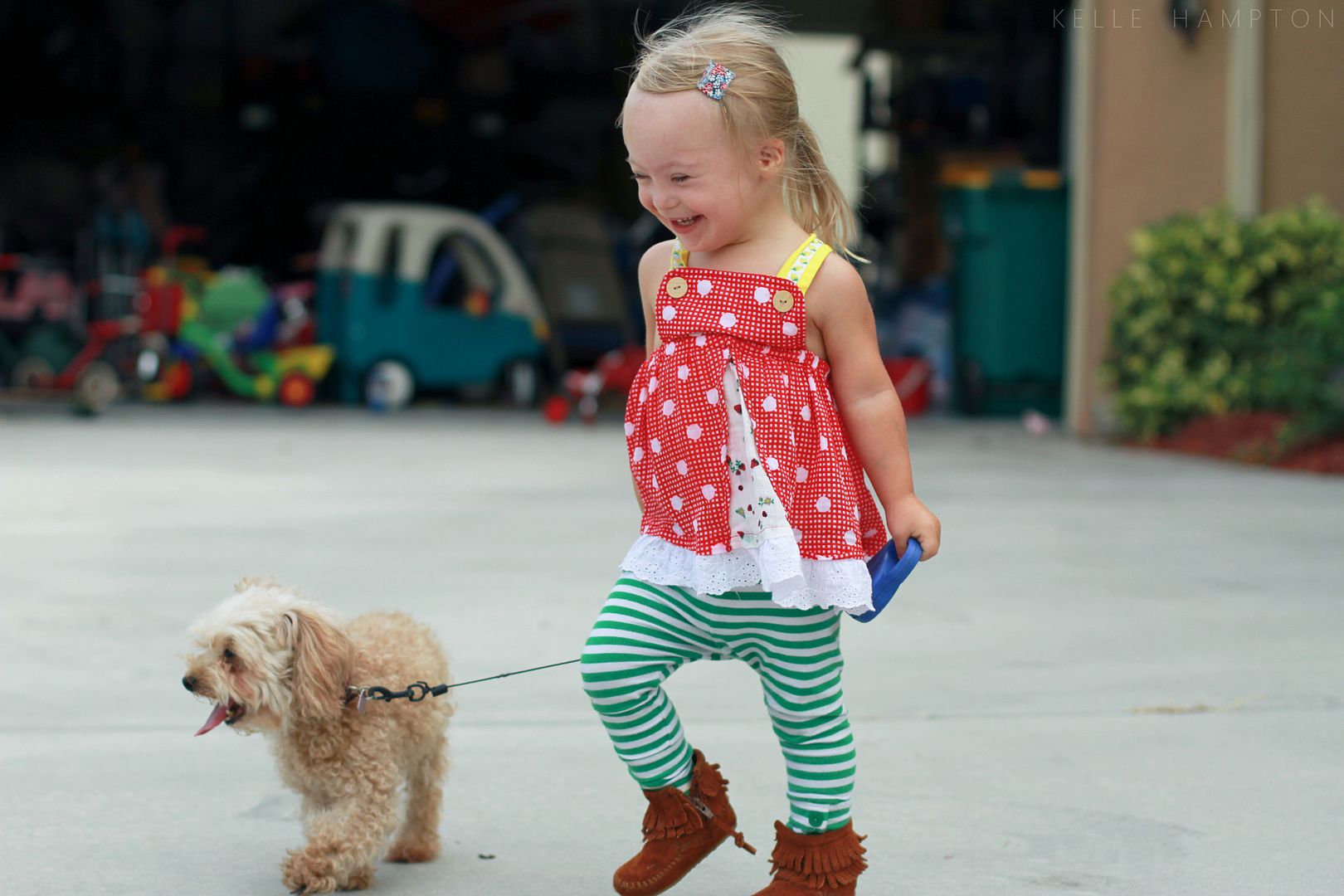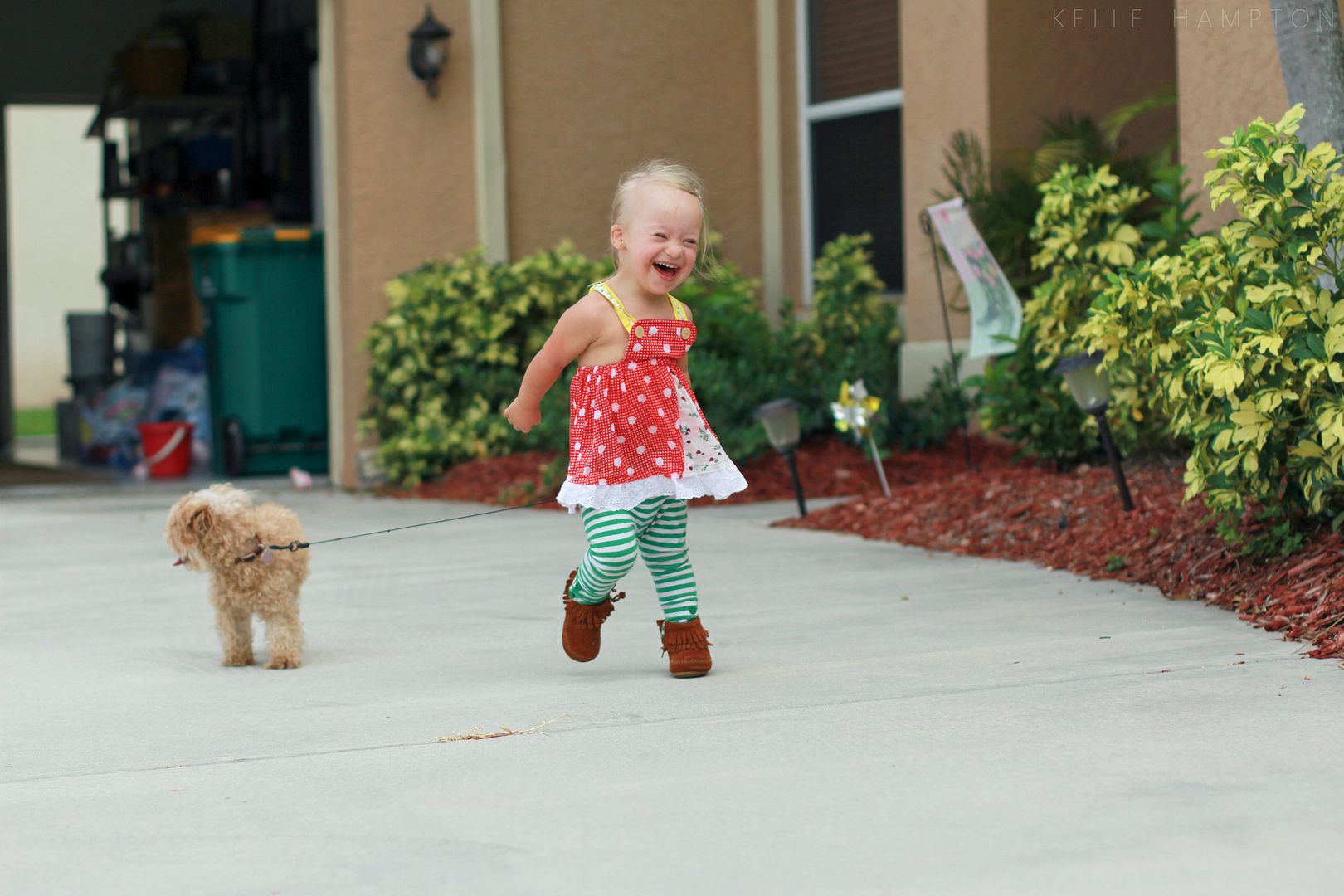 I love to know readers have a heart for my girls that makes them concerned of safety, and I take safety comments to heart! But I assure you, we are aware of dog leash dangers and are very mindful and–well, observant of how and when our girls periodically take hold of the leash.

And a Family trip to Sweet Treats last night. They actually like throwing pennies in the fountain more than the ice cream.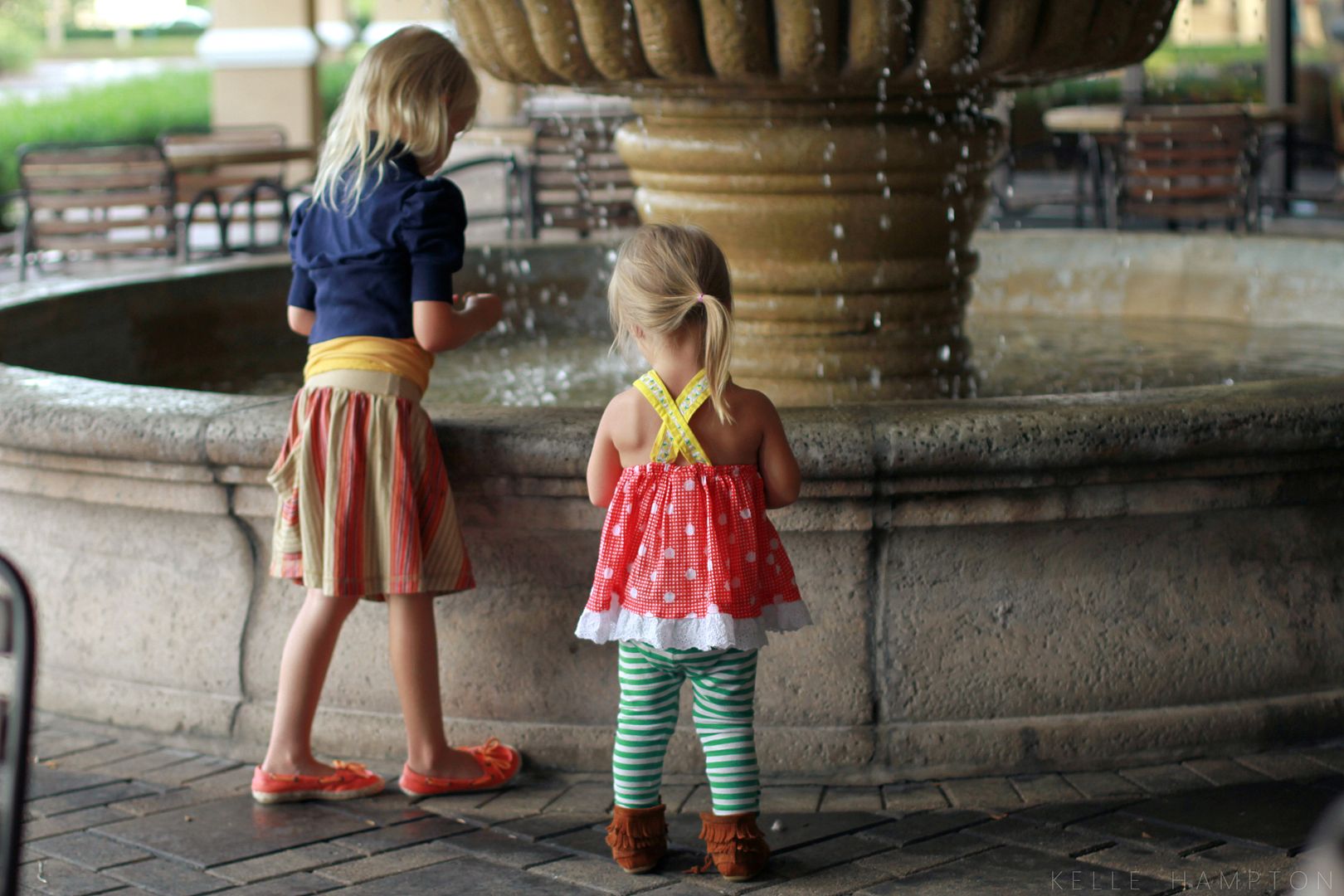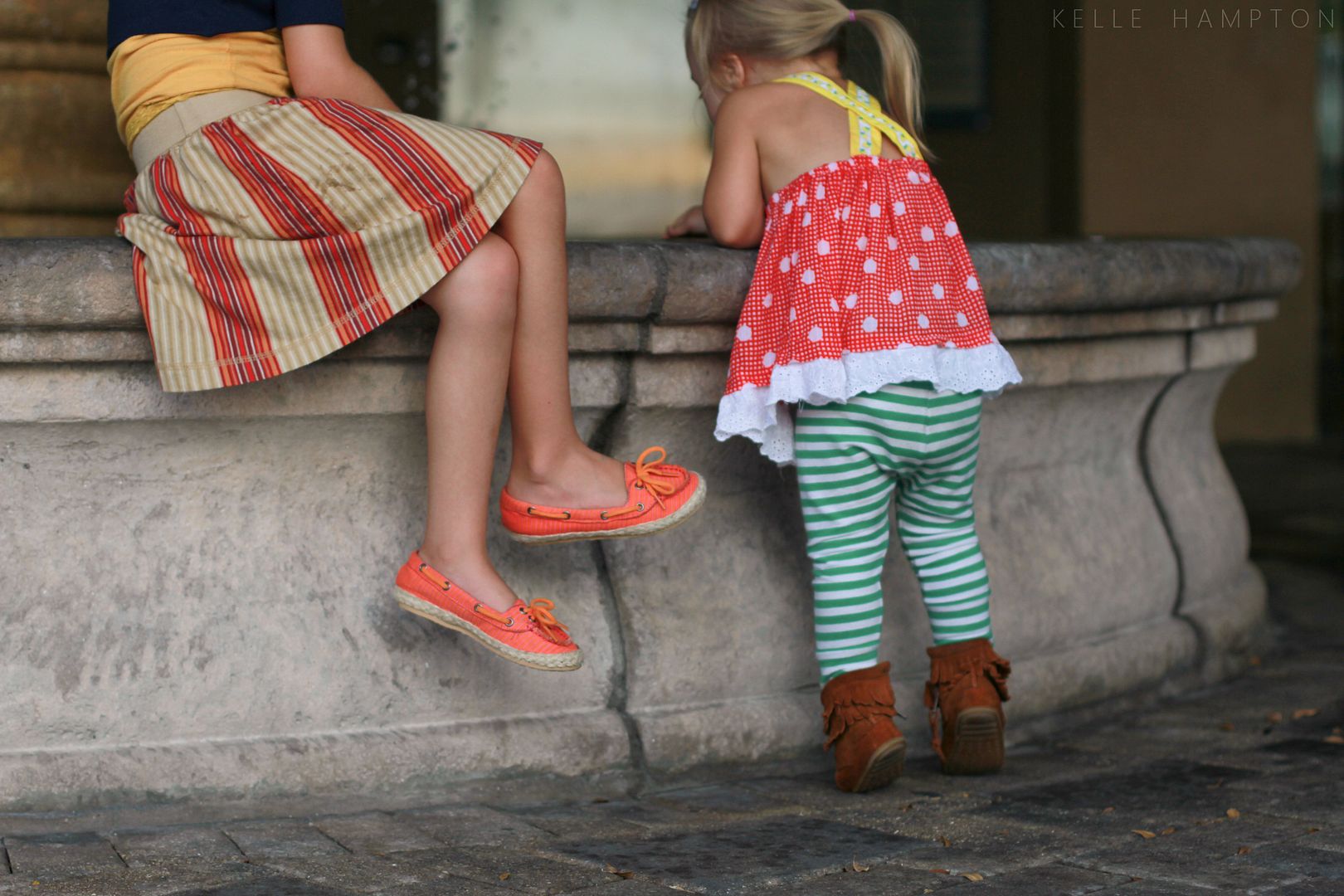 *****
Welcome back to returning sponsor (and a reader favorite), Coco Penny.
Coco Penny offers a wide variety of hair accessories for little girls, available in various sizes and styles from large, detailed felt flowers for bigger girls to tiny bows and clips for babies.

Left: Small Coral Felt Bow , Right: Small Purple Rose

Continually expanding their inventory, Coco Penny offers a new line of sequin bows which Lainey thinks are fantastic.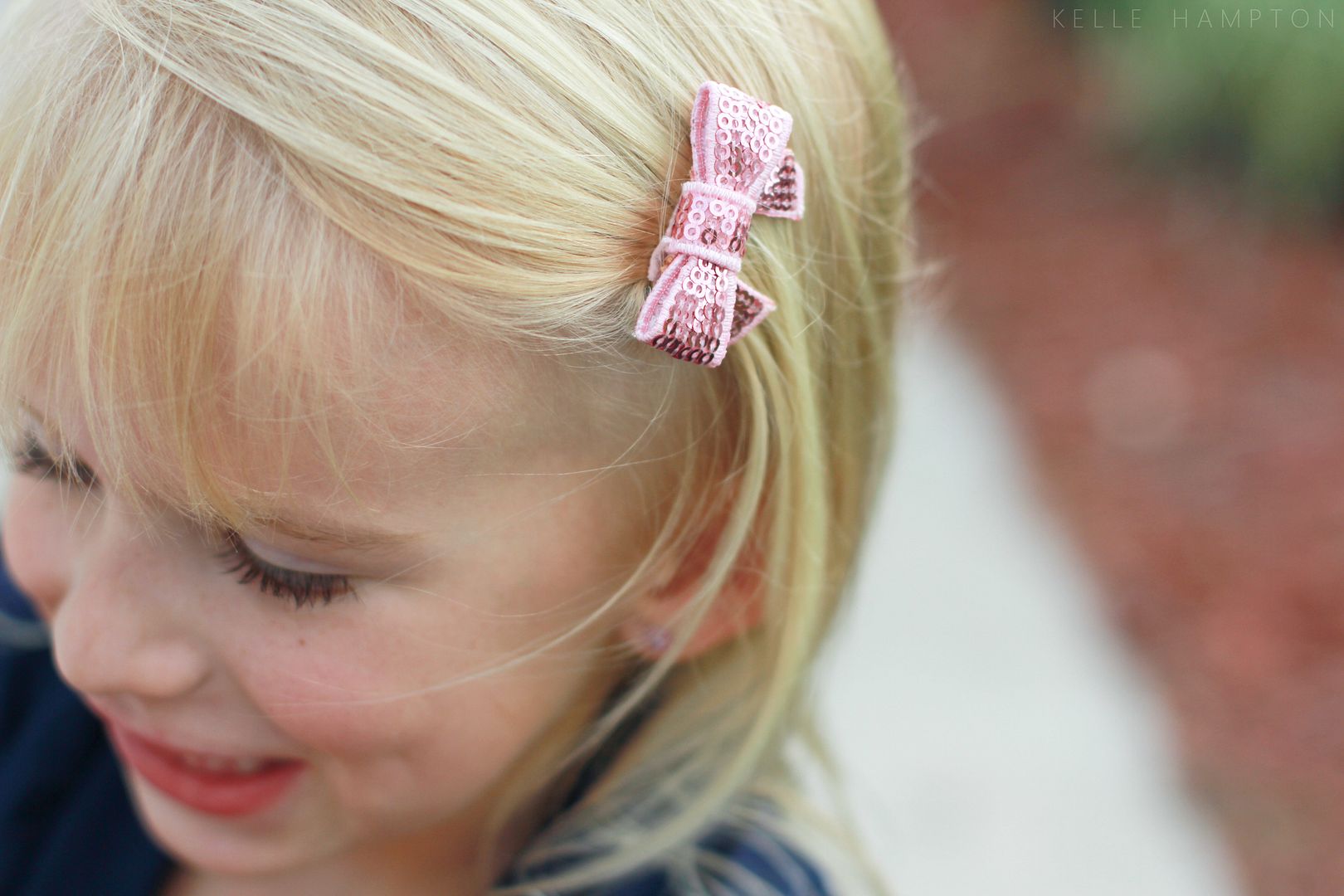 I love their snug-fitting violet cluster collection for little babies and their large gardenias for bigger girls.
Coco Penny also offers interchangeable headbands and flowers as well as several gift sets, great for birthday parties or baby showers!
Use code "kelle" for 15% off your Coco Penny order.
*****
A week of observations await. What will you notice?
For the record, I haven't dragged a bag of garbage since. It happened once, okay?