About an hour ago, in Aisle 12 of Target (the one with the donuts), I decided that two hours was about enough time to finish a blog post and throw together an impromptu fall pumpkin carving party in our woods. What follows is a frantic pregnant lady running through Target, throwing napkins and cider and pumpkins into her cart and making random phone calls that sound like, "Hey, want to come to a party in about two hours?" And then I fly home, unload the trunk and yell for Brett to haul that nightstand thing that's been sitting in our garage, waiting for a Craigslist post, out into the woods.
"Why?" he asks. I don't know why he even bothers asking anymore.
I carry a couple of grocery bags through the garage and don't even bother looking up. "Because I decided last minute we're having a little pumpkin party. In an hour. I'm going to surprise Lainey when she gets home from school."
"Can't you just use a card table?" he asks, dodging entirely the whole "You're having a party in an hour?" conversation, even though I know he's thinking it.
"When I have a beautiful empty nightstand just sitting here?" I answer, flashing a smile that says "you know you love me, right?".
And then he pulls out the dolly and purposely bangs it into things, trying to make it look like the job is a lot harder than it is. And he groans a lot while moving the nightstand (and also supresses laughter; he knows he's exaggerating and that is very funny indeed). Because that's how we roll, and our marriage flourishes accordingly. Ultimately, we will both be smiling when Lainey comes home and is surprised to see a little fall wonderland laid out for her in the back woods. And then I thank Brett for all that exhausting effort of rolling the empty little dresser out to the woods, of course also making the job sound a lot harder than it was because that's how we roll…and our marriage flourishes accordingly.
(left post to have a party, it was lovely; returning now)
Where was I?
Happy. I was happy and I was smiling because that's what October does for me. I try to swallow the enthusiasm just a little because sometimes girls getting way too excited about wearing rust colored tights with fringey boots and proclaiming gourd-loving expletives annoy people. I don't try to be annoying. I just really like this time of year, and suppressing that joy is like trying to stop a bad case of hiccups or not laughing while trying to learn the moves from the Gangnam Style video. Not possible. And so, yes, rust colored tights today. A hat. A fall fist pump. And a little gangnam style gallop.
We've been crafting. Like the wall hanging I made for the little fox's room, from a piece of Birch bark I brought home from Michigan this summer. Okay, that just sounded look "look at the block I just whittled for my kid from a fallen tree we planted thirty years ago" and I didn't mean for it to. It was a small piece of bark, and it's been sitting on my dresser since July. To compensate, let's just say the paintbrushes I used were hard and dried up and I'm sure the paint was made from some non-organic chemicals, imported from China. But still…cute, right?
In celebrating fallish things, Heidi and I set out on an adventure this past weekend. It involved an hour and a half drive to Hunsader Farms in Bradenton, Florida. I love doing things with family. I love when Brett's by my side. But sometimes we laugh that friend adventures, especially when they involve long drives and schlepping kids through very crowded grounds that are a bit like–how did Heidi put it? Ah yes, Honey Boo Boo Land–are easier to enjoy when you're not worried about your husband wanting to wrap it up. We girls? We rock the land of Honey Boo Boo. We live for the bluegrass bands that show up every year at the Boogie Barn. We take pictures of our corn-in-husk treats like we landed upon a rare flower. And, after hours of pumpkin festival fun, we head out to the mammoth parking lot, pushing strollers of tired kids full on corn dogs and fresh-squeezed lemonade, and we smile and say "That was fun."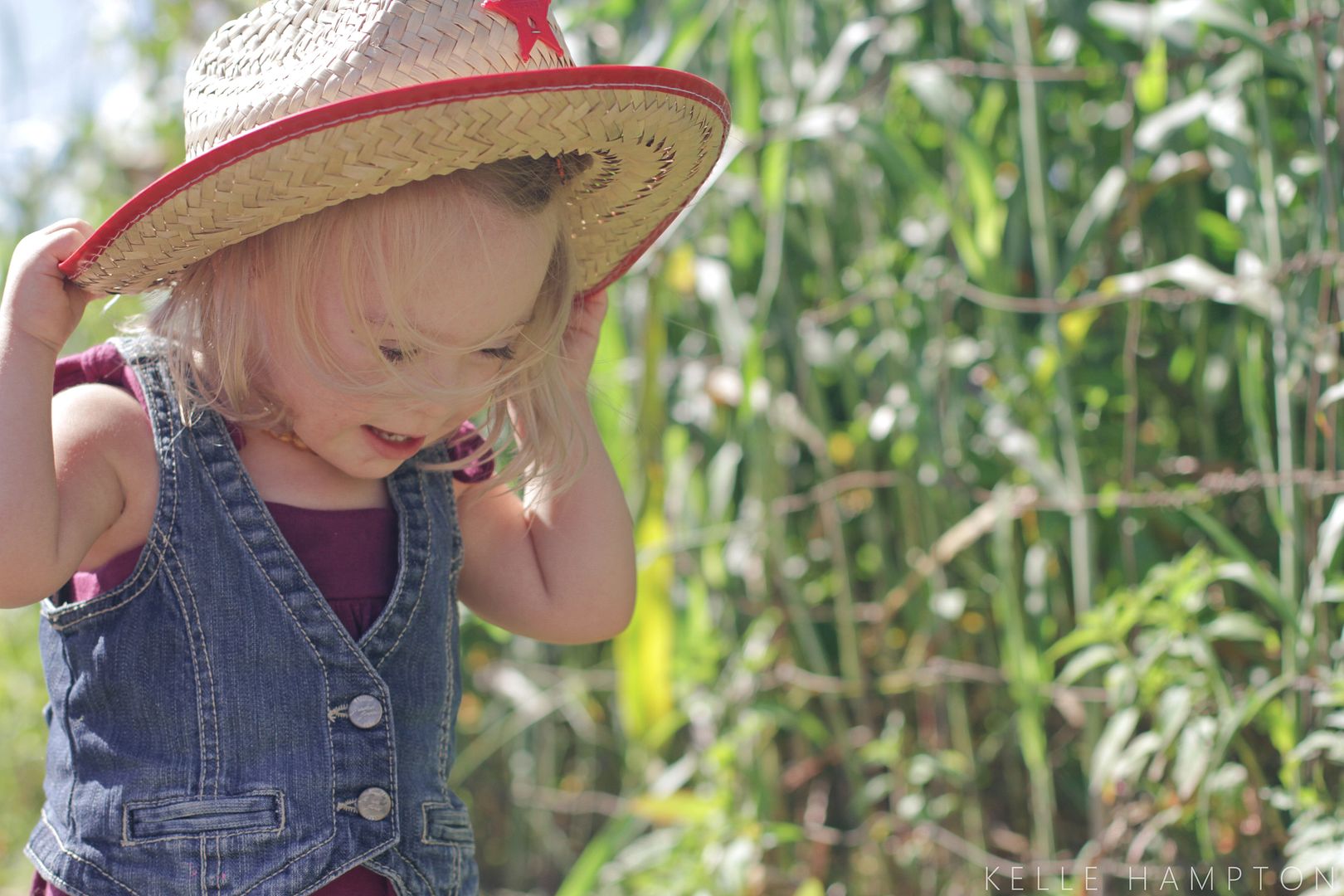 Hunsader Farms Pumpkin Festival 2012. Pumpkin Festival–I quite love that phrase.
Nella braved the haystack maze all by herself, but every time she made it half-way, she just turned around and ran back to the beginning, smiling like she aced a marathon.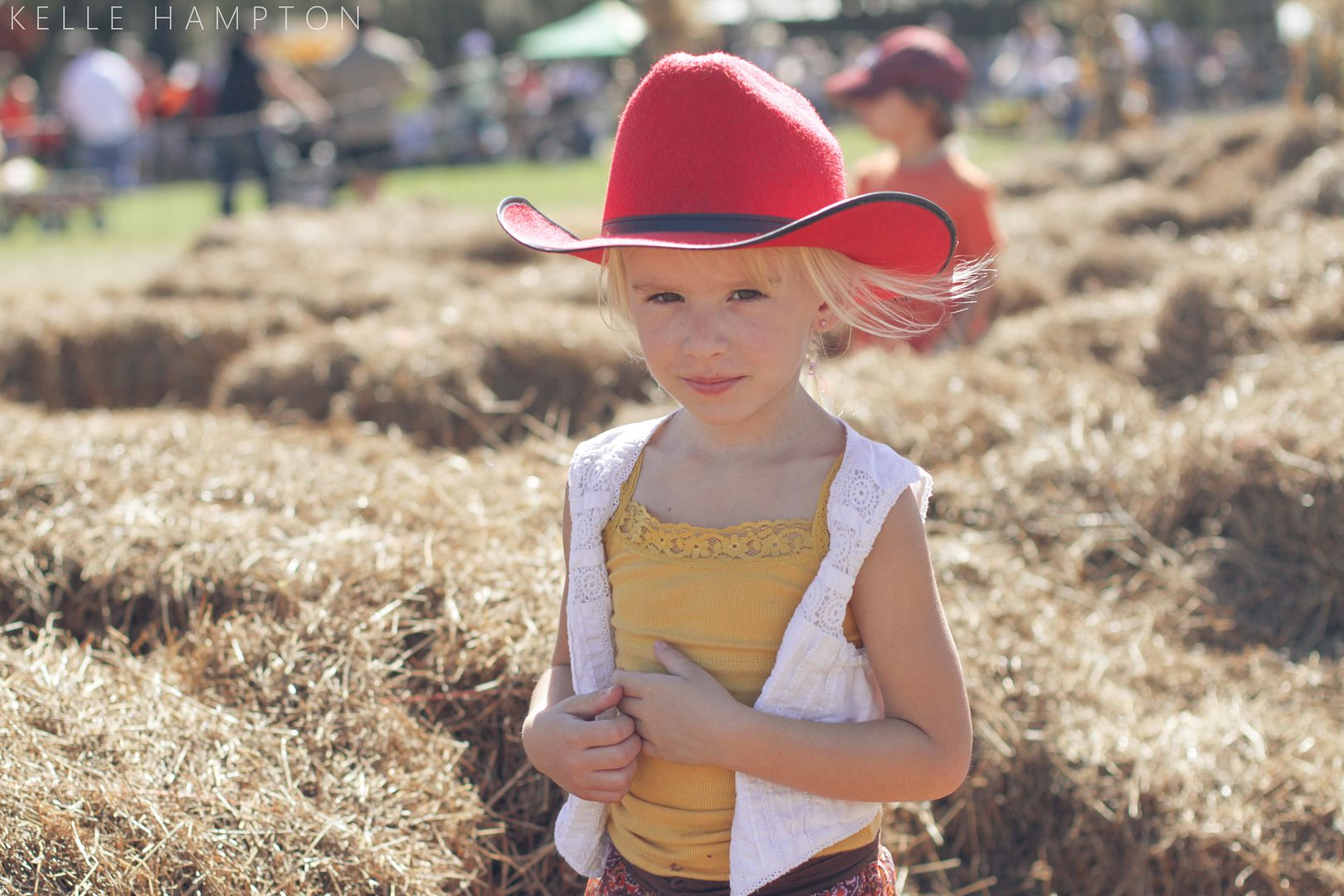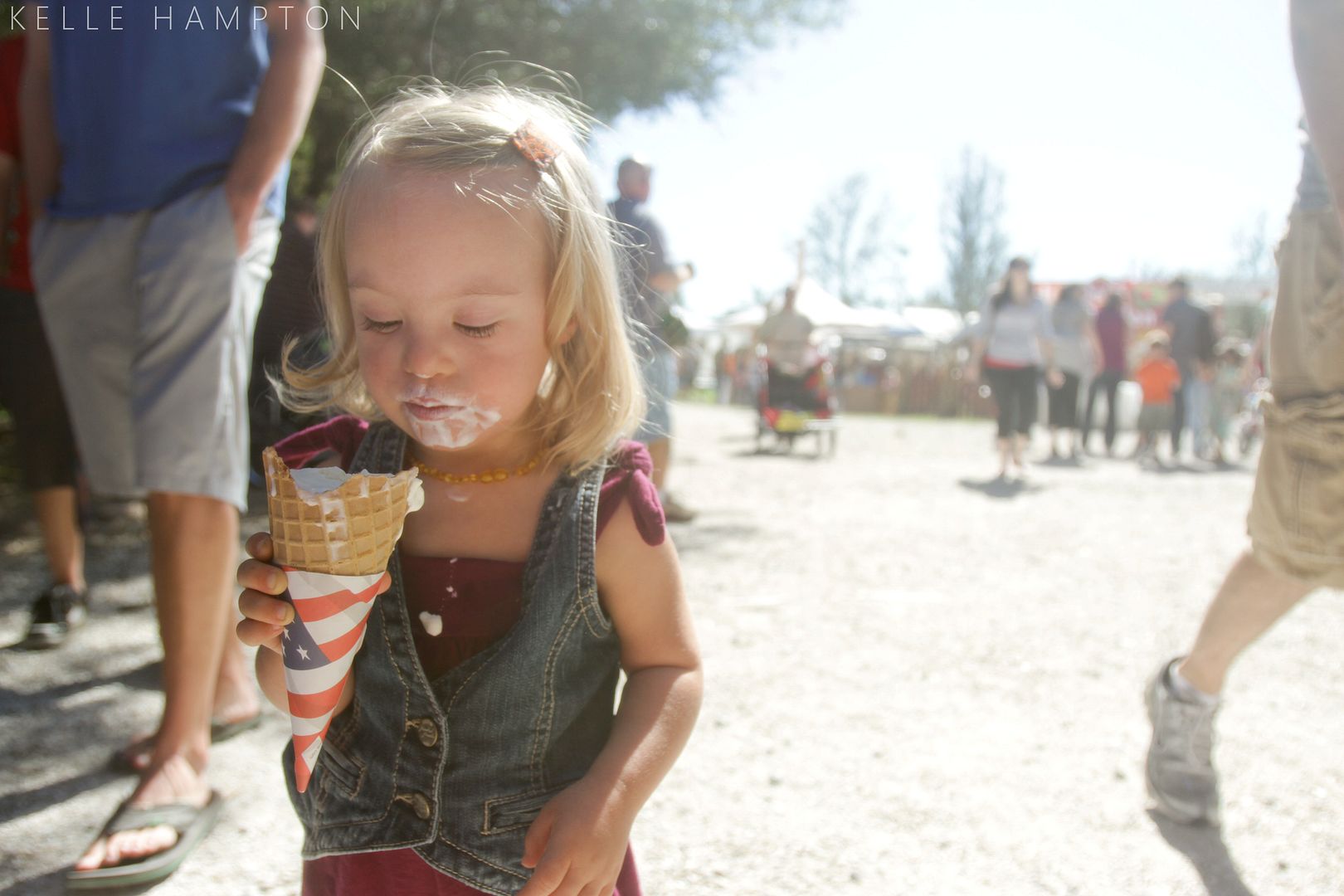 It's a dusty place, Hunsader Farms–the kind of dust that coats your clothes and blackens your kids' feet after hours of walking (we learned the first year, don't wear sandals). But it's also the kind of dust that catches the sunlight and creates a nice natural toaster filter, if we're talking Instagram terms here. And the dust and gravel and Honey Boo Boo crowd feels just about right when you're walking from the corn dog stand to the cider one, and you hear a trio of banjos playing Sweet Home Alabama. And you look toward the Boogie Barn and see that every musician is wearing overalls and they all look like Santa Claus, except with longer beards. And you get to the pumpkin tent and you forget it's really a tent because your kids don't even notice the canopy overhead but rather start zig-zagging through long rows of pumpkins, stopping at the small ones–because they always love those itty bitty baby pumpkins.
Long live the love of fall. And rust-colored tights. And dragging nightstands to the woods for special pumpkin carving parties. That's what I like to call…Oppan Gangnam Style.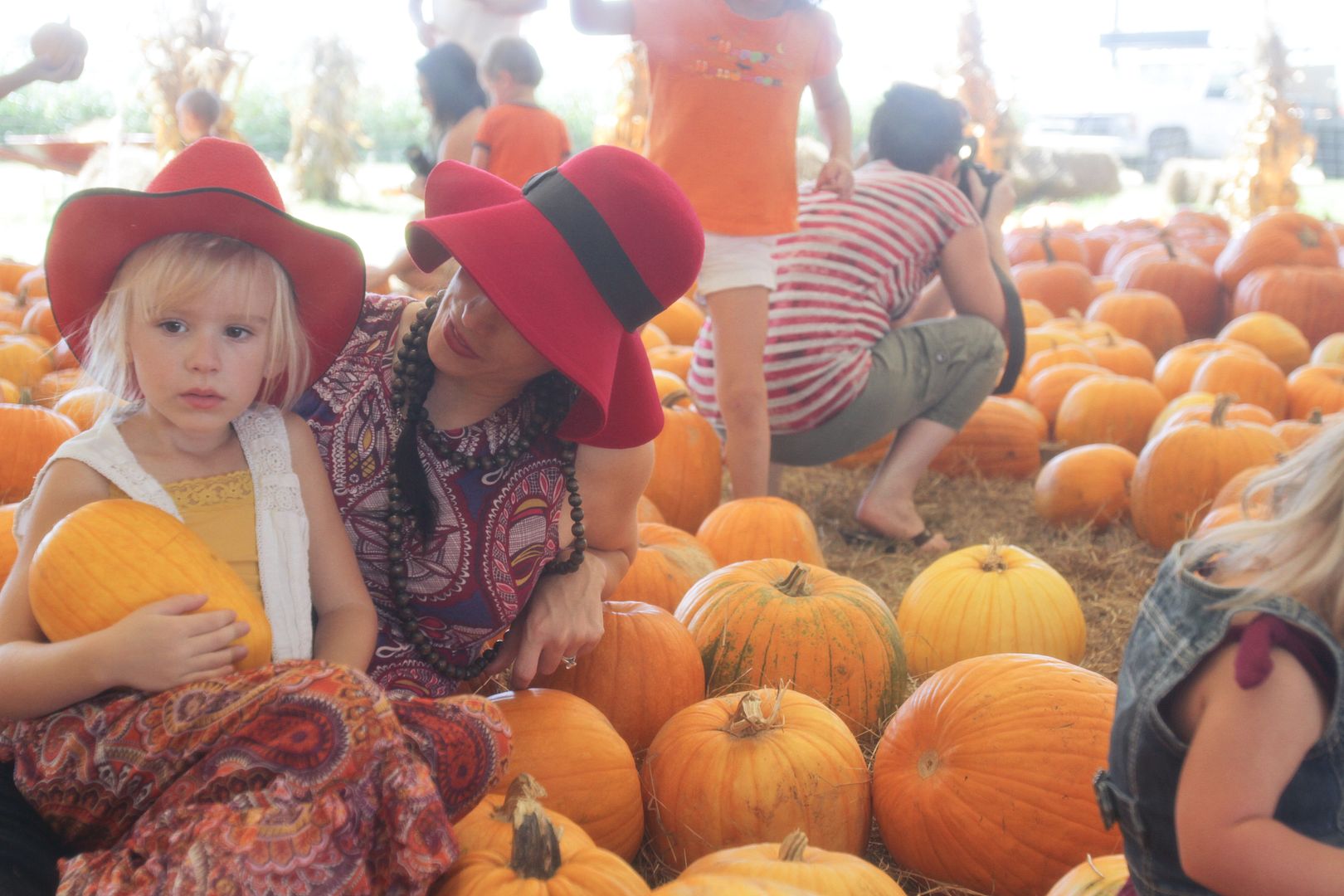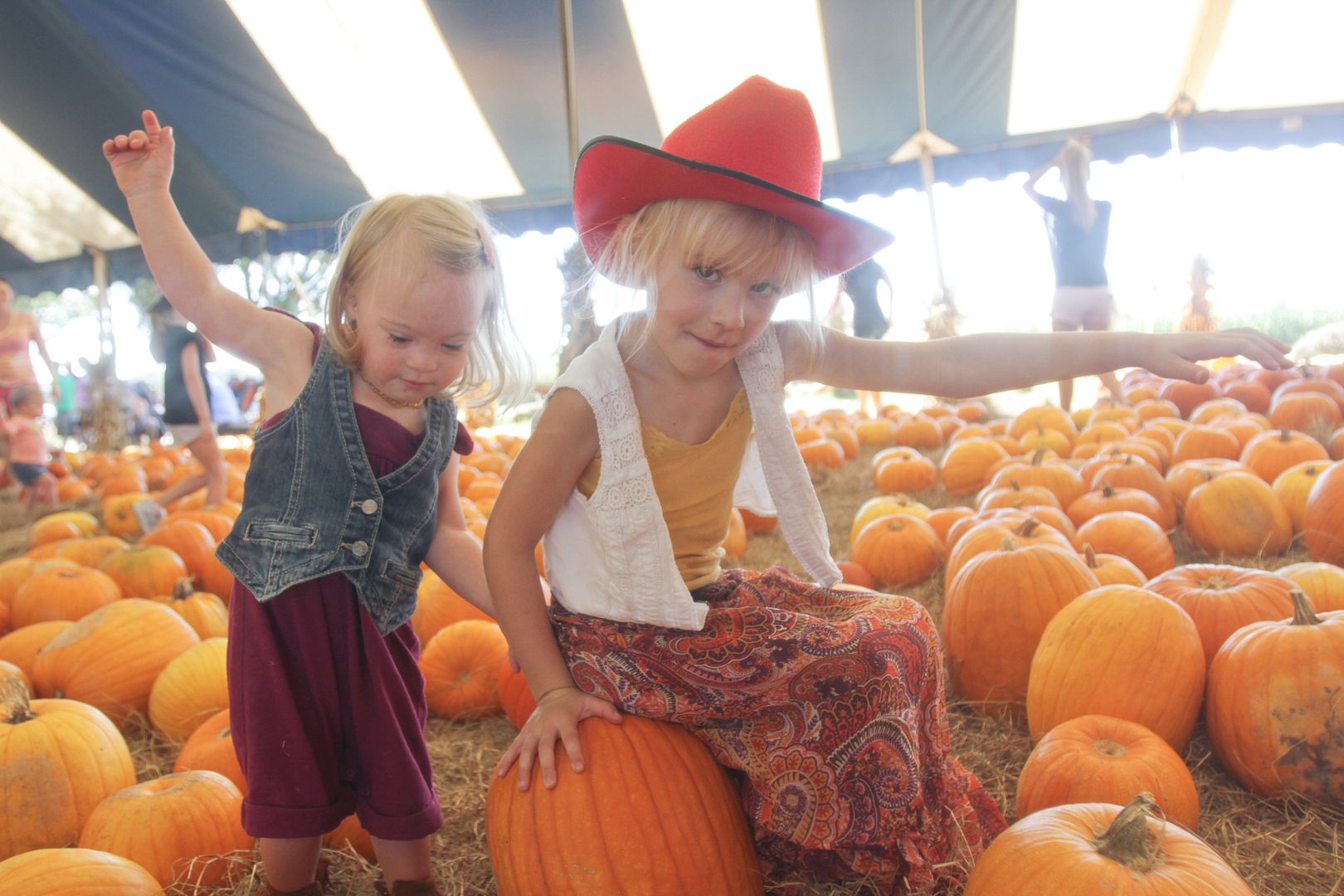 I sometimes preview these posts with Brett before publishing. Tonight I rattled off the whole "hey, I wrote about you dragging the nightstand out to the woods and making it a bigger deal than it was; you cool with that?" And he said, "Yes, but when are you going to blog about the time I rescued you from the drunk in San Diego? I was a hero, and I've been checking your blog. You never told anyone about that. That's an awesome story." So perhaps, along with photos of our little party, I'll share in a future post a random story about how my husband saved the day and rescued me and a friend from a drunk guy in the park. My brave hero.
*****
The delightful Casey Wiegand is returning in sponsorship this month, bringing her style, her art, her inspiration and her sweet words to readers.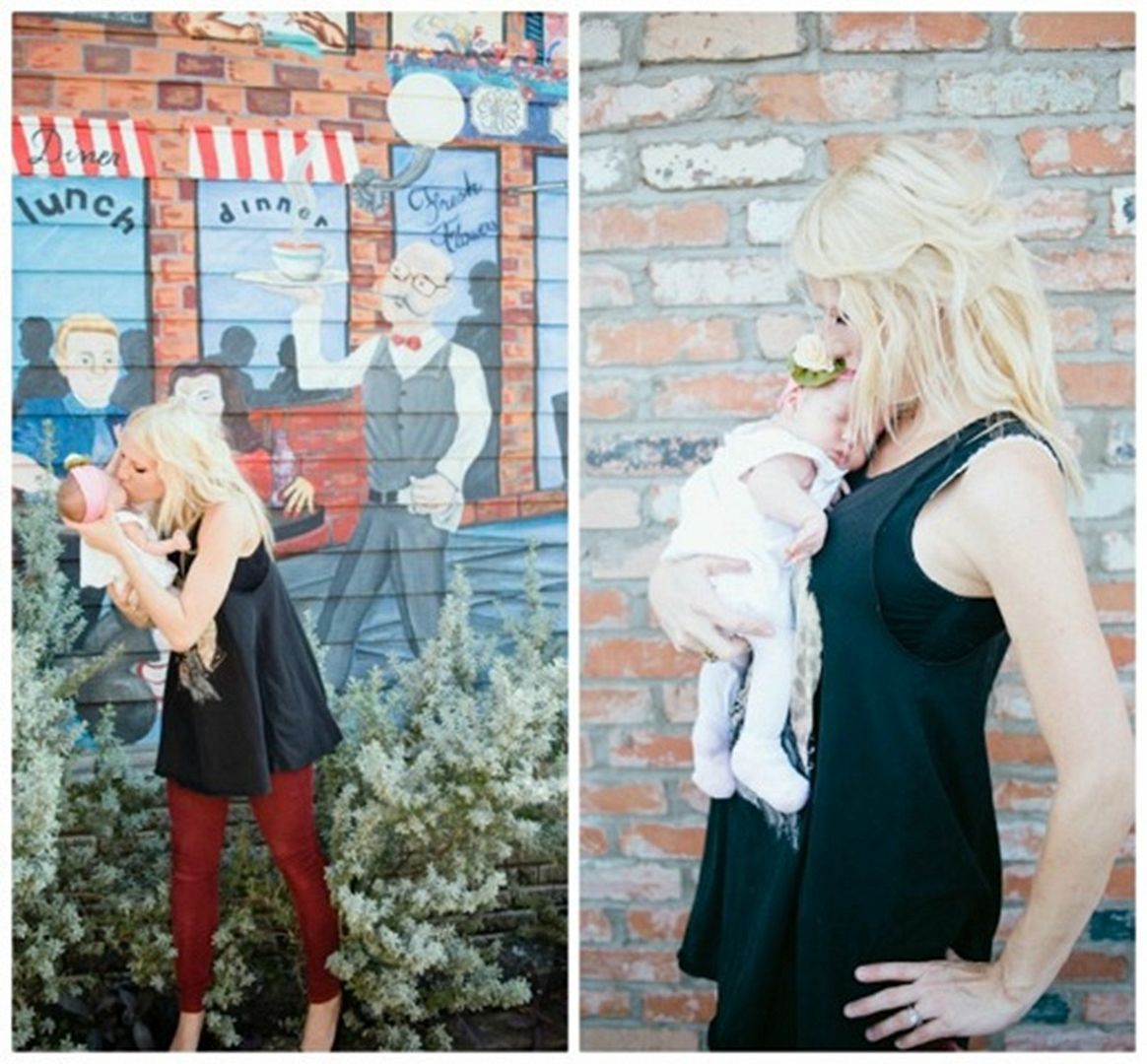 In addition to A Little Artsy, her family studio in Dallas, Casey shares her creativity, stories, recipes and inspiration on her blog.
If you haven't checked her out lately, her words and photos are a treat.
*****
Hallmark post on children's fears (and a recent conversation with Lainey about death) up next. And fall parties. And returning to your questions about Down syndrome and Nella.
(Forgot to share this. Still makes me cry to see these things in print and so honored to be a part of Parenting Magazine's efforts to raise awareness for our kids. )

Parenting Magazine, November Issue. Available on newstands now.
Have a wonderful evening.