DISCLAIMER: What you are about to read is true. I'm sorry to admit this.
Scene One, The Other Night:
It's 11:30 at night and the kids have been sleeping for hours. I've finished a load of laundry, scrubbed my tub, soaked all my make-up brushes, cleaned the smudges off my silverware drawer knobs and organized my kitchen pots so that all the handles are facing to the right. I decide that 11:30 is a great time to roast some brussel sprouts, so I Google a few recipes and settle on a complicated version of coconut oil/bread crumbs/apple slices/reduced vinegar and honey sauce–because I'm simple like that. Once brussel sprouts are slid into the oven, I proceed with normal midnight chores. "I'm going to paint the living room," I conclude, and I head out into the garage to gather my tools. Upon hearing the garage door slam at some Godforsaken hour of the night, Brett follows me out to inquire.
"What are you doing?" he asks, obviously hesitant for my reply.
"I'm going to paint the living room," I answer, as if this is a perfectly normal thing for an eight month pregnant lady to be doing at midnight on a Monday evening.
"Babe, it's like, midnight. Can't you–" He stops. I think it was my eyes. I'm pretty sure the devil climbed into my body and glared some kind of Twilight character stare because he never finished his sentence. In fact, he offered to stir the paint for me, pour it into a pan and carry it back into the house.
I painted one wall. I ate delicious brussel sprouts. I went to bed.
Scene Two, Yesterday:
I'm out the door with two dressed kids at 7:30 in the morning. I get my coffee. I go to Lowe's and buy succulents and spray paint. I go to ballet. I call doctors and set up a year's worth of appointments for my kids in case the Apocolypse comes and I can't get one. I come home and start another project because I certainly don't have enough. I'm going to spray paint my frames and redo my entry wall, and it has to be done right now. Like now now now. I lay out a sheet of butcher paper in the side yard and start spraying the hell out of a stack of frames. Brett finds me there. He says nothing but hands me a construction grade face mask. "Wear this," he says. "Thank you," I answer. I stop painting for a moment to get the mail, but I leave my face mask on. The neighbor across the street looks at me and I smile and wave. Except the smiling is kind of a moot point. I mean, the mask. I holler "I'm painting frames!" loudly to explain, but it came out a bit of a muffle. "She thinks I'm crazy," I think to myself. She's right.
I paint twenty frames. I go to Fred's. I come home and cry that my world is falling apart and that I really really want Brett to change out our towel bars in the bathroom. "Pick some out, and I'll do it," he answers.
Oh God, poor Brett.
Scene Three, This Morning:
I add a second coat of paint to some frames. I cry to two friends on the phone about–you know what, I don't even remember. I tell Brett he should rent a carpet shampooer and clean our bedroom carpet before the baby comes. I stress about putting on my favorite yoga pants today because I put them in the hospital bag and what if I get them dirty and they're in a laundry basket when it's go time? Tragedy, man, tragedy. I decide to risk it but think about it about thirty more times throughout the day.
Noon: And here's where I finally realized Sistah done lost her mind.
Out of nowhere, I declare a couples meeting (Brett trudges into bedroom…"What?"), and I–seriously, this is absolutely ridiculous. Here goes.
…I lost my shit.
"How come Lainey doesn't know how to ride a bike yet?" I whined. "I thought you said you wanted to teach her. She's five, Brett. She should know how to ride a bike."
People, I'm going to lay it out there: I am not proud of the last three days. Brett called me from the car this afternoon (he had an "appointment" but, God love him, if he left the house just to drive in silence and tranquility, I'm totes cool with it) and said he had a great idea–how 'bout we go have a family outing this week and–oh, hey babe–wanna go out for lunch tomorrow?
I suddenly felt awful for him and realized I am a hot mess of hormones and nesting and freaking out. And he is trying so hard to support me and this crazy time of life for us birthin' women. We replayed the events of the last few days together this afternoon and laughed so hard we couldn't finish.
And Heidi. Bless her. Her great philosophical words of advice to me in these last days could be cross-stitched on a pillow, painted on a plaque:
"Bizotch, drop the brussel sprouts. Put the paintbrush down. Go. To. Sleep."
*****
And now, completely unrelated to the above story are the sweet photos of less maniacal moments this week.
Evening driveway play is our come-to-Jesus time.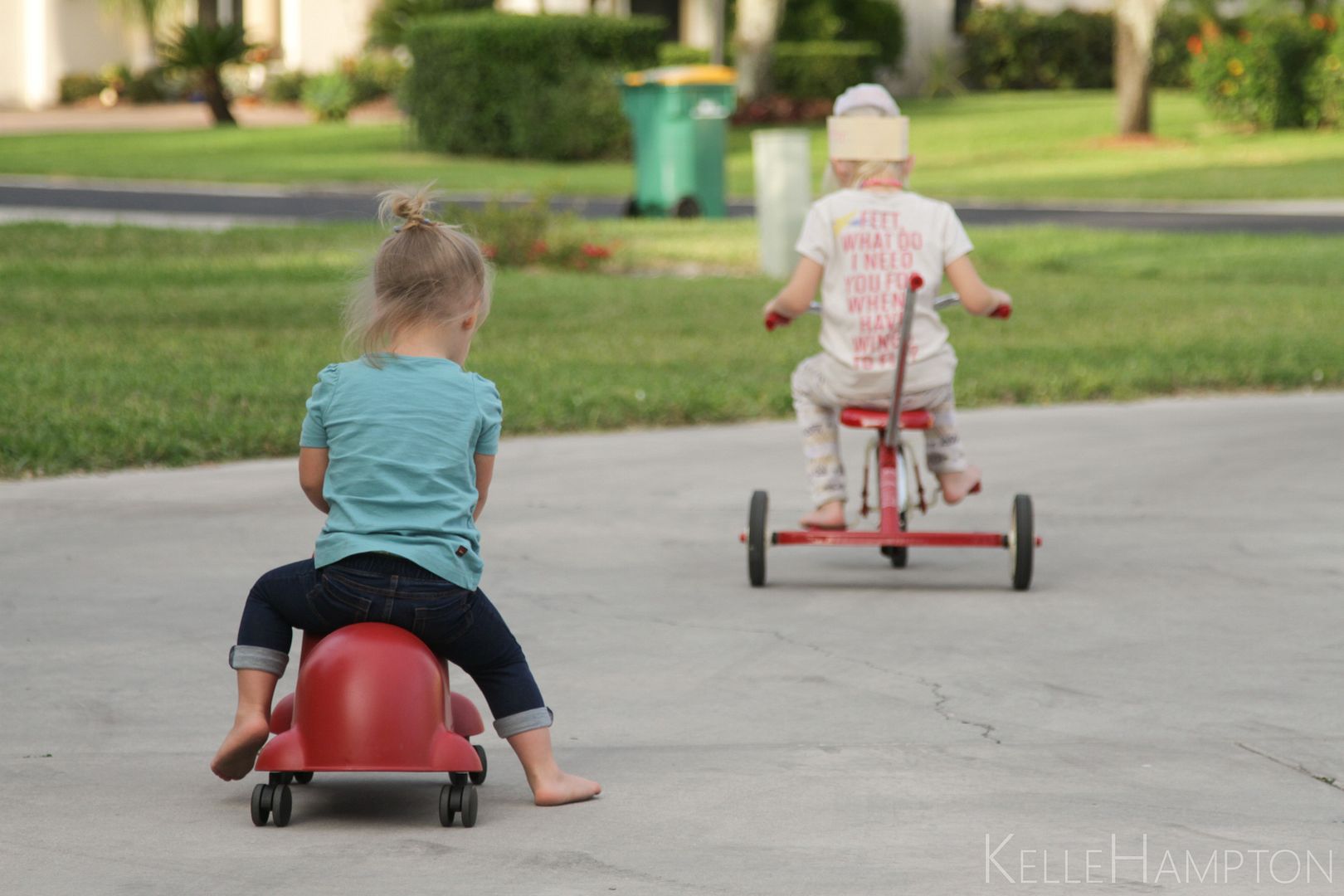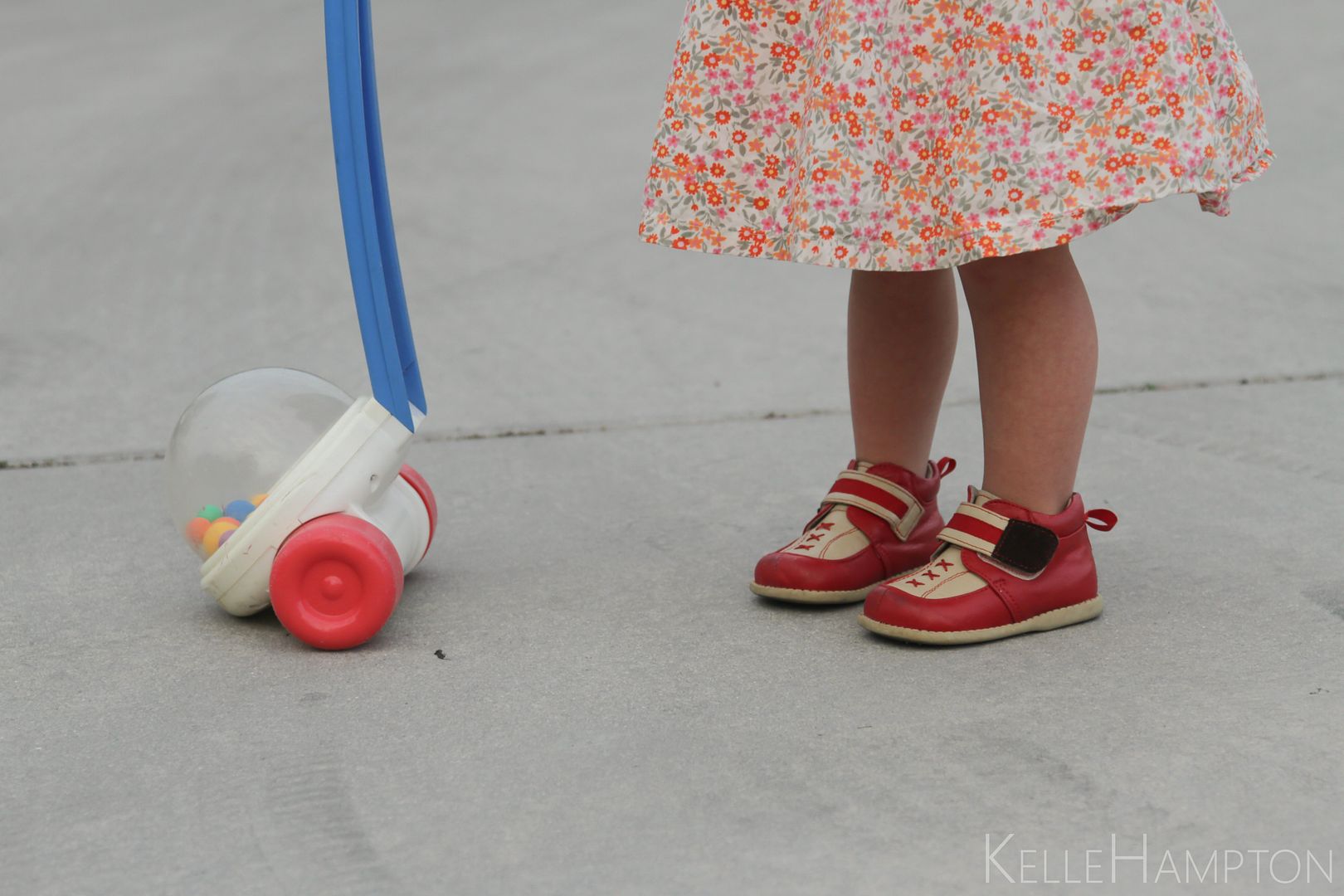 I like xylophones simply for the rainbow.

Birthday party at some local stables this weekend. She got to brush horses. She was happy.

The Twirly Wand in ballet. It's earned its right to be a proper noun.

Ballet moves transfer home to swing. Point them toes, Nellie.

She mothers. Constantly. Dolls, sister, babies.

She's Student of the Week in her class this week. We created her me doll together this weekend.

When we finished, she asked if she could make another one with no help. Her creation:

And that, my friends, got us to mid week.
Happy day.