I feel like I'm supposed to slide into these next blog posts with big transitions that address the gap of life-with-two-kids to life-with-three-kids.
What's it like?
Is it different?
How many times have you had a breakdown?
To which I would respond:
Hard to tell yet–newborn loving fog.
Kind of.
Three–all of which went something like Oh my God, I'm a hungry ravenous beast, why aren't there any $@#&ing groceries in our fridge? Food breakdowns are the worst.
I will say that in thirteen days, I've learned the following: Boys pee a lot. Feet can substitute as hands when you need to pick things up and your arms are full. After a nine month hiatus, beer maintains its charm. Middle children will eventually let you know that they need extra loving. In letting you know this, middle children may or may not incorporate ransacking drawers, ransacking closets, ransacking pantries and/or ransacking purses. Okay, not "and/or. " Just and.
However, in thirteen days, I've also remembered that I love the newborn stage very very much. Like the Queen of the Andes plant, its blooms are divine yet fleeting–froggy legs, curled toes, sleep squeaks, milky skin, flour sack cuddles and that wonderful newborn quality that can only be described as smooshiness.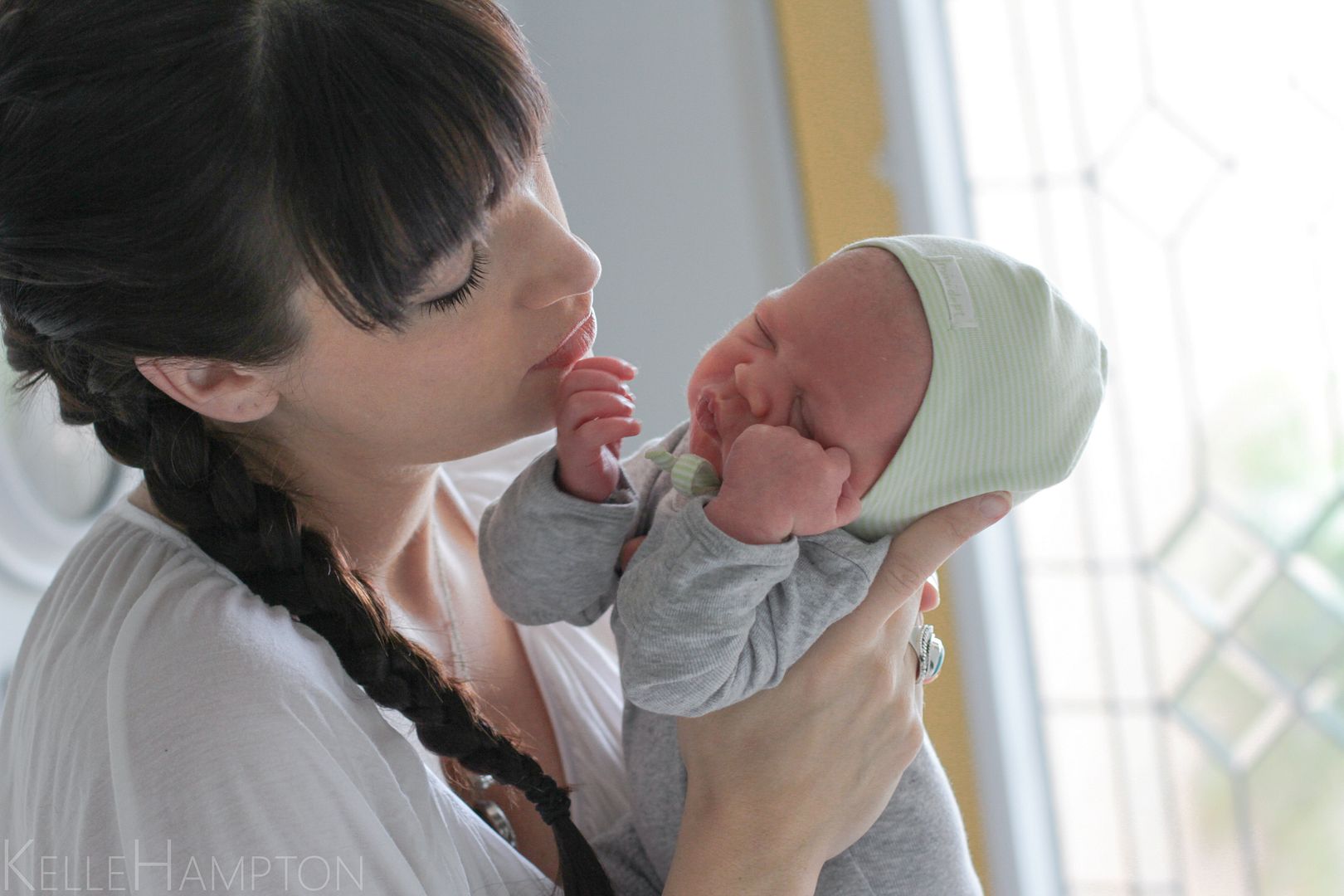 Add "last baby" to that sweetness, and you have what my sister refers to as frosting. Last babies are frosting. Mind you, my sister also coined the last baby phrase "Just give it to her" which, as I understand, resolves all whining, fits, fights and problems. Baby wants something? Just give it to him. Who had the crayon first? Just give it to him. When the baby's crying, reflexively reply "Just give it to him" and all becomes well. Always. This is brilliant. Too good of a secret to give away in the books, you know.

There's only one fox up in this town.
Life does not lend itself to smooth transitions. You just jump in and swim. It works for both the big hard challenges as well as the monumental celebrations in life. Which is why I cut my hospital bracelets off and folded up the birth certificate and slipped the hospital cradle ID card into the memory box, sighing a big "Now that was beautiful" before picking up where we left off. Life's pretty much the same with a little more laundry, a little less sleep and a lot more love.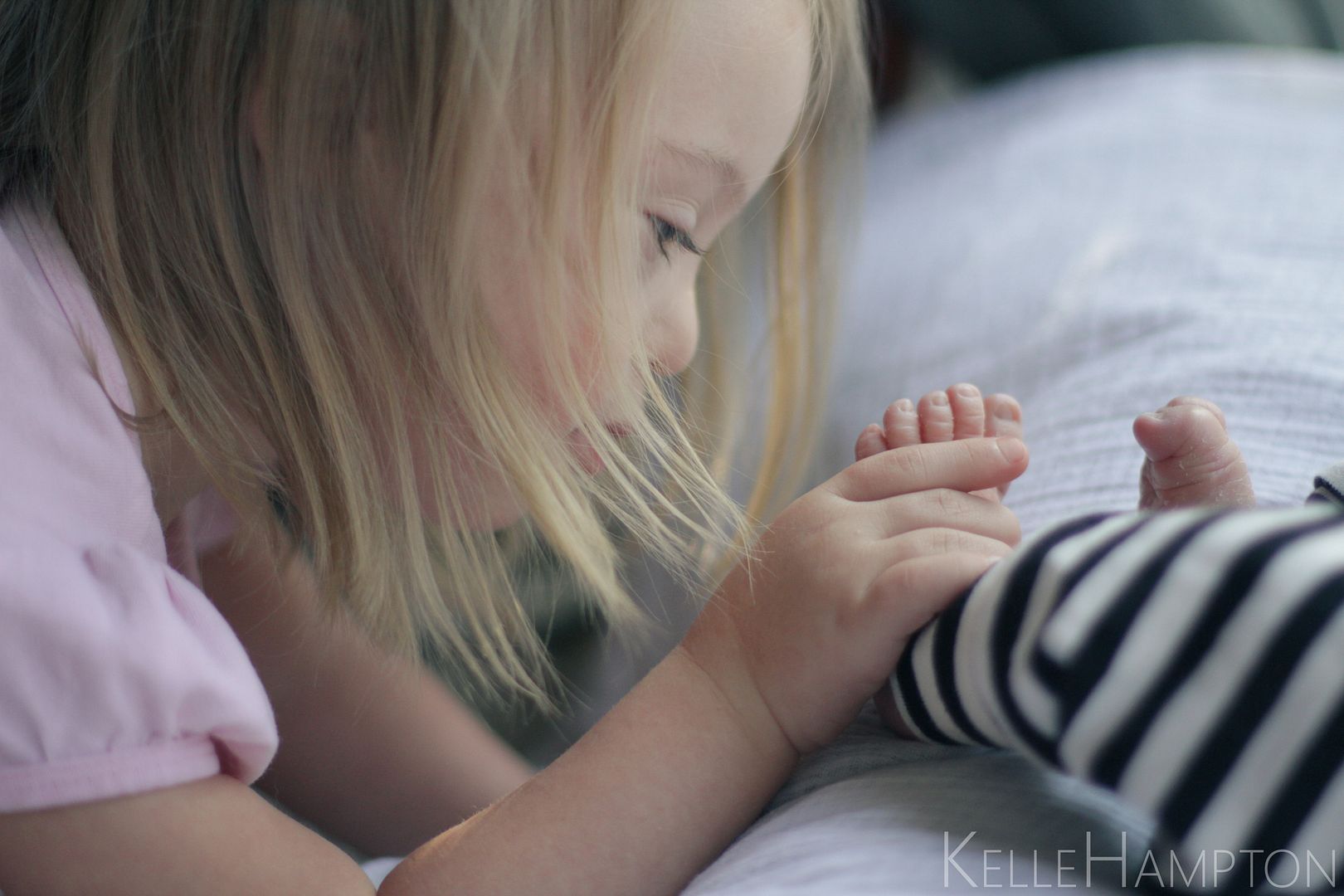 My three favorite adding-another-baby saviors in terms of how not to go crazy, how not to feel guilty, how not to snap at your husband "I'd like to see you push out a giant head" and how not to run to the shower to hide with a bottle of wine:
A) Pick two rooms. I've told myself my main responsibility for quality control in our home right now is the living room and the shared baby room. Brett took the kitchen. These three rooms cannot fall apart right now. It is our job to keep them clean, welcoming, happy, maintained. Just these rooms. Everything else–don't worry about. It's helped a lot. And strangely, the other rooms have managed to keep up. Some sort of brain trick, I think.
B) Verbally validate. A wise reader shared this advice way back when Nella was a newborn. Sometimes all it takes is a little verbal validation to remind your kids that their voice is heard, that their presence is noted. When you're tending to your older kids and the baby signals their need for you, say out loud "Just a minute Baby, I'm with your sisters right now." Wait even just thirty seconds before going to get the baby. Your older kids hear that statement and know that they come first sometimes too. Everyone has their turn.
C) Pick up the baby. No matter what I have to get done or how messy the house is, when I want to hold him, I pick him up. I hold him, I wear him, I smell him, I kiss him, I cup his head in my hands and rub his velvety hair. Suddenly, everything feels fine. Because it is.

I may not know a lot about a lot of things, but I know how to savor a baby.
******
And in jumping in and picking up where we left off…we had a party.
Let me explain this party thing for a minute. I may love a good party, but I have to be honest–most of our parties are only parties because we add the word "party" to what would otherwise be considered a completely normal event.
Take the Oscars, for example.

My hot red carpet date this year.
We watched them in our pajamas. And that's pretty much it. Laundry still sat on couches, dishes still laid in the sink, and we scrounged through the refrigerator looking for "party food" because we had nothing else planned. But we called it a party. The Eighth Annual Pajama Glama Oscar Party, to be exact. And maybe we tweaked a few details like adding costume jewelry to our pajamas and serving our strawberries in pretty fancy dishes.

To the kids though? It was a magical memory. A very special party indeed–even if they only got to stay up for the red carpet walk.

Lainey tracked her favorite dresses in a notebook as they made their debut on TV. I checked her list to find "Black Sparkaly Dress, Red Pretty Dress, Dress with Sparkaly Jakit."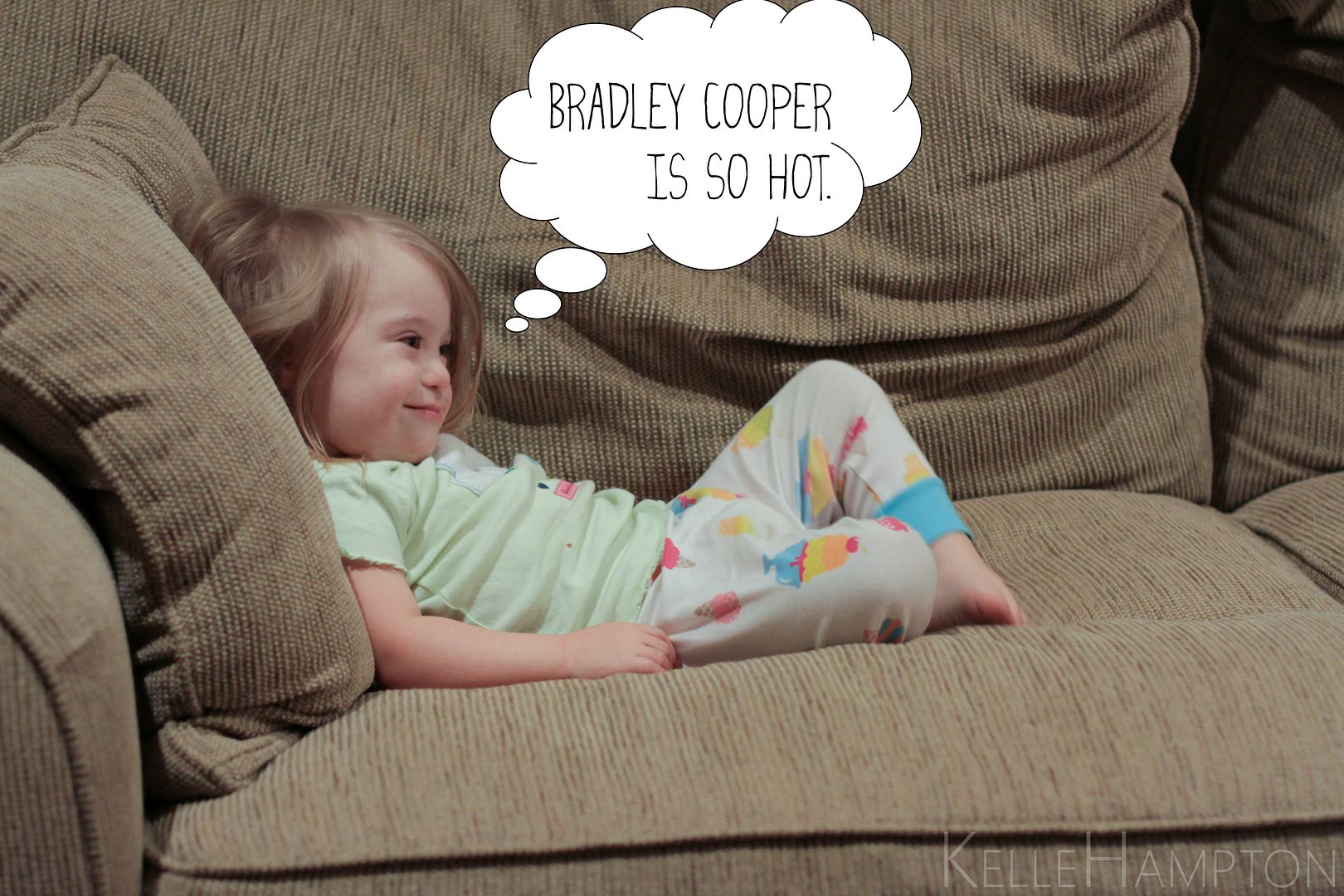 Oh this boy, this boy. Bradley Cooper's got nuthin' on him.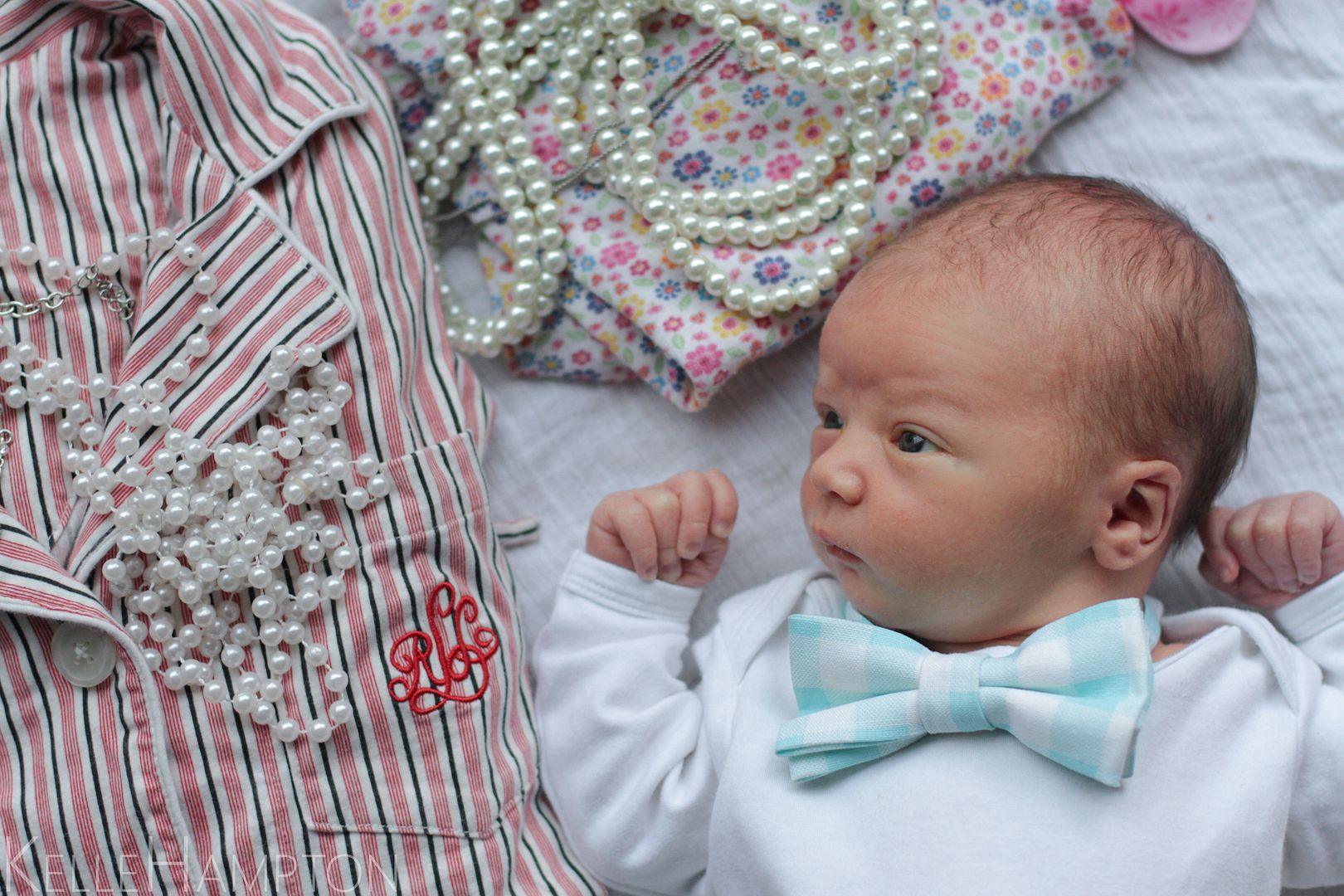 You don't have to go an extra mile to create imaginative memories for kids–an inch is all it takes. A lunch becomes a picnic when you add a blanket. A nail painting session becomes a spa night when you throw some cucumber slices in the mix. Dinner becomes a dinner party when everyone wears a hat. Cooking becomes a "cooking show" when you describe every step while you stir (and do it in a British accent!). A living room dance becomes a Carnegie Hall performance when you shine a flashlight on the dancer. Grocery shopping becomes an adventure when you stop to talk to the lobsters. And life becomes Enjoying the Small Things when you dare to take a different perspective. By golly, have fun. And I promise I'll never say "by golly" again.
So we'll call this two-kids-to-three-kids thing Having Fun.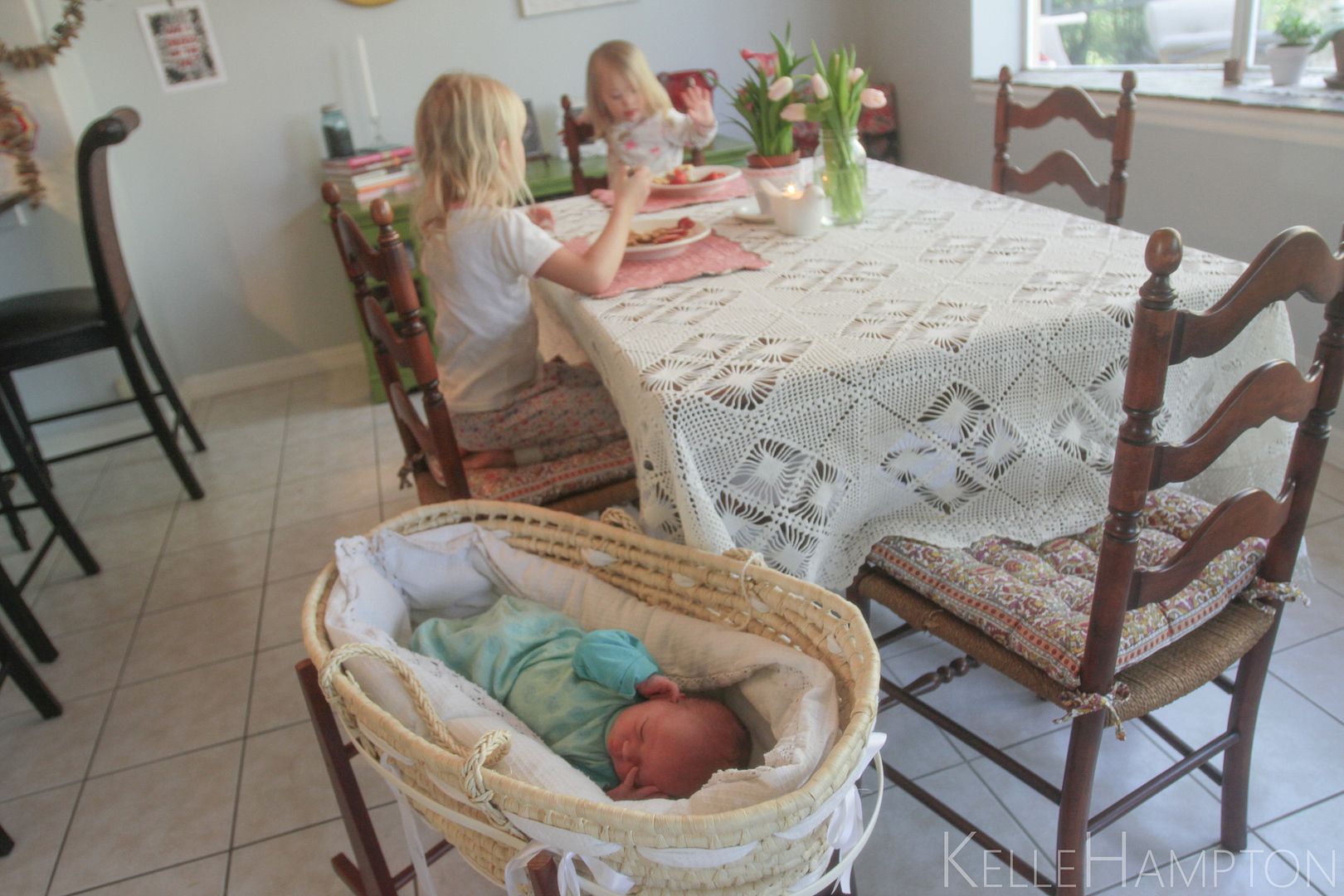 Because truly, it is.
Much love, friends.