I'm honored to bring you another guest post today, this one by Rachel Turiel who writes about raising her family in Colorodo on her blog, 6512 and Growing. When I read Rachel's posts, I often find myself shaking my head "yes," smiling, high-fiving her in my imagination for choosing the perfect words to describe what so many mamas wish to define. I love that even though I've never met her, we share love for many things, namely the honor of raising and enjoying our families. Her words today were truly a gift for me–one I'm happy to share with you.
******************
The Grace of Now
by Rachel Turiel
My children are cleaning up the daily trail of toys that expand from their shared room like some explorers' route of conquest, like say, the midday takeover of the living room.
"Do you still want this silly putty?" Rose, my 5 year old daughter asks her brother.
"Naw, just kick it under the couch and then when we're roaming around later, we'll find it." Col, 8, replies.
This is not as much cleaning avoidance as it is strategy, in which it will actually be great fun to rediscover the lost archipelago of silly putty on a further territorial advance.
I hardly flinch, overhearing this conversation. I'm long indoctrinated into the deranged and gorgeous ways of children, in which life is lived like a competition for Grand Poobah of the If It's Not Fun, Why Do It? society.
If I can find the right frame of mind, which sometimes entails a literal search (think: coffee beans, hot water and french-pressing my own depths for inner strength), I can see us all on the wild adventure entitled: ordinary family day.
There is no place I'd rather be.
On every ordinary day, these children lead me to the cliff of sparkly rainbows where I sigh gratefully for this life, these babies, the whole cherry pie of motherhood. And then 10 minutes later we're all falling down that same cliff, the one perched above the nest of poisonous snakes, snakes who won't go to bed at night, who won't wear a hat when it's two degrees outside, and who invent dubious sibling poker matches: I'll see your blood-drawing scratch and raise you a small kick in the shin.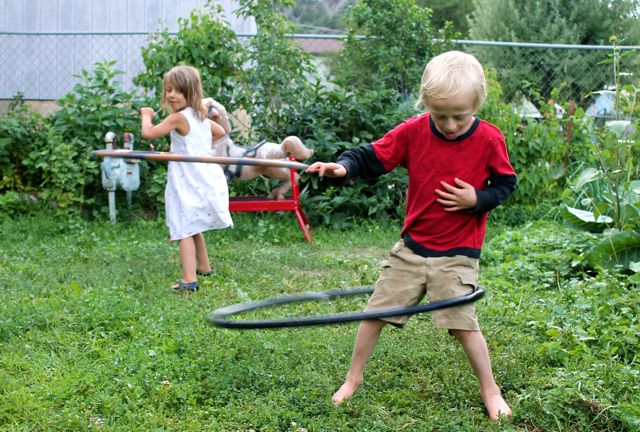 My greatest roadblock is believing that things should be different. That, because I am devoted to motherhood like say, Elton John is devoted to his feather boas, my kids will eventually come up empty on the Netflix queue of their own sibling drama. Or that by draping my own boa of love around my children daily, we might avoid boarding the wrong train, you know, the one that stops at the stations: hurt and pain.
But it's not like that. Parenthood contains everything. It's more Shakespearian than Shakespeare, what with the comedy of emergency bath evacuations due to stealth poops, and the tragedy of mama-guilt that finds you wherever you're hiding…like water, like a flood.
What helps is letting it all in, making space for the largest emotions that erupt from the smallest bodies; or the messes that, like those trick-candles, never seem to completely blow out; or the hot flare-up of my own anxiety and regret.
And then, I turn to the grace of now.
These days with young children are like having your own, slightly tipsy tour guide ushering you through life, pointing out: the squirrels in the park! the sparkly shoes! the paintbrushes ready to plunge into color! Their job is to wring juicy, succulent moments out of the thin, bland air of ordinary days; your job is to follow.
Today, one tour guide has fallen so hopelessly in love with a bottle of glue, she's adhering bits of fuzz found on our floor to a piece of paper. The other grabs my hand, gasping audibly at the first scraggly clump of spring dandelions; his own joy the mindfulness bell that brings me back to the luckiness of this life.
Sometimes it seems like these moments—and our tightly braided lives—will go on forever, an endless string of dishes and hand-holding. But they won't. Someday my children will walk by a clump of sunny dandelions and not think to scrabble them together into a bouquet. Someday my bed won't be full of children wriggling like puppies before the sun is even up.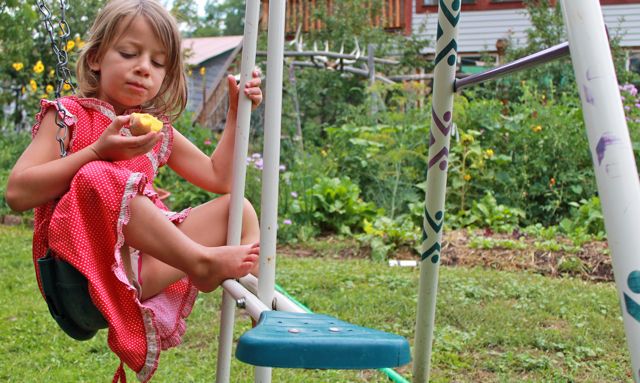 These days, these moments—today!—is all we really have. To witness the growth and evolution of a child is exquisite. To love and be loved unconditionally is both like being encased in protective armor, and also like having it shatter daily, because it's the most tender, vulnerable skin you'll ever wear.
And truly, all I ever remember by the blessed end of the day—by the time I'm ghosting through the kids' darkened room, pulling blankets over slumbering bodies, those bodies that, sleeping, appear to be cobbled out of such earnest goodwill that I imagine them exhaling world peace in their sleep—all I remember, is the joy of parenting that, like cream, always rises to the top.
*************************
Rachel Turiel is a freelance writer and regular contributor to NPR, "Earth Notes," Mamalode, and Edible San Juan Mountain Magazine. Her writing has appeared in Literary Mama, Mountain Gazette, Bugle Magazine, Rhythm of the Home and more. She writes a biweekly column, "Adventures in Motherhood," for the Durango Herald.
Read more on Rachel on her blog, 6512 and Growing.