I made our reservation for Mackinac Island early this spring–when summer was still months away and the island was still hibernating in its half-frozen state–much needed rest from the magic it spins in the summer. I think it was Tim Allen that did it–his calm voice hypnotizing me through a Pure Michigan commercial that sparked such vivid Mackinac Island memories, I opened my computer right then and there to book a stay. I am the Pure Michigan advertising campaign's dream consumer, a repeat customer who's developed such a strong Pavlovian response to the first three notes in the Pure Michigan commercial songs, I'm half inclined to jump in my car and start driving the minute I hear it. Not in February though. You can have your February, Michigan.
Of All the Places to Love Mackinac Island is one of my favorites, a treasure we've returned to now for three years. We leave our cars at the ferry dock and bring nothing but an appetite for summer fun and a small suitcase full of sailor suits for the kids. And when we get there, we just run free because the grassy knolls are a plenty.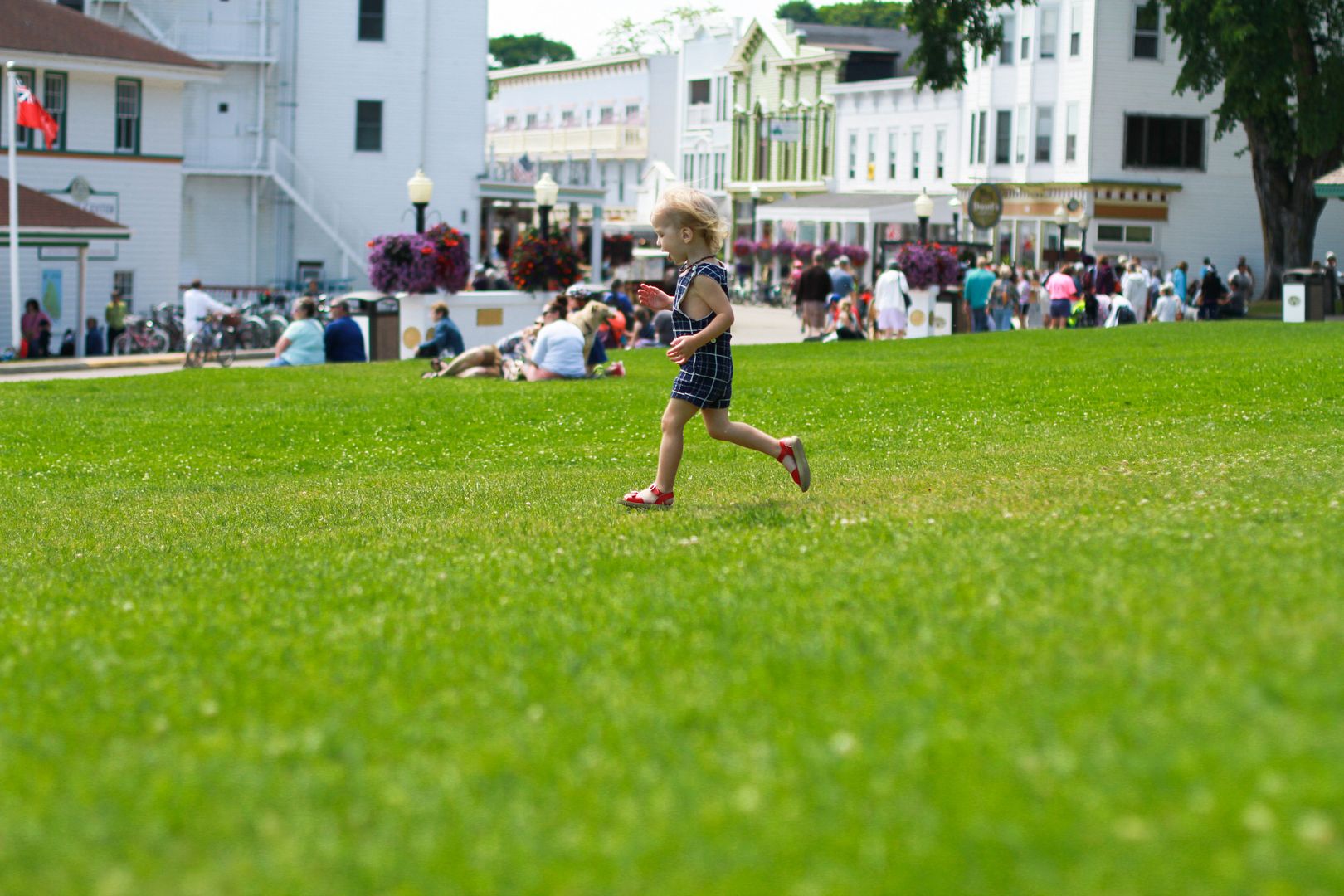 We arrive on an early ferry and take a late ferry out the next day which gives us two full days to experience as much of the island as we can take in. There's something for everyone from a bustling Main Street full of pubs and shops to quiet corners with picturesque views and rich history. "Tell us a ghost story!" we ask all the locals–true tourists we are. I love the houses on the island–all bright and cheerful with flowers in the window boxes and rocking chairs on the front porch. So many summer stories written and told here.
When in Rome, you eat gelato. When in Mackinac, we pull out the Jon Jon rompers.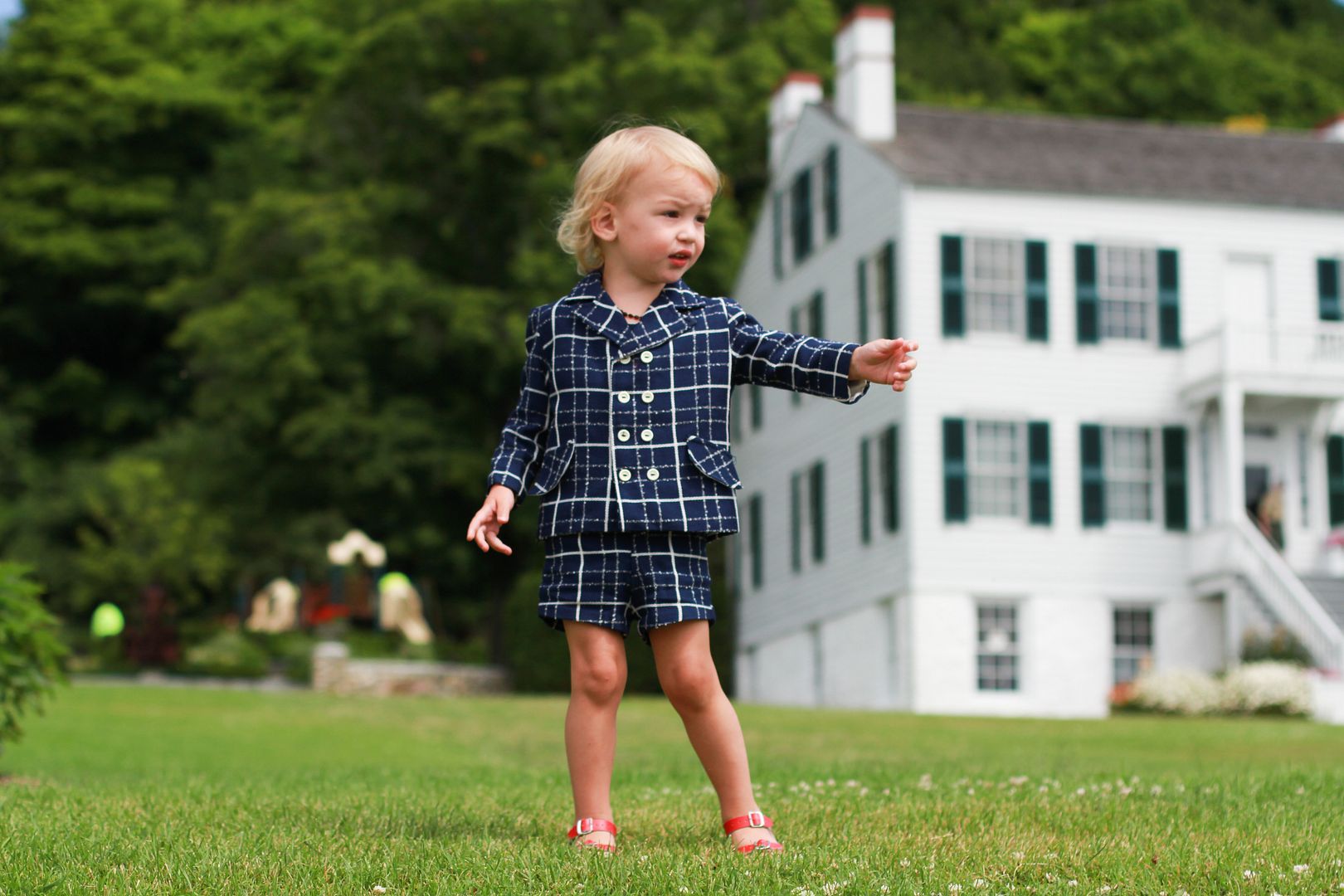 I'll add all our favorite Mackinac travel details and links at the bottom of the post for anyone interested.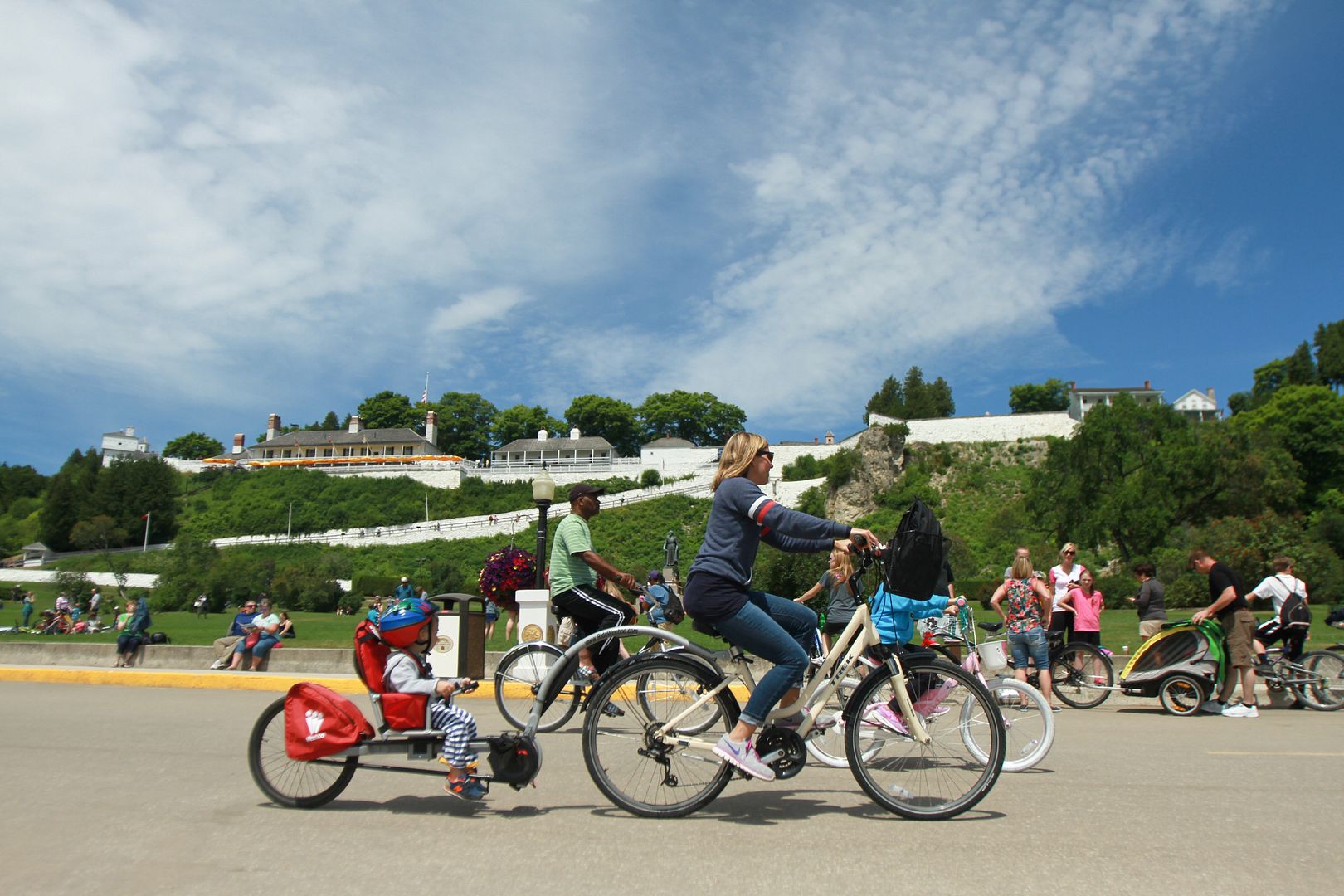 The lawn in front of Fort Mackinac–great for cartwheels, Frisbee, dancing, playing tag, people watching. My kids made friends with so many dogs there too.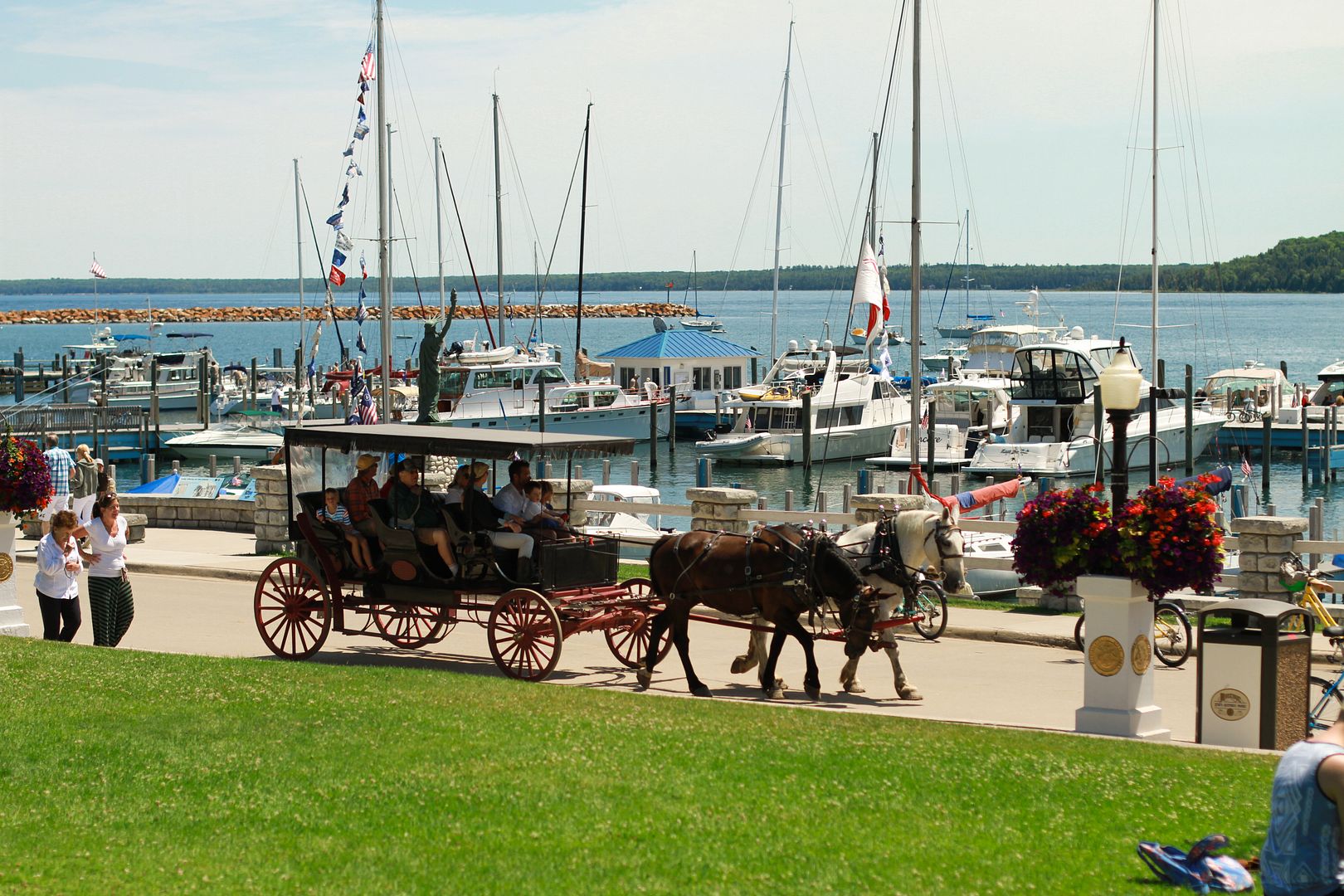 We took a carriage ride around the island this year and ended up at the Grand Hotel for high tea. Dash was so mesmerized by the horses, he sat quietly for the entire hour. We decided we need a horse–one that can fit in our house and travel in the car on all trips with us.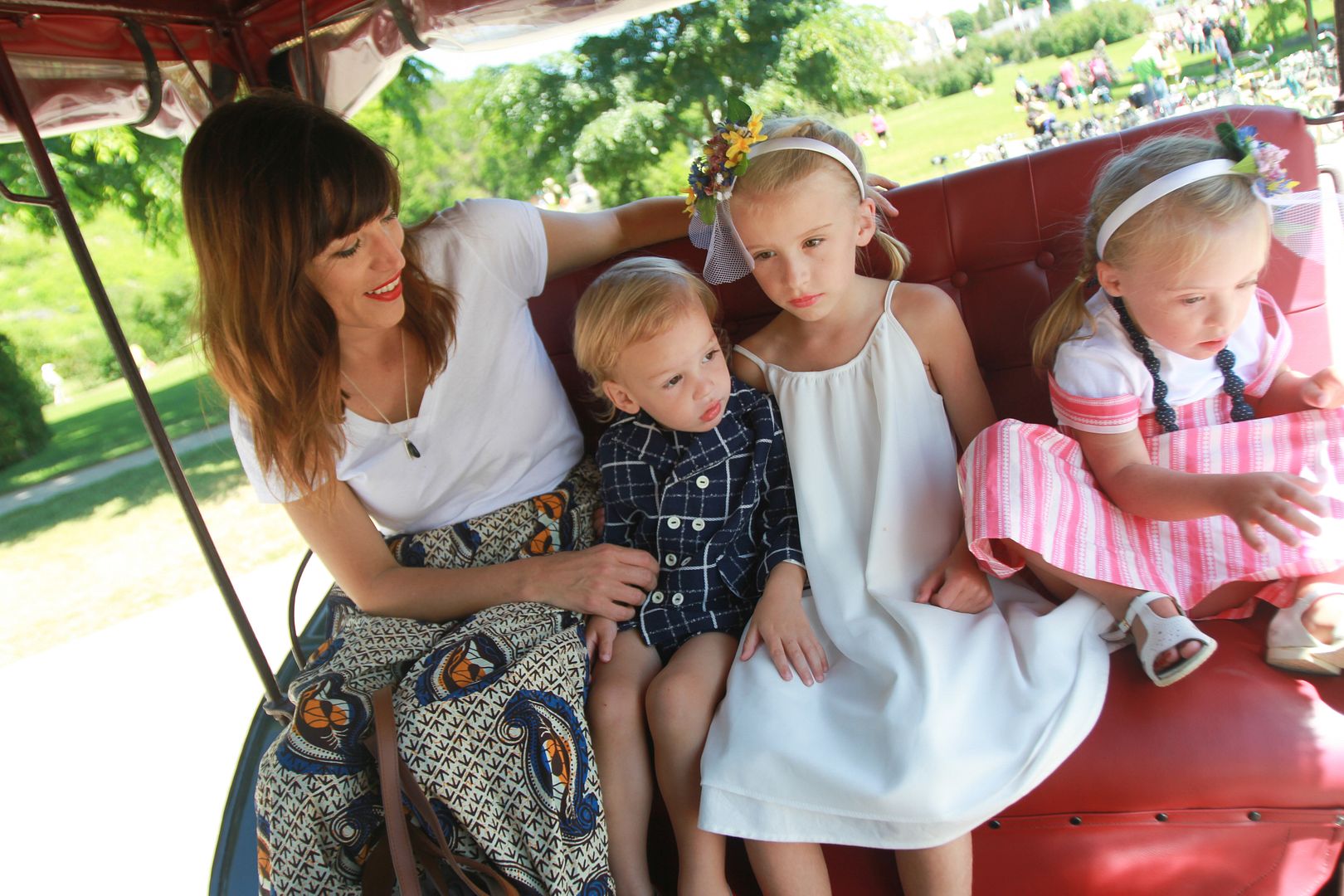 We loved listening to our carriage driver's stories of the island's horses. She knows all their names and talks about them like they are people when they pass by. "Oh that's Larry and Frank. They hate each other. And that's Sue. She's only been on the job for a week. She's a little timid. And there's Jesse. He was pulling carriages, but they moved him to taxi duty. And Andy! Everybody loves Andy." Lainey was all over the horse stories. Turns out a lot of workers on the island are horse lovers, and we like that.
The Grand Hotel is where Theodore Roosevelt had his fifth birthday party and also it can be seen from space. I made those up, but the moral of the story is it's full of history (Mark Twain lectured there, Kennedy and Truman visited there, Esther Williams was filmed in a movie there–all true) and it's HUGE (longest front porch in the entire world–promise, also true). It feels very fancy, and I felt a little bit like Jack stealing a fancy suit to hang with Rose for a first class night on the Titanic–which, by the way, feels awesome. So we came for tea, and I just prayed that my kids wouldn't break a tea pot or fling too many sugar cubes. We started on the porch–the longest in the world, might I remind you–and it was not Dash but Nella who initiated the tomfoolery when she grabbed a bishop from the giant chess set and booked it down the porch while I chased her and people laughed, "You'll be running for a long time!"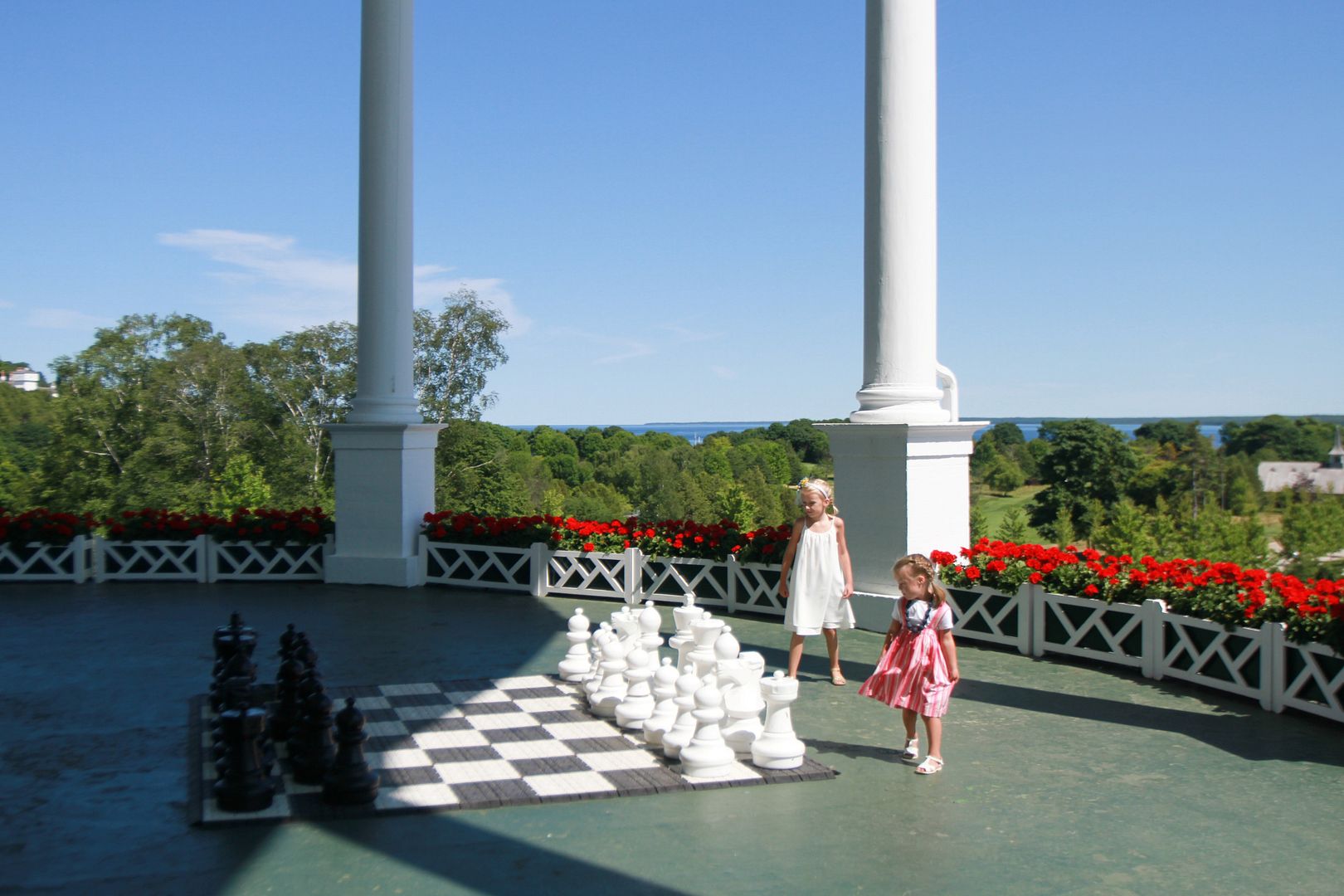 I caught up.
The tea was lovely, and the staff was kind and smiley and didn't mind at all sopping up a few tea puddles that failed to land in the cup.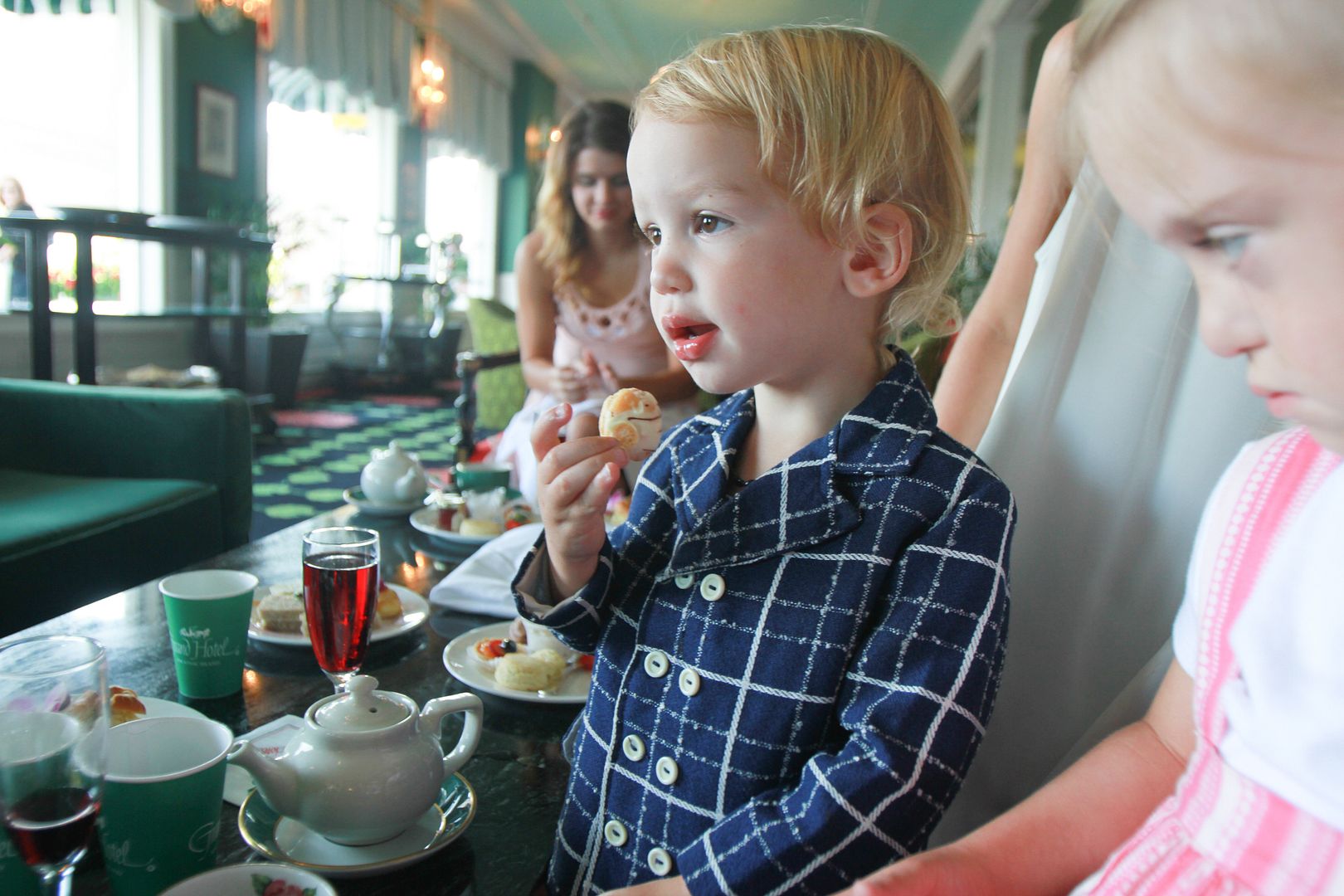 High tea at the Grand Hotel? Do it, do it. A fun experience indeed.
Go upstairs to the bar before you leave to check out the views–then go down to the first floor for the tea shop and Sadie's Ice Cream Parlor.
Hit the phone booth on the way out to let your kids fight over who gets to open and shut the door.
When the fighting gets too bad and it's making a scene, point to the street and yell "HORSE!" There's a good chance there will actually be one, and horse trance will fix everything.
Horse trance, horse trance, horse trance. Mackinac makes parenting so EASY.
Watching horses from the window…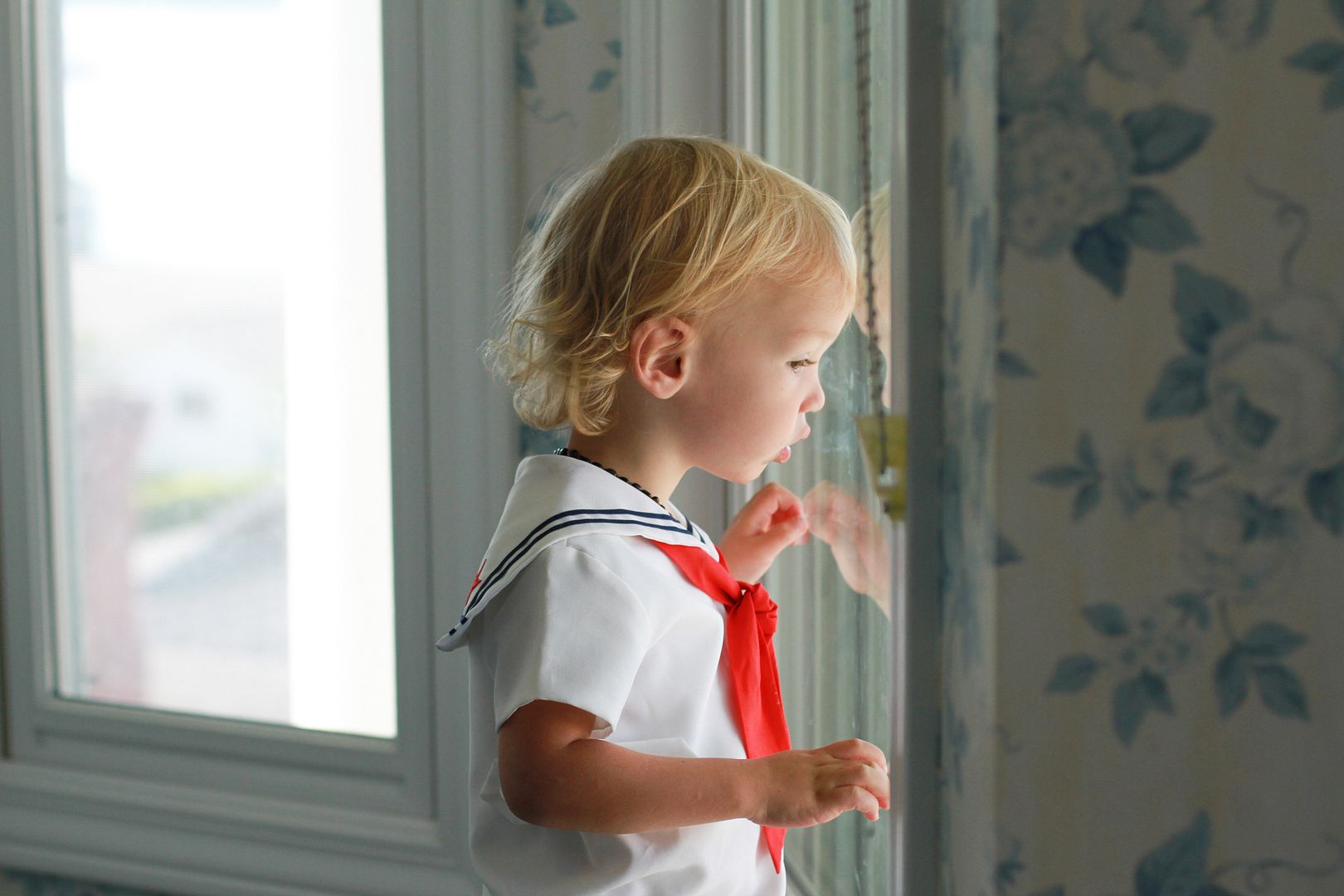 Mission Point is another good place for frolicking in the grass. We like to frolic. And we like to say frolic.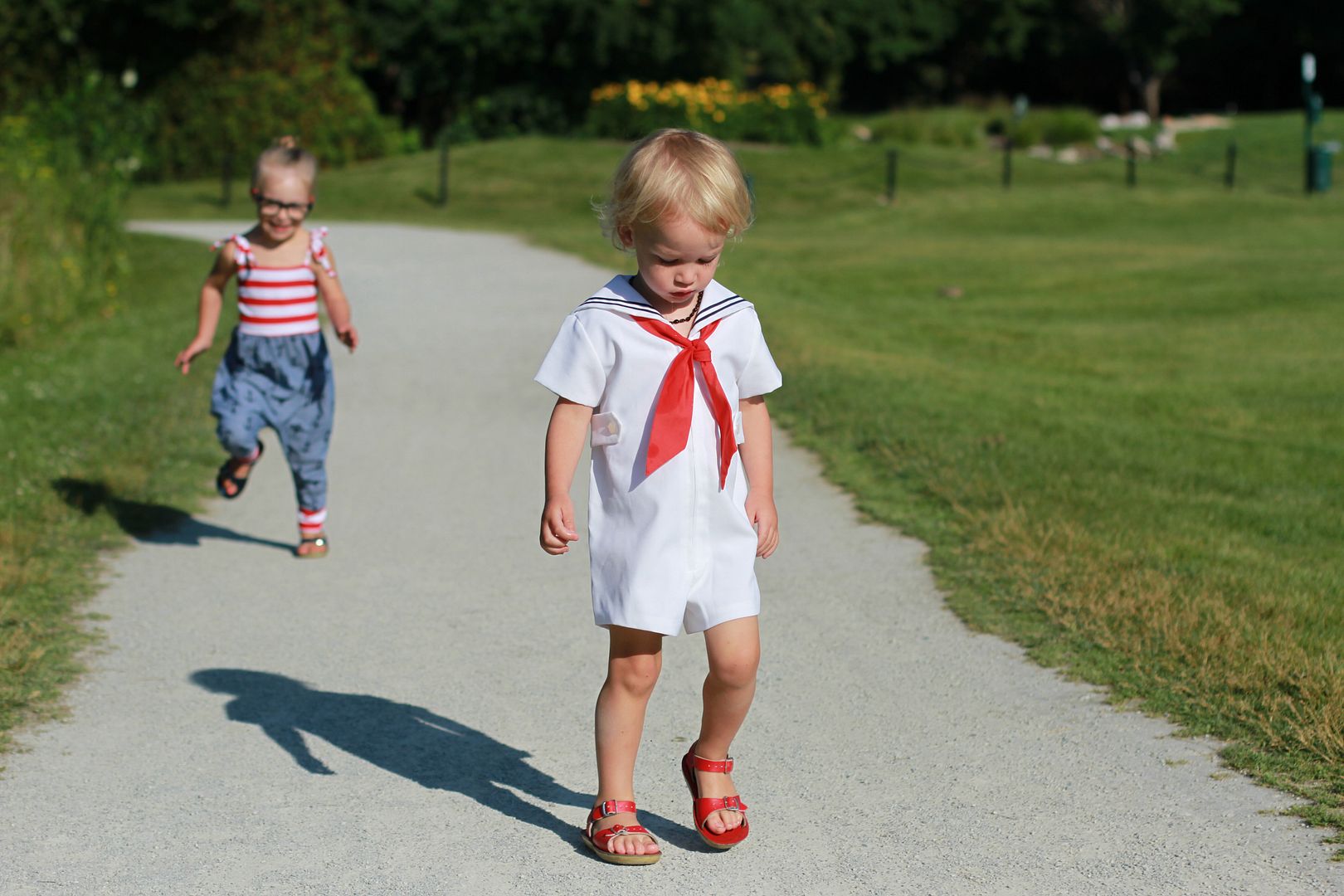 Kite watching near the public library…
A view through the back doors of the library where–oh, I don't know–a deck with Adirondack chairs overlooking the lake and a lighthouse invite you to sit and read in peace. Enough already, Mackinac Island. Enough.
For the kids? Fudge. Lots of it. Fudge at Ryba's, fudge at Joann's, fudge at Murdicks, fudge at every other shop corner, fudge made right in front of you by nice people who smile and make faces for your kids through the windows.
And putt-putt. And we're not talking the ball-through-old-windmill and manmade waterfall course. This is the heavens-parted-and-angels-sang-through-the-clouds course. The view. Not to mention the darling tavern on the green where you can sip a drink and watch your kids. I mean, play with them.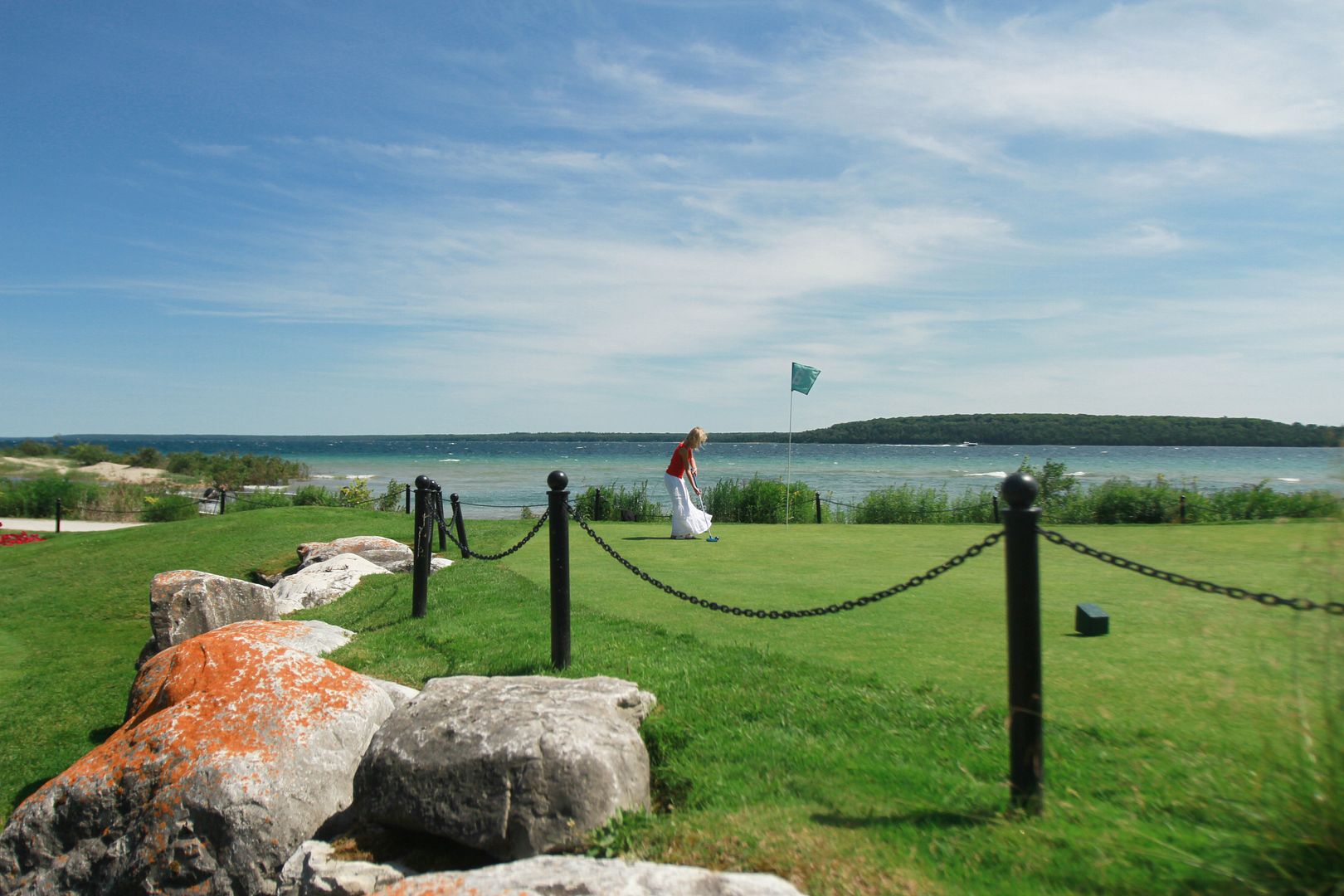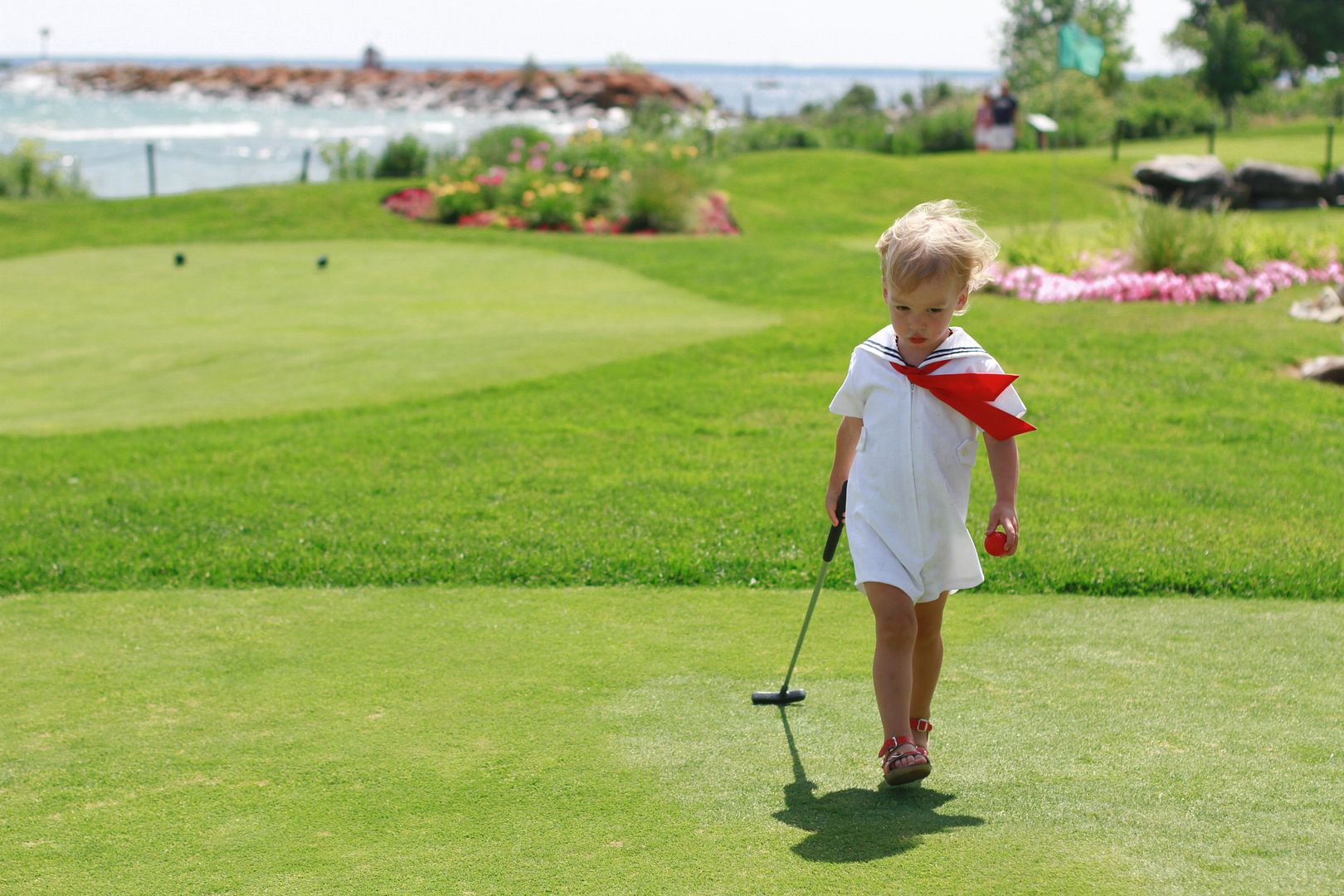 We found some great quiet break activities for the kids in between walking and sight-seeing, one being the kid's art studio downstairs at the Richard & Jane Manoogian Art Museum.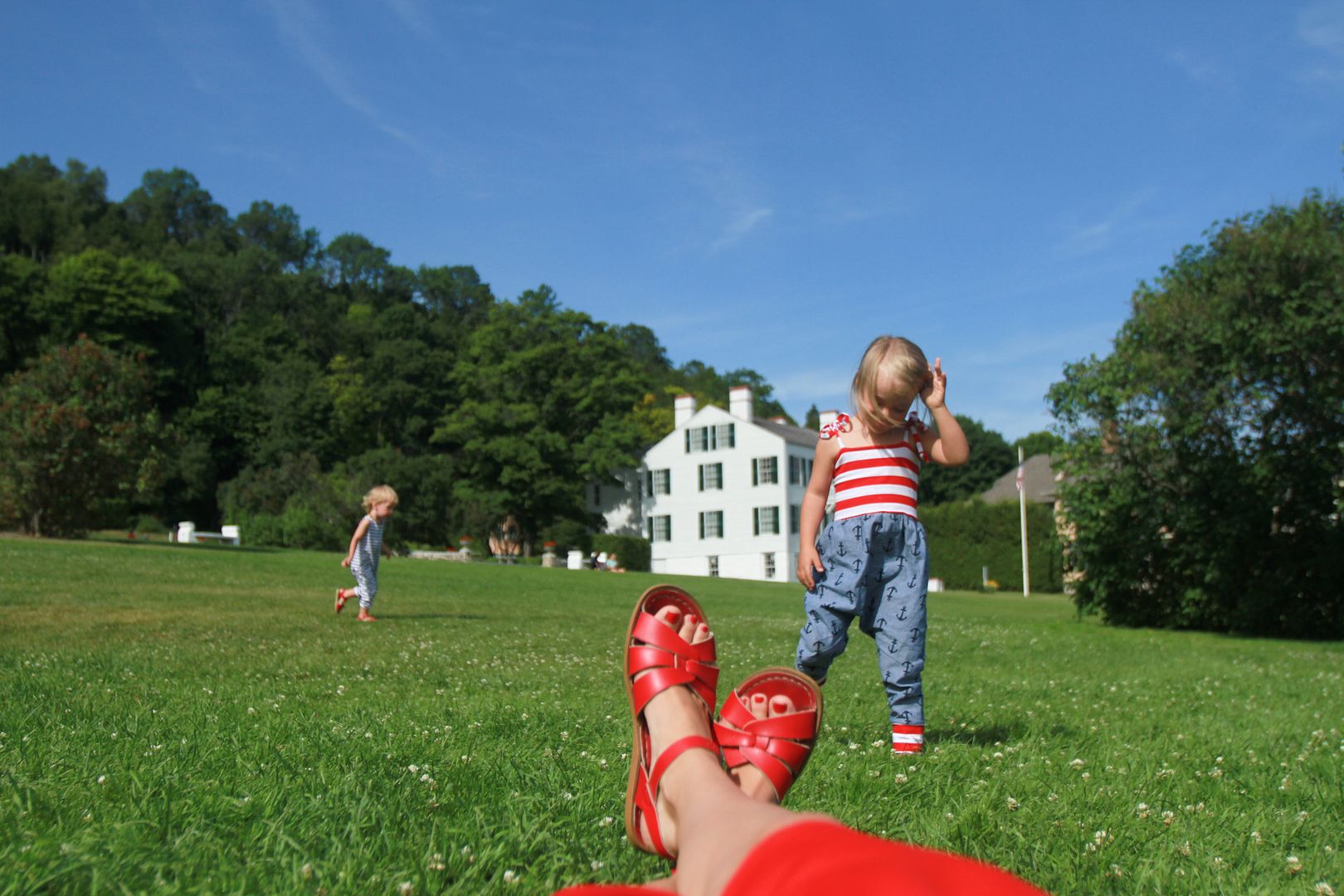 (I don't usually like dark beer but fell in love with a smooth brew called Widowmaker from the Upper Peninsula. It's on tap at the Pink Pony.)
We find a little more magic every time we visit the island and can't wait to make more Mackinac memories, hopefully with the entire family next year. I must have said "Brett would love this place" 100 times.
Our Mackinac Island Favorites:
The Island House Hotel
The Grand Hotel
Coffee at JL Beanery (hidden behind Bay View Bed & Breakfast–best view of the harbor)
Richard & Jane Manoogian Art Museum (kid's art studio downstairs and a brand new playground behind the museum)
Greens of Mackinac at Mission Point–play putt-putt, order a drink at the tavern
Professor Harry's Old Time Photos (kids aced it this year)
Pink Pony (order a burger and try a Widowmaker)
Mary's Bistro Draught House (pork tacos, sit outside on the back deck)
Fudge–Ryba's, Murdicks, Joann's
Public Library (and kites on the lawn next door)
Shops: Visit Caddywampus and Poppins–so many cute little gifts
For past Mackinac Island posts, see Mackinac 2014 and Mackinac 2013.