This post is sponsored by Blue Apron.


We've been working hard lately at finding time to be together just us, me and Brett, away from the kids, talking about things other than the kids. Let me rephrase that: We've been working hard lately at catching a unicorn. Finding time just doesn't happen because finding infers those magical blocks of time already exist–and they don't. But creating time requires responsibility. What in our schedule can we actively change to connect? How can we get creative with this little family of ours so that we aren't staring at each other across a table of grown kids someday, thinking, "God, we used to have so many things to talk about. What happened?"
If I've learned anything from years of watching nature and survivalist shows with Brett, it's that moving toward where you want to go out there in the big world begins with using your resources. Earlier this week, that meant kids in school and a built-in houseguest sitter while the two of us headed to joint doctor appointments. As we quickly slid into the car (no car seats! no buckling! no kids kicking the back of our seats!), I made a note of how quiet it was.
"Did you get the insurance cards?" I asked.
"Yep," Brett answered. "Wow, this never happens–a daytime date."
"Dear God Brett, we're on our way to read old copies of Woman's Day in a doctor's waiting room. This DOES NOT COUNT!"
So there are ground rules for what constitutes a date, and holding hands does not always a date make.
But good food and wine in your own kitchen while your best friend takes your kids–that's a date. Heidi offered to take all of our kids to her house on the day of our last Blue Apron delivery so that we could have a cooking date in our own home, and it turned out to be the perfect thing we needed. In fact, I don't know that we've ever, since kids, been alone in our home together for that long as dates usually mean we leave our kids at home and we're the ones who take off. But it was nice to have a quiet meal, connecting just the two of us, in the control tower of our very busy life–our own kitchen.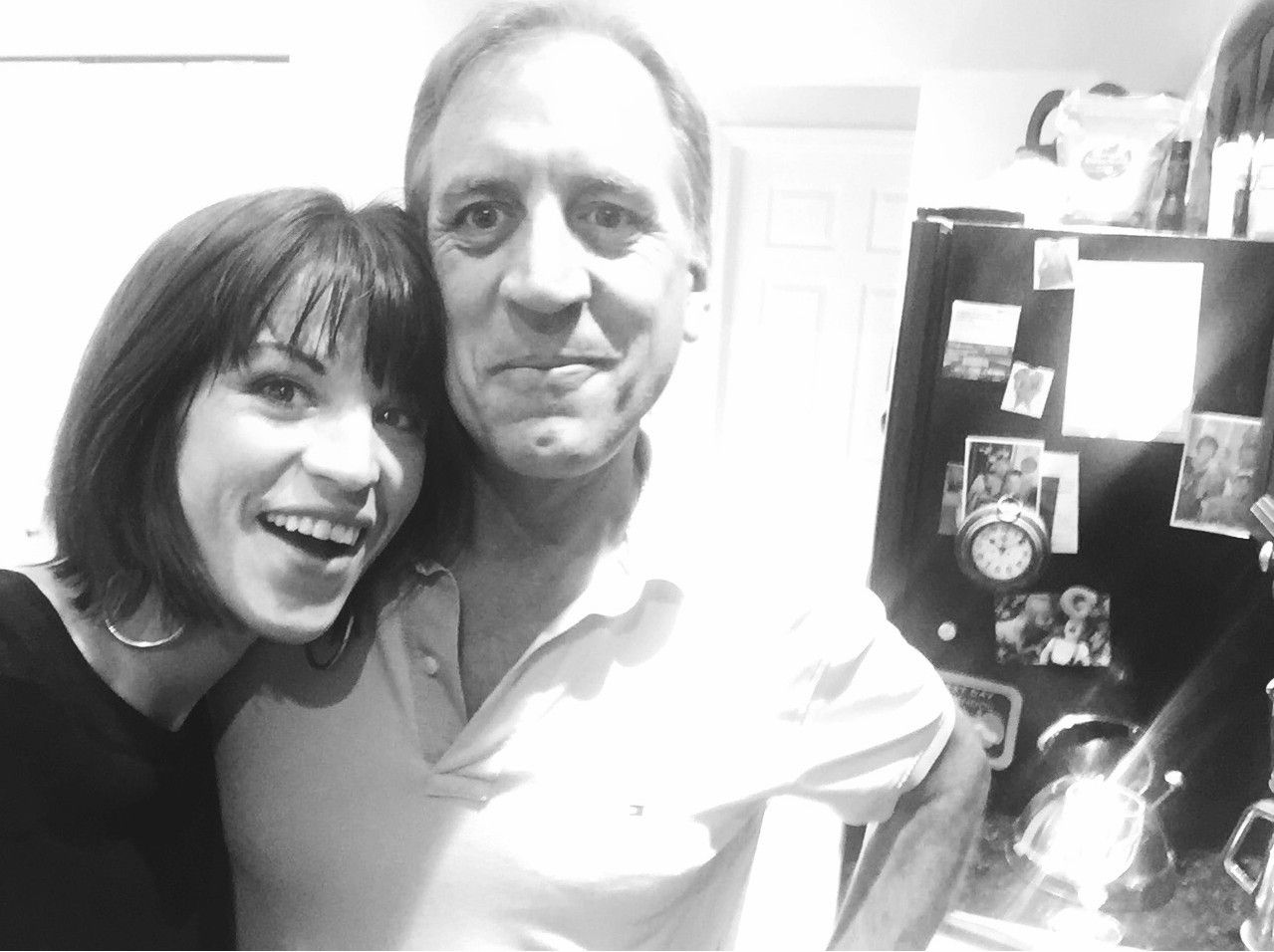 Cue candles. And good wine. And our go-to dinner music–Diana Krall Pandora station. And nothing but the fun part left of preparing a meal. I've written several times before about Blue Apron meals–farm-fresh ingredients delivered right to your door, in all the right proportions, and chef-designed recipes with step-by-step instructions. Our Blue Apron meals are always so colorful–look at that food rainbow!
Our date night meal was Seared Salmon and Salsa Verde with a Summer Vegetable & Quinoi Salad–healthy, light and delicious.
The step-by-step instructions and photos make cooking super easy.
My favorite part of preparing meals is setting the table and creating a cozy space to eat. Now that we're knee deep in September, I'll be allotting some good time for Pinterest Tablescape Porn. Also, this is a good place to note that yesterday I bought a cornucopia and made sure to answer Brett's "What are you doing?" question later in the day with "decorating my horn of plenty." He didn't even proceed with further questioning, and I am severely disappointed.
Seared Salmon & Salsa Verde with Summer Vegetable & Quinoa Salad
4 Skinless Salmon Fillets
3/4 Cup Red Quinoa
6 Ounces Cherry Tomatoes
3 Ounces Arugula
2 Cloves Garlic
1 Ear of Corn
1 Large Bunch Parsley
2 Tablespoons Capers
2 Tablespoons Sliced Almonds
1 Tablespoon Red Wine Vinegar
1 Shallot
Heat large pot of salted water to boiling on high. Rinse quinoa and add to pot of boiling water. Cook 18-20 minutes or until tender. Turn off heat, drain thoroughly and return to pot. While quinoa cooks, wash and dry fresh produce. Peel and mince garlic and smash with flat side of knife until it resembles a paste. Husk corn and cut kernels off cob. Have tomatoes. Roughly chop the parsley leaves and stems. Roughly chop capers. Finely chop the almonds. Peel and mince shallot. 
Place minced shallot in a medium bowl with the red wine vinegar and add parsley, capers, almonds and half the garlic paste. Stir in enough olive oil to create a paste and season with salt and pepper. 
Cook corn for 2-3 minutes in a large pan with olive oil. Add tomatoes and remaining garlic paste. Season with salt and pepper and cook for an additional 2-3 minutes or until softened and fragrant. Transfer cooked vegetables to pot of cooked quinoa. 
Pat salmon fillets dry with paper towel. Season with salt and pepper on both sides and place in hot pan with 1 tablespoon olive oil. Cook 3-4 minutes per side or until golden brown. Remove from heat.
Add arugula and a drizzle of olive oil to pot of cooked quinoa and vegetables. Season with salt and pepper and stir to combine. Dived salad between dishes. Top each with a cooked salmon filet and a few spoonfuls of the salsa verde. 
Pour some wine, toast to something fabulous, dig in.
After we ate, we ran a dish over for our neighbors to try, a strategic bragadocious move that said "LOOK AT WHAT AMAZING COOKS WE ARE!" just as much as it spoke "Kind gesture because we love you." That's the cool thing about our Blue Apron Meals–they're teaching us how to cook, and we look damn good to anyone who tastes our food. And there are lots more great Blue Apron recipes to try at home.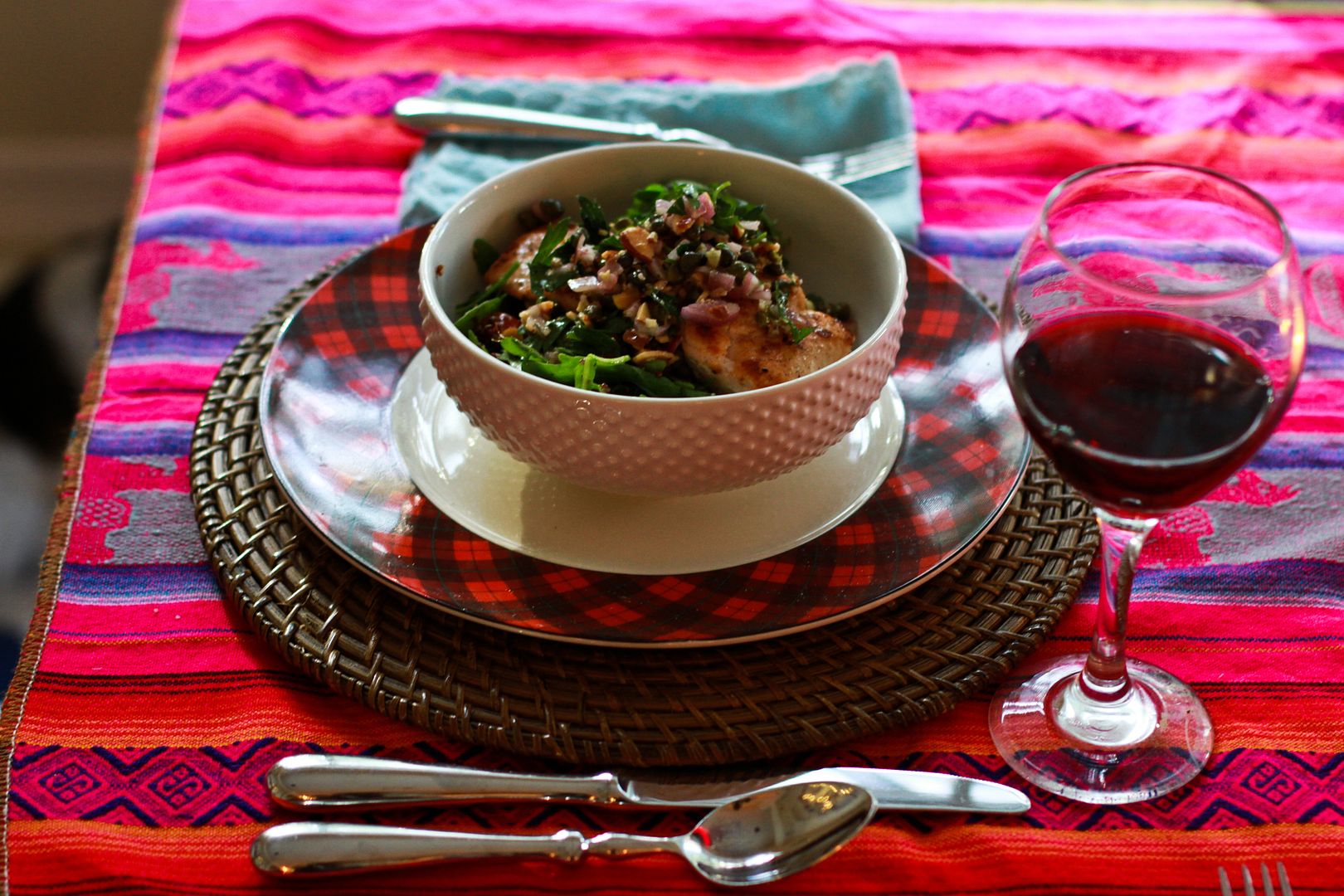 If you'd like to try Blue Apron meals, they're giving the first 50 readers who sign up two free meals with their first order.
Put that in your horn of plenty.