I started to write this post with a relevant quote from one of my favorite books, Mrs. Muddle's Holidays, and remembered as I always do when I read that book, about how I discovered it and the little lesson that came with it.
When Bloom came out, I was asked to write an essay for NPR's All Things Considered. I completely geeked out but quickly reminded myself not to write anything like "geeked out" because this was NPR for Pete's Sake! I also told myself "don't be sentimental, don't be cute, don't be sweet, don't be, don't be, don't be"…because this was NPR for Pete's sake! So I wrote an essay and scanned it over once, twice, three times with my "not too sentimental" detector. I checked for solid sentence structure, balanced simple sentences with complex ones and provided good solid information about Down syndrome that sadly drowned out my own voice. "This is very NPR-ish," I thought. Satisfied with myself, I sent it on to my publicist who forwarded it to the All Things Considered producer. And do you know what she wrote back?
"I don't want NPR. I want you."
She called me out. I tried to write something that would fit, something I thought they wanted instead of writing my story, and in doing so lost everything I wanted to say. And I knew it. "Write it again," she asked. So I did. I wrote from my heart, unplugging the "make it fit" filter, letting every drip of my feelings fall where they may on the screen. I sent it in and walked away from my computer. Later, I found these words from my publicist. "THIS. This is what they want. Your voice. They love it, they're running it and they want you to record it."
After it aired (here), the producer and I wrote back and forth for a while, recommending our favorite children's books. She introduced me to Mrs. Muddle who has since become my spirit animal, and every time I read it, I think about the little story that came with her introduction.
Someday, I'll hang a cross stitch hoop art on my wall with threads in every color. It will say: "Don't be NPR. Be you."
From the afterward of Mrs. Muddle's Holidays:
"There are more holidays on the calendar than any one person could ever observe. But everyone needs something to celebrate and people to celebrate with. Sometimes the most wonderful occasions are the ones people make for themselves–the birthday party, the family trip, or the neighborhood picnic that becomes bigger and better every year until it becomes a tradition. Mrs. Muddle's holidays are this kind. She is celebrating her favorite things–April showers, the beginning of summer, the first snow. But she is really celebrating friends, community, and love."
~Laura Nielsen
So Everyone's Pretend Birthday Party came to be.
Several months ago, at one of our little friend's birthday celebrations, he said, "I wish it could be everyone's birthday one day"–on his own birthday, because he has a big tender teddy bear heart and likes to share everything–even birthdays. I pulled out my phone and told him to pick a day–any day. He scrolled through and randomly chose a day in September, a day we all forgot about until last week my phone dinged with a one-week reminder for "Everyone's Pretend Birthday Party."
We bought the necessities–hats, balloons and cake–and Lainey decorated signs and hung them around the house. What followed was such a memorable evening of friendship–a birthday for the books.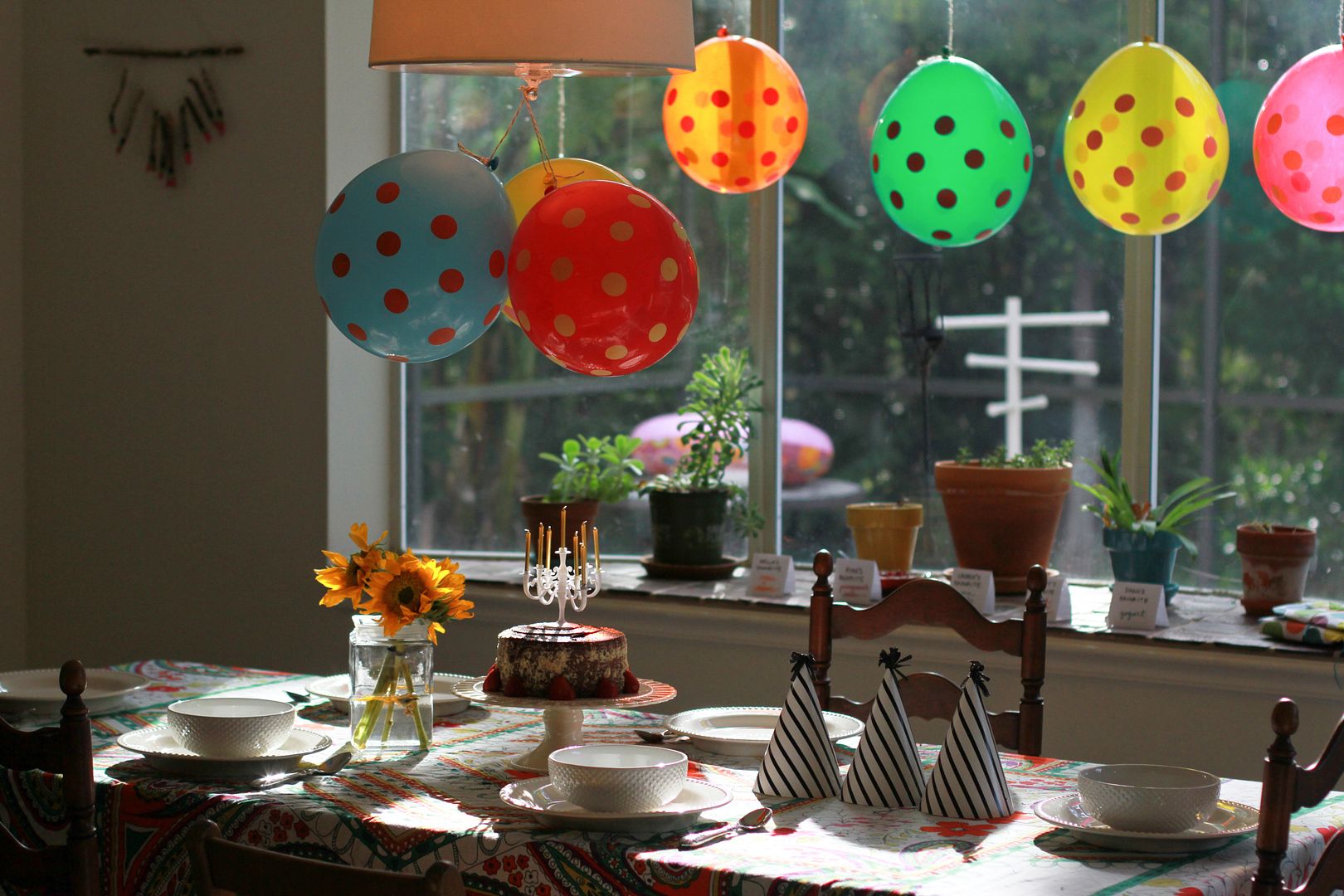 I made a big pot of chili for the main dish to keep things easy, but the kids each chose their favorite side dish. The result was a delicious hodgepodge buffet: mac & cheese, pomegranate seeds, corn on the cob, mashed potatoes and gravy, and yogurt. Cohesive menu, eh?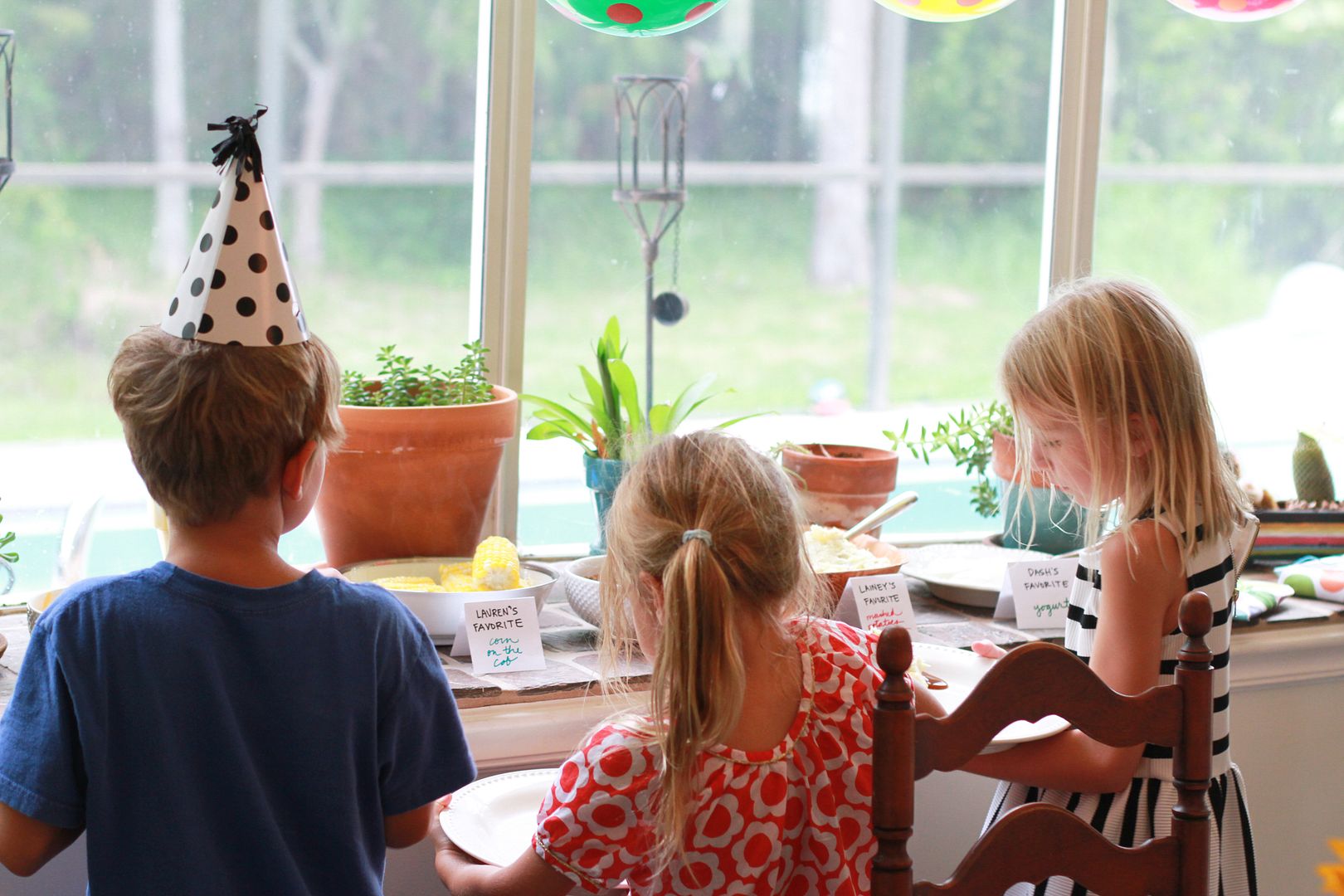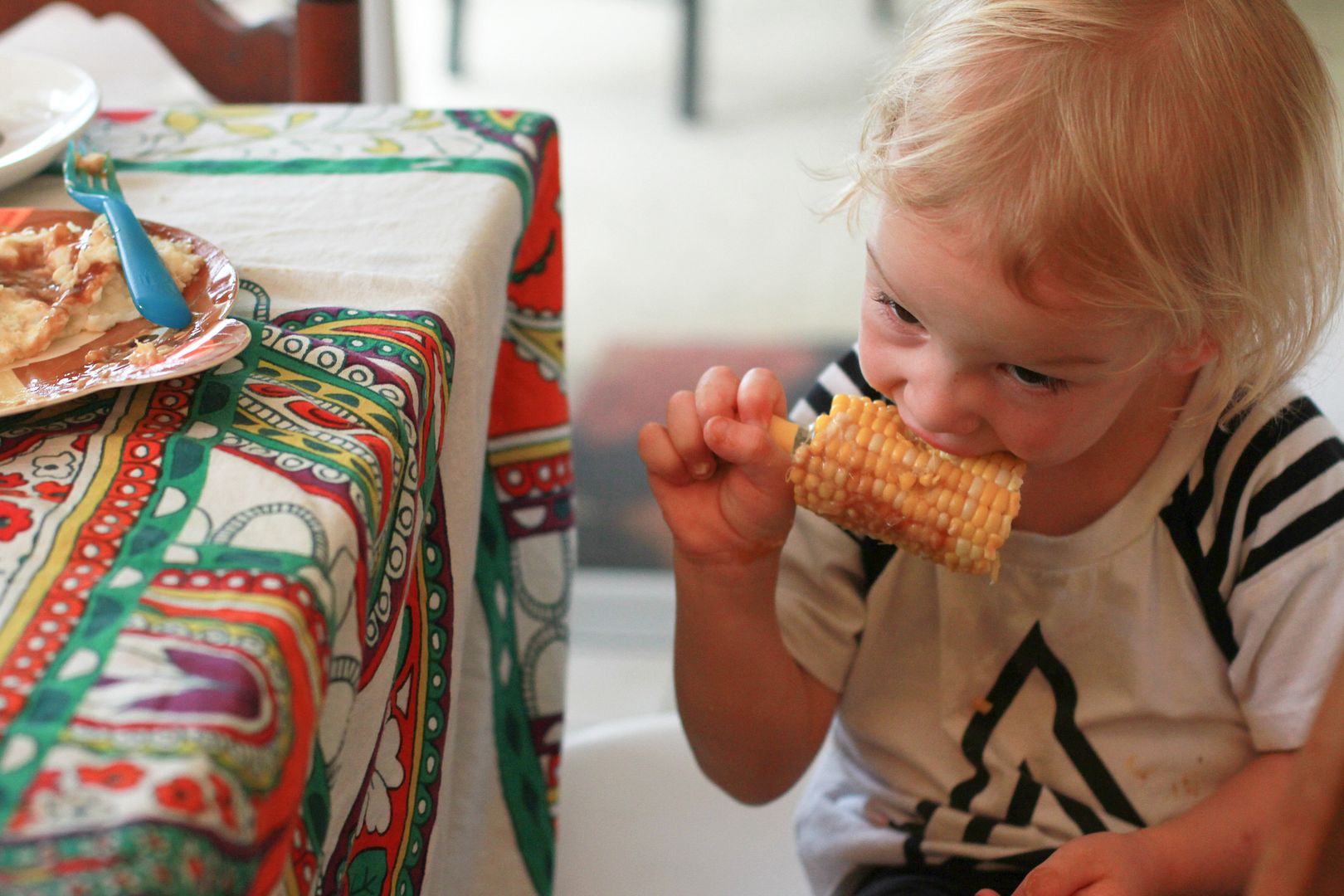 My favorite part? During dinner, we each chose someone at the table to make up a birth story for and told it aloud: "You were 1,000 pounds when you were born. Your mom was an alien, and she wrapped you in a giant blanket. You cried all night but she couldn't hold you because you were too big. She named you Regina Poopy. You were cute."
We decorated birthday head versions of ourselves with balloons, hats, markers, yarn and glue.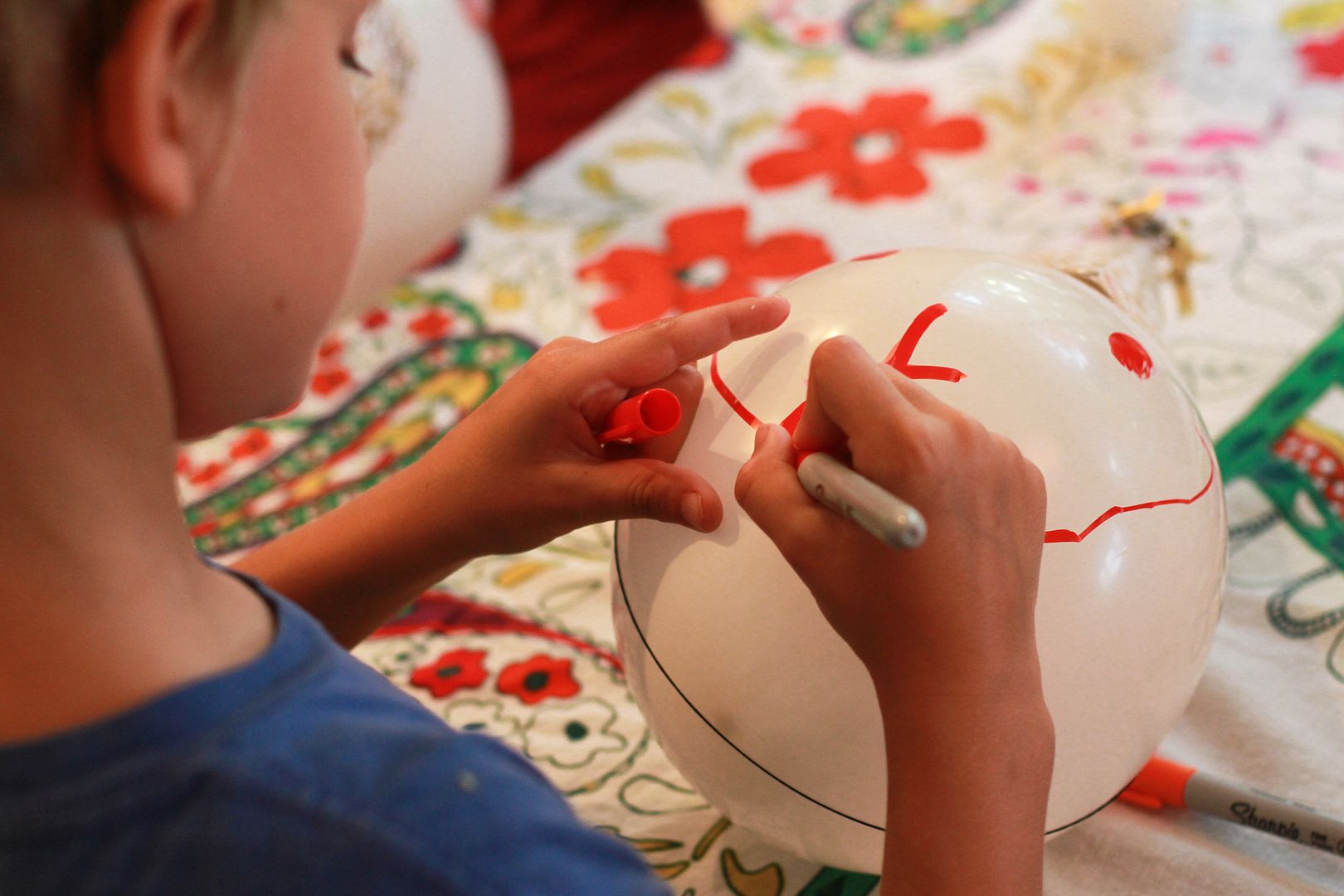 Nella's KILLS me: third from left. So abstract. So perfect.
Lainey insisted that the original version of the Happy Birthday song wouldn't work because it's intended for one person, so she rewrote a celebrates-all version. Her friend Ryan, the musical genius, picked right up on it and played backup ukulele.
The kids each brought a dollar store gift because tiny treasures make the world go round.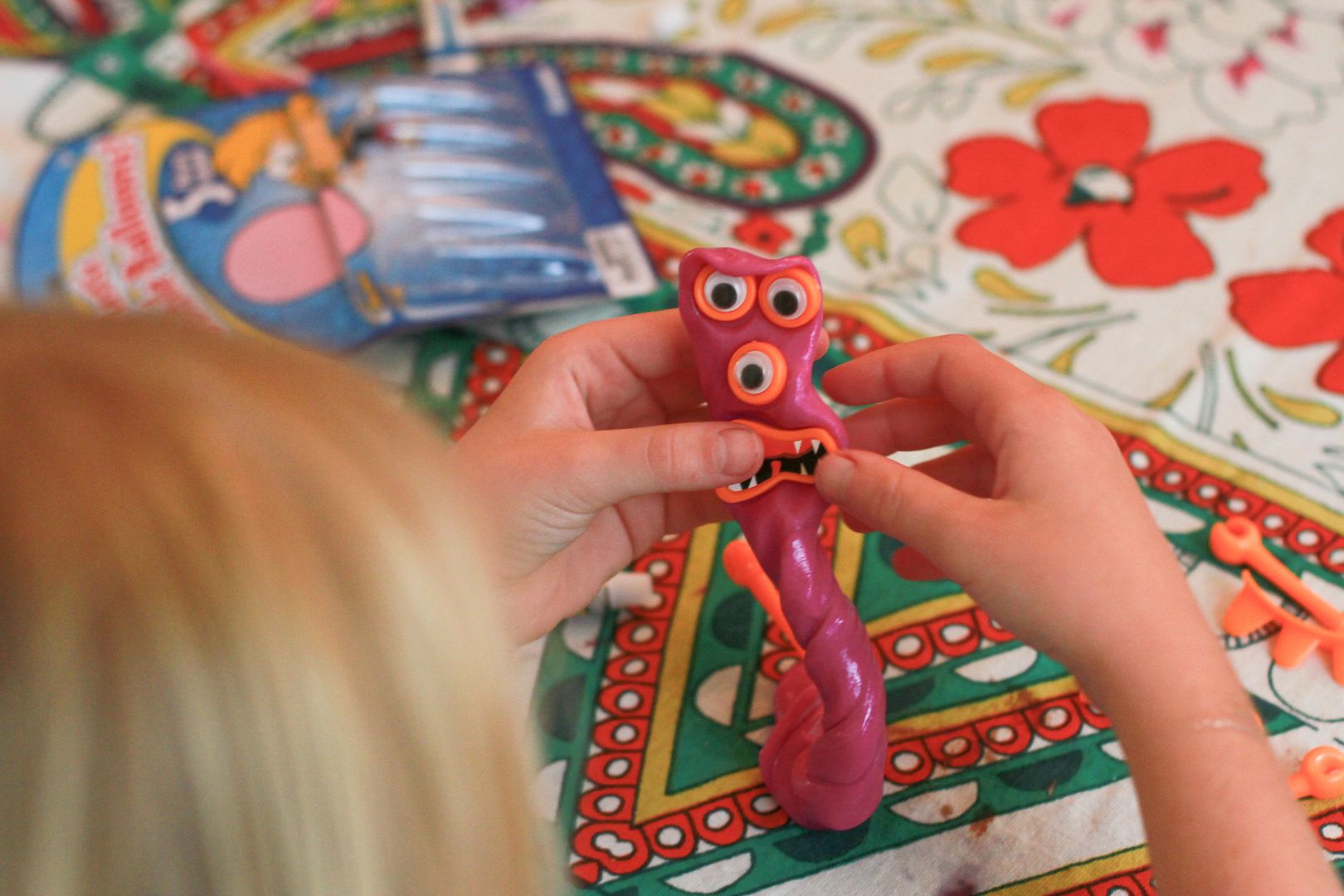 And they built giant marshmallow skyscrapers because, coincidentally, September 3rd is also National Skyscraper Day–no joke.
The evening ended with all the kids huddled on the floor, decorating the World's Biggest Birthday Card–hand prints, scribbles, art work and sweet messages. When we finally hugged goodbye and kids trudged off to bed with sleepy smiles, I felt all the Mrs. Muddle feels. It may have looked like a birthday with cake crumbs and deserted hats and balloons floating away by the end of the evening.  "But she is really celebrating friends, community, and love."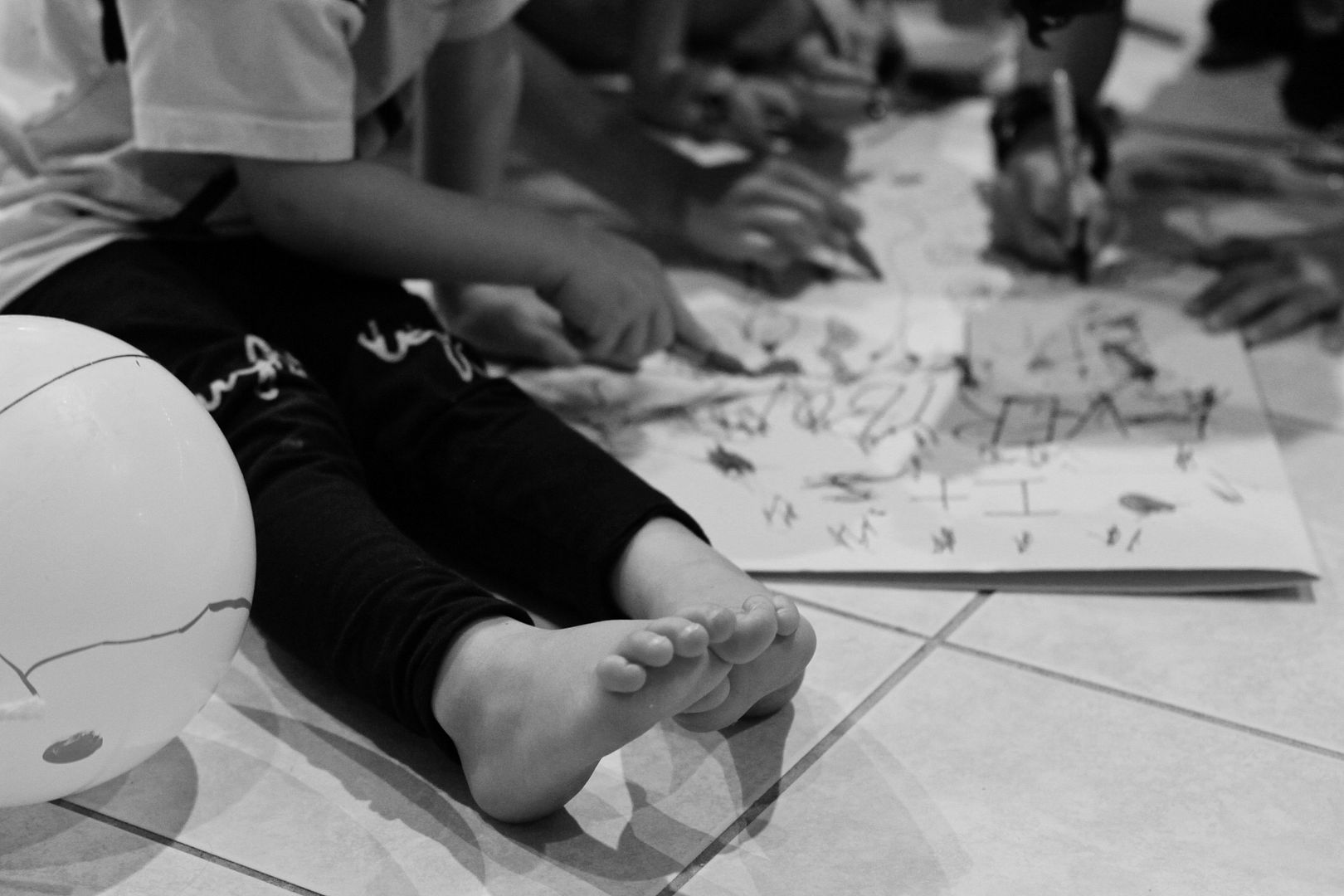 Don't be Mrs. Muddle though. And don't be NPR. Be you.
(oh, and pssst…happy belated birthday to all of you! So glad you were born.)