Happy Friday!
Enjoying lately…
Summer Cherries.
Fresh and local  from a roadside stand, they are the sweetest nuggets I've ever tasted. It wouldn't be summer without fingers stained with cherry juice and a good Google search for cherry recipes. We've been spreading tart cherry preserves from Cherry Republic on our toast in the morning, and I'm damn near addiction status. Help.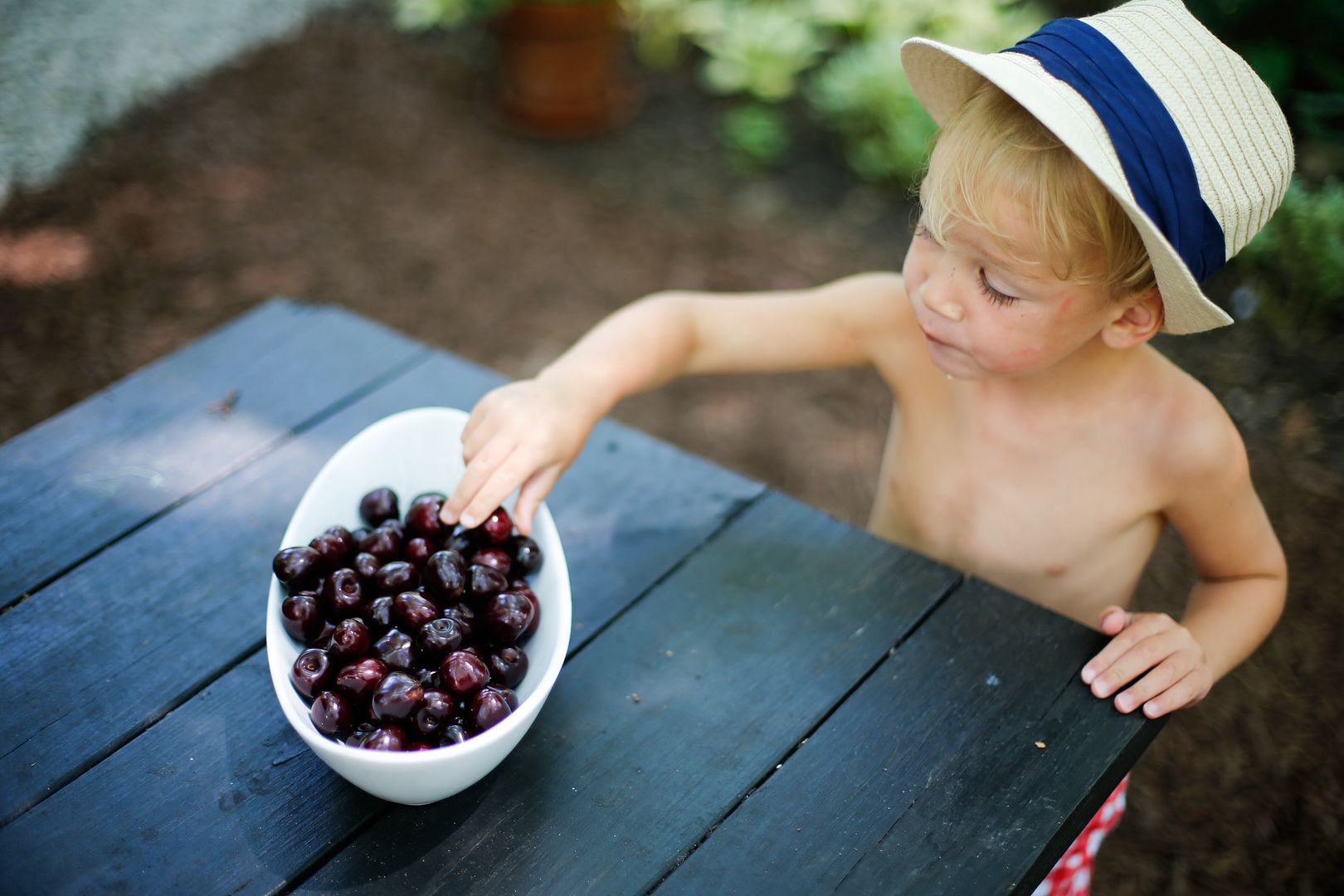 The Colors of a Michigan Summer.
Red barns against cerulean skies, ripe fruit, lush greens, yellow dandelions, scarlet chicken combs, stretches of lavender fields and ferns in the woods, roadside sweet peas, vibrant beach balls and bathing suits–it's a feast for the eyes, and it all makes me so happy.
Beach Party.
The little town where we stay hosted a beach party by the lake last weekend. There were games and contests, and we embarrassed ourselves over-cheering for Ivy in the sand shoveling contest (she WON!). I love the small town vibe here, and the way everyone comes together to make things so special.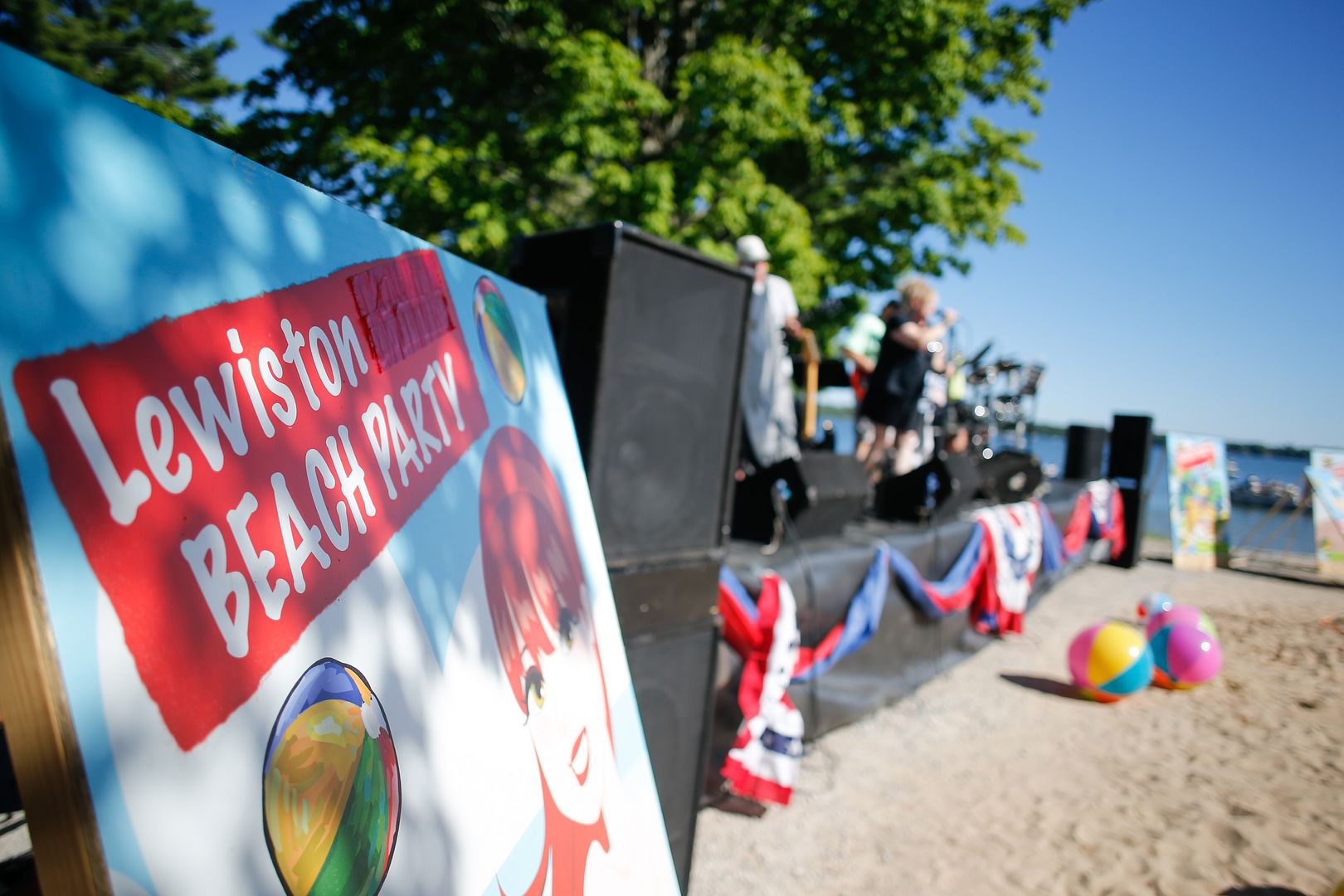 Two Worlds Colliding.
When you've been telling your best friend for ages how much you love this  happy little place, and you beg her to someday drive up and share it with you, and she actually does? Magic, I tell you. A euphoric weekend for the kids, spinning summer memory webs from dock jumps, wildflower walks and campfire s'mores.
We collected an entire basket of wildflowers on our walk the other day with only three fights over who gets to cut the stem. I had to King Solomon that situation real quick. Whoever gets to cut the stem doesn't get to hold the basket.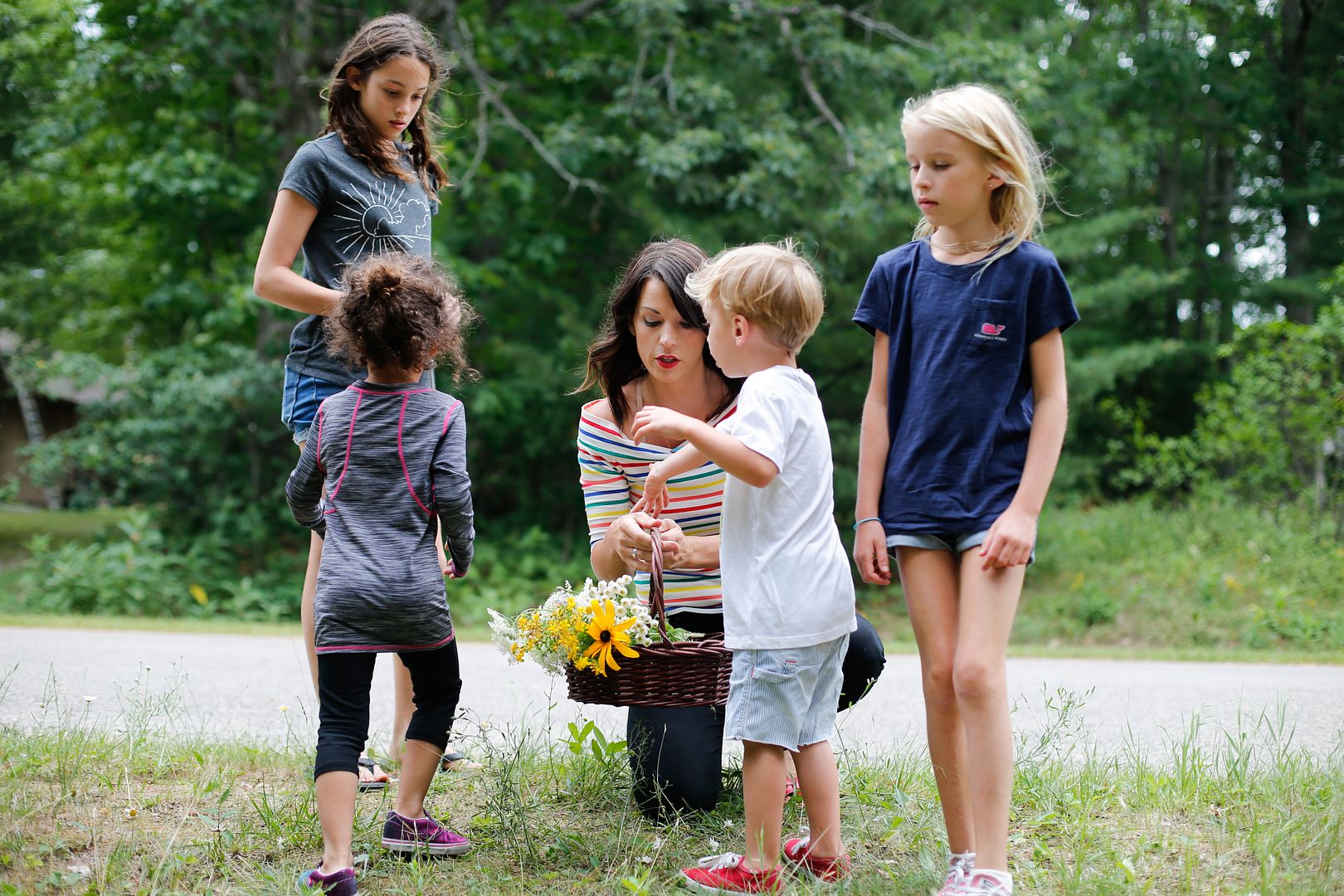 Dash with scissors–Sweet Jesus, look away.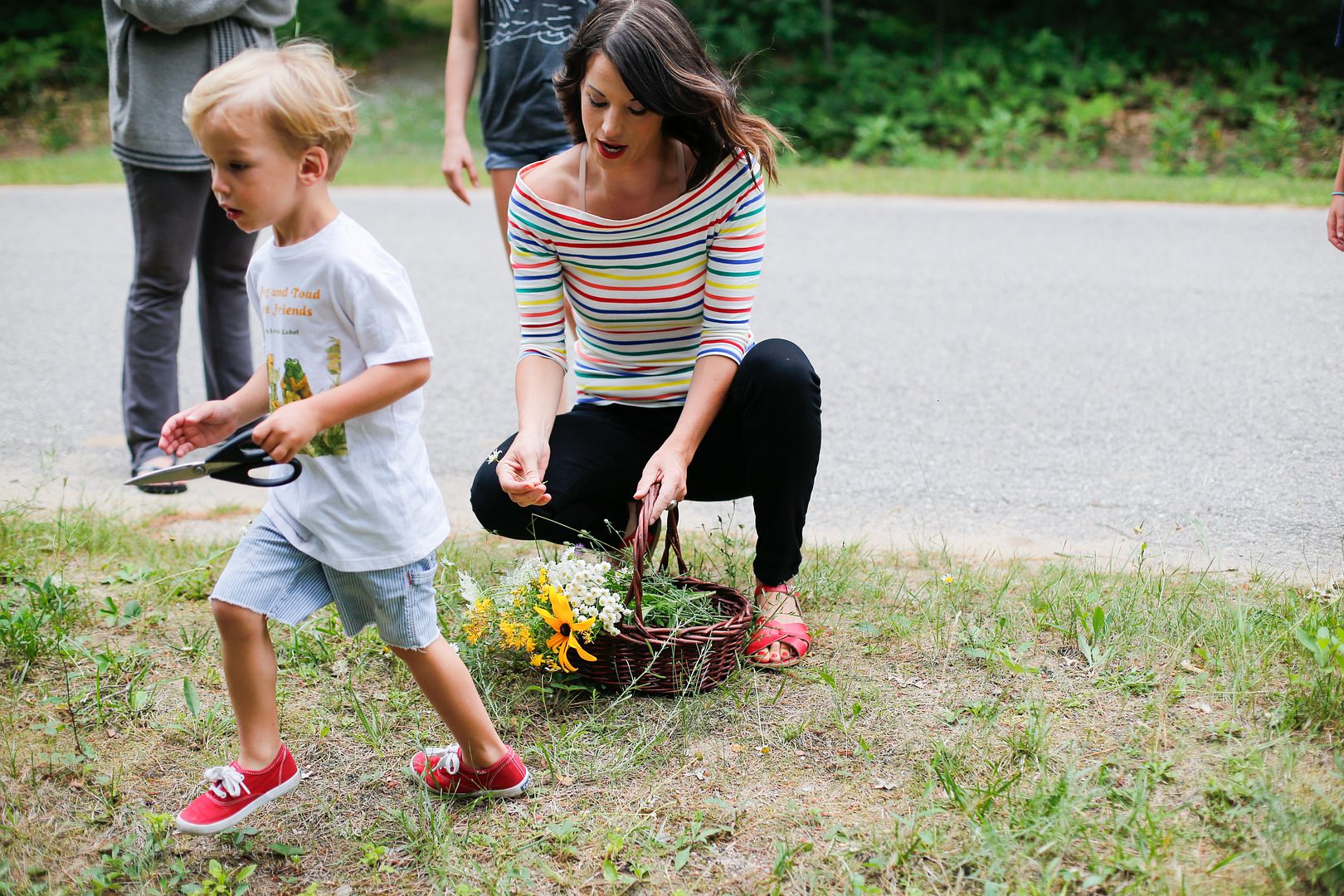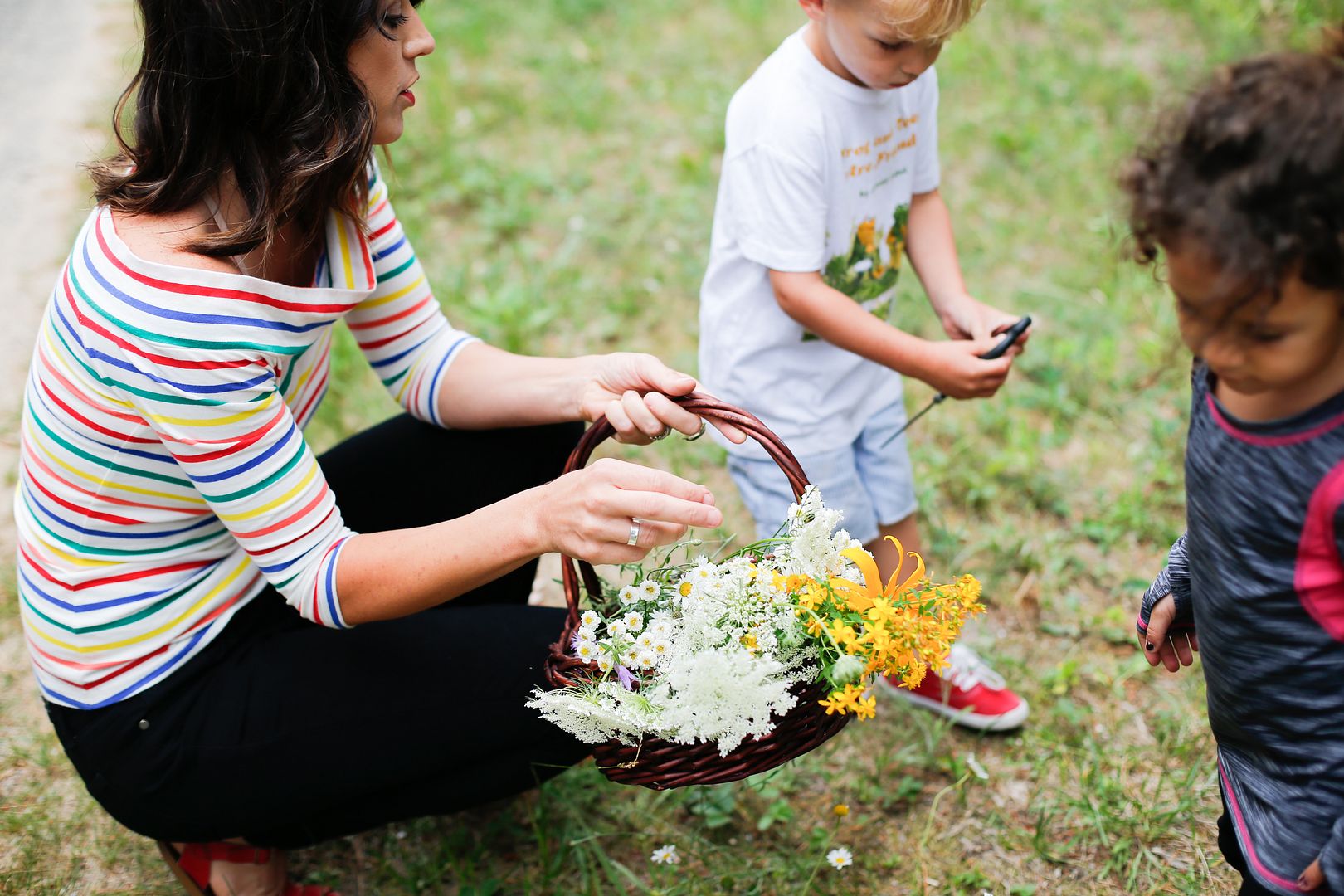 Pizza Party on the Dock.
Pizza never tasted so good. It's on our bucket list every summer, and it never gets old.
Mornings here.
I love them so much. No hurry to be anywhere. Cup after delicious cup of coffee. Kids waking up one by one, taking turns to sit in the sunlight for their breakfast of choice–toast with jam, summer splurge cereals like Fruit Loops and Lucky Charms, cinnamon toast like Poppa makes, fresh scrambled eggs from Poppa's chickens, or Malto Meal with butter and brown sugar. Or, if they're really smart, they run down to Poppa's cabin and ask him to make French toast with bacon because he never says no.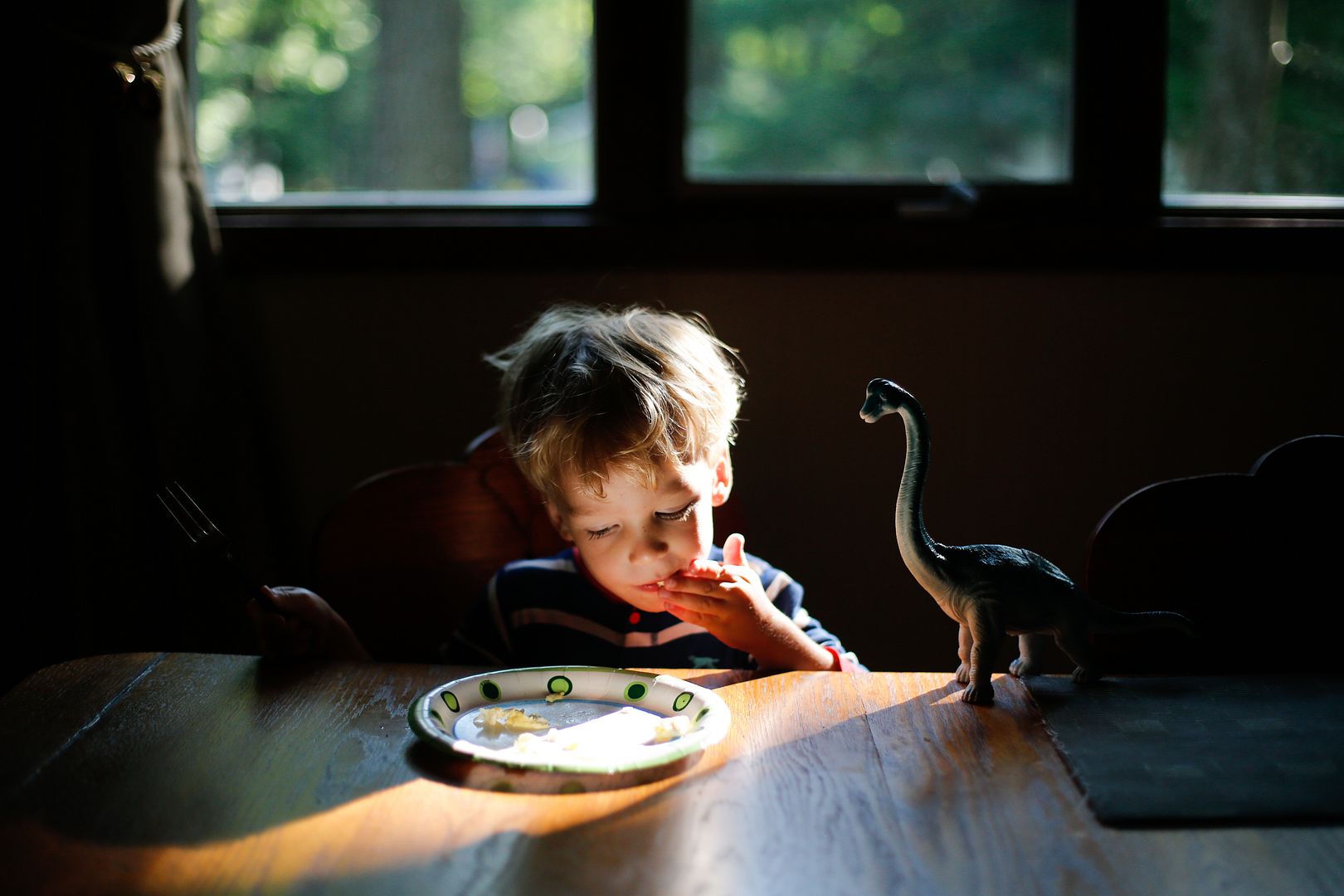 Pontoon Gymnastics.
Perhaps it's the upcoming Summer Olympics, but Girlfriend's gymnastics game is strong on that boat. Every time we go out, we catch her doing her floor routine across the length of the boat, always ending with this seat move. A 9.3, at the very least.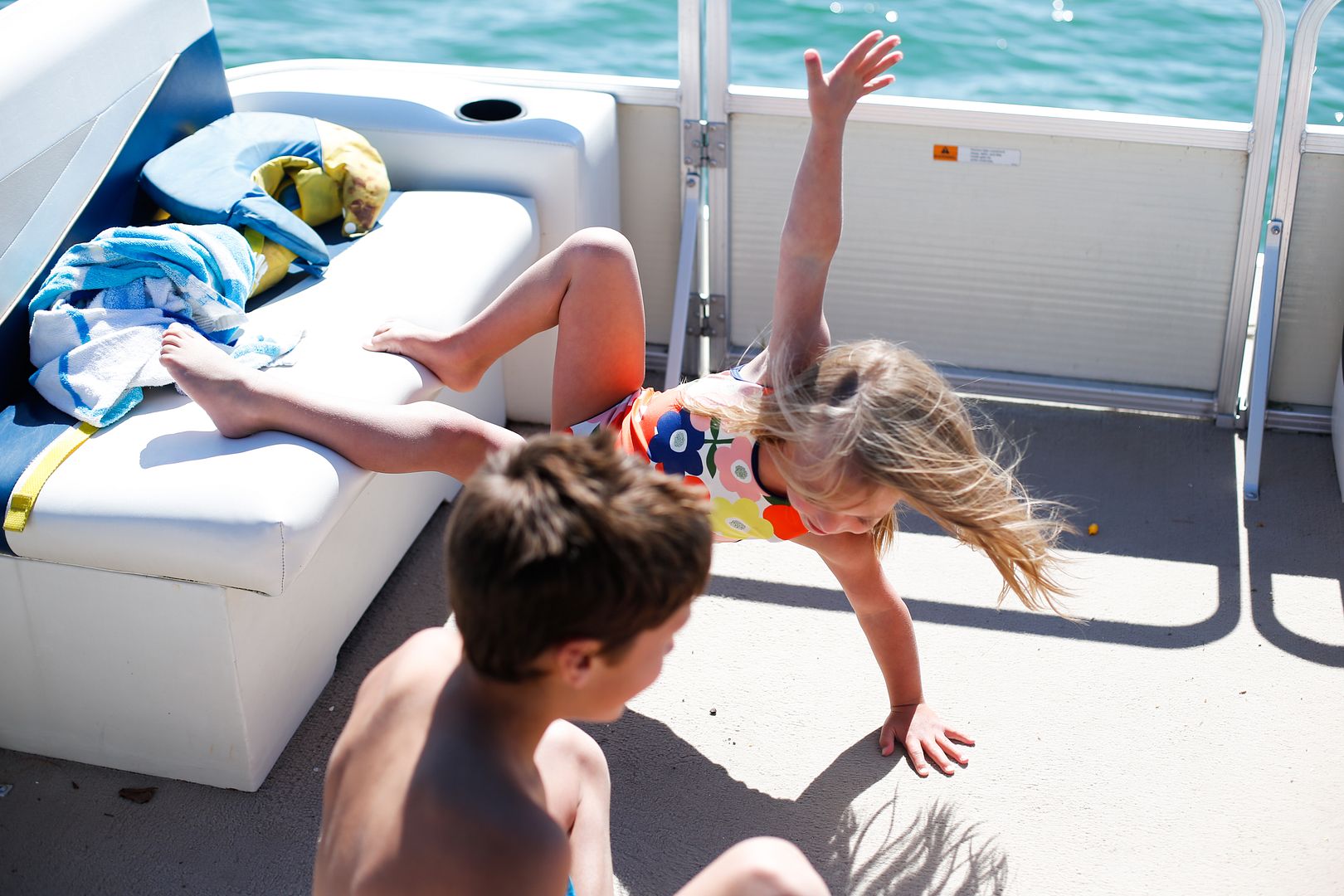 The Joy of Ritual.
There are several quiet ones we repeat here–same time of day, same walks, same places, same stories. It's all so calming, safe, replenishing. I know when we go back home, return to schedules and school and make our way back to some of the craziness real life demands, we'll be ready and excited to tackle it and get back in the game. But putting these quiet days and all this nature love in our pockets helps reset the tone and inspire us for the mom's version of a New Year.
A Boy in His Element.
The boy couldn't be happier here–dirt to dig, walking sticks to find (and swing), toads to catch, water to wade in, critters to chase, stones to skip, trees to climb…and so many people to pick you up and carry you piggy-back when too much exploring has run you weary.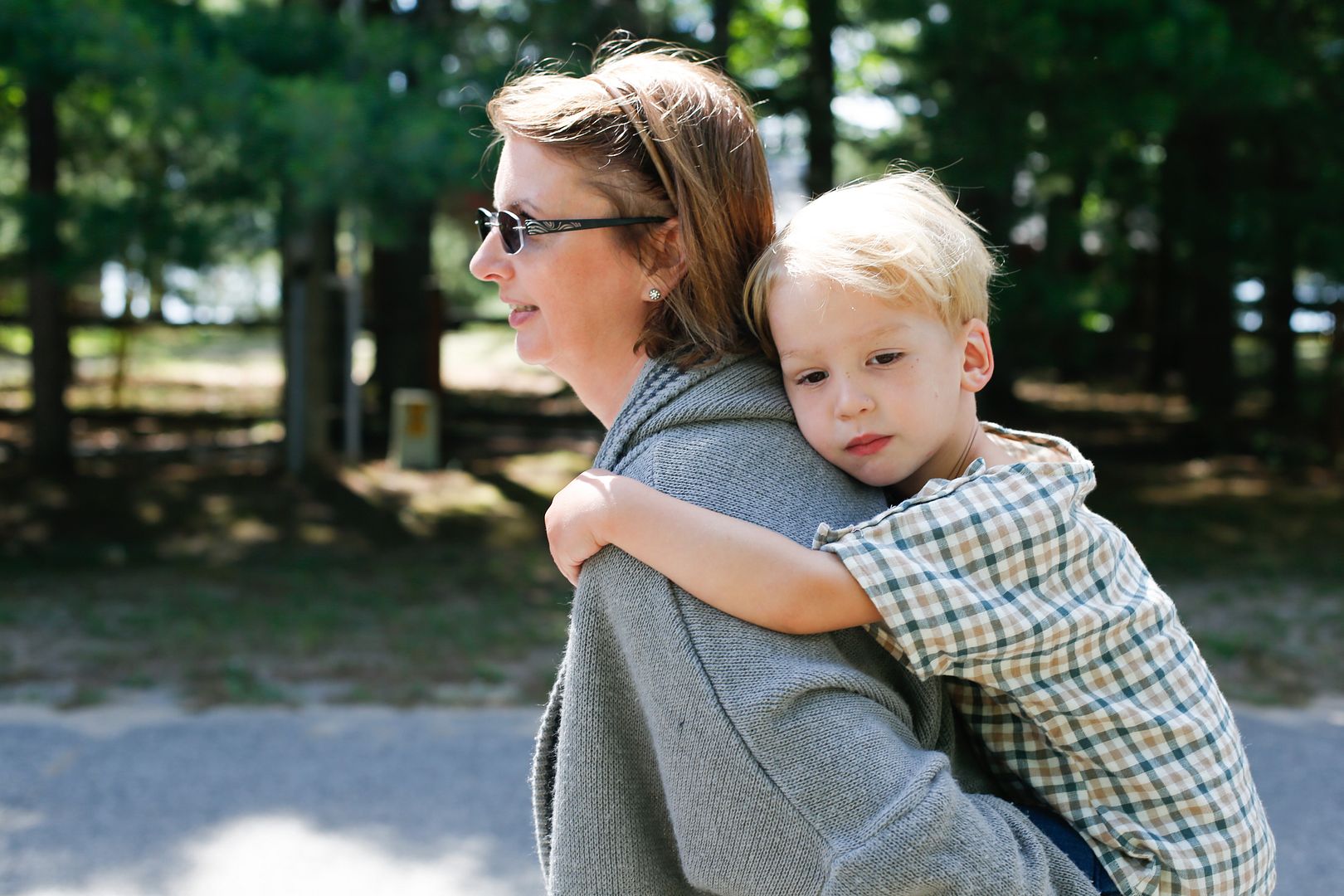 He has properly Tom Sawyer'd this summer, and it's been a joy to watch.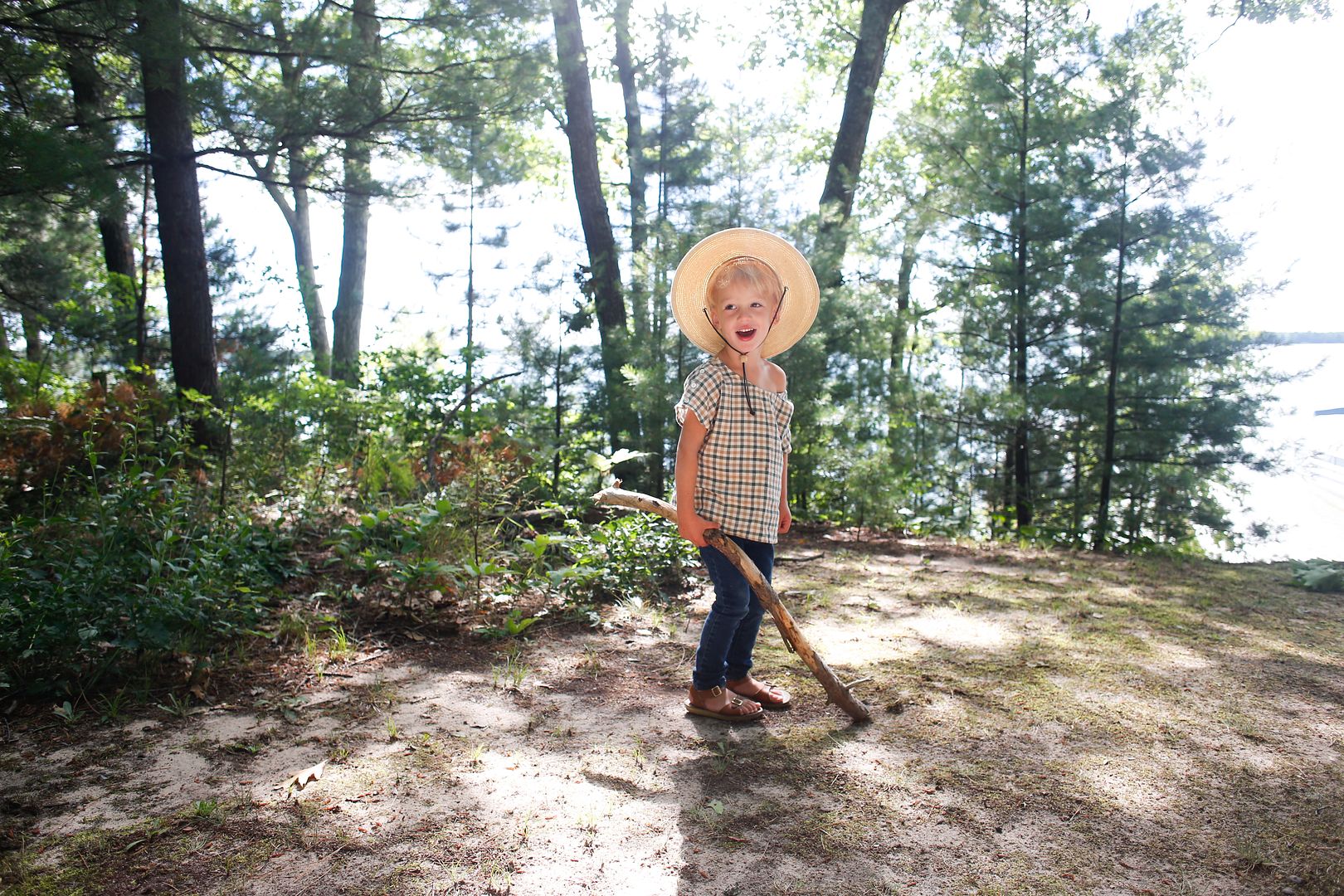 Grandparents.
I knew this summer would be granting us some really meaningful time to make memories with grandparents (we have more to come with Brett's family on the way home), and it's been so special. When Christmas and birthdays roll around, I dig through photo folders to find some precious grandparent moments to print and turn into gifts and always wish I had more, so I've vowed to capture as much grandparent love as I can this summer. So far, so good.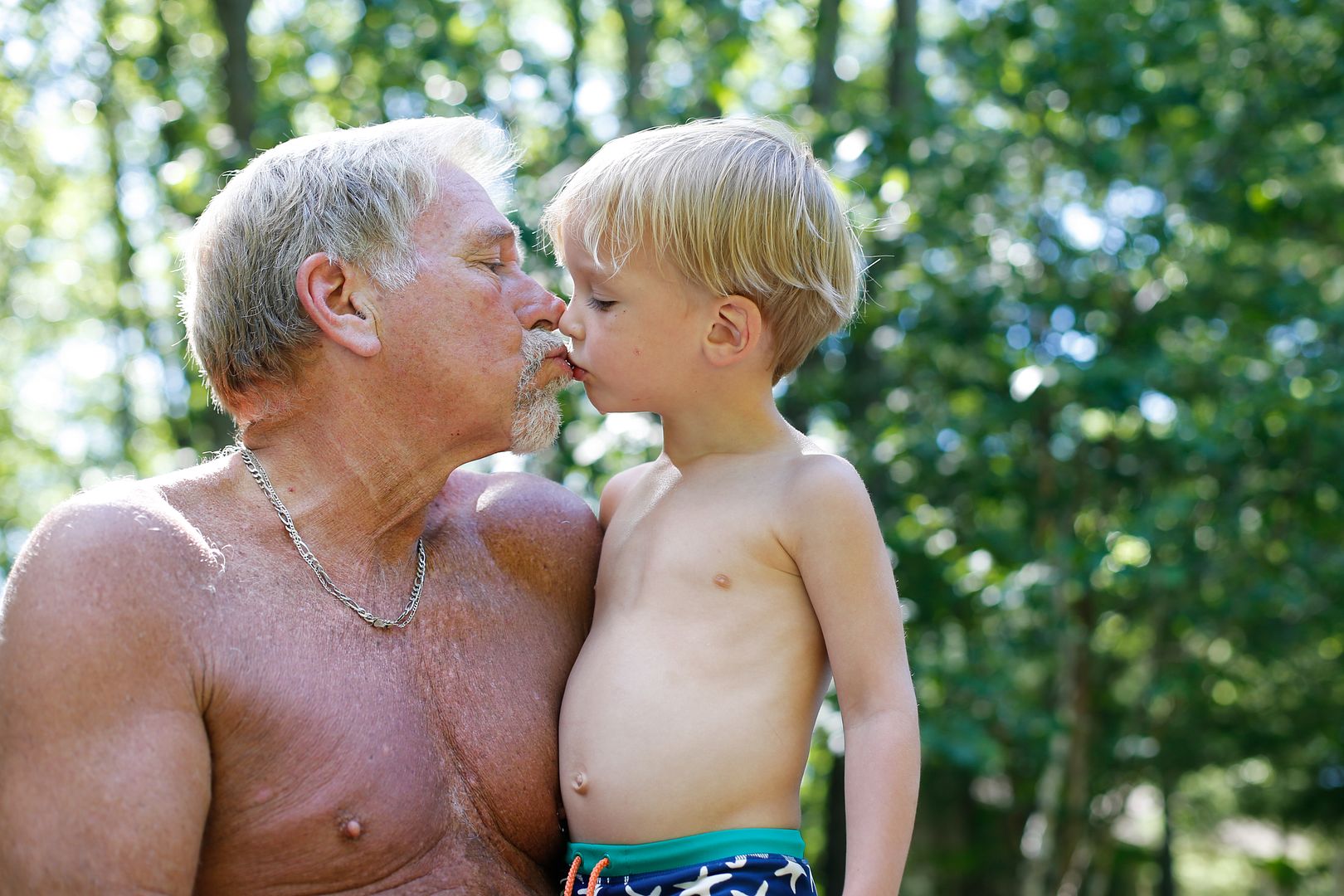 Have a wonderful weekend! There's still so much more summer to be enjoyed.