There's a "Welcome to Kindergarten" newsletter on my desk right now–saved even though I read it and already know everything it says. Scan over the wadded tissue next to it, the tape dispenser, the grocery list I'll never remember to take with me, the pencil with the broken lead and the three bobby pins I pulled from my hair and left there last week, and you'll find a small frame with a picture of Nella when she was born. Then and Now, connected by a string of little messes that somehow hold us together.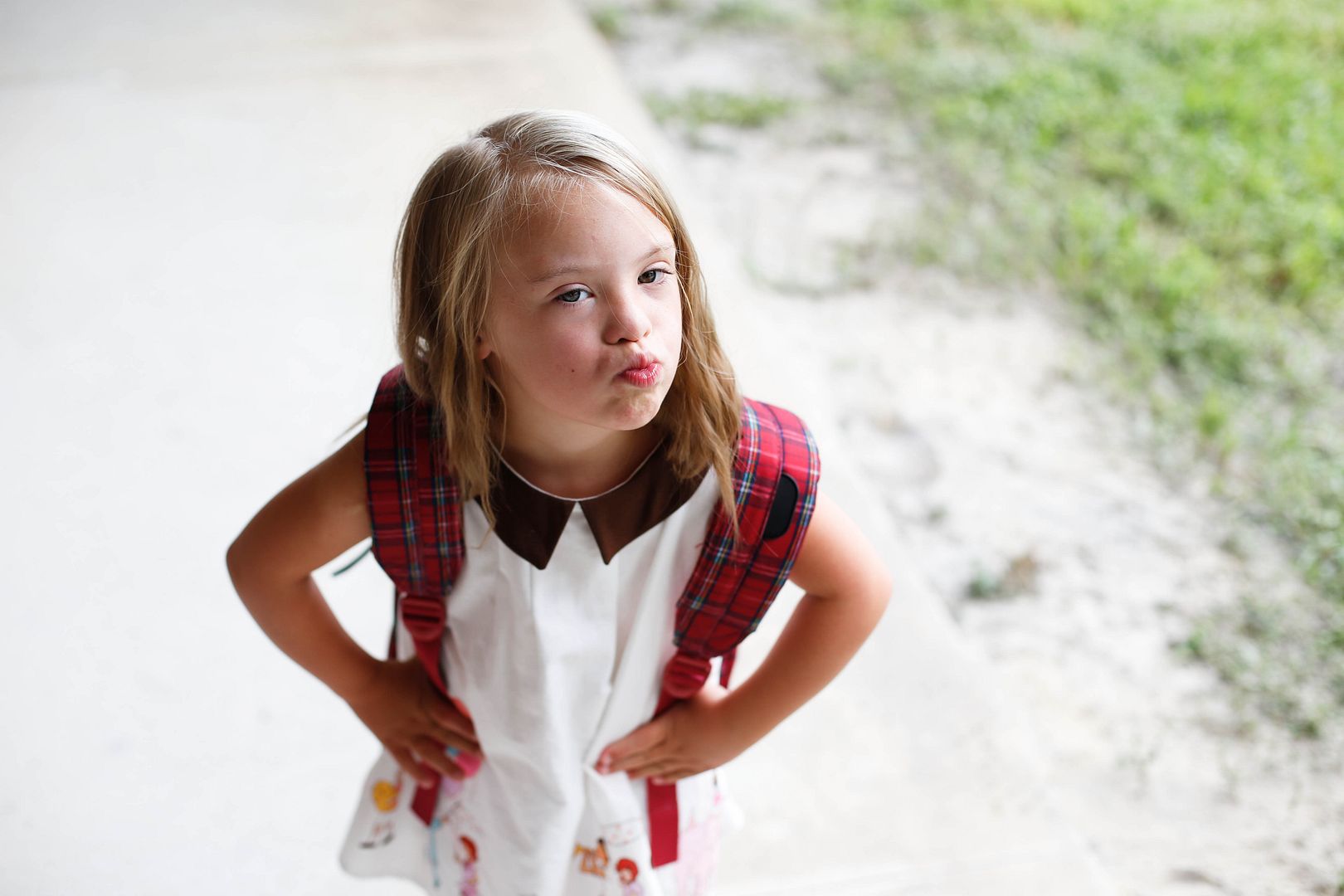 I'd like you to know, for no particular reason, that before I started to type this, I played three songs that I drowned myself in the week she was born because, what the hell, she started kindergarten–let's let ourselves get emotional.
A lot has changed over the past several years, and I'm happy to report I sent my second kid off to kindergarten in a far less helicopter mode than my first–like, I don't know, maybe more one of those tourist helicopters that casually circles the Grand Canyon and shows the view rather than the Black Hawk that lands and storms the scene with IS SHE OKAY? IS SHE OKAY? IS SHE OKAY? I cried less. I had more to keep me busy. And I've been preparing for this one, proactively and purposefully, for a very long time. But this little milestone? Still huge. Still ever bit as emotional and consuming because how the hell else is it supposed to feel when you look at a teacher you only kinda know and pass off your beloved child–the one with a few more challenges than most–with a, "Oh hey, here's a cooler with my heart on ice. Keep it beating for the next seven hours and then seven hours again tomorrow and then maybe another 180 days after that."
In some way, I feel like I've been getting ready for this day since the day she was born–the release into the wild. It's what I dreaded in the beginning–sending my baby who has a disability into the great big world of public education where kids who don't know any better might shove her off because she doesn't fit into the tiny world of what they know or, worse, make fun of her. Where teachers might not keep trying, where people's ignorance about Down syndrome (hey, I had it too!) might create a condescending attitude that's not going to help my child reach her potential, where label makers might put the wrong label on her, where the few boxes designated by policy makers as "Kinds of Students There Are" might not be appropriate for the kind of student she is–which is capable and funny and insightful and caring and full of so much possibility but might need more time and space and tools to show it. Dread isn't really the word for this new start anymore because I've learned so much since she was born, and what we know we are now able to dream for our girl, no matter if she gets there or not, is so beautiful and paved by so much heart and soul from advocating families who've been doing this far longer than we have–it replaces dread with excitement and momentum and a deep passion for all that is possible.
Community helps. I call my friend Liz in Austin who's sending her Ruby to kindergarten too. We compare first day notes, jitters and hopes. We volley ideas back and forth for when's a good time to introduce conversations about differences to the class because we want them talked about appropriately rather than ignored and allowed to be otherwise interpreted; we want little kids' natural curiosity and questions kindly welcomed; we want any "different" barriers that might make our kids feel even the teeniest bit alone addressed early; we want to create the community we desire.
Colette calls from San Diego this morning and tells me about her Dexter's kindergarten plan, and we laugh and find solace in the fact that we're both nervous–that we sense in each other that underneath all this game time focus, we're brimming with emotions because we're so desperately in love with these kids who surprised us, and we want anyone who meets them to learn what we have these past six years. "We're the kindergarten club," Colette says, and I want to hug her through the phone and not let go because I'm so glad I'm not alone.
I can tell you about all the scenarios I've thought up. I can tell you about the IEP meetings I've created in my head and the pretend speeches I've delivered to my friends when they offer to stand in as school district staff for practice–how those pretend speeches become so real, I stand up and deliver them preacher style, one hand on heart, one held to the heavens. I can tell you I worry about needs being met, resources available, living up to be what she needs me to be and one of my deepest fears which is probably one of your deepest fears for your kids too–and Dear God, let's get this off our chests and let it go. I fear that there will be times when Nella feels swallowed by what makes her different–that there will be moments when every student around her "gets it" and she doesn't, that she'll retreat to the tiny cave of Alone we all run to from time to time when we feel overwhelmed by not fitting in–a "less than" cave–and that I won't be there to see it in her eyes, to show up like I'm programmed to do to cheer her on, push her forward and remind her that her brain, her soul, her voice, her speed, her face, her talents, her art–it's all so damn beautiful, just the way it is. And that all those things belong out in the open, to be celebrated in her classroom, in her school, in her community.
But I know she's going to find ways to do that for herself. To follow the paths to more independence that her classmates and friends follow too. All of this is going to take time; we know that.
For now, we take the first steps required of us.
Nella has begun kindergarten in a general ed classroom at the same school Lainey attends–the same teacher Lainey had, in fact, and we hope this inclusive classroom situation continues for many years to come. We feel very thankful for her learning situation as of now and for the commitment of all those who work with her. As she grows and I continue to write in this space, I know her educational journey will grow and change as well. I will occasionally share parts of our journey that may be helpful or insightful for readers, but I won't be sharing every detail, change and window into our unique experience and/or answer every question you may ask regarding her education as, for one, I respect the complex and important relationship between our family and our district, school and her educators.
I will tell you my favorite story from her first day though. I wanted her to sense as much peaceful energy as possible–to share our excitement for a new school and friends and experiences and yet to tame my own energy enough to keep her calm. Don't make too big a deal of it. So I played the radio on the way to school, like any other day, and sank in to the peaceful quiet in the car, my school-bound babies visible in the rear view mirror–a little bit excited, a little bit nervous. And then I watched as Nella stretched her hand across the seat into her sister's lap. "Lainey," she whispered, "Hand." Lainey took her hand without a word, and the two of them clasped all their worries and excitement together into one sister grip that could contain it all.
And so I'll do the same. I'm clasping all my worries and excitement for all our kids and their new beginnings right here into this space–into one sister grip that can contain it all. Put yours in too.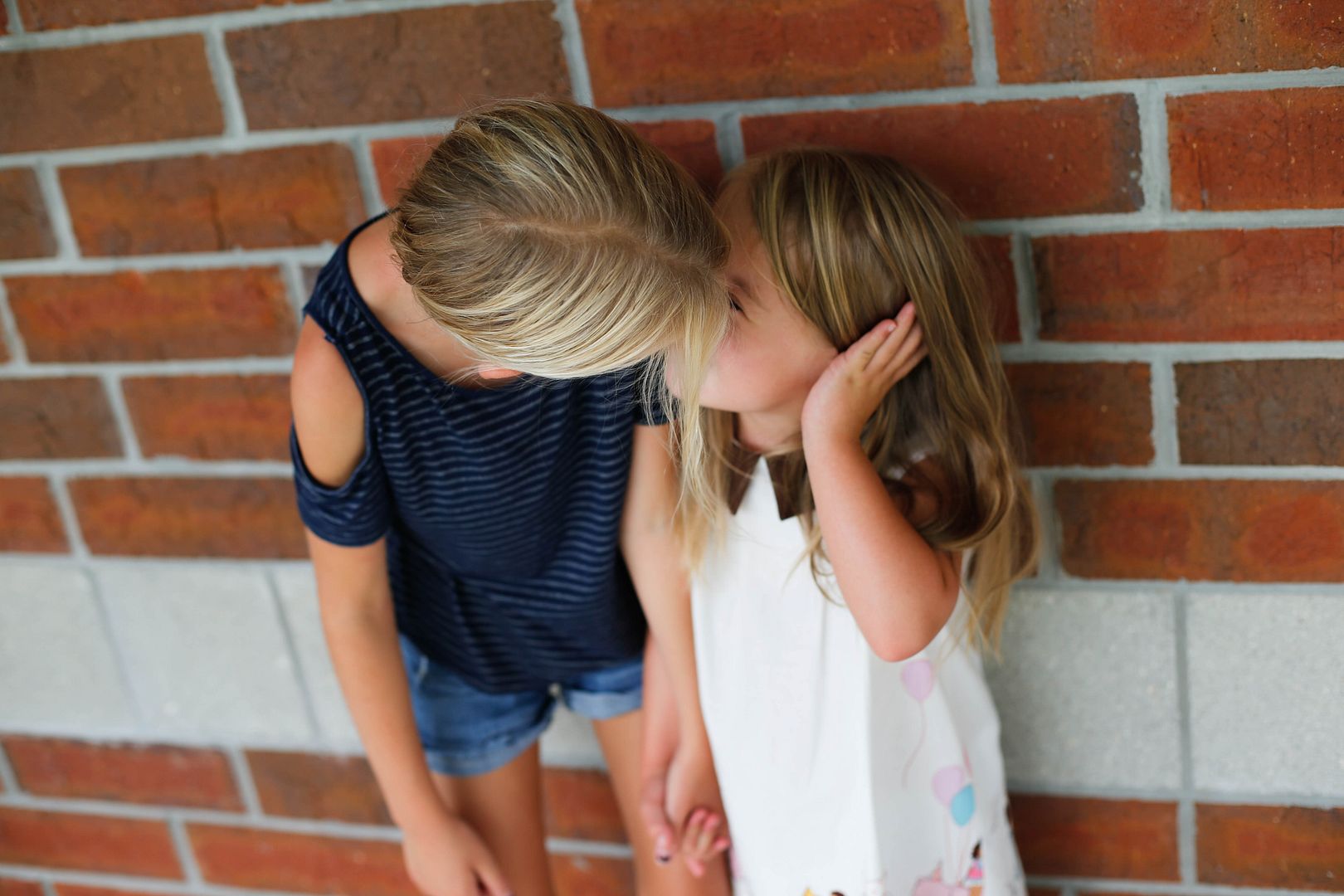 The verdict is: So far, Nella loves school. Smiles when I drop her off, smiles when I pick her up.
"I think she was far more ready than we gave her credit for," I tell Brett.
As for Lainey, she's chomping at the bit to pick out what Nella's going to wear every day. "Can I be in charge of it all year?" she asks.
"Can Nella and I chime in too?" I answer.
"Deal."
All these years, all these little messes we've made it through. There is nowhere more promising to move than forward, as long it takes, as hard as it may be.
Thank you for coming with us.