Happy Halloween! This is it, folks–the night of childhood dreams. Grab your brooms, light your candles, stock your candy. I love Halloween–but that's obvious because holidays are my jam. To be honest, I think we all have a little something extra when it comes to chromosomal makeup, and we figure out what it is along the way. Mine definitely includes some kind of over-the-top enthusiasm for Halloween, but enough about me. IT'S HALLOWEEN!
This is the first year we did a Halloween party, and because I could not come up with anything more original, I called it SPOOKY PARTY but always said it dramatically and with a British accent and followed by a dracula laugh  (moo-ha-ha-ha-ha).

I turned Lainey into a witch in this picture using Pic Monkey, and Brett's dad printed it for me for some festive fireplace party decor.
When I went to Utah a few weeks ago, one of the moms was telling me all about the Halloween party she does every year, and I was so inspired, I stayed up in my hotel room googling Halloween-inspired food and ordered a fog machine. That's how these things start. Whatever the case, we had so much fun. It even felt–dare I say–a little bit like a night at Hogwarts. Dash had his own sleepover with his grandma that night, so it ended up being a girls' party. And the morning of, Lainey woke up early, came and found me and said, "Mom, I'm so excited I can't sleep."
Cue Harry Potter theme song, cue fog…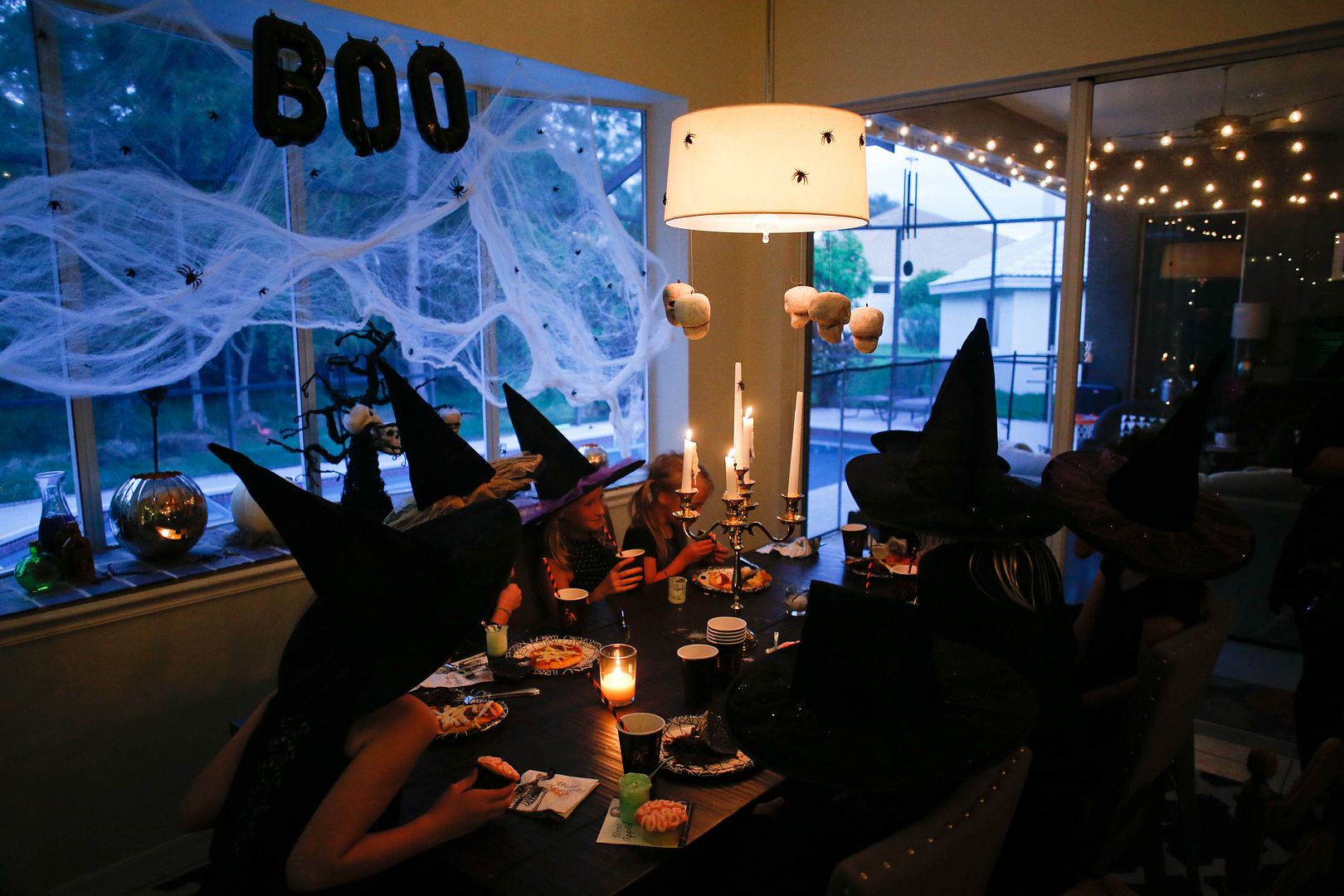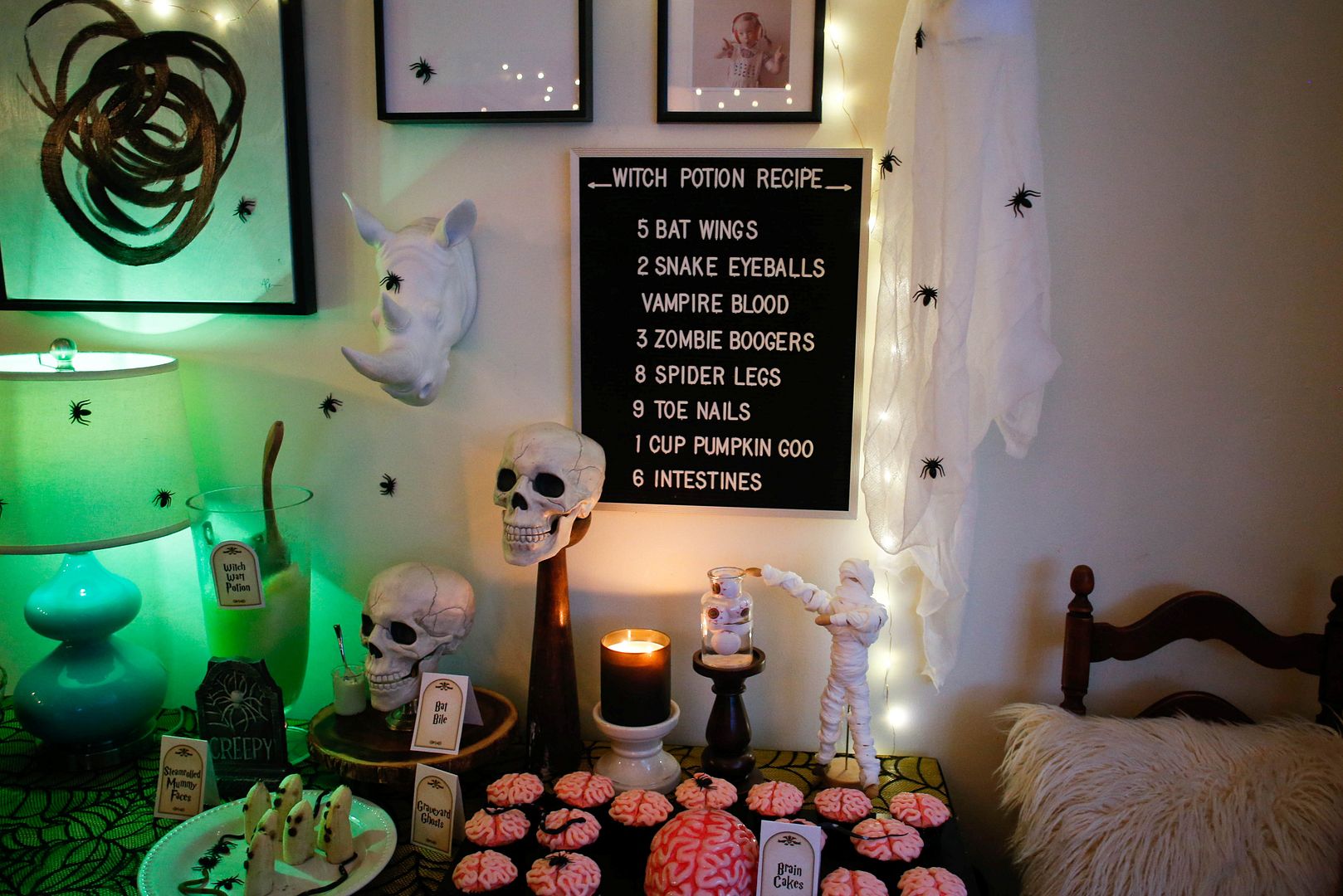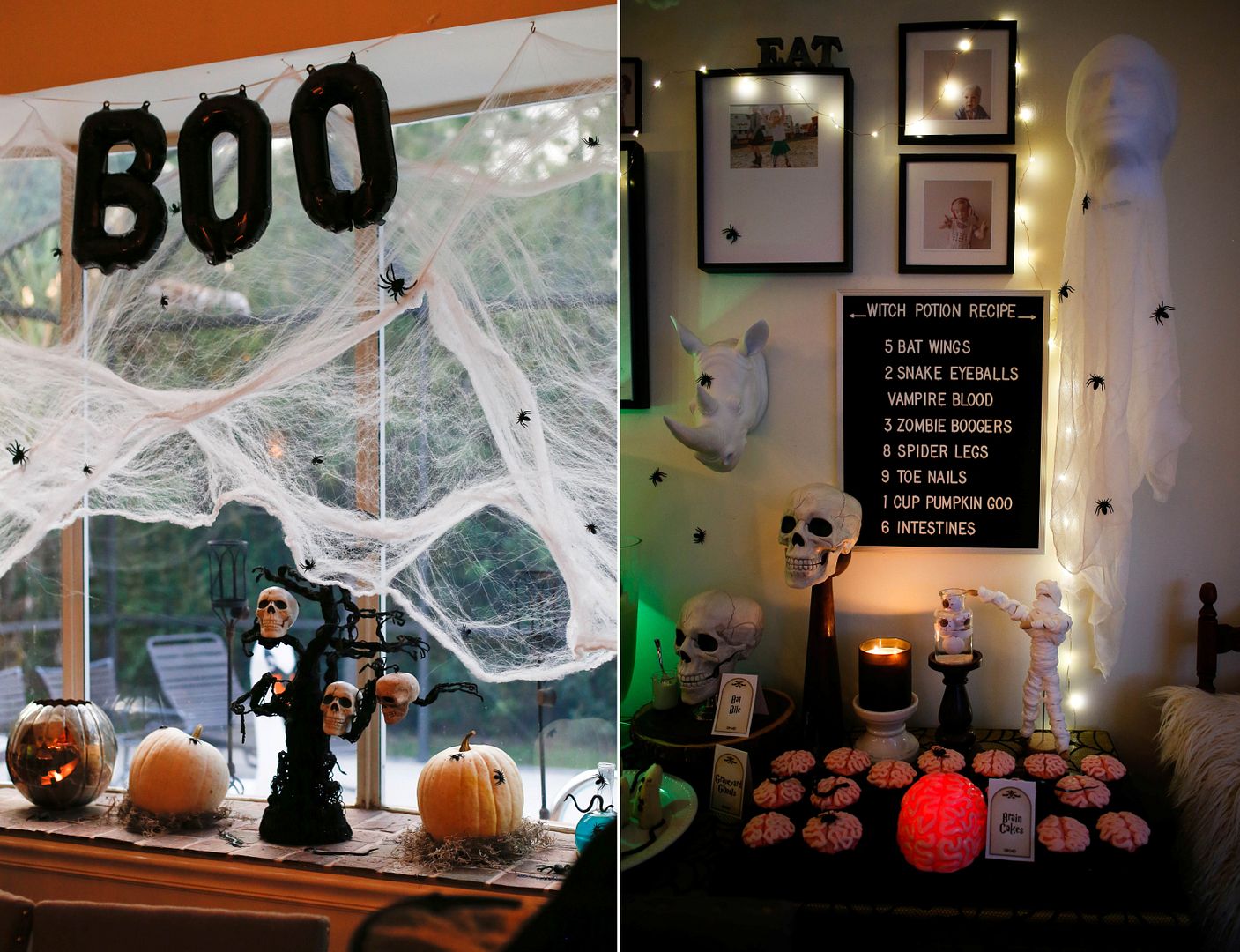 We served a full dinner of Halloween-inspired food including a witch wart potion that smoked and bubbled all night (I'll never do Halloween without dry ice again!).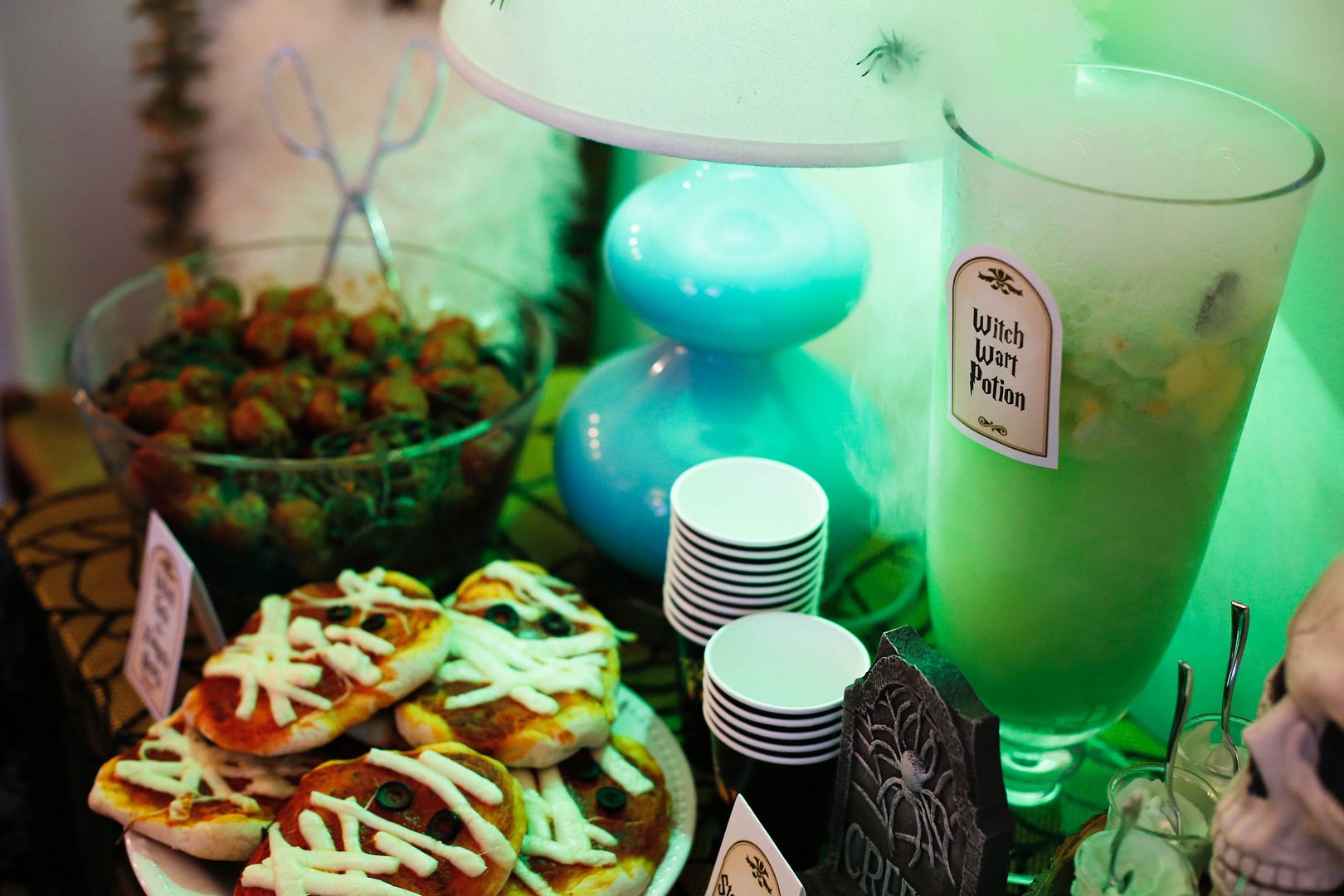 Turns out spaghetti is super easy to die black. Just cook pasta as usual, and then soak for about 3 minutes in a big Ziplock with a little bit of water and several drops of black food coloring.
The bat bile was a mint mousse that turned out delicious–just heavy whipping cream, melted white chocolate, powdered sugar, and a little green food coloring and peppermint extract.
As for decor, the  Target dollar spot was ON POINT this year–flasks and beakers and test tubes, graveyard stones and almost everything else we needed. Throw some inexpensive spiders and snakes in the mix, drape some spider web, blast a fog machine, and everything turns spookatacular.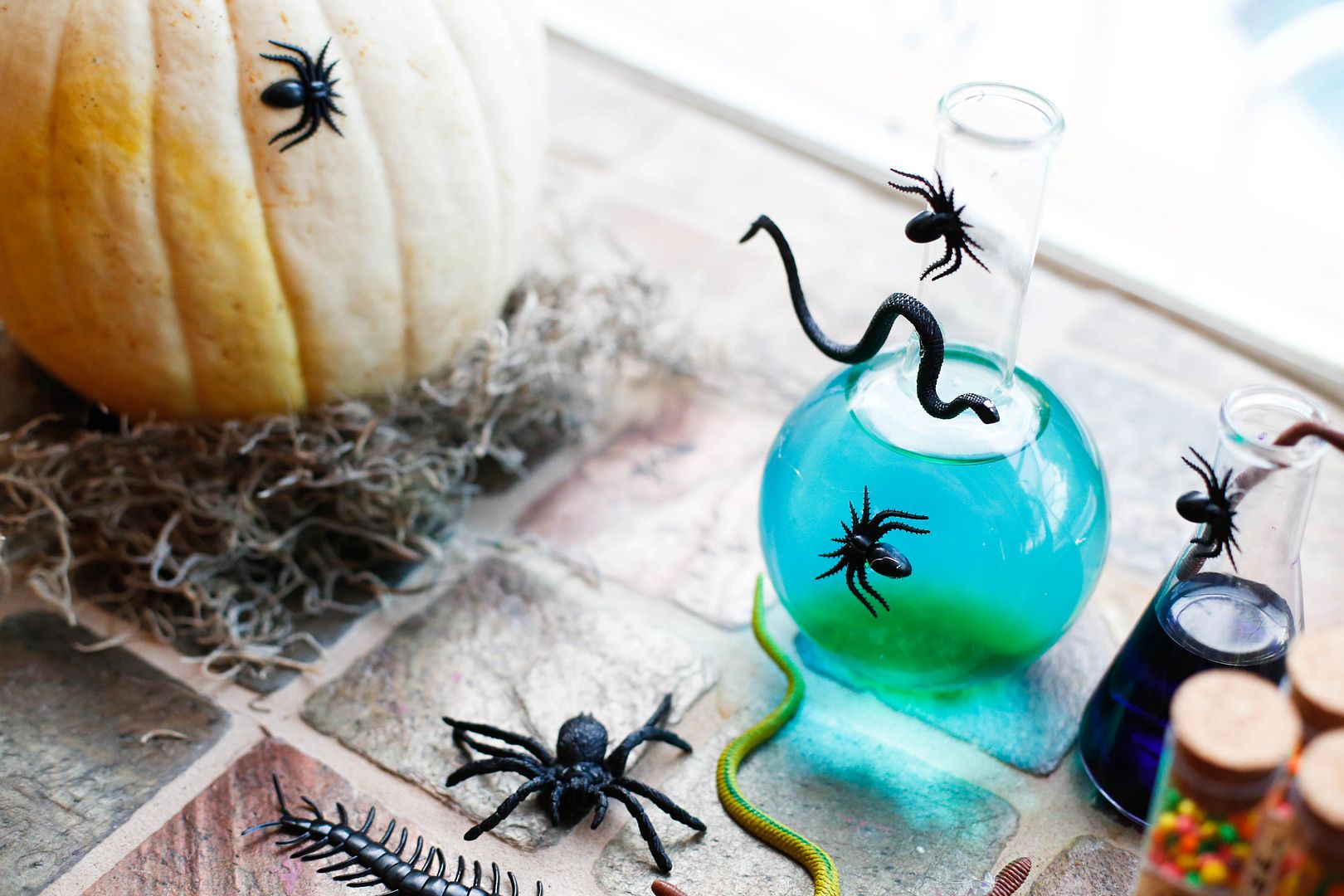 Radioactive bat poop favors (Nerds).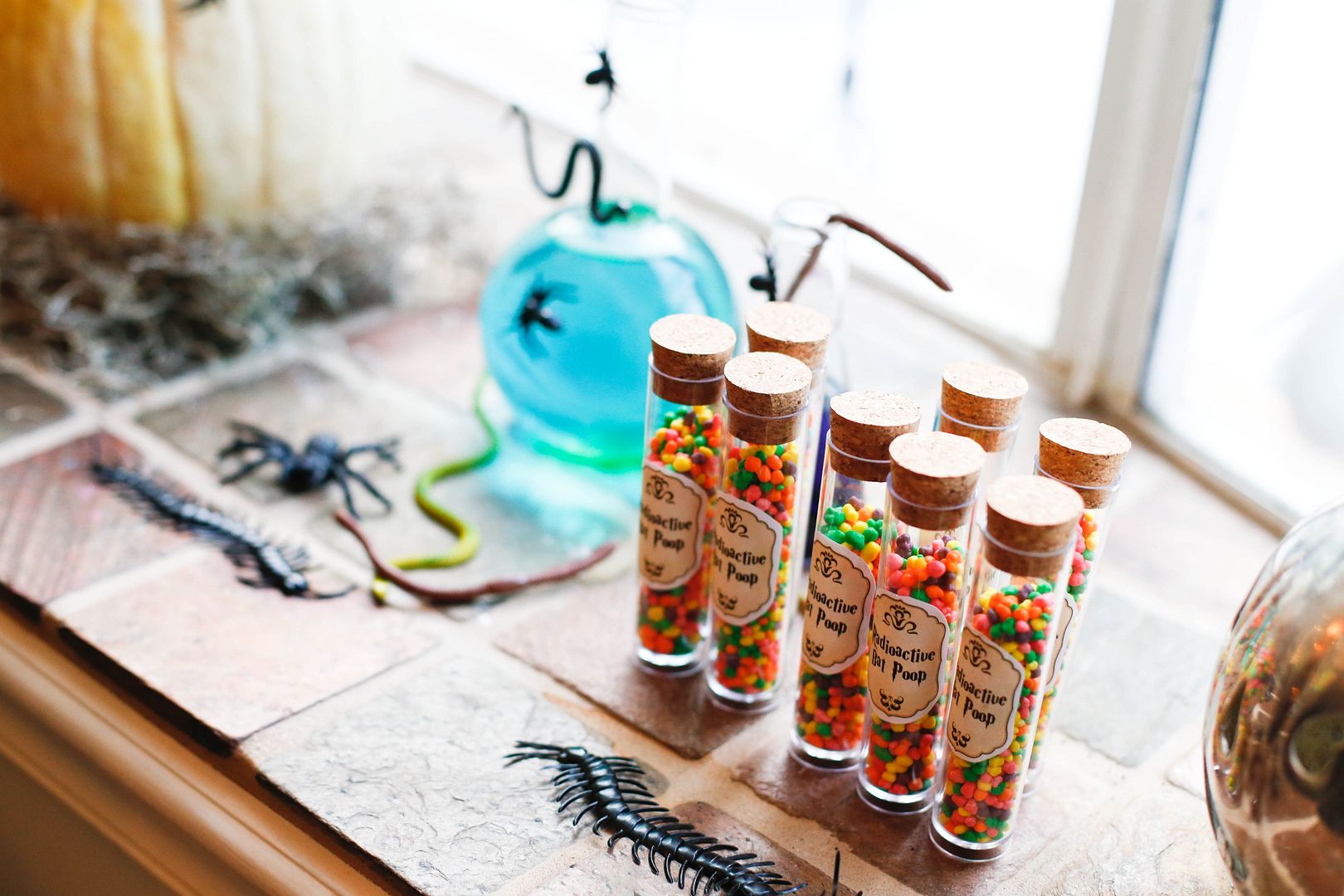 The brain cupcakes were super simple to make, and I swear I don't mean that in a Martha Stewart "it's so easy, all you need is 10 professional pastry bag tips, a blow torch and 6 free hours" kind of way. It's just two shades of pink frosting. You frost the dark layer on first, gently slice a knife to make two hemispheres, and then pipe the light pink frosting on with a big Ziplock bag. (also, not my idea–found these on Pinterest).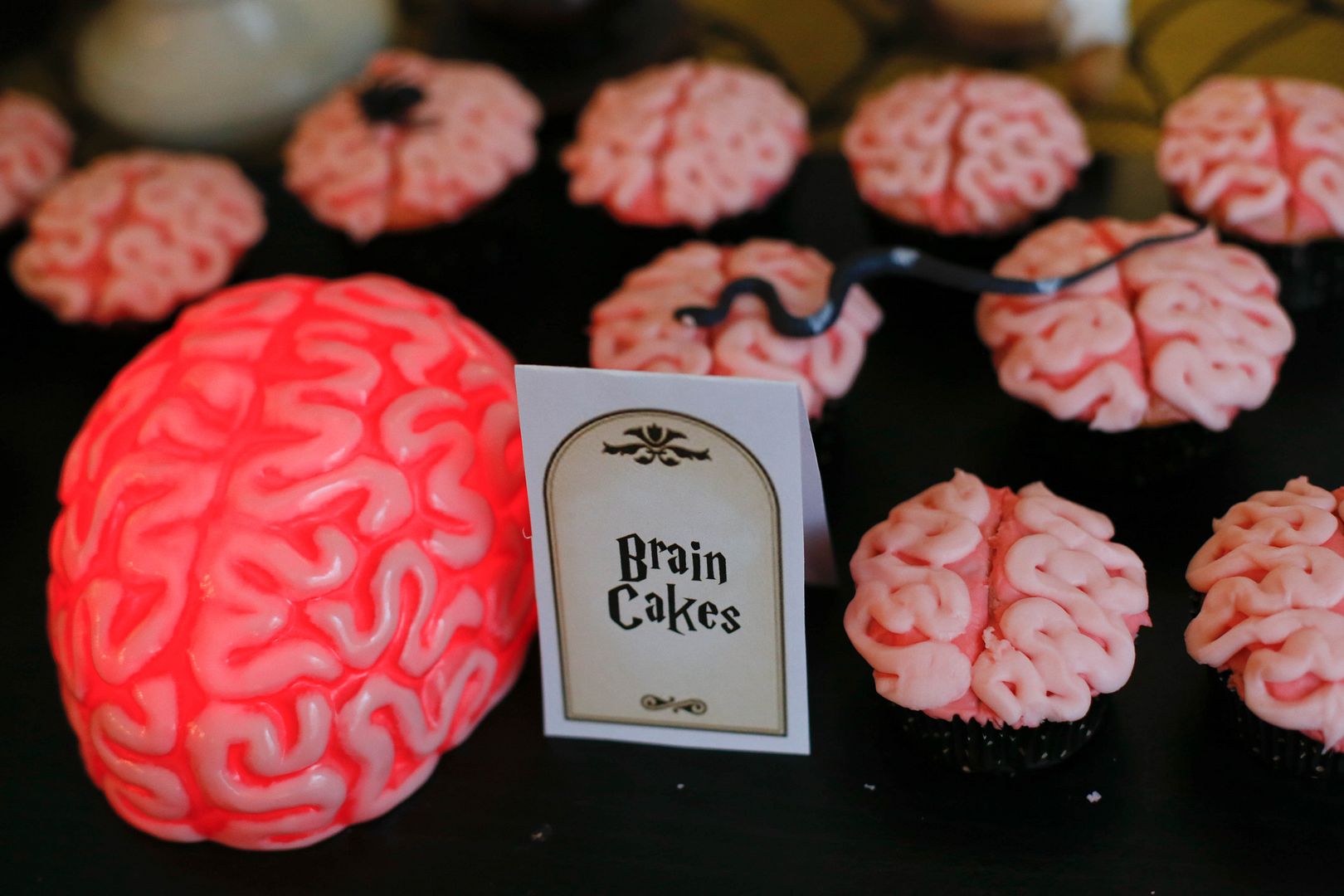 Madame Zelda came to the party too and set up a fortune telling boot.
And giggling little girls all in witch hats, eating around the table in a mist of fog and illuminated by candlelight? BE STILL MY HEART. Magic.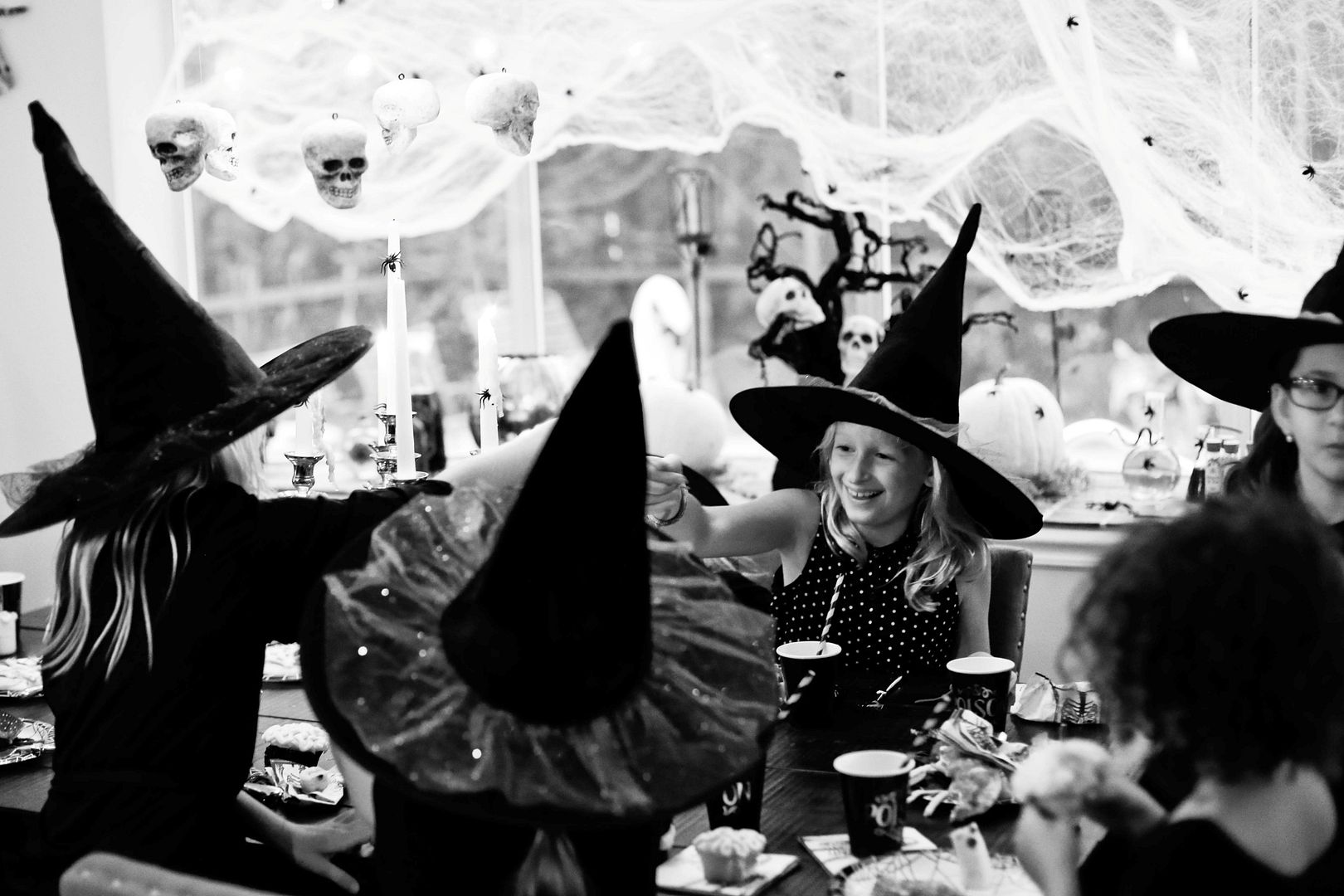 The fortune telling ended up being a huge hit. They all lined up and took turns as Madame Zelda read a fortune fish for each girl (have you tried them? So much fun!), and then looked into the crystal ball to see their future. I made up fun tales for all of them and included some that Lainey had written for them earlier–like "Tonight you are going to do the Dab Dance with a skeleton." It is pretty easy to make fourth grade girls giggle. I'm not sure we can pull that off in another couple of years, but it's fun while it lasts.
We got this $20 plasma ball to use for our crystal ball, and the kids loved it. It's definitely something fun we'll tuck away and pull out for parties again.
Little Ivy was all big eyes and 100% belief for her reading. It was precious.
A few of our Instagram stories from the night:

The girls also made witch balm for their lips, and everyone got to take home their own tin. It's a great party activity, is pretty easy to make, and kids have so much fun creating their own flavor concoctions. We made the balm from this post–four simple ingredients, and it's my favorite lip balm. I keep a tub of it in my kitchen cupboard, and it lasts me forever.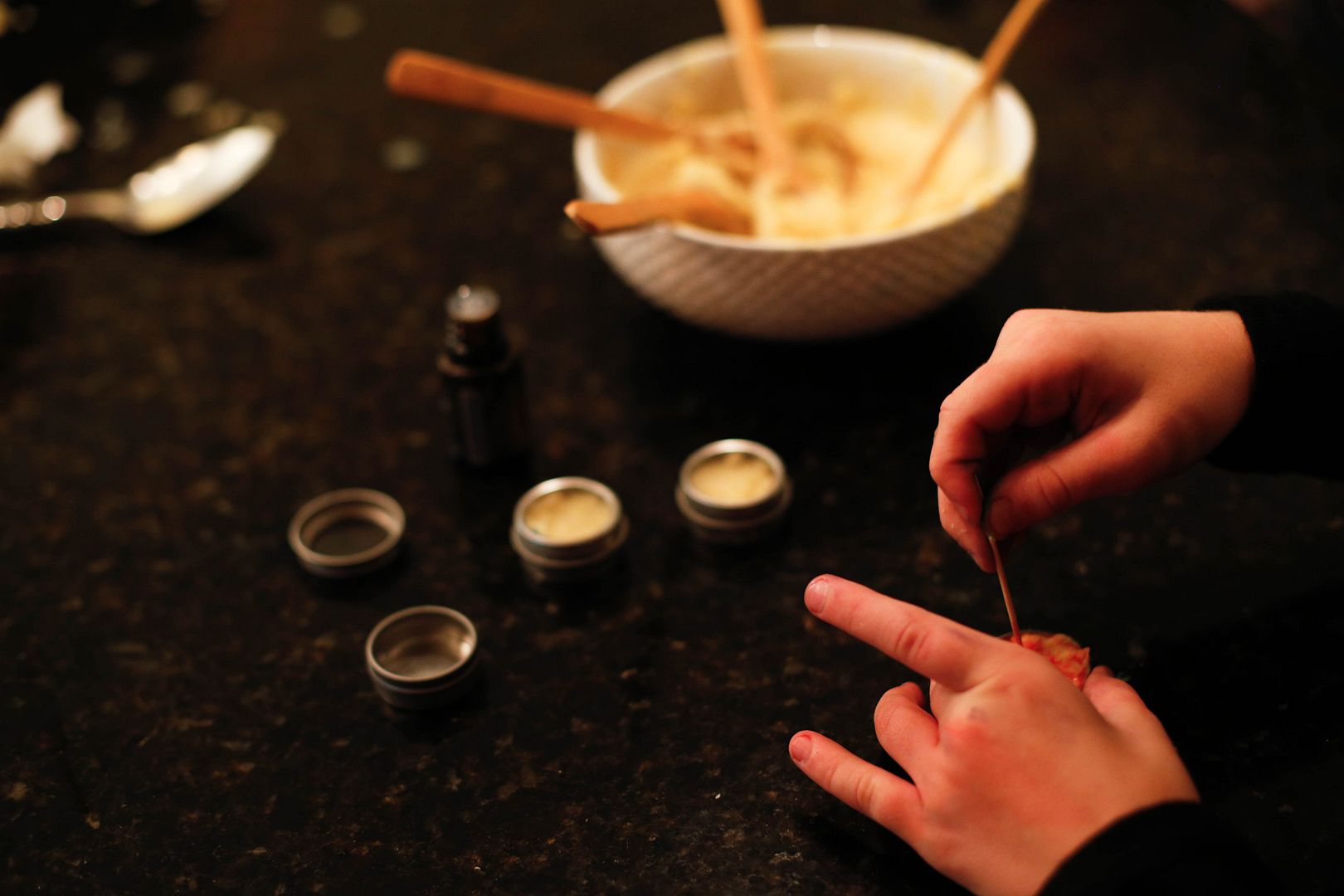 And what's a sleepover party without s'mores? Halloween style, using black widow egg sacs instead of marshmallows, of course ;o) We love our indoor s'mores maker.  It's so much fun to have for sleepovers and cozy movie nights–or breakfast, har har. Speaking of sleepover, does anyone have any tips for how to get a bunch of girls to STOP TALKING AND GO TO SLEEP?! Brett kept coming out and asking me, "Aren't you going to tell them to go to sleep?" And I was all, "I did. Five times." YONO. (you're only nine once)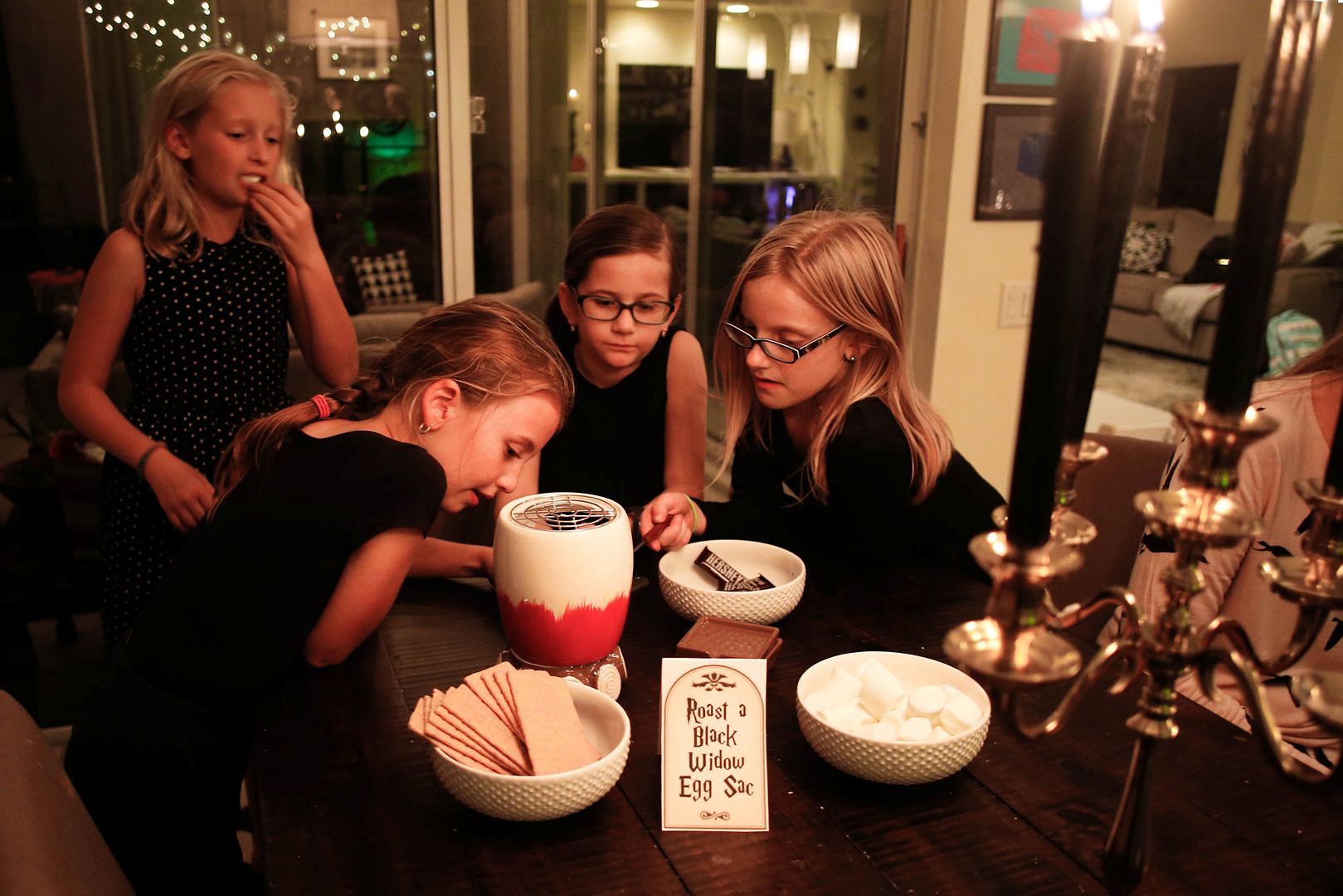 A few easy ways to transform a party into a witchy good time?
*Switch out light bulbs with green ones–found in the regular light bulb section and a cheap transformation.
*Buy dry ice! We got a huge chunk of it at Publix for $12, and popped pieces throughout the night into our witch potion punch which kept it bubbling and fogging all night. You can also drop a small chunk into individual glasses–better with bigger kids as you don't want little ones touching the actual ice.
*Fog machine. You'll use it every Halloween. Makes everything look spooky.
*A candleabra. It added the perfect Halloween touch to our table and made for a great centerpiece. Very Hogwarts. The more candles, the better.
*A spooky playlist. You can find a ton of Halloween playlists on Spotify, from Monster Mash to Thriller.

And the best part? We get a whole 'nother round of Halloween fun tonight. Grab your brooms, witches!
And a favorite Halloween post from the archives: Our Storybook Halloween.
Have fun tonight!