When Lainey was about two years old, one of my friends had the brilliant idea of hitting Barnes & Noble the day after Christmas to scrape up as many kids' holiday books we could get our hands on, for 75% off. The goal was to stash them away in a closet and pull them out each night in December the following year. I started a great collection that year and have since expanded our compilation slowly so that we now have 24 of our very favorite winter and Christmas-themed books.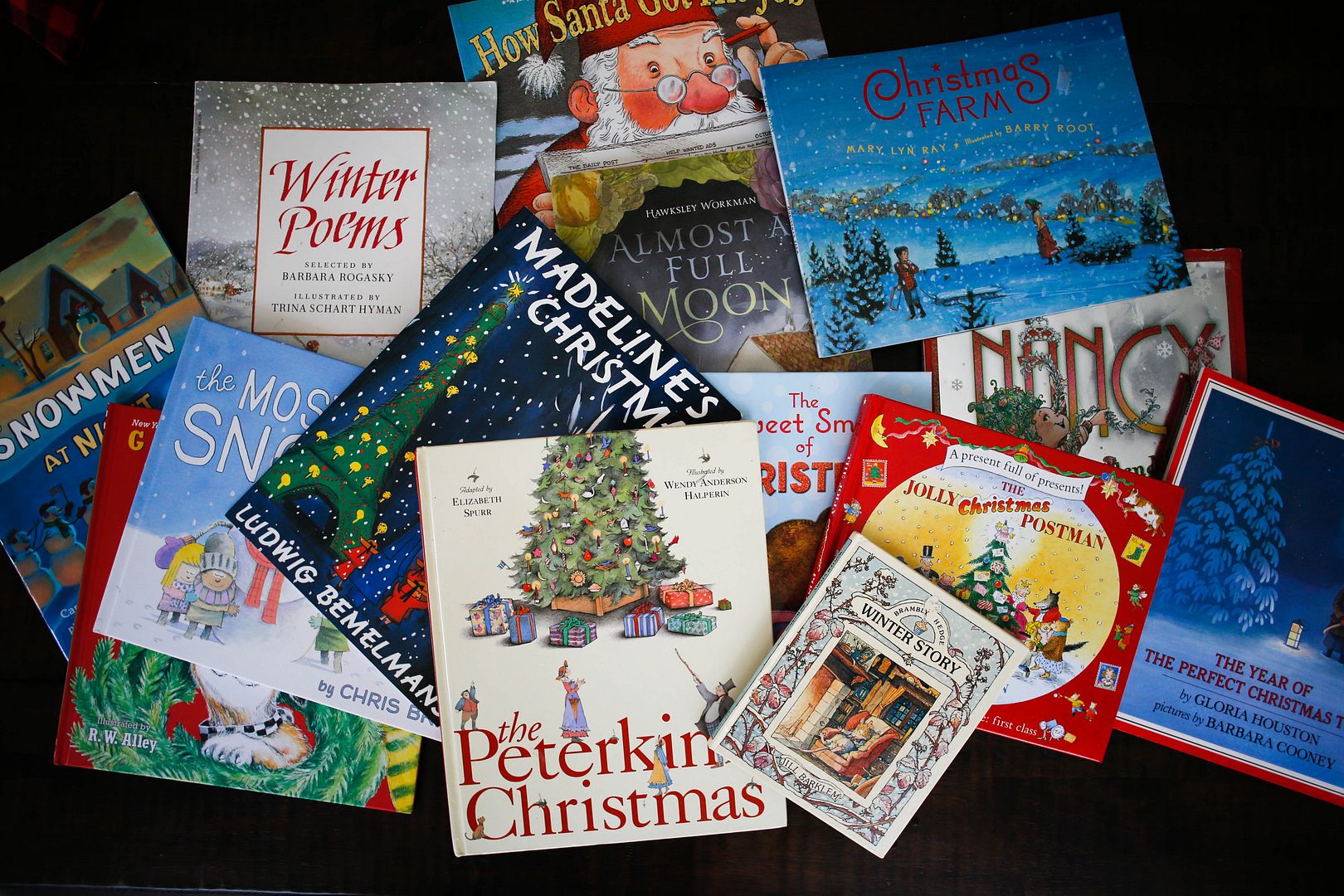 This year, our advent calendar is going to be focused on reading together before bed–books that celebrate everything we love about the season. Even though the kids have already seen several of the books, I wrapped each of them up to add the excitement of surprise and opening a gift together. To bring a little more fun to the tradition, several of the books have added treats and instructions on where and how the book should be read…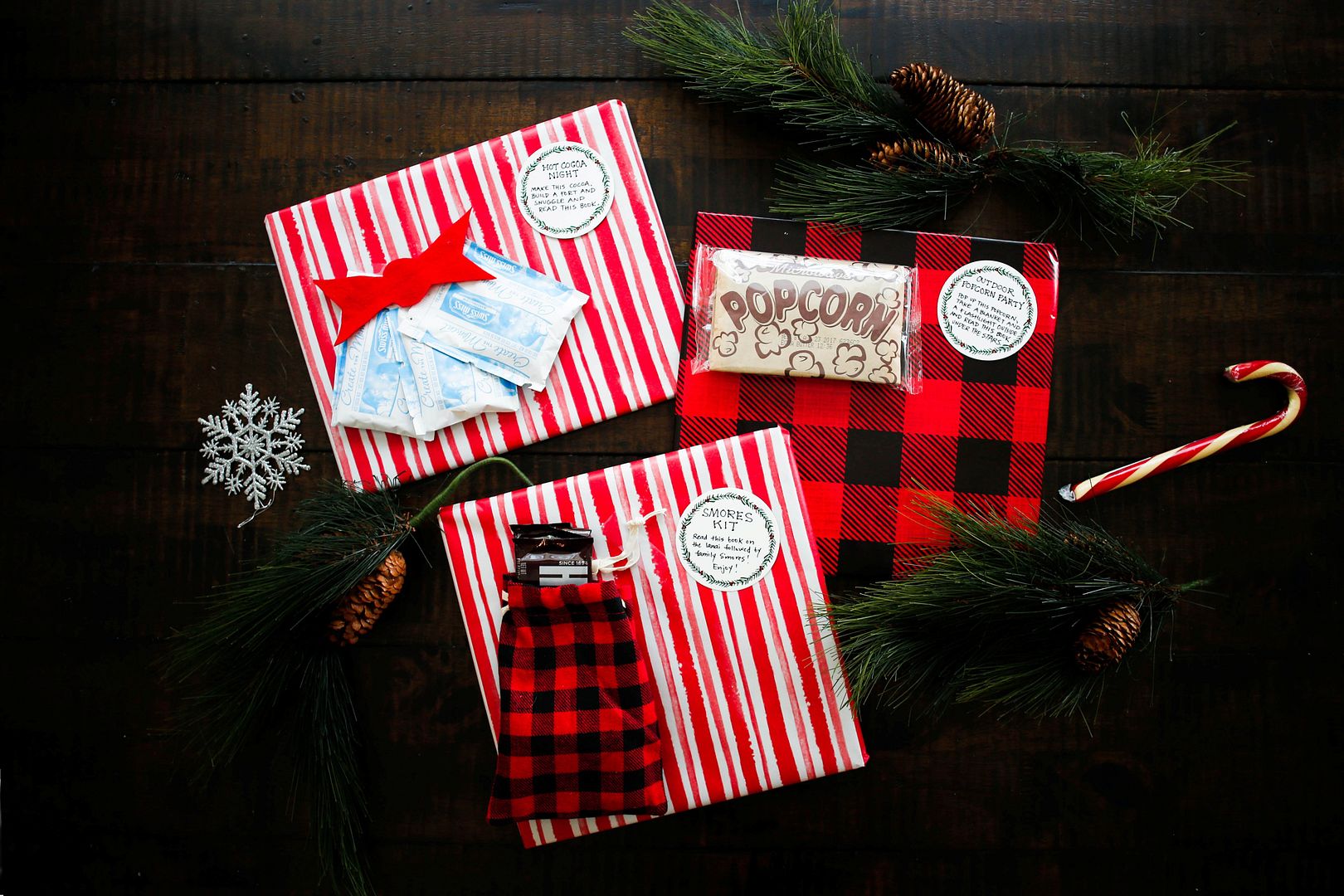 Hot cocoa and a fort for one…
Popcorn under the stars for another…
And a S'mores kit for a reading session under our twinkle lights on the lanai.
Since 24 books can be a hefty cost (we built our collection over the years), a few tips if you're interested:
*Buy paperback books if available: much cheaper, and they shouldn't get too much wear and tear if you tuck them away after the holiday to save for next year.
*Buy used books: While it might take a little longer to receive and cost you a few dollars for shipping, it often still works out to be a great deal–many used books on Amazon cost literally only pennies.
*Rotate books: Find a few mom friends who want to join the tradition and each commit to buying 4-5 different books and rotating them at the end of the week. Let your kids wrap them up for the next recipients.
*Check them out at your library. If you're a regular library visitor, check out 7 each week, and swap them out every Friday.
I can easily gush about children's literature–kids books are one of my great loves–and I've included a list of the favorite Christmas books in our collection at the end of this post, but first: a few ideas to bring a little holiday sparkle to your book ritual.
*Buy an extra copy of one of the books (preferably an inexpensive one) and have it sent to a family member or friend far away. On the evening that book is opened, include the instructions: "For tonight's book, Grandma is waiting for a FaceTime call. She will be reading you the story while you follow along." I had one sent to my mom in New York and can't wait to hear her read it to the kids while we're snuggled together looking at the pictures.
*Have fun with changing up where the book is to be read and who reads it. Beds are cozy and an obvious choice for bedtime reading sessions, but kids will love the excitement of changing up the instructions: "Take a flashlight and a blanket outside, and read this book under the stars." "Get a bubble bath ready. Mom will read this one to you while you're in the tub tonight." "Dad reads tonight, but build a blanket fort in the living room first. He'll meet you there for the story."
*On the outside, tape snacks or treats to be enjoyed while you read–cocoa packets, microwave popcorn, Hershey's kisses.
*Try the audio version for a couple (especially longer/wordier stories). You'll love quietly relaxing while you listen with your kids (don't fall asleep!), and if you're lucky, you might get a great reader (see James Earl Jones for one of them below!).
*Include a fun activity: "Run around the house two times before the book tonight." "Make up a dance to Jingle Bell Rock." "Cut these sheets of paper into snowflakes and hang them over your bed before the story." Or, my personal favorite: "Warning. Tonight's story will be read in a British accent."
Also, very important: Skipping activities or anything extra is just fine because BOOKS ARE MAGIC JUST AS THEY ARE. And even more magical? Snuggling together to read them in a huddle.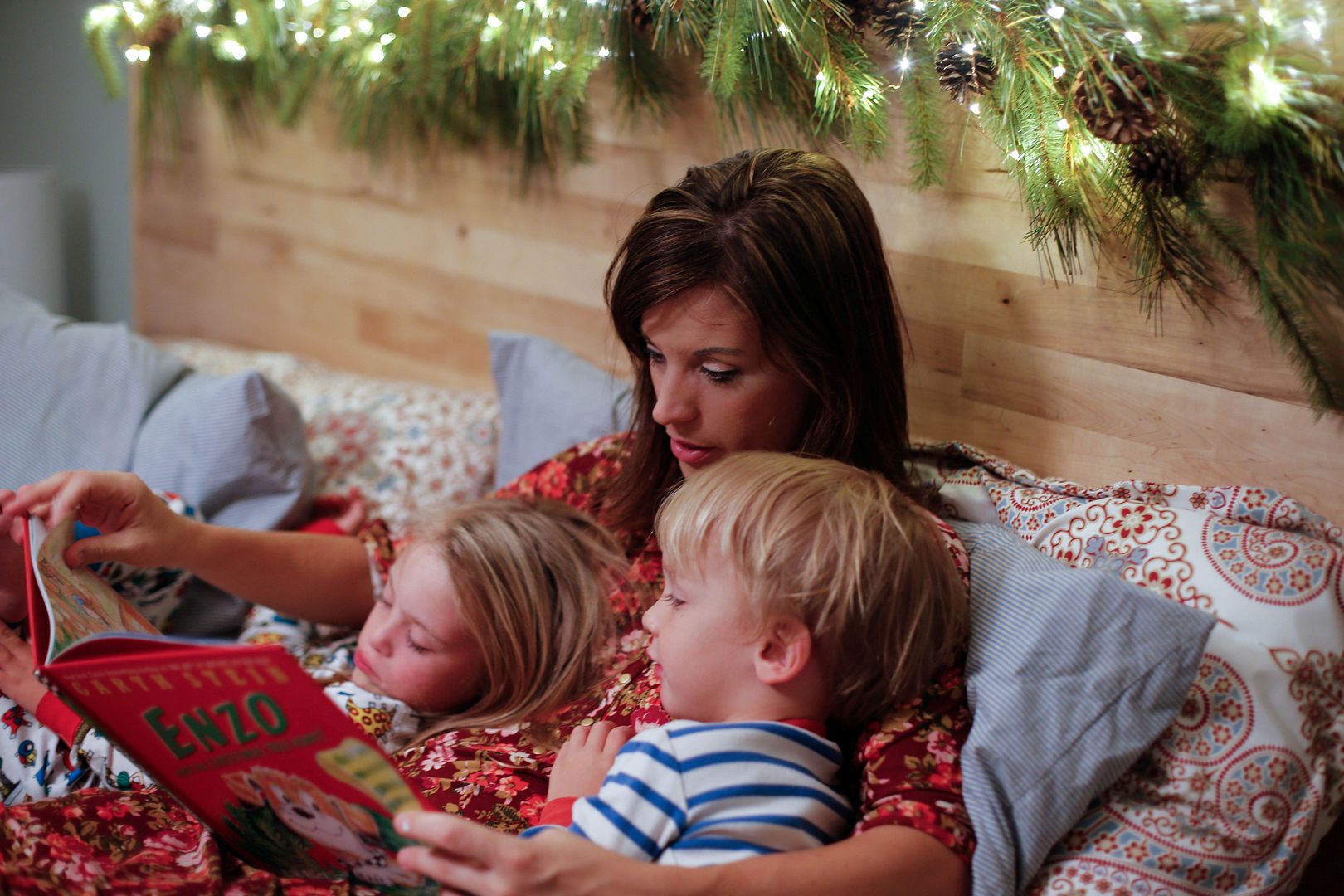 Cue Drummer Boy's pa-rum-pa-pum-pum…
Our 24 Favorite Christmas books
1. A Winter Story, Brambly Hedge. I've expressed my love for Brambly Hedge on social media before, but truly these books are magical and, sadly, many out of print. You can easily find them used on Amazon though (see third-party sellers), and you'll be happy you did when you open the book to find Jill Barklem's enchanting miniature fantasy land of mice. This cozy story will take you inside the tree home of the mice during a snow storm and make you wish you were attending their Snow Ball. Your kids will get lost in the illustrations and surely dream of the magical Brambly Hedge at Christmas.
2. Christmas in the Big Woods (Little House picture book) Whether you're a Laura Ingalls fan or not, this sweet picture book version of Christmas at the Ingalls cabin will bring out all the good feels.
3. The Polar Express. A holiday classic, this one is a great book to be followed by the movie. All aboard!
4. Splendiferous Christmas (Fancy Nancy). Expand your Christmas vocabulary and get your fancy on with this favorite.
5. Almost a Full Moon. Newly published this year. The illustrations capture all the enchantment of winter, and the simple text of a winter gathering story is perfectly combined to evoke warm feelings of togetherness.
6. The Jolly Christmas Postman. If you've read the original Jolly Postman, you'll know the fun that's tucked inside this book–tiny envelopes that open and reveal pull-out treasures. Follow the Christmas postman as he makes his mail journey, delivering holiday letters to all our favorite fairy tale characters.
7. The Year of the Perfect Christmas Tree. I found this book at a little cabin store nestled in the mountains of North Carolina, and the illustrations took my breath away. Every time we read it, I remember that little shop and how the illustrations in the book represent that cozy setting. It's a bit of a longer story, but my kids love it, and we stop at every page to point out all the winter magic in the pictures.
8. Eloise at Christmastime. The Plaza Hotel in New York City. Christmas. Eloise. A trifecta of holiday fun.
9. The Snowy Day. A little boy in the city and all the possibility that lies in the first snowfall. If only we could read this in Florida and dream of waking up to school canceled from our first snow.
10. Charlie and the Christmas Kitty (Charlie the Ranch Dog). My kids love the adventures of the Pioneer Woman's ranch dog, Charlie. This is Christmas version is one of Dash's favorites.
11. Winter Poems. Snowy landscape paintings accompany 25 different poems of winter from the world's greatest poets.
12. How Santa Got His Job. A cute story about how Santa met the elves and found his dream job.
13. A Very Marley Christmas. Another one of Dash's favorites (rambunctious lab is his spirit animal).
14. A Wish to Be a Christmas Tree. An overgrown pine tree has his wish come true with help from his woodland friends. The illustrations make me want to book a ticket north, just to walk through the woods in the snow.
15. Room for a Little One. A sweet version of the nativity story, the simple text and warm illustrations of the stable animals are a delight, especially for little ones. "There's always room at the inn."
16. The Christmas Miracle of Jonathan Toomey a long story but a truly meaningful one that captures the importance of caring for others. This anniversary issue comes with an audio narration by James Earl Jones as a complimentary download. Let him read this one. In fact, anytime you ever have a chance to have James Earl Jones read anything to you, go with it.
17. Jenny's Winter Walk: A Kids' Yoga Winter Book. A fun winter story that will have you practicing stretches and yoga positions. Nella is going to love this one.
18. Snowmen at Night. What do snowmen do when we all go to bed? Why, they come alive and have fun. A kindergarten favorite.
19. The Mitten. My kids have heard me read this story so many times, but they never tire. The part they wait for? The giant, overly dramatic AH-CHOOOOOOOO!
20. The Sweet Smell of Christmas. Great for little ones, this book is full of scratch and sniff stickers that invite kids to experience the story with their senses–pine, cookies, peppermint, etc.
21. Madeline's Christmas. Another classic, we like to read this story with our best French accent.
22. The Most Perfect Snowman A touching winter story about kindness and what perfection is truly about. We love this one.
23. Owl Moon. A Caldecott medal winner, and one I save to the end because I love it so much. The illustrations, the descriptions (snow that's "whiter than the milk in a cereal bowl"), the truth of finding magic in the simplest acts in nature. Jane Yolen dreamily captures the imagination with this winter tale that engages all the senses.
 24. The Night Before Christmas. A Christmas Eve tradition, but the real predicament is which version to choose? The Classic illustrated version or the sweet Holly Hobbie one?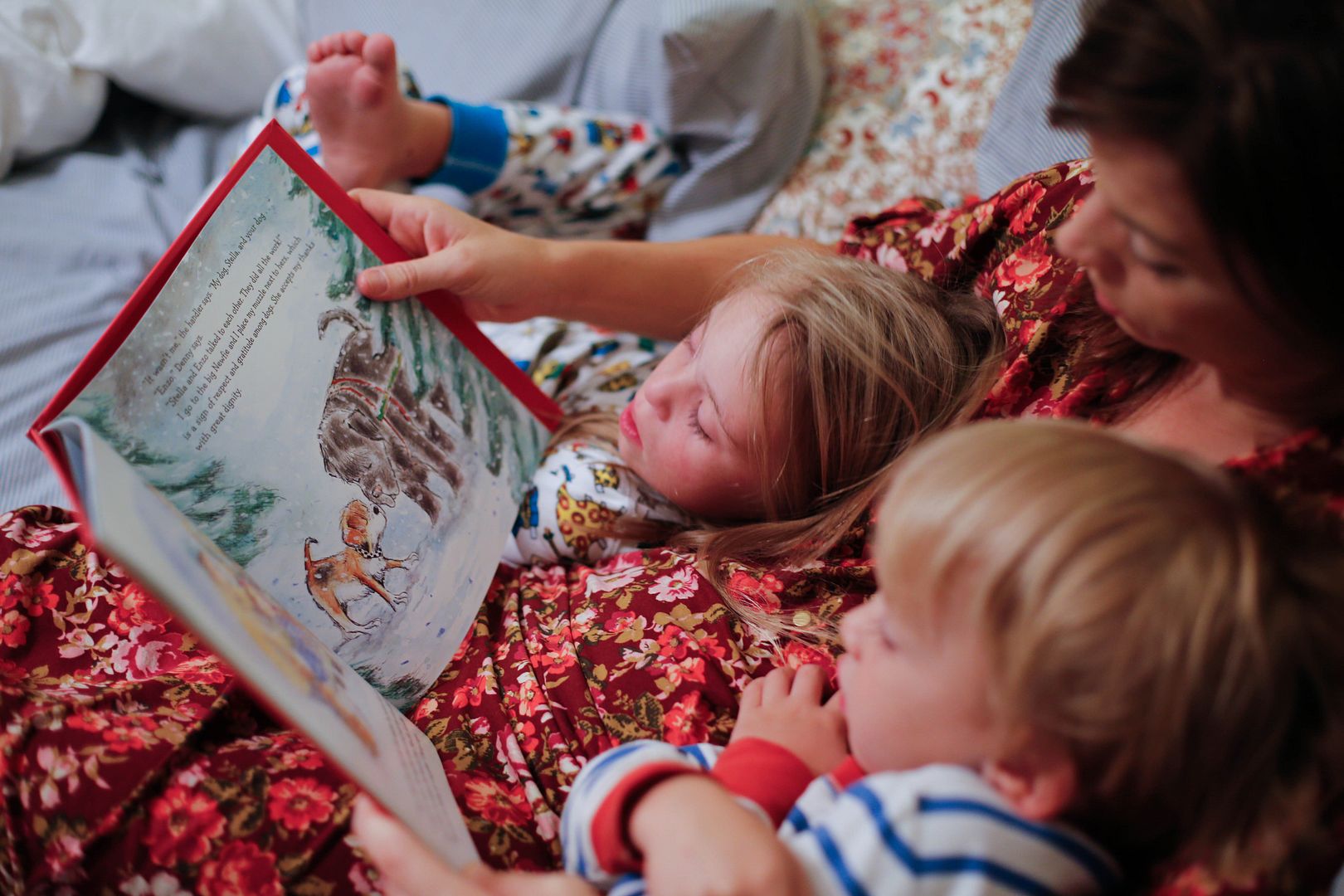 The countdown begins two weeks from today. We can't wait to start our tradition and end our evenings cuddled up, lost in story.
Did I forget one of your holiday favorites? Do tell.