This post is sponsored by thredUP.
So, besides the twinkle lights…and the carols…and the cookies and the gift wrap and the candy canes…and the cards in the mail…and the 24 hour marathon of Christmas Story–okay, so basically everything that is good in this world, there is one more thing I love about the holidays–dressing up. I crave old school Christmas cocktail party attire–dresses and sequins, heels and glitter, black dresses and flowy skirts. Even if it's a Friday night at Chili's.
"You know you can totally go casual," my friend suggests for our upcoming Nutcracker tradition.
"You speak Christmas blasphemy," I replied. "How dare you."
I love my active wear days and nearly lived in the same nightgown for Thanksgiving break ("That's a little, um…" Brett informed me, "…how do I say this–grandma-ish."), but I also love the invitation to glam it up a bit during the holidays and the girlishness that has a moment to shine.
Since dressing up isn't something we do a lot of over here, when it comes to buying fancier clothes, I don't like to spend a lot. But I do like certain brands and don't want to sacrifice quality. Dilemma solution? Secondhand, baby. And not just any secondhand–the online motherload of well-curated fashion for women and kids…thredUP.
Don't know thredUP? Come with me. I'll show you.
So, your closet needs a little inspiration–a few fun new items, some glam, a new black cocktail dress. Your kids need winter sweaters. Your son's busting out of all his 4T. Have no fear. We can do this without breaking the bank.
You go to thredUP. You search your favorite brands like Madewell and J. Crew and Free People, which are always up to 90% off retail price. You filter your finds with specific sizes. You put way more in your cart than you need because Oh my God, these prices! and I'm in love with too many things! You edit your cart, you decide on your final purchase. You order. You wait for your box to arrive and while you're waiting, reply "WILL ATTEND" to all those holiday gatherings because you know what you'll be wearing now.
And then that polka dot box arrives. And when you open it and pull the pretty tissue paper back, you swear everything has to be brand new (and some of it is!).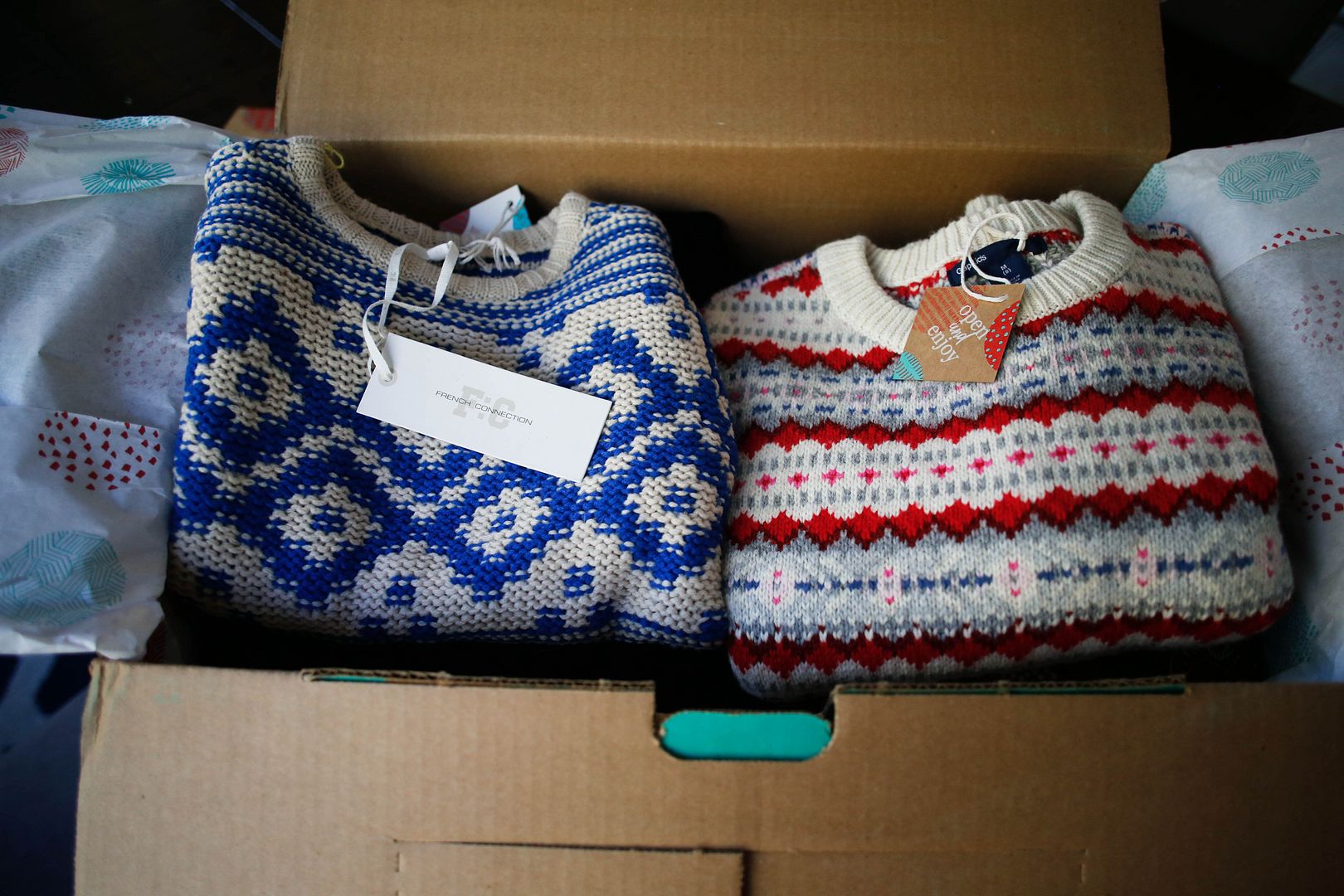 (Sweaters! Sweaters for the kids. I love having them for our chillier days here in the winter, but hate paying full price because we don't have enough of those days here to justify it. This French Connection sweater for Dash still had the tags on it, and the Gap one for Lainey is exactly the style I would have paid full price for. I got it for $13.99 while a similar fair aisle sweater for girls retails for $44.95. That's a 70% discount!)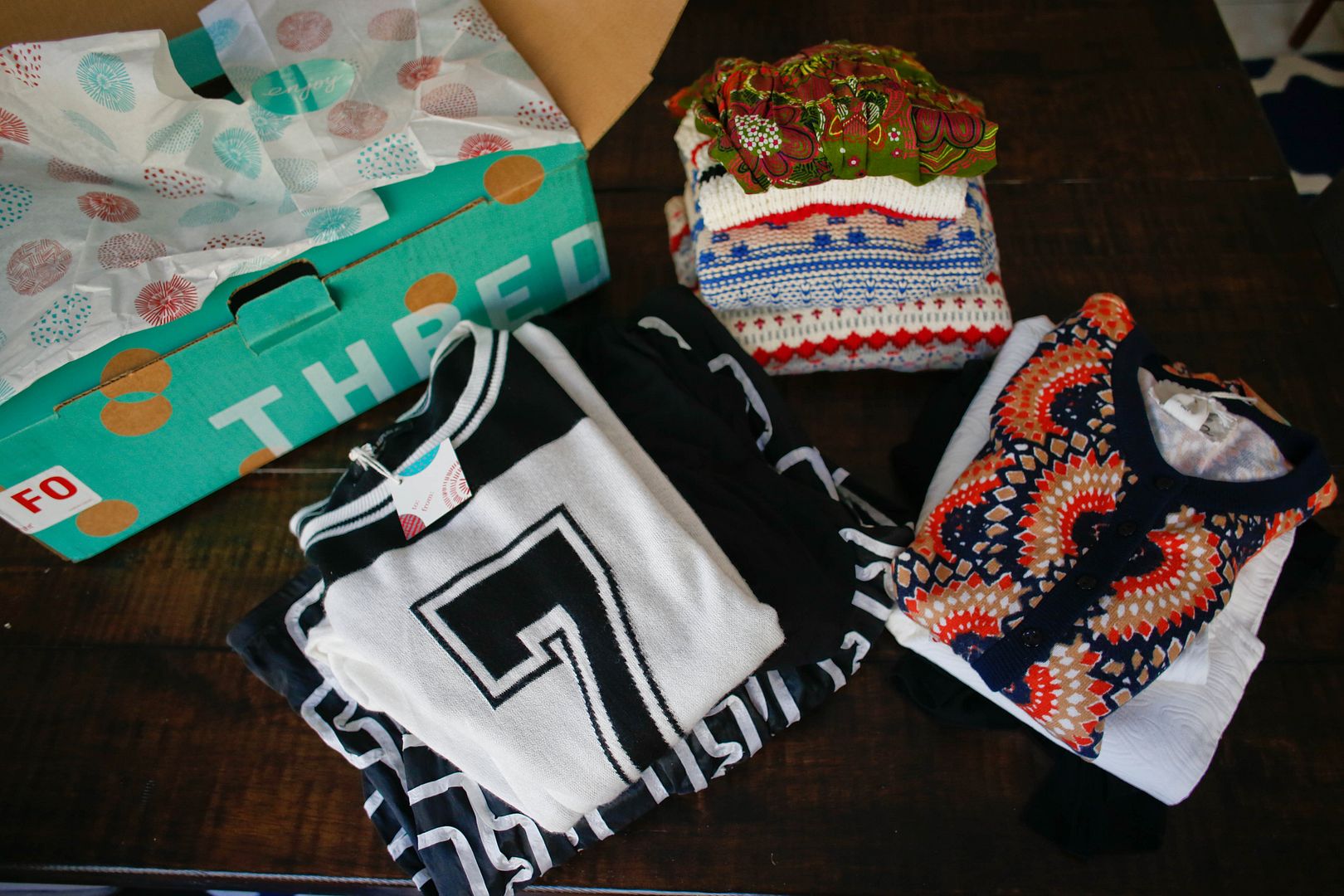 Where were we? The box. Yes, the box. Everything in the box makes you happy. So happy, you run to show your husband and brag about how much money you saved. ("Do you even know what this retails for? I mean, look! The tag is still on there–it says $130! Twenty bucks, babe. I PAID TWENTY.")
My favorite holiday dress-up clothes for my latest thredUP box?
This Adrianna Papell cocktail dress. The fabric is thick and rich and feels so good on.
And the detail in the criss-cross, collar-baring bodice…love, love, love. The dress was $32 while most Adrianna Papell cocktail dresses retail from $160-$200.
This New York & Company cardigan with romantic ruffles that can be paired with anything from a pencil skirt to jeans and heels to glam it up…
And my favorite, this gorgeous Milly skirt–new with tags–and this fun mod cardigan. This skirt with black tights is my new go-to.
And come summer, I'll ditch the tights and get nautical with a red stripe tee and sandals. I will reach for a sailor cap but I'll put it back because I know when to stop.
We always find great Hanna Andersson and Mini Boden stuff on thredUP for the kids too–and I could have kept that a secret so that we keep finding it first, but I'm nice and divulged.
I picked up this darling Lands End dress for Nella, perfect for fall…
…and love seeing the kids' new sweaters in the closet, waiting for another cold front.
As if buying secondhand isn't great for the planet already, thredUP threw in another little bonus this year–all their clothing tags right now double as adorable gift tags for your Christmas presents.
Here's the best part. You, my dear readers, get 40% off your entire thredUP order, when you use code HAMPTON40, valid through 2/1/17 (discount is valid only for first time shoppers and up to $50). And there's more: thredUP is also giving 1 lucky winner a $250 credit to use on their site. Visit HERE and comment back on this post with the link to one item you'd like to purchase!
Now would someone please invite me to a fancy Christmas party before I overdress for margaritas at Chili's?