This post is sponsored by StoryWorth.
There's only six more days until Christmas. That means shipping deadlines for ordering photo books are over. It's too late to get something framed. Adding personalization to a gift? Forget about it. Before you run out to buy a "filler" gift (toaster/candle/gift certificate) because you never could find that meaningful thing you were hoping to find for your parents or your grandparents, let me tell you my secret for the world's most meaningful gift: Tell them you want to know their stories. Tell them you will help them record them. Tell them you value their past, their thoughts, the things they've experienced, and that you want your kids to know them too. Commit to preserving them…for everyone. Let me tell you more about StoryWorth.
This is my only surviving grandparent, my 87-year-old grandma, Loverna. She is a force of nature, a treasure of stories–hundreds of them–of joy and heartache and love and humor that have made her who she is. She is part of me. When she sends me an e-mail, it reads like a book–funny, well-worded, thought-provoking, a tiny scratch off the surface of what lies beneath…more stories. I want to know more. She laughs and says "I'm not a writer," but oh, she is.
I started an ambitious project with her last year. I wanted to record her stories–who she's loved, what she's learned, how she's changed, what inspires her–I want to know it all. I don't want to lose another grandparent someday, thinking "I never knew…". I want to know who her best friend was growing up, the things her mother cooked, the most meaningful thing her father ever did for her, what teachers impacted who she is. I want to know how hard raising six kids in the 50s was, how her faith has changed over the years, what her favorite Christmas memories are. So we set up a time for me to call once a week. I would ask her questions about her life, and she would answer while I typed. I loved how it started, every Monday night at 7:00. With every word she spoke, I felt like I was unburying more treasure. But life got in the way, kids demanded me during the hour we set aside, I was postponing our chats, and soon our project fizzled. I felt awful about it because it was important to me. It is important to me.
And then I remembered the gift we gave my father-in-law for Father's Day this year…a subscription to StoryWorth. Each week, StoryWorth sends your chosen storyteller a question. They answer the question with a story (they can write it back in the e-mail or call a number and record it), and their story is shared with the family members that you choose to receive it. At the end of one year of storytelling, their stories are bound in a beautiful keepsake book and sent to you.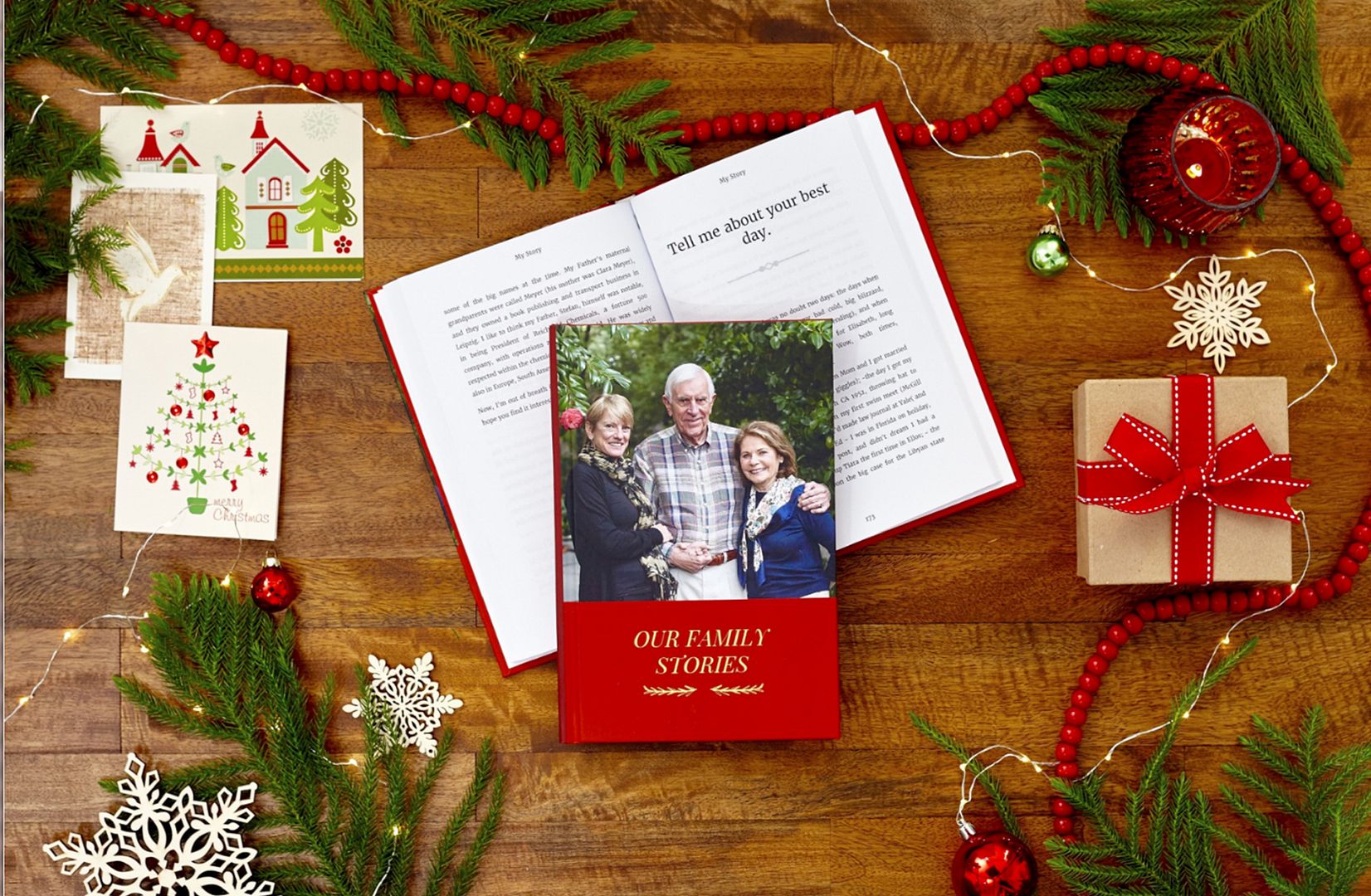 This year, I've learned so much more about Brett's family through his father's StoryWorth stories. Sometimes his replies are succinct, and sometimes (my favorite), a question triggers a lot more, and beautiful writing and detailed memories pour out ("What was your mom like as a child?" was one I recall) from descriptions of the meals she used to cook to the time heater that looked like a "monstrous octopus" in the dirty basement of the old house they lived in. Storytellers can easily add corresponding photos to their stories as well that will be saved and printed in the book. It's like writing a memoir, one story at a time, with a built-in editor who reminds you weekly to keep writing.
StoryWorth offers customization as well. You can let them choose the questions that will be sent, or you can pop in at any time and see upcoming questions, rearrange the order or pick and choose what will be asked from their incredible selection of hundreds of meaningful questions.
The company was started by a new father who realized the importance of passing on his dad's stories, and wanted to help others do the same. StoryWorth is wonderful to work with and committed to family and story preservation.
I sent my grandma her invite this week and added e-mails of aunts and uncles and cousins, so we can all be recipients of the gifts I know are in store. I hand-picked the first ten weeks' questions, and I cannot wait for that first e-mail, alerting me "Loverna has shared a story."
So that's my secret. You don't have to go to a store, you don't have to wrap it, but StoryWorth might possibly be the greatest gift you'll give this year. The stories are there, hidden in your parents and grandparents–things you didn't even know. They just need the invitation to share them and a little help doing so. "I want to hear your stories" is another way of saying "I love you," you know.
To learn more about StoryWorth, you can also follow them on their social media channels:
Facebook
Twitter
Pinterest
Instagram
Google+
"It has been said that next to hunger and thirst, our most basic human need is for storytelling." -Khalil Gibran
(We are back from Chicago, and I am editing a lot of Christmas wonderland to share tomorrow. Stay tuned!)