So, about those New Year's resolutions. There is one–but it's really more of an every day resolution for the entire population in our ever evolving plugged-in world, and that is: REAL WORLD trumps online world. The people in front of you win over the people on your screen. The real life creative projects that are begging for your hands and attention win over the device that is competing for them.
I love the convenience, creative ideas and community that my phone connects me to, but I sure as hell don't want my kids growing up with memories of a distracted mom. And as much as I love the quiet and space to get things done that handing my kids iPads grants me, I always want to challenge our family to maintain a healthy home environment with appropriate boundaries for time on devices. Let's be honest, we're facing major problems with device addiction in this country, and I'm guilty of it too. It's a constant challenge, but one I whole-heartedly embrace. I love my phone but I love my family more. Balance, balance, balance.
A while ago, a family member mentioned that a friend they knew took everyone's phones at a gathering once, demanding full connection, and assured everyone that their phones just needed to "check into the spa for a while." I loved the reference, and it triggered an idea I've been wanting to do for our family–create a motel for devices in our home and a fun way  to encourage unplugged time. If anyone is showing too much PDA for their device, we keep them in line with requesting they GET A ROOM.
Ladies and Gentlemen, I give you the newest lodging in Naples, Florida…The Unplugged Motel.
A comfy 5-star resort for your devices to chill the eff out while you TALK TO EACH OTHER, LOOK EACH OTHER IN THE EYE, PRACTICE COMMUNICATION SKILLS.
Not only is it easy to make, but we had a blast decorating it. I suppose any shoe box would work, but we used a heavy-duty photo storage box we picked up at Michael's. It was already a nice Palm Springs pink, so we hardly had to do anything to jazz it up. What we used:
I mounted the box to a cake board (baking aisle at any craft store) with a construction stapler to create a platform for our sign and palm trees. We made the sign by covering a flat wood oval (wood craft aisle, craft store) with some mint green scrapbook paper, cutting our "MOTEL" letters and arrow with pink glitter scrapbook paper and hot gluing pearls around it. The skinny dowel rods (wood craft aisle or bamboo sticks from baking aisle, craft store) can be poked into the cake board and hot glued in place. A little moss and some fun mosaic tiles (craft store) glued on to the platform completes the look along with a few miniature palm trees (craft store).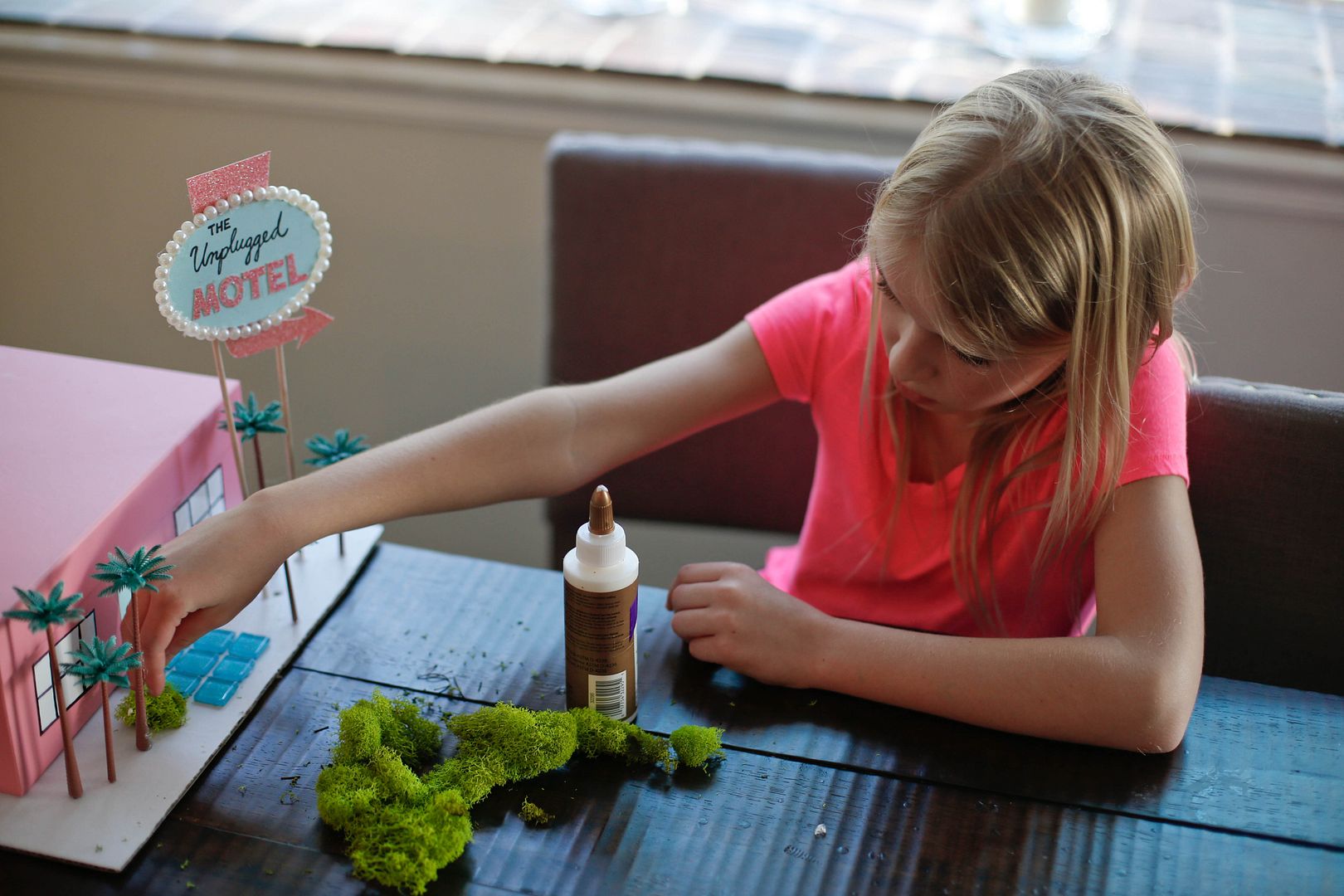 Finally, we cut a hole in the back of the box for charger cords because everyone knows relaxing at a motel is the best way to recharge. Bonus? All your cord clutter gets hidden.
I love that the motel creates a fun way to communicate device problems without nagging and can even be offered to guests or family members who seem to be distracted. "Mom, can I offer your phone a free guest suite at our motel for a little while? It has a pool! And plush linens!"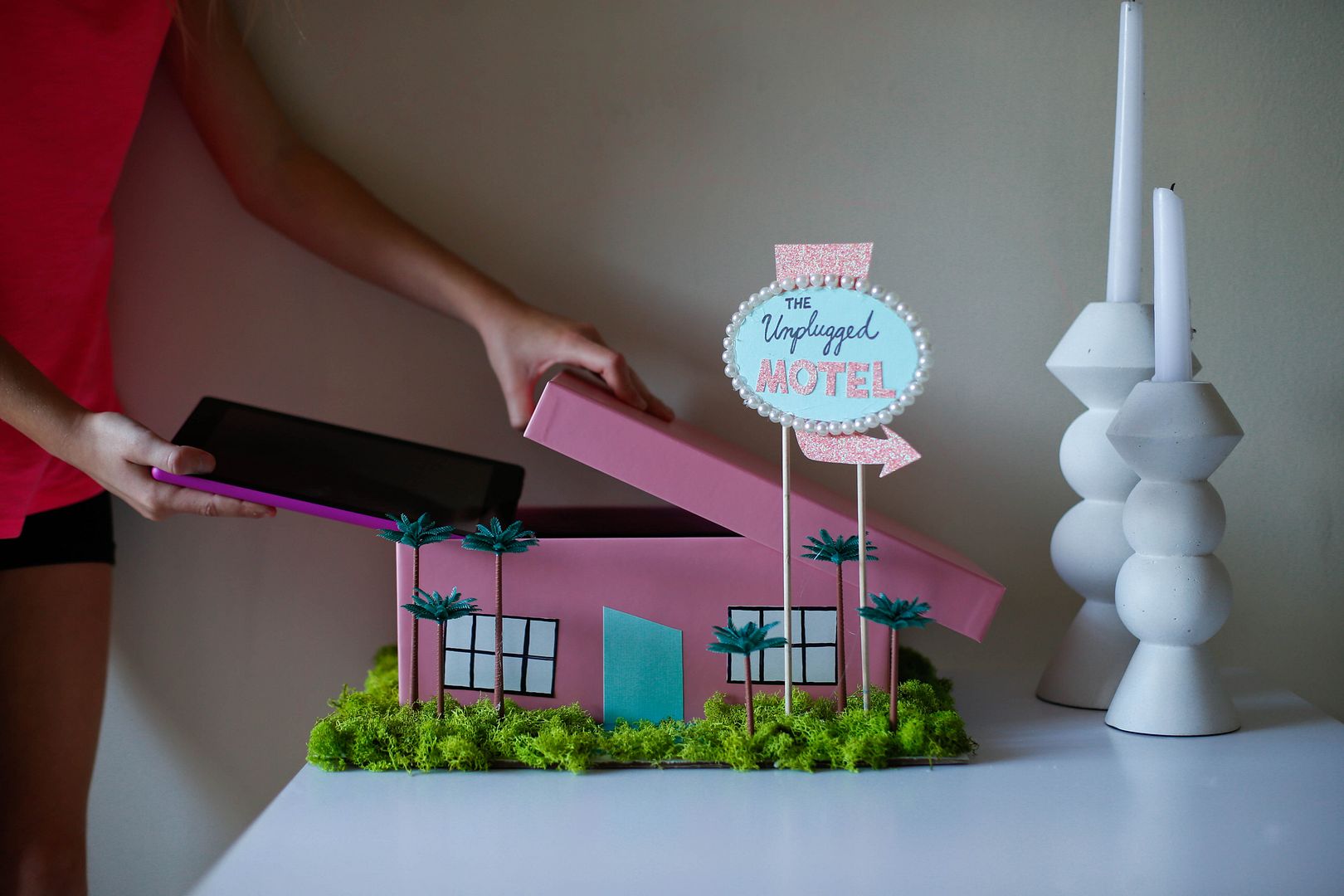 I want our entire family to keep each other in check. I've told Brett to tell me "PDA, Get a room" if I'm not paying attention to the fact that maybe my phone needs to unwind at The Unplugged Motel. And the kids are on board (at least with the initial excitement–ha) with this fun new approach as well. "Your iPad looks tired. Let's give him a vacation and check him into the motel for a while."
And when all our devices are stacked up and checked in to the motel, that only means one thing: there's more vacancy in our home for what matters most…us.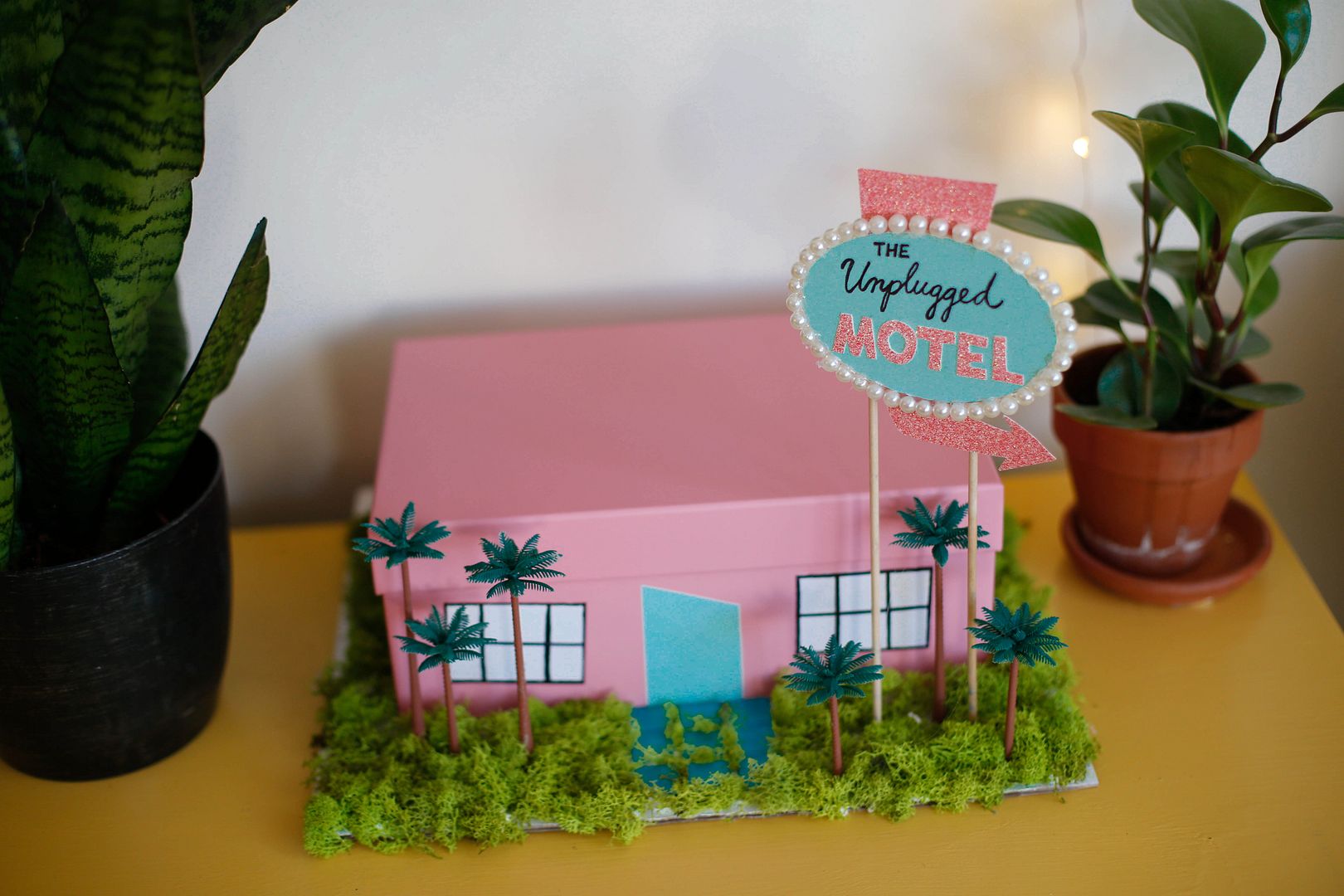 Here's to more balance in the new year.