Since it's award season and everyone's talking about–well, besides politics–what people are wearing, I figured it was a good time to do our own "Best Of" awards for kid clothes. Where do you shop for your kids? 
To be honest, I could easily write at least a 7-chapter book on shopping for kids' clothes, with topics ranging from the delight of little details (Peter Pan collars! Applique! Hand stitching! Hold me BACK!) to the psychology behind parental influence on style and personality through dress, but I've shaved off about 6.5 chapters for this post and will simply leave you with our favorite places to shop. After ten years of shopping for kids–wait, who am I kidding–I was buying clothes for my imaginary kids long before they existed. Okay, after a lifetime of studying children's fashion and implementing practical application of practices for dressing real life kids who don't want to wear knee socks and saddle shoes every day–or, say really want that glitter "GYMNASTICS OR BUST" shirt–I've figured out a shopping system that works for us: eclectic wardrobes. There's a little bit of everything, and I try to embrace my kids' personalities and individual styles when buying things while maintaining shopping standards that are important to our family–quality, versatility and price. Lainey's older and makes most of her own selections that, yes, include "PIZZA IS MY LIFE" shirts and leggings that say JUSTICE in the largest font known to fashion, but she also still loves a lot of classics and shops where Mama's been shopping for her since she was little.
Everybody shops for kids' clothes differently, but I will say this. If you stand by the rule that kids grow too fast, no way are you wasting money on a $30 t-shirt, good for you. If you love Spanish brands, children's fashion is your jam, and you stayed up until midnight for the new Bobo Choses line to drop so you could scoop up that $80 romper because you love it and can afford it, good for you. If your kid looks like she stepped out of a fashion editorial every day, good for you. If your kid is running around in a stained Ninja Turtles t-shirt and never takes off those amazing light-up Spiderman shoes because he thinks they give him super powers, good for you too. If you let your son wear whatever he wants and have zero influence on his closet because he's an individual and you celebrate his creative choices, you are amazing. If you say no to the pink Dora decal shirt simply because you hate it, you know what? You're amazing too. If you buy all your kids' clothes at Goodwill so you can give more to charity, YES! I LOVE YOU! If you have so much fun playing dress-up with your kids and choose to support causes and buy brand new beautiful things for your littles, YES! I LOVE YOU TOO! You do you. I assume everyone's momming as best as they can. And as long as no one's holding their screaming kid down, demanding "DAMMIT, YOU WILL WEAR THIS HEIRLOOM BLOUSE!", I think the kids will be alright.
For us, there's no doubt a lot of my kids' clothes are a reflection of things I love–color and stripes, for one–just like my kids have picked up a lot of other things I love like crafting, Michigan and beautiful sunsets. The things I love are also reflection of my mom and the way she shopped for us, and I love that she passed down her love of handmade clothes, good cotton, floral prints and neck bows.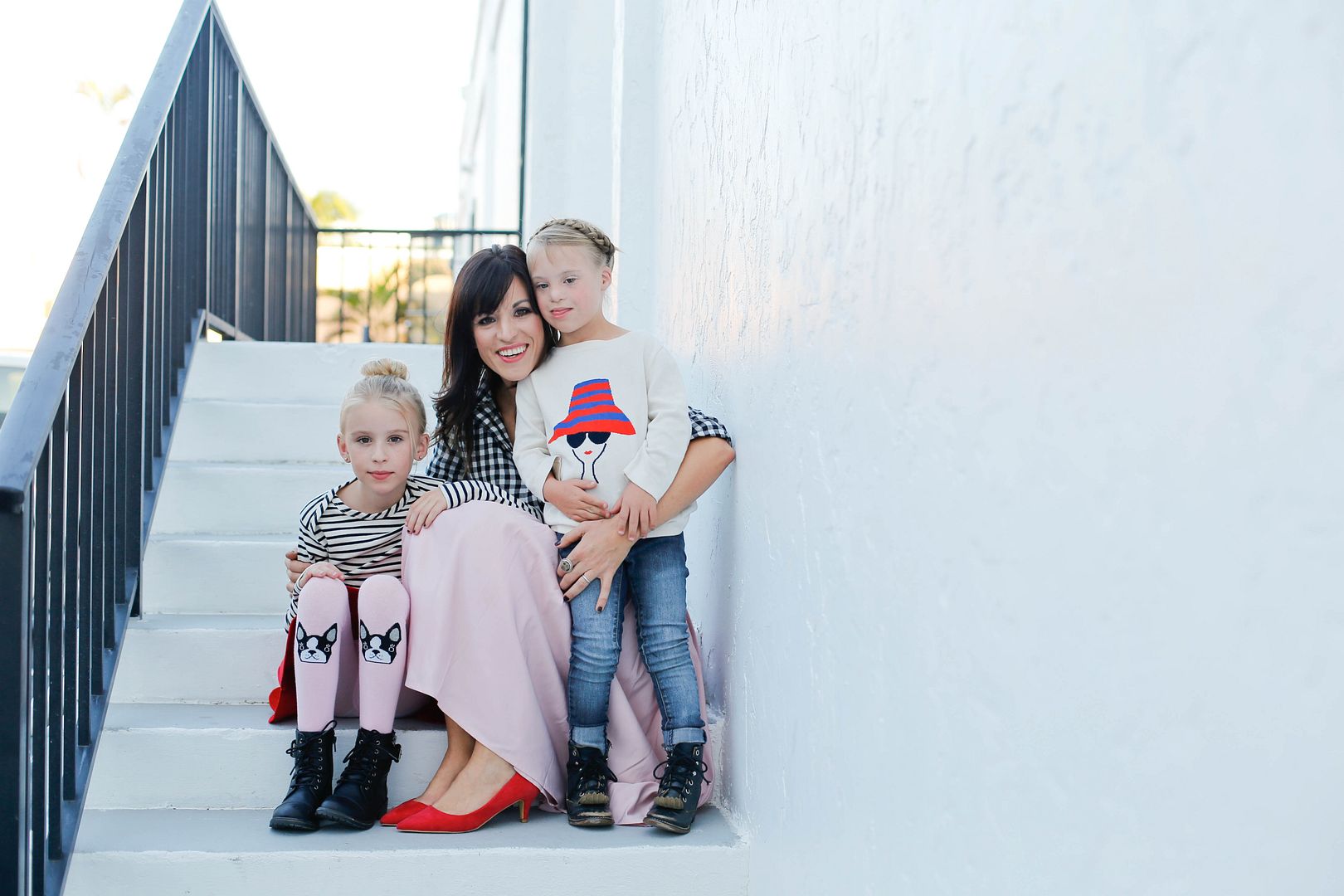 Have I used my selling powers to make my kids want to wear things I love? Sure. ("I saw Taylor Swift wore this shirt once." IN THE BAG. YOU'RE WELCOME.) But I also embrace the things they love that I don't and make room for mismatched and glitter because I have a feeling if you resist too much, that's all they're going to want to wear. Plus, I love celebrating their bloomin' little fashion senses.
I'll stop rambling…other than to say, I love little people clothes, and I cannot lie. There wasn't a day I woke up when they were babies that I didn't get excited about carrying them into their rooms to pick out what they were going to wear, and I still cuddle up with my kids at night and think about silly things like, "I love these pajamas so damn much."
With no further ado…shop faves
First of all, I follow my favorite brands on Instagram, and I shop when I see sales. I shop when Hanna Andersson offers 40% their entire site, when there's a promo code for Mini Boden and when Janie & Jack clearances out their swimsuits. Following favorite brands on social media and taking advantage of sales and offers saves us a lot of money. We also cushion our closets with consignment buys (we love our local Once Upon a Child) and inexpensive fun finds and basics from Target (their Cat & Jack line!), Old Navy, H&M and ThredUp. I love some high end brands and European designers for kids, but I choose not to afford them. I do however splurge on quality classics that will get worn a lot, pass down to siblings and–if really remarkable–saved in the Cherish Bin for grandkids and/or keepsake quilts.
As for favorites, I'll break it down to categories.
1. Mini Boden: By far, my favorite kids' brand, full of bold color, fun prints and personality. That little rainbow dress above? We must have worn it once a week last year. And it still looks great. Their summer lines are always my favorite.
2. Hanna Andersson: Comfy classics with Swedish style roots. I swear, Hanna clothes can go through 5 kids and still look the same as the day you bought it. Their playtime dresses are so versatile.
3. Mabo Kids: I discovered Mabo Kids last year, and I'm obsessed with their organic cotton basics–amazing quality. The foundation of my kids' wardrobes lies in the black and white stripe Mabo tee. We have one for each kid.
4. Osh Kosh B'Gosh: Classic overalls that never go out of style. When in doubt, go with Osh Kosh overalls.
5. Zara: I have a hard time going on their site because I want all their kids' stuff. Cutting edge trends, super fashionable.
6. Alice & Ames: Classic, comfortable quality twirl dresses your daughter will never want to take off.
Gap and Crew Cuts also have great closet staples for kids and frequent sales.
1. Vindie Baby: Their dresses are so beautiful for little girls.
2. Hum Stitchery: The mini trouser skirt (in a variety of colors and patterns) is everything.
3. Berits Lila: I found this shop when I purchased Nella's birthday dress from them one year–beautiful hand made pieces with retro style.
4. Lee Marie – Clothes only go up to 4T, but I couldn't leave this one off. Her retro printed overalls are so much fun!
5. Muny Design – My favorite things in Dash's dresser are from Muny. They're keepsakes you'll save forever.
Fun & Colorful All-Over Prints

1. Winter Water Factory
2. Duns Sweden  (ships from Sweden, but gets here fast)
3. Izzy and Ferd 
1. JollyGood Apparel: Love their camp shirt, "Happy Trails" and "Makin' Memories" tees.
2. Savage Seeds: Powerful messages, simply stated.
3. Passive Juice Motel: I've been a Passive Juice fan for years now. Hilarious pop culture references, great art and fun throwbacks to the 80's.
4. Wee Rascals: Historical heroes celebrated in a hip way
5. Hatch for Kids: From Bob Ross and Ferris Bueller to Biggie, Hatch has it. We love their "Read to Me" tee.
6. Out of Print: The classic children's books you love, turned into tees. From Frog & Toad and Madeline to Corduroy and Harold & the Purple Crayon.
7. Peek Kids: Progressive, powerful messages celebrating kindness, love, art and science.
8. The Bee & The Fox: Simple design, classic font. Pair them with toddler bell bottoms for a nice 70's flair.
1. Shop Plain Jane: The softest, sweetest simple nightgown for your girls.
2. Hanna Andersson: Organic cotton long johns (and short johns) that stay soft wash after wash. 
3. Tea Collection: Amazing quality, cozy snug fit.
4. Hatley, particularly their Little Blue House brand which is our go-to pajamas for summers in Michigan. So many prints for cabin life–fishing lures, black bears and camping gear
5. Mini Boden: I watch for their nightgowns to go on sale and snatch them up when they do.
We wear swimsuits a lot in Florida, and it's one of our favorite things to shop for. With pool chemicals, sand & saltwater and little butts that scoot across pavement, I love finding brands that hold up against the wear.
1. Mini Boden
2. Hanna Andersson
3. Janie & Jack
4. Kortni Jeane
5. Lolli Swim
6. Vindie Baby
7. Jessica Rey Swimwear
8. Zara Boys (love their euro short suits)
Jeans

1. A&F Kids Watch for sales. Best flare jeans ever–they fit Nella like a glove.
2. Dudley Denim: Deconstructed edgy denim, frayed edges, cool
3. Old Navy Skinny Jeans (super slim for my beany kids and come in fun color pops) and Gap
1. Little Edge Threads
2. Forever 21 Girls
1. Amazon–these retro stripe tube socks or our favorite rainbow stripe knee socks
2. Hanna Andersson
3. Mini Boden
4. Duns Sweden
Shoes

My kids live in the first three, the Florida classics trifecta:
1. Saltwater Sandals: (we get ours on Amazon). My most favorite shoes of all. We wear them year round here. They're classic, they go with EVERYTHING. They can get wet. They pass down from kid to kid in great condition. They're timeless. My favorite are the original loop strap in red, but we've had every color, and Dash wears the single strap ones.
2. Keds: Let's put it this way: If I were the mayor of Kidtown, I'd give every kid a pair of red Keds upon citizenship. Red Keds with dresses, red Keds with jeans, red Keds with popsicle-stained shorts and dirty skinned knees in the summer. The definition of childhood.
3. Native Jefferson Slip-ons: The key? No buckles, no straps. They can put them on by themselves. And they're waterproof. Plus super cute with that little contrasted toe kick.
4. Zara: They have beautiful leather sandals in unique designs in the summer and timeless leather boots in the winter. And everything else in between.
5. Livie and Luca
6. Converse high-tops
7. For everything else in between, we love Zappos, Nordstrom & Amazon
Also, you can find the kids' sneaker round-up I did last year here.
Whew. Okay, that's a lot. Did I miss a favorite shop you love? Tell me!
You know what the irony of this post is? All this time talking about kids' clothes, and Dash just darted out the garage door NAKED. Gotta go.