It's been a long time since I've done a post on taking pictures, and I started working on one–collecting tips from everything from editing to printing–but it got very lengthy. So I figured I'd break these up and start with a handful of tips that work for me when I'm in a rut with photography inspiration, and I'll share more tips in future posts as we go. While I do post both iPhone and regular camera photos to Instagram, all these tips work with just a camera phone.
If you've been a reader here for a while, you know photography is one of my love languages. It's a little bit like yoga in that the more you practice it, the more natural it is for you to achieve the desired outcome. Sometimes taking photos for me relies on more thought–about composition, colors, lines, where the light's coming from–and sometimes, when I'm really lucky, the magic of a "heart" moment lands in my lap and without even thinking about how I'm going to capture it, I just snap, and everything I was feeling at the moment lands in the frame. Those are usually my favorite photos. Like the one below. I remember everything about this moment.
Ultimately, that's the stamp of a good photo to me–that it makes me feel something–peace, comfort, happiness, sadness, someone else's story, the wonder of childhood, the joy of motherhood, the desire to slow down, get out and explore, twirl in a field of daisies, grab my kids and kiss their cheeks, anything. I like when photographs awaken some little tiny part of me. At this point in motherhood and with the subject of a lot of my photos, the feeling I aim to capture is often simply delight.
But I also like to challenge myself to keep my photos interesting and have fun with changing things up. Photography can be so much fun, especially when you start playing with angles and light. It's always a thrill when you look in the frame and see this little story right there in one shot. Click. You captured it. A moment between sisters. The twirl of a dress. A head tipped back in laughter. A hug. A sleeping baby. A tear rolling down a cheek. A page from the book of your life.
Like practicing yoga, again, there are some days when taking photos feels a little clunky for me or like I've forgotten everything I know about taking good pictures. On days like those, I'll come back to these tips to reignite some creativity and get me out of a boring rut.
1. Find the light.
Photo means, simply, light, and you cannot create a picture without it. Natural light creates the most beautiful photos, but there are so many things you can do with light besides just stand in it. The best way to get a good, clear picture is go to the light. If you're taking photos in your house, take them near windows. Study the light patterns in your home. I know that in the morning, Dash's room is simply magic with the light that floods in; that mid-afternoon, the girl's room has soft beautiful shadows, and that early evening our dining room practically turns into a studio with the golden light of the setting sun.
A foolproof tip for a beautiful photo: Use a side light source. Stand so that the light is coming in from either side of you, and position your subject to face the light. Every one of the photos below was taken this way, and the result is magic.
2. Manipulate light.
You may already know this, but it's worth mentioning because I've had far too many people who've seen me "move the sun" in camera mode on my phone stop me with, "Wait–what? You can change the light?!?" When you're taking a picture with your iPhone, you can tap the screen in any place to focus on that area, and a little sun will pop up that lets you add more light or take it away. This is especially handy in backlit situations as, depending on how you take the photo, you can create a dark silhouette effect against the light or a light-flooded image.
3. Change your perspective.
If all your pictures look the same (typically straight on), the easiest way to get creative and play around with telling a different story is to change the angle at which you normally take photos. Try an overhead shot, get down low (yes, lay down on the ground!) or move really close to zoom in on one element of the photo. Within one minute, I took four different pictures of Dash playing with blocks in front of our front door, and each one tells a different story.
Straight on: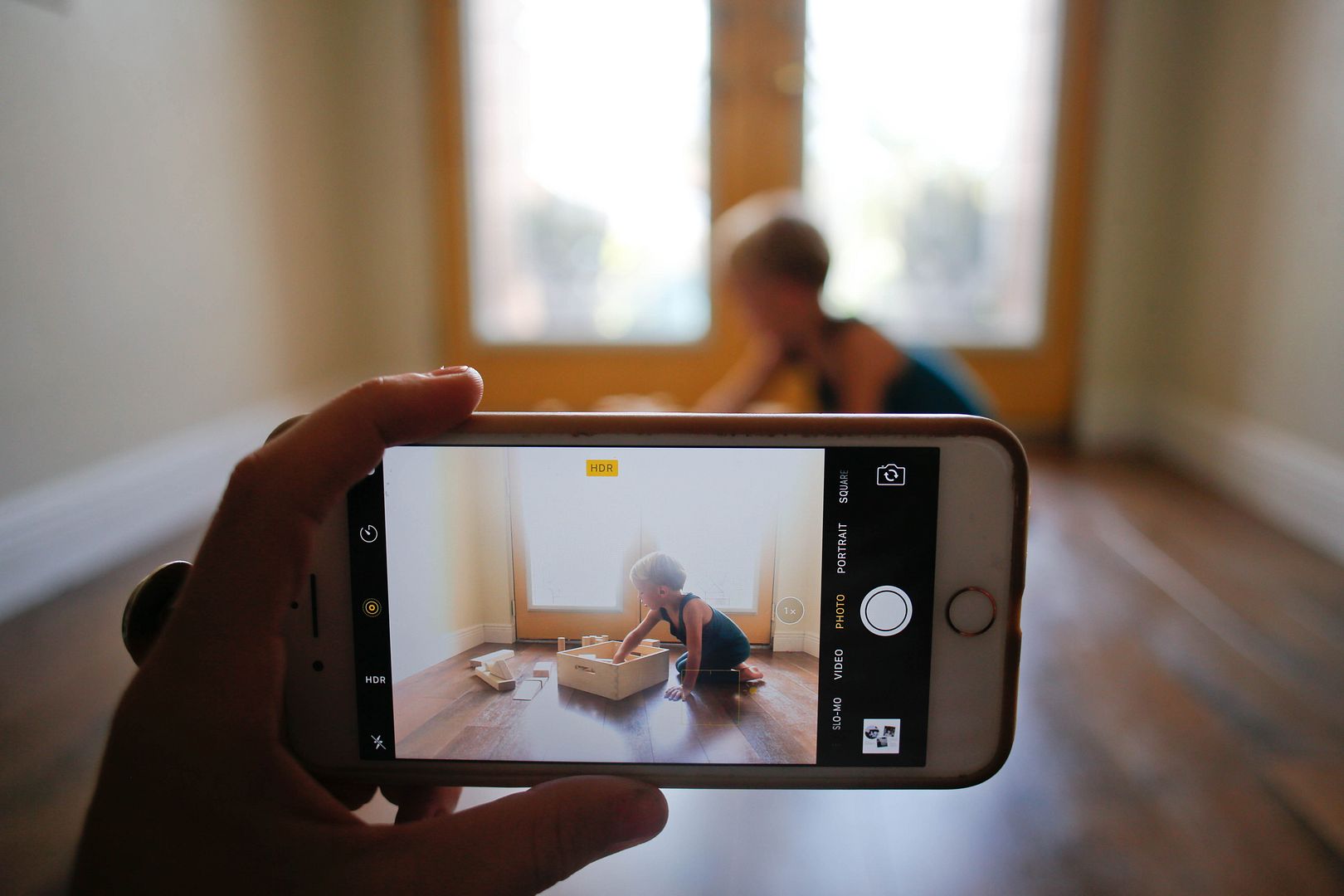 From overhead: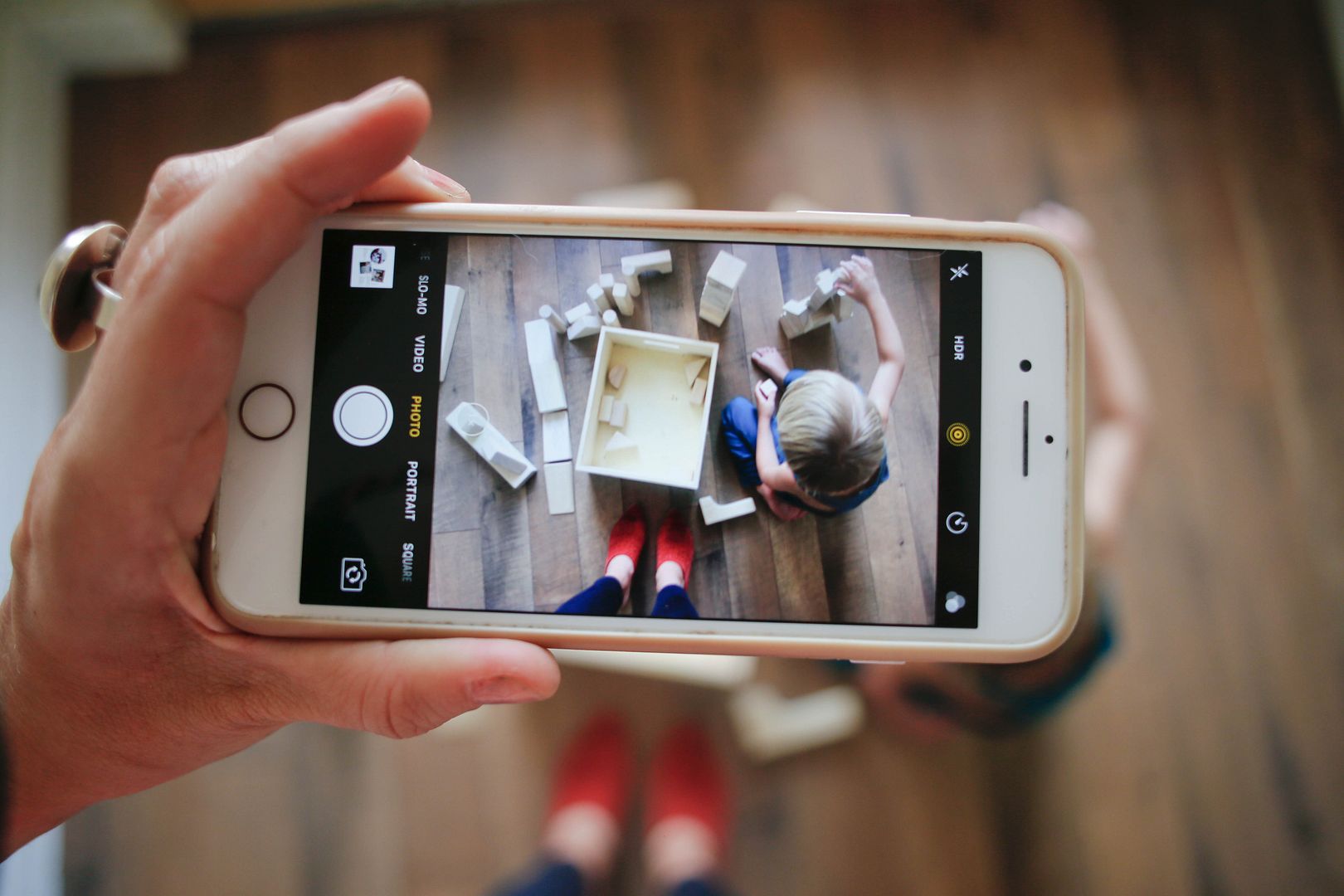 Moving outside and taking it through the door:
And zooming in on one element, his feet (if the iPhone doesn't focus right away on what you're trying to zoom in on, tap what you want in focus and give the camera a second to adjust):
I love overhead shots, like the ones below. They allow so many details to shine that would otherwise be overlooked–the patterns in the fabric, the bath toys against the white bubbles, even random toys on the floor that make their way into the shot.
4. Play with shadows.
I'm always on the lookout for good shadows from palm tree fronds to perfect profiles on the wall. When I see a good shadow, I'm all "Wait! Stop! Don't move! Let me get my camera!" Even my kids are on the lookout for them. In the photo of Lainey below, she's the one who spotted that tree shadow and said, "I bet you want to take a picture there." I love the two of me and Brett below because our actual bodies aren't even in the photo, but the sun and shadows were so perfect in D.C. that day, it created a great way to capture a moment of the two of us. I normally don't like direct harsh sunlight for photos, but creates great shadows that can be fun to layer into a photo–like the one of Lainey and Nella walking with their ice cream cones.
5. Get away from always centering your subject, and use negative space.
While it's a totally breakable rule, if you don't know the rule of thirds in photography, it basically says that photos are most interesting if subjects are placed in one of the intersecting points of where an image would be broken up into thirds. If you're not used to thinking about composition when taking photos, you're probably inclined to center your subject. Try putting them in a corner though and expanding your shot to include negative space. The four photos below could have all been taken by centering the subject but tell much more interesting stories by scooting them over and leaving space.
6. Make your photos POP with contrast.
Think juxtaposition–a tiny nook of light in a dark room or a pop of color in an otherwise dull landscape. Just as in nature–like a red cardinal flying against a snowy backdrop–photos that include great contrast make viewers stop and take notice. A pair of bright red shoes on a gray sidewalk, a rainbow kite flying against a muted sky, a yellow dandelion emerging in a field of green–I don't know if it's from taking photos or just from loving these contrasts in general, but I notice them more and more.
7. Crop it like it's hot.
Don't give the whole story away…just give a teeny tiny part. Cropping is such a fun way to play with telling a story through a photo and can completely change an image from ordinary to you-have-my-attention-tell-me-more. In the photo on the left, I had taken several shots of the girls backstage at Lainey's recital. The images weren't that special or evocative except one–the image that included just a line of tutus and legs. Cropping is a good place to break the rules too–cut off heads (right in the middle, if you wish), tops of bodies, half an image–whatever you like. The photos become little clues to the rest of the story out of frame.
8. Add effects.
Here's where it gets fun. Post processing. And it's amazing how much you can do with apps on your phone these days. My current favorite app that I use for almost all of my Instagram photos now is A Color Story. It's super user friendly, and there are so many fun packages (most run $1.99) you can add for effects like sun flare and light leaks. I don't use a lot of filters, but I brighten, add contrast, adjust the temperature and sometimes change the angle of my photos a bit if the lines aren't straight. My favorite effect lately is sun flare. I'm going to run through a photo and show you how I changed it within a matter of seconds. I took this photo of Lainey overhead in the pool, and though I loved the composition and the color pop, I wanted to make it a little more interesting by adding sun ripples on the water. First, I opened the photo in the Color Story app and tapped "Effects" on the bottom which opened a menu of different effects.
From there, I tapped "Flare & Bokeh" which opened a new menu of 17 different sun flares.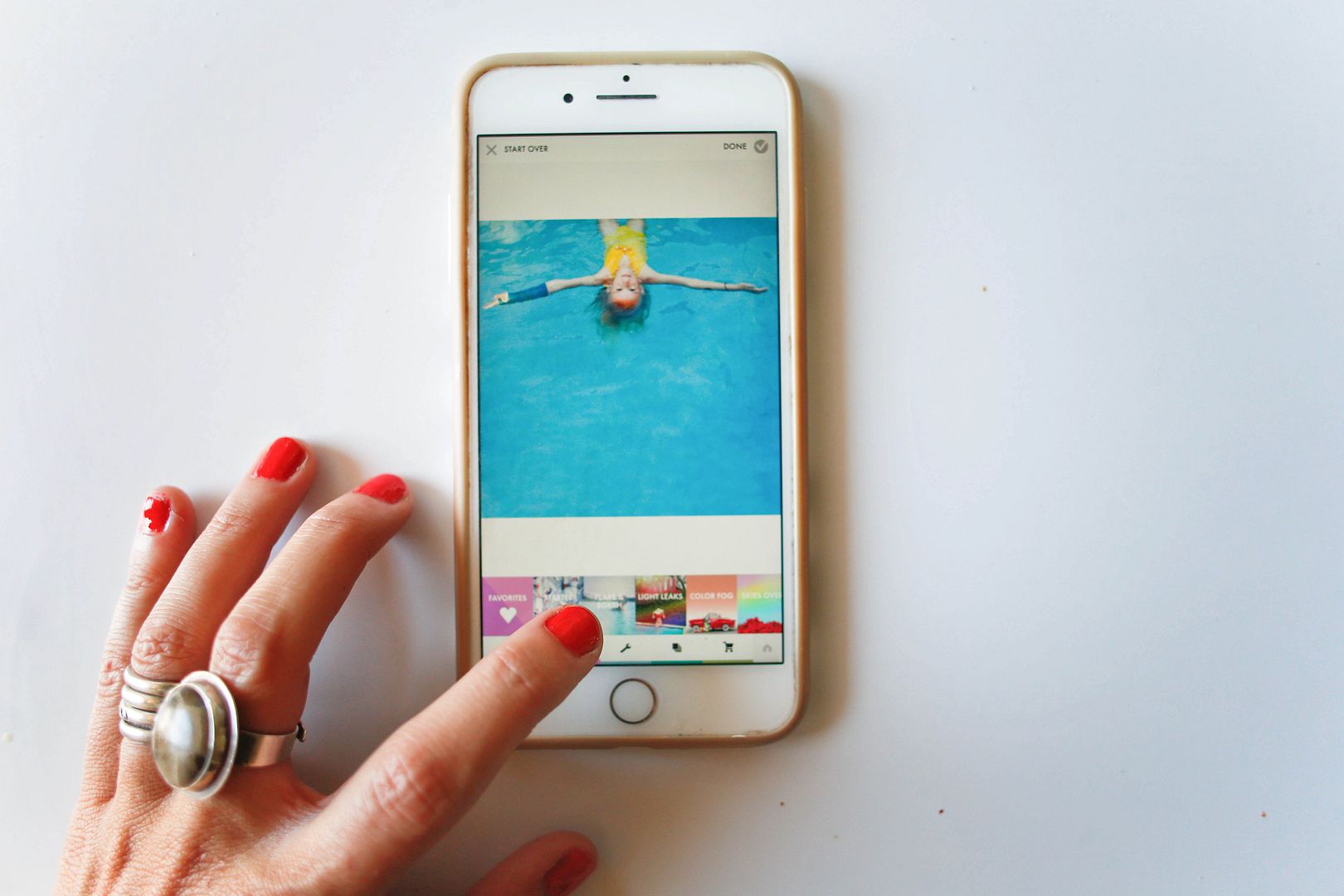 I chose "Flare 2", moved it to where I wanted it, hit the check mark to put it in place and then went through that process one more time, layering another round of "Flare 2" and positioning it in a different place so that the sun spots were well dispersed. The dappled light in the final image makes me happy.
It takes some practicing to the get the most natural effect, but the sun flares are super fun to play with in shots with window light or outdoor sun, and they add some nice oomph to images that feel a little flat.
The most important part of taking photos is to have fun with it. Photography has made me so much more aware of little things I used to overlook–colors and contrasts, architecture with character, magical slivers of light, shadows and foliage, and all these aspects of childhood I'm so grateful to have preserved from skinned knees and scuffed tennis shoes to all the wisps of hair that excape from a braid at the end of the day.
Weekend's coming…get your cameras.