So, we made it to Michigan. I'm starting with "So" because we listened to a lot of Moth podcast story hours on the way up, and I swear 9 out of 10 storytellers began their speeches with the word "So." When we weren't listening to podcasts or begging the kids to stop calling "Mom" from the backseat, we were passing the time with made up games like Porn vs. Jesus which is a very easy game to play on the stretch of I-75 between southern Georgia and northern Indiana where the good southern Baptist attempt to balance out the billboards for adult bookstores and truck stop strippers with their own ads–spaced only a few yards away–that say things like "Jesus Saves" and "Hell is Real." We imagined sweet church secretaries driving through Cordelle, Georgia, horrified at the sight of a new display of the devil's advertising, grabbing their phones to call the church trustee: "Hank! Get the checkbook. Mile marker 157." Sadly, the church funds couldn't compete although Jesus gave it a good run through Indiana where he almost caught up.
Note: My dad just read this and said, "Can you please make Jesus win? Just say he won."
"But he didn't," I replied. "It's just a billboard game."
"I don't like that he didn't win. Can you just–"
"How about I add 'For the record, we were rooting for Jesus.'" I offered. "And maybe something about us evening out the score for all the goodness we brought to the highway from our minivan?"
"Okay, that's better."
I get it. In a complicated world of cheap road porn, we want good to prevail.
I should add I'm typing this from the dock on my new Mac (Finally switched!) that Brett won from work that replaced my archaic bulky 'ol bogged down laptop I've had since before Lainey was born. Except I didn't have a chance to buy and load the software I need for my photos, so I ended up bringing both laptops–one to edit my photos and one to write without waiting 10 hours for something to load. That's about how all the prep went this year for this trip. Last year, I had everything ready–hotels booked, suitcases packed far in advance, house clean, beds made and everything ready for the first day of school so that when we rolled back in from summer travels, we were right on track for the next chapter. But this year, I got so busy, I just threw some stuff in suitcases and peeled out of the driveway, apologizing to Brett for the house left in shambles. "Kids sheets are in the dryer–think you could remake their beds by the time we come home?" I did plan Mackinac Island nautical attire though because priorities.
The nice thing about having nothing planned is that it leaves more room for adventure. So many favorite little things about our road trip would never have happened if I had mapped out every detail.
We veered off in Cleveland, Georgia to revisit one of the weirdest places on the planet–Babyland General Hospital, where Cabbage Patch Kids are born and where Cabbage Patch Kid nurses wear scrubs and take their jobs very, very seriously. When we asked if we'd be able to see a live birth, one of the nurses replied with a straight face, "Mother Cabbage is six leaves dilated. It will probably still be an hour."
Stopping in Helen, Georgia takes us off course a bit, but we include it on our route because we love the little Bavarian town so much. We skipped tubing the Chattahoochee River this time because it was so shallow, and we saw too many people getting stuck.
But we did hike up to Anna Ruby Falls where Lainey practiced her handstands, Dash pooped in the wild and Nella convinced my cousin Tessa into letting her piggyback UPHILL for half a mile.
In previous years, I've had a cabin in Georgia booked months in advance. But seeing as our theme was "unprepared" this year, I started scrambling for cottages on Airbnb the day we needed it which ended up being the perfect way to do it because not much was available which meant we chose a cabin in the mountains of Suches, Georgia–45 minutes off course. But we had a feeling after reading the description. I was sold at "Farmhouse built in 1890".
After a long drive up mountain switchbacks, we were greeted by the friendly red face of this old cottage. As soon as I saw the rocking chairs  and resident cat on the front porch and the old tire swing overlooking the mountains and field of cows, I knew it was the perfect fit for us. And that night? A night I know my kids will remember forever. We found an old record player and a stack of vinyls–Nat King Cole and piano classics–and played them while we cooked chicken and corn on the cob on the old enamel stove; made vodka sodas with lime; lit the travel candle I've been hauling in my purse; toasted to the night we knew would be special.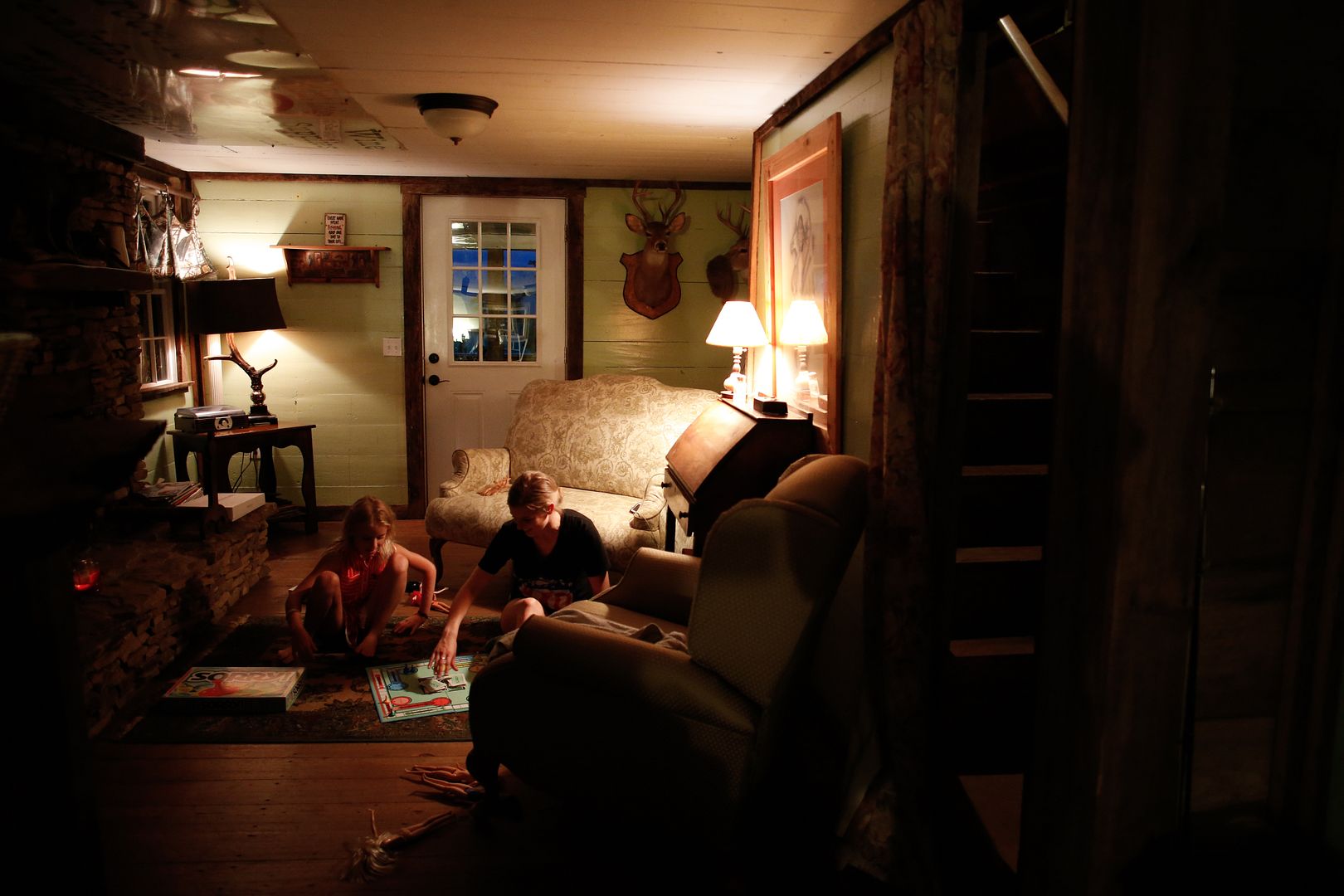 Upstairs, we found a stack of board games–Parcheeze, Badgammon and Sorry which the kids chose. And then I saw the DVD player and remembered we hadn't yet watched Parent Trap this summer, and I had it in the car. So Sorry and Parent Trap it was–in the old cabin in the mountains on the night that set the tone for our summer.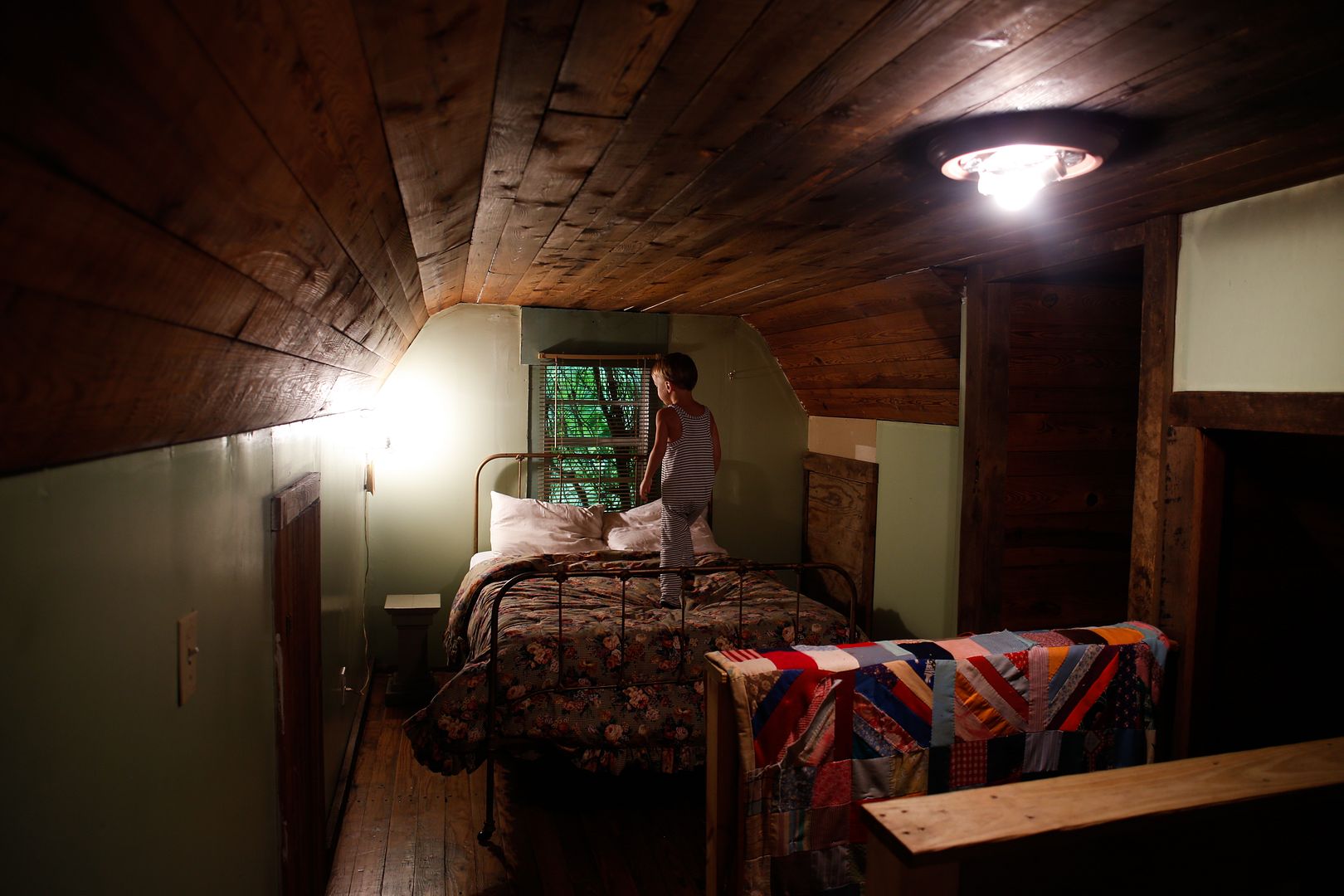 Here's where it gets good. As if I wasn't already walking through the cabin all day, saying "Oh my God, Oh my God, oh my God" at every little perfect detail from the creaky floors to the tiny carved canoe in the window sill, the next morning as I was sipping my coffee on the front porch, I looked out and saw a little wooden screened porch on the property. "Wait, is that a–" I pointed out to my cousin. "DEAR GOD, IT IS. IT'S A BATHTUB KIDS!" And another round of Oh-my-Gods because I am that annoying overkill enthusiast and then, "KIDS! KIIIIIIDS! GET OUTSIDE! WE'RE TAKING A BATH IN THE CLUBHOUSE!"
And just like that, our summer was made.
Next up–a quick stop in Chattanooga for my kids' favorite pastime of playing in the downtown fountains and pizza at Mellow Mushroom…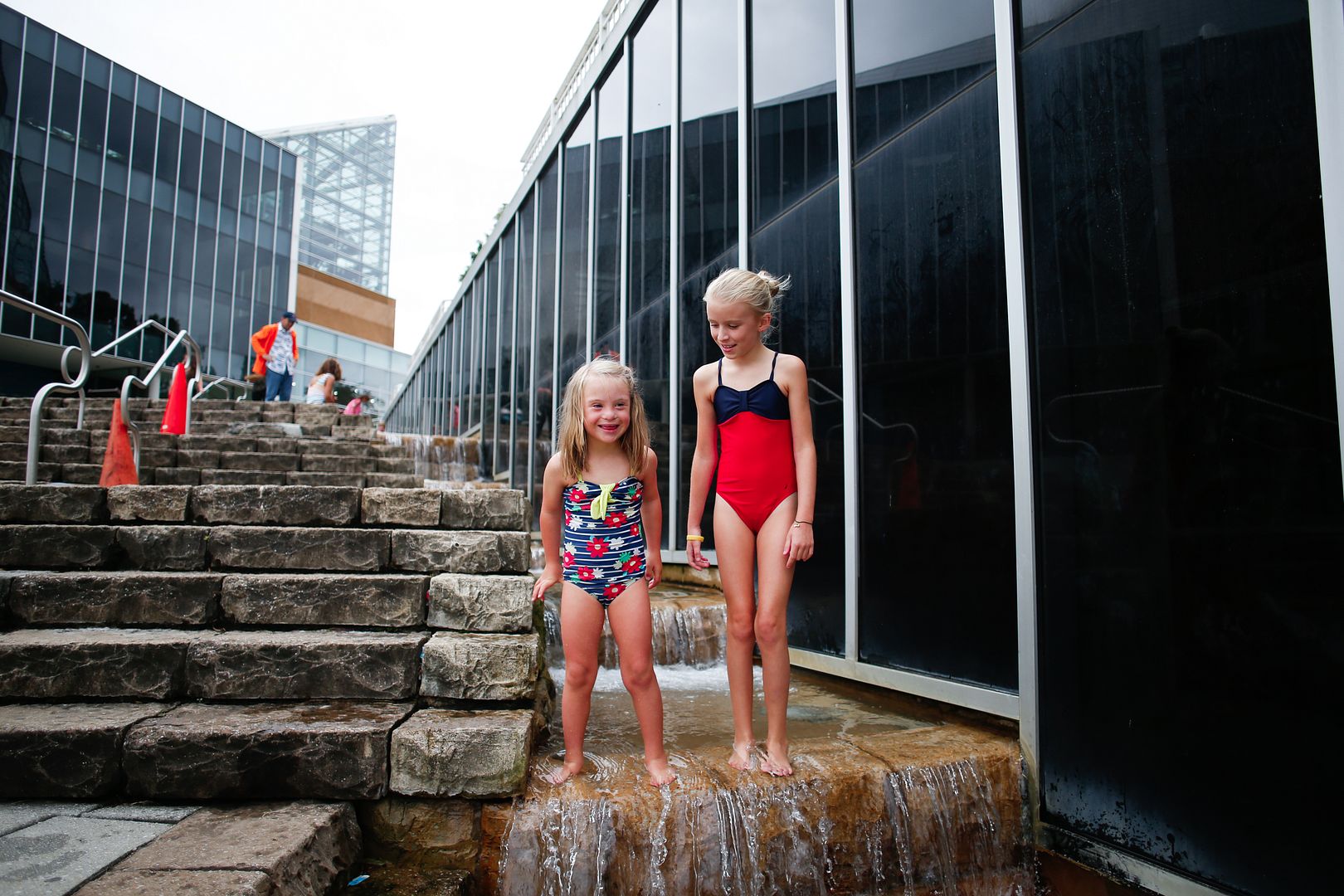 …and then Nashville where we parked it for the night near Vanderbilt University and hit up some of our favorite Nashville stops in the 12 South area.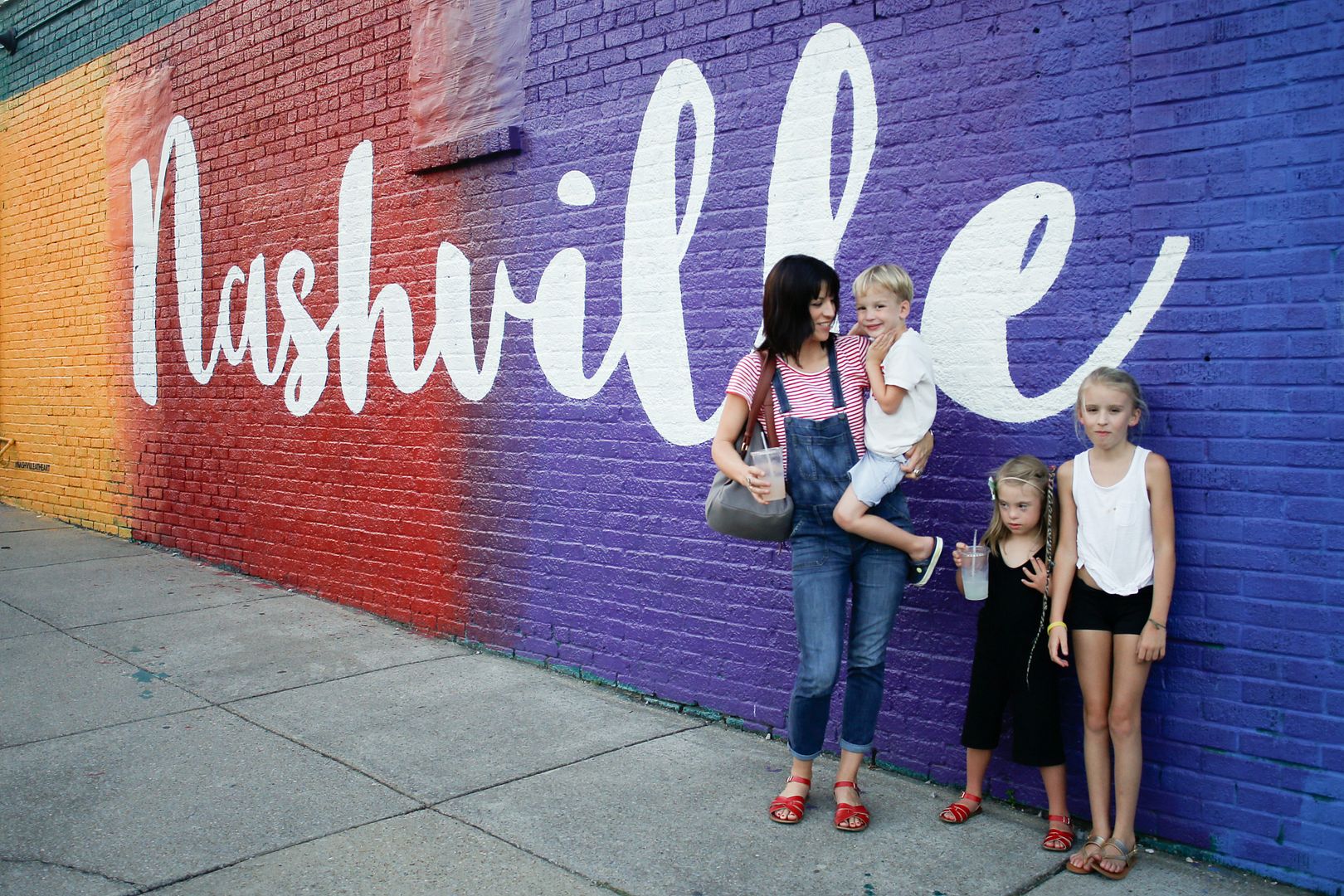 Popsicles from Las Paletas…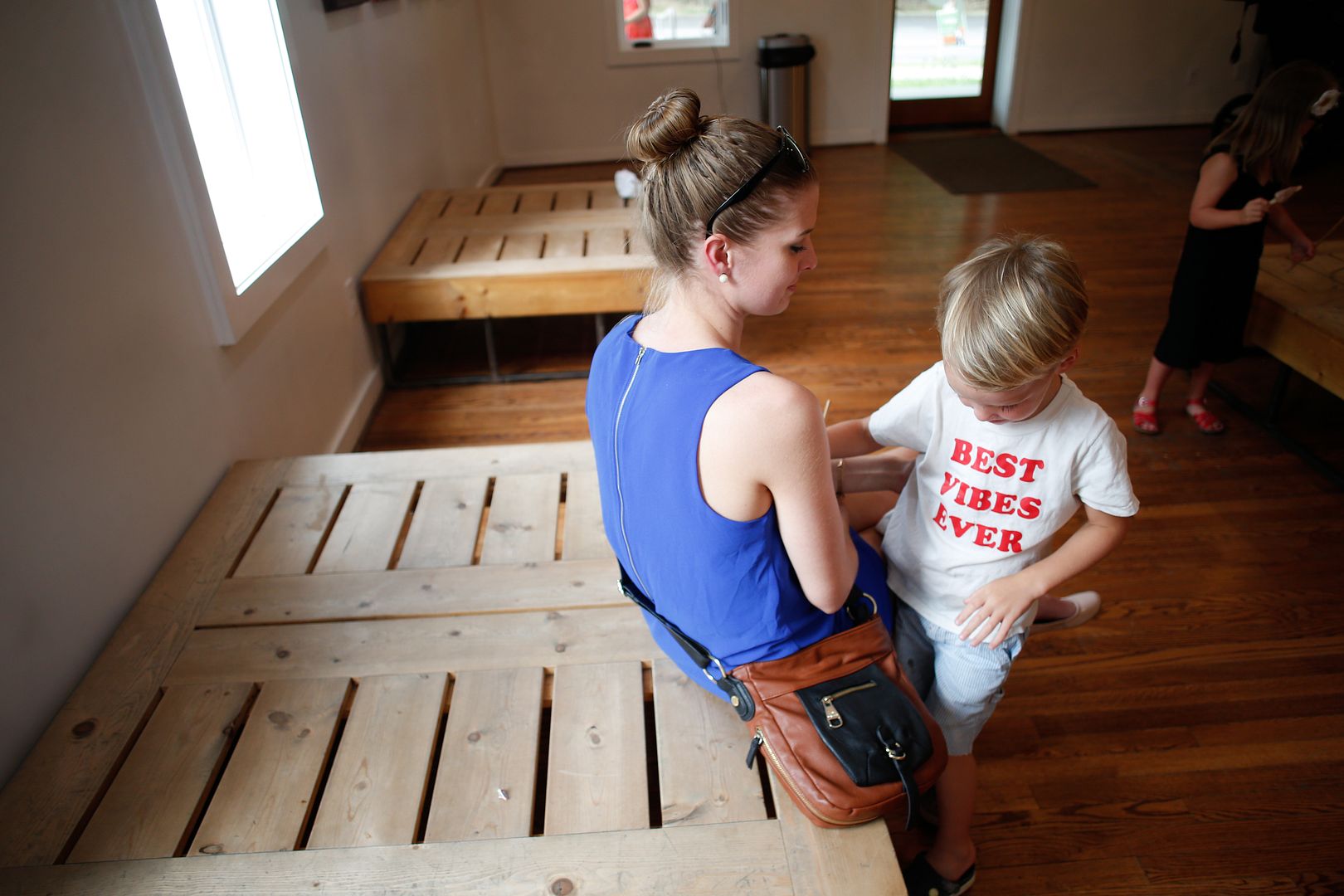 Edley's barbecue for dinner and breakfast the next morning at the Frothy Monkey followed by doughnuts from Five Daughters.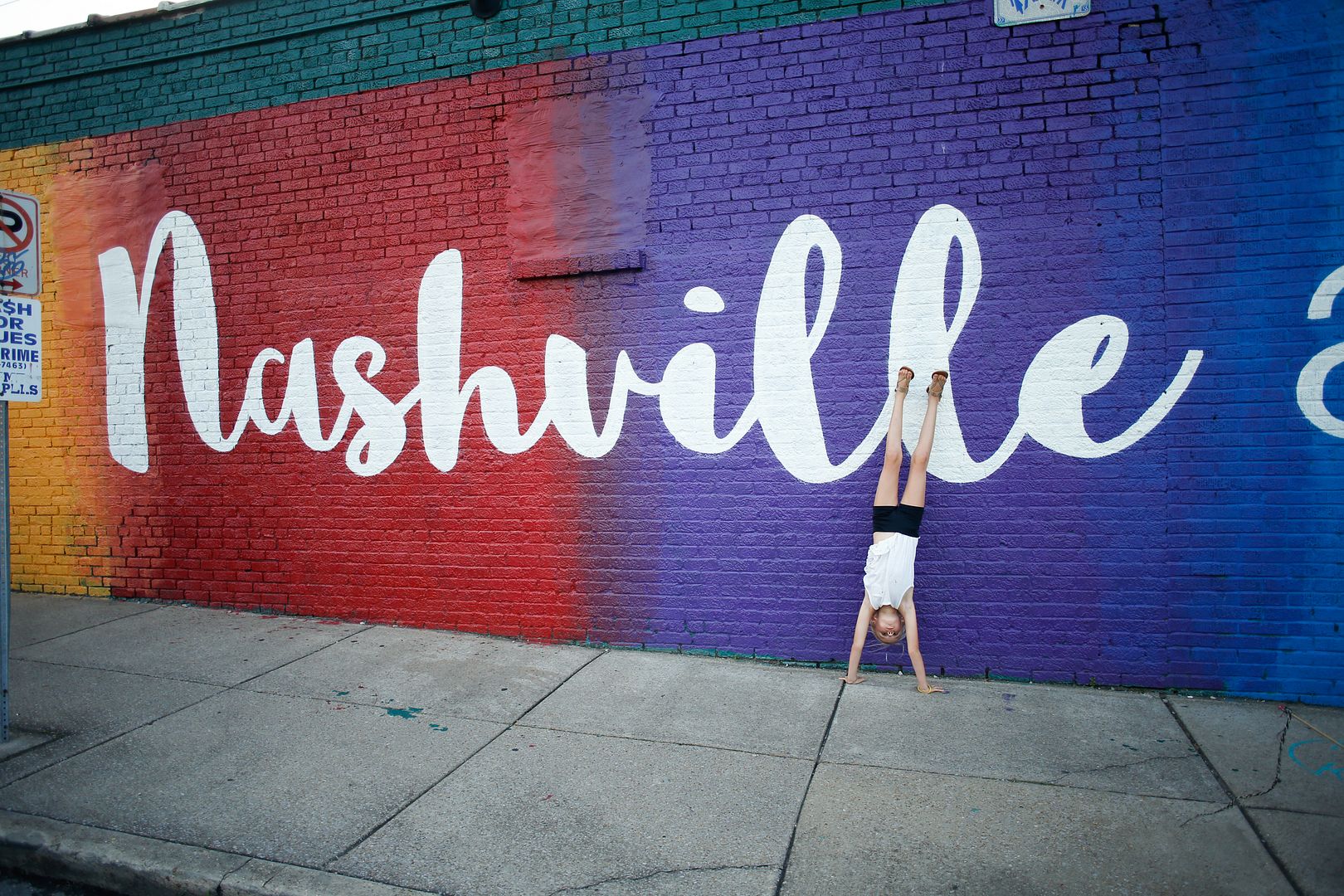 Another quick stop in Carmel, Indiana to love on my friend's baby…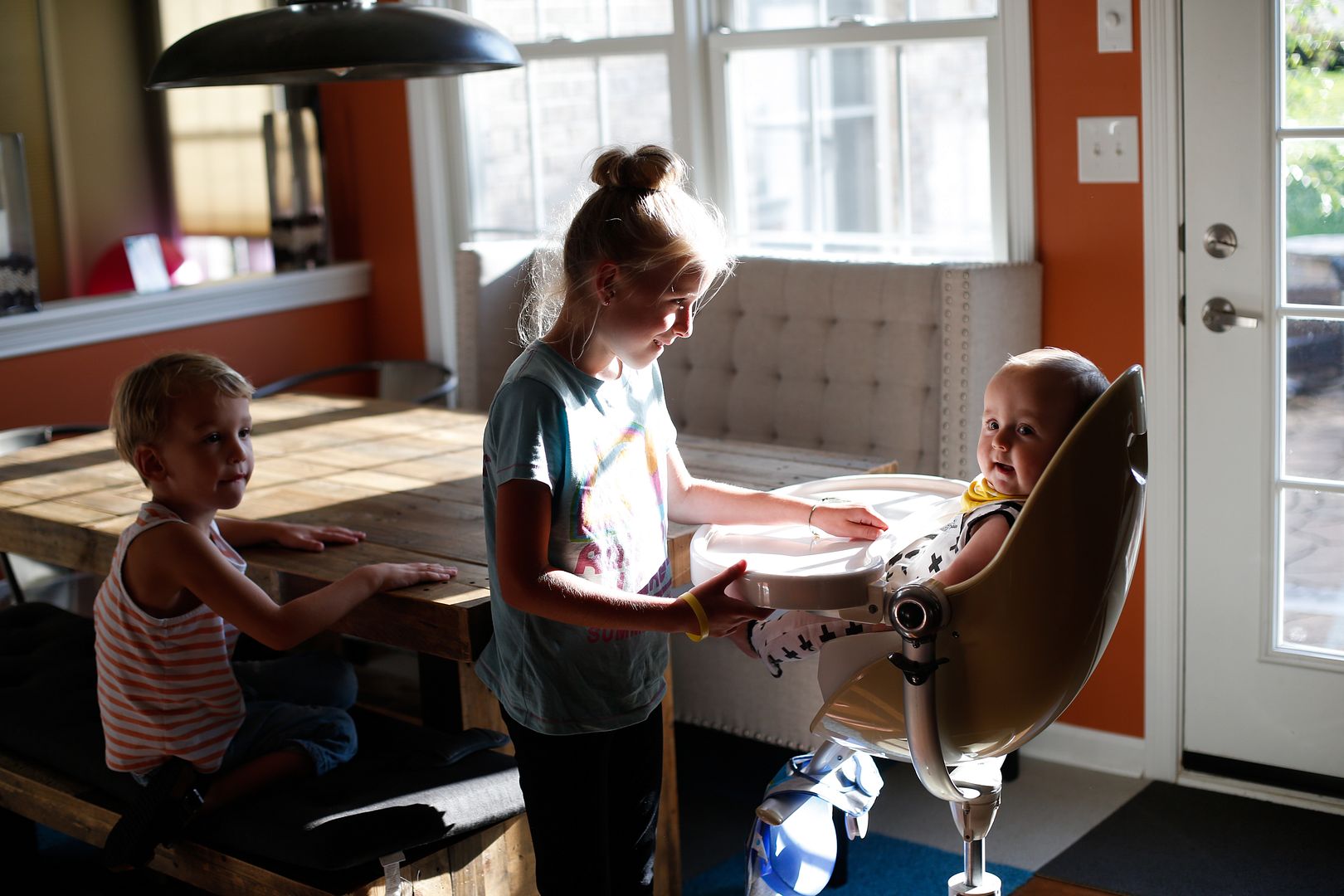 And then so much honking as we finally passed the Michigan state line. My sister greeted us in East Lansing and delivered the most special night of memories for my kids that included park visits, a walk downtown, late night sparklers and a backyard tent campout.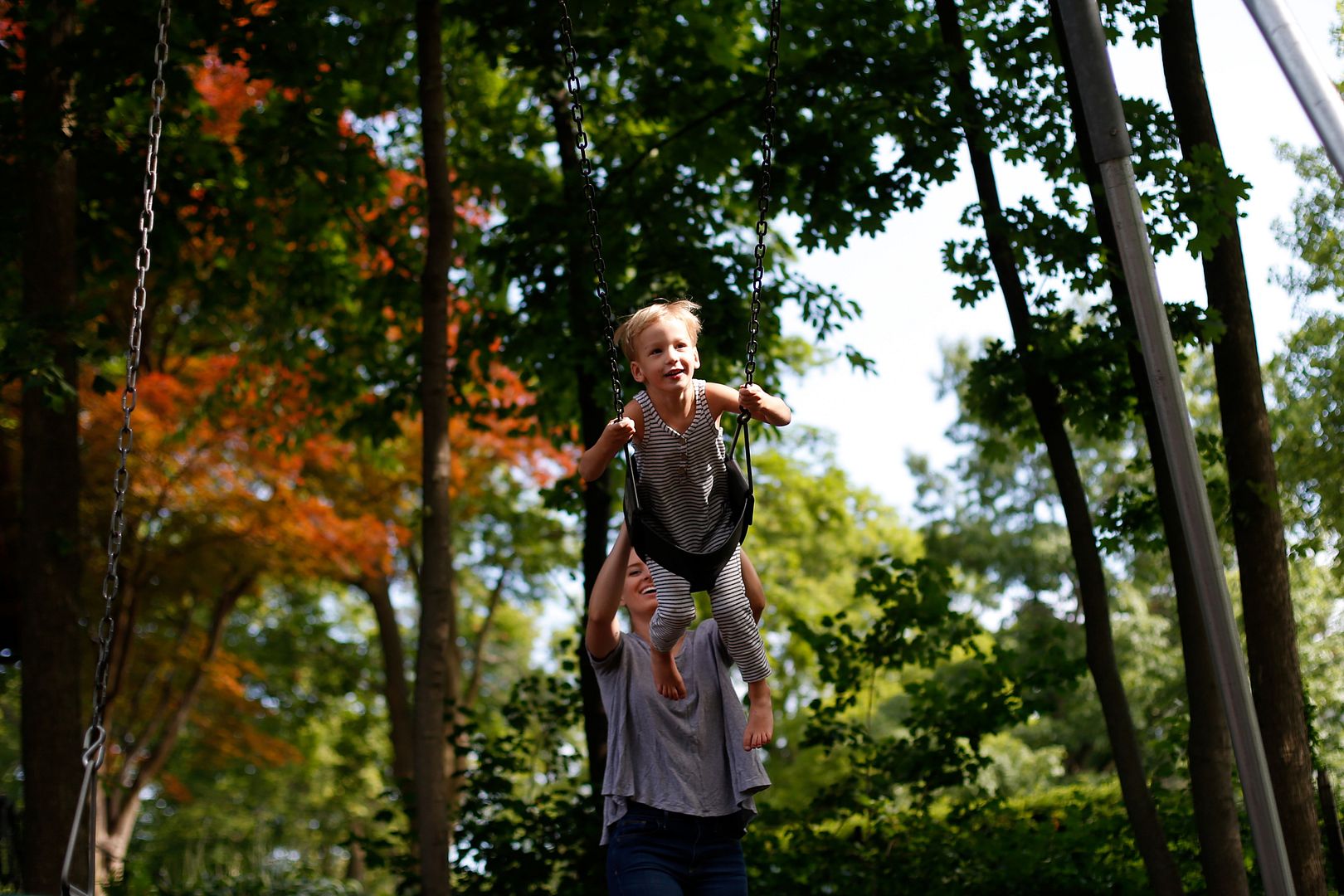 Finally, we journeyed north for the last few hours of our trip and made it just in time for Lewiston's annual Fourth of July boat parade. And by "just in time," I mean I was still driving in the car when my dad called and said, "Hurry! We're at the dock waiting for you." So we parked and ran, jumped on a boat and took our place in the parade. And as I searched the other boats to find who in God's name was singing God Bless America for all the lake to hear and discovered it was my father–waving a giant American flag from his boat–I realized, "We're home."
Speaking of my father, he organized a group of residents to celebrate the diverse roots that compose America in the Fourth of July parade yesterday by asking them to walk behind the Statue of Liberty carrying signs and flags proclaiming their roots. He put together Scottish outfits for my kids in honor of his Scottish grandmother and even fashioned some mini bagpipes for Dash from bamboo, a fanny pack and a hot glue gun.
Mad success, although I must hand it to the group representing Poland who brought their A-game with two professional Polish dancers. "Oh we see your enthusiasm," we warned them, "and we raise you free samples of Scotch we'll be passing out next year.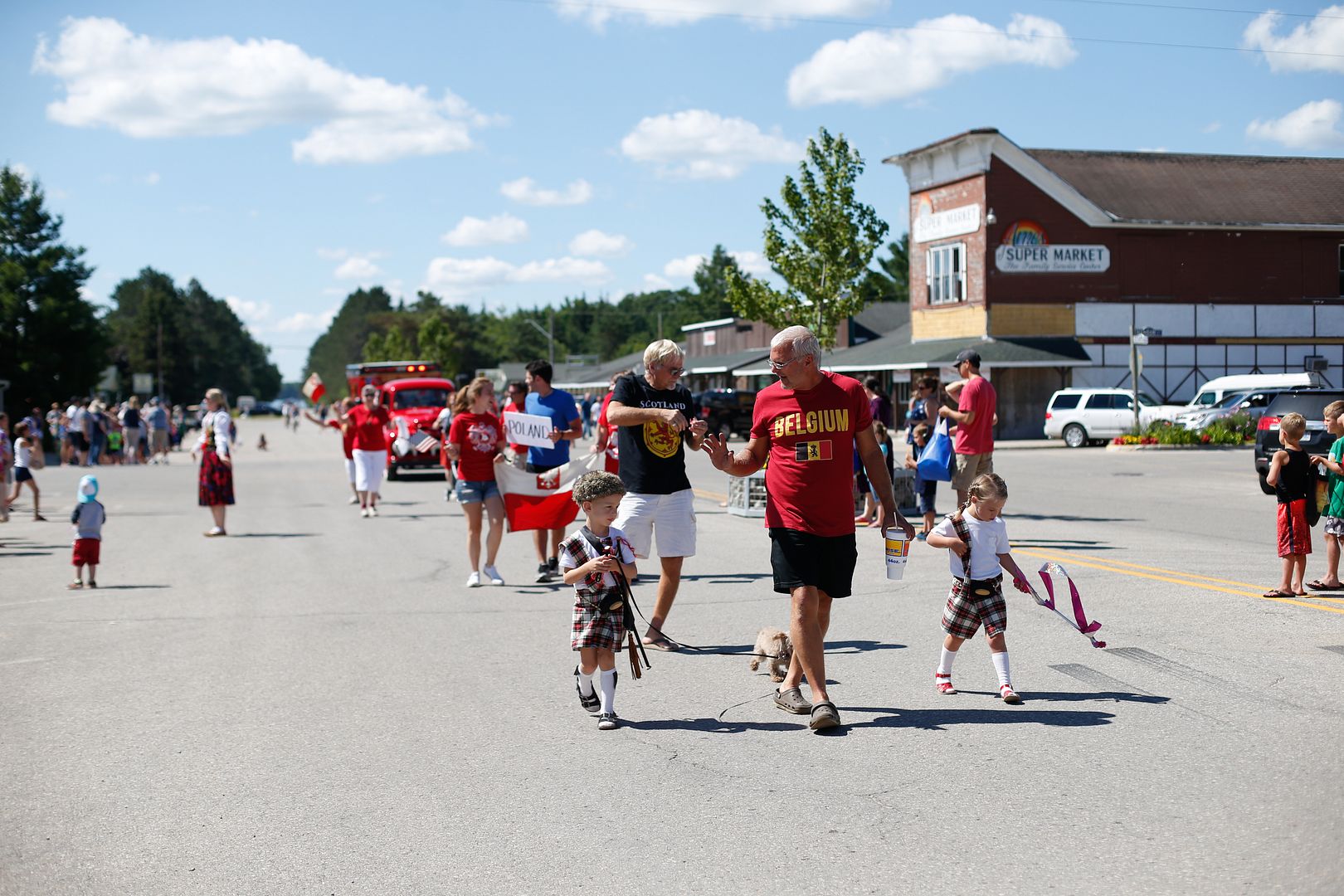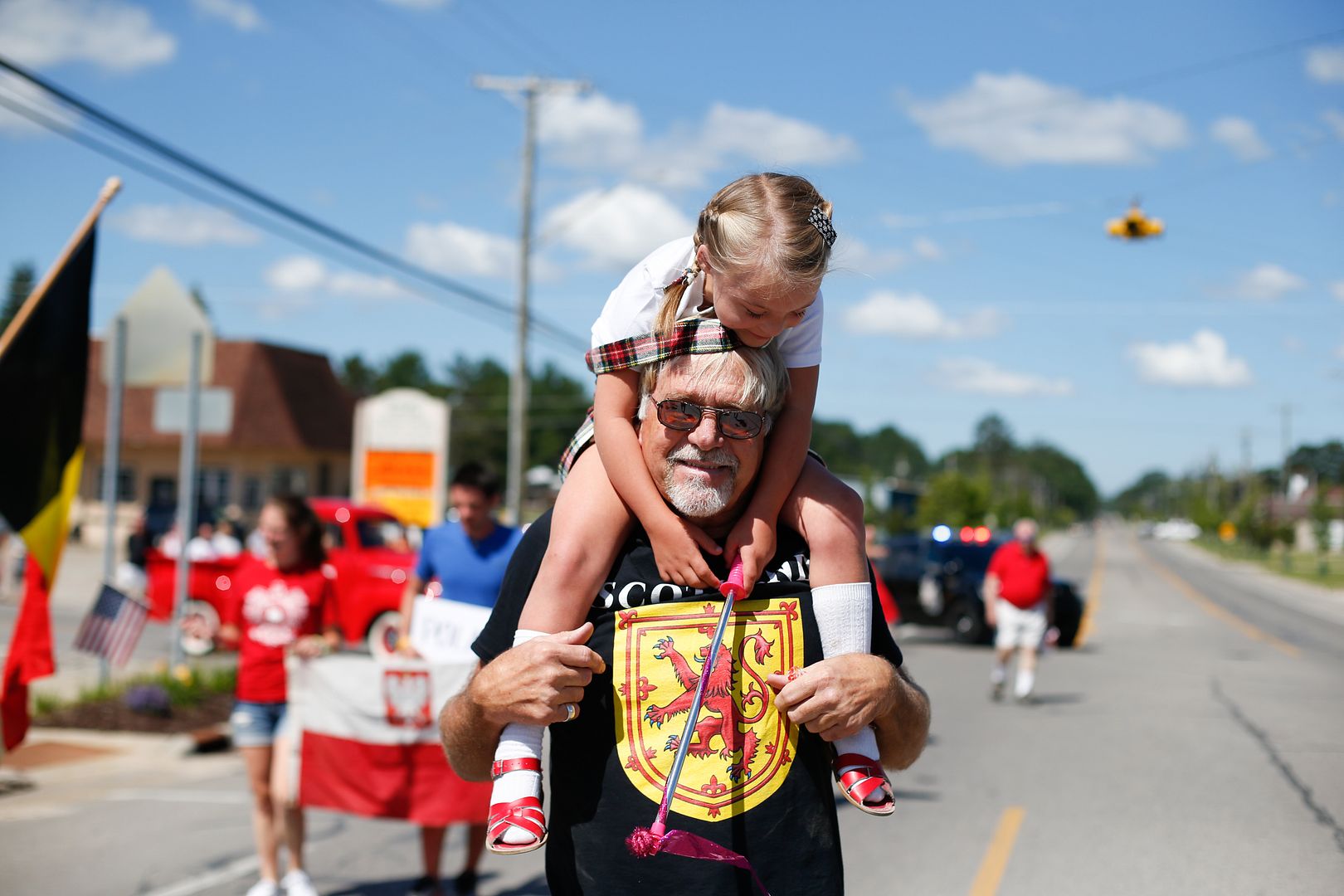 Nella took the parade as a great opportunity to exercise her wand talents.
And we took it as a great opportunity to celebrate family, our country…and have some fun.
And a huge thank you to my cousin Tessa who joined us for our trip. She's never considered herself a "kid person" and once held baby Dash and said, "It sounds like a human" when he sneezed, but she was a trooper considering five days on the road with three kids isn't easy. One of my favorite moments on the trip? When I left Tessa with the kids for a moment while I checked into our hotel and returned to Nella crying in her lap, Dash naked and laughing in the car and a horrified look on Tessa's face. "He got a little crazy, and a voice came out of me that I've never heard before. It literally scared me."
"Aw, Tessa," I laughed. "You found your mom voice."
Fair warning: I'm in my favorite place and my summer freak flag is flying so high.
Watching these kids enjoy summer makes me so happy.