This post is sponsored by Blue Apron.
When I travel, I like the early flights. Brett thinks I'm crazy because there's not much that could drag him out of bed before 7, but I don't mind tiptoeing in the dark to get ready and arriving to the airport just as the coffee shops are opening. In fact, I like it. An airport coming to life, short security lines, a hot cappuccino, a good gossip magazine in my hands and the sound of jet engines revving, and I'm awake, eager for adventure. Early flights also offer the benefit of arriving to destinations with enough time to slip right into the activity of the day which is where my early flight late last week landed me–off the runway after an emotional 3-day adventure in Minneapolis and right to my car, just in time to head to Dash's preschool to pick him up.  While the early flight awarded me the chance to get back to the demands at home without losing another day, the transition was a bit jolting, and by 4:00, reality had swallowed me whole. And then Brett texted:
Forgot to tell you. Blue Apron just came. It's in the garage fridge, so dinner should be easy.
Hallelujah, praise be to the heavens. Can I tell you what a weird welcoming hug that bit of information was? And it wasn't just the relief of knowing I didn't have to run to the grocery store or decide what we were going to eat–although that's lovely in itself. It was an invitation to my enter my happy place and recover from travel in the best way possible–at home in my kitchen, nurturing my people and restoring all the loud, overwhelming "this is too much" voices in my head with kitchen sensory therapy. It's hard to achieve when I'm scrambling last minute to think of something to make, throwing together random things I found in my refrigerator, but when all the beautiful healthy ingredients are handed to me on a silver platter and all I have to do is follow directions to put them together?
That's when the magic happens, when cooking becomes therapy–a sensory buffet of sounds and colors, textures and smells. Blue Apron delivers all of this–the most beautiful, farm-fresh ingredients in just the right proportions we need (no waste!) in a refrigerated box, straight to our door along with easy-to-follow chef-designed recipes.
All I have to do is the stuff I love most–chop and stir and simmer; smell the garlic, listen to the water in the pot bubble, shake the seasonings, pour the olive oil, wait with anticipation as the candle flickers and the music plays and the kitchen swells with the most delicious scents…and then, delight in the end product.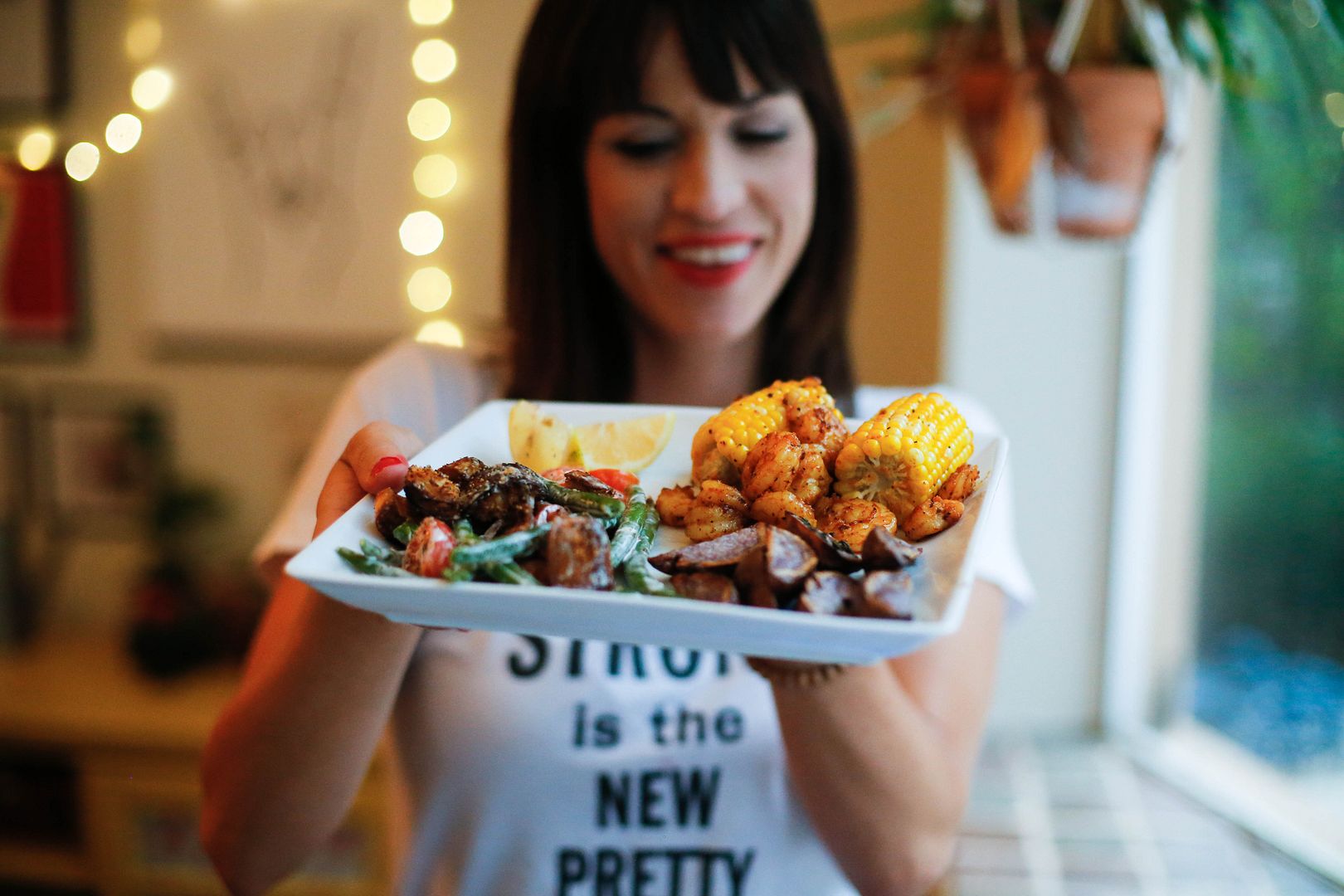 Our meal this week was Garlic Butter Shrimp & Corn with thyme roasted blue potatoes (the color!) and the most creative side salad I would have never thought to put together with fresh green beans, cherry tomatoes, homemade toasted croutons and a creamy lemon dressing.
Lainey and Dash joined me for prep this time. Dash was ALL IN.
He took great pride in knife wielding very early in life–so much that we moved all our knives to a high shelf in the pantry and left him with kid-friendly cutlery in the drawers he can reach.
He's not very happy about my assistance here…wants to do everything by himself.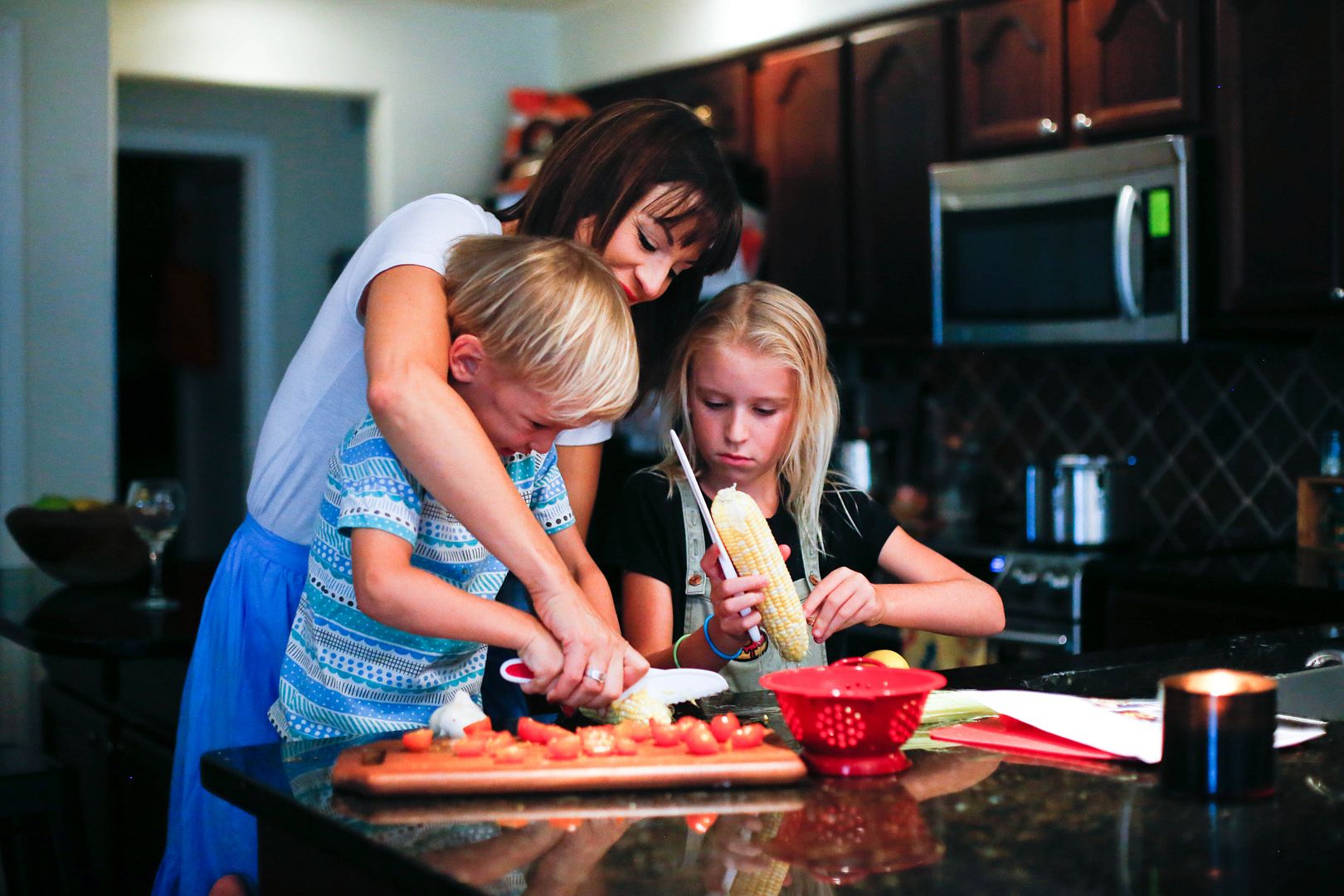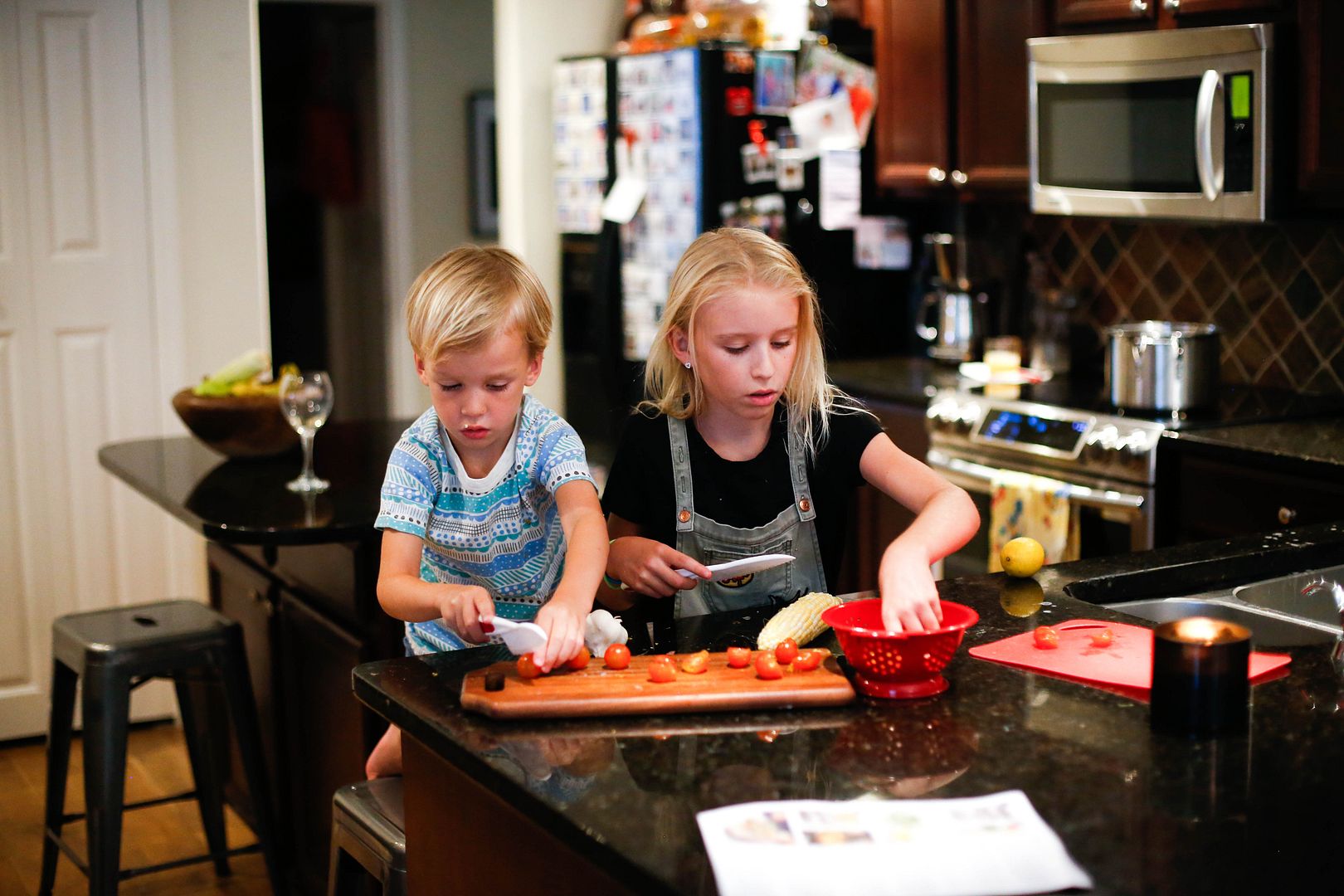 The thyme on the potato wedges kicked up the flavor perfectly. We roasted ours a little more than the recipe called for because we like them crispy.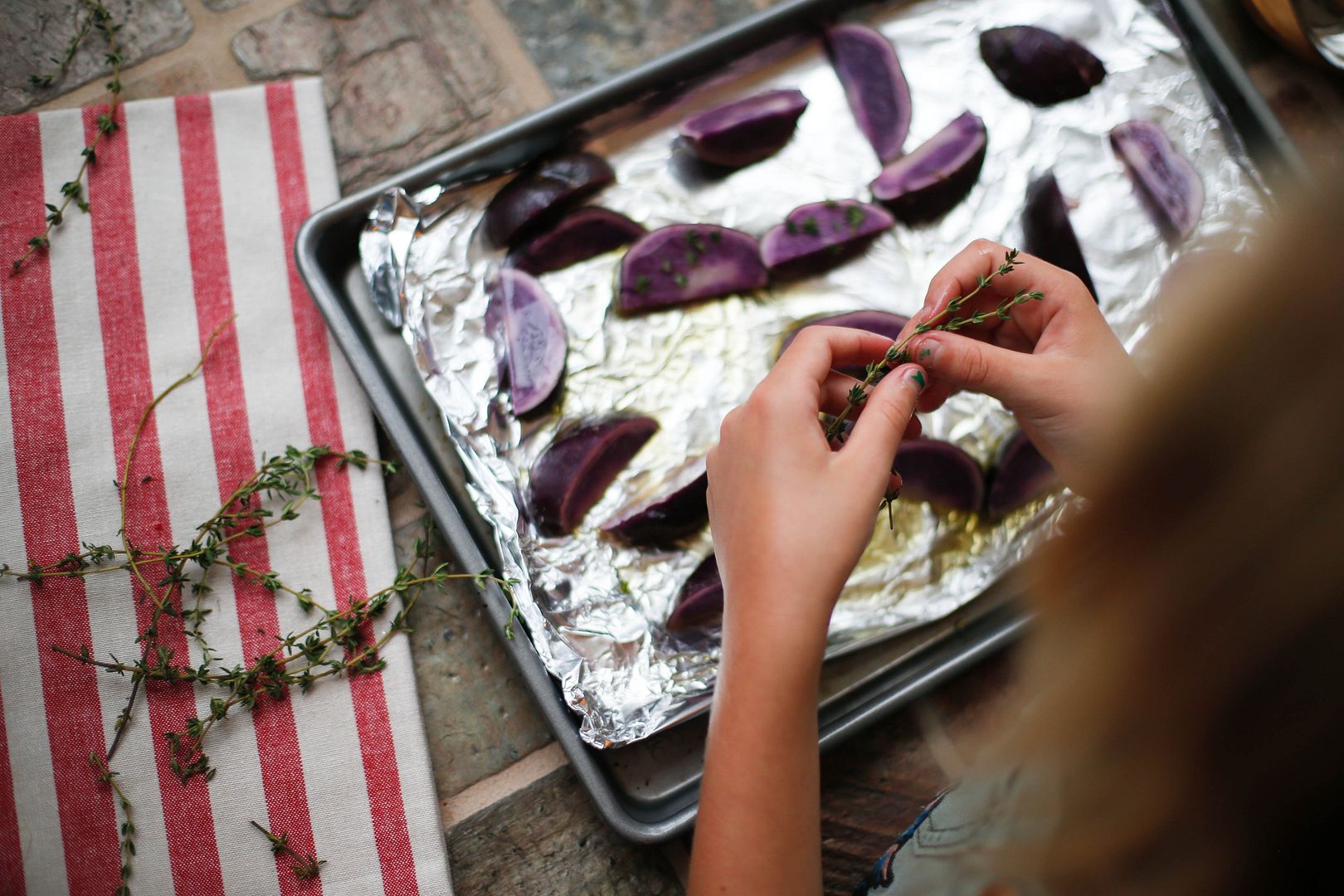 But look at the plate when it was finished–so pretty!
As we fold up summer and head into the cozy gathering months, I'm looking forward to many more nights in this kitchen, finding my calm place during a busy time of year in the rituals of cooking. Blue Apron makes that so easy by doing the hard work for us–gathering the freshest ingredients for the tastiest meals. Whether you choose to get Blue Apron meals delivered regularly or splurge on once-in-a-while saviors for the most demanding weeks, you can sign up, try it and cancel deliveries if it's not a good week for you. And you can choose 2-person servings or a family plan.
Whatever the case, it's another great resource for taking care of yourself and making the good life a little bit simpler.
Want to try it? The first 25 readers will get three free meals on their first Blue Apron order! Just sign up here.
And if you'd like to try our tasty Garlic Butter Shrimp & Corn meal, you can find the recipe here or browse the many other delicious Blue Apron recipes here.
Bon Appétit!