Last week, I started a conversation on Instagram Stories about drinking after I shared a quick recipe for my current favorite non-alcoholic "spritzer" and my commitment to having a healthier relationship with alcohol. I couldn't believe the response–hundreds of direct messages sharing your own stories and expressing a desire for more conversation about this very important topic. While I wouldn't exactly consider the amount I was drinking unhealthy, my awareness regarding purposeful choices for my body had gotten sloppy, and I was slipping into a place that, if left ignored, could definitely shift into habits that were harder to break and change my natural abilities to deal with discomfort. I don't let myself run to the bakery to buy a creme brulee to give myself a moment of pleasure every time the kids' demands feel overwhelming, and yet–come the witching hour–that's what I was doing with alcohol. It wasn't like swigging a bottle of vodka in the closet so much or passing out on the couch after too many, but I was definitely pouring a little glass of wine every night or dropping some ice in a cocktail glass for some club soda and vodka to take the edge off and present myself a calming ritual–a moment of "me time" when things got demanding.
This started to feel uncomfortable for many reasons, but it began with changes in my body. In my exercise commitment and talking with my health & fitness professionals about my goals, the conversation naturally turned to what I was putting in my body. I could eat healthy, no problem, but of course I'd laugh every week and admit that the drinks hadn't been removed. I blamed it on the witching hour and made stupid cliché jokes about moms needing their wine. The truth is, though, I was starting to feel crappy–bloated after beer, sluggish after wine, achy after vodka. And I was hating that I couldn't prove to myself that I had the discipline to not drink if I committed to it. I was saying things to myself like, "This is stupid–if you want to have a drink, just have a drink. It's been a long day. You deserve it."
Earlier this spring, the motivation gods somehow granted me a great month, and I stuck to some hardcore goals of eating good, removing gluten from my diet (experimental), nearly completely cutting alcohol and diligently running and working out. The results were transformative, mainly because I felt better than I had in a long time–refreshed, productive, clear-headed, motivated. Bonus? I fit back into some of those clothes that were getting tight. Summer slipped me back a little bit, but I don't beat myself up too much over it. Last month, though, I realized I needed to restore my awareness with drinking habits.
I've made one main rule for myself with alcohol, and it's the same rule I try and use to govern everything else: Be purposeful. Don't just pour a glass to pour it, don't jump to get a drink the minute the house gets chaotic. Think about it. Wait until you can enjoy it. Don't use up your alcohol quota during moments when you can't savor the experience. I've found that if I wait until everything settles down when I can sit down with a book and a drink, I don't really want one any more anyway.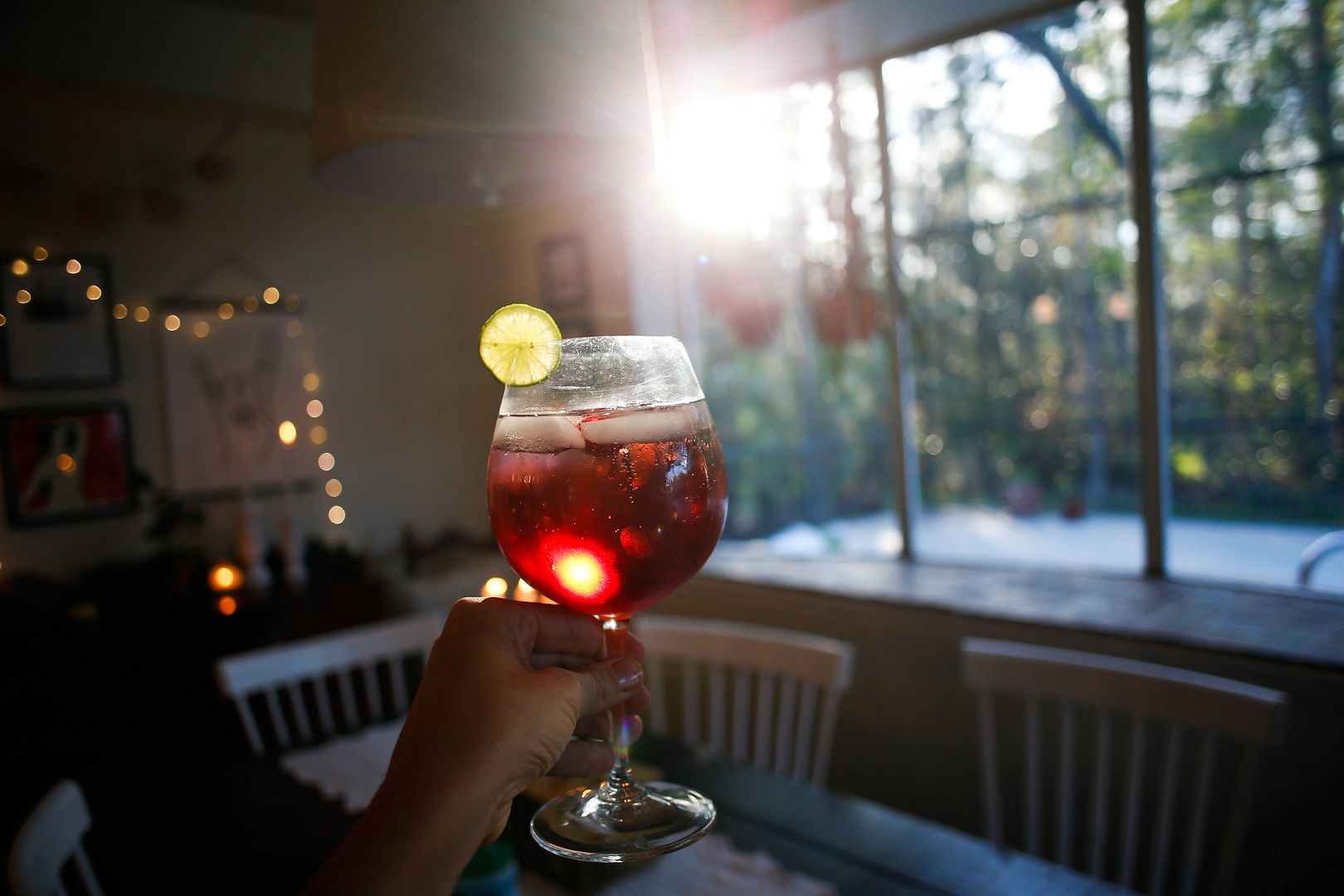 Fancy mid-afternoon non-alcoholic spritzer.
As for the conversation around alcohol, I wrote this–yes, to share a goal with some transparency–but also to hopefully create a safe, open place to talk about women and alcohol without judgment and in a responsible way. While there are many beautiful, healthy conversations about sobriety out there, I've also witnessed a lot of holier-than-thou conversations that slant toward shaming the "weak public" for choosing to cloud their clarity with alcohol and forming an exclusive club for those who are better than that. The conversation's even worse on the other end of the spectrum–you can't dip a toe into social media these days without being hit with a "wine o'clock" meme that summarizes moms into a heap of weak drunks who can't cope with life. I've made some of these jokes myself, and while–yes, every once in a while, there is an appropriate meme about drinking that really is funny–I want to be more aware of my contribution to this discussion. I'll definitely feel better about sharing a cocktail recipe or posting a photo of a holiday toast if I'm making responsible decisions about moderation in my personal life.
From so many of your responses on Instagram, it sounds like many of you are in the same boat–gaining a little bit more awareness about the role of alcohol in our culture right now, especially with middle-aged women.
Here are some responses from readers (and thank you so much for joining the conversation on this!):
"So many moms our age treating alcohol use as something funny and sassy and necessary "it's wine 'o clock" but it worries me that it normalizes habits that shouldn't be habits. Alcohol is fine and dandy in moderation. But having "mommy juice cups" for wine seems a bit much and worries me about what our children might see as normal and necessary to function."
"I used to need a drink every night to take the edge off, but I started exercising four months ago and found my drinking went way down. I no longer felt like I needed it to take the edge off."
"I reevaluate my drinking habits every few months or so and take time off from it to keep me in check. I just always want to be in control of drinking and not have drinking be in control of me."
"I don't drink often but at parties or groups, I find my friends shaming me if I don't drink enough, and so I do because I want to keep fitting in. I don't want to go back to the place where I feel judged all the time, and choosing not to drink feels like that place."
"I'm a 2-3 glasses a night Canadian gal and recently had the same "self awareness" as you. I was feeling crappy in the morning, gaining weight, and it is expensive up here! So I am cutting back and only see positive changes."
"I figured every time I  use alcohol to "take the edge off" or numb something, I was teaching my kids bad coping skills."
"In my culture, drinking with moderation is completely normal. I grew up with my parents having wine with dinner, and they've never had a problem with alcohol. While I often have a drink with dinner, I never have more than one drink and usually can't even finish that. But I've definitely received judgment from friends who don't drink."
"I feel like the 'wine mom' thing is on the verge of out of control. Alcoholism runs in my family. Over the last 5 years, I have had to deal with some very difficult situations with my mother who became an alcoholic later in life."
"I'm a 33 year old and after having my two children and never growing up around alcohol and being raised in a non-drinking home, motherhood threw me into a tailspin where I was using it to cope with my moods and the ups and downs of day to day life with kids. I kept thinking I was just "taking the edge off," but I literally became a full blown alcoholic. One was too many and ten was not enough. It could never just be one drink. Long story…I had to surrender."
"Thank you for talking about this. My dad started drinking a little here and there when we were younger, but over the years, it's taken over his life. It's affected our family in so many ways, and I live with a lot of shame because of what alcohol did to our family. I don't want to end up like my dad."
So here's where I am now. I know I'm a smart, responsible woman, and I make the rules according to what I know I can handle. Your rules might be different than mine. My friends are also smart, responsible women–some who are completely sober but have no problem with friends who drink, and others who drink more than me but do it responsibly within their own limits. I've made some rules for myself at this period in life based on my current habits and consequence awareness. They may change over time, but for the most part, I want to stay away from drinking during the week during these demanding years with kids, schedules and my own personal work goals. Cocktails and wine are special treats, and I savor them more when I treat them that way. I'm a ritual and celebration girl, so I've found other ways to create moments that still feel special at the end of a day but don't involve alcohol. I keep Pelligrino and LaCroix in my refrigerator, and when I drink them, I pour them in a pretty glass and garnish with a lime wedge or a few berries.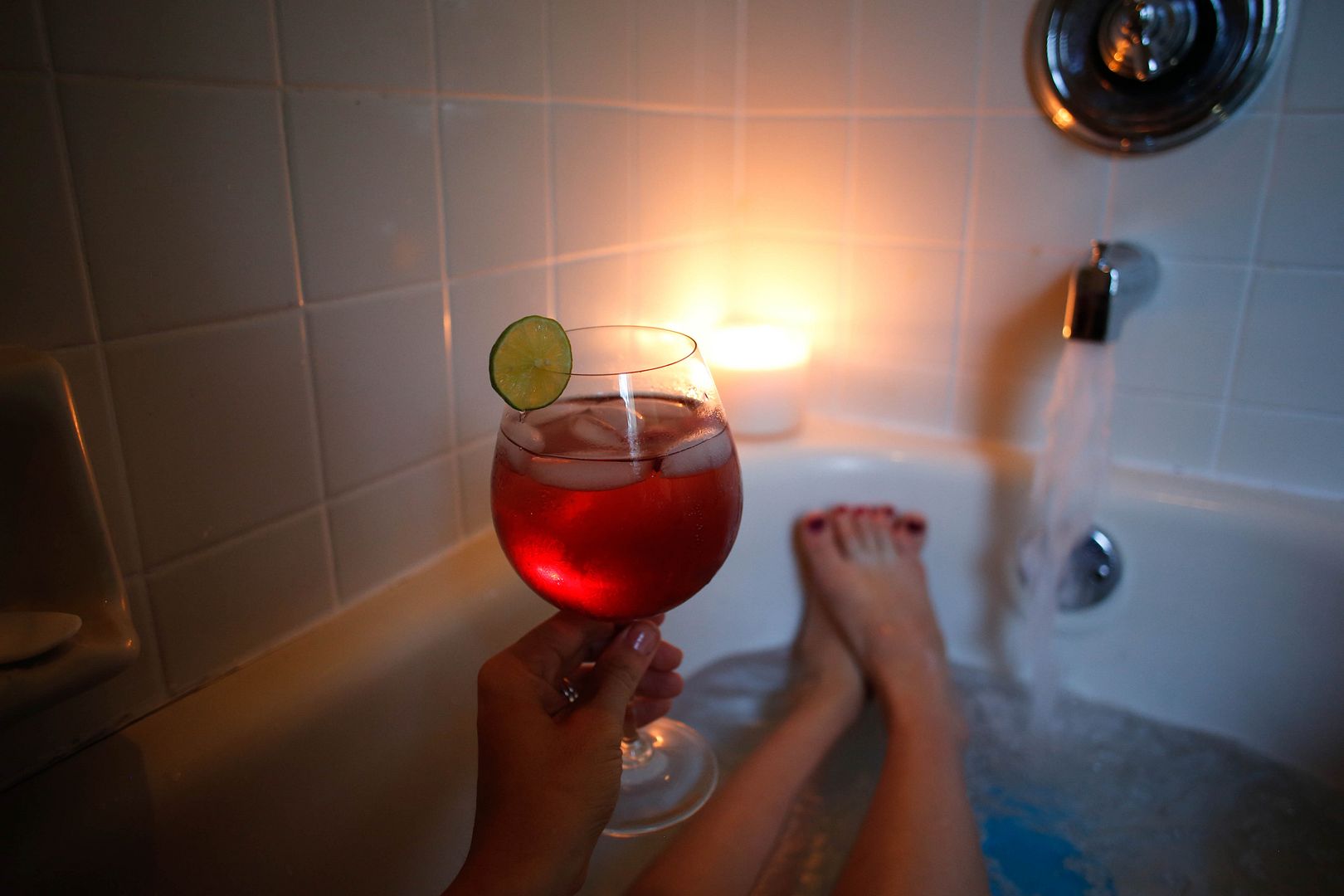 Pelligrino with a splash of tart cherry juice.
I stock up on hot tea and settle for nothing less than a good mug when I drink it.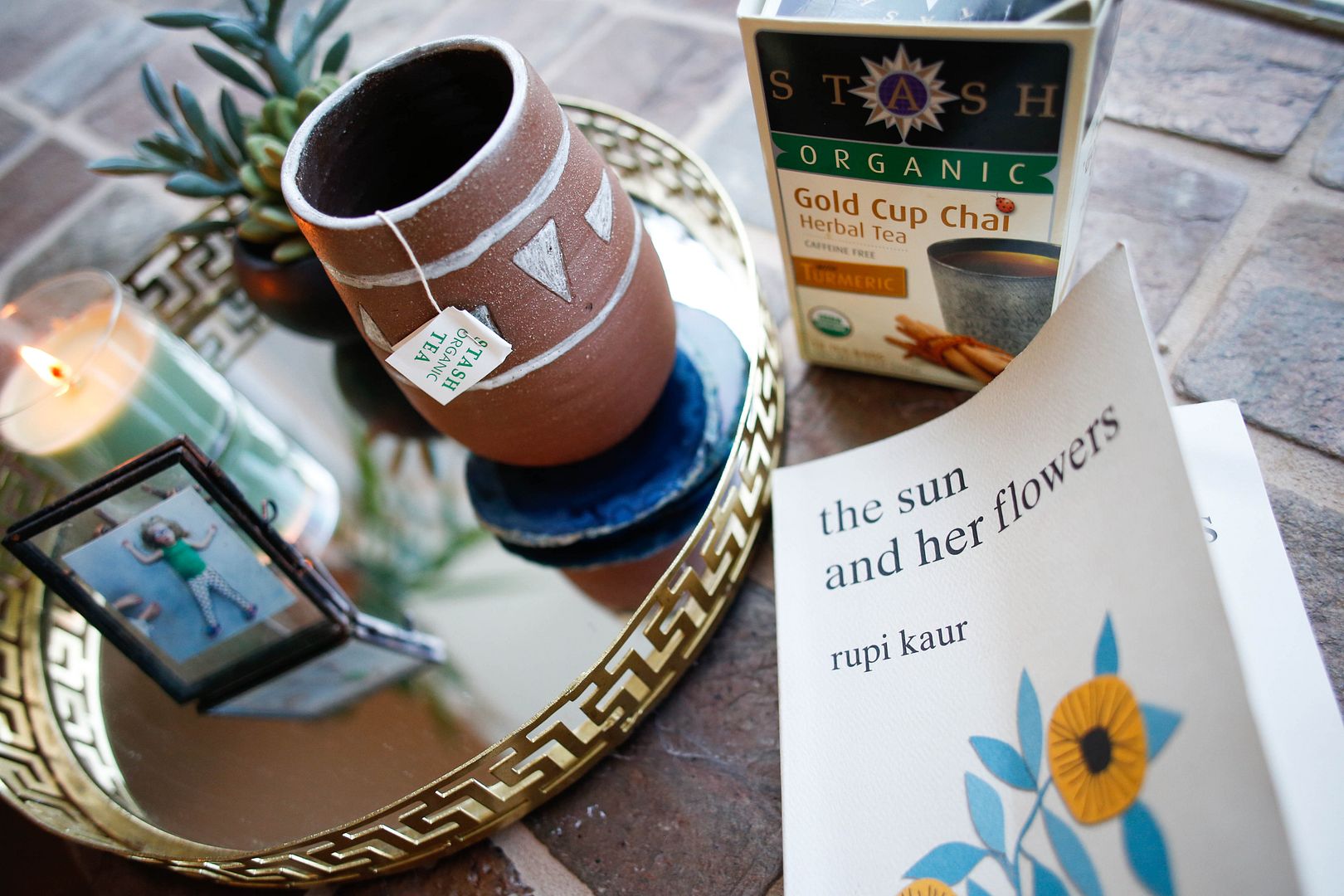 When the witching hour gets ugly, I practice using music, candles, fresh air, a hot bath, five minutes of a poetry book and a fancy spritzer to remind me "I'm worth it." I give my drinks special names like the "Cutie Fizz" (Pelligrino on ice with the juice from one cutie orange and a little zest from the peel shaved on top) because it makes me happy. And when I do decide to have a drink–like last weekend when Brett's parents took us to a charming French restaurant for dinner–I enjoy it, with a smile and the satisfaction that I make efforts toward balance. Will there be occasions where I indulge in a good cold beer on a Wednesday night? I'm sure there will be, and that's okay. I just want to be a little more mindful about them. Also, if we're going to a social event and know we are going to be drinking, Brett and I made the decision long ago that we Uber. We Uber not to create freedom to get crazy but because it's a small price to pay to be safe. We Uber because we've heard of too many people who don't even drink that often mess up their lives from one night of lacking judgment. We Uber because I want everyone else who's had two drinks with dinner to Uber when my kids are on those roads, and I want my kids to Uber someday when they might possibly be on the borderline of what's safe.
I want to drink responsibly on "regular" days to keep the other occasions special–summer-in-Michigan cocktails on the dock, first night of vacation toasts, Christmas Eve martinis. And I don't want to make choices that disrupt my commitment to living my very best life.
I'm fascinated by this conversation though and would love to hear your thoughts on it.  (Also, check out this Enjoli essay by Kristi Coulter–insightful). And if anyone has any fabulous mocktail recipes, please…do share!
As we head into a holiday week where we make room for indulging, I'm looking forward to finding the right balance so we can enjoy all the things we are meant to enjoy…with purpose.