There's a post-Thanksgiving cozy gathering post to come, but we're laying low today and putting the tree up, so I haven't edited much. I have, however, been working for the past month on my stocking stuffer list. If you've been a reader for a while, you know that stocking stuffer guides are my thing. As the self proclaimed president of the Tiny Shit Lovers Club of America, I dig deep into tiny shit research this time of year in search of the coolest, fun things kids will love. This is my love language. I speak fluent stocking stuffers. It is Enjoying the Small Things, after all.
It's funny, after all the planning of the "big gifts," it's the little ones that often delight the kids the most, and the same was true when I was a kid. We love trinkets, stickers, cool socks and fun art supplies. So, I went digging–searching the Internet for the greatest little treasures out there. And this year, I found 59 things, separated into two lists–one for the kids and one for teens. Most of the links are Amazon because we are big Amazon Prime users, and when I'm buying a bunch of small things, I don't want to pay shipping and want to get them all from one place. Come Christmas Eve, when I'm helping Santa out a little, I completely geek out filling the stockings with these things and look forward to seeing the kids pull these treasures out just as much as the more meaninful gifts.
So happy Stocking Stuffer shopping. And I hope you all had a wonderful Thanksgiving yesterday. We are full in many ways.
For the Kids
1. Handi Squirrel. Lainey loves quirky little gifts like this. It's weird, it's funny, it serves no purpose but to make you laugh, but it's guaranteed to provide my kids some entertainment.
2. Hatch'Ems Dinosaur Egg. I end up putting a version of this on every stocking stuffer list because it never grow old. Drop egg in water and watch an animal hatch from it within two days. All three of my kids love this.
3. Magnetic Travel Bingo Game. This compact little Bingo game is perfect for travel, and the best part–the pieces don't fall all over because it's magnetic!
4. The Original Slime. The perfect consistency–galactic slime in bottles appropriately sized for stockings. This set of three makes one for each stocking in our family.
5. Slime Sucker. What's better than slime? A slime sucker! They suck up strings of slime by their nostrils and sneeze them back out.
6. Flying Frogs. These have Dash's name all over them. A set of 12 rubber frogs, made for stretching and flinging.
7. The Original Mood Ring. Every girl should experience a mood ring at some point in her life.
8. Clip-in Rainbow Hair Extensions. These are always a hit with my girls. These extensions can be cut to size and clip in easily for a head of rainbow locks. It looks even cooler when you braid hair after clipping them in.
9. Shrinky Dinks Jewelry Kit. This mini-sized kit is perfect for stockings. We love all things Shrinky Dinks over here.
10. Candy Cane Pop Rocks. Classic Pop Rocks in a minty holiday flavor.
11. Glitter Razzle Dazzle Colored Pencils. Art supplies are always a hit for stocking in our home, and these colored pencils have the "Wow" factor with glitter.
12. Coffee & Rainbow Cake Squishy Set. All three of my kids are obsessed with squishies, and they're on all of their Christmas lists. This set of two squishies was practically made for filling up the toe of the stocking.
13. Jacks Set. Teach them the art of classic jacks with this inexpensive and entertaining stocking stuffer.
14. Tiny Nutellas. Nella's going to skip right past everything else in her stocking to get to these babies. Target has them for a little cheaper in their stocking stuffer aisles, but they're also available in a set of two on Amazon here.
15. Candyland Bandages. Christmas is a free pass for your kids to use all the Band-Aids they want and put them on imaginary boo-boos. These Candyland ones are adorable enough, you'll be stealing them for your next potato peeling mishap.
16. Color Changing Spoons. Add some entertainment to the morning cereal bowl routine with these color changing spoons–an easy winner for a stocking stuffer that will be used and loved.
17. Mason Jar Zipper Bags. To add some charm to your candy stocking stuffers, use these zipper bags to fill with Skittles, m & m's, gumballs…sure to delight all ages.
18. Handheld Water Game Before Atari and Nintendo came along, these were our "video games." Strangely satisfying–your kids will love them as much as you did.
19. Poop Emoji Youth Socks. Anything poop emoji is a winner with kids.
20. Cattoos New from Chronicle, these temporary tattoos are cool for kids but funny enough that you'll be stealing them. I love the "High Four!" paw salute and the Caturday roar.
21. Balloon Jet Racer. Powered by the air in a blown-up balloon, this little car speeds across the floor. Buy 2 for competitive races. This has Dash's name all over it.
22. Whoopie Cushion. Never not funny to kids.
23. Head Lamp. My sister got one for Dash this summer, and he thought it was the coolest thing ever–still plays with it. Hide some candy canes in the yard and take them outside to find them at night, and this lamp will come in handy (sure to make a memory!).
24. Flingshot Monkey. The best part about this slingshot monkey? It howls when it's flying through the air.
25. Pocket Volcano. All you have to do is add baking soda and water. Kids love things that explode. Thank you, Santa.
26. Holiday Scented Gel Crayons. These crayons glide like buttah and even better…they smell like Christmas! Gingerbread, sugar plum, candy cane and more.
27. Brick Stix Removable stickers for your Legos! Add windows and landscaping to your homes to turn them into little brownstones or transform blocks into pet stores with these signs and window cats.
28. Cartoon Enamel Pin Set. Lainey's backpack is covered enamel pins, and she's always on the lookout for cool ones to add.
29. Cupcake Dental Floss. Maybe–just maybe–they'll floss their teeth without being asked if their floss tastes like cupcakes.
30. Dinosaur Hand Puppet. Super ferocious looking. Be prepared to be attacked.
31. Dover Make-Your-Own-Pizza Book I love little Dover books because they're super inexpensive (this one's only $1.61) and are great for tucking in your purse to entertain kids at restaurants, in the car, etc. This one comes with all the pizza toppings so kids can personalize their pizza to their liking (no mushrooms!).
32. Popcorn Youth Socks. Tell Santa to throw in an extra pair for you. Wear them when you hit the theater for a holiday movie over break.
For the Teens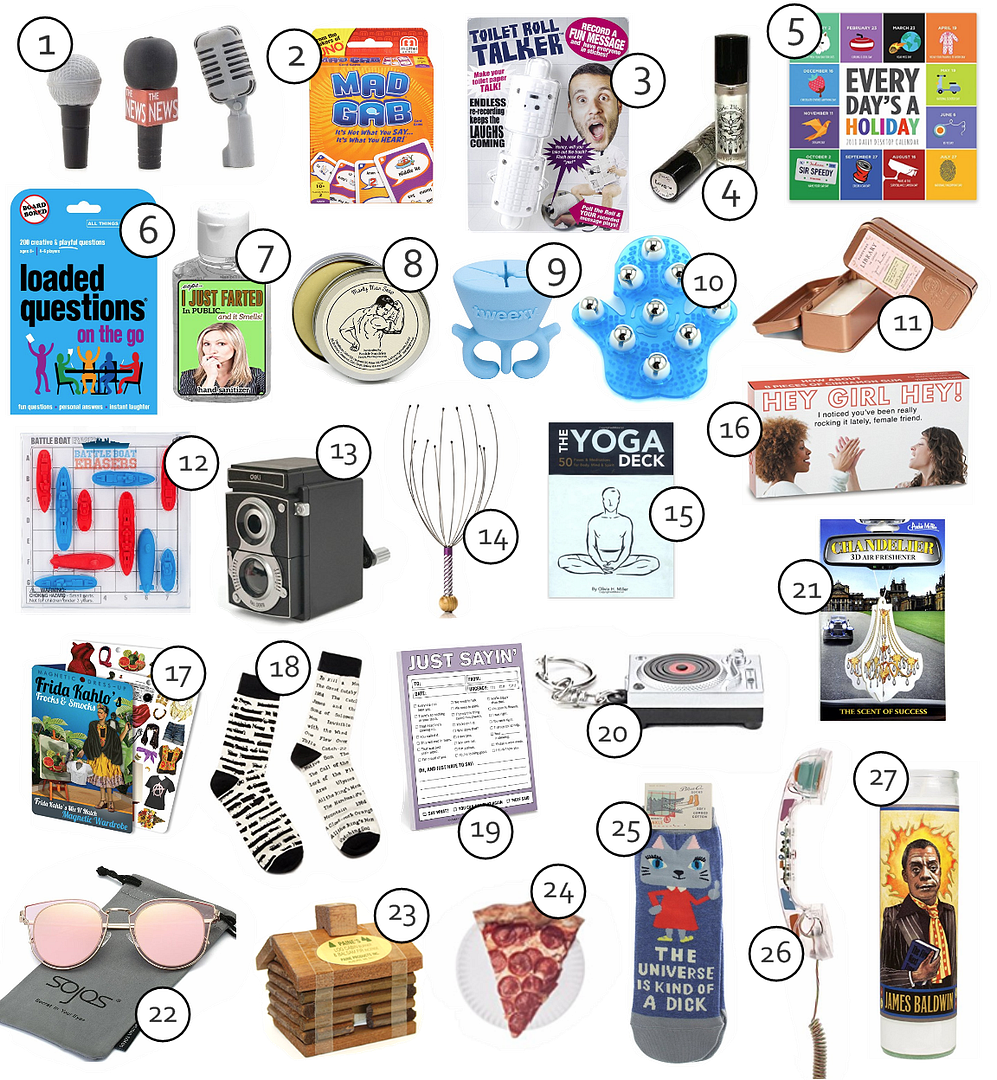 1. Microphone Eraser Toppers. I want these. For when I'm pretending I'm a news anchor which happens more frequently than I'd like to admit.
2. Mad Gab Card Game. Impossible not to laugh when you're playing Mad Gab. This card game version is compact, simple and easy to slip into a purse to pull out when things get boring.
3. Toilet Roll Talker. Best stocking stuffer ever. You can record any message into this toilet paper roll, slip it into any bathroom without anyone knowing, and when someone pulls the roll…your voice will start talking.
4. Auric Blends Love Perfume Oil One of my favorite inexpensive fragrance secrets. I keep a roll of this in my purse. I used to be able to find it at Whole Foods but haven't been able to lately. It's warm and spicy with a tiny bit of vanilla–an overall soft clean smell.
5. Every Day's a Holiday Desk Calendar Every day deserves to be celebrated, and this calendar delivers–all the secret holidays buried throughout the year from National "Go Barefoot Day" to my personal favorite, "Wave at the Surveillance Camera Day." Did you know October 2 is Name Your Car Day? Who knew?
6. Loaded Questions On the Go Card Game Perfect for getting to know your teen and their friends more. Next time there's a pile of teens on your couch, all on their devices, pull these cards out and start some interesting conversation with these questions…"What can instantly make a person unpopular?" "What is your favorite song to dance to?" "Whose voice from the movies can you imitate?"
7. "I Just Farted in Public and It Smells Like" Hand Sanitizer. I mean, a necessity for teens.
8. Manly Man Soap. Nicely packaged in a chic little tin and perfect for the gym bag, this soap is scented with essential oils.
9. Tweexy Nail Polish Holder. Make nail polishing easy for your teen with this bottle holder that slips right on your finger so you can paint away without spilling.
10. Glove Shoulder Massager with Roller Balls. Of all the handheld massagers I've used, this one's the best. We have one, and everyone loves it. Whether you ask someone to use it on your back or you slip it on yourself to get the knots out of your shoulders, it's perfect to keep in a backpack for some relief after a day of book toting.
11. Jane Austen Libary Tin Travel Candle For the literature buffs, these chic little tins may be small but are chocked-full of rich scents that embody the worlds of Jane Austen, Edgar Allen Poe and Oscar Wilde.
12. Battleship Eraser Pad Game. All the fun of Battleship shrunk down into a small pad of paper and a handful of erasers.
13. Retro Camera Pencil Sharpener. Teens who do homework need a pencil sharpener, and teens who are fun need a cool one. This retro camera delivers.
14. Scalp Massager. This weird-looking contraption delivers instant relaxation.
15. Yoga Deck Cards. This yoga deck delivers 50 poses and meditations for mind, body and spirit. Every teen could benefit.
16. Hey Girl Hey! Gum. Blue Q doesn't make a product a teen wouldn't like. And with this gum in your teen's pocket, they'll be waiting for someone to ask, "Do you have any gum?" "Hey Girl, Hey! I sure do!"
17. Frida's Frocks and Smocks Magnets. This entertaining magnet set comes in Frida's Frocks for the art lovers, but there's also Freud, Mr. Rogers, Elvis, American Gothic, Obama, Shakespeare and more if you click on the link.
18. Banned Books Socks. Just try and censor these socks. Roll 'em up and slip them in the toe of the stocking.
19. Just Sayin' Note Pad. A great conversation tool for your kids to humorously tell their friends that they did something awesome, messed up or maybe need to freshen their breath. These notes provide simple check boxes with phrases such as "You're on Fire!,"  "I'm open to flowers," "There's this thing called mouthwash" and more.
20. Turtable Light-up Keychain. This tiny key chain not only lights up but makes a realistic dj scratching sound.
21. Chandelier 3-D Air Freshener. The cheapest chandelier you'll ever buy.
22. Mirrored Flat Lens Sunglasses. Teens like sunglasses. Teens lose sunglasses. These inexpensive ones won't break the bank but are still cool enough that they'll high five Santa.
23. Log Cabin Incense Burner. Perfect for cozy journal writing sessions in their bedrooms on a cold winter night. A great conversation piece–the incense smoke twirls out of the little chimney.
24. Pizza Coaster Set. You can never have too many coasters with teens. These pizza-on-a-paper plate ones are appropriate for their age group and a fun addition to Friday night hang-outs.
25. The Universe is Kind of a Dick Socks. I know, I know. We shouldn't talk to our kids this way. But technically, it's from Santa, so he can say whatever he wants and sometimes, things need to be said. I'm just sayin'. Teens have bad days, and these socks might help a little.
26. Retro Handset for Devices Old School is the new Black. Show them how we used to live.
27. James Baldwin Candle. I love everything the Unemployed Philosopher's Guild makes, and these candles are no exception. Whomever your kid admires–they probably have it in candle form–Margaret Sanger, Ada Lovelace, Carl Sagan, John Lennon and many more.