This post is sponsored by Storyworth.
This past weekend marked the tenth anniversary for this blog. There are so many things I've gained from blogging from connections made with readers and people who share stories to this amazing outlet for my bleeding creative heart. One of the bonuses from blogging, though, is working with companies and sponsors who both help support the time and effort of keeping this blog alive and introduce us to products and services that help make our life a little easier and more colorful. Some of these companies we already loved and used their products; others we've been so happy to discover–hidden gems that are now part of our home and routine. Storyworth is one of the latter. Storyworth's creator and founder, Nick, reached out to me two years ago, wanting to work with me, explaining what his company does and why he created it–to collect and preserve the stories of his father for his son. And as a lover of stories and one who knows just how precious the experiences and ideas that are buried in each and every one of us are, I knew I wanted to work with Storyworth. I signed up for a subscription for Brett's dad, and after realizing how many wonderful things he had to share that we might have never known had Storyworth's questions not pulled them out of him, I bought a subscription for my grandmother six months later.
Here's how it works. Every Monday, Storyworth sends a story prompt to my grandma–a question that's either randomly selected from Storyworth's library of prompts (they're so good!), one I hand-selected from their library (you can select and order them for the entire year in one sitting) or one I wrote myself. All my grandma has to do is open the e-mail and answer the question in her response. She can keep it simple, elaborate as much as she wants, write a four-page novel if she's feeling it and even attach photos. Once she sends it back, Storyworth saves it in her story archives to be printed in a book after one year. But the best part? Our family (everyone I chose to receive her stories) gets an e-mail with her story–which is why Mondays aren't so bad anymore because I know my week will begin with a story from my grandma. Look at these beauties I get to scroll through:
The things I've learned from her this year, the stories I never knew, the prized advice that's buried in her memories, the connections I've made to my family, the insights I've gained about motherhood and marriage and aging–I can't put a price on it. And to think, we might have never known these things had we not dug for the treasure.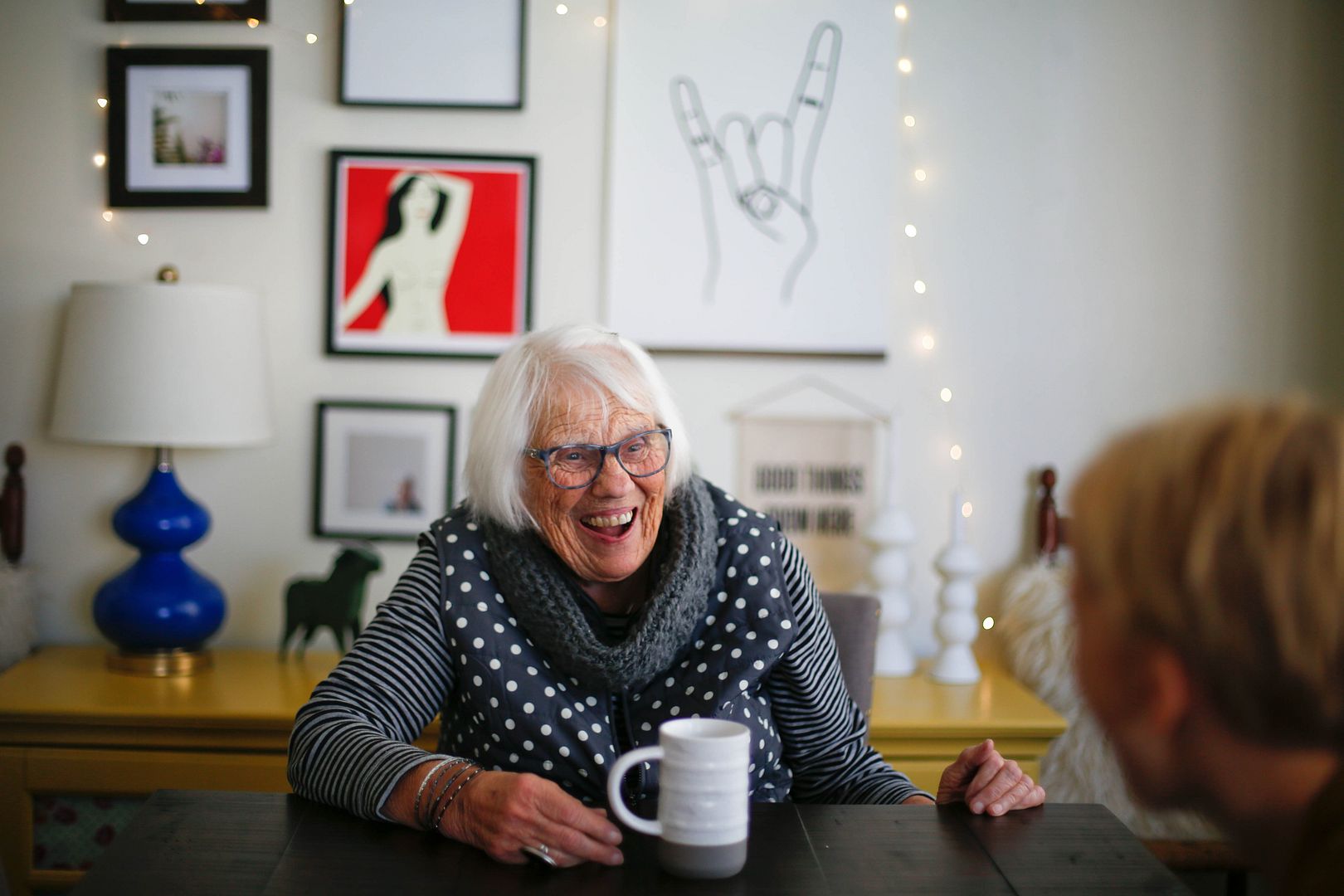 I've cried reading them, I've laughed, I've highlighted things she's written and shared a few on Instagram stories. And my grandma? I know it's been a gift to her. I know she looks forward to Mondays too, to having the opportunity to share with her kids and grandkids things she humbly keeps tucked away unless asked to share.
These stories are our family. They are part of us and our heritage. I want my kids to know the things I've learned–that in the Great Depression, my great-grandma heated Ball jars of hot water and tucked them in my grandma's bed to keep her warm. That my grandma's tiny rocking chair I remember from my childhood came in a pasteboard box with other toys, a gift from the church because my great-grandparents were struggling during those difficult days. I want to learn the tune to the song my great-grandma sang to my grandma when she was little–the one I never knew about until reading in my Monday e-mail:  "Chickadee, chickadee, happy and gay, chickadee, chickadee flyyyyy away." I want to pass on relationship advice with the added validity of "You know what grandma says–" and remind my kids that so many of the things they love and the talents that fuel them come from a deep legacy that runs through their blood and is buried in their bones–hymns, the Midwest, telling stories, creating magic with little means, gratitude for the little things like "swinging on the patio early in the morning with my first cup of coffee," one of Grandma's answers to "What simple pleasures in life do you truly enjoy?"
Of all the gift ideas I've shared on this blog, I might be most passionate about this one–a subscription to Storyworth, an invitation for your loved ones to share their stories, a subtle "You are important, and I want to know more about you." Not only is that invitation a gift for your recipient, but it's a gift to everyone you choose to receive these stories. If you're looking for the perfect holiday gift for your parents, your grandparents, your beloved aunt who raised you, your in-laws, your person you look up to more than anyone…might I suggest you buy them a Storyworth subscription. You can sign up here (yay–no shopping! Stay in your p.j.'s) and choose the date your recipient will be notified of your gift. And then the fun begins…the ax pick hits the treasure chest, the box is opened, the stories unravel to reveal gold, gold, gold. Of all the sponsors I've worked with, I hear back from readers about StoryWorth the most: "Thank you for telling me about StoryWorth. Our whole family is learning things about my grandpa we never knew, and we are seeing a new spark in him–so happy to find purpose in sharing with his family the things that are important to him."
You can type your own message to go along with your StoryWorth gift notification, but if you're struggling with what to write, here's an example you can borrow:
"Grandma, I didn't know what to get you for Christmas, but what I want you to know more than anything is that I love you, and that you mean so much to me. I am so proud to be your granddaughter, and I know that part of who I am comes from you and all the lessons you've lived through. What I really want to give you is time–to sit for hours and ask you a million questions and hear about everything you've lived through and what you love. Hopefully we have many years to do that. In the meantime, I found to help us out–this story subscription. I want to know more about you, I want to hear your stories, I want to learn from you and preserve every precious experience you've been through. This subscription will help. Every week you will receive a question about your life and who you are, and all you have to do is answer it. Tell me the stories of your past. I will cherish them forever, I will learn from them. and I will make sure our family knows them. I love you so much and cannot wait to learn more about you."
So put your "I don't know what to get her…" anxiety to rest and begin your holidays with the gift of knowing that there are beautiful stories about to unfold.