We celebrated Dash's fifth birthday this past weekend with a Home Depot Handyman party that might go down in the history of Hampton kid parties as one of my top five favorites, but that's a tough call. It's just that little boys in hard hats and tool aprons slay me.
Also, my dad and Gary played a huge part in making this party memorable as they designed a building activity for the kids where they got to use tools to create a playhouse together. The sight of my dad teaching the kids how to hammer nails and letting them work the power saw will forever keep this party extra special in my memory.
We did a breakfast party again which I'm loving because it's easy to plan the food, the moms huddle over brunch treats in my kitchen (which I love–it's like two parties in one), and we still have the entire day when the party is over. Plus, the kids are happy and well rested in the morning, so there's way less chance of a party meltdown.
We served egg cups (basically my egg casserole mix poured into cupcake tins), fresh fruit cups and donuts (cupcakes later), and I set up a bagel station where guests could toast and prepare their own bagel concoctions. I'll totally repeat this menu for breakfast parties to come because it's easy, and everyone finds something they like.
Dash wanted "tool cupcakes," so I found these tool candy molds as well as a nuts and bolts one and used colored candy melts to make chocolate cupcake toppers. We found the chocolate rocks at Hobby Lobby (I'll add a list of all the party goods with links and sources at the end of this post). I'm so happy with how they turned out.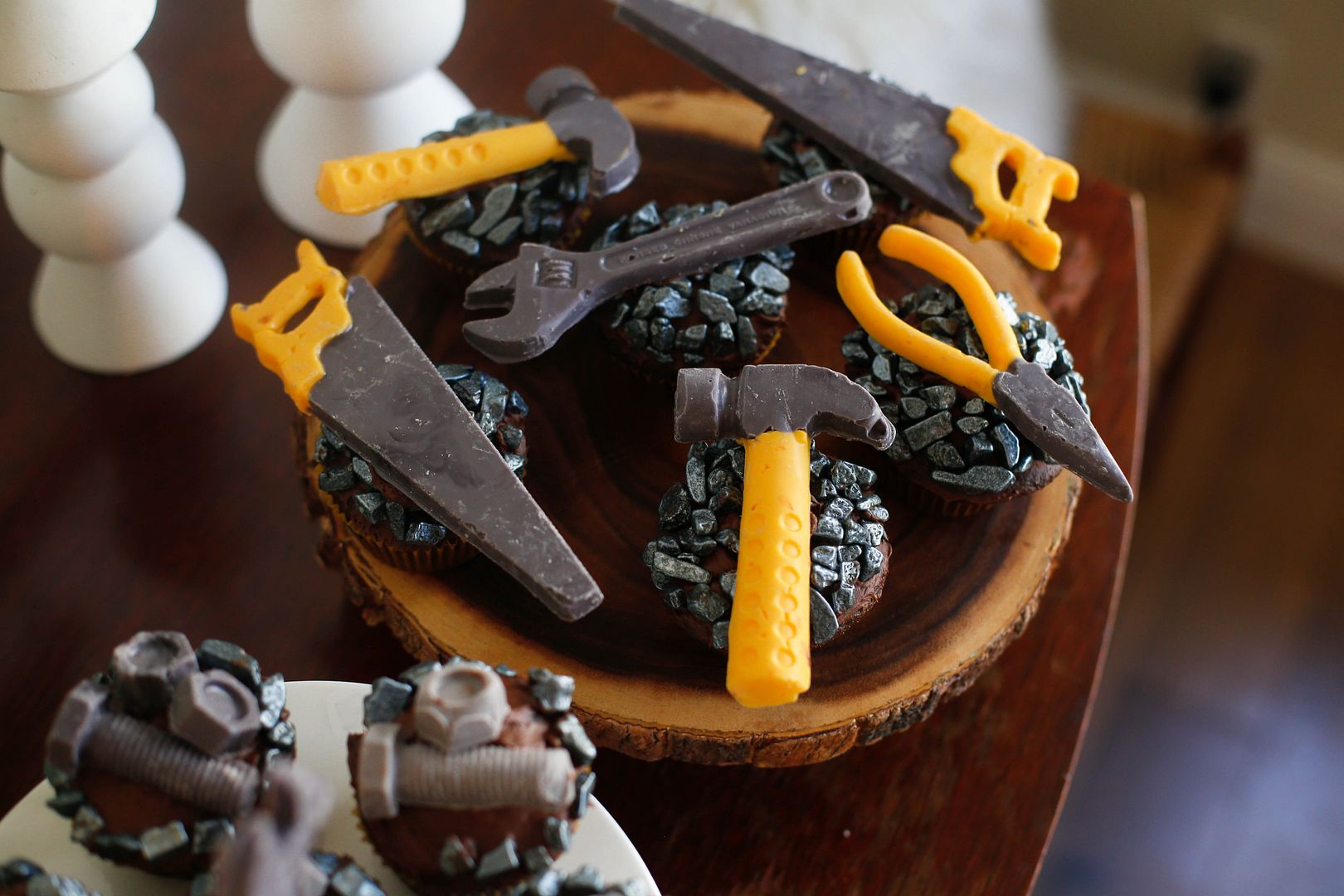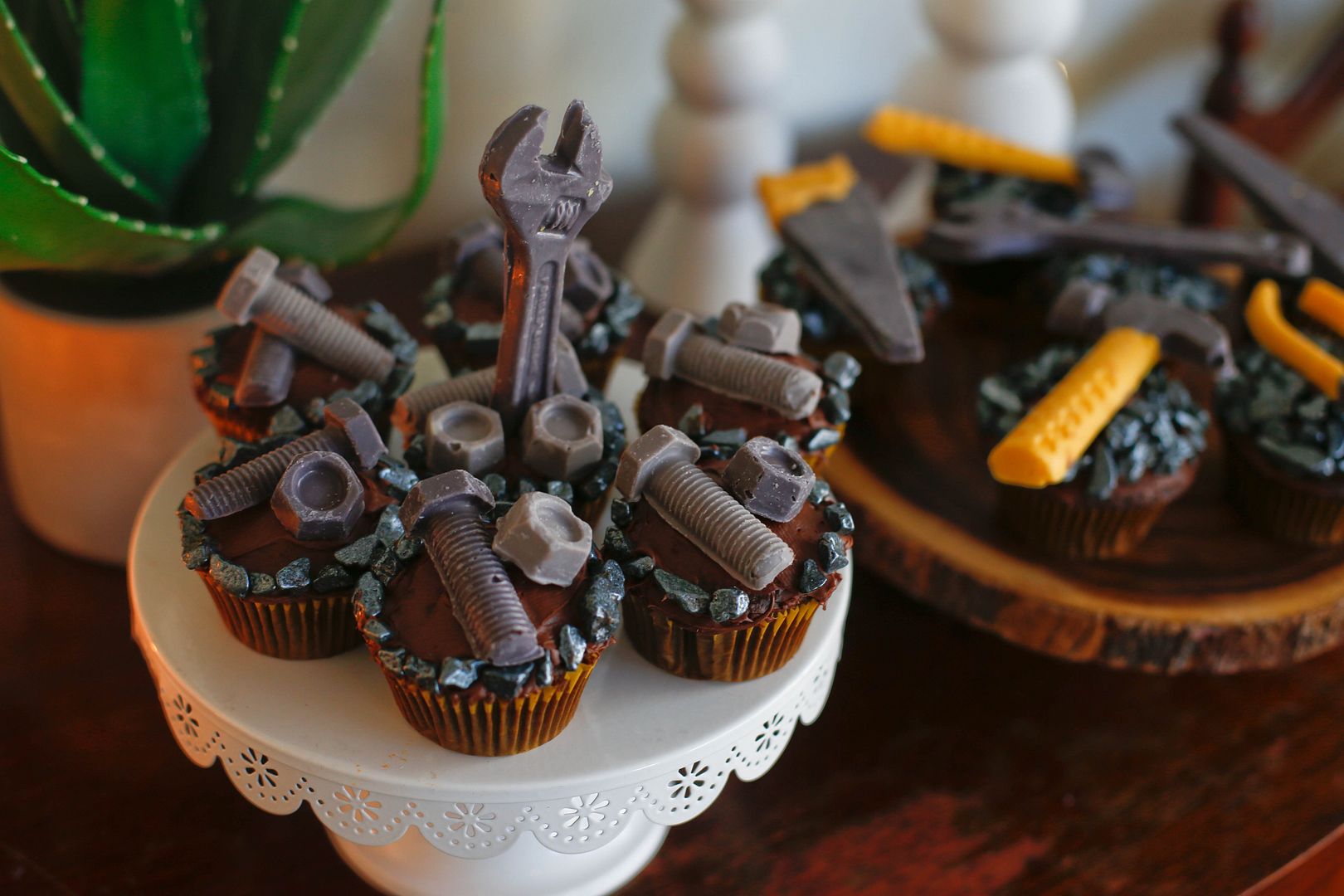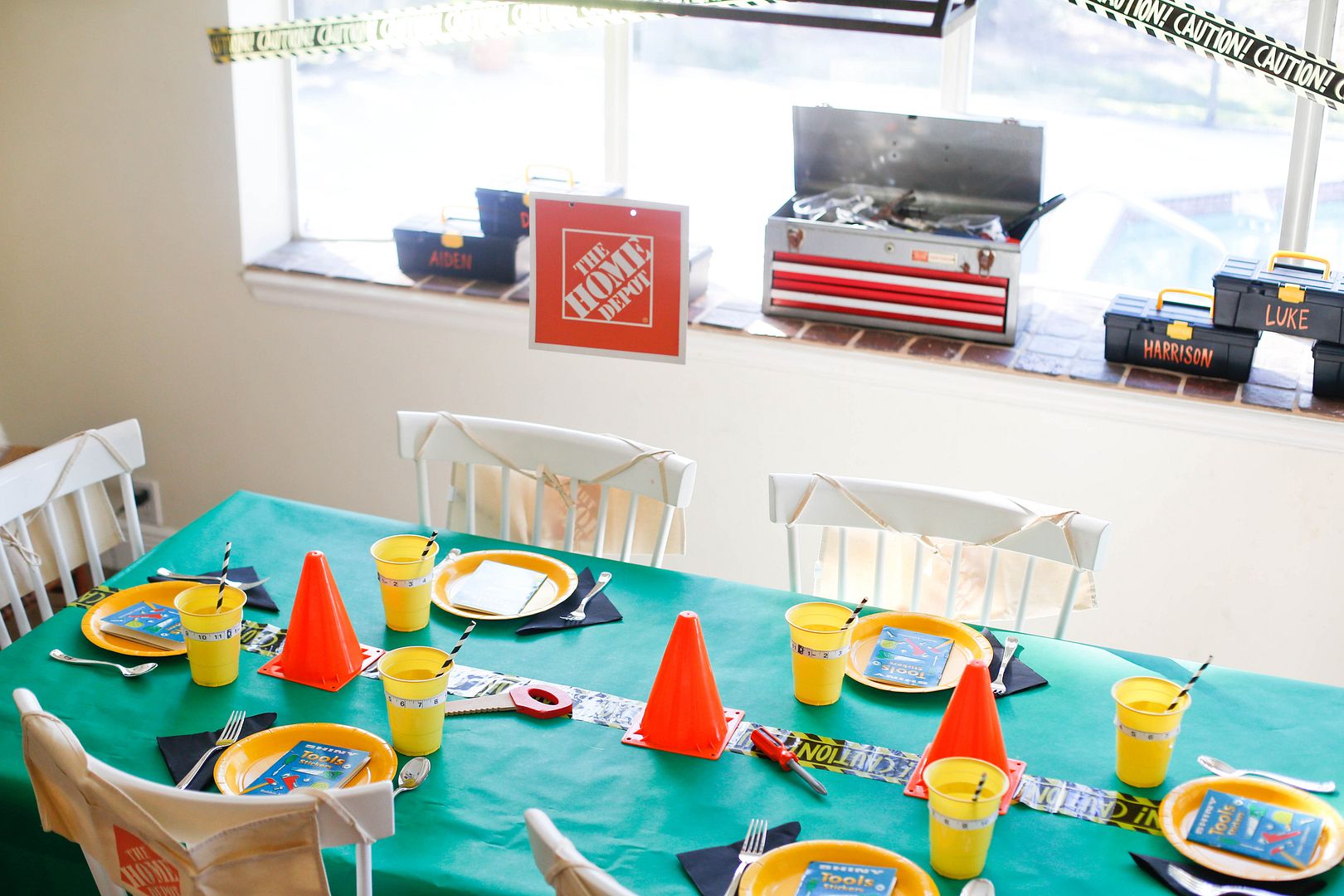 The Dollar Tree had the best selection of handyman supplies, so each of our party guests got a toolbox filled with safety goggles and a tape measure.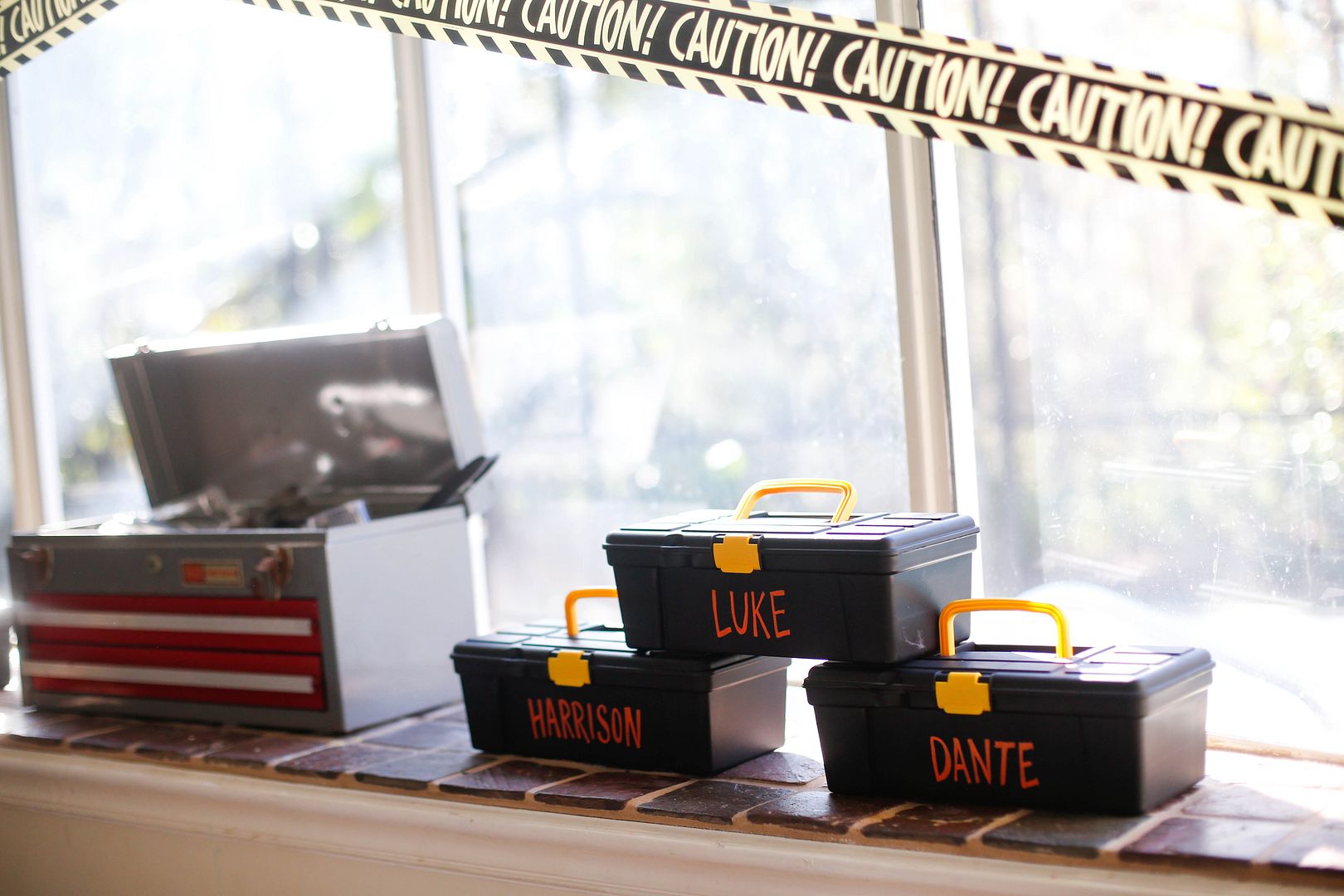 And Home Depot had the little tool aprons for only $.97 a piece. We slipped in two screwdrivers–a flat head and a Phillips, for all their handyman needs.
Free party decor = raid the garage.
Dash began counting down for this party two weeks ago, announcing the amount of days left until his party first thing every morning after he woke up.
My favorite part was watching the handymen go off to work…
My dad and Gary had everything planned perfectly. The first station was a hammer lesson. They set up a 2 x 4 with rows of roofing nails already started, so the kids got to take their turn with the hammer, seeing how many "bang-bangs" it took to drive the nail all the way in.
On the other end of the board were pre-drilled holes and screws ready to be tightened. The boys used their screwdrivers to secure the screws.
Next up was measuring. Using their tape measures and pencils, they took turns marking off assigned measurements…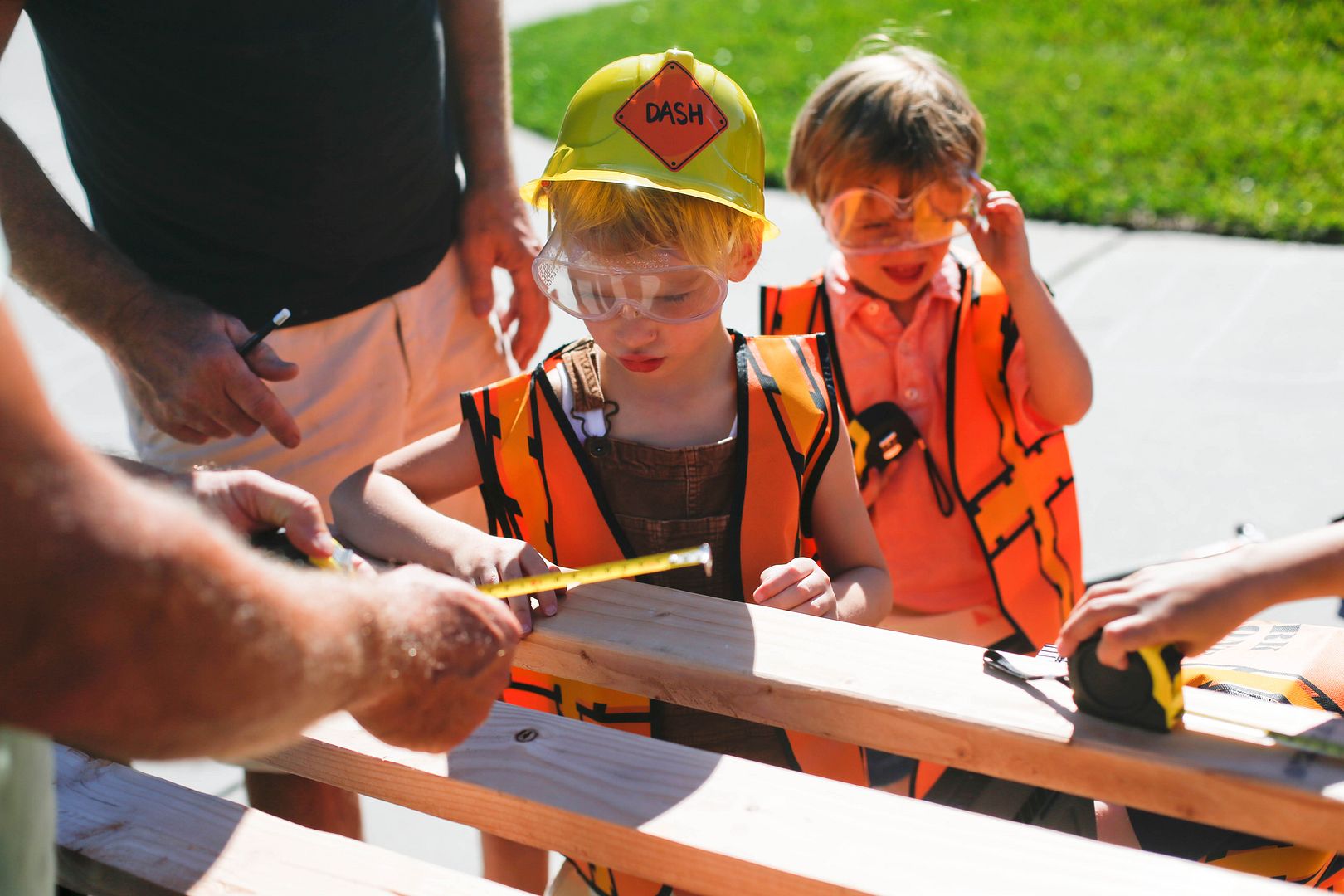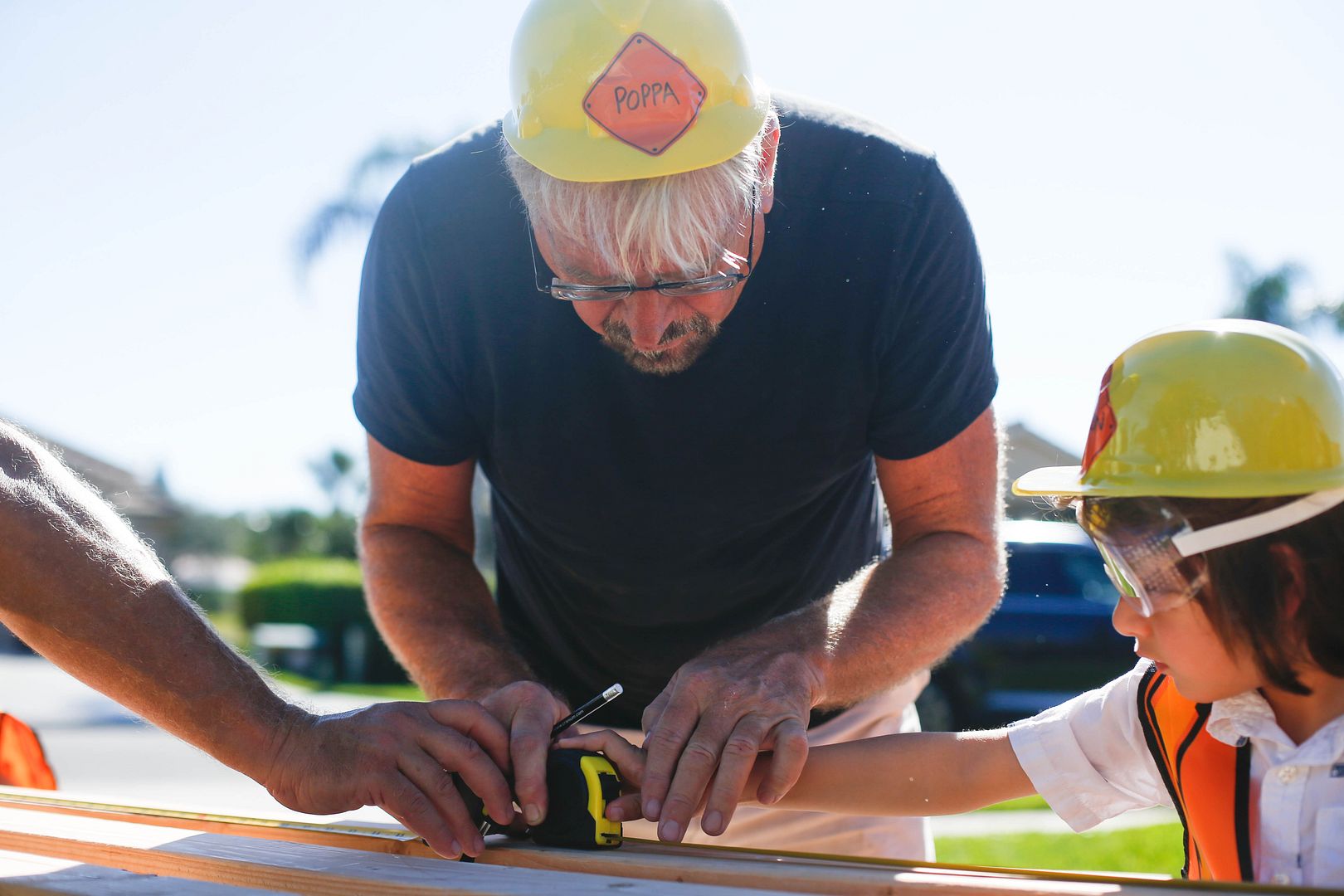 …then carried the boards over to the saw station to be cut for the playhouse beams.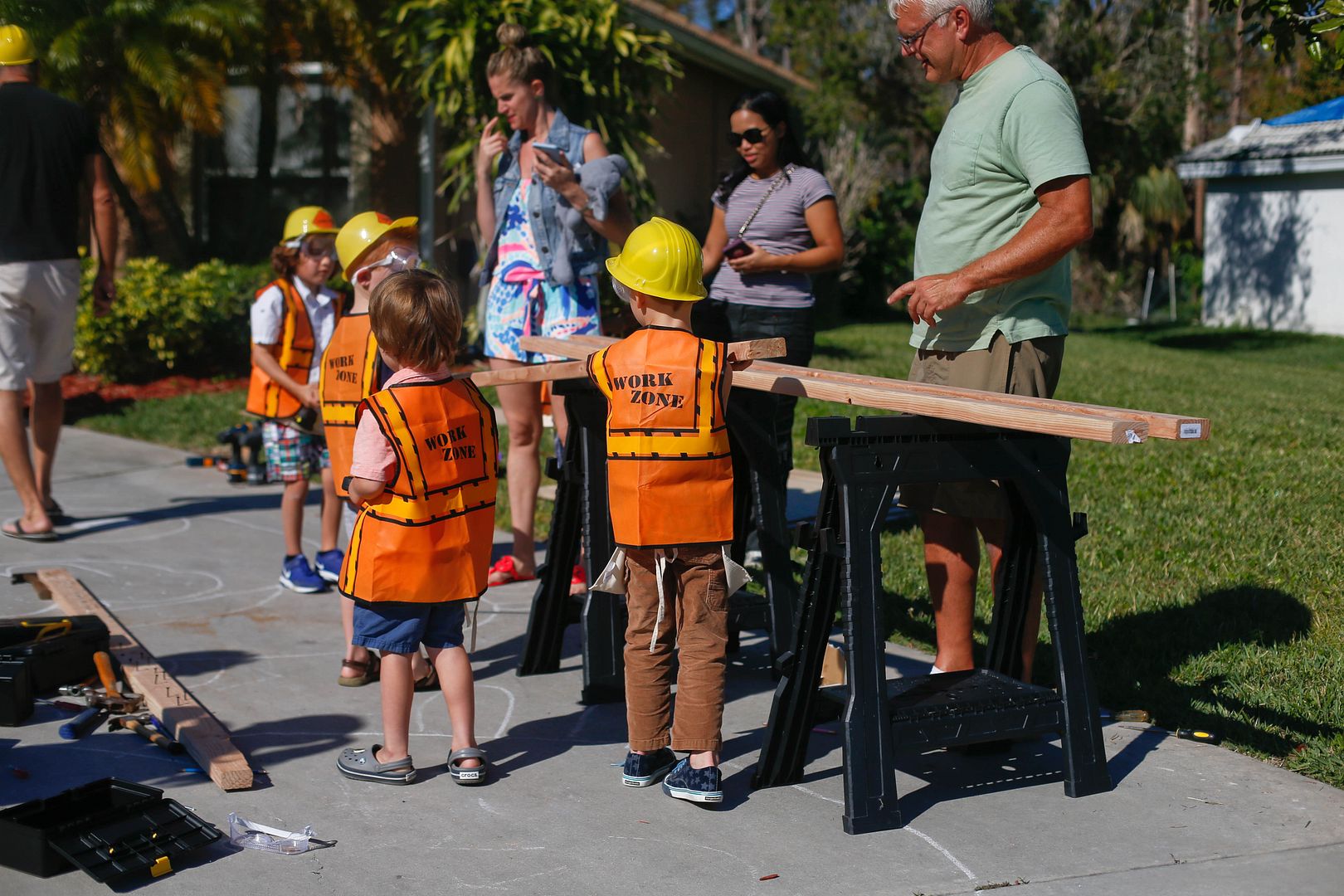 Once the beams were cut, the kids worked together to add the walls (pre-measured and cut by my dad before the party) and secure them all in place with screws, taking turns with the power drill.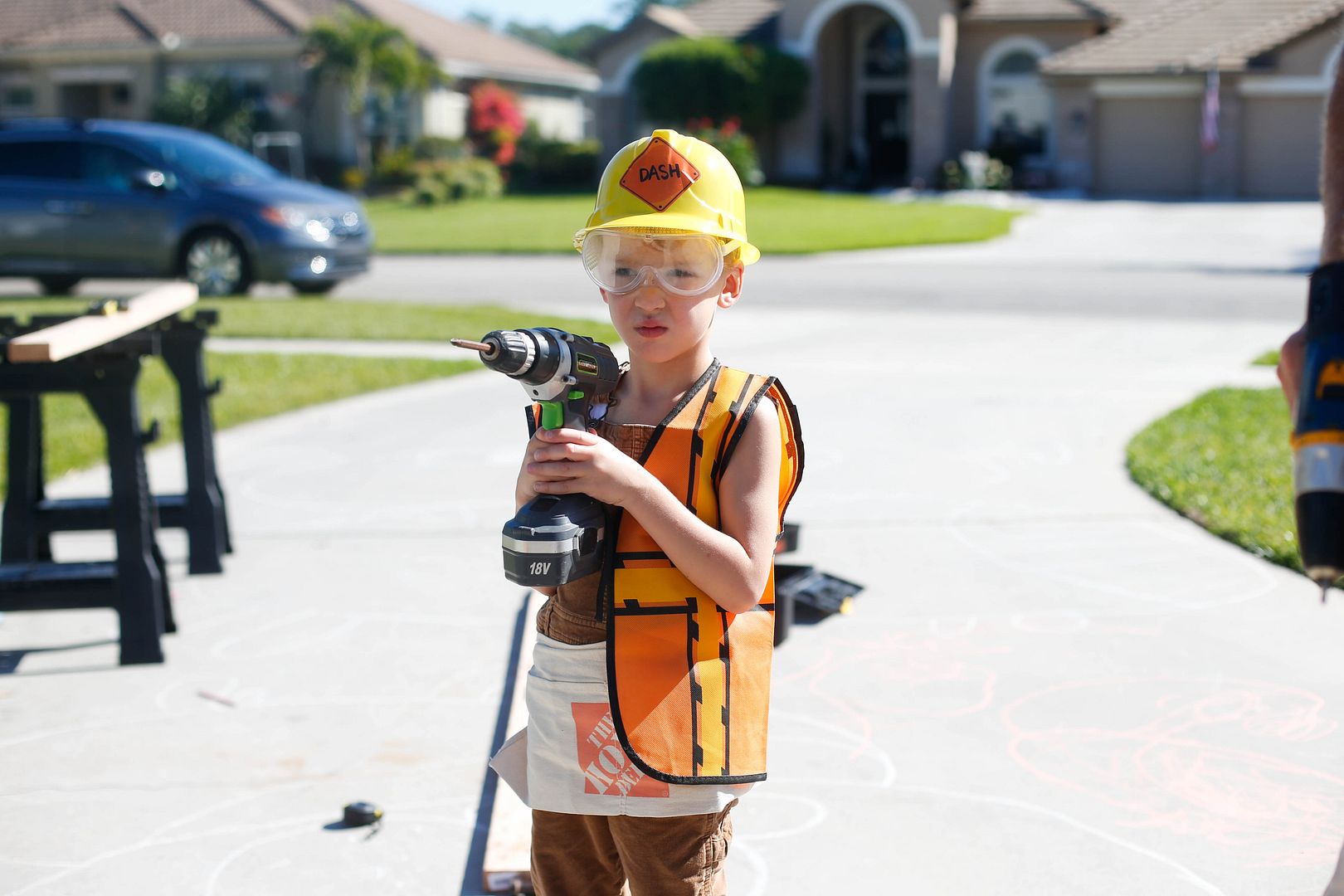 You could certainly use weather-proof wood to build a real playhouse, but since we just wanted a fun party activity, we went with the cheapest building supplies–external siding. It will be repurposed for some signs my dad needs, so it's not a total waste.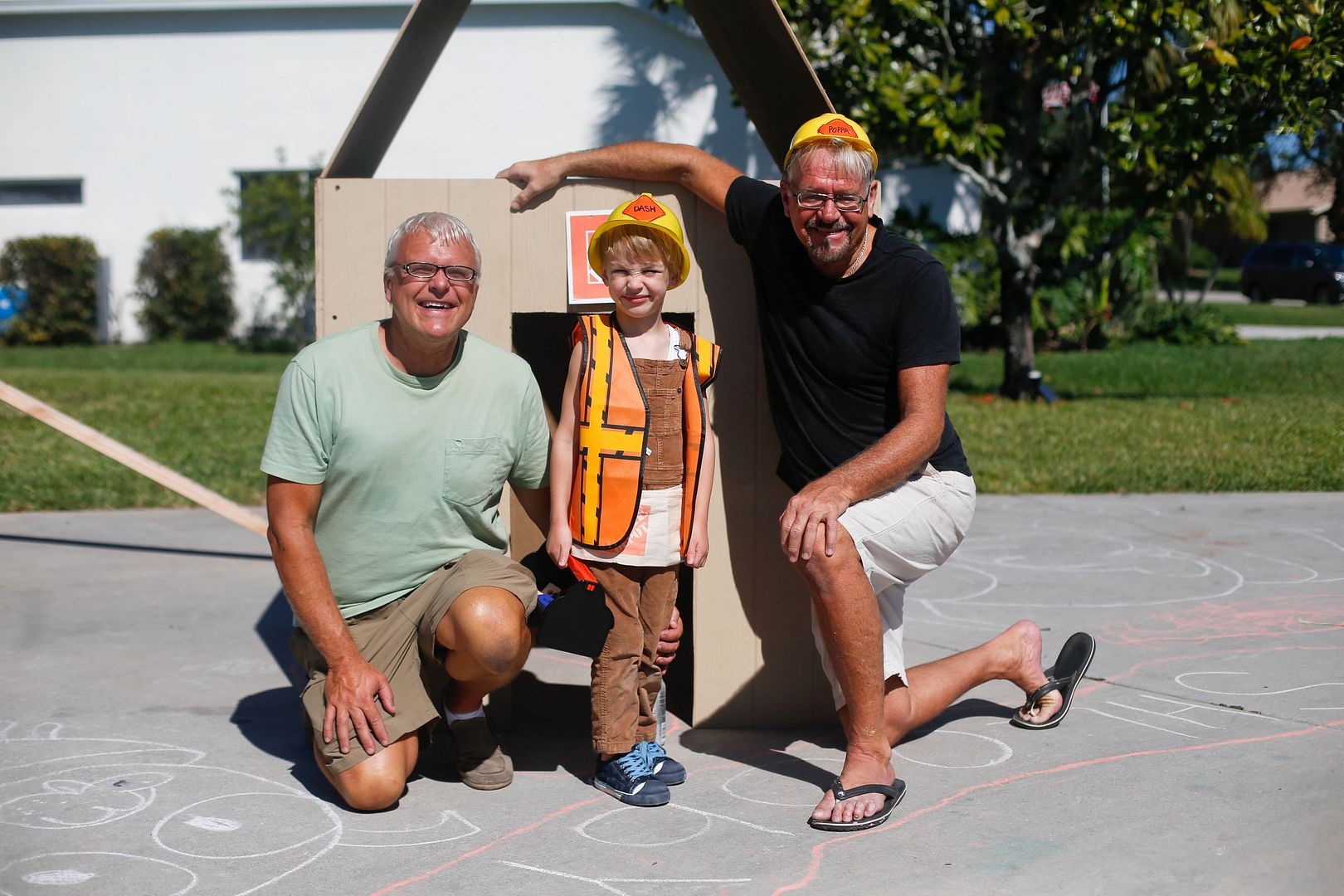 My face hurt from smiling when it was all built. Cutest thing ever, and the kids were so happy and in their element, proud to be given the opportunity to do some good hard work with grown-up tools.
Then there was the crew too little to get their contractor's licenses, so they stayed in the house and played.
Nella could have assisted building, but there was a baby in sight, so…game over.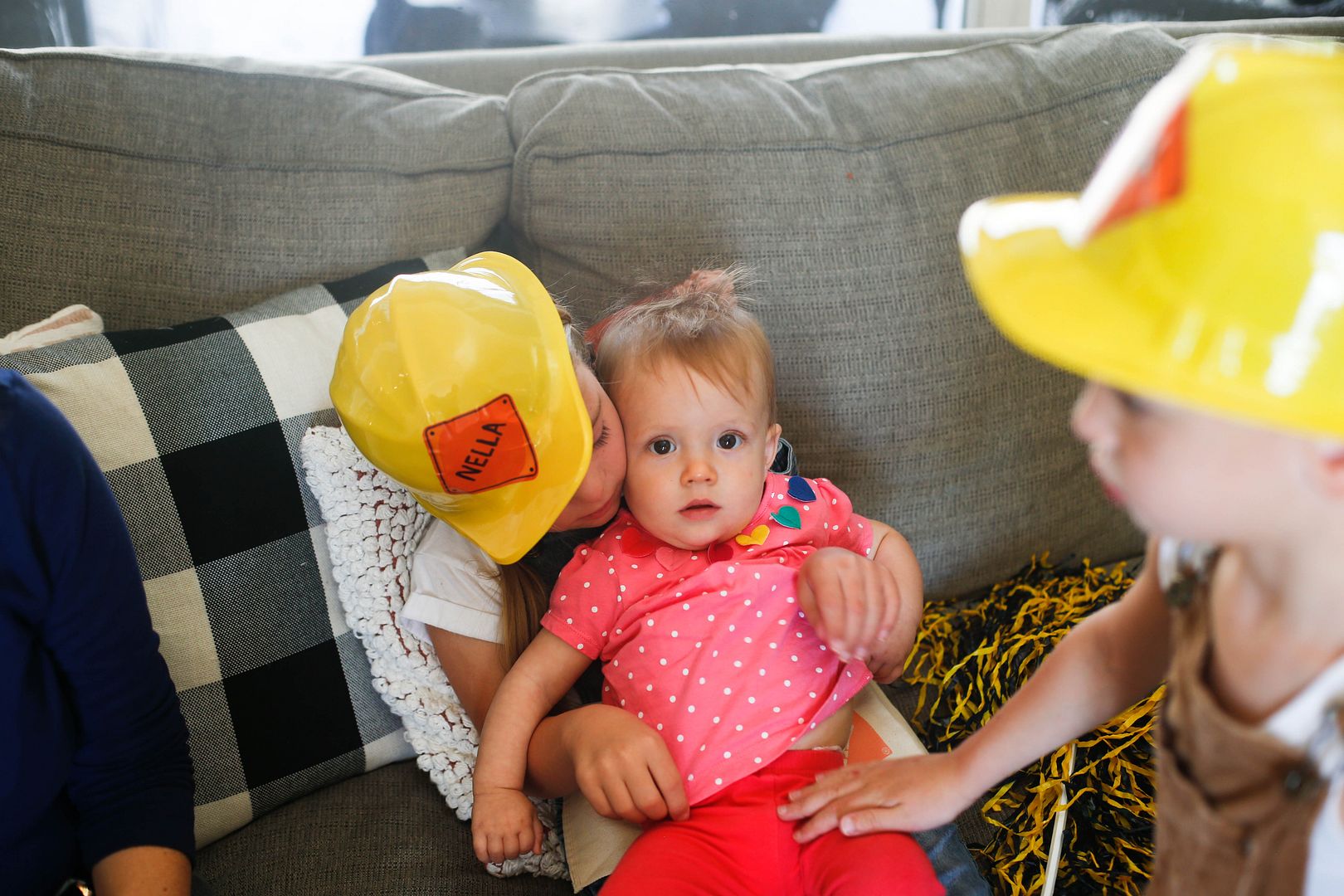 Dash was thrilled with all of it and so ridiculously happy to have his friends celebrate his day with him. I told Brett later, "This is the year. This is the one where his birthday means more to him than it probably ever will again."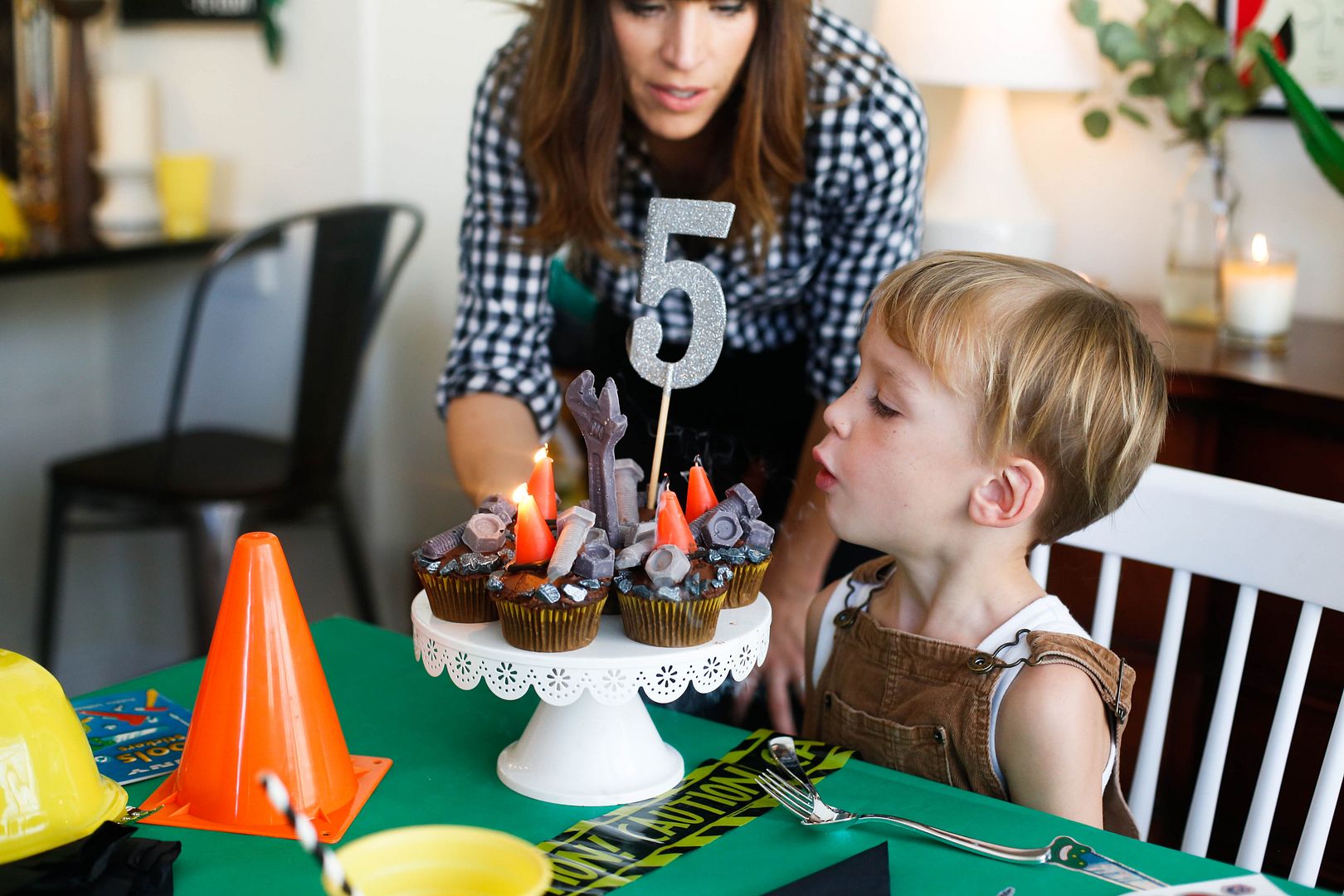 Also…no injuries! No flying hammers! Now if I could just put these little handymen to work on my bathroom that needs help. Here, let's see how you work a sledgehammer. 
Loving so much where we are at five years old…his little voice and daily inquiries and creative mind that does not stop. So thankful for this boy and everything he is.
Party Sources:
Tool Candy Mold: Amazon
Nuts and Bolts Candy Mold: Amazon
Chocolate Rocks: Hobby Lobby
Tool Sticker Albums: Amazon
Toolboxes and Tools: Dollar Tree
Plastic Hard Hats: Amazon
Orange Construction Vests (set of 3): Amazon
Tool Aprons: Home Depot
Dash's Overalls: Target (no longer available, but these Dickies ones are and are handyman worthy)