Nella turns eight today which is hard to comprehend considering when she was born, I couldn't imagine even one year ahead. Looking ahead felt so heavy then, and here we are at eight, celebrating what has been nothing but joy, joy, joy with a theme so far from heavy–kitty cats. The cat theme was actually born out of an attempt to tie in the beloved wand she carries around, so a cat toy ribbon wand activity was planned and a kitty party developed around it…Breakfast at Kitteny's to be exact.
I've never done a kids' party at breakfast hours before, but I'll totally do it again as it made menu planning so simple (pancakes, scrambled eggs and fruit–that's it) and kept the day after the party completely open.
Girls were welcomed with cat ears (hot glued felt ears on black plastic headbands), face paint whiskers and kitty noses and cat collars at the door. Cat collars were just black ribbon with paper key tags where we wrote their chosen cat name.
Our cats, up for adoption (Aurora plush cats from Amazon).
Since the party was in the morning, we skipped the cake and served sugar cookies for birthday treats.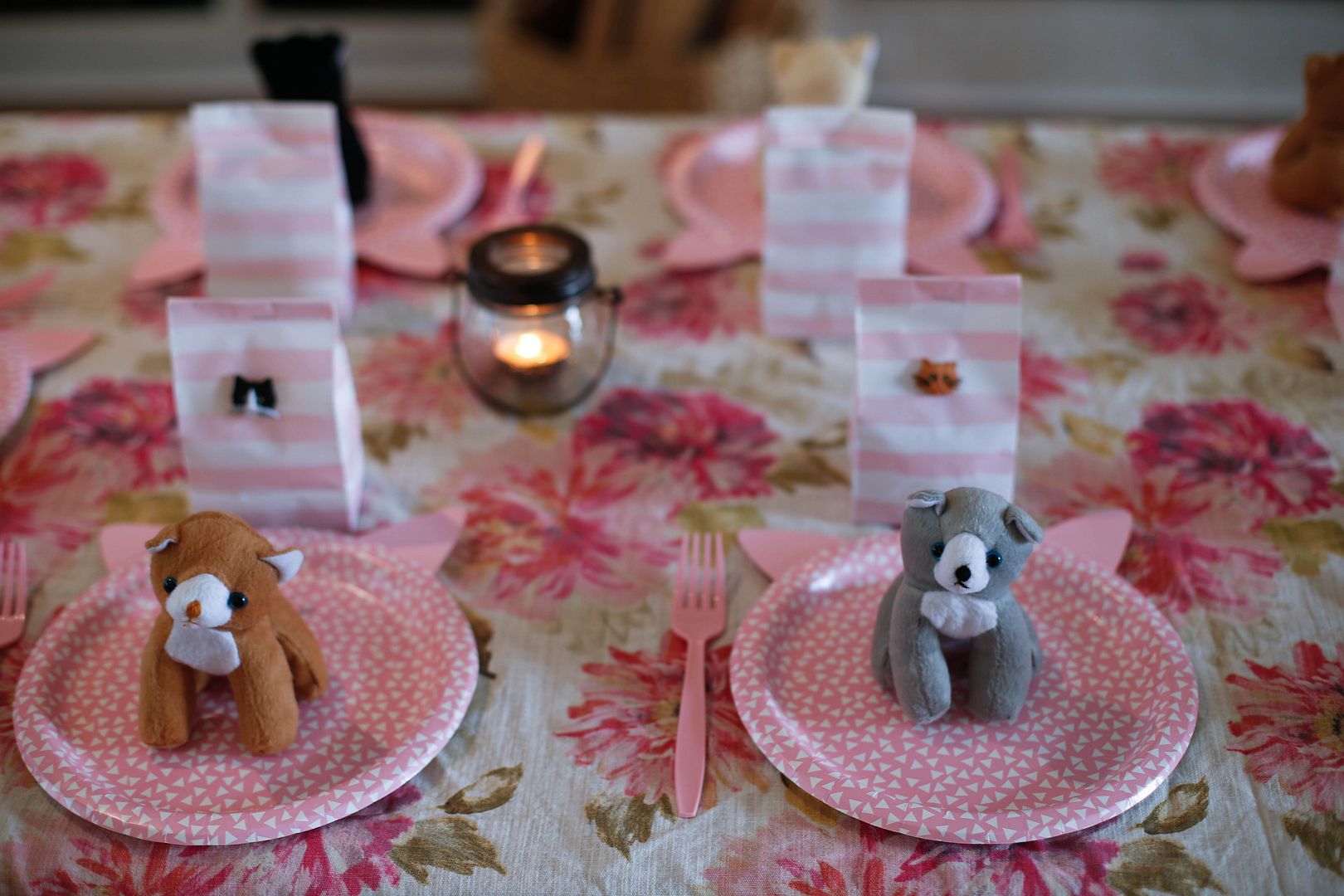 Reused tuna cans worked great as "cat food" dishes for the scrambled eggs and held the perfect individualized servings.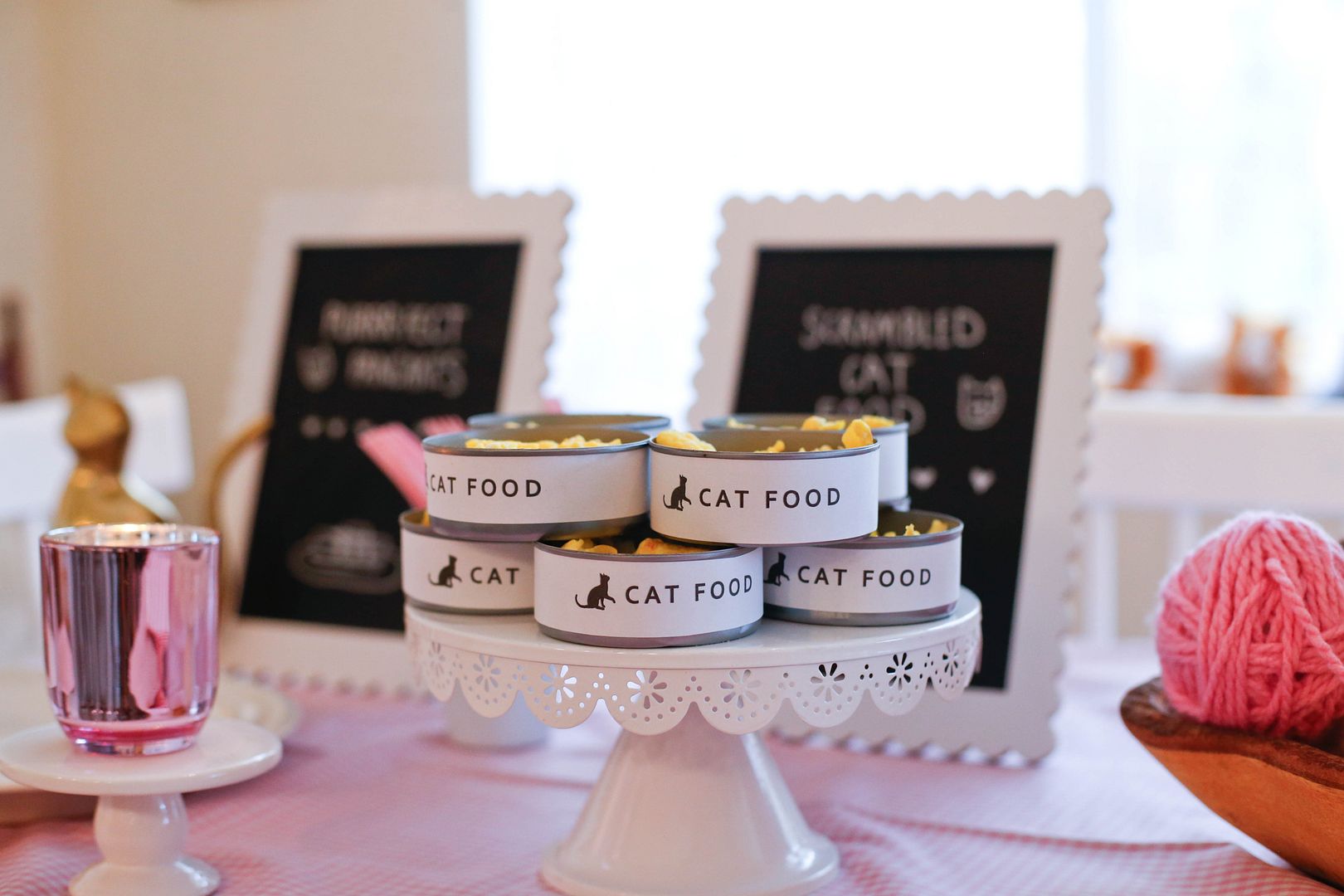 The cat toy wands turned out so cute–Nella played with hers all day yesterday. I bought a pack of dowel rods (you can get 12 in a pack from Michaels, pre-cut to this wand size) and screwed small eye hooks on the end. The girls chose a few pieces of ribbon to be threaded through as well as a jingle bell and cat toy mouse.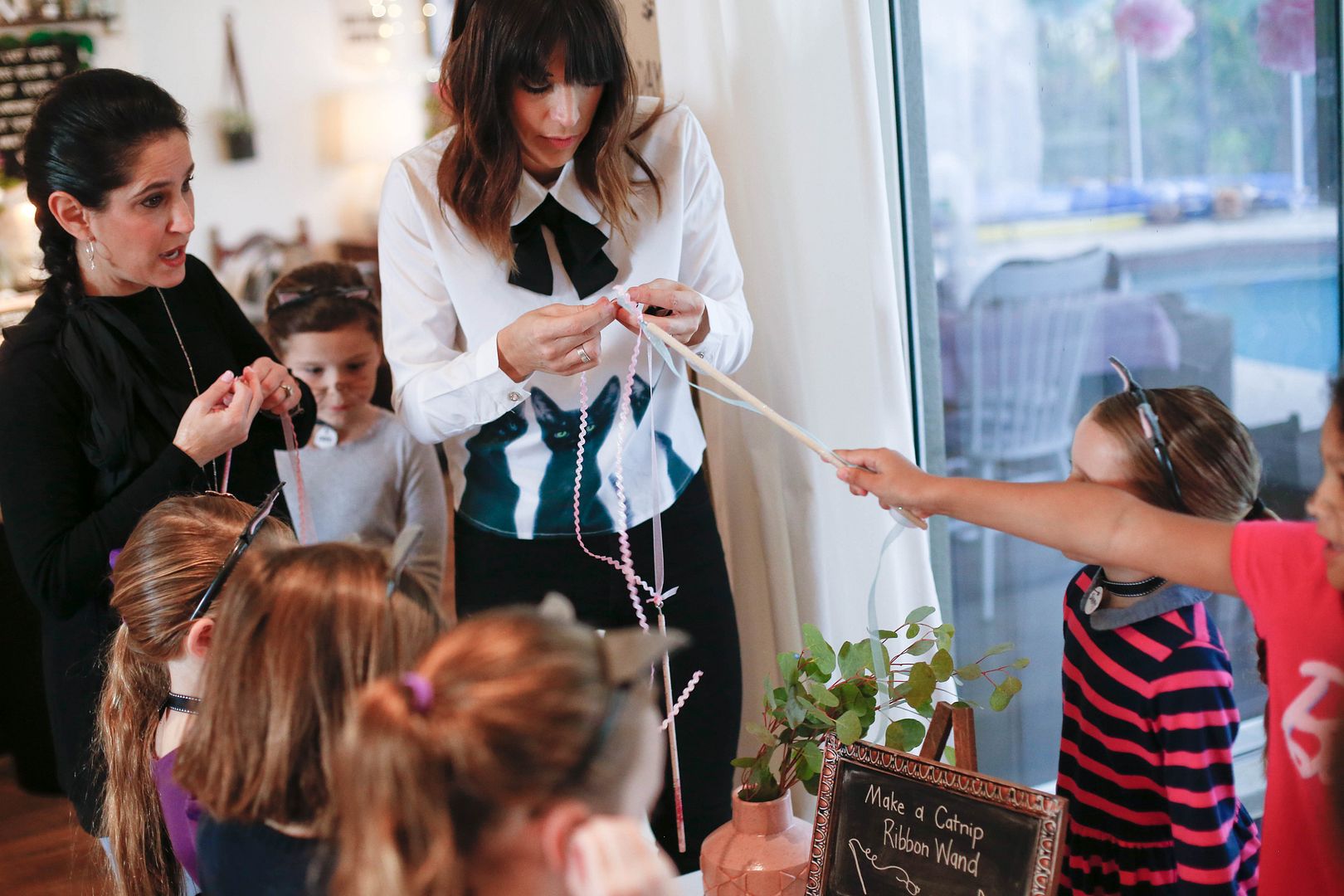 The cat tails we made out of wired fur that Hobby Lobby sold in 9 ft. rolls for only $3.99. I can't find it online, but it worked great because the wire could be manipulated to make a little hook so we could tie a clothes pin on. We played Capture the Tail outside–last one standing with their tail still attached wins.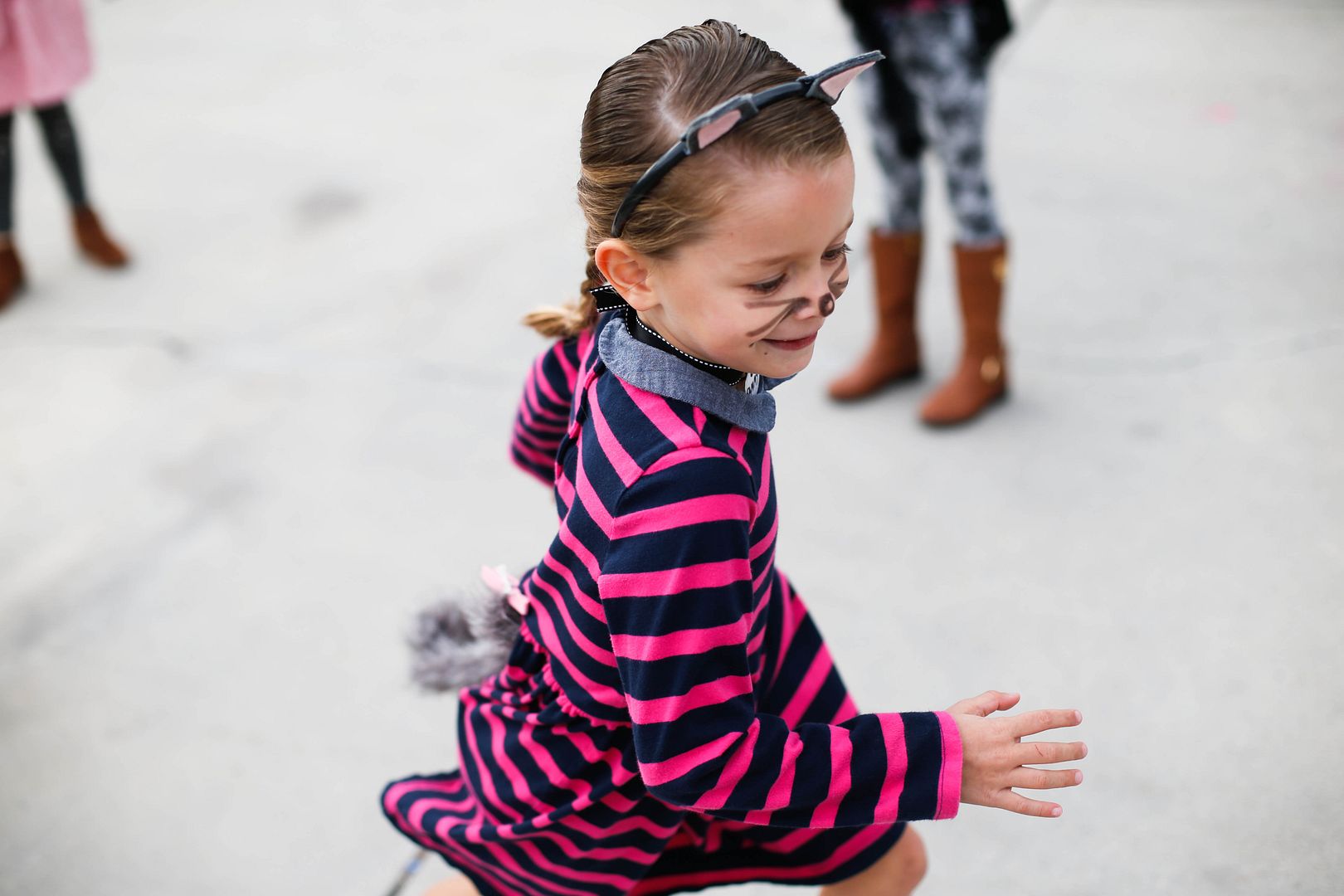 …and Cat Cornhole with Sardine beanbags.
After games, the girls picked out their cats to adopt and decorated these cat boxes with markers and stickers (this sticker book is loaded with amazing cat photo stickers).
My favorite were these cat necklaces–only $5.99 for a pack of 12–and the kids added wooden beads to jazz them up.
How did Nella do? Last year, she was ALL IN, and we were amazed at how engaged she was with her friends and how well she did with sitting at the table and being the center of attention. We keep the guest list small for her but even so, this year she retreated a little more at different times. We go with the flow…that's how we do this.
Because how she socializes isn't at all consistent, it's not always easy to plan things for her, but it was amazing to see her friends respond. Several of them held her hand and asked if she wanted to go play alone. One sweet little girl said, "I think maybe we should let her open her gifts because I think she'd like that." So we did, and she was right. We also invite a teenager or two that Nella loves. They are great to go play with Nella or help her with an activity so the other kids can still have fun without even realizing Nella needed some extra attention.
Whether or not she's completely engaged, the theme of friendship rings true. After her party, she talked all about her friends who came–named every one of them and asked to see pictures of her party. I write a thank you card to each little girl from Nella (she signs it) and write personal messages I want those friends to know–"Even though I'm shy sometimes and don't always play with you, I love that you are at my party. When I'm not ready to play, I still love to watch you play, and I am so happy you are my friend. I told my mom all about how much I loved having you here after you left."
Nella opened Pop the Pig for one of her gifts and didn't want to do anything else but play that game right then and there. So that's what we did, and everyone was happy.
And besides, when Nella wanted to sit out and watch, her brother had no problem stepping in for her. The amount of times I heard little girls yelling, "Dash, STOP!"–Lord have mercy.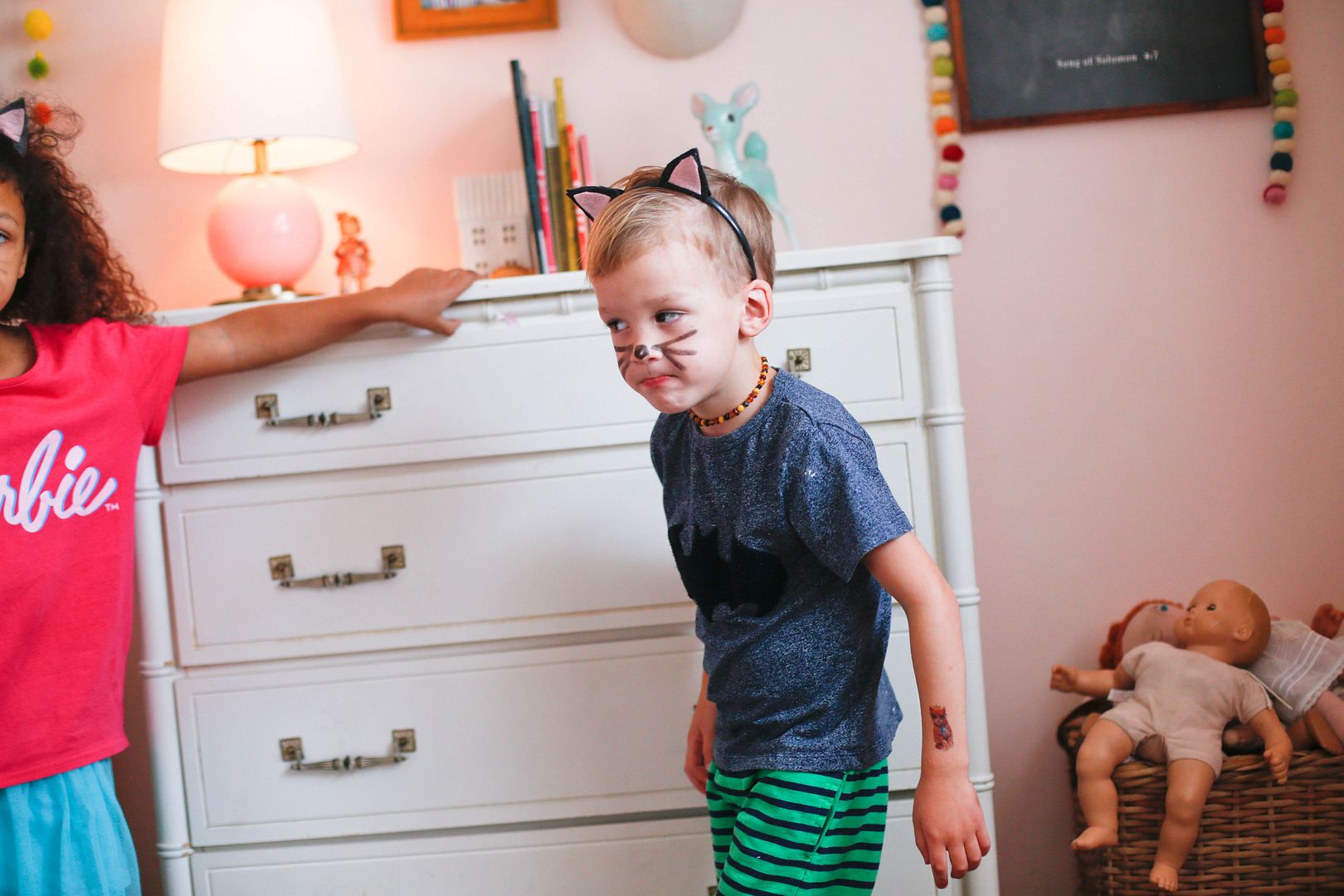 We are so thankful for these eight years, for the beautiful friendships our girl has developed, and for the opportunity once again to celebrate our girl and everything she is.
Happy Birthday, Nella, the coolest cat in town.