again, today:
…and i have two things to say about this:
a) i so have learned my lesson to stop leaving the pantry doors open.
b) (and i'm gunna get really long-winded here and tangent into some motherly emotional banter…just a friendly warning).
sigh. okay. here goes.
life is a choose-your-own-adventure book, and i don't know if it was having a baby or just getting nearer to the third decade of my life, but i have so embraced this philosophy of finding and loving the good in everything, everywhere, everyone.
and this stage? this i've-actually-named-the-vacuum-(frank, in case you were wondering)-because-we've-been-seeing-a lot-of-each-other-these-days stage? this she-knows-what-she-wants-and-she'll-use-all-her-will power-to-tell-me stage? it's magic. and my dad's comment yesterday hit me hard:
Someday when you are old, you will look at a spotless floor and wish for the spill of the child who has gone away.

and i pictured it. our family, around the dinner table someday far off… and they're all grown up. and we are laughing and remembering the baby days. and we'll tell stories of how our little cubby got into everything and how many times i had to sweep up piles of cheerieos or vacuum a blanket of oats. and although it will be all too sweet and wonderful to see our kids matured and full of personality, i know it will sting…just wanting to go back for a little while to this face.
this little face of the baby that once was. i take nothing for granted. not one little moment.
last night, after i read her a book and sang her "our" song, we rocked in the dark as she thumbed the ear on her puppy and breathed a little heavier against my chest. and then i said our good-night prayer as we do every night and prayed in the same order as we always do.
thank you for our home, our health, our toys, our food, our jobs, our happiness. thank you for cubby and all the joy she brings us.


watch over her as she sleeps…protect her from all harm. let your guardian angels–and grandpa & grandma cryderman–comfort her as she sleeps. bring her sweet dreams and memories and help her always to feel love and comfort in her crib.

help all the little parts of her body to grow healthy and strong and work perfectly, just as you have created them to. help her little brain to learn more about your world each day and help us and all those around her to find ways to teach her love and peace, kindness and patience, gratitude and contentment and for her to grow up using her talents to help others.

and bless our family…be with…
…and at this point, i usually go through the list, beginning with daddy, mommy, lainey and bruh-bruhs and on to the grandpas, the grandmas, the aunts, the uncles, etc…
and, while i thought she may already be asleep and could only see the silouette of her little body in the dark, i watched as she pulled her binky out of her mouth in the middle of the prayer and quietly chimed in:
"bruh-bruh. bruh-bruh."
tears instantly welled as i ran out to tell brett…she prayed. she knows what comes next. she wanted to pray for her brothers and she knows that's what we pray for every night. and what this all means–the comfort of a nightly routine repeated, just the same, every night, the understanding of caring for others, the importance of austyn and brandyn to her…it's all just so much. and that's how every day has been these last weeks…so, so much. and yes, there are fits (a.k.a.: self-discovery outbreaks) and spills and messes. yes, i'm far more wiped out at night than i have been in a long time. but it's nights like last night and all the discoveries in between that remind me how much i will miss this all when we do finally gather at that dinner table with our beloved kids…all grown up.

(f.y.i.: the above prooves baby feet make killer book-ends)
…and you certainly didn't think i'd close up this post without paying homage to fall once more?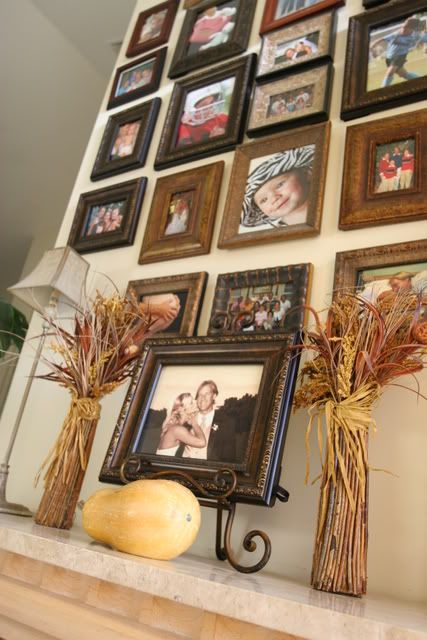 we're just a couple wheat bundles short of a farm.
…enjoying the taking-nothing-for-granted things. ~k