10. )
9.) not really being one to over-bedazzle my baby, i shall say it's fun for special occasions (i.e. easter) to dip into the magnetic earring aisle. and when she wears them, we all say *ooo-la-la* which makes her smile. and her eyes twinkle.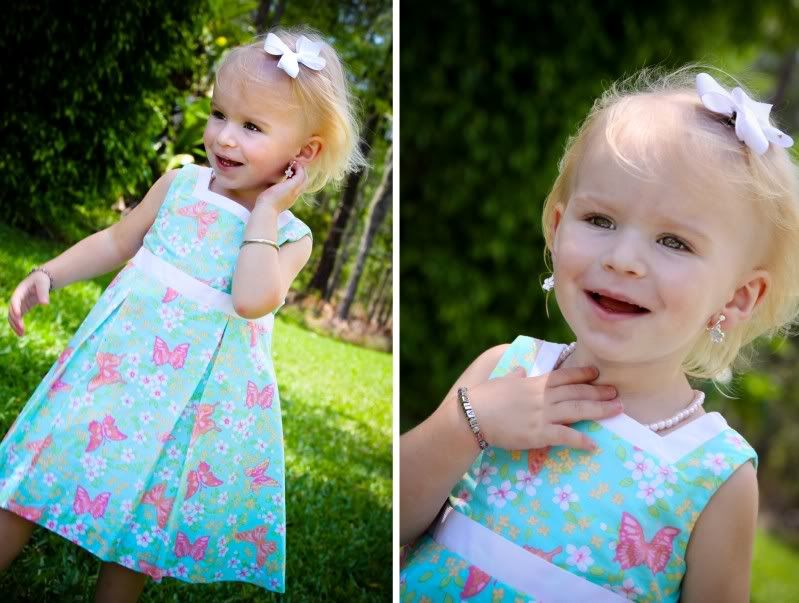 (thank you, julie b, for my beautiful dress!)
8.) …which reminds me…
a little pair we snatched up for her upcoming ladybug picnic birthday party which, thanks to a little spring break boredom, is completely planned and finished…
sneekity peekity: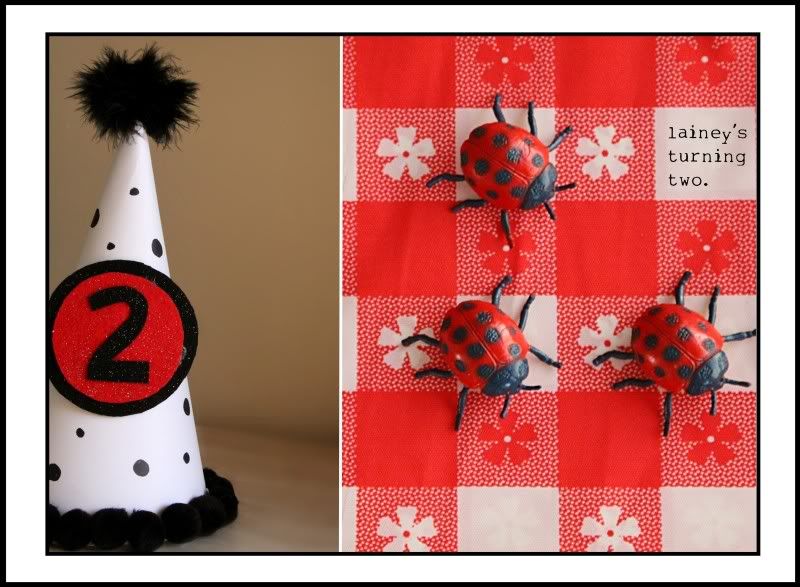 7.) getting dressed up for easter. i love dressing up. and her up.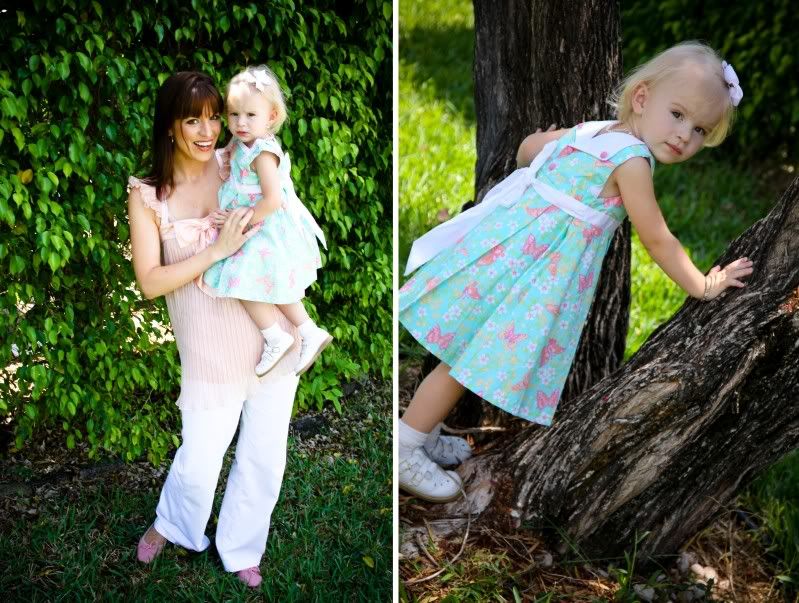 6.) the blossoms are slowly waking up on our magnolia tree…and i didn't know until after i looked at this picture that there was a little friend on its petals.
5.) teaching her how to properly eat an oreo (an art, i tell you). i was in stitches the other day observing her put her valuable oreo-eating knowledge to the test. dunking for one. two. three full seconds and lifting up the dripping, milk-softened cookie in one fell swoop, satisfactorily smiling all the while.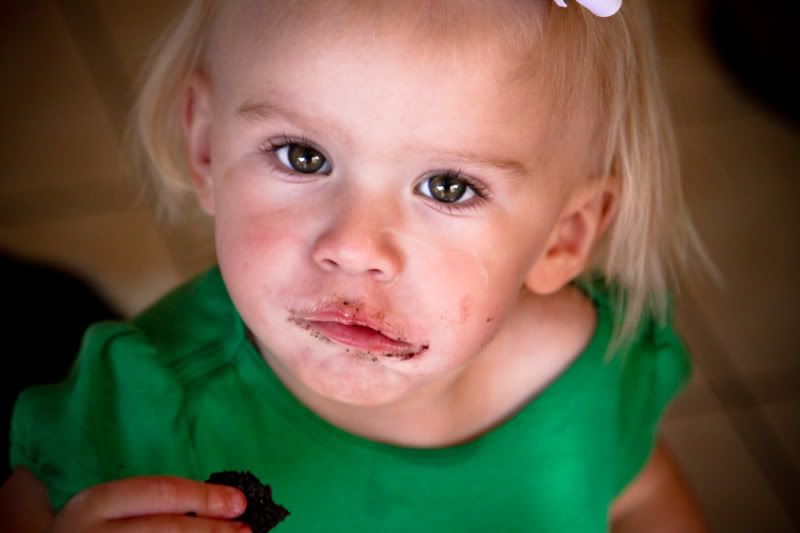 4.) meeting this amazing family last week. two years ago, after traveling down many roads for a baby, they adopted a beautiful little girl. she was two weeks older than our lainey. and her name was laynie too. i heard about this family through my dad when, weeks after their little gift arrived, she had to undergo open-heart surgery. i followed their story over the following months as little laynie went through more surgeries. and my heart broke when i heard the news that their sweet laynie went to heaven last february. thankfully, they were blessed the following october with another beautiful little girl…sweet selah. i have looked forward to meeting them for quite some time now, and my heart is happy now having the opportunity to photograph them and all their love for this sweet new angel when they vacationed to florida last week.
tadd, jill & selah…you are all so beautiful in so many ways.
3.) spring break and all the wonderful gatherings of kindred spirits it brings. the blessing of not going anywhere is that we get to lounge. and have spontaneous waffle breakfasts. and pool party afternoons. and bathe our souls with the blessed company of those we love. too many pictures to go through of all our little gatherings this past week. so you'll just have to close your eyes and imagine a picture of happiness.
2.) sophie. because, although she so obnoxiously barks when someone's at the door…or when she thinks someone's at the door…and occassionally makes our girl cry hard when she snatches her food…or pees lake-ish flooding puddles when overexcited…besides all that, she is pure love. she was made to be a kid dog. to be dragged around the house by a tight leash in the hands of a grouchy toddler. to lay protectively outside the door of a sleeping infant. to pant exhaustively with her head half-zipped in an overheated tent just to satisfy the whims of a girl she secretly loves.
aw, sophs…we love you.
1.)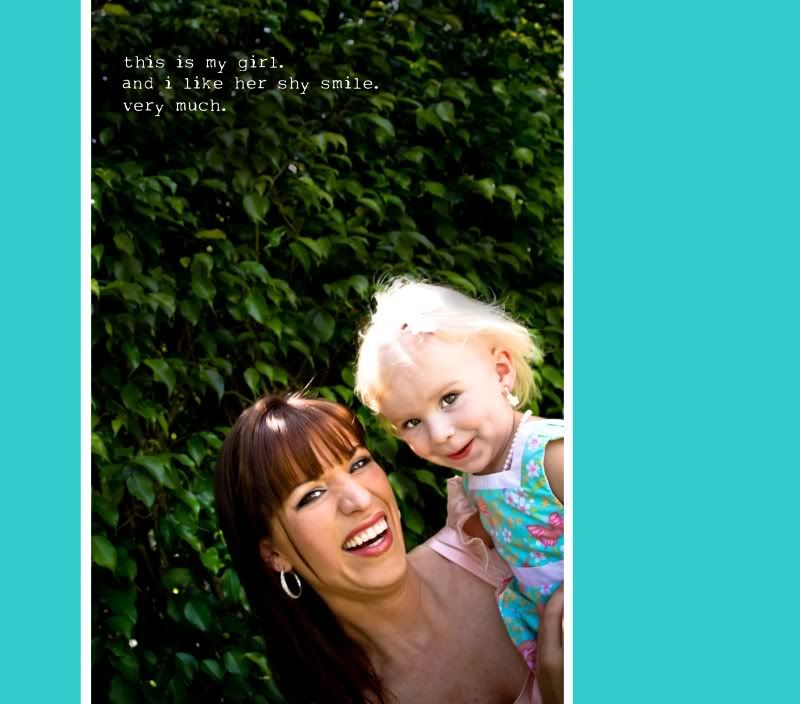 feeling happy. and knowing that that happiness does not come from having everything just right. or surviving in this economy. or even a happy marriage or the blessing of kids. it's just there, and it is a culmination of gratitude, creativity, love and awareness of good things. little things.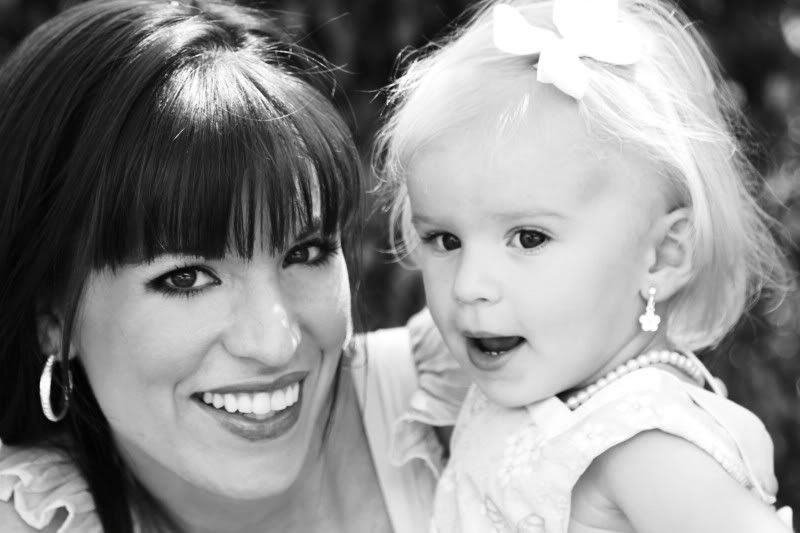 …enjoying the small, the great, the summer, the family things…and all the in between. ~k
there's more than ten…because i didn't even mention brown sugar poptarts or ruffled shirts or twice baked potatoes. having a *little sister* finally through brett or the "brink" of summer and icy pops in the freezer. 'cuz i'm enjoying those too…but i know you have more…and i'm in the mood for a give-away. i will make a pair of sandals…like these ones i did for lainey's birthday…for your little dear or a gift for a dear you know (they're for girls, but i may be able to think of something boy-ish if need be)…in the appropriate size and colors…if you tell me five little things making you happy today in your comment.
~k