my first glimpse of the dirty trucks bearing paintings of colorful merry-go-round horses and the trailers in which i'm sure they sleep during these on-the-road weeks had me proclaiming some statement about how hell, for me, would certainly be waking up on a saturday morning, cotton candy stuck to my hair, some god-forbidden organ circus tune repeating somewhere in the background and a day's worth of taking tickets from screaming kids and hitting the 'go' button on the twirl-a-whirl ahead of me.
maybe it was their faces. sitting on the tables of their prize booths, their dirty untied tennis shoes dangling like lifeless limbs, rows of colorful giant stuffed bananas behind them along with hidden styrofoam dunkin donuts cups littering corners suggesting earlier attempts of caffiene-induced depression-awakenings…unsuccessful, by the looks of it.
that's when it hit me. you know what? no. maybe it's not hell. maybe i could rock it out.
because if i was a carnie…
well, for starters, if i was a carnie, i wouldn't smoke cigarettes and drink gin & lemonade while operating the ferris wheel. i just wouldn't.
if i was a carnie, i would wear cool shoes…and lipstick.
i would randomly give away giant synthetic carebears to cute little kids who eyed them in my prize booth and make up cool dance routines for us carnies to whip out simultaneously with some secret signal.
if i was a carnie, i'd have all my teeth. i'd design fabulous carnival shirts that weren't made of polyester and the other carnies & i would look really cool wearing them.
i wouldn't rig the blunt darts so no one pops a balloon, i wouldn't charge five bucks for a candied apple, i wouldn't stare at the moms' boobs, and i promise you, i wouldn't say the f-word when piling in a herd of kids past the gate to board the kiddie cars.
if i was a carnie, i'd smile and think that being carnie was perhaps, the coolest job in the world.
with all that said…we had a late-night invite to a local carnival last night and, despite the fact our girl had a short nap and really wasn't up for a late night, i thought it might be fun & spontaneous for her to enjoy the adventure of bright lights and twirly things when normally, we'd say no.
and she did exactly that.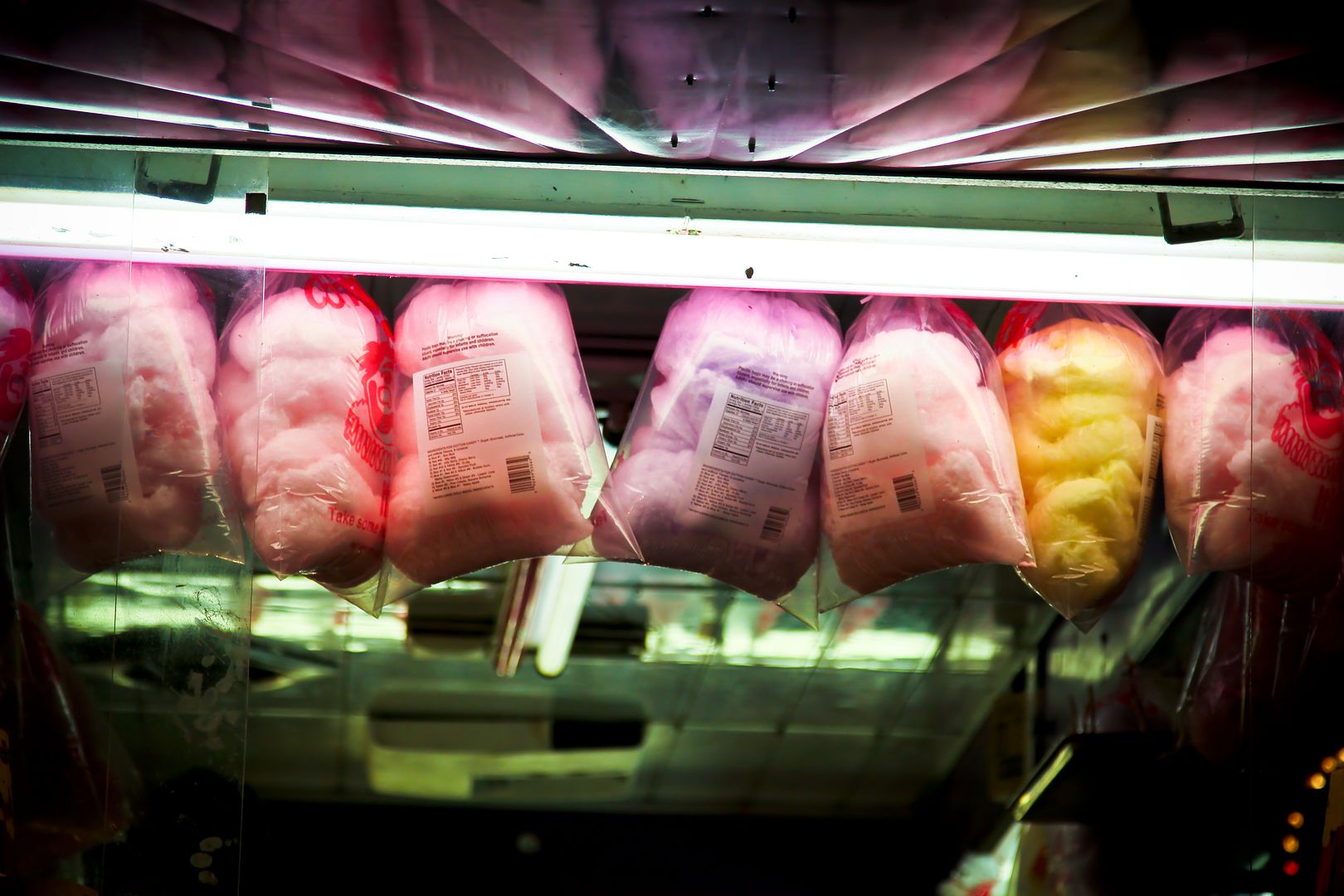 hesitantly trying her first puffs of sweet cotton candy with a kaleidoscope of flashing lights behind her. patiently waiting outside the big-kid rides while her friend alec enjoyed them…and waving every time his flying dinosoar soared by her. hello, precious.
it was loud and dirty and maybe even over-stimulating…but just what we needed on a saturday evening. seriously. how fun it was to watch my girl in childhood bliss. even if they wouldn't let this pregnant lady ride the merry-go-round with her. (thank you, dede!)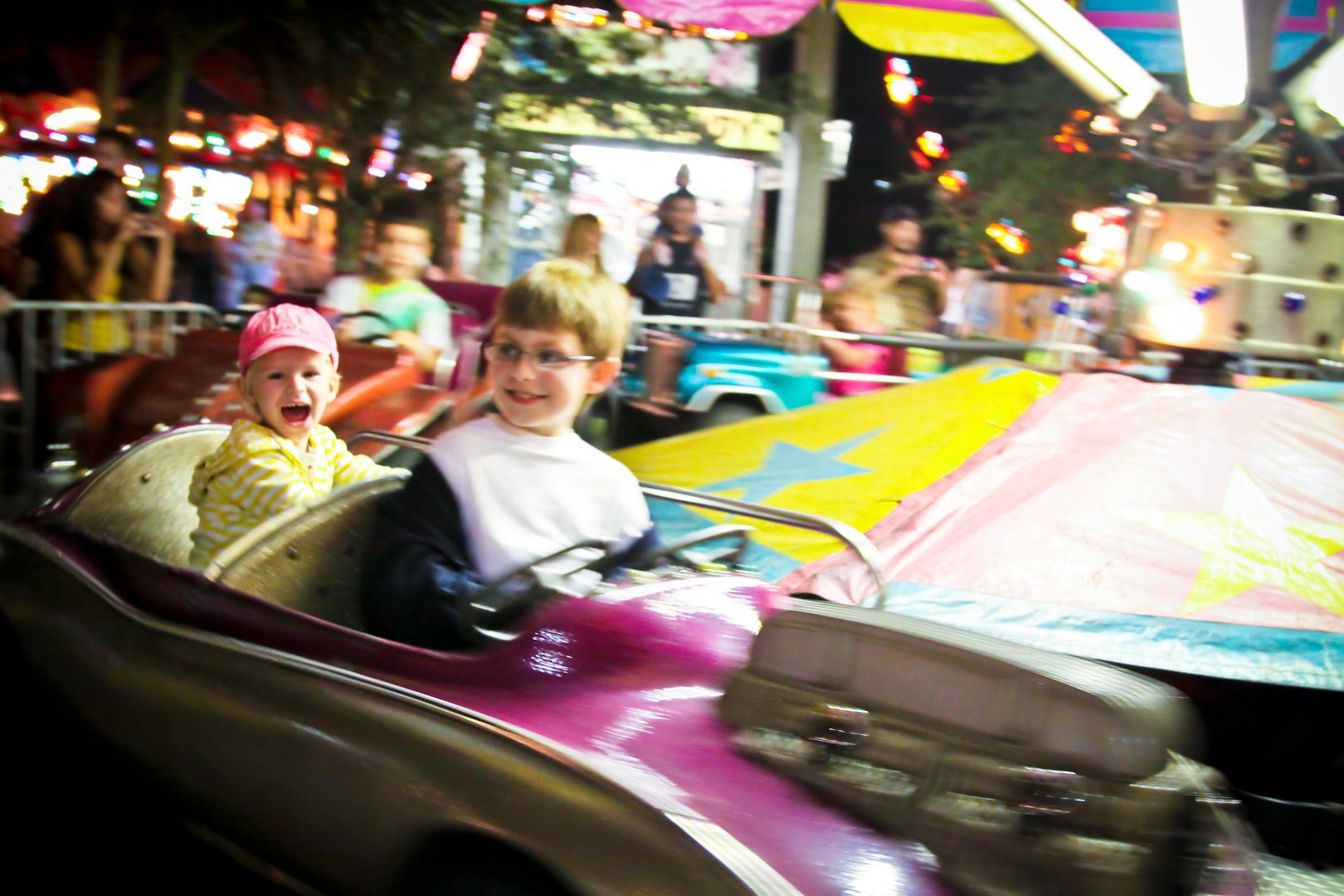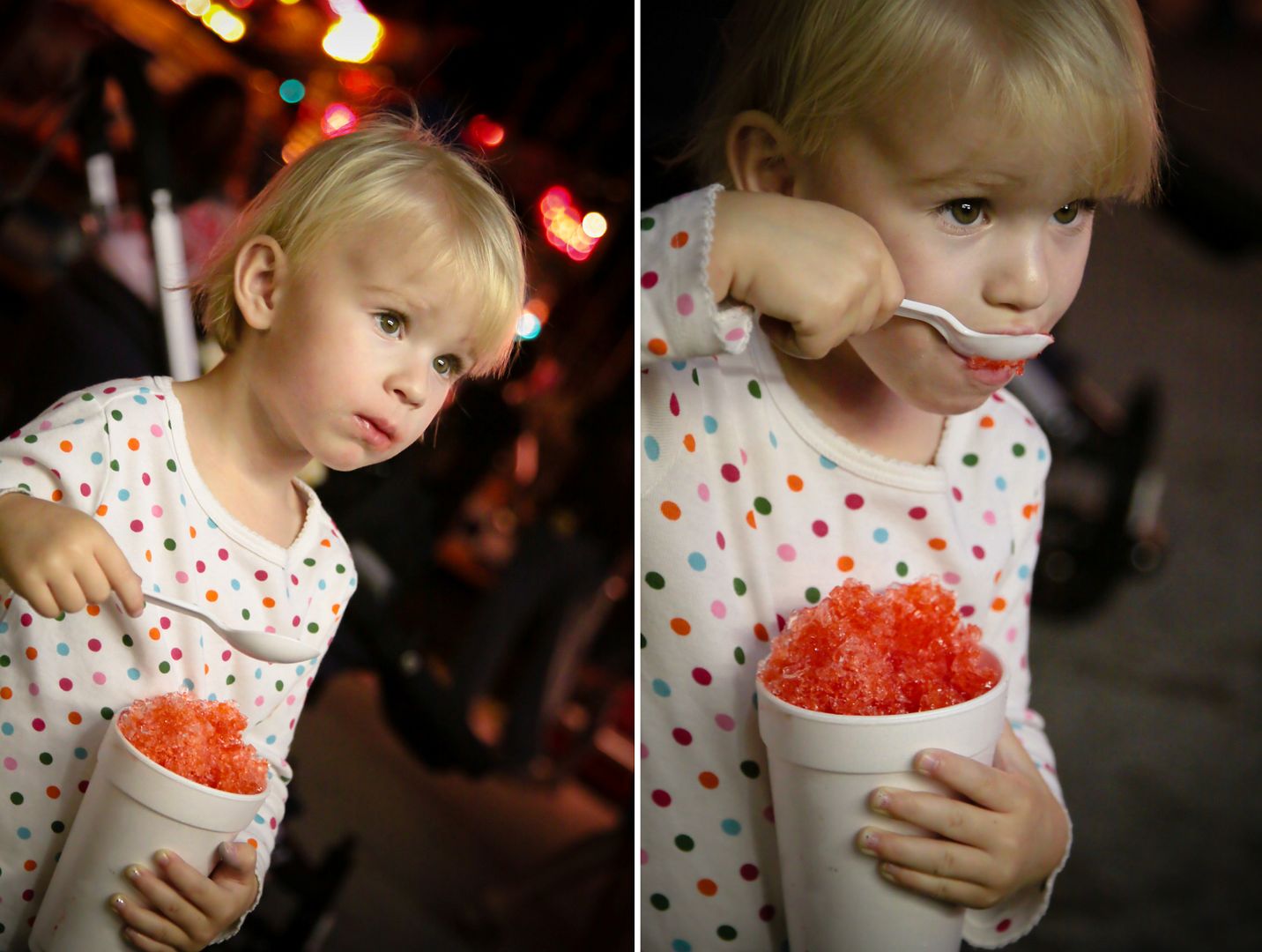 if i was a carnie and i was watchin' our little pink-capped, snow-cone stained, big-eyed girl last night…well, that woulda made my night.
it did mine.
oh, wait…fyi.