so, i'm finding it must be during the hollow and dry, puddly low tide times there is more to drink in as, in these last few days, i haven't put my camera down (oh, prepare) and am finding comfort and inspiration in both the mundane routine moments of our life as well as a few moments to celebrate.
it is cold and rainy and we here in the south are madly scrounging for boxed-up sweaters and coats as this lengthy cold snap has taken the wimpy sun-lovers by surprise. (freeze warning tonight and wind chill temp of 20 degrees. that, my friends, is what neapolitans call…cold.)

*currently obsessed with pockets. notices them on all our clothes. 'you got pockets, mama?'
i, on the otherhand, am loving a taste of the north and affirmation that my huddle-and-nest tendencies the last couple weeks are perfectly excused. after hop-scotching three stores this morning in search of sold-out fire logs, we managed to rig up some tiny camping fire starters, a bundle of dry wood, and a few piles of paper plates and old mail…and i'm happy to report, we have a weak but semi-substantial fire despite the fact it requires frequent poking and blowing to keep it aflame. but, there is indeed a husband-less initiated fire today. badge of honor #1.
and routine has welcomed us back as i have spent the last three mornings washing her wet-the-bed sheets (badge of honor #'s 2, 3 and 4) and trying to keep the house clean and baby-ready (no badge there yet). but i am loving routine, its sameness a comfort and calm. i think the mornings are my favorite…just the idea that the day is fresh and new and welcoming. we've spent more morning time than usual in our bathroom lately as our baths are a little longer and getting ready has been drawn out to be somewhat more enjoyable than the quick wash & run. when it's clean and laundry-free, our bathroom is a happy place…the east morning sun drenches its rays into the big window above our tub, and the golden light contrasts with our dusty blue walls in just a way that makes you want to stay. and so we do.
i always kept some sort of baby seat in the bathroom when lainey was tiny so i could get ready and yet still peek at her from the foggy shower door. the baby seat is back and ready, but it seems the older sister thinks it's for her.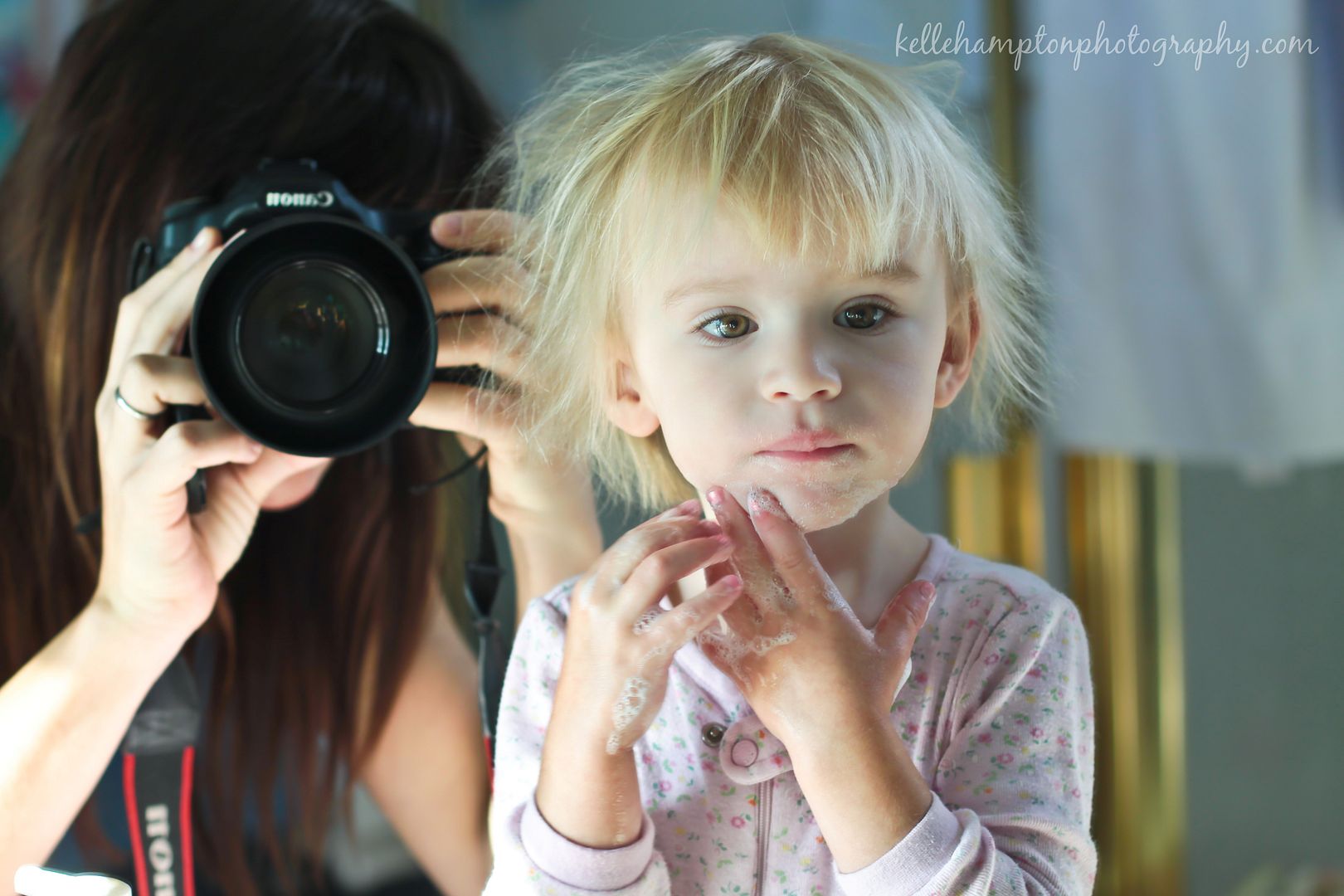 *she'll stand on her stool in front of the mirror and wash her face for twenty minutes if i let her. loves, loves soap & water and all the possibilities it has. entirely worth the mess.
we escaped our routine a bit earlier this week to indulge in a present from a girlfriend…a delicious pedicure. it was lainey's first trip to get her little nails done, and my cheeks hurt from smiling at her satisfaction.
she was speechless. just stared at the sweet woman who carefully painted her tiny fingers and toes and did exactly as she instructed. stayed perfectly still, balanced her hand in front of the fan, froze her arms in the slot of the uv dryer and watched. and, while perched on my lap watching the pedi guy buff the nerve endings off my feet, she kept asking, 'what dat boy doing?'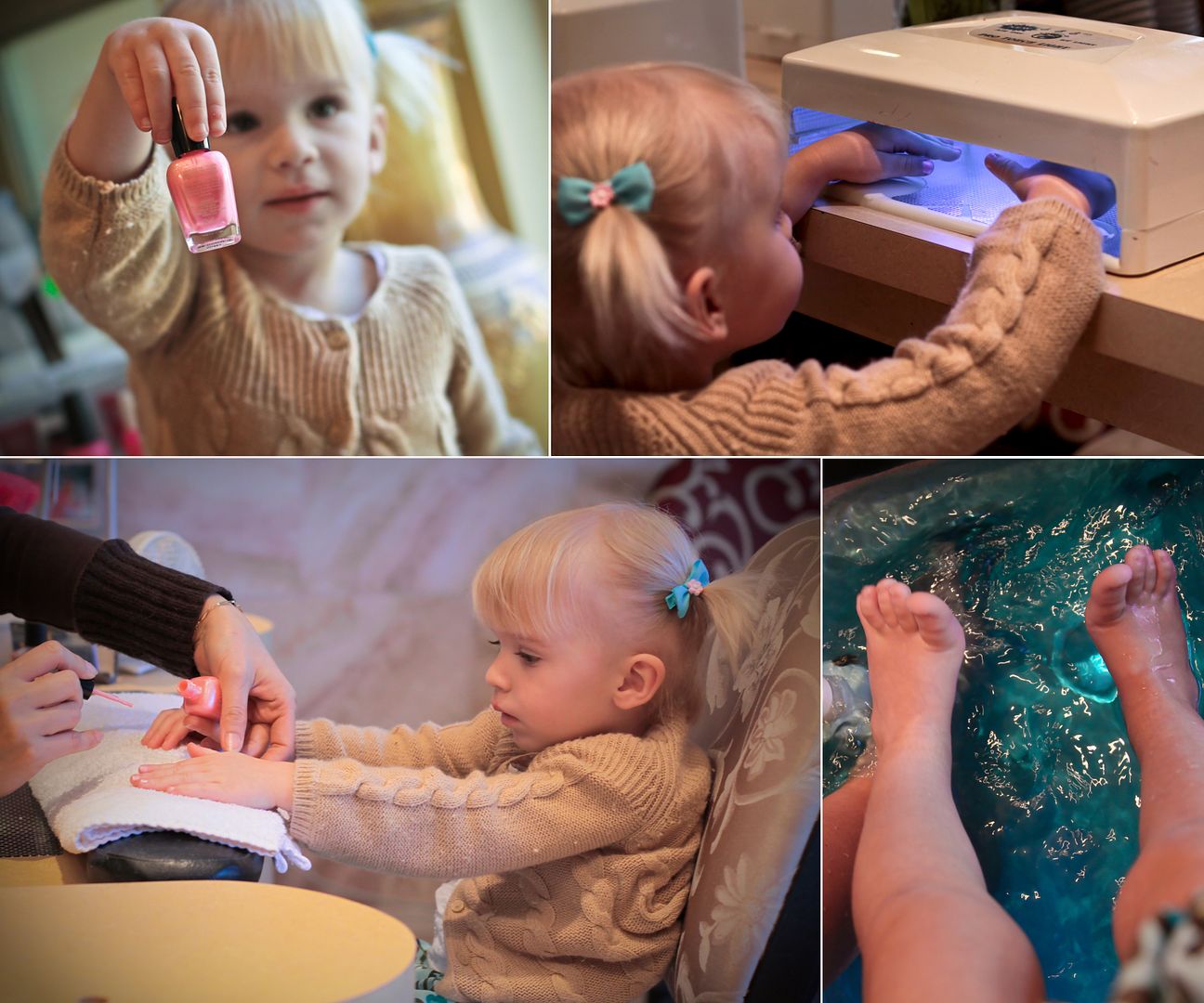 i knew she felt big and special and honored to be there with her mama. and, as if sinking into a massage chair for 45 minutes to have your legs and feet pampered isn't heavenly enough, sharing the experience with my girl made it so much better.
in honor of our soon-to-come, sweet, soft little bundle of girl, we both chose a whispering shade of pale pink.
sandwich in a few more moments of happy home routine…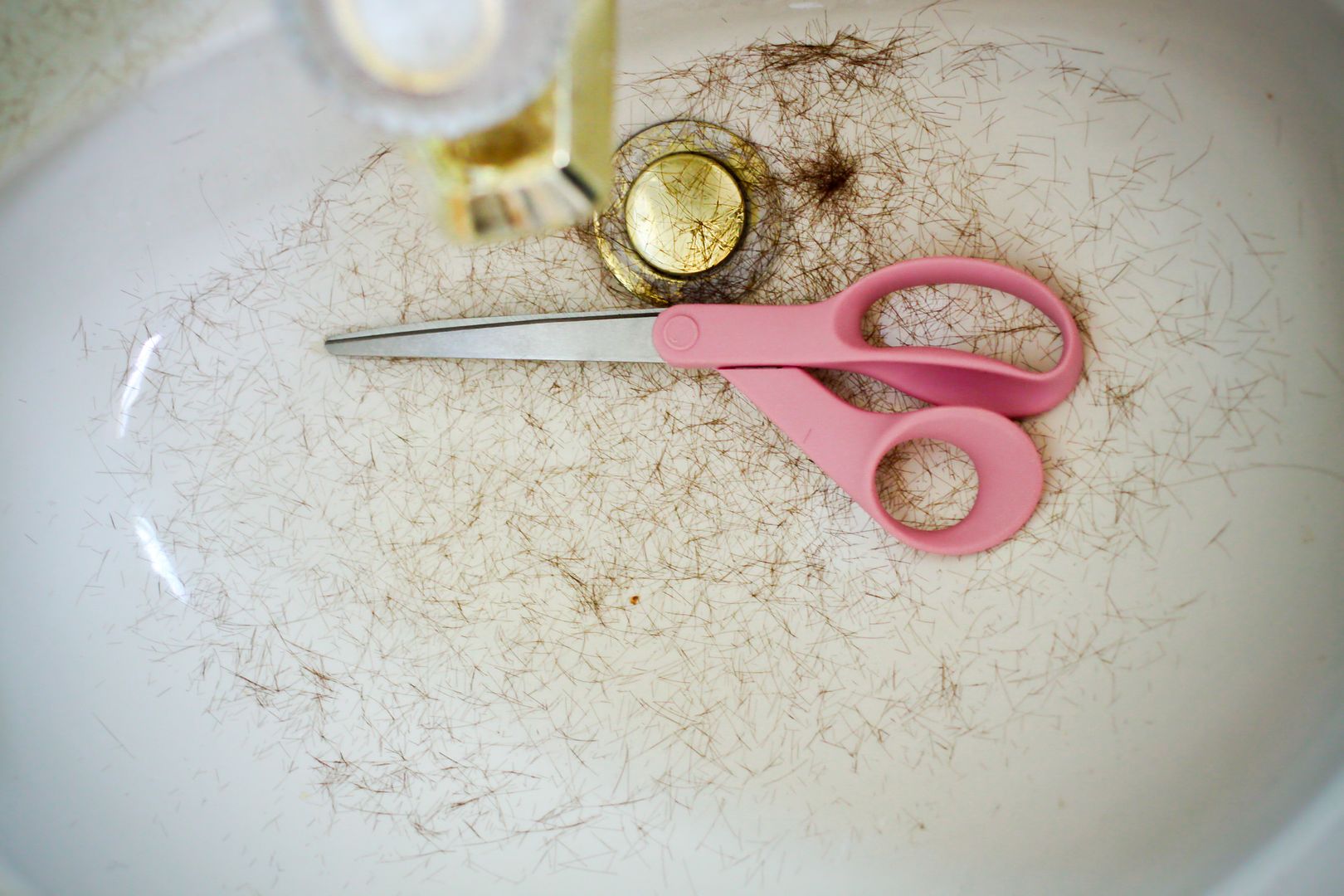 *note: this is a frequent scene in our bathroom and hardly a good sign…often followed with emergency call to my hair girl, but i think we managed to pull it off this time. product of impulsive nature, i suppose, but key ingredient to risk-taking creativity, if you ask me.


yesterday morning, lainey renamed the dogs lake & ape. i have no idea what compelled her or, more interesting enough, where she got the names lake & ape, but she told me in the morning that latte's name was ape and sophie's name was lake and, although i questioned her creativity or ability to realize it was indeed possible to up and change a dog's names on whim, this is exactly what she did. c'mon, lake, she called after sophie…or ape eat num-num after latte predictably snatched my toast. and it lasted one full day, i'm happy to say, and the dogs have returned to their originally given names this morning. kids are so cool.
finally, our routinely beautiful days interrupted last night for the equal beauty of gathering with my friends to celebrate my birthday in the happiest of ways.
we created.
nestled on a stretch of dark street downtown sits a hidden gem…earth & fire, a quaint pottery painting studio that sits high above the sidewalk and hosts girls nights or kid dates or what have you.
we gathered late with good wine and food, a couple littles (i couldn't bear to leave mine), and a huddle of girls as the black, wet streets soaked up the sprinkling rain outside, and we laughed and talked as we stroked paintbrushes across crisp, chalky white pottery to create little masterpieces to remember our evening with.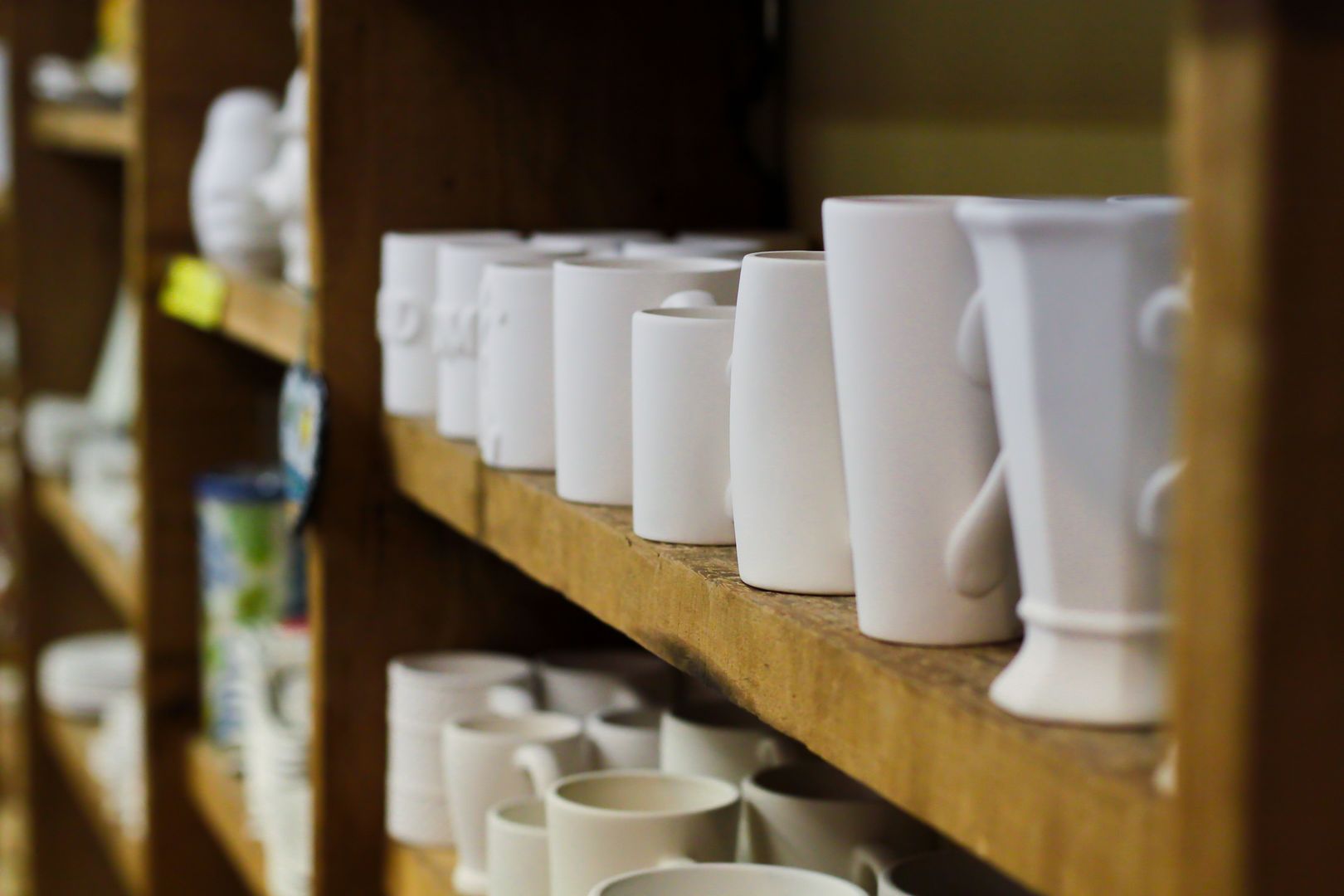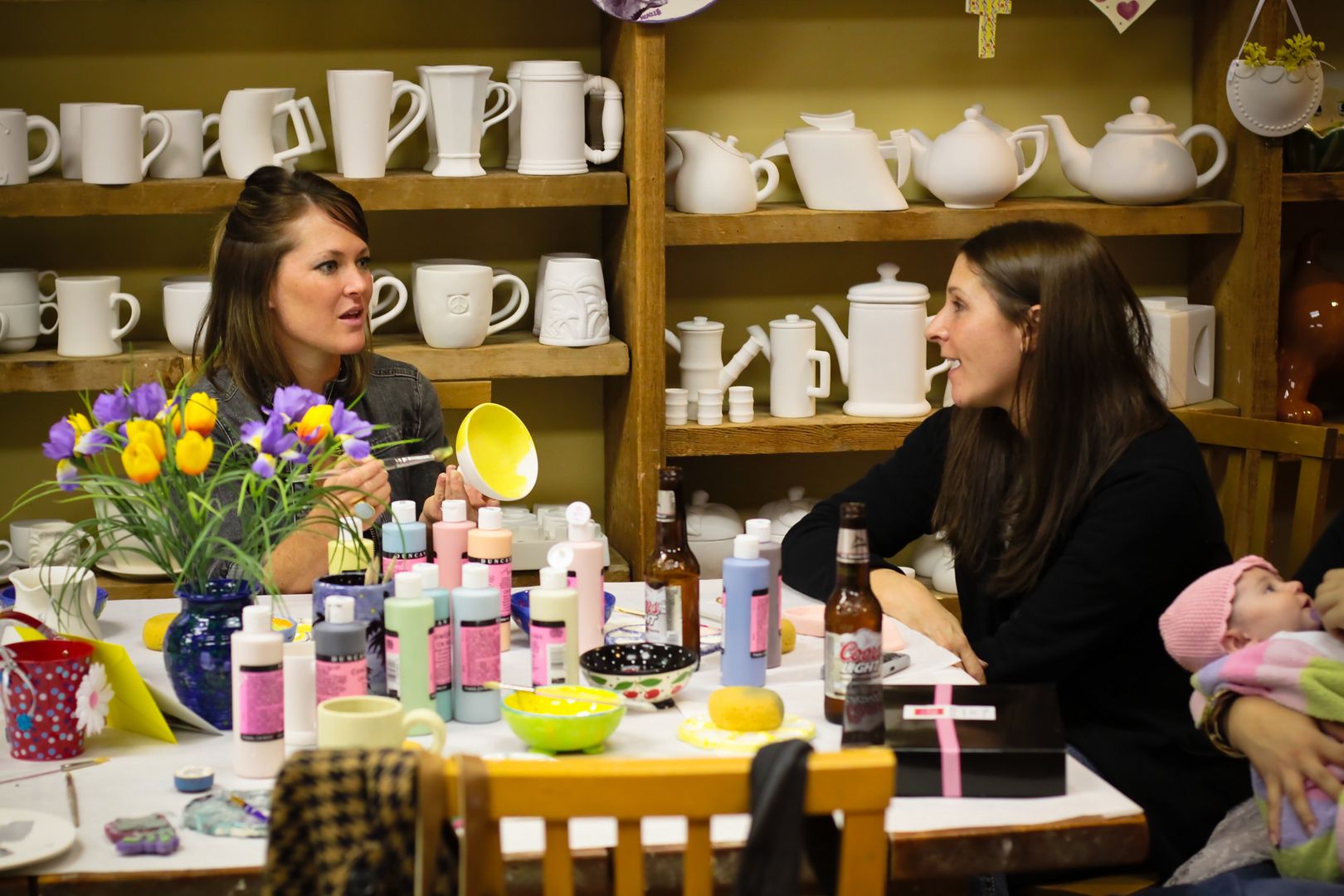 we often celebrate each others' birthdays at fancy restaurants along stretches of long tables, and although fun and special, i found it refreshing to do something a little different. i love to create, and i love to love while i create, so it suited me just fine, to be in the presence of my friends, painting, talking, nurturing my own little artist and finding time to snuggle some other little loves in my life…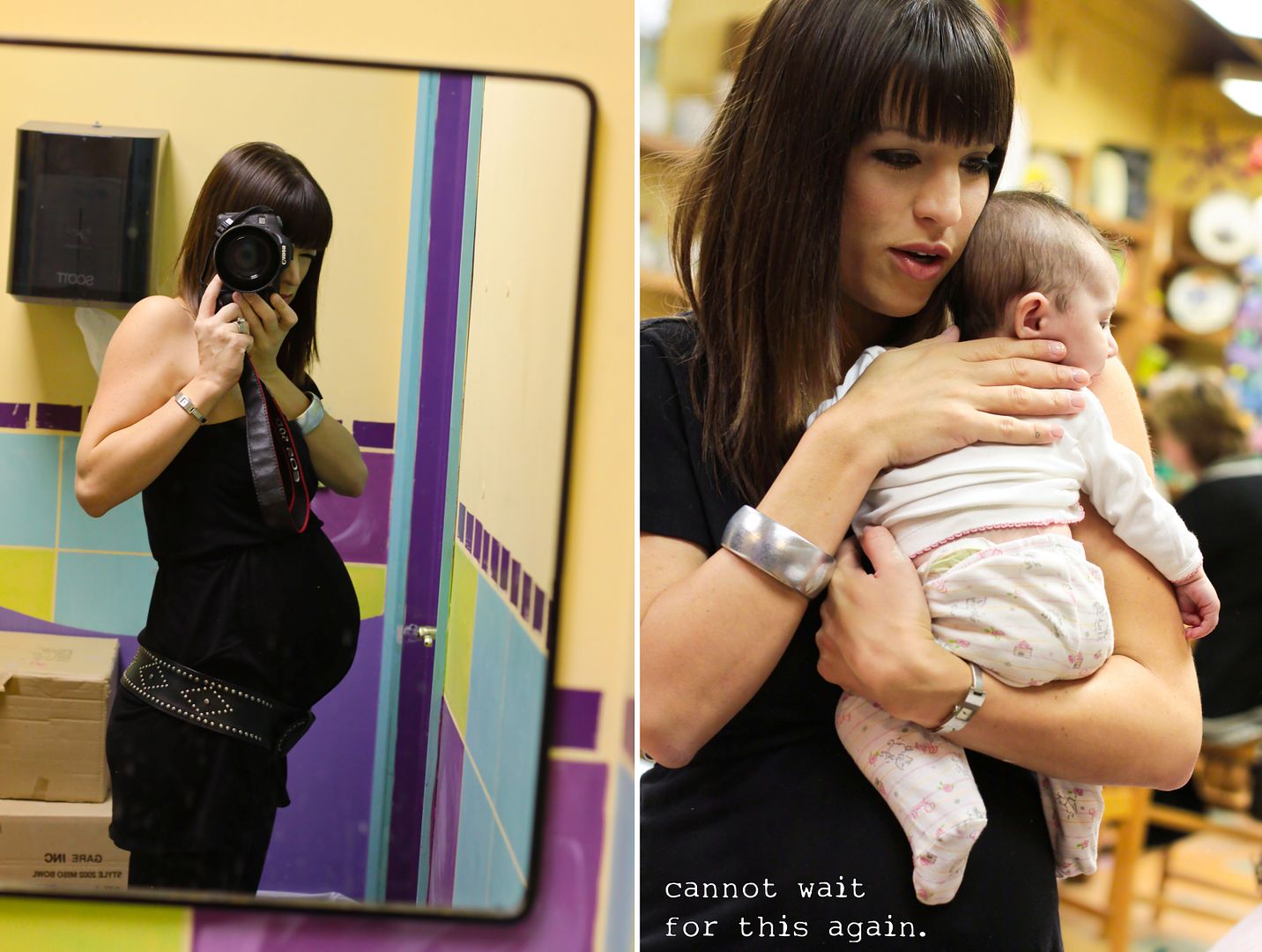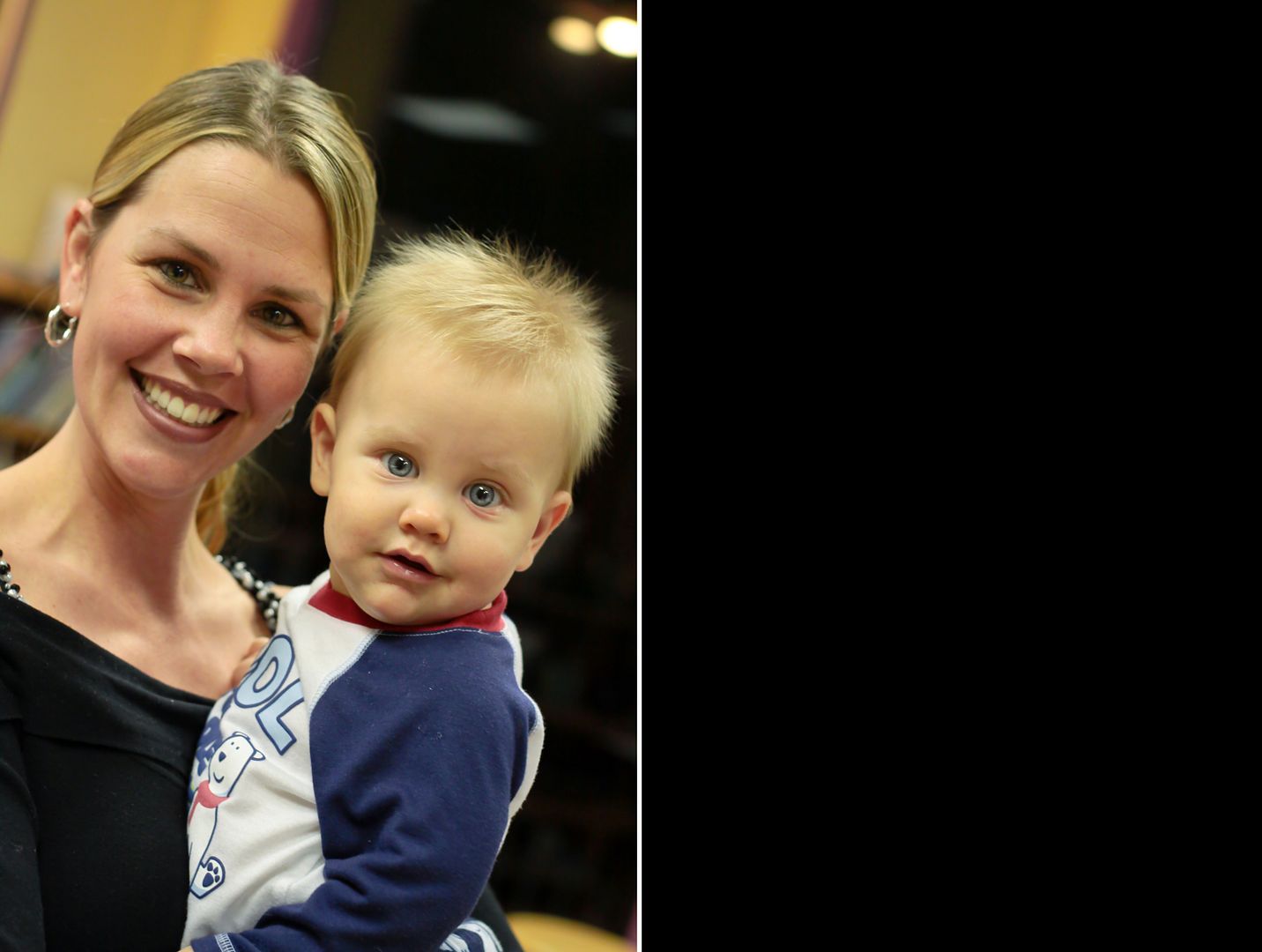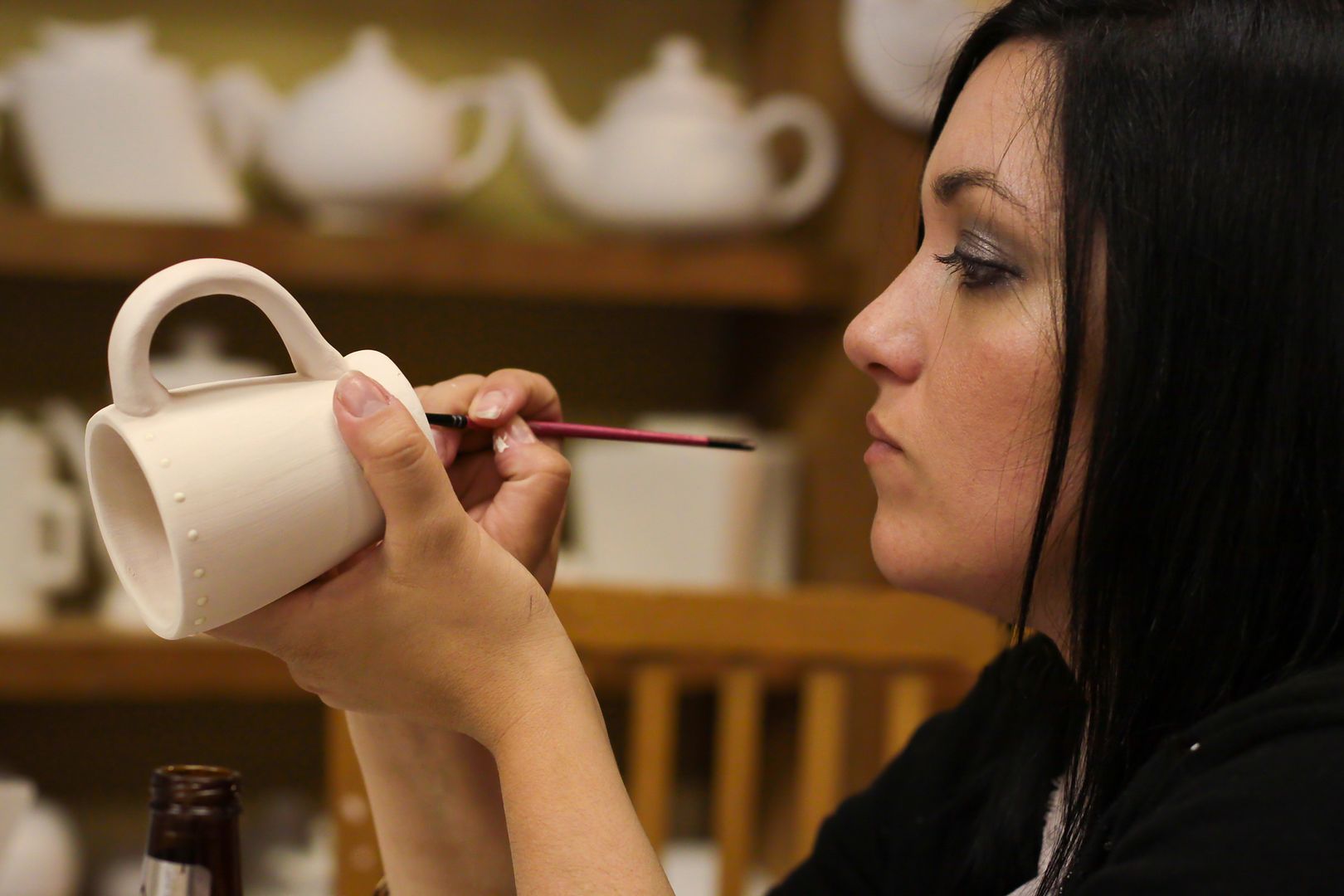 …and so proud of my little picasso who took four hours of girl time and creativity like a champ…
unholstering the hair dryer and blasting pottery (not to mention people, tablecloths and any other random item) with wind and heat, for sure, taking prize for her entertainment for the night.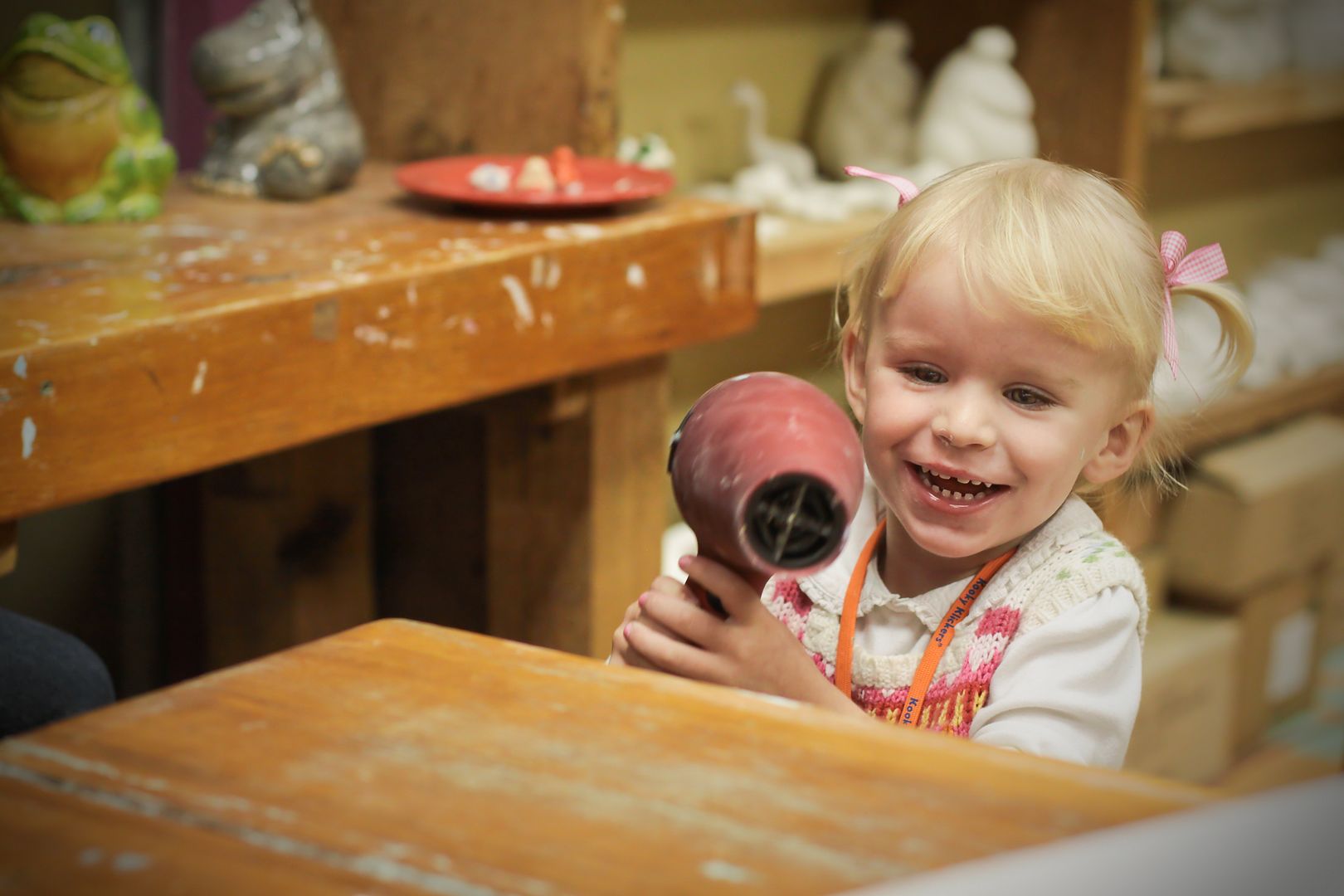 after painting about fourteen layers of her grayish/blackish/pinkish concoction, we managed to slap a handprint on for her creation of gift for sister.
and me? with two weeks left and counting, feeling sentimental and holding on to the remaining beauty of this very moment, i wanted something to remember this all by…so a mug it was, her secret name painted on the bottom, inside where i can always see it…once the coffee is gone and the day remains.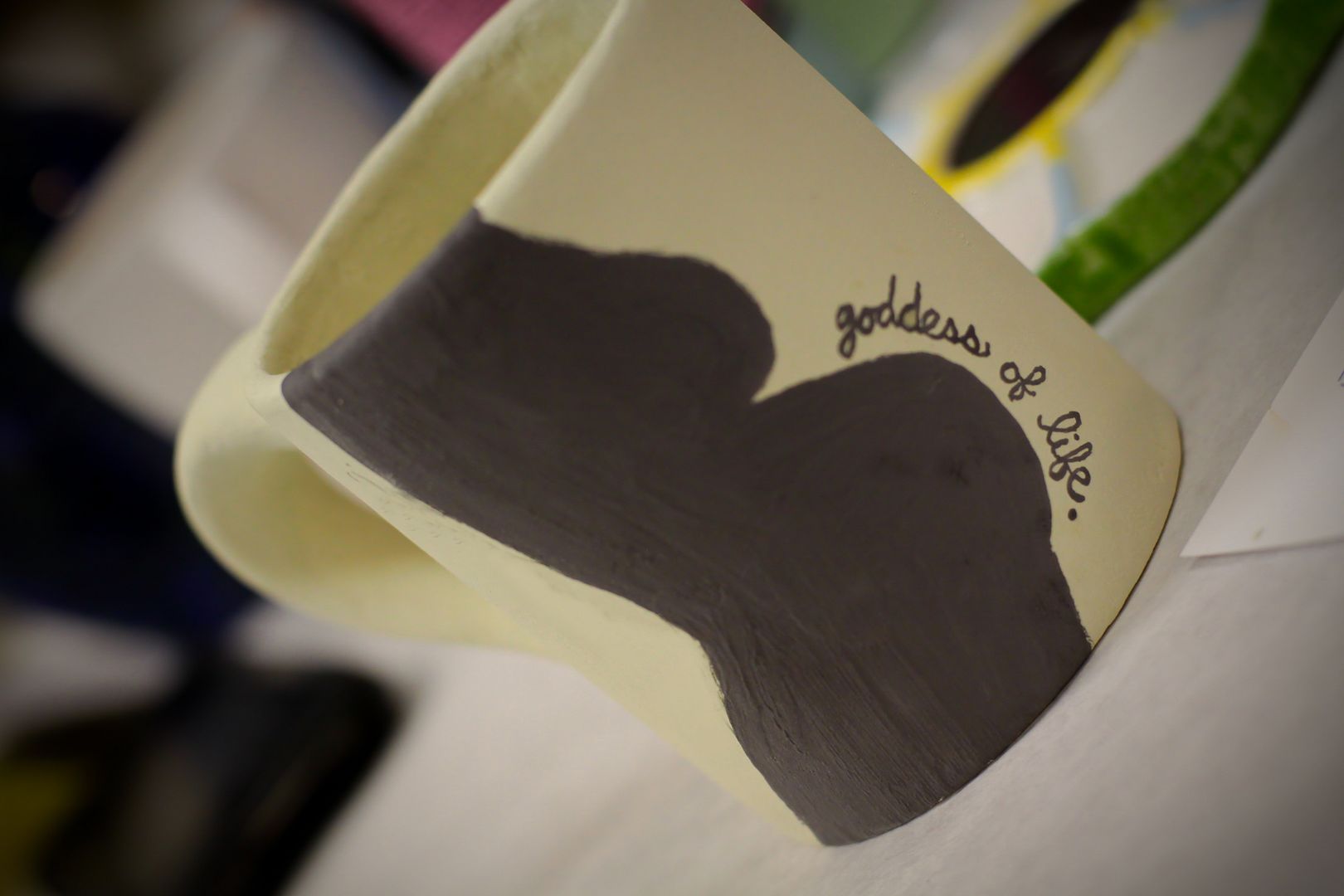 thank you, girls, for such a special night. my painted cup may have been left to be glazed and fired, but my real cup is feeling…full.

we watched lainey's birth video today, and it was surreal. as she huddled under the afghan next to me on the couch and watched her tiny little self enter our world (that me? that me when i was tiny?), it was amazing to think another one of the most meaningful, happiest days of our lives is just days away.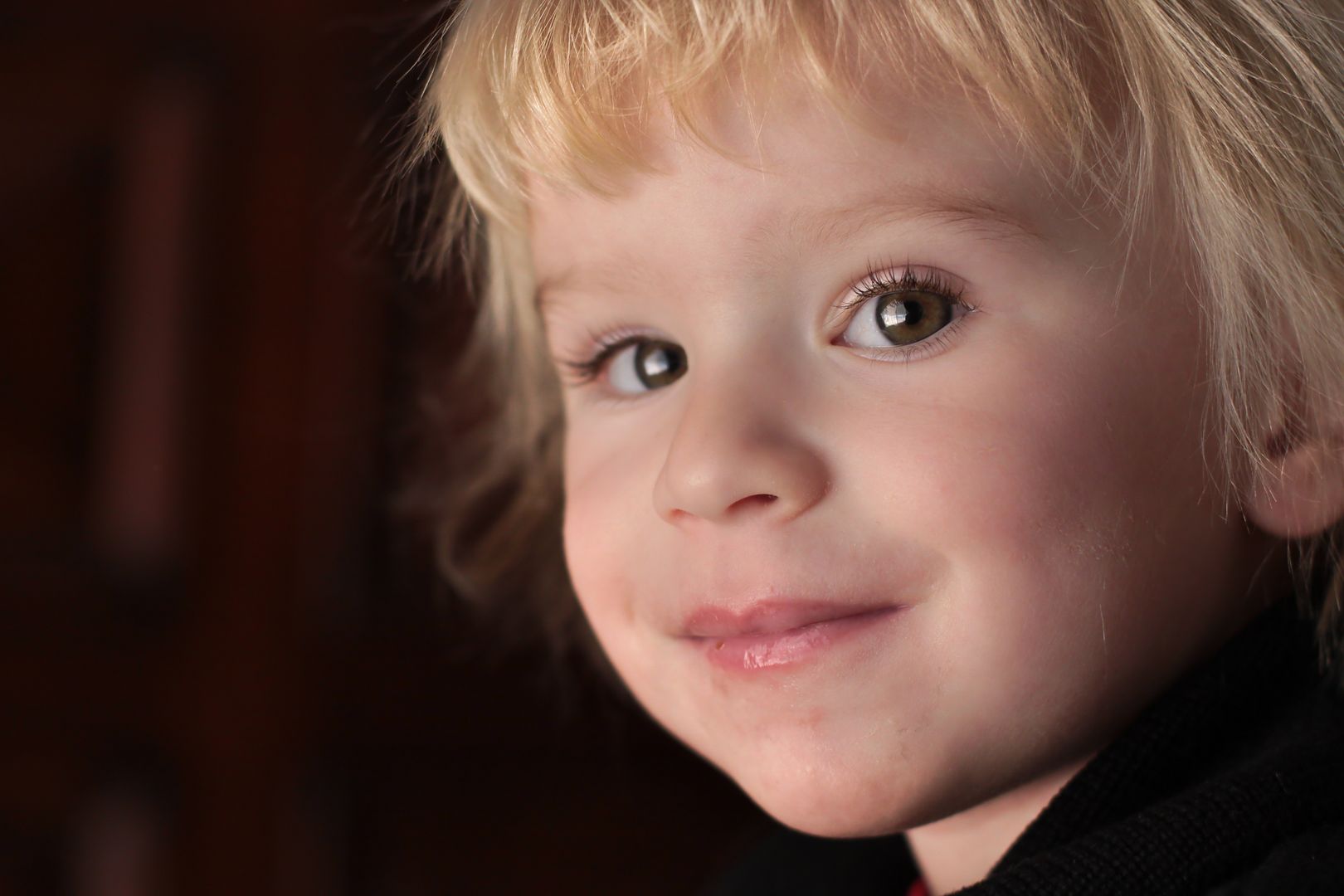 bring it.


love. ~k