I have laryngitis. Really bad. To the point where I open my mouth to speak and, despite all my laborious efforts to will some sound–any sound–to disperse, nothing comes out but for a weak, breathy whisper.
And I love to talk…I savor my words. So, it has been quite an experience these past couple days to sit quietly, saving the very few bursts of audible screeches I still have energy to emit for only the most important of communication opportunities…like ordering a beer. Or, okay… saying I love you to the babies. But a good experience because, when you cannot, for obvious reasons, spend energy on outputting, you instead enjoy the ride of input. Taking in the sounds around me and expressing myself through other senses–and a few breathy whispers–rather than the occasionally obnoxious loud-ish-ness my character renders itself to.
And the challenge has presented itself beautifully with managing a two-year-old as I am finding it alternately rewarding at the presentation of fits and such to just go hold her…pick her up and squish her close…distract her with hugs and tickles and purposeful silence as opposed to the verbal onslaught that so often follows. So, the lack of voice has been a bit of a blessing, I suppose…and that's not just some far-fetched attempt to make lemonade of vocacally-challenged lemons. Promise.
So with all that said (but not really because I have no voice to say)…
a good, old-fashioned, it's-about-time "Enjoying the Small Things" post. For new readers, it is a post dedicated to the spontaneous proclamation of love for random happies, based on my fifteen-year-old tattered copy of this book:
Enjoying…
* The Welcome Home worthy of a perfect, Olympic 10. I saw the imaginary score cards. I heard the clapping. In fact, it wasn't so imaginary as the poster we made and the little cutie holding it gathered a small crowd of onlookers who I think assumed the daddy was a returning soldier. I'm sure they were disappointed when they saw a suit rather than the camo they were expecting.
We, however, were not disappointed but tearfully enthused rather at the reminder that we love this man very much and his presence in our family is essential ( :o) for our functioning.
Their bond is, in a word…magic, and I am beginning to wonder if perhaps this girl has a bit of extra chromosome too…one with all sorts of magnetic daddy genes.
I breathe a bit differently when he's here…relief for the little missing piece in my puzzle that has been found.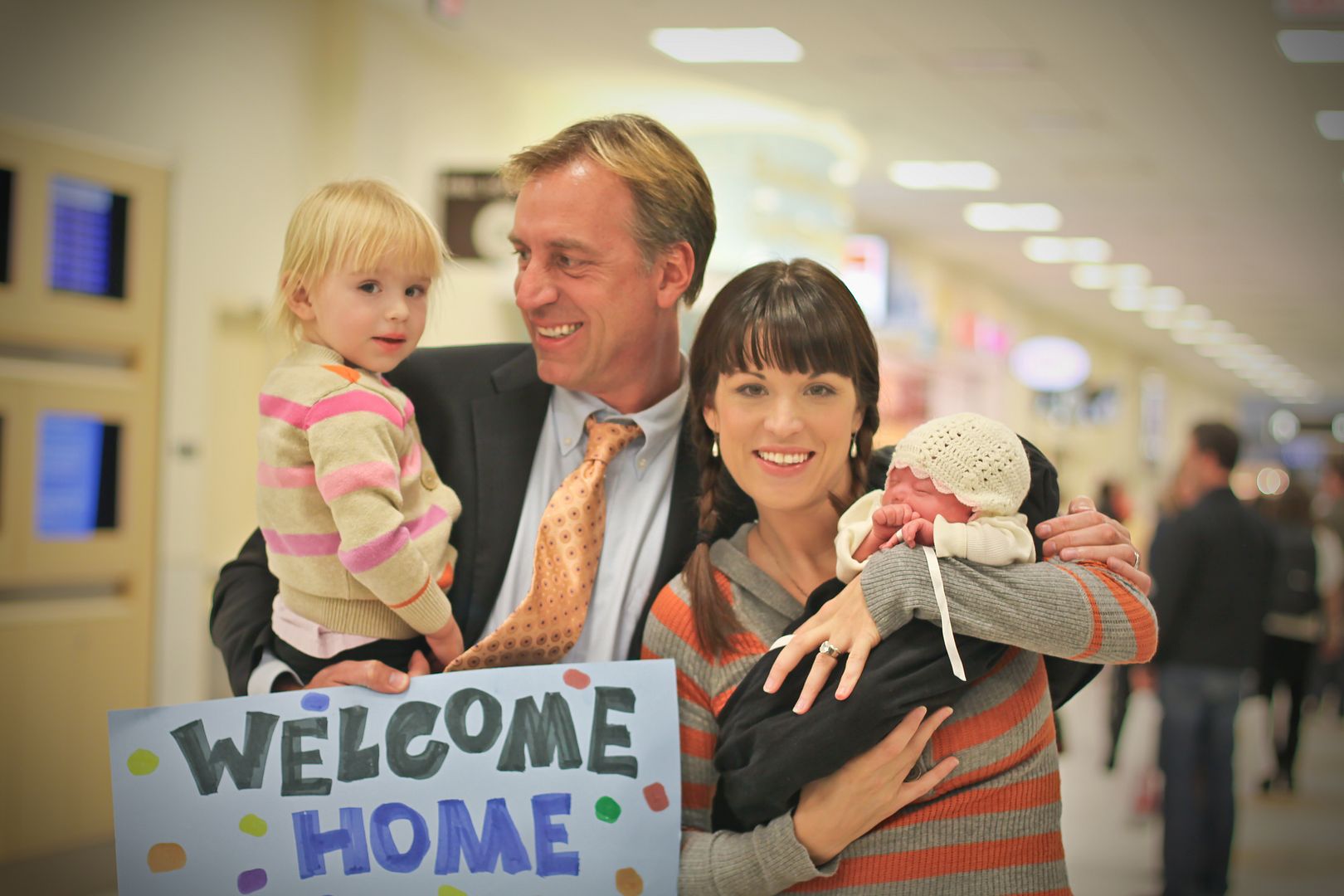 And I know it's a bit cliche to write *big sigh* in a blog post, but… *big sigh.*
Enjoying…
* Our Neighborhood Lemonade Stand this weekend. The one Heidi and I stayed up until one in the morning to prepare for. The one we thought our kids would never forget. The one we tied a hundred gingham ribbons to homemade scones and brownies and cookies for…to reap…less than desirable expectations. Because our community garage sale turned out to be a surprising bomb this year. And our kids wandered away from the few customers they had just to dig through garage sale crap that used to be theirs and cry because they didn't want it sold. And the ice melted and bees got trapped in the lemonade (thanks to the customer that pointed that out) and we gave away more than we sold.
We may not have raised a ton of money for Haiti (okay $60, but I think my dad gave $30 of it), but we did find a lot of really old food encrusted in a high chair we embarassingly sold to some lady.
And despite the fact that we were more prepared for the lemonade stand and less prepared for the garage sale, thus probably the neighborhood joke as we, last-minute, dragged a bunch of meaningless junk out to the driveway and slapped price stickers on it as people were arriving, we did use the garage sale as a great opportunity to sit in the driveway with friends, sip coffee, kiss babies, and laugh while we, um…ignored customers.
Enjoying…
* Watching the daddy love his babies. When I was introduced to Brett for the first time six or so years ago, the first thing I saw was how he loved his boys. And I knew it then. I was smitten.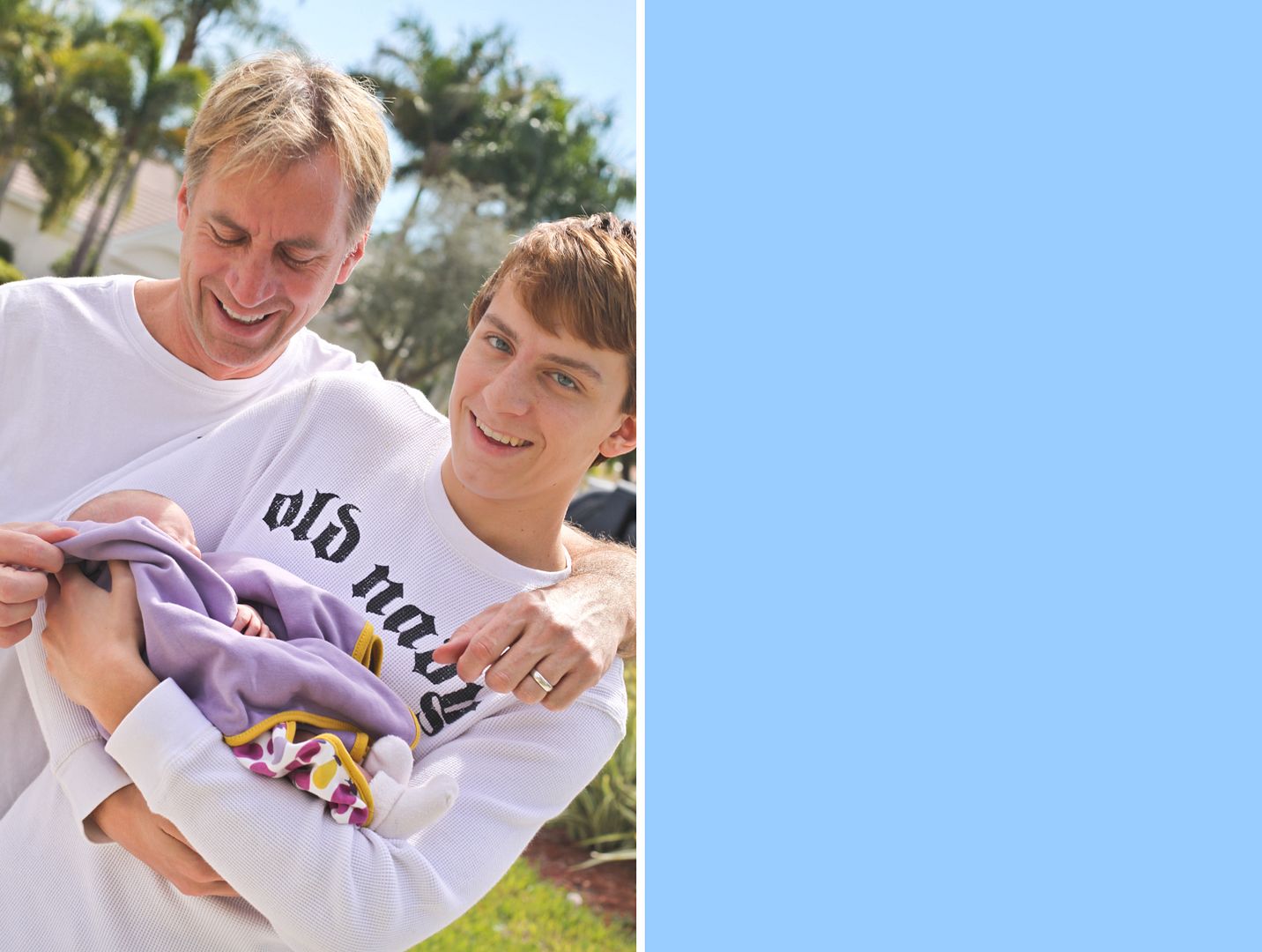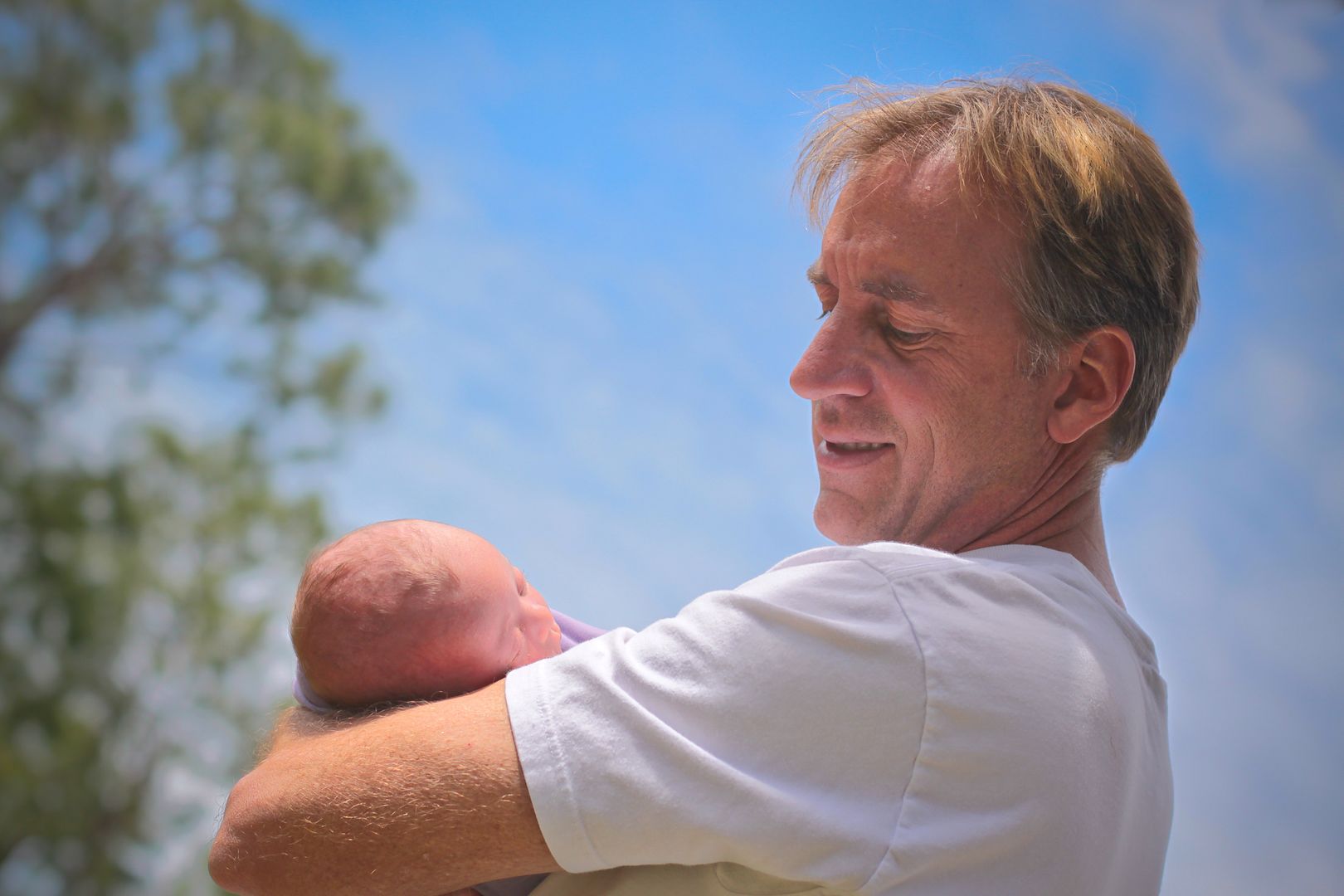 The man is simply the most amazing father ever. Enough said.
Enjoying…
* Our perfectly wonderful Sunday morning.
Arriving early to the beach and meandering along shell paths, chasing sandpipers and seagulls, tracing shadows, collecting shells, and digging our toes into cold sand on the first warm and sunny morning in quite some time. And completing our Sunday beach stroll with coffee and donuts at DD with Papa and Gary.
(all collage pics taken with phone!)

(and Lainey would have been in this photo had she not been completely distraught over sandy pantlegs)

And finally, Enjoying…
* The Return of Isle of Capri.
It was almost surreal arriving there today. A bit strange and healing all at once. How many times I've walked this beach all big-bellied, collecting shells for the baby, dreaming of my girls on this shore. And there we sat today, Nella burrowed under thin blankets and Lainey, all grins and bikinied ruffles piling pails of sand into castle heaps. I panicked for a moment, thinking I'd have to think of something to say as our friends at the Fish House came to adore our new one. And came they did, but then I remembered I have laryngitis. Screw it…I couldn't tell them if I wanted to. So I smiled…and took in the congratulations.
And, oh…my firstborn. With no voice to distract me, I just took her in today…every bit of her happiness. I love everything about this little soul. Her independence and free spirit that is perfectly balanced with this need for love and security.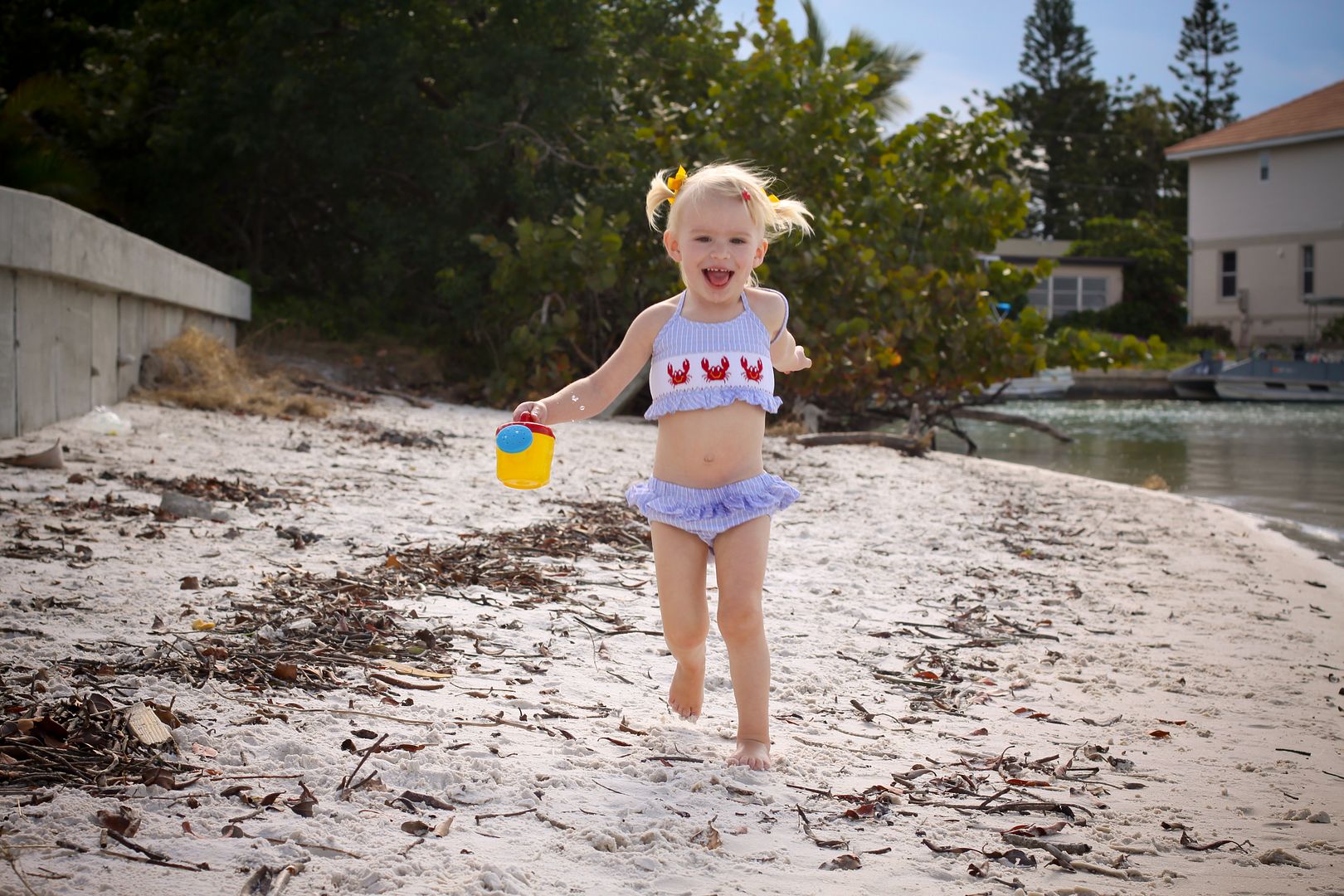 She loves her "Eye-oh-Cup-pea." And I love my first-born. Very much.
Definitely, our beachy Sunday was a happy one indeed.
And finally, Enjoying…
* Her smiles. They are many and they are magic.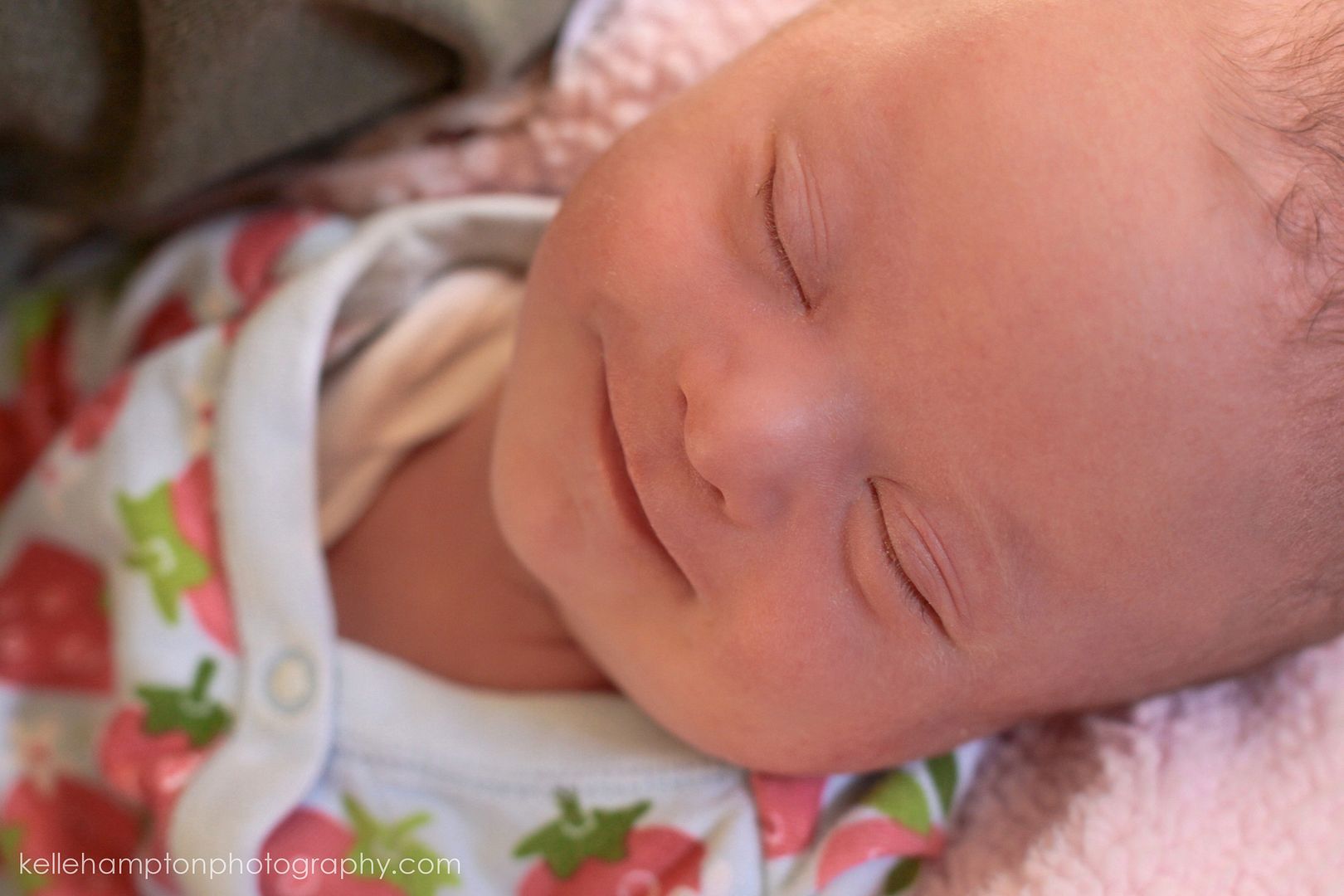 ~k