In perusing the comments the other night, I came across one from a reader, Sadie, who shared that her 83 year old mother has a yellowed, curled clipping stuck to her bathroom mirror with the following quotation:

"Normal day, let me be aware of the treasure you are. Let me learn from you, love you, bless you before you depart. Let me not pass you by in quest of some rare and perfect tomorrow. Let me hold you while I may, for it may not always be so. One day, I shall dig my nails into the earth, or bury my face in the pillow, or stretch myself taut, or raise my hands to the sky and want, more than all the world, your return."
…and it completely moved me.
Which is why I reflect as often as I can, through words…through pictures…through writing and talking and just taking it all in…just how beautiful the ordinary is. What I've learned in life from loving and treasuring those perfectly normal days…it's profound.
Guess what I got yesterday?
My girlfriends all chipped in and surprised me with a house cleaner. Let me rephrase that. A team of housecleaners. Like four of them, and they arrived in a van and entered the house like Rambo, hoisting buckets and vacuums and ladders. Yes, ladders. As in ladders they climbed on to reach fan blades. Fan blades that haven't seen the light of day through the thick blankets of dust that have been coating them since they were installed. I've never had our house professionally cleaned…which is why it's never been horribly clean because, despite my wild and crazy shakedowns before entertaining guests or really trying to convince my husband I was incredibly productive while he was at work, I've given up on spit-shined and instead choose picnics and tea parties and letting the creative side of my brain have a free-for-all.
When this amazing team of housecleaners arrived, they set right to work and I couldn't leave the house fast enough…not because I wanted to get out of their way, but because I wanted the embarrassment of what they must be thinking about my house-keeping abilities to go away. Like when one of the ladies dug under my kitchen sink to pull out my cleaning supplies and I watched her shake a bottle of Soft Scrub that was obviously empty but had been put back under there anyway.
I played dumb…"How'd that get in there? I guess it's empty. Sorry." And after she tossed it in the garbage I watched her pull out yet another bottle of cleaner only to shake it like the former once again, cock her head to the side with this confused look and then toss that empty into the garbage as well. I wanted to disclaim once again but felt too stupid, so I did what every other self-respecting inefficient housewife would do. I ditched.
As we left, headed to the park and errands, I heard one of the girls rattle off something in another language to another. My dad, walking behind my shameful trail said, "I don't speak their language, but I'm pretty sure she just told that girl…This woman's a pig."
While the team spent five hours transforming my house, we headed to the park where we sat on a big blanket next to the lake and ate "Thubway," as Lainey calls it, warded off black crows, and tried out every swing the park had to offer.
(and p.s. House looks beautiful and Girls…Thank you. Love you. I am lucky to have your love.)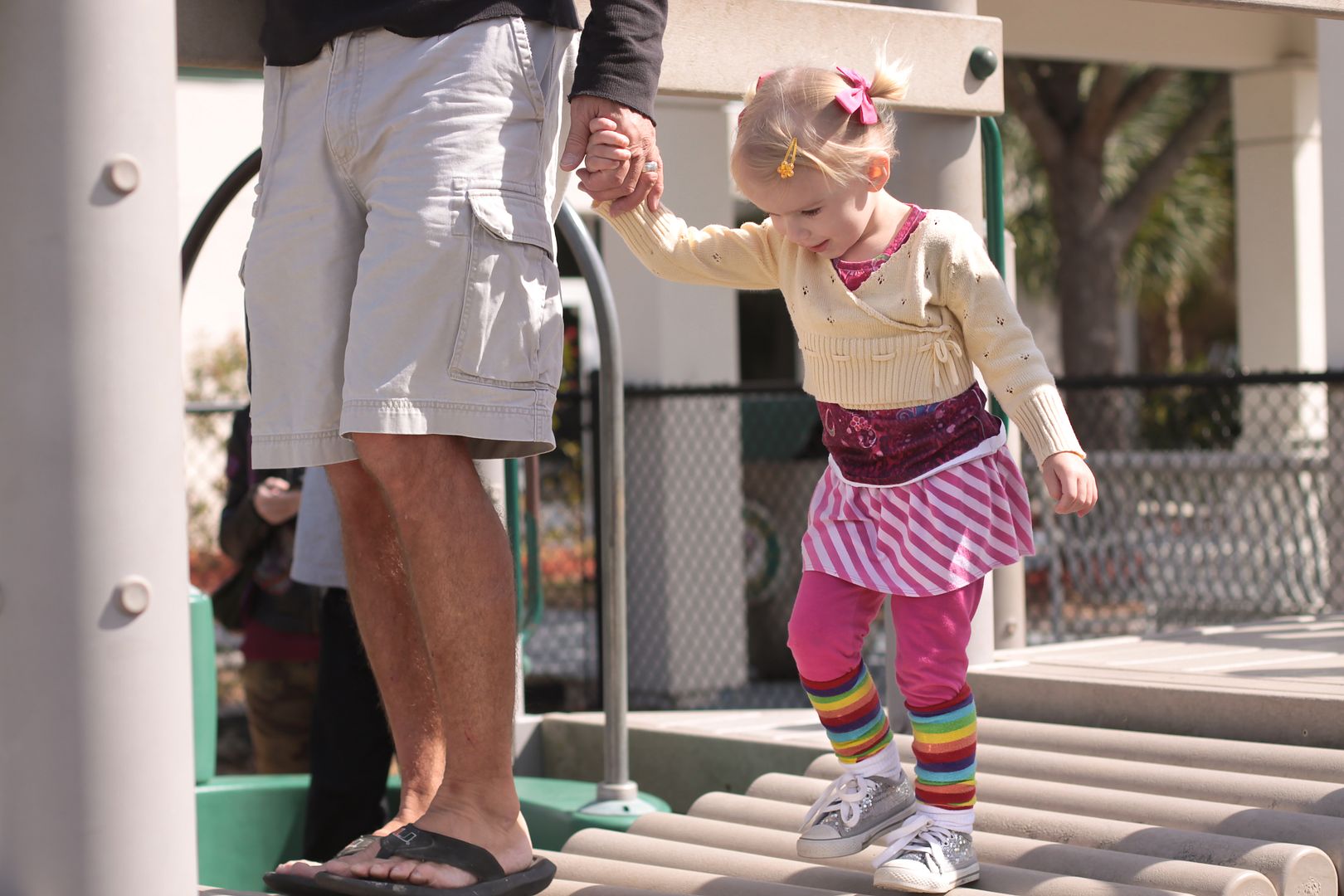 And what's a "Normal Day" without a trip to Target…just because. We casually wheeled our red cart through the aisles, in need of nothing, but tossing in silly things like Scooby-Doo band aids and Easter candy because it felt good.
I love Easter for it brings with it pastels and tulips and daffodils and these sweet aisles in Target that remind me of a baby shower. Little chicks and bunnies and soft shades of pinks and turquoises…it makes me happy. And Peeps…oh, the Peeps. You buy them early, peel back the plastic and then let them sit for a couple weeks until the sugar coating gets crispy and the inside is chewy. …and that's the proper way it's done.
I'm so looking forward to this again, and that whole colorful confections/spring-hath-sprung thing.
As we were heading to check out at Target, I saw one of the cashiers waving at me and it hit me. I come here all the time and have chatted with several of the employees throughout my pregnancy, lately informing them of the final countdown, and the last time I had seen her I remember what she had said…"Next time I see you, you'll have that baby in your arms." I knew she'd want to see Nella…to congratulate me…and I suddenly didn't know what to say. Do I tell her? Will she notice? Do I not say a word and have her notice on later trips to the store and wonder why I never said anything? I started to get uneasy, hugging the sling a little closer as she ran over to me to take a peek.
"Let me see, let me see!"
I smiled as I pulled the sling fabric back and revealed this piece of heaven we've been waiting for.
"Her name is Nella…" I stopped and watched as she took her in. And then, for some strange reason, I went on in this painfully seamless fashion, "…we found out when she was born that she has Down Syndrome."
The cashier just stared at me. "Oh…" and then she didn't know what to say. It was obviously just as painfully awkward for her. And I suddenly felt stupid, like I just muttered "I love you" to the boy I liked and he didn't say it back, and I just wanted to retract it…to tell him I didn't love him and that I certainly had never thought of what my name sounded like with his last name. I protectively pulled the sling back over my sleeping baby's face and looked down to notice my embarrassement was now compounded with the fact that I was leaking two perfect round wet spots on my white shirt, and I wanted to abandon my groceries and run like a bat out of hell for the hills. Why did I tell her that? For that matters, why don't I just print out her chromosome studies on little laminated cards and pass them out to anyone who happened to glance our way? Why was it important for the cashier at Target whose name I don't even know to learn that Nella was anything more than just our sweet little bunny?
I figure this will eventually go away. And, as the incredible mother I talked to on the phone the other day reminded me, Nella is not a "Down Syndrome child." She just has Down Syndrome, like some kids have ADD or asthma. We don't feel the need to tell people, "This is my son, Charlie. He has ADD." Why is it any different in our case?
I'll get there. I'm getting there. In fact, when I look at her, all I see is Nella…who is more perfectly beautiful than I could have ever imagined. Whose almond eyes and rosebud lips have stolen my heart.
And, speaking of stealing hearts (sorry, can't think of any other transition)…
…a sight seldom captured in our normal day, but so beautiful it brought me to tears the other day…
Austyn's treck off the bus towards our driveway after school and Lainey's joyful welcome of her very loved big brother:
What lucky girls I have to be so loved.
And, speaking of love (sorry…had to do it again. Damn transitions)…
There has been so much lately with family taking over our house, settling into couches, snuggling our babies, reading books. It's this masterpiece to behold.

Thanks to Heidi, I'm actually one of those photographer moms who has pictures of herself with her babies.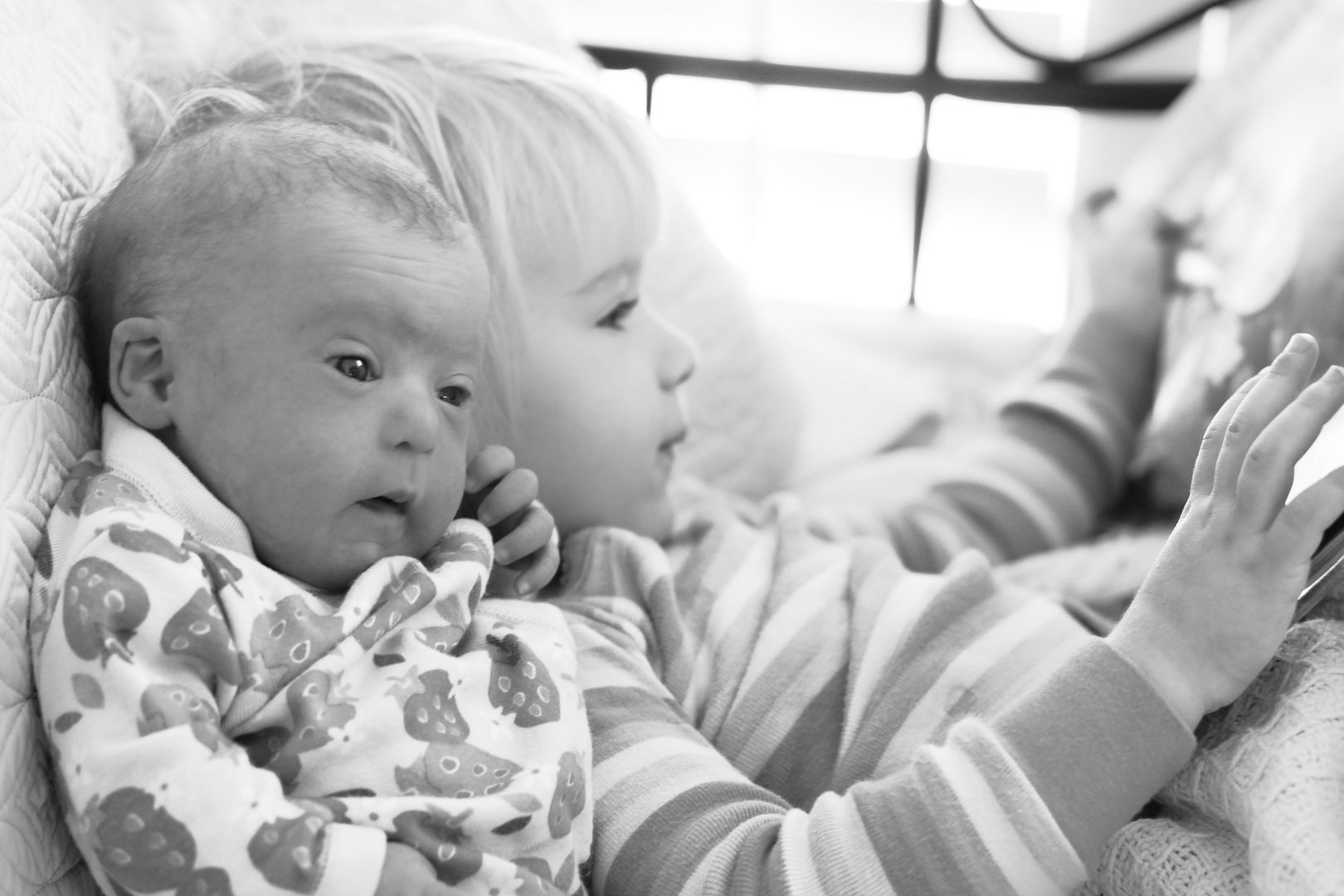 Gary gave Lainey a horticulture lesson as our girl has developed a bit of a green thumb, taking interest in watering and nurturing some of our little plants outside that would have surely died if it wasn't for her interference.
She was thrilled in her shy-smile little way, choosing her seeds (so very Lainey…bright, sunny sunflowers), burrowing shallow holes into the dirt, carefully placing each seed and tipping and spreading a shower of water from the pink plastic watering can so perfectly, you'd think she worked in a nursery.
And that snuggly love we're experiencing goes awry only a few times a day when the big sister tries to ferociously cram a pacifier into the little sister's mouth, taking her cries and wincing only as signals that, "No, she wants it, Mama." Me thinks not.



(not sure why Lainey's hand looks like a rubber prosthesis here.)
You know who comes home for real tonight? Our long-lost daddy. There will be tears at the airport. And, if I have anything to do with it, one of those embarrassing running-in-slow-motion-towards-him-with-loud-cries kind of welcomes. Onlookers will be humiliated for us. It's going to be that good. Like if judges could score our welcome, there would be signs with lots of "10"s. And clapping. And maybe a standing ovation.
But, that's just normal for us. Our normal days.
And, today, I shall write and attach to my mirror a little piece of paper which I hope will crinkle and yellow over time:
Normal day, let me be aware of the treasured day you are. Let me learn from you, love you, bless you before you depart…let me hold you while I may.


~k