…we spontaneously decide to head to the pool at sunset. We walk there barefoot and don't bother to pack a bag but rather drag towels and clutch a balled up change of clothes on the way there and mark our path with wet footprints on the way back.
I like the two-almost-three-year-old that floats like a fish in the middle of the pool, clutching her swimmy, flashing confident smiles as she bobs in the sun-drenched waters.
We don't do this a lot, so it's special…and yet when we do come, we wonder why we don't do it more often.
She is brave and adventurous, fearlessly launching off the cement edge, hands held high, mouth open, anticipating the splash…and it comes, loud and explosive, and yet up she bobs, proud and composed.
He loves the water. And it's important to him for them to love it too. And so he swims, clutching them close at first…then slowly…gliding them into the welcoming ripples, guiding them all the way. Nella calmly takes it in, more entranced with her daddy than the water though.
And little fish…she drinks it all in…the water, the daddy, the exhileration of being lifted and tossed and caught in his arms.
Yes, we should do this more often.

Got my Popina swimsuit…thank you, Pamela! It is my favorite swimsuit I've ever owned! Super retro and very Esther Williams indeed.


I climbed quite a bit of distance up the work mountain today while Lainey stayed with Grandma. And, although I missed her, it was a calm and productive day where my workload was nicely softened with the added blessing of a breathy bundle on my lap through it all. She is so good and while tummy time and play time and entertaining herself is good and all, I find myself picking her up a trillion times and finding ways to snuggle her new length on my lap, in the crook of my arm, over my shoulder while I edit and type and answer e-mails. She's a very good assistant.
Still though, it isn't quite complete until they are together…my wispy one and my little Almond Joy.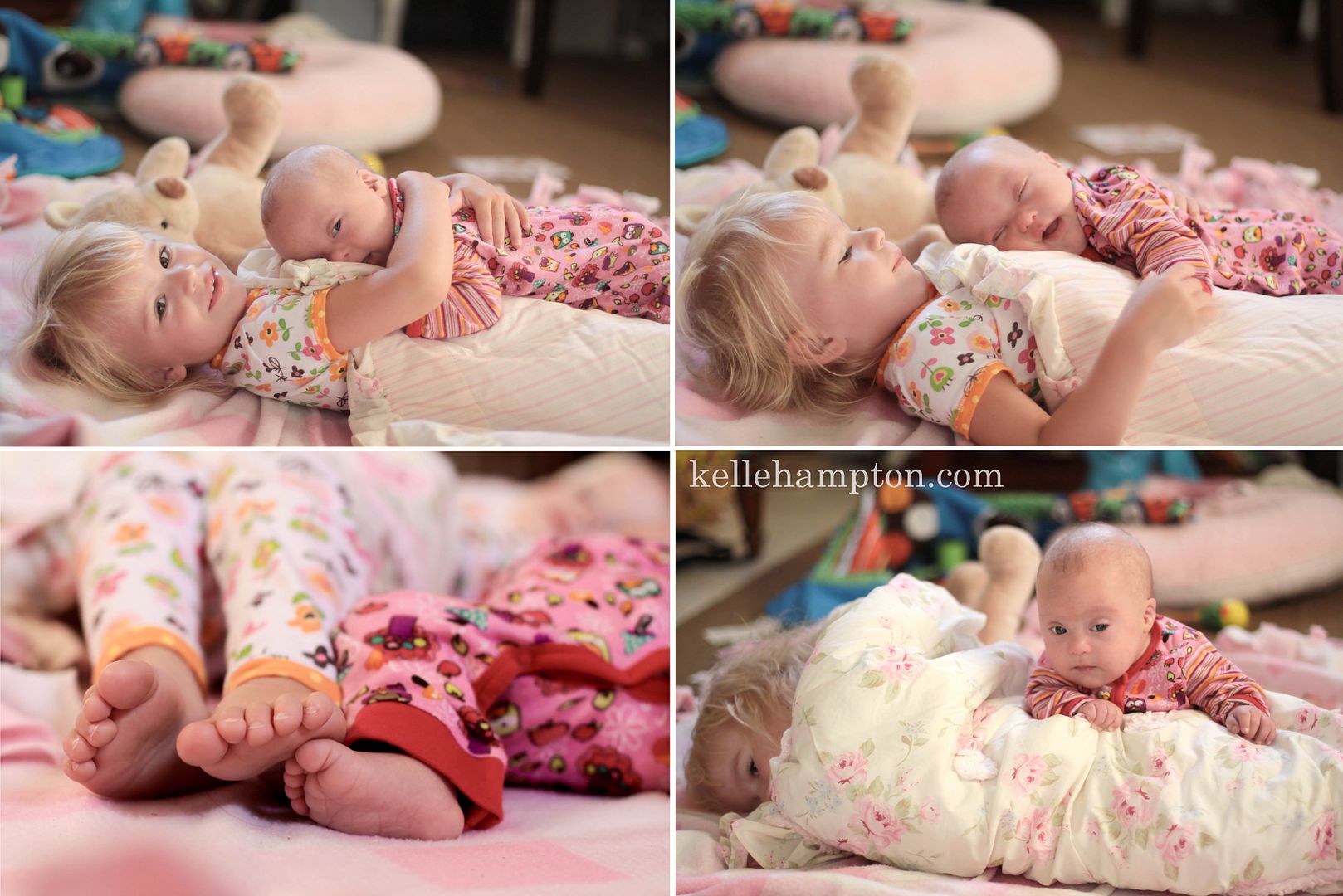 Loving today…a man whose love for our girls rivals mine so equally, it's like looking in a mirror.
And to balance out the whole chicken-soup-for-the-soul-ishness of this post, I'll throw in the fact that I'm also loving a couple things without the sap factor.
Things like my insatiable thirst for cold iced tea with lime and the crazy gratification of sipping it after my drawn out process of making individual cups of it every afternoon.
Things like raiding the pink pile from Lainey's garden party to score a bag of pink m&m's and not feeling guilty when I stole them, ate them and didn't care that there's one less sugary thing for those kids to sink their teeth in. Mothers will surely thank me.
Deadliest Catch awaits as does my breathy bundles and fresh sheets.
I like evenings when…they end just like this one.