It's rained for about six days straight now. Not all day, but if we're playing by "Majority Rules," then it's clearly a victory for Gray Skies, with Blue and Sunny bowing out respectfully. Until this morning. Finally.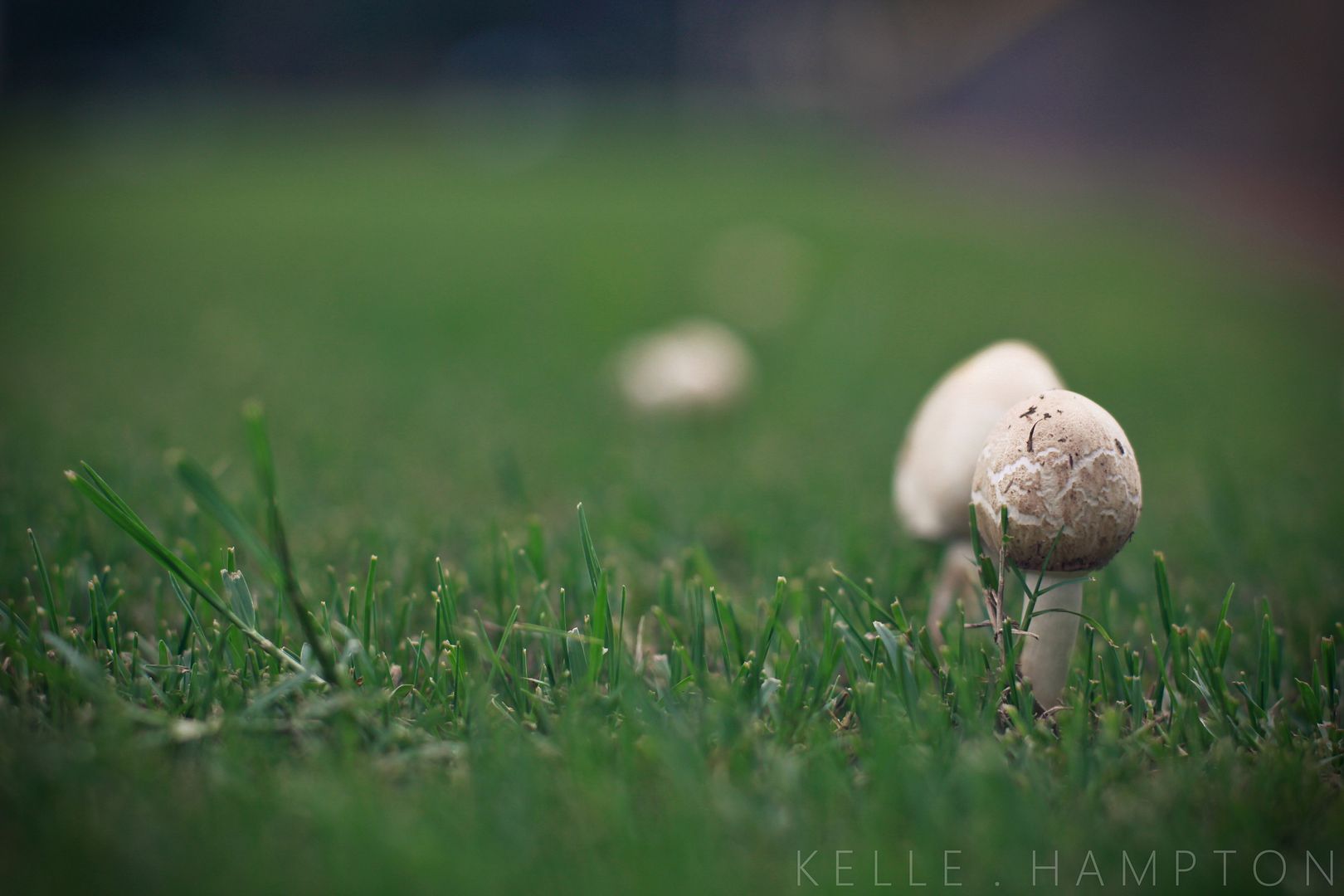 I love home days. I like sitting cross-legged on the carpet in Lainey's room and watching her mold Moon Dough into snakes and pancakes, or planning all day to make something fabulous in the kitchen even if I never do. I like knowing we have no business outside the walls of our house that calls us to get up and go, and yet today I needed out. I had to breathe air that hadn't been circulating in our house for six gray days–so much a trip to the bank even sounded adventurous. I had no idea where we were going, but I braided Lainey's hair, slipped ruffle socks and silver shoes over Nella's bare feet and buckled them (the girls, not the feet) into their car seats–ready for something. Brett called me on my way out. "Where are you off to?" …and I laughed as I drove: "I have no idea where I'm going, but we're going somewhere."
And I think that pretty much sums up everything. Parenting, living, moving forward, embracing change, making something good of what you've been given.
I have no idea where I'm going, but I'm going somewhere.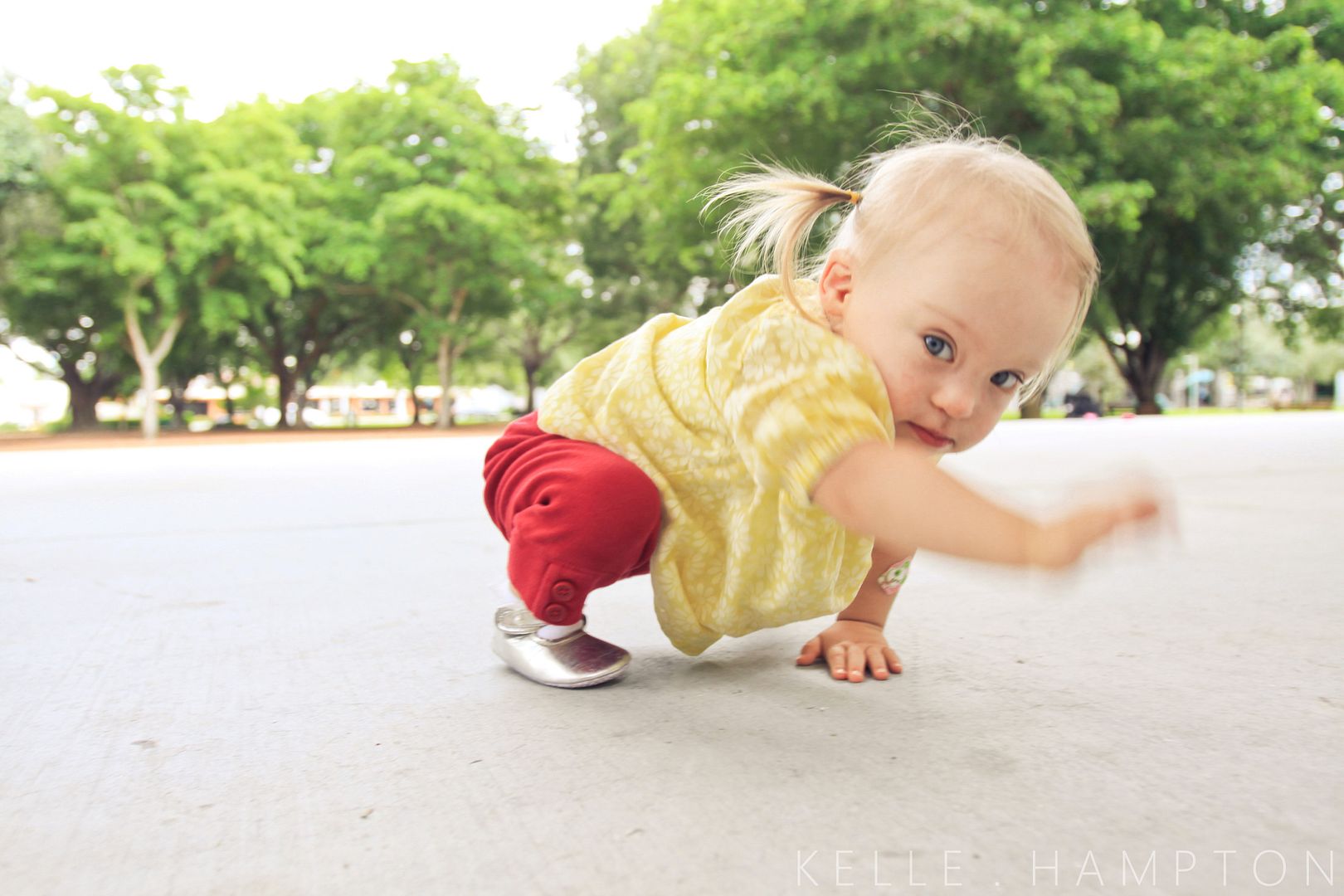 We drove. Toward the beach, but then turned South on 41 and kept driving. Past big banks with mirrored windows and bus stops where trolleys picked up passengers on their way to somewhere too. I turned up the volume and Brett's Jimmy Buffet CD picked up where it left off. I told Lainey we were going on an adventure and I made a mental note of just how much my senses were on fire when I heard Nella laughing that can't-catch-her-breath giggle when Lainey made faces at her.
For some reason, today was one of my favorite adventures I've ever had with my girls. As my Holland friends would say…today was my favorite day.
I wanted to be back by three because I had work to do, but we didn't roll in the driveway until almost 7 tonight, and I didn't care.
Sometimes, when you don't know where you're going–and you embrace the freedom in that very fact–you enjoy the journey so much more. Like an unplanned road trip with lots of stops.
First stop: Cambier Park, the furthest park from our house but worth the little drive for its open sanctuary of sitting space that's covered with dried fallen leaves all year round and encircled by enchanted-looking trees, perfect for climbing.
We found hearts everywhere. In fallen leaves.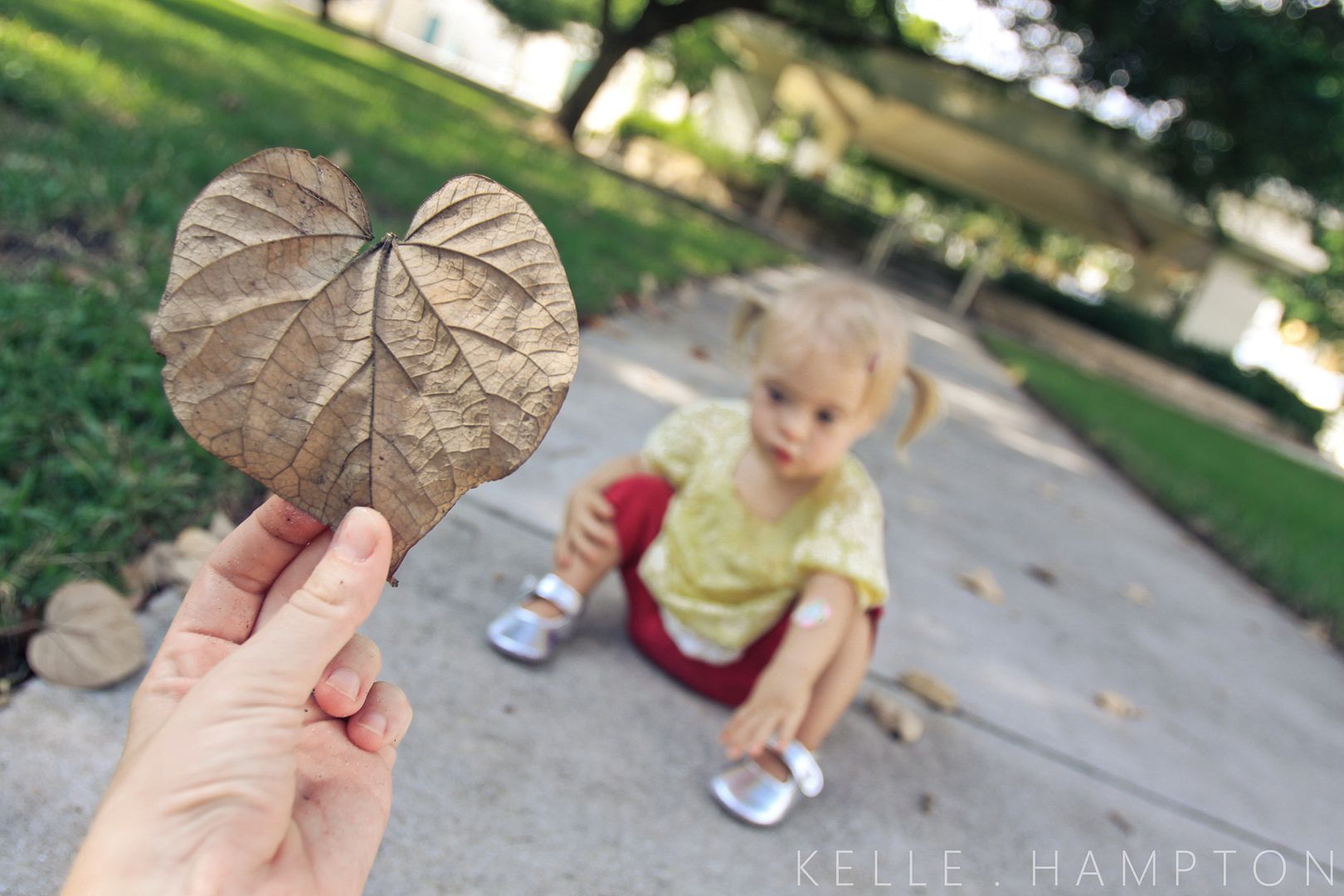 Floating in the sky.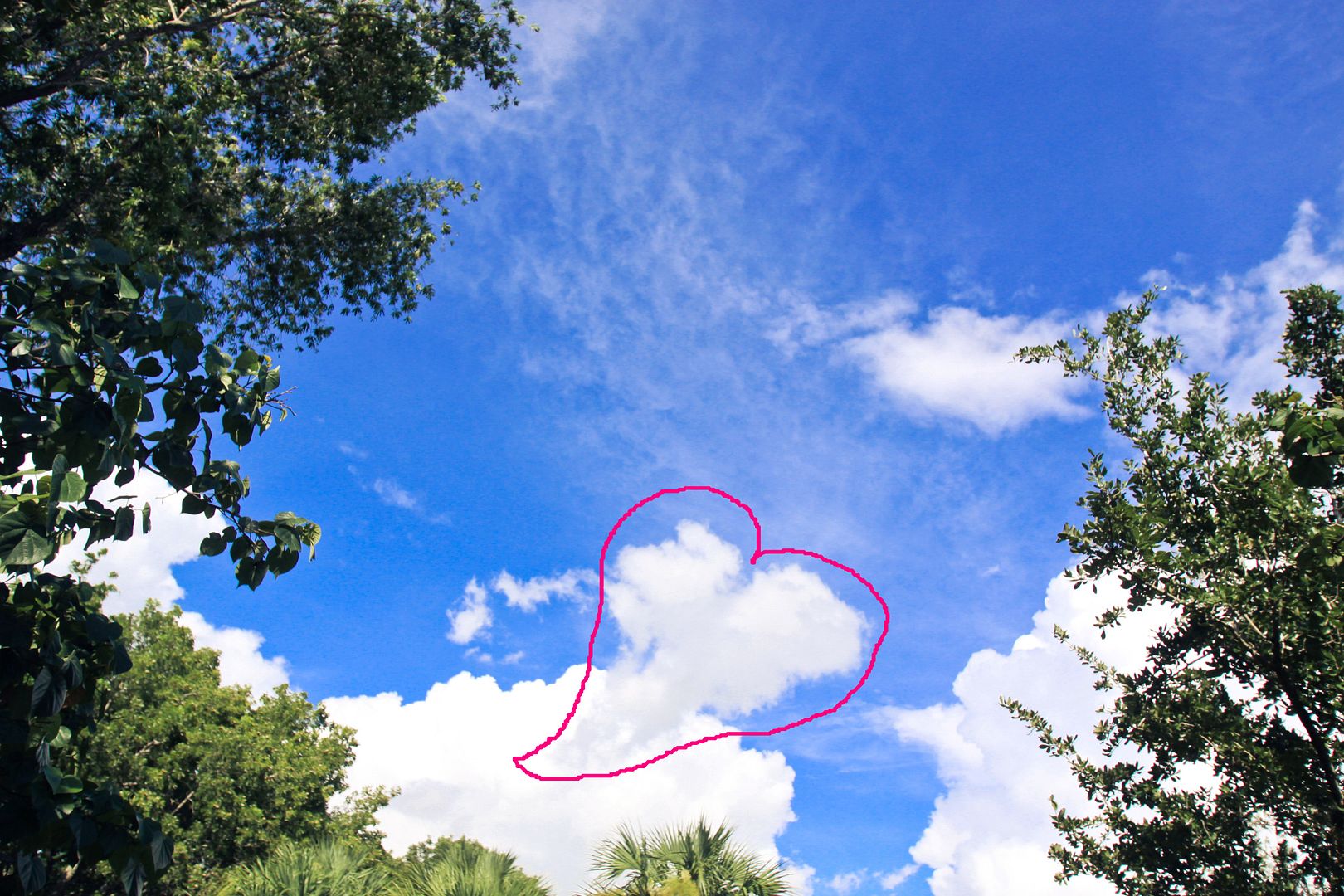 And thousands of them, suspended in a green canopy overhead.
She gave me one to keep forever.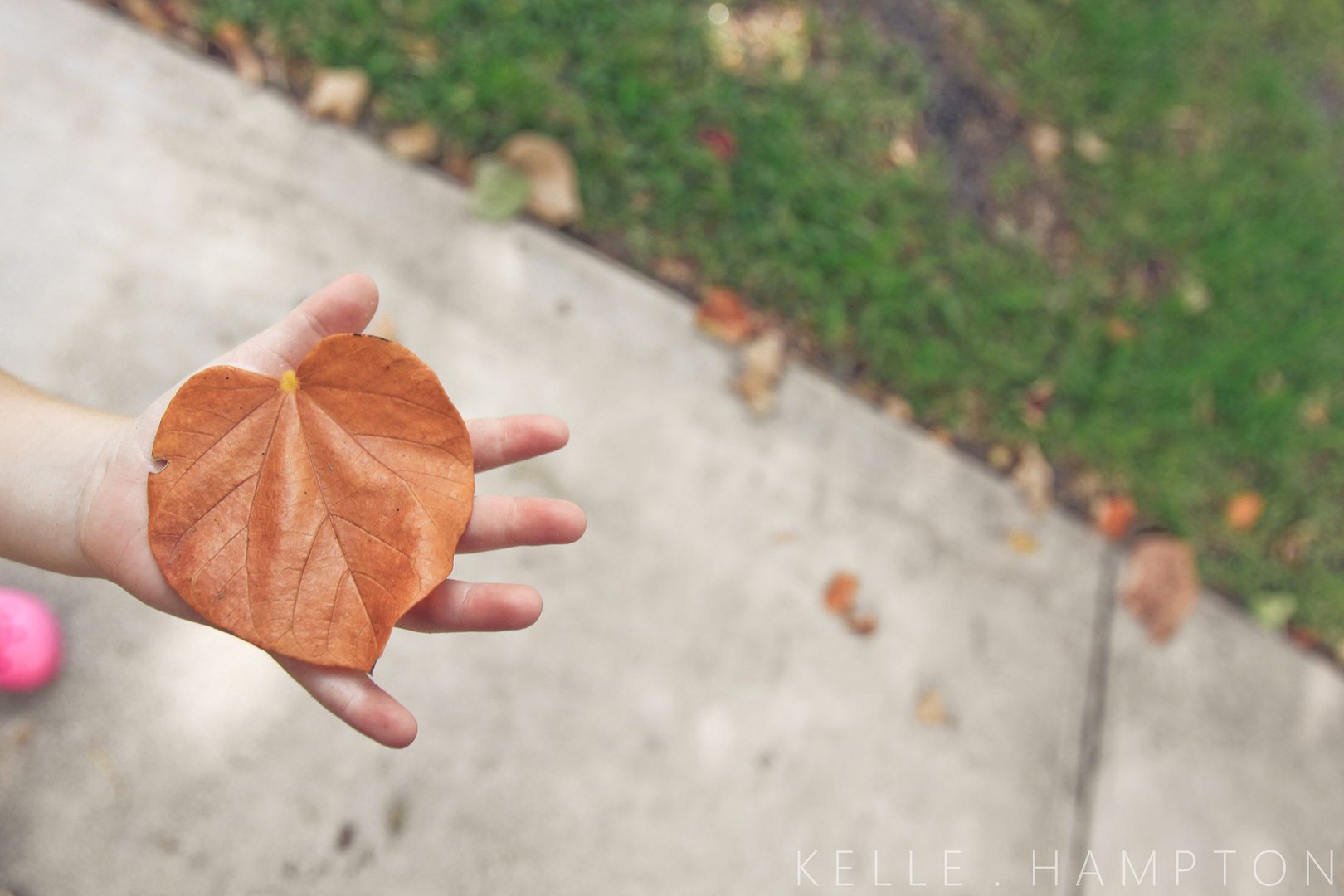 You bet your sweet ass, I will.
We climbed empty bleachers at the baseball field and smiled when we realized we were in the perfect spot when it started to rain, protected by a tin roof that echoed with every ping ping ping of raindrops.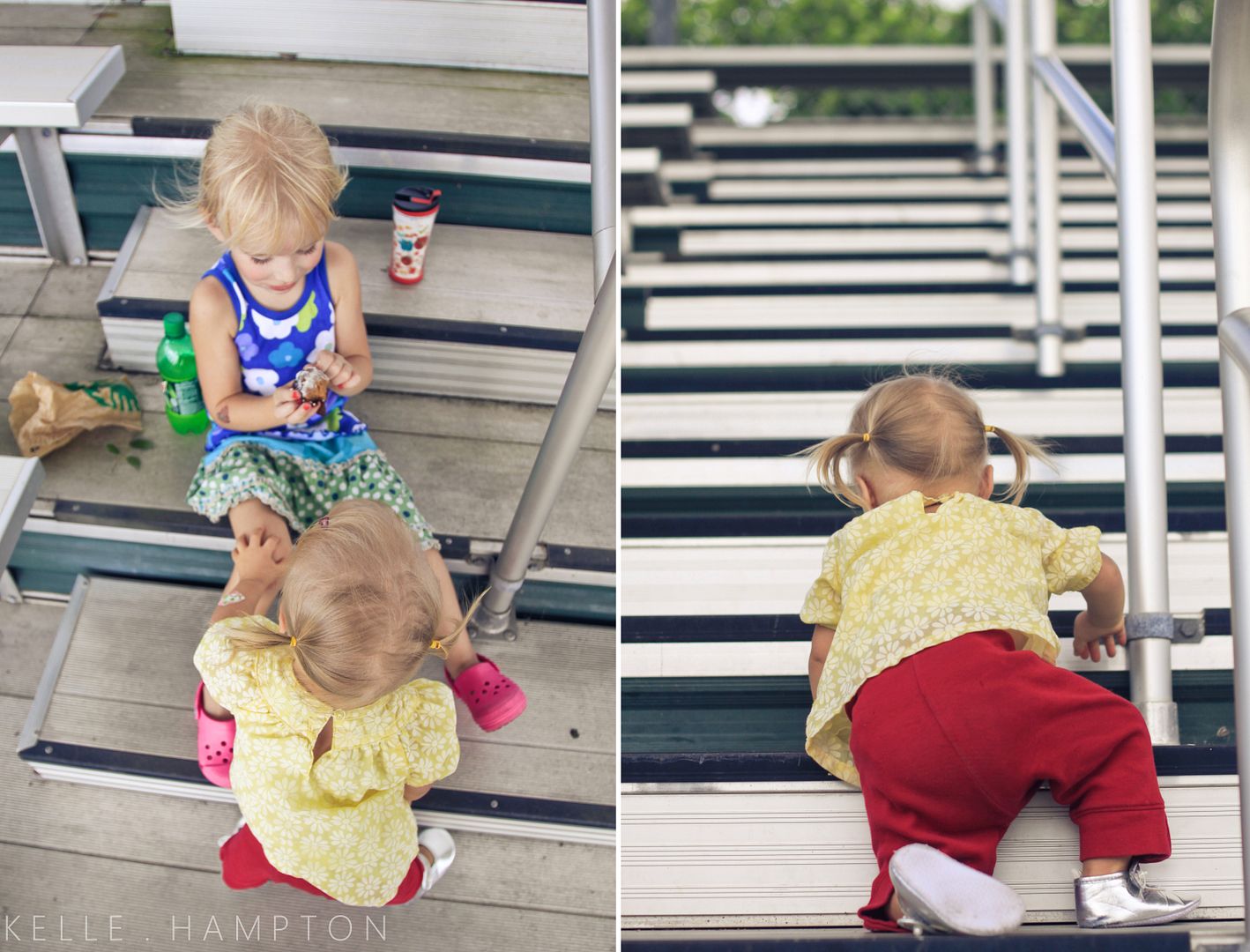 Sister can climb like a Mutha.



Post-rain, Lainey danced for an audience of two in the outdoor auditorium.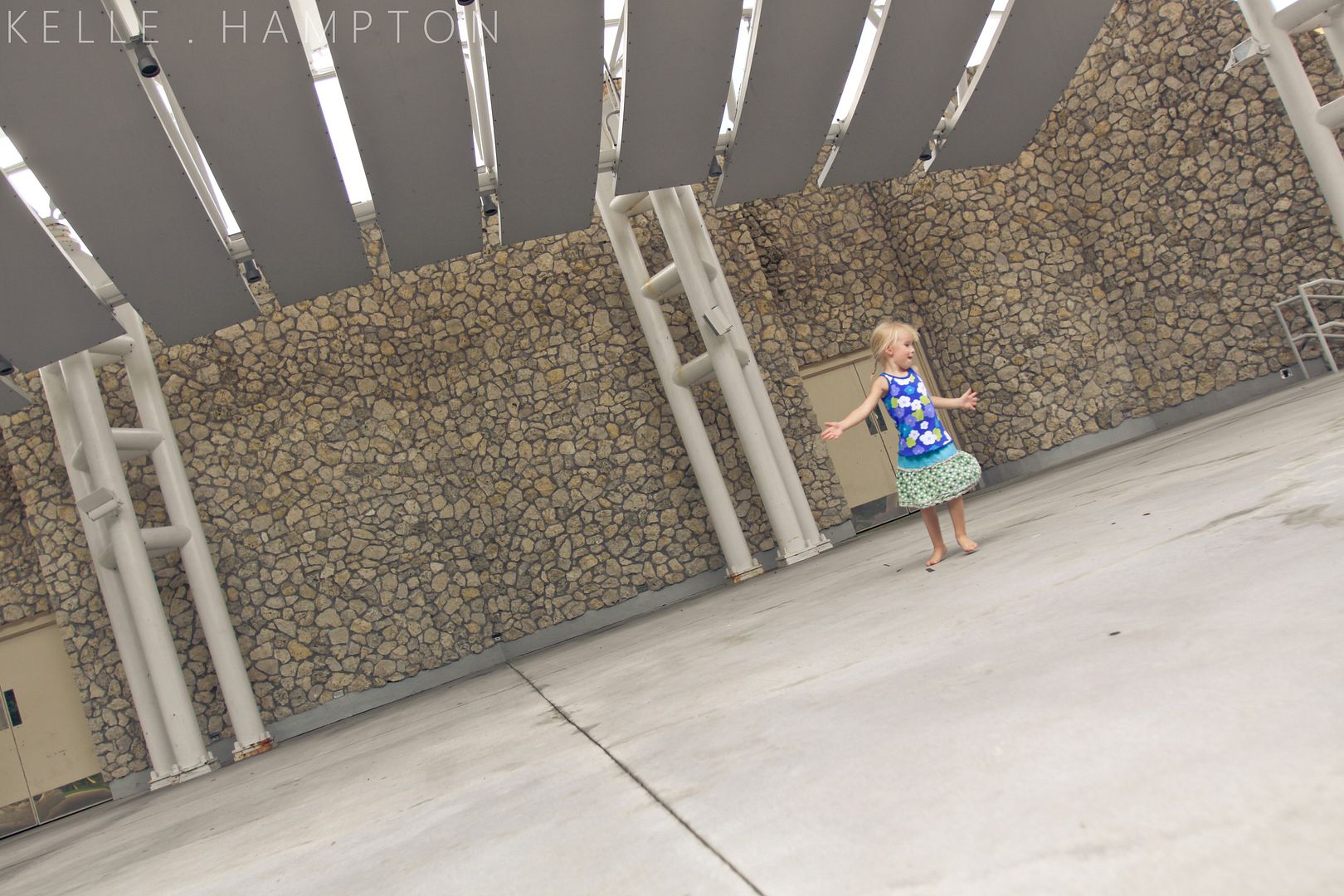 Followed by snacks downtown.
And then my favorite. The encore.
We turned out of the park and, driving nowhere once more, I turned right. I turned right instead of left and, as Frost would say…that has made all the difference.
Two stop signs and a dead end–a dead end into a quiet cul de sac hugged by nothing but blue skies, a sea of glass, and two rows of palm trees standing erect at the entrance to the beach, like a welcoming red carpet.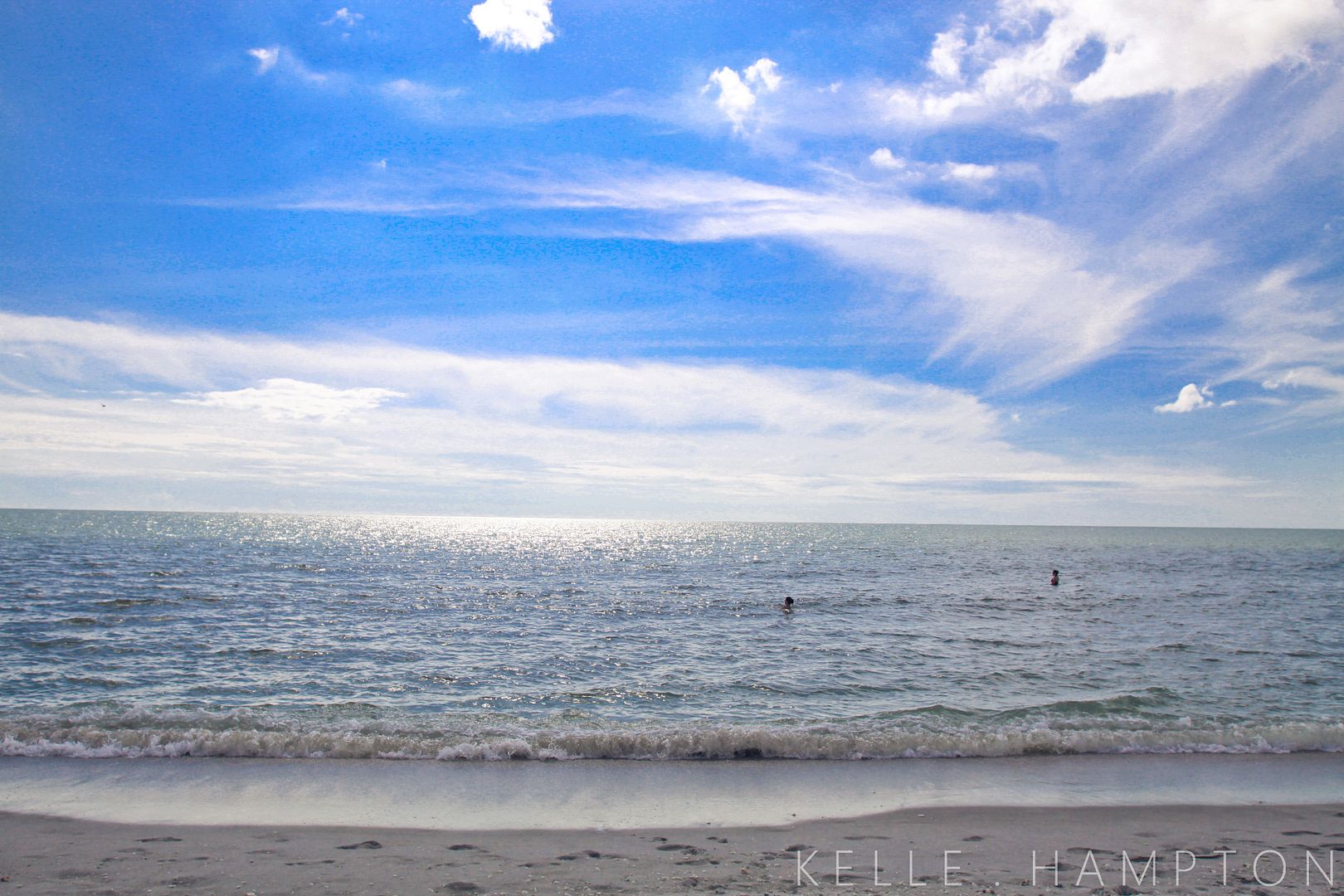 Oh, we parked that car alright. We had nothing–no towels, no beach blanket, no stroller, no hats. We dug through the back seat and I, for once, was thankful I managed to maintain a state of shambles in my car. Lainey found a can of sunscreen, a t-shirt, a thin receiving blanket and a Dora sun visor.
We walked through the rows of palm trees, and I half expected them to clap–to call out our names as we busted moves down the soul train aisle and into the promised land and reason we live here.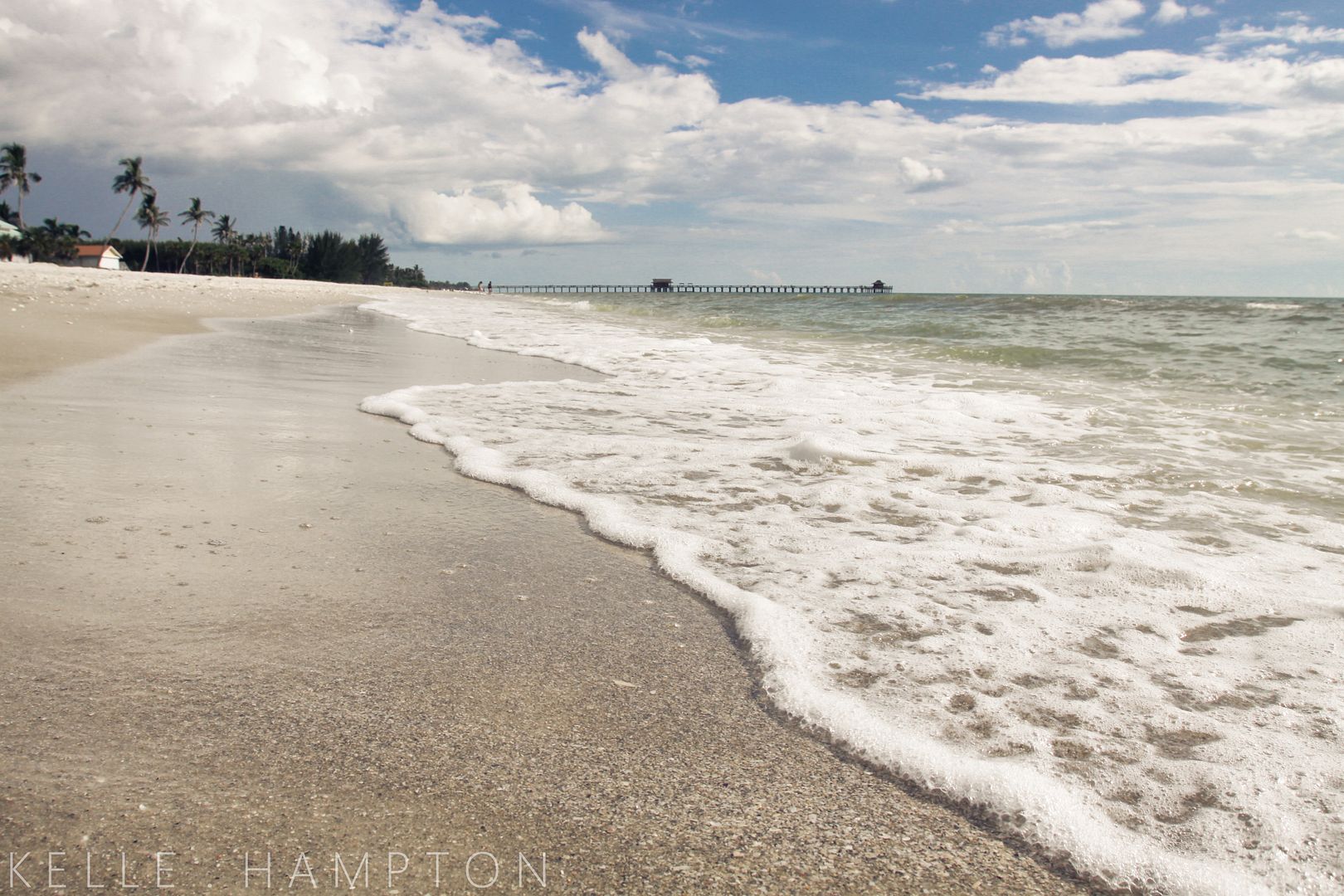 We smoothed the edges of our tiny thin receiving blanket on to the sand and walked the shore towards the pier. It was one of the most beautiful beach days I've ever experienced in my eight years here.
And then we did it. I've been wanting to do it ever since I saw the life-loving grandma wringing her shorts on the beach months ago.
"Hey Lainey, you wanna go swimming?" I asked with a cunning smile.
"But we don't have any bathing suits." She has to answer this way because Brett is her dad, and she follows in his responsible footsteps.
"Let's go in our clothes." I delivered my solution with the same excitement I'll use someday when I tell her "Let's play hooky from school today." She smiled back, and I secured Nella closely to my hip, took Lainey's hand and the three of us ran with wild smiles into the gulf.
Yes, I'm sentimental. I might describe my girls' births as if heaven done swallowed me up toward the glory of God and a sunset at Isle of Capri as a heart-stopping celebration. I'll own my sugar, and I'll eat it smiling. But let me tell you, that moment today? Sentimental or not–clinging a girl on each hip, the gulf skimming our shoulders, clothes drenched in sea water and looking out at the bluest freaking sky I've ever seen?
Today was my favorite f#[email protected] day.
We reemerged from the water, dripping, just long enough to walk up to a man, hand him my camera and say "I've lived here for eight years and it's about time we do this. Can you please take a picture?"
He took three.
We stayed another hour. Chasing seagulls, writing our names with beach pens, counting shells. I sat half-submerged in shallow water, nursing a baby, watching my big girl, and I knew at that moment I wouldn't forget the day we swam in the ocean, fully dressed.
Sometimes, it takes not knowing where you're going to arrive someplace fabulous. And whenever I am sure I'm lost, I will keep driving. I will look to the left and to the right as I drive, taking in the sights as I go. And I will know that somewhere not far ahead, there's a beach. There's a beach where I can run so fast, I don't even have to stop to change my clothes.



Today is my favorite day.
*****
Friday Photo Dump:
*****
I am excited to introduce our new sponsor for multiple reasons. I am fascinated with the smart, new companies that are emerging that serve dual purposes–creating beautiful, wearable products while providing employment opportunities and necessities for underprivileged people. Noonday Collection is one of those companies, and Independent Consultant Lori Boynton is pairing with Enjoying the Small Things in sponsorship this month with beautiful accessories created by artisans around the world. Each piece comes with a story behind it, and by buying Noonday Collection accessories, you are helping support artists trying to make a living not only in the USA but in Ecuador, Peru, India, Uganda, and many more.
The Inca Steps necklace comes in teal, bone and coral and was handcrafted from nuts of the tagua palm.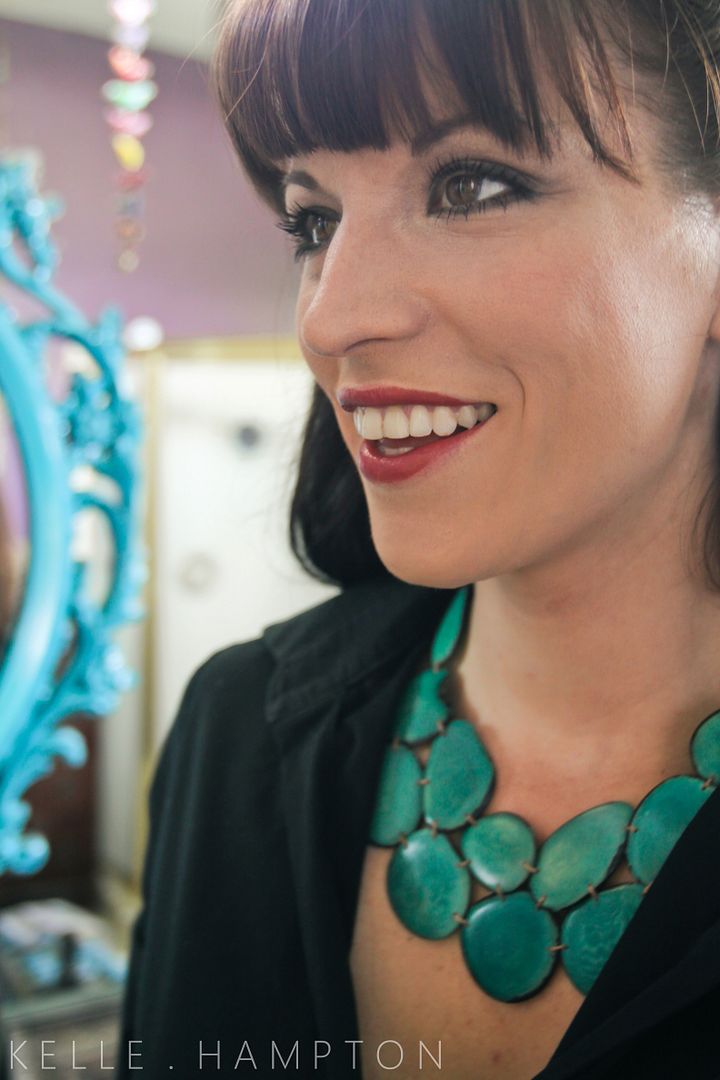 One commenter will be randomly selected from this post to receive a free Inca Steps necklace, in bone or teal, courtesy of Lori Boynton's Noonday Collection store

Winner will be announced in Monday's post.
*****
Until then, there's a holiday weekend. Three favorite days. I don't know where we're going, but I know we'll end up somewhere good.
Happy Weekend. Happy Labor Day. Happy Favorite Day.