So the time has come. The countdown to Lainey's Third Birthday Party (a proper noun around here), just two-and-a-half months away. And celebrations of life, in my opinion, are rare and beautiful opportunities to especially suck out the Lifecycle juice. And the way I like to pay tribute to that one, most precious day my babies entered the world…well, we start planning early. That and I'm just plain obsessed with children's parties. I asked Lainey's input this year, and she said she wants "a pink party" which I have elaborated into a pink, garden fairy party. So, my mind has begun to spiral into crazy fun project manager mode. My dad's first suggestion: "I see a canopy. And tulle." To which I agree. Along the course of the way, I'll blog about ideas and how to affordably make things, where to purchase materials, etc. and post pictures of everything. So, I guess Project Birthday Party commences. Hoorah. Still can't believe my little pixie is going to be a ripe three years, and I realized it today when she was talking on the phone with her friend Baylee and I saw her laughing, slapping her knee and saying, "that's 'ilarious."
Her favorite daily ritual has become morning adventures to the lanai where she tends to her new little plants like a mama, shy-smiling proudly while she waters them, turns them and today…sang to them: The ippy ippy pider went up da wada pout.
I promised her a trip to the library today but found myself tied up with various tasks instead until tonight, forty minutes before the 'libary' closed, I gave in and was pleasantly surprised to find library night-trips are way more fun than day-trips. The children's section was clean and quiet and mysteriously vacant. It felt like we had snuck in after closing and could have practically set up sleeping bags between illustrated fiction and biography if we so chose.
Which, now that I think of it, Library Sleepover has just been added to my bucket list.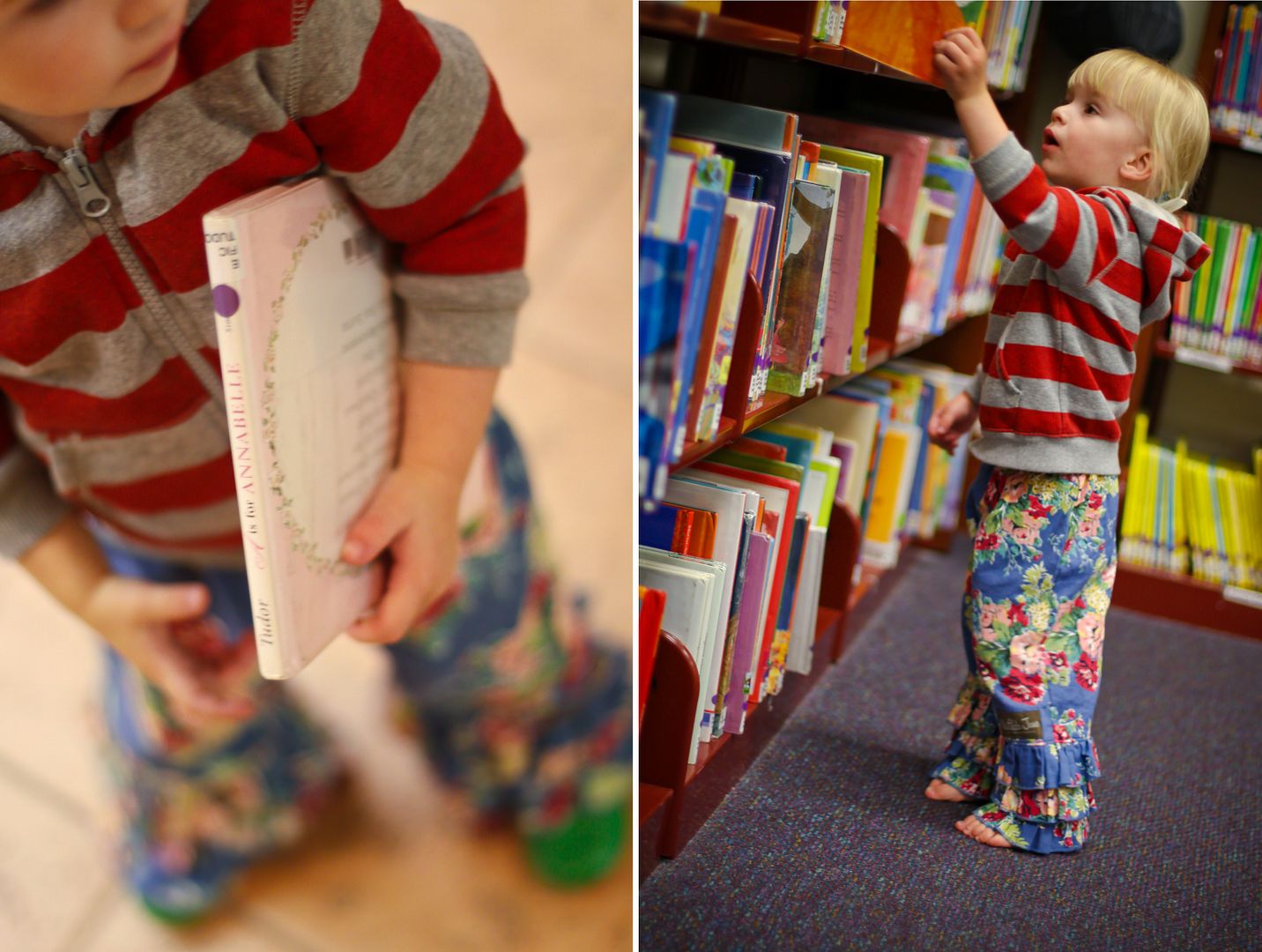 I love this love affair with books she has and how chubby fingers clumsily turning thick pages of board books just short years ago has slowly metamorphosed into kid fingers carefully pointing to words, making up stories, asking 'what 'dat say?' And the promise of this continued love. Of books and words and writing and late night tuck-ins where her heavy eyes will fall asleep to our reading great stories of legendary classics. And then someday, she won't want us to read anymore but will instead huddle under blanket tents with flashlights, scouring books of her own interest. But, lucky for us…it's just the beginning of that book journey and tonight, she was just my two-year old enthralled and happily overwhelmed by all the possibility a room with a sea full of books held for her (and for the poor librarian who had to redo the entire dewy decimal system of Aisle 6 after Lainey ransacked 501.3 through 587.42).
And, oh how I love watching my big girl read my little girl books.
She loves her something fierce but space between bodies is key as there's a fine line between hugs and choke-holds…thus leading to poor little Nella's "save-me" faces. I will admit, though, as two-year-olds will be two-year-olds, there've been a few times I've ticked Lainey off and to "get back," she immediately heads toward Nella with an evil eye…like she knows my buttons, and there's a split second where we meet eyes and I know what she's thinking and she knows I know…and we both make a mad dash for the cradle trying to get there before the other, and it usually ends in the nick of time, her hand grazing the newborn just as I'm whisking the floppy babe out before she wrecks havoc. And I picture this all going down in slow-motion with the Bionic Man theme song in the background. Because every moment has a theme-song, you know.
But, mostly…she's just sweet.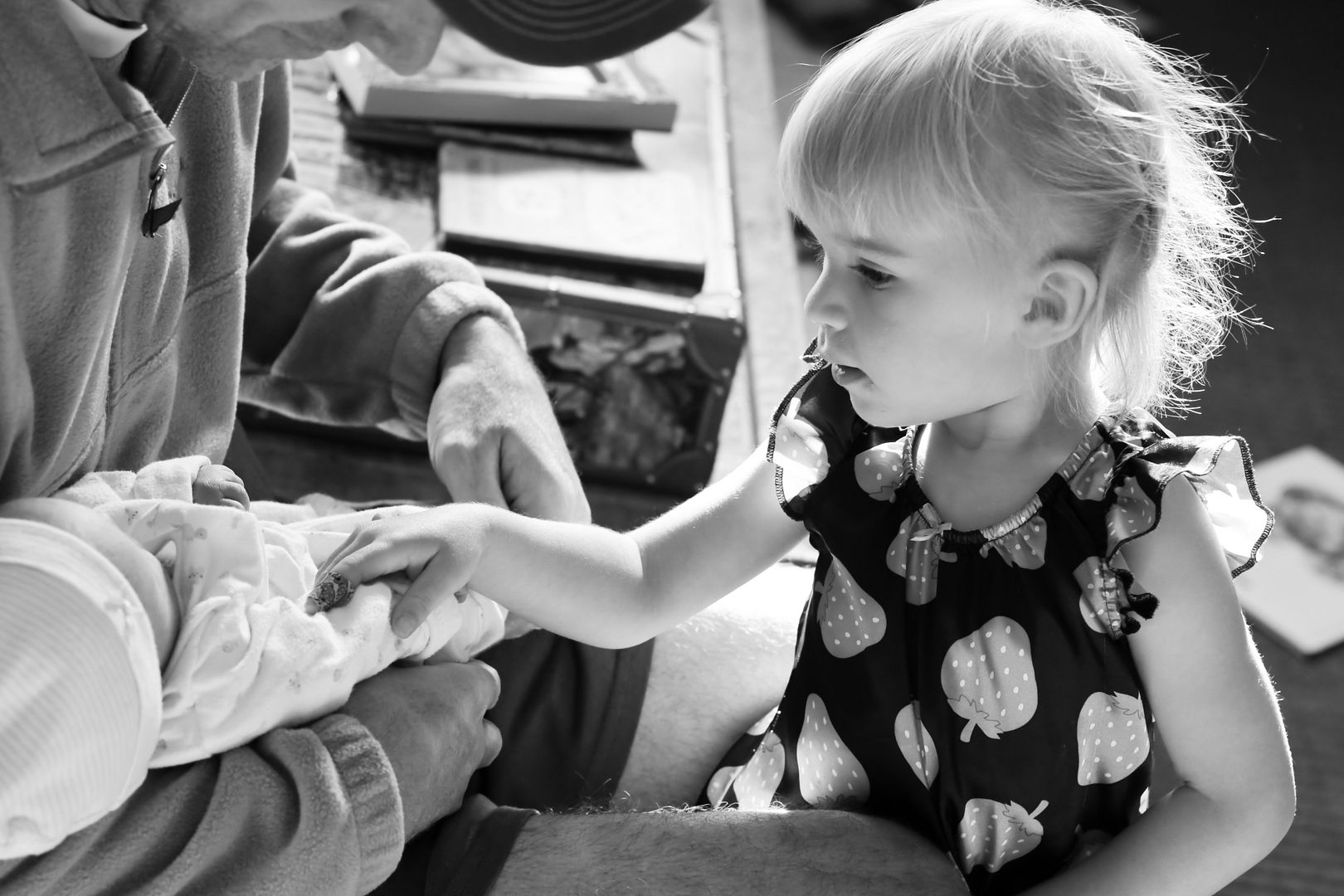 And, newborn is fleeting, as newborn does. I'm grasping and yet, at the same time, basking…in big, inquisitive eyes. Eyes that scan the room for my voice the moment she hears it.
We hold her – a lot. And it is now second nature to wipe counters, apply lipstick, wash hands, type, etc. with one hand whilst the other engulfs this perfect little body. And I am loving how this little body settles right into that hollow nook between my hip and the inside of my elbow, and when she gets sleepy, that body sinks a little heavier and her head burrows a little deeper and her shallow breathing settles into a deep "hmpppphhhhh" when she's finally out. And the whole process accelerates my heart just a little more.

And, never mind the tipped over grocery cart, the wadded sock, the lone frog boot, or the ripped cushion on the folding chair that has replaced not one but both cool Craigslist wooden spindle chairs that split down the middle, splintered my butt and nearly caused a broken tailbone when it finally gave in and I crashed to the floor.


You know what's funny…besides the shock of an unexpected birth and the pain of limitations and letting go of what you dreamed (okay, that's kind of a lot), there's just love…plain & simple. SO much love. And I told Brett the other day…You know, before all of this, at any point in my life, pregnant or not, if you would have shown me pictures of Nella and told me she was a baby with D.S. whose mama didn't want her, I would've begged you to let us adopt her…literally begged you to let us take this child and love her 'cuz I wouldn't be able to stand that she didn't have love.

Well, that's not really a problem.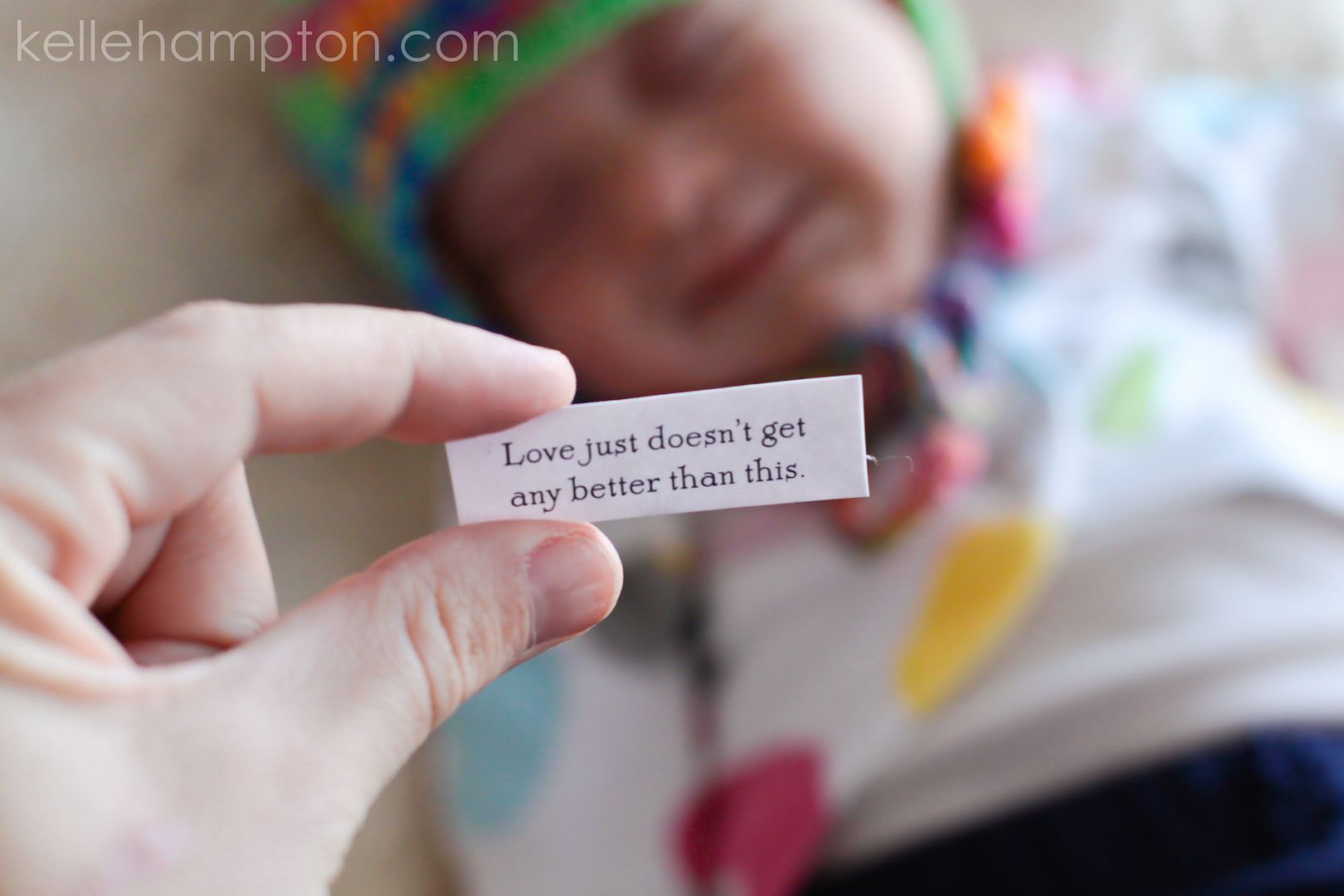 From a card someone gave us…and I cut it out and it's propped up on a little shelf in the girls' room.
My mama just sent us these new knits she made, and I am loving…
There's a constant range of emotions, obviously, and some days I feel back at Square 1, but today? Today, I just felt so completely lucky to be her mama, proud to show her off at the library with no hesitation whatsoever…and like I'm proving to some cosmic force out there that I indeed can love this girl. I can love like no other.

(Side-swept hair is always referred to as Senator. As in Senator Nella. Did you ever know a senator that didn't have a combed side-swept?)
This weekend we will be doing Spring mini shoots. And my assistant is preparing to help.
If you're in the Naples area, we have two slots left if you're interested (see here for details).
And after ravishing my pantry, scrounging for something sweet the other night only to land on a handful of stale honey nut cheerios and two hard marshmallows, I have replenished the candy jars with an Easter smorgasbord. While the Peeps properly stiffen, the pastel M&Ms call my name. And you know pastel ones taste way better.
We like sweet endings: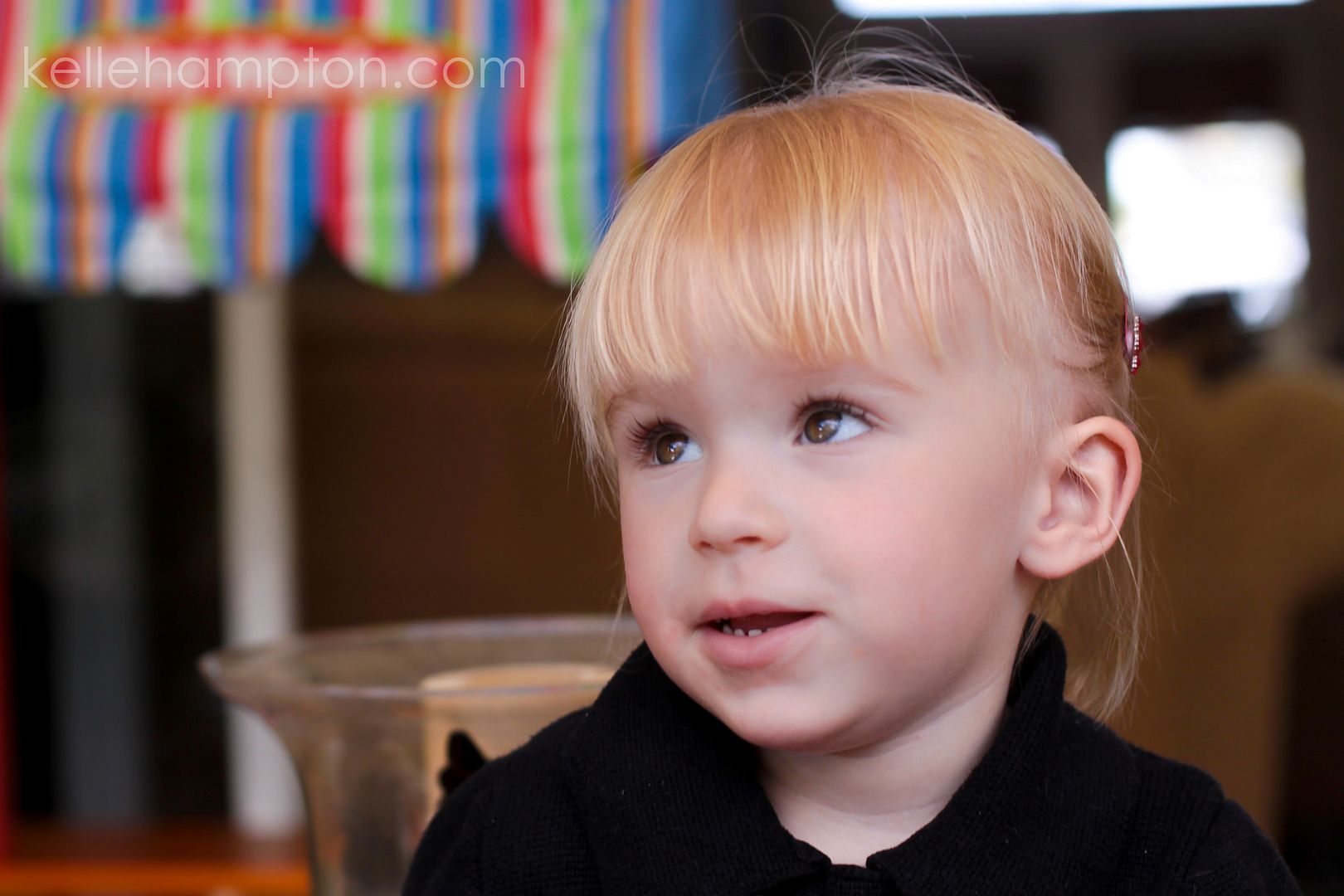 March will be good. March will be very good. I'm excited about picking up more work, potential blog sponsors, and writing Chapter 1. I'm really going to write this book.