Well, Hello there.
During Nella's morning pilates session (seriously, how delicious are newborn legs, stretched all stiff-like and toes curled? …and how do they hold them up for so long?), I became completely overwhelmed with just how much I love newborn.
Both Brett and I, during each pregnancy, would sit and talk about what we looked forward to in those first few weeks. And, amid sweet breath and tiny milk-stained lips, pursed little birdy mouths and the first blink-blinks of baby eyes taking in the bright light of their new world in the delivery room (that's Brett's favorite and I still remember him, three weeks ago, while I was crying and completely distraught, comforting me with his recognition of the 'blink-blinks' we looked forward to)…anyhoo, we always agree on one favorite newborn trait: froggy legs.


I can't get enough. And I'm just left in this beautiful state of awe looking at those perfect, frail little legs curled up…that they are one of the few leftovers of in-utero behaviors and that just a few short weeks ago, they were curled up just like that inside me. Inside me. In my body where her perfect little self called home for so long.
This brand-new stage of newborn is so fleeting, I find myself holding her envisioning sand in an hourglass…just trickling out of my hands, and I can't hold on to it tight enough.

Big, big yawn!

And, as she's slowly slipping from newborn to baby, I am soaking up every bit of it, chanting "stay little, stay little, stay little" all the while.
She's just delicious.
As is her big sister who lives up every day to the meaning of her name. She is complete sunshine despite the fact that "no way" and "go away" have become frequently used phrases in her vocabulary.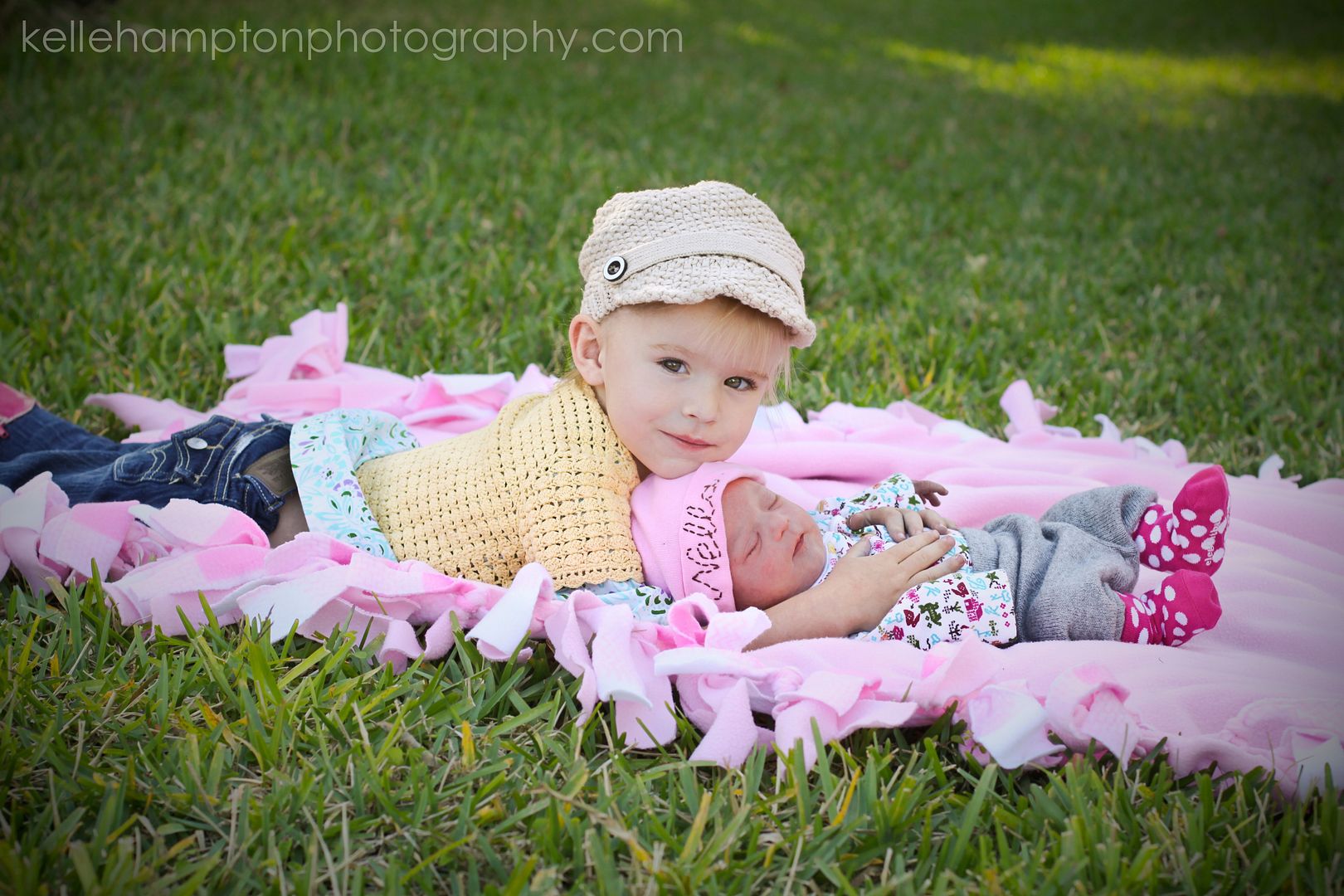 There is this ever-present cloud of guilt for her lately, and I'm realizing it is most likely everything to do with a second sibling and nothing to do with a second sibling with an extra chromosome. She's just so incredibly lovely and her world has been a bit rocked these past few weeks, and it's all I can do not to give her a popsicle every time she asks or let her paint the walls with the lipgloss wand because it's fun and she wants to.
I want to take her to the park. I want to rent a funhouse for the back yard. I want to buy a pony and let her ride it every second of every day. I want to stop what I'm doing at any given moment and bake cookies with her or turn pipecleaners and pom-poms into some fabulous toddler craft. But, I guess I also want to run naked through a field of daisies just to say I did, but that's not going to happen either.
That whole balance thing just gets more challenging as life moves on, but I know it evens out eventually. There are days when we bake three batches of cupcakes and follow it with widdling sticks from the woods into a homemade dollhouse furnished with origami furniture we dyed with fruit juice. And then there are some where I feel like Mary Poppins if I just spare five minutes to fling a tuna can across the tile in Lainey's made-up version of floor hockey. And I guess the same holds true with our marriage in that there are days where I'm obsessively sending "you're the best husband in the world" texts and spending hours in the kitchen knifing strawberries into hearts and drizzling chocolate into the words "I love you" over angel food cake just to make him feel special when he comes home (okay…I don't really do that) contrasted with the more-frequent-than-I'd-like manic crazed days when I'm so busy, I don't notice until an hour after he comes home that he's even here. Damn that Balance. So it is…one of my life's goals over time is to merge these polar opposites into a more consistent balanced middle-ground. Like maybe we'll just buy the furniture next time for the widdled-stick dollhouse. Or accept the fact that being a very good mom just might be as simple as spending an afternoon drawing bodies with sidewalk chalk in the driveway.

And, for the record, I drew the body. She drew the boobs.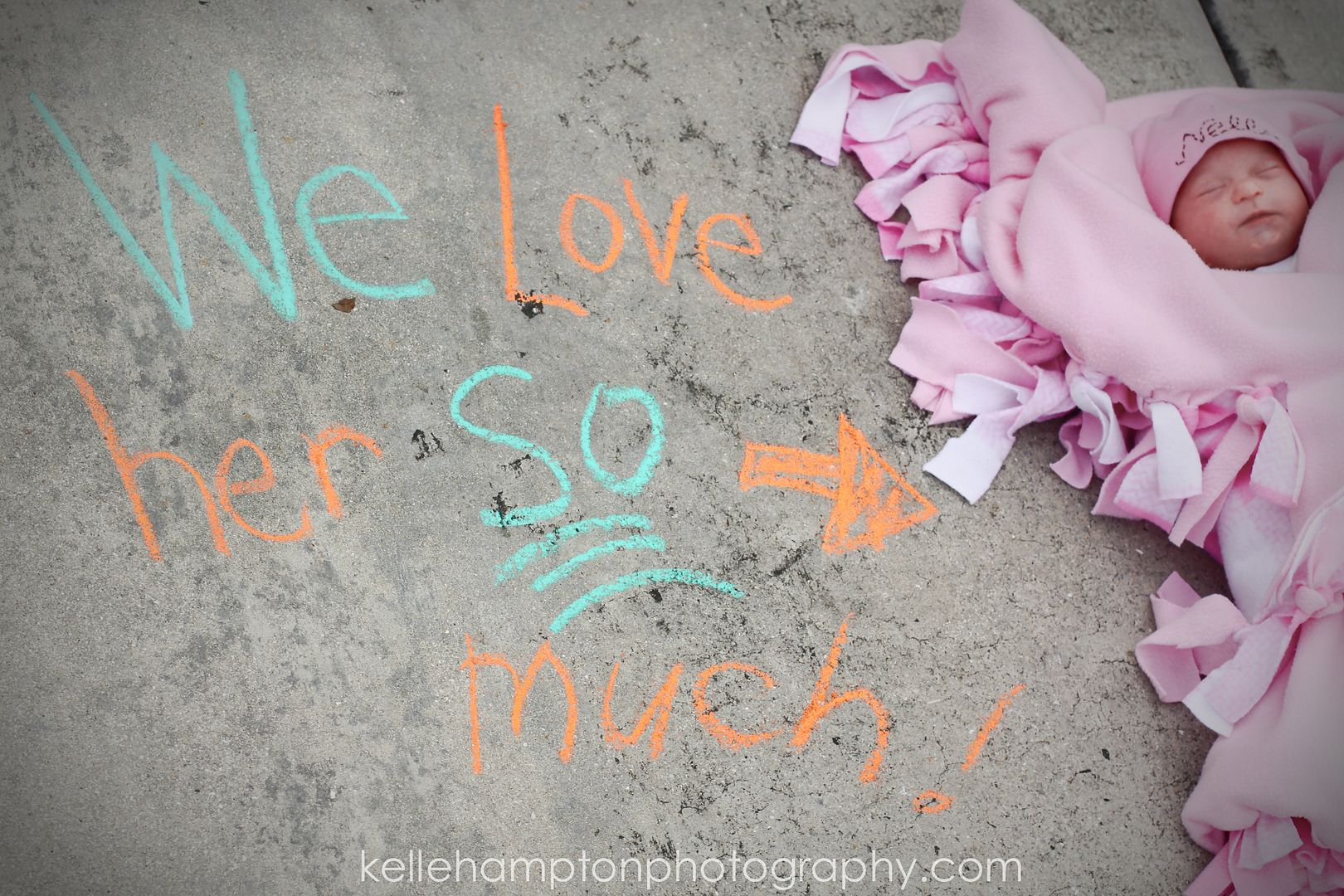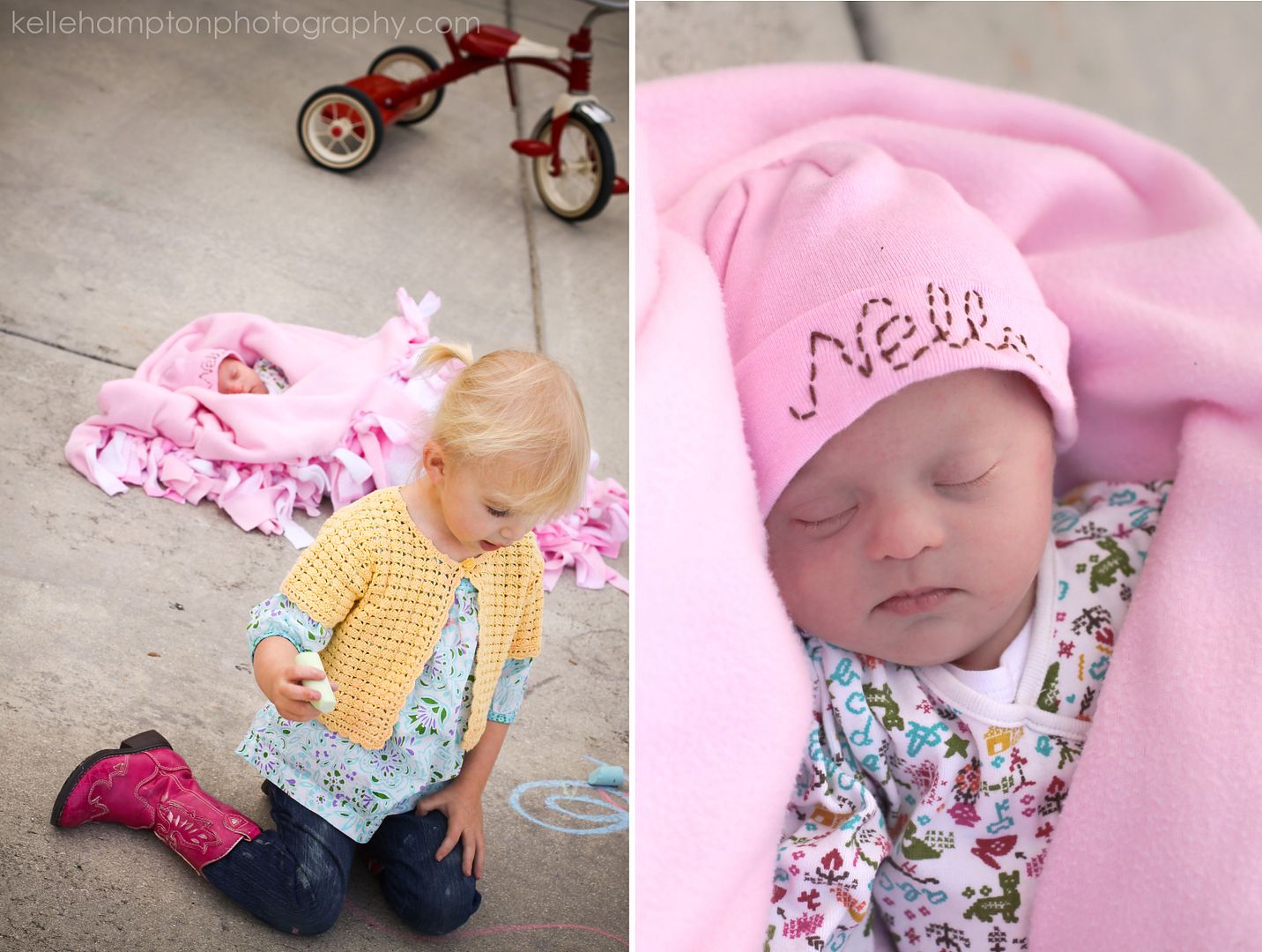 And this is a totally random tangent, but you know how when you get a new car, you start seeing it everywhere? Well, I swear every song I hear on the radio is about falling in love with a baby you weren't expecting. Until I was singing with Kanye West's Knock Me Down the other day…and I'm singin' and singin' thinking again how…holy wow, even Kanye writes songs about loving babies, and then, without even realizing…I sing along with the following part…
And I quote: I think I'm gunna kick it with my girl today….(and then, my favorite)…"My pimp-ship's flyin' high."
I don't know what a pimp-ship is, but I'm quite certain it has nothing to do with loving your kids.
However, I will be kickin' it with my girls today…and loving every minute of it.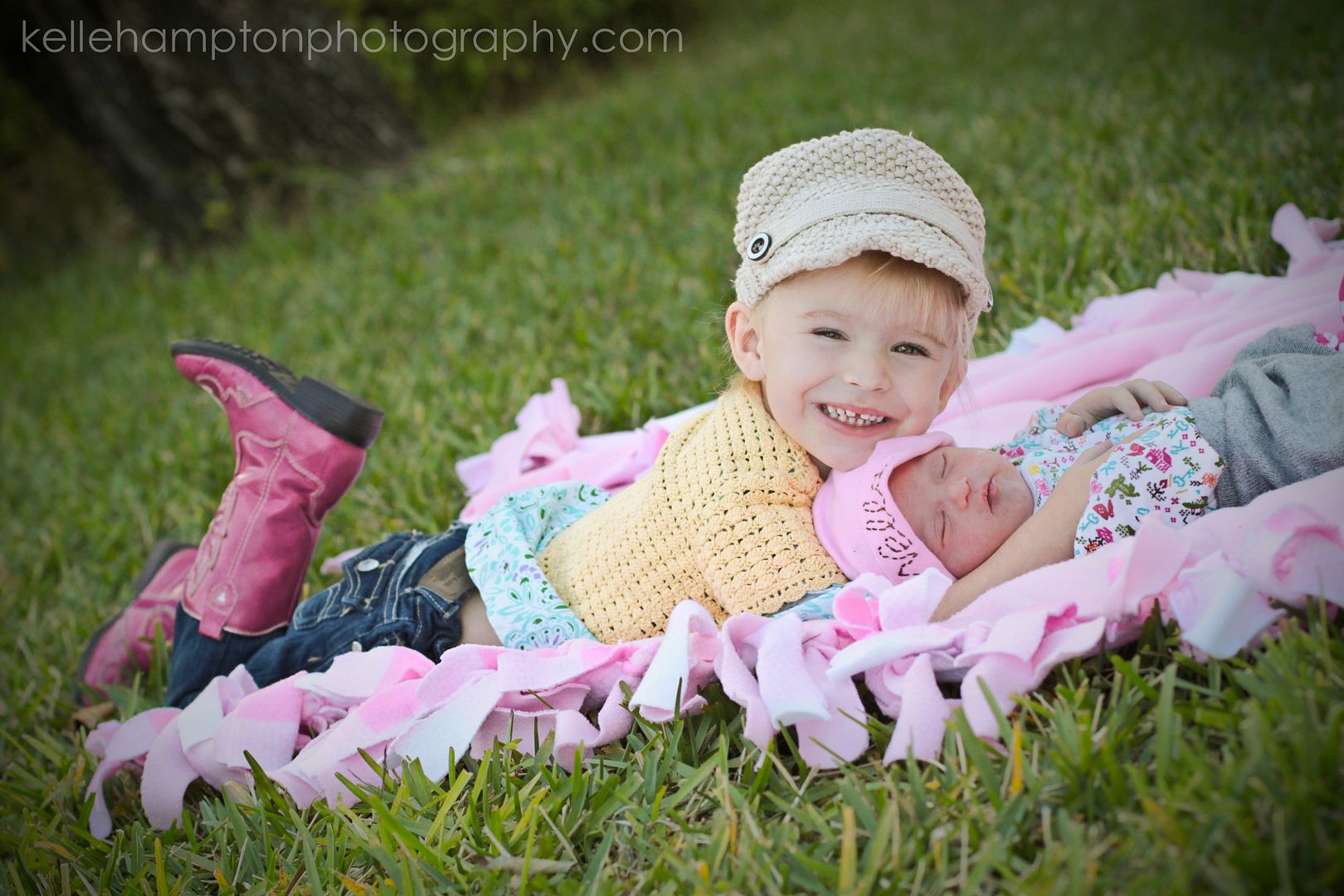 And, I almost forgot…
Some of the things you shared that you are loving (from your comments on the last post):
* American Pie by John Mclean
* The new inspiration I've found lately, and plan to use it to inspire others
* The smell of old photographs and the warm feeling I get while looking at them- It's incredible to see how my Grandmom held my Mother's hand and I especially love the one of my Grandfather holding my Father and staring into his eyes at 4 weeks old
* My hometown of Vancouver, BC, and watching "home" on tv daily because of the Olympics. I am so proud to be a British Columbian, and I don't know a more beautiful place on earth than BC.
* Our 6th daffodil that just opened up in the back yard
* 30 Rock: Sometimes you have to laugh until you pee. just a little.
* Those human interest stories of Olympic athletes – they get me every time! The only trouble is that then it is hard to pick who you want to win the gold – it's like "well I want so-and-so to win because her mom has cancer, but I want other-so-and-so to win because she recovered from a horrific accident, etc. etc." But those stories make the Olympics the cool thing that they are, to me anyways!
Thank you! Had so much fun reading them! There's so much to love…
…like Nella's little comic book drop-kick. Take that, Batman.
…and taking down my old header? That was hard. That was very hard, but we are moving on.
~k
(If you're in the Naples area, we are back to work…mini shoot coming up. Info HERE)