It was an afterthought really—one last thing to put in her Easter basket last year, and it wasn't until the thrill of the chocolate bunny and the jelly beans wore off that she even bothered to notice the ribbon wand that was still tucked into shreds of pink paper grass in the back of her basket. But it didn't take long for her to love it, to find her early in the morning on the landing in front of our entryway where sunshine spills in like stage lights and where there is just enough room between the walls for her to freely twirl her wand while the ribbon dances in mesmerizing loops.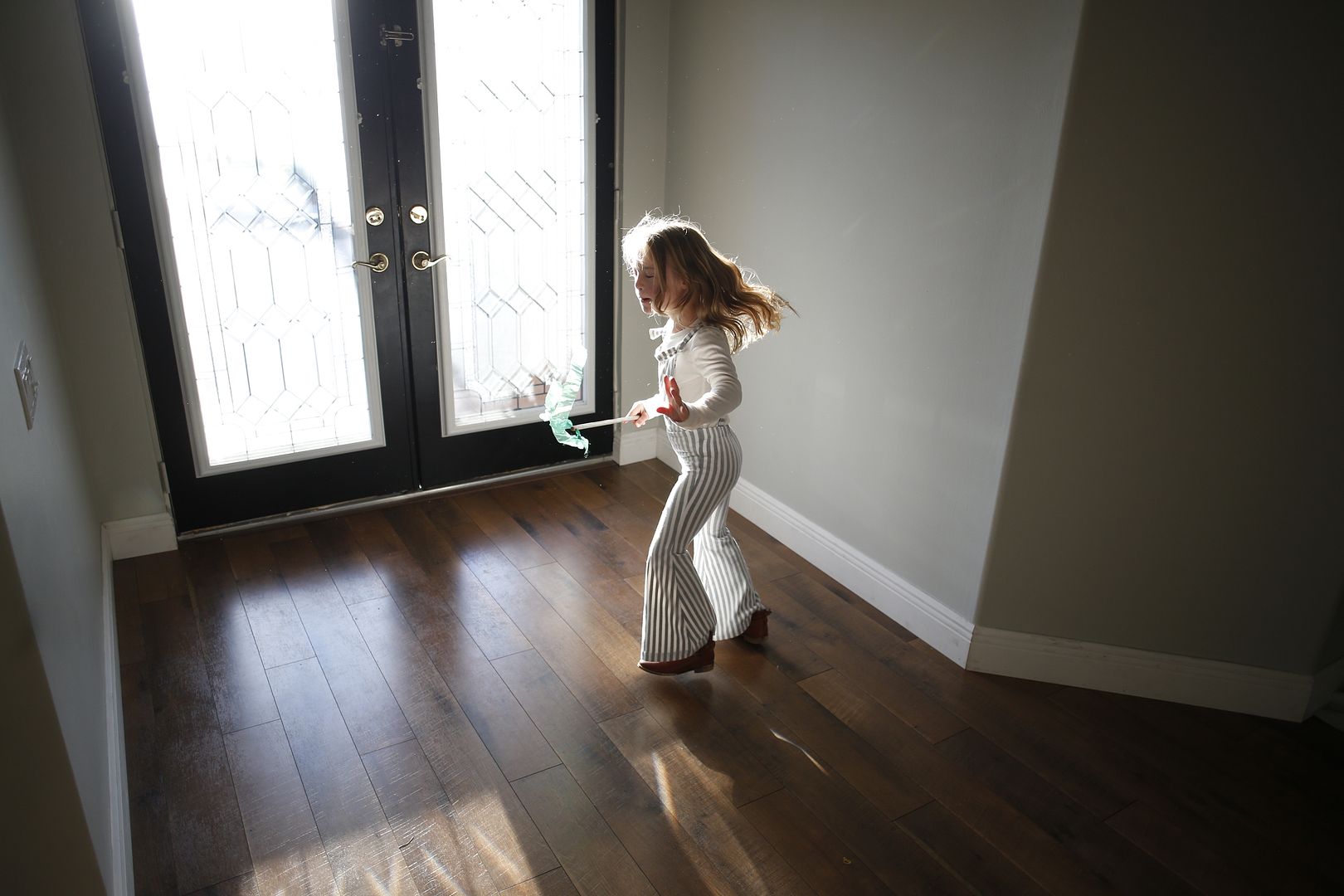 It's been ten months now, and the wonder of the wand has only grown in strength.
"Where's my wand?" she asks as she shuffles out of bed, eyes half-closed, before the sun rises.
"Where's my wand?" she asks as the van door glides open for school pick-up and she climbs in, tossing her back pack on the floor.
"Where's my wand?" she cries, frustrated, when she's circled the house three times and still can't find it.
I'll admit, I was worried for a minute there. It's not necessarily fair to her, but sometimes because of Down syndrome, I look at things through a different lens. Is she too obsessed? Is this attachment going to be a hurdle for her later? Is the way she shakes the wand stimming? (likely.) Are friends going to think she's the weird "wand girl"?
And here's what I've concluded: If weird wand girl is wrong, then I don't want her to be right. On her own (because she's smart like that), she drops the wand when she knows it's not appropriate. Hands it to me when I ask for it, leaves it in the car for school, (hesitantly) turns it in for a consequence when she hasn't followed directions. It hasn't distracted from things that are important like learning and socializing (her friends love the wand) and paying attention.
Mostly, it does this magical thing though…it brings her joy.
It unlocks a little whimsy in her, encourages lyrical movement, provides a little comfort (like a lovie).
And then there are the bonuses. Like watching Brett get all excited when he's figured out a way to fashion a new wand—a better wand—out of a dowel rod and some ribbon. I've found him in the garage, drilling holes into sticks, threading ribbon through—ribbon he picked out just for her, mind you, at a….wait for it…fabric store.
"Just wait, this one's going to be her favorite," he tells me with boyish enthusiasm that makes me want to renew our vows right there in the garage with the heap of Goodwill bags and broken lawn mower behind us.
Or there's the day she was crying when a friend was over, and the little friend who said to her mama, "I'm going to make her a wand to make her happy."
Or the old lady in the grocery store who saw Nella twirling her wand in the condiment aisle and left her cart for a moment to come dance in the loops of the ribbon, laughing and twirling her hands above her.
Or the readers who've found wands in store aisles across the country and have taken the time to take a picture and send it to me with a little "Thought of Sweet Nella" message.
Or the way she stands next to Gary, patient as ever, waiting while he untangles the 300 knots that have accumulated in the ribbons from all that twirling.
Or my precious Lainey who said the other day, "We should make Nella a Valentine wand."
Or the swell of happiness I felt the night I stayed up before Christmas to hot glue peacock feathers on felt and braid thin ribbons into long strands to make another wand—I wand I knew she'd love—for a gift.
"Oh, so you think your wand can top my wand?" Brett teased.
The wand has brought a little magic to our family, and that makes me happy.
I know there will come a day—just as they've come for the blankets our kids clutched every night as toddlers, and the plush puppies they dragged through stores, and the favorite bunnies that were loved so hard, their whiskers fell off—that the wand will be forgotten, rolled under the bed with the dust bunnies and the lone sock that's too small.
She will let go and find new things to delight her.
But I'll never see a wand in life and not think of these years, these snap shots in my mind of her twirling in the sunshine at the front door, or my family hustling to find her favorite wand when it's lost, or their efforts to make a new one for her, more beautiful than the last…and remember how wonderful it is to get lost in little things that delight us.
P.S. Most of our favorite wands are ones we've made ourselves or that have been made for us, but we do love this one we bought from Amazon and this one from Anthropologie.
Do you remember that scene in Inside Out when Bing Bong lets go so Joy's wagon can make it up the wagon? And he fades away while memories of her as a little girl with him replay? I don't think there's ever been a scene in an animated movie that hit me in the motherhood jugular more (close second, when Andy leaves his toys in Toy Story 3 to go to college). I literally shook in the theater, tears rolling down my cheeks, thinking of all the little things my kids have loved and what a special place they will always hold in our family's heart. 
Does your child have a lovie or a cherished thing that will bring back all the feels someday? Do tell.