There are 100 things I love about Valentine's Day–the best, of course, being that I have a Cupid baby who was born on that day. But seriously, a day dedicated to celebrating LOVE in fun, whimsical ways? What's not to love? I know it can create relationship pressure for single people, but growing up, Valentine's Day was always celebrated in our home less as a romance holiday and more of a let's-bake-heart-cookies-and-make-lace-crafts kind of thing, and you know that's right up my alley. My mom made sweet little Valentine packages for us and still bakes heart-shaped sugar cookies with our names on them and mails them to us. In fact, she visited me in Florida once when I was a teacher and baked 23 heart-shaped cookies for my class, complete with each student's name in frosting.
I have a few fun ways to celebrate the day that I'll share later (and a giant LOVE SONG playlist that I think you'll–well, love), but first–a super easy make & wear craft: Conversation Heart Pins…and Earrings! And Shoe Clips!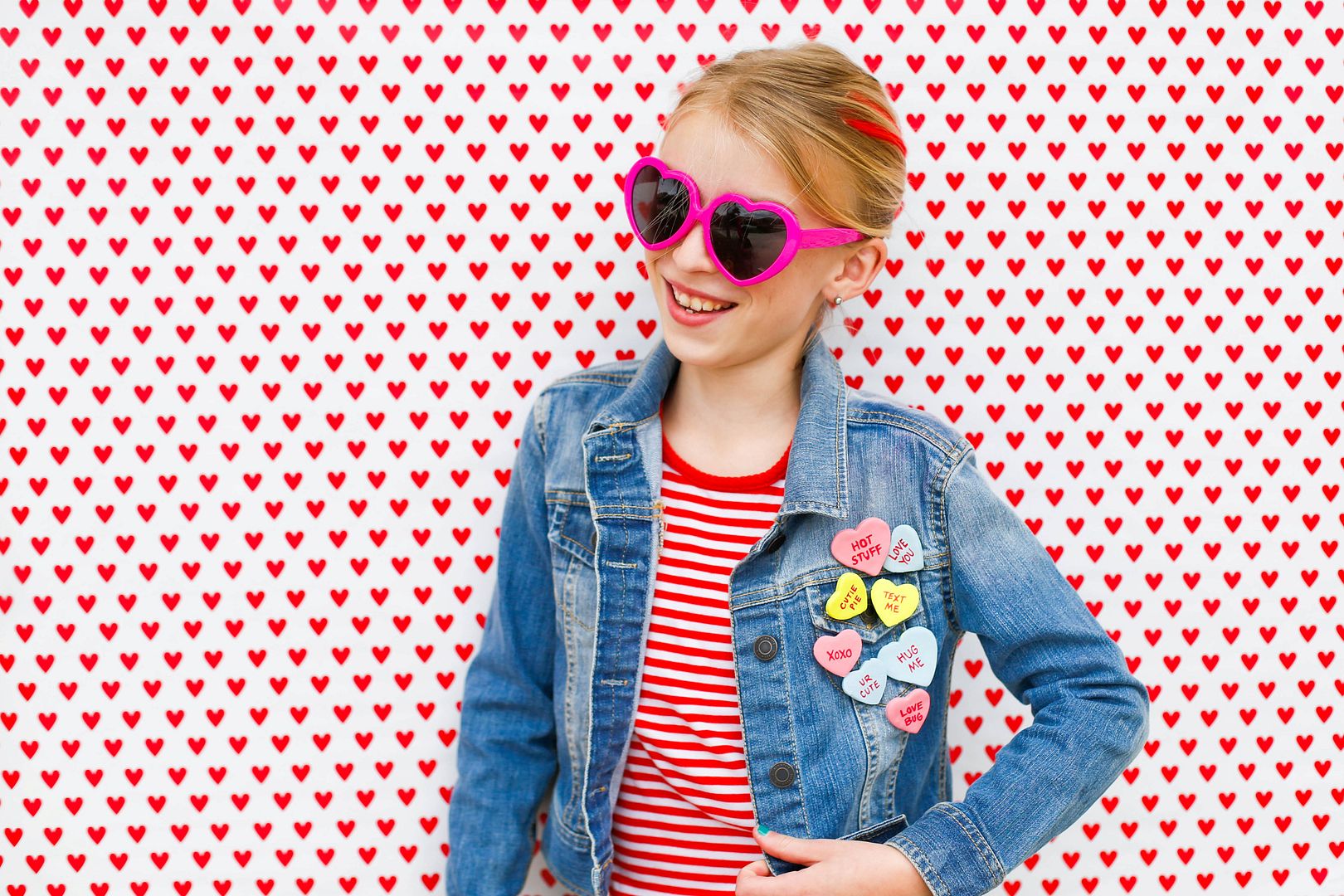 Do you remember when I turned Shrinky Dinks into Awesome Women Necklaces, got a little obsessed and almost turned my dining room into a jewelry factory? Happened again last week, but with Sculpey clay. This one's even easier.
Here's what you need. And the kids can make these all by themselves, give or take a little writing and/or oven help. Dash was rolling out Sculpey clay on the counter to the perfect thickness on his own and cutting hearts into it and passing them to me so fast, I couldn't keep up.
All you have to do is set your oven to 275°F. Roll out your Sculpey clay to about 1/4 inch thickness. Use your heart cookie cutters to make your shapes and carefully lift them with a spatula and move to a cookie sheet. We used two different sizes of heart cookie cutters–the smallest two from a multi-pack heart cutter set from Michael's.
Once your hearts are cut out, slide them in the oven and bake for about 30 minutes. Pull them out and let them cool (they'll be nice and hard once they're cool). If you have any scrappy edges, you can smooth them with a sheet of fine sand paper.
Using the fine-point Sharpie, write your conversation messages on your hearts. For ideas, here are 10 Years of Necco Sweetheart Sayings or these funny mom sayings. You could also make them 2018 with sayings like U R SO EXTRA, BASIC, SAVAGE, LIKE IT, and LEAVE A COMMENT.
Let hearts dry a few minutes so that the paint doesn't smear. Once dry, hot glue your pin backs on, and then you're done! Over accessorize your favorite jean jacket, and you're Cupid Ready!
You could do dangle earrings for these (you'd need to poke a little hole in the clay before baking), but I used clip-on backs so Nella could wear them (and also because I didn't think to turn them into earrings until after I baked them).
The cool part? The clip-on earring backs double duty as shoe clips.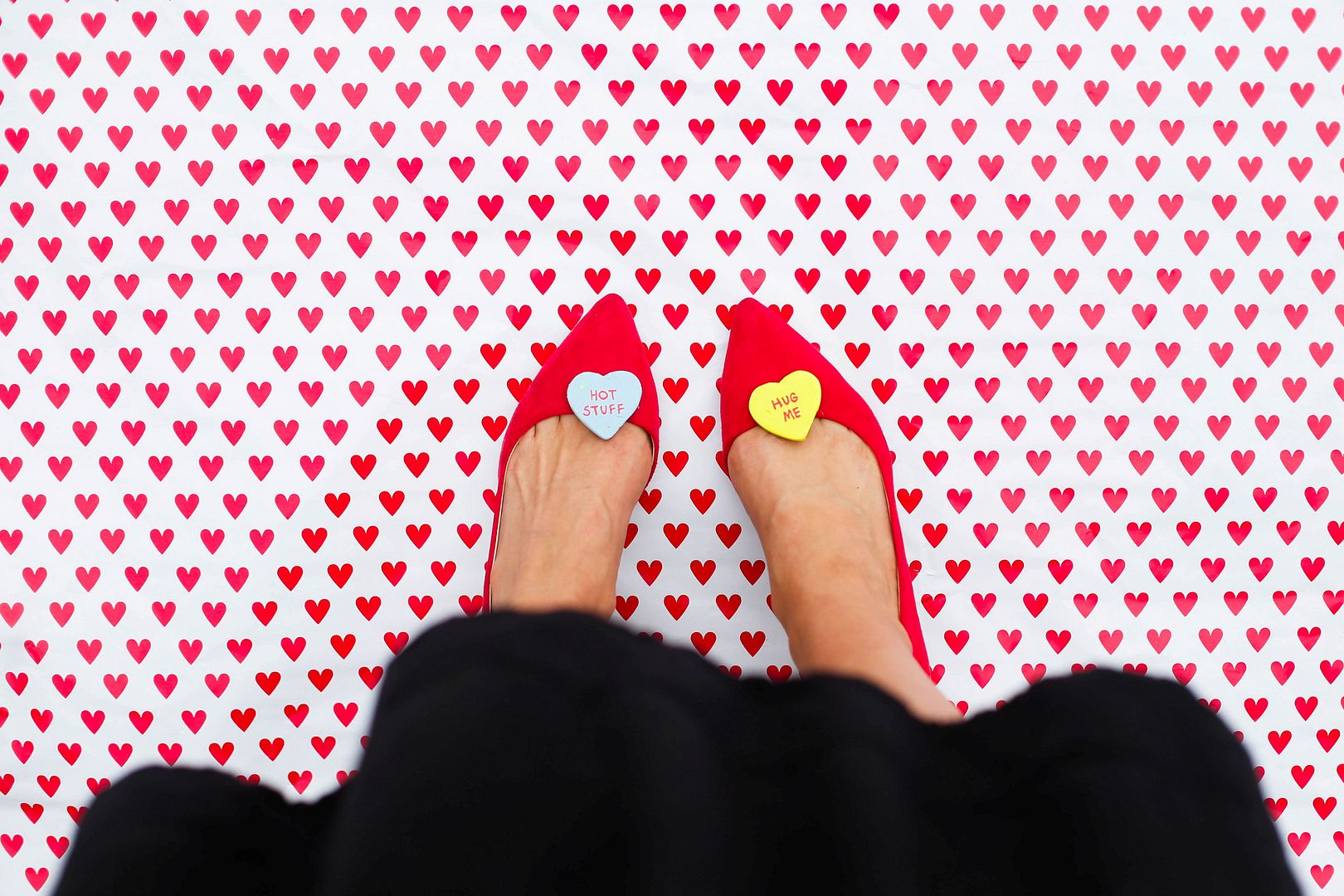 So extra.
Super kid friendly craft with an effort level of, like, 2.
Finished product satisfaction level? 10.
That's return on investment, baby. Now pardon me while I go clean up the jewelry factory so I can make some lunches.
Happy Monday!
For other cute conversation heart-themed things to make, check out: