During a rare ten minute break the other day, I happened to be flipping through an old magazine and found one of those "What's in Your Bag?" articles where fancy magazine editors or presidents of cosmetics companies or other very important women empty out the contents of their expensive handbags and describe each item. I sometimes pick up great tips in these articles–stash away the name of an eye cream I want to try or a travel item I've suddenly been enlightened that I can't live without. But for the most part, I scan the page in awe of how pretty everything looks when the contents of my purse look like someone tipped a garbage can upside down and shook it into a handbag. The cords of these women's headphones aren't tangled in knots around seven-month-old Target receipts, and they certainly don't have wadded used wet wipes shoved in tiny pockets where lipsticks should be.
Which brings me to "My Purse is Worse," a blog segment that may begin and end with this post or could very well take off if I can find the brave mothers in the world who think they can trump my mess and care to share the innards of their handbags.
Don't get me wrong–there are some gems in here I'm proud of and some things I really do want to shout to the world, "You need this! You'll love it!" But mostly, this bag is representative of the imperfect balance of being a woman, raising kids and loving lots of little pleasures the world offers.
With no further ado, My Purse is Worse.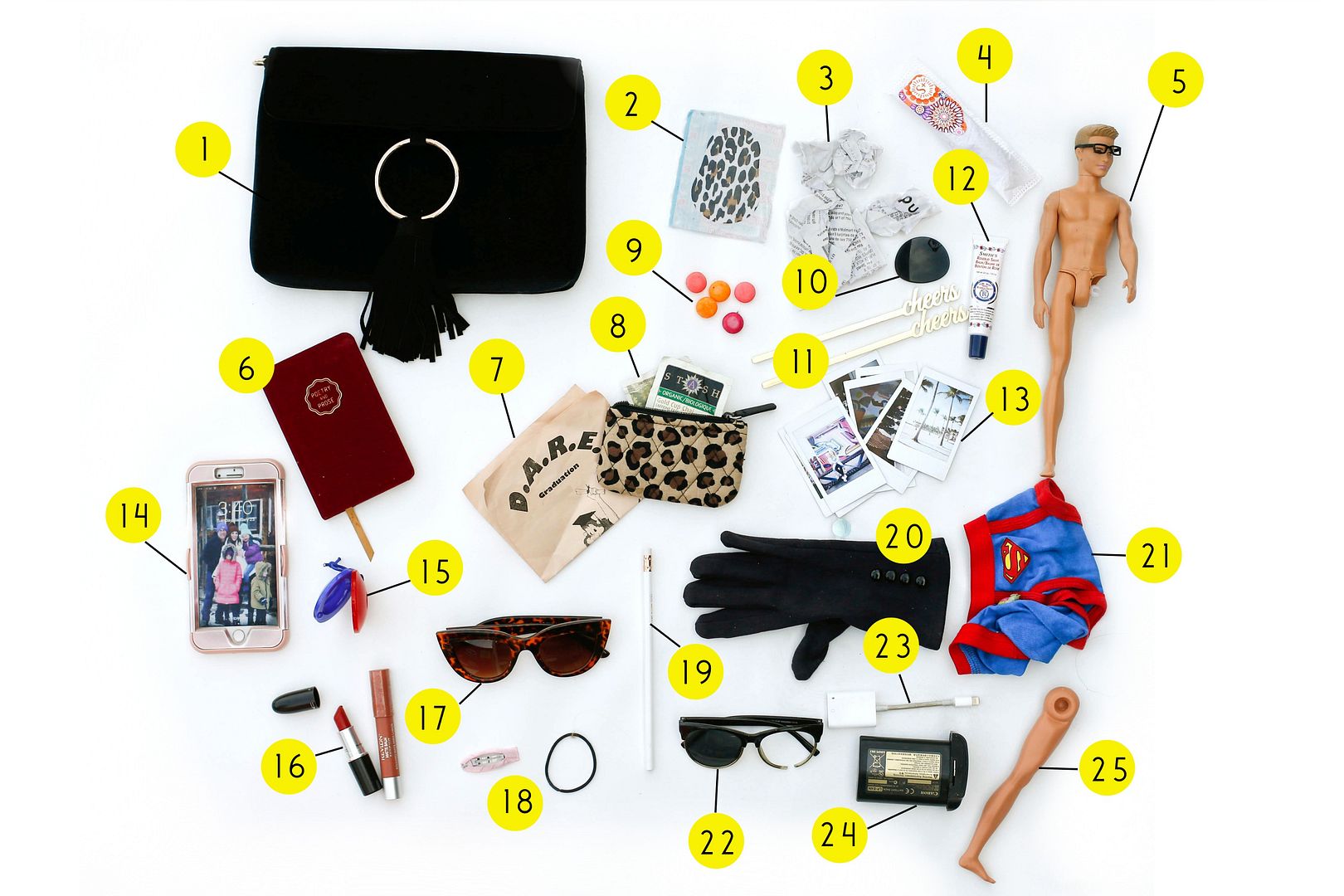 1. Clutch Purse. Let's start with the bag.  I bought it on major clearance at our Anthropologie (I think I paid $19). This is a small purse for me, but I switched out my other purse to use this one for a party I was going to, and I never switched back–the laziness of which you're going to see take a major theme in this post. But I will say, the advantage to smaller purses is that it keeps you from accumulating junk and forces you to clean out your purse now and then. I often have three filled purses going at once and just move my wallet from one to the other.
2. Nella's Eye Patch. I try to keep one with me, so we're covered out and about. If she's on an iPad for very long, her weak eye gets tired. Bonus: We've totally used an eye patch for a Band-Aid when in a pinch, and it works great.
3. 500 Wadded Receipts. I try so hard to keep only the important ones and have all these tactics for avoiding receipt accumulation–throwing them in the garbage before I get to my car, holding my hand up to the cashier and saying "Don't need a receipt! Thanks!"–but they still make their way in there. If I started a band, War Against the Receipts would definitely be a contender for names.
4. A Tampon. Not that it will actually still be in my purse when I need it–say, in the middle of a workout with a trainer. No, that would be way too responsible. But you know, when I'm digging for a pen at a check-out with five people waiting and watching, that tampon that by then will have fallen out of its wrapper at the bottom of my purse and rolled around in crumbs will definitely be there for me.
5. Metrosexual Ken. We pack Barbies like snacks for Nella so that at any given time you'll find 2-3 in my purse. First pick is Kiki, but she's usually in the bathtub. Paquel and Poop will stand in, but I think they're in the back basket of Dash's tricycle, so Metrosexual Ken has purse duty right now, and yes–he's missing a leg. What can I say, Purse Duty's a hard knock life. It's like the front lines of battle. Technically, he doesn't even fit this purse well, so his foot hangs out, but this creates a fantastic conversation starter for anyone who notices.
6. Journal/Notebook. I always carry a blank compact journal in my purse for lists, ideas, funny things Dash says that I don't want to forget and sudden writing inspiration. I love this velvety purse-size Poetry & Prose one. I think I got it at Target, but there's a similar one (and leather!) here.
7. D.A.R.E. Graduation program. From, like, three weeks ago. No reason to save it, just random paper that clutters up my life.
8. Tea Pouch. Listen up, this one's a good one for gift givers. My "healthy friend" (we all have one) who helps me keep toxins out of my life and eating good is also the most thoughtful gift giver. She gave me this little tea pouch filled with all these organic teas and mushroom cacoa. I love having it in my purse, so when I'm out, all I have to do is order hot water. I drove home from Miami pretty late last week, so before I got on Alligator Alley, I picked up a hot water at a drive-thru and had a nice comforting hot tea with a podcast while the kids slept the whole way home.
9.  Dirty Mentos. Little @#$kers always trying to escape from their package.
10. Oh, you know–a Kids' Sunglasses Lens–just floatin'.
11. Cocktail Stirrers. These are the things that make you a hero when say, you're out in the middle of nowhere, someone tries to mix something and says, "If only we had a cocktail stirrer." And then you get to say, "FUNNY YOU ASKED" and dramatically pull it out. I actually remember why they're in here. Somehow they made the purse transfer well after our Chicago trip before Christmas when I stashed them in my purse with travel Vodkas and tiny bottles of fresh-squeezed grapefruit juice so that I could impress my dad with the world's best plane cocktail once we were in the air.
12. Smith's Rosebud Salve. For lips, dry elbows, chapped little cheeks, anything and everything. There's nothing worse than having a dry lip attack and not being able to find something to put on them.
13. Instax Pics. All taken by Lainey. They're all over my purse, and I love it. When she takes pictures, she hands them to me to hang on to,  and I shove them in my purse and forget about them. The best part about this comes, of course, weeks later, when I'm having a crap day or in too much of a hurry, and I'm rifling through my purse for a pen or a lipstick or a credit card and land upon a photo of a blue sky painted with palm fronds, or Dash flashing a silly face, or a blurry capture of a slime concoction that made her proud–all reminders of what she sees and deems art, all guaranteed to make me smile.
14. My Phone. By choice, Brett traded his iPhone for a Galaxy and loves it, but me? I'm loyal. Wither thou go, I will goest, Apple. Current screensaver: Our family huddled in the snow on last year's trip to Vail.
15. Plastic Castanets. I have no explanation as to how they got here (Dash?) but Ima be damn happy about if I'm ever out and about and hear Madonna's La Isla Bonita playing. Hang on, I got this.
16. Two Lipsticks. For the most part, on ordinary days, it's one of two lipstick moods, and there is no way to predict which one I might be feeling: Classic Red or Pinky Nude. The red is likely M.A.C.'s Chili, Russian Red or Ruby Woo. The nude for purse is always Revlon's Matte Balm in Enchanting–matte yet hydrating and a color saturated enough to make an impact.
17. Sunglasses. Usually never over $20 because I lose them and scratch them and need pairs all over the place, but I'm working on trusting myself soon to get a big girl pair again.
18. Hair Elastics and Barrette. The barrette is for Nella because no matter how long her hair gets, this one side always falls in her face if it's not in a tight braid or buns.
19. A Pencil. Note: Not sharpened, so useless, of course. I will most likely be in DIRE need of a writing utensil when I find this pencil, and the level of stress and frustration and subsequent cursing will be monumental.
20. A Winter Glove. Because I live in Florida and have two hands, and one winter glove is in great demand here. We're just not ready to let December's Chicago trip die out yet.
21. A Pair of Superman Underwear. With–may I take the liberty to point out–a half-sucked fuzzy Mento stuck on it. Having an extra pair of underwear on hand has saved us more times than I'd like to admit.
22. The Broken Pair of Kid Sunglasses to Which the Aforementioned Lens Belongs.
23. Hear ye, Hear ye. THIS IS MY SECRET TRICK–the Apple SD Card Camera Reader. I can take a pic on my big camera, pop the card out and instantly see/edit/share it on my phone. I use these on trips a lot.
24. Extra Camera Battery.
25. Metrosexual Ken's Leg. Oh, there it is. I guess I can remove the cocktail stirrers because Ken's leg can take care of that now.
Not Available for Photo: My wallet because, I found out later when I went to pay for groceries, I left it on the counter.
Think you can top this? Tell me the weirdest thing you've ever found in your purse. Better yet, dump your purse and send a picture of its contents to [email protected] or direct message me on Instagram @etst.