For anyone who ever dreamed that Willy Wonka's Chocolate Factory was a real place you could visit, listen up. First there's the whole issue of the Golden Ticket which–while not hidden in candy bars and as limited to–what was it, 8 kids?–there are only a limited number of tickets sold for the Museum of Ice Cream Miami (it's a pop-up). Apparently they sold out but just extended ticket sales to the end of February, so if you're anywhere near Miami and want to go, book 'em now, Danno.
Secondly, there's the issue of sweets (that comes with your ticket price). Tell a kid you're taking them to a place where they get to walk through and sample ice cream, milkshakes, gummy bears and popsicles as much as they like, all for free, and you take the rank of a child god–like Santa Claus or a Disney princess.
Heck yeah, we tatt up in preparation.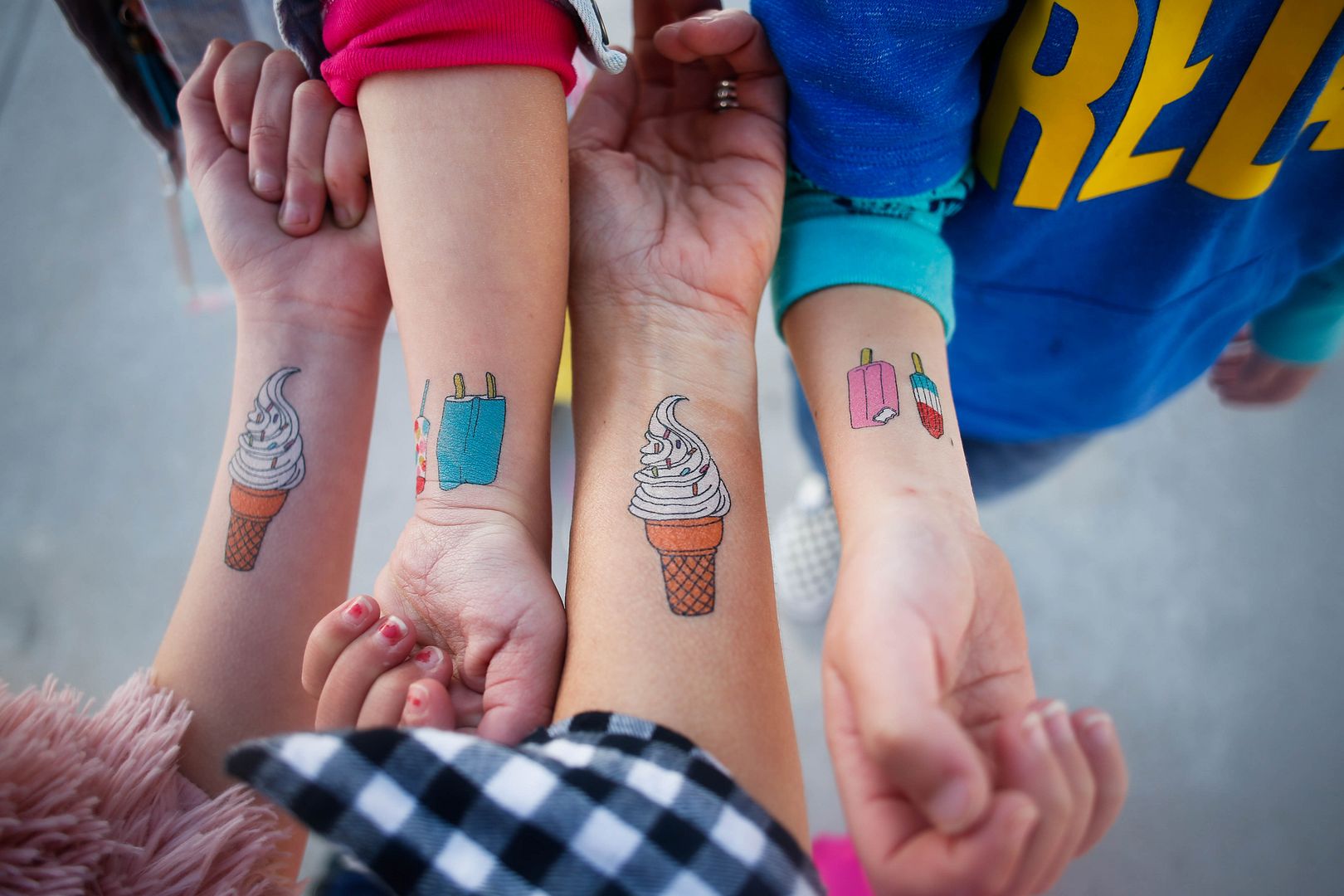 But my favorite is the creativity and imagination behind this place. Like someone actually went to bed and dreamed of jumping in a swimming pool full of ice cream sprinkles and then woke up and made it happen. Every inch of the Museum of Ice Cream is designed around the concept of FUN, and you feel it the moment you're greeted outside the door–that's surrounded by a row of pink palm trees, might I add.
Past the front door, you're met by an ice cream fortune teller who–using ice cream cards–relays what sweet adventures lie ahead.
From there, we were escorted to the pool room where we were given three minutes in the sprinkle pool (plastic) by ourselves. You know how much fun it was convincing Nella and Dash that their "Certainly I can't be allowed to get in" hesitation could be ditched and that yes, they could absolutely climb right in and swim?
I mean, look at Dash's face!
Just when you leave each "exhibit" and think "Holy Imagination, that was fun!", you're wowed again in the next room, on the next floor. In between each and every highlight is more color, more rainbows, more attention to creative detail.
And the amount of pink! It's everywhere.
These little milkshakes come rolling in on a conveyor belt and are topped with PINK whipped cream.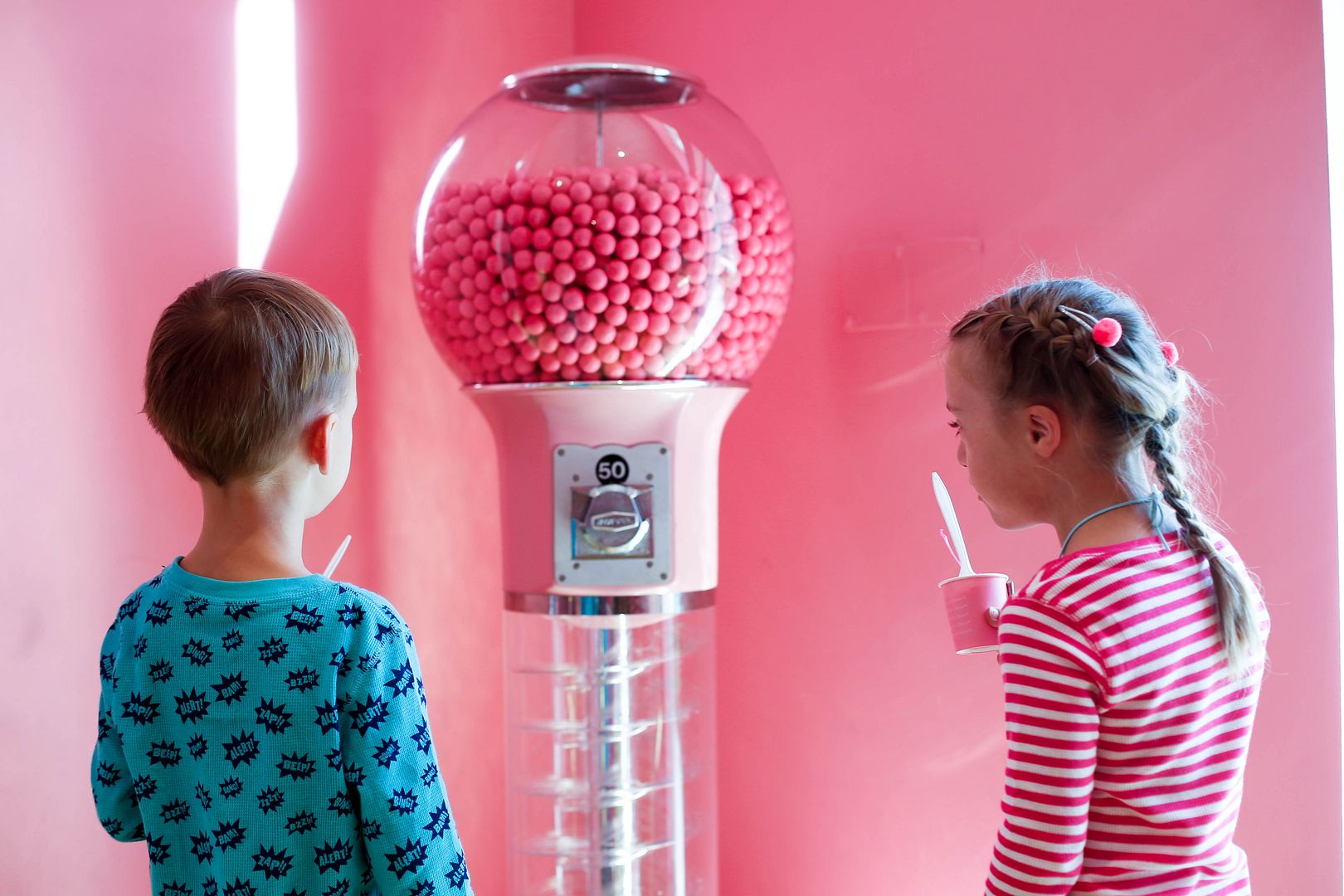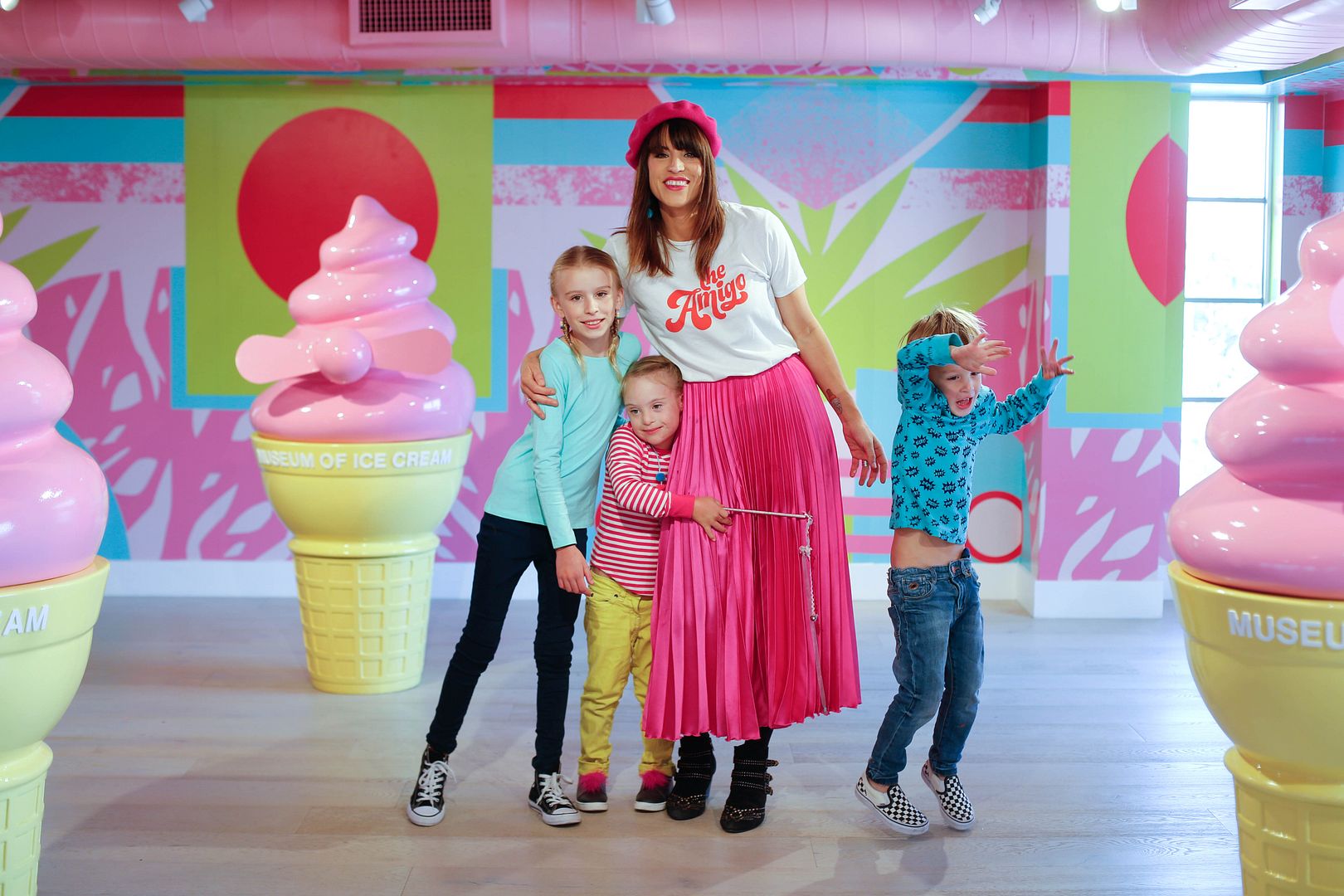 The pink jungle room was fun–a maze of pink palm trees, a cherry "wrecking ball", a giant banana swing…and yes, a lot of millenials pulling out multiple fashion poses for photo shoots like the boyfriend/girlfriend couple who began with Boyfriend taking pictures of Girlfriend on the swing at every angle known to man until Boyfriend handed the phone to the Girlfriend, said "My turn", hopped on that swing and WERKED THAT CAMERA like Gigi Hadid. Get it.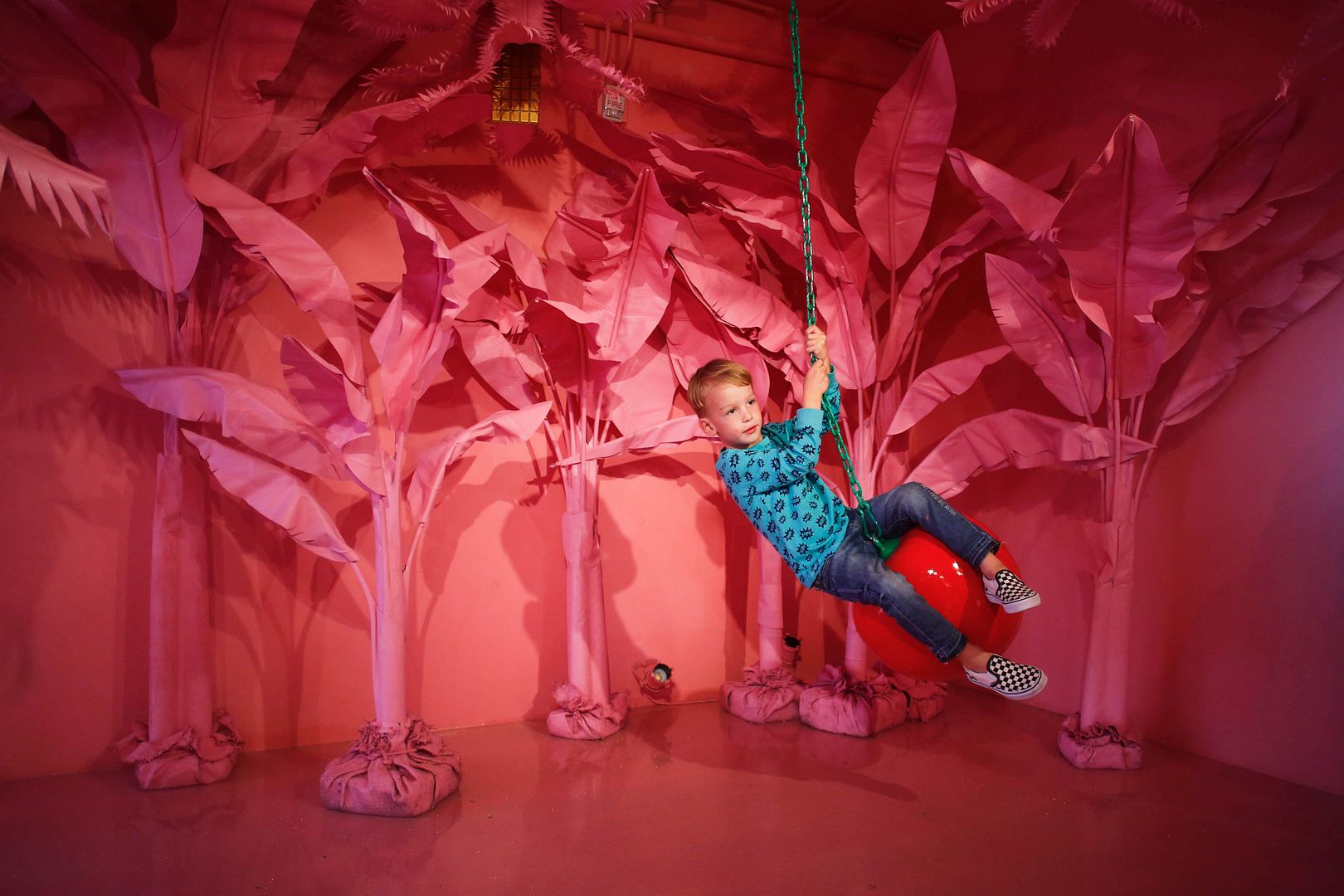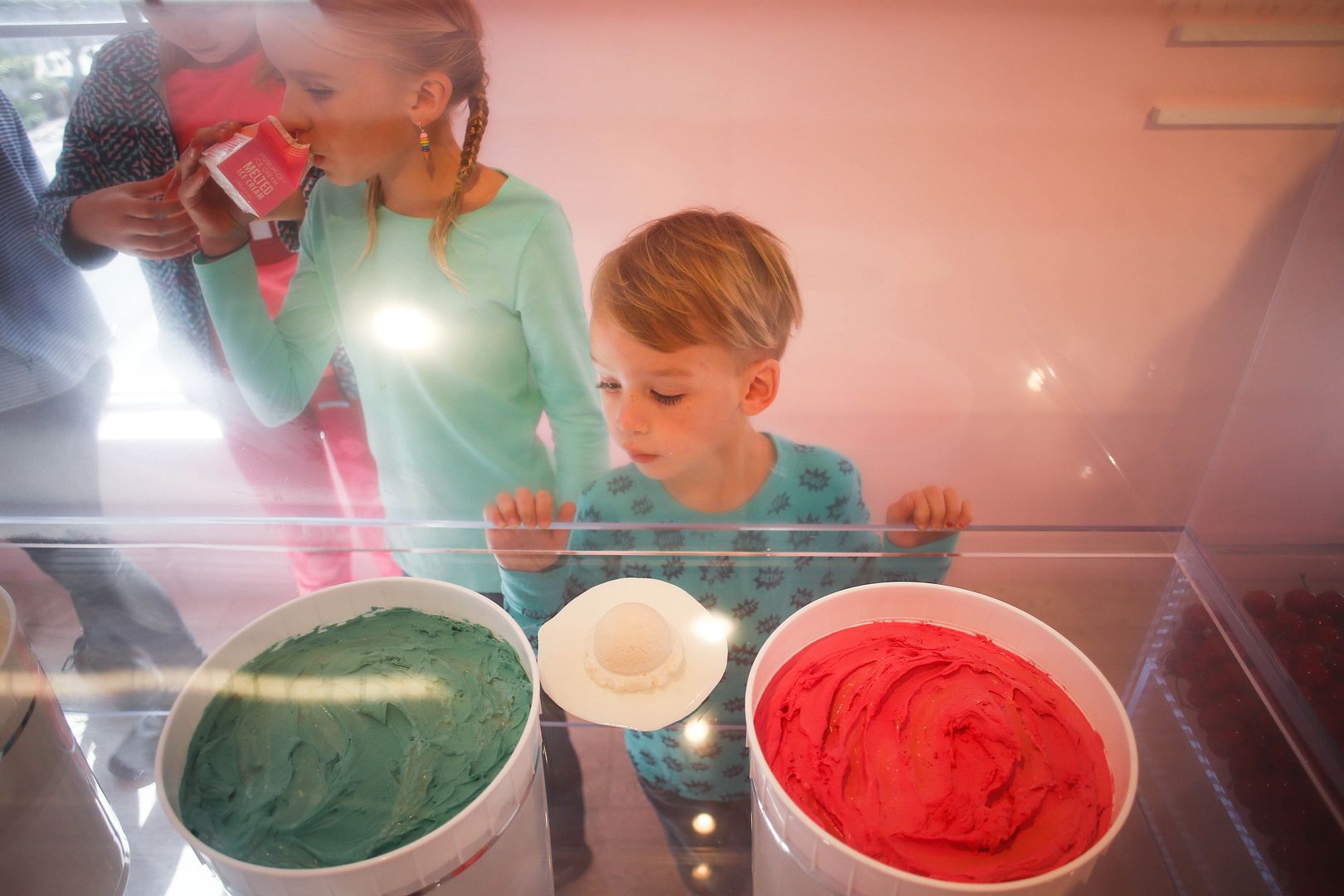 The Melt Room passed out little cartons of a cold melted ice cream drink. Kids said it was good.
Making sand castles (pink, of course) in the sand sculpture room:
Stacking giant candy and climbing in the candy stack room…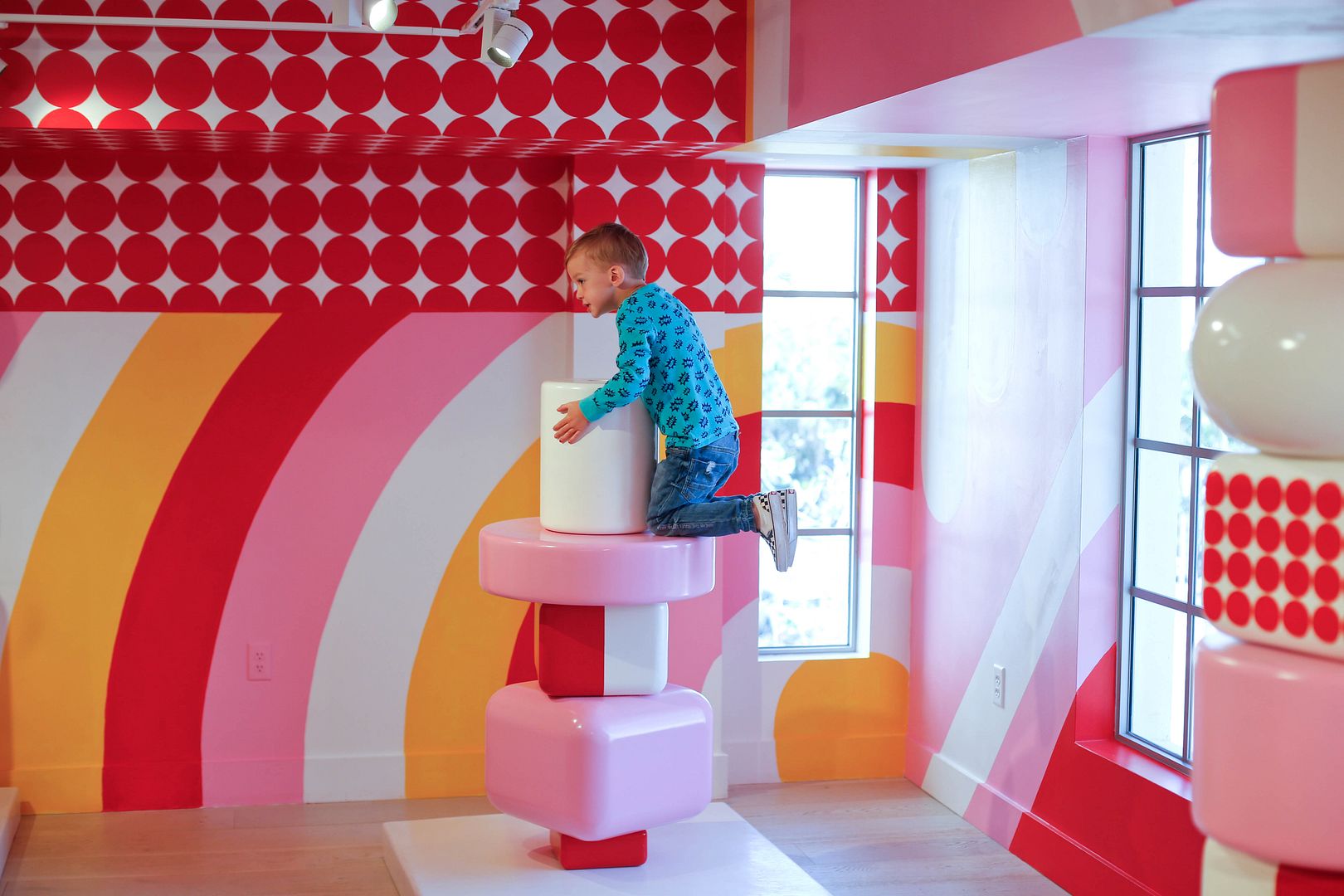 And my favorite, the rooftop play room overlooking the beach. Key lime ice cream, pink shuffleboard, hula hoops, corn hole, climbing blocks, Popsicle mobiles–a complete fantasy land.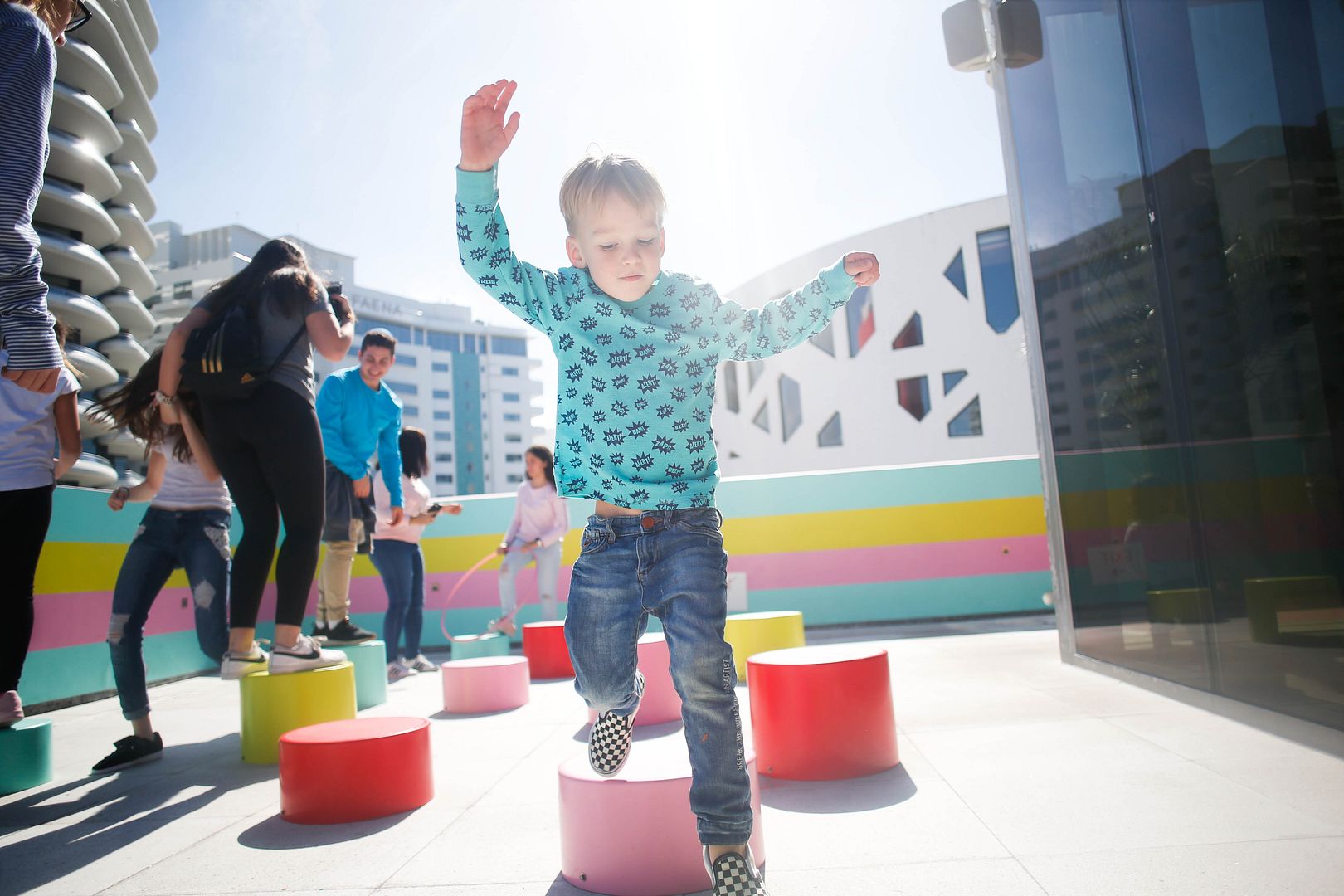 The museum man who took this picture was giving Dash a pep talk here, and Dash would have nothing of it: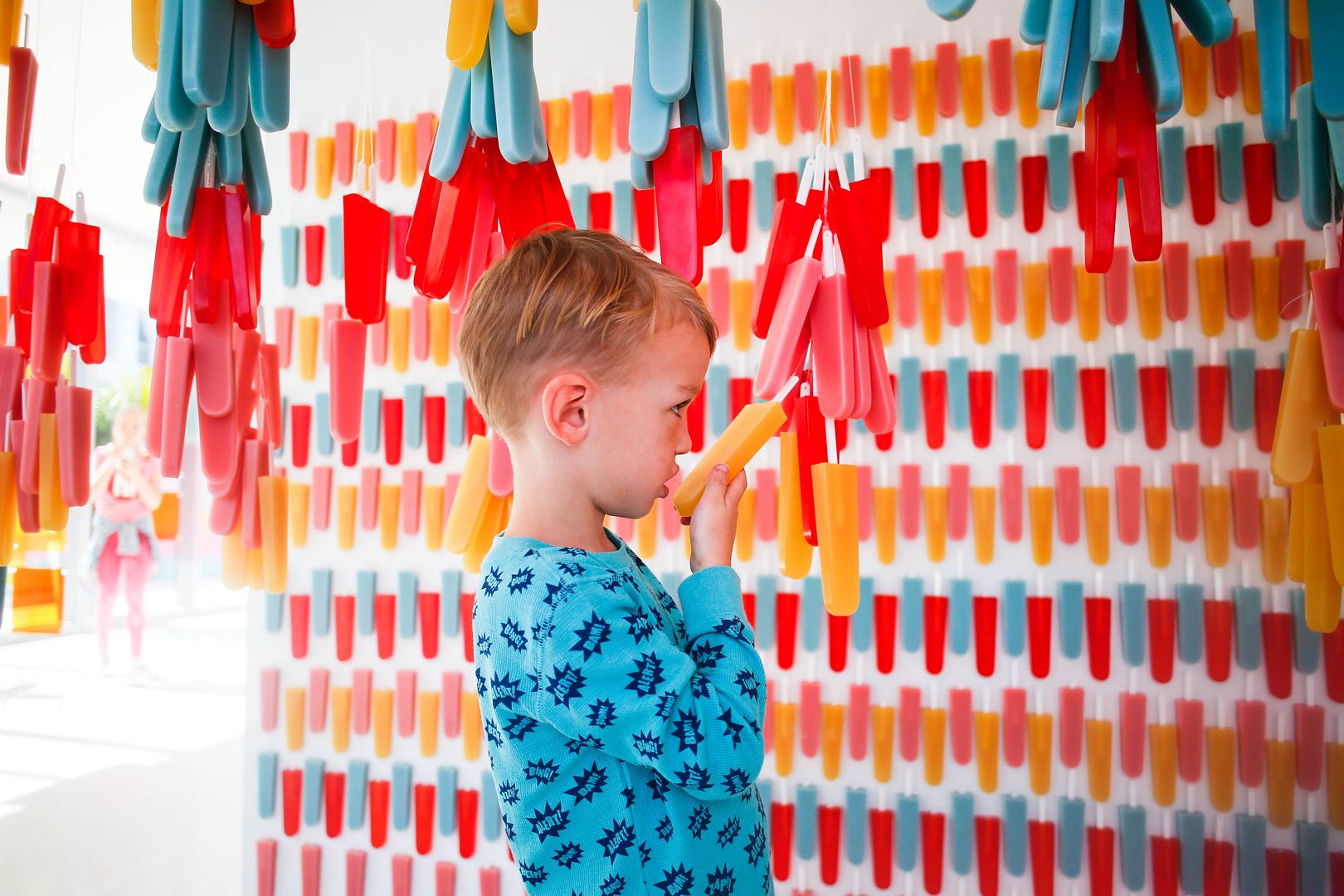 What a fun job designing this place must have been, guided perhaps by the Instagram generation (no doubt they set up this place with photo opps in mind–even the lighting was strategically directed) which is a fascinating concept. Regardless, the kids had a blast, took some of their own fun photos and said they're so glad we went.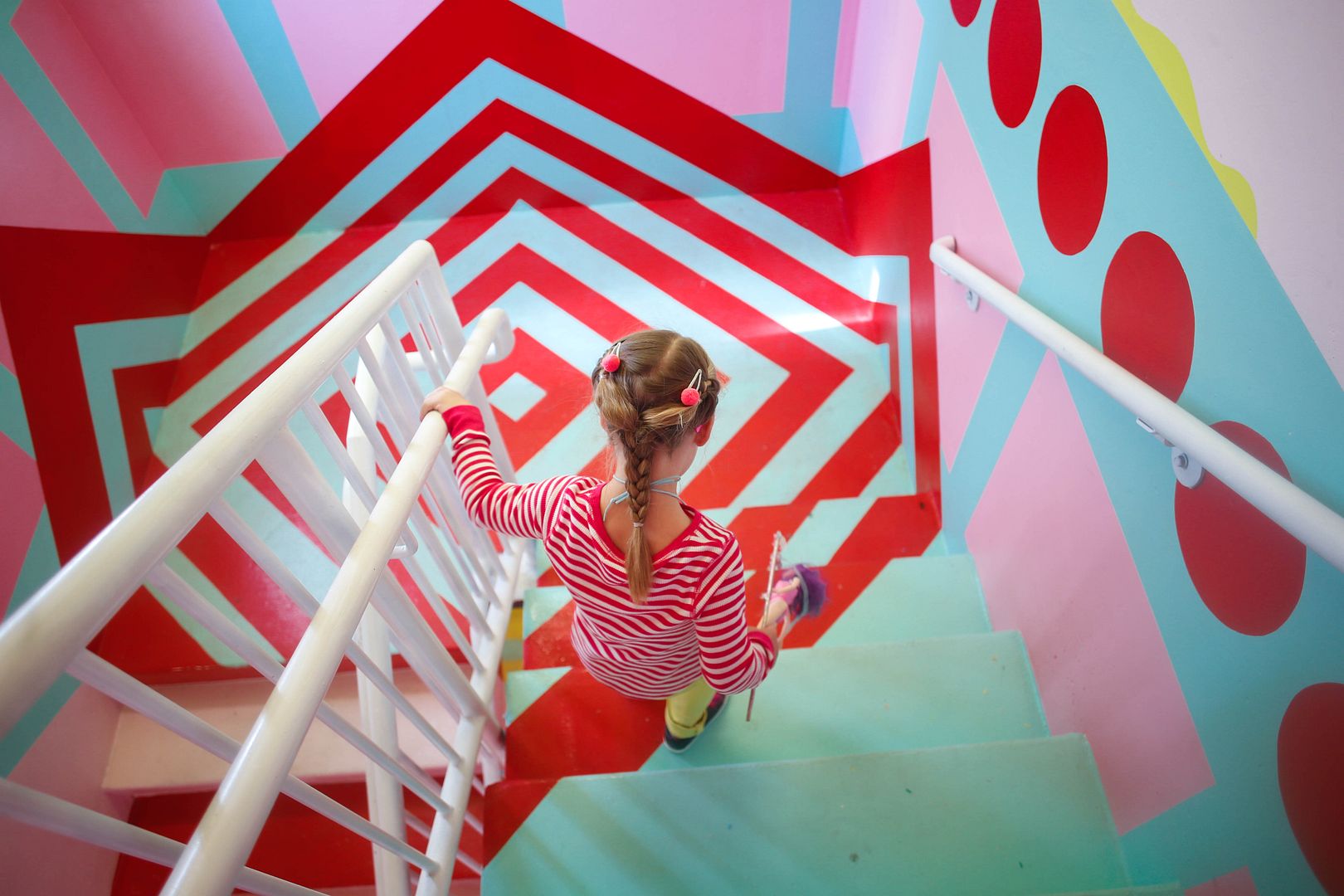 And for the record, I didn't cheat on my capsule wardrobe! I pulled these babies right from my whittled down closet.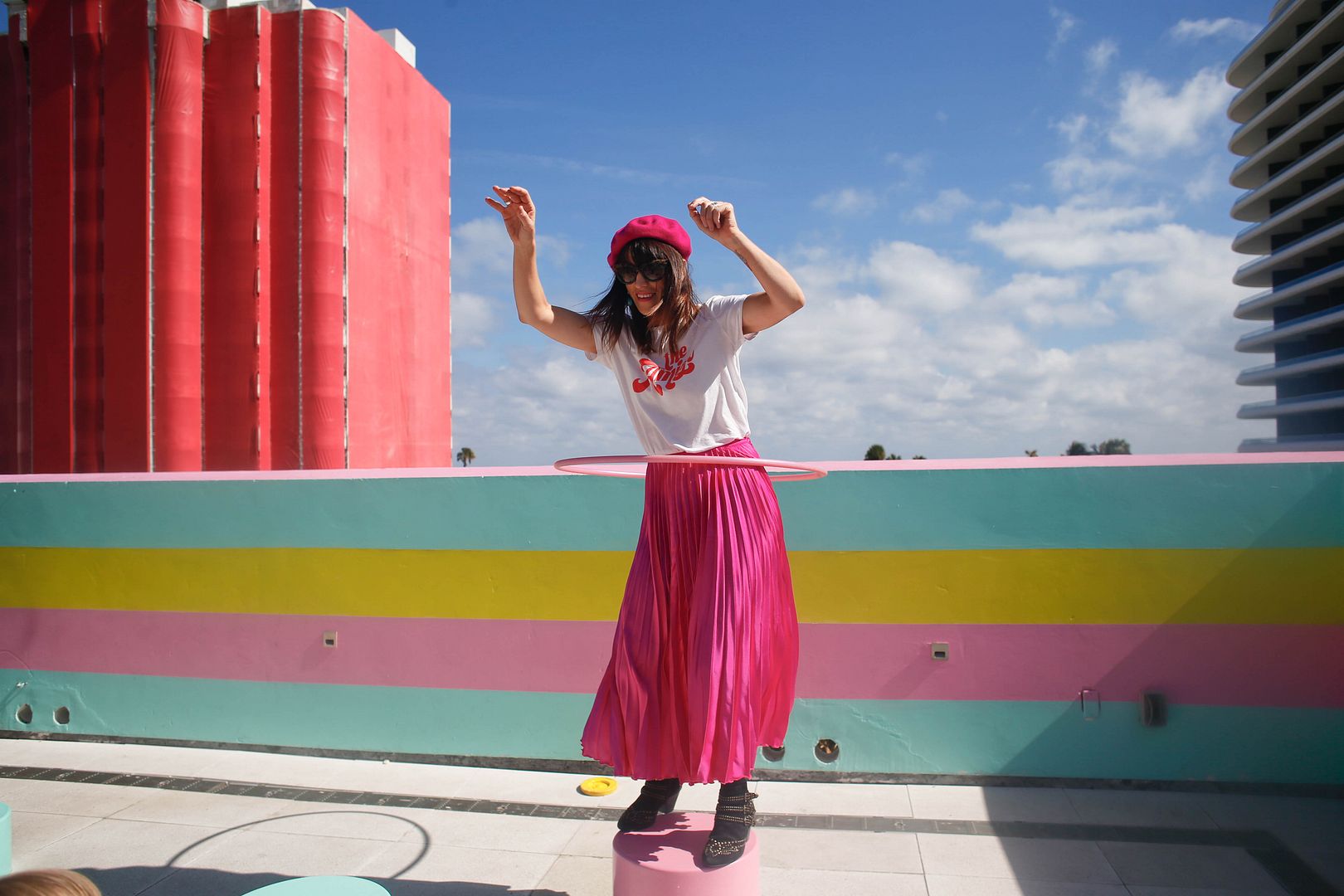 If you have kids and are on the fence…go. All three of my kids enjoyed themselves, we spent at least two hours there, and there were a couple exhibits where we could have stayed longer (they didn't want to leave the kinetic sand room). I, for one, wanted to set up a twin bed on that rooftop playground and wake up there the next morning. Ice cream for breakfast anyone?