I did it.
I read her Birth Story again tonight.
It had been awhile since I had read it.
And I was beginning to question my happiness…my okay-with-it-all-ness.
In perusing her birth story links across the Internet, I've found myself strangely entering discussion boards and comment walls…and all these opinions people are writing about "Nella's Mama"…how some wonder how I could possibly have moved on so fast…or if I'll hit the wall later…or what kind of happy pipe I've been smoking. I'm not offended–no. They're kind and honest questions, although it is a bit weird reading them as if I'm standing in a room with people talking about me and no one knows I'm there.
And, so I read the story of her birth. And, yes, the hurt is still there, raw, exposed and throbbing as ever. My heart twisted again as I scrolled down closer to that picture of her eyes when they first met mine. And when my shy-smiled girl walked into the room to meet her big sister. I cried as if it was happening right this very moment.
It still hurts. But, I think a huge part of the hurt is that it's over…and I just want to go back to the beautiful day she was born again. Hence the prolonged attachment to the plastic wrist band I refuse to cut, its markered words now completely worn off, its edges bent and frayed.
I do think about the scary unknown. In fact, just last night, I called my dad, and when he answered, I simply said, "I'm scared about tomorrow, Dad. I'm scared of her being 18. And 35. I'm scared of who will help her when I die someday." And just saying the words felt like a vice grip on my heart. And he said, "Don't let your fears about tomorrow steal your joys of today. She's lifting her head. She's responding to your voice. She's a perfect newborn."

The fact is, the unknown is exactly that…unknown. I can't worry about what may not even happen. I remember Randy Pauch's wife, when asked during the time they were preparing for his death, how hard it was to go about every day, knowing her husband wouldn't be there for long…she smiled and said, as soon as that sadness seeped in…as soon as that looming fear started choking, she repeated, out loud to herself, "Not helping. Not helping."
I'm not exceptionally strong. I'm not trying to be anyone's hero. It's just I have no choice but to do this because the alternative is to not do this. And I don't judge anyone who's going through this who chooses to do it differently…in fact, I respect them for being honest with themselves to handle it exactly how they know they are capable of…even if that means choosing someone else to raise their child.
But, I have to do it this way…and it's working. For the most part, I'm really not scared anymore. I am truly happy and overjoyed and experiencing all the beauty and laughter and soak-it-up-ness I expected I would a month before I had her. And writing about her and taking pictures of every ounce of beauty she possesses is helping incredibly. I so believe in the whole "Go Big or Go Home" philosophy. So it is, I wake up every day knowing I will at least try to make it not just good…but great. And, as selfless as it seems to be all happy pipe-ish for my kids, I don't do this for them. I do it for me. Because we're all a little selfish. Thankfully, they benefit from the outcome.
And now that my therapy hour is almost over and the therapist is suggestively glancing at the watch, I'll wrap it up lest I be charged for another session.
*******************
We began the unraveling of party planning, and I am happy/embarrassed to say everything is planned out.
The first details revealed in…
The perfect Fairy Party Craft…little fairy houses for each girl to paint and adorn with acorns and glitter and all other enchanted bobbles to lure those sly little pixies into a perfect home.
JoAnn's…and only $1 a piece.
…and some twisted floral wire hot-glued with leaves and buds and ribbon to make Fairy Crowns for our fairy friends:
And a great free download fairy font for labels, invites, party signs, etc. can be found here (look for "Kiss Me.")
Invitation to come…
***********
I may not have taken off my hospital bracelet, but I finally arranged the precious tokens from the hospital into her keepsake box, framed (slightly crooked-ugh), under Big Sister's.
**************
This time of year, I get totally stoked for Spring-ish things. Like being outside more and blooming buds and pastel tchotchke in the grocery store aisles and switching out my kitchen towels to the turquoise ones with the baby chicks stitched on them. Today, we satisfied our inner spring with pastel sidewalk chalk, sketched into her first hopscotch. She figured out the game with no hesitation and was soon flinging pebbles and skipping her shiny red boots in and out of those chalky squares with the sunniest grin.
And, in the afternoon, we took the pig for a walk. A long but completely enjoyable walk with her determined stride, her right arm just a swingin' like it's done since she started this ambulatory thing, and her left hand tied to a pink leash dragging a poor fuzzy pig whose belly used to be soft and pink but is now, rather, blackish and worn thanks to two blocks of pavement friction.
We stopped, of course, to fit our hands in our neighborhood's small representation of the Hollywood Walk of Fame, a.k.a. the place where a naughty kid named Charlie handprinted the otherwise perfect concreted sidewalks near our digs and dug out the letters of his name in the hugest, most obvious script you've ever seen.
And every time I pass it, she wants to put her hands in it and I half want to scold the kid who did it and simultaneously high-five him with a "Dude, that's awesome!"
**************
Nella continues her head lifts. I think she kind of likes it now…like a game, and at least it's fun for me because I smile and laugh until my cheeks hurt at her stretch to find me and the way she strains her eyes as far as they can go to look for me. I'll hide and laugh until I can't take it anymore because she's just so damn cute…and then I'll reward her with a little "Boo"…and one day soon, I know I'm gunna get a gummy grin. I can't wait.
And cute Nella quirk emerges as she can't lift her head without also lifting her left leg, like it's connected with a string, driving her momentum.
I think she was a marionette puppet in another life.
She loves her flash cards above her dresser, and changings are always prolonged for her content little gaze on her pigs and chickens and bees.
(Anthropologie Cards, a gift, found here. Thank you, Jen!)
We think she's quite delicious.
But then again, we think everything's delicious. Or maybe we're just smokin' the happy pipe.
Probably won't post again until later this weekend as I'll be busy with spring mini shoots.
Which brings me to the newest member of our home.
Meet Snowball.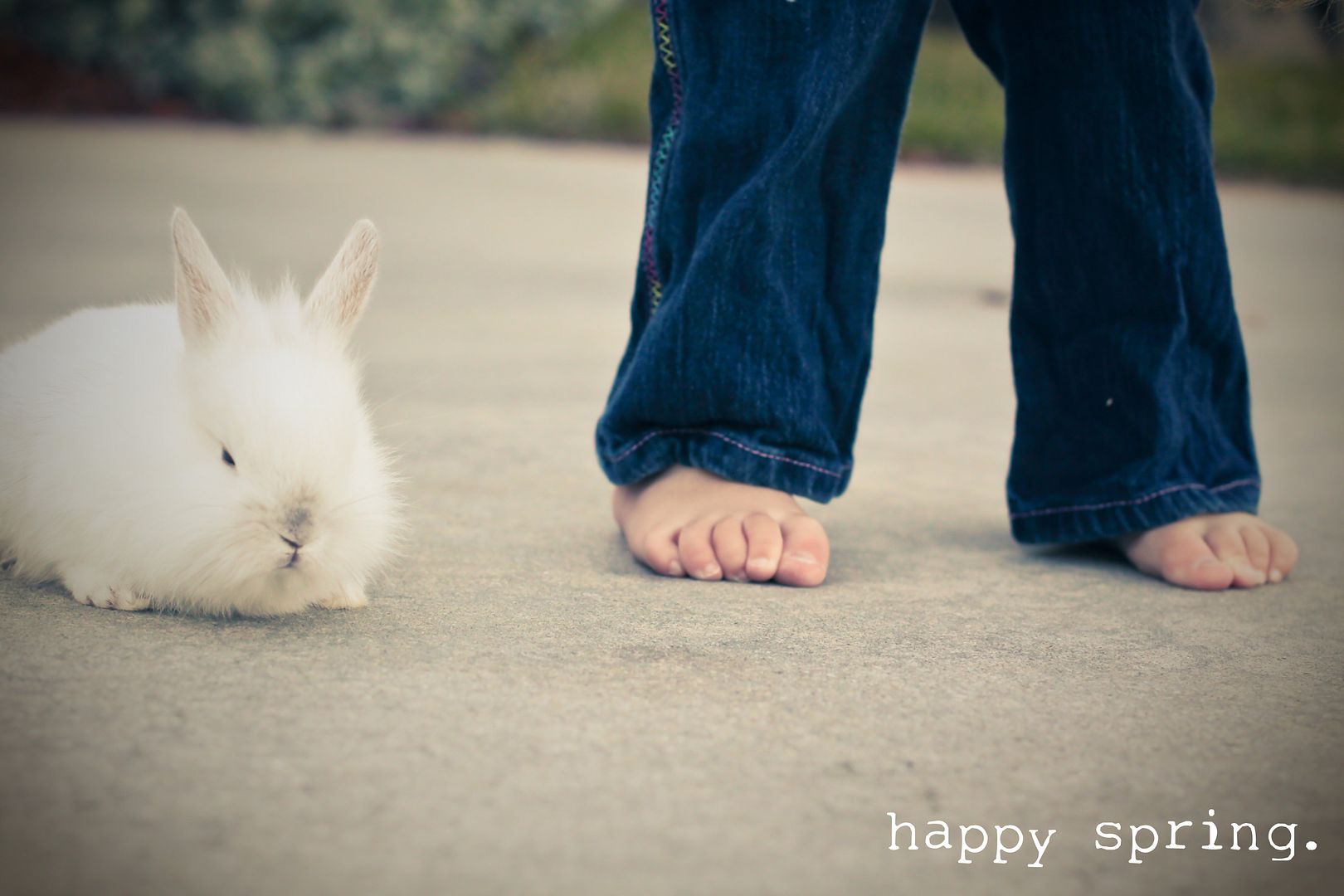 Or, at least that's what I think the kids named him after Lainey had already gone through her choices of names which were, I swear, Bvoova (roll the Bv), Nnnga, Ebo and B'dah'. She's into this phase of giving everyone super weird made-up names. I love weird. And I love that my kid's a little bit weird too. Weird kids rock. And conquer the world, might I add.
Anyhoo, Snowball is the sweetest, cuddliest, chillest little bunny ever. And it seems right to have two new bunnies in our home this year. Except Nella got out of being used as a photo prop. Oh, who am I kidding, she is my photo prop.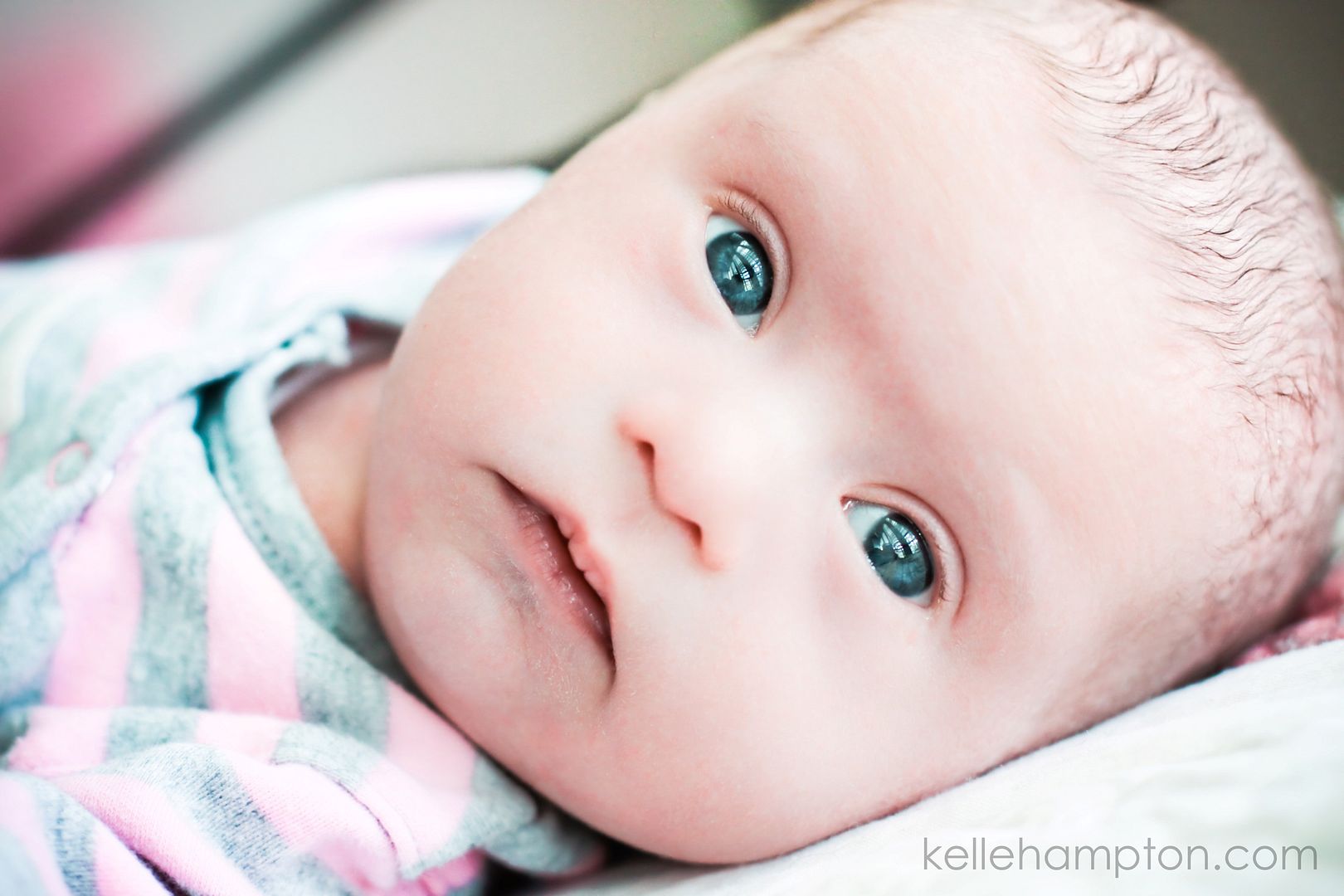 So, spring mini shoots are filled and kicked off early with Lainey's bud, Baylee, our sweet girl.
Yay. I love Spring. Which is why I'm ending this post with my Spring To-Do List, which I suggest you make one.
1.) Carve my girls' initials into the trunk of a big tree. Because I've always wanted to do it, but never have.
2.) Buy tulips for the coffee table. Yes, tulips. From Holland.
3.) Wear fresh flowers in my hair.
4.) Play in the rain with Lainey…and get drenched in puddles.
5.) Buy this. Because it's so me.
6.) Fly a kite.
7.) Wear more yellow.
8.) More cartwheels.
9.) Learn Gene Kelly's 'Singin' in the Rain Dance (see #4)
10.) Rent and watch the following movies: 7 Brides for 7 Brothers (which, I'm quite confident I can quote the entire movie), You Can't Take it With You, Anne of Green Gables, Anne of Avonlea and The Scarlet Pimpernel (the star character being someone I was so in love with at twelve years old that I wrote him a letter and sent it. The only star I've ever written a letter to. I think I told him I loved him. And that he did a very good French accent.)
Yum. Spring is coming. I smell Paas egg dye.
Happy Day.